Tropical Fruit Cocktail Salad is cool and creamy. With only 5 ingredients it comes together quickly and can be made ahead. Add extra cherries and you have a party!
This delicious recipe was first published in 2016 and was updated to improve reader experience.
I love making Fruit Salad with Cool Whip and the pudding gives it a thicker consistency while adding a bit of sweetness. You might call this a salad or a dessert. I call it cool, creamy, and delicious just like our Pineapple Cherry Fluff salad and Strawberry Cheesecake Salad. And, did you see the Fruit Salad Trifle Dessert?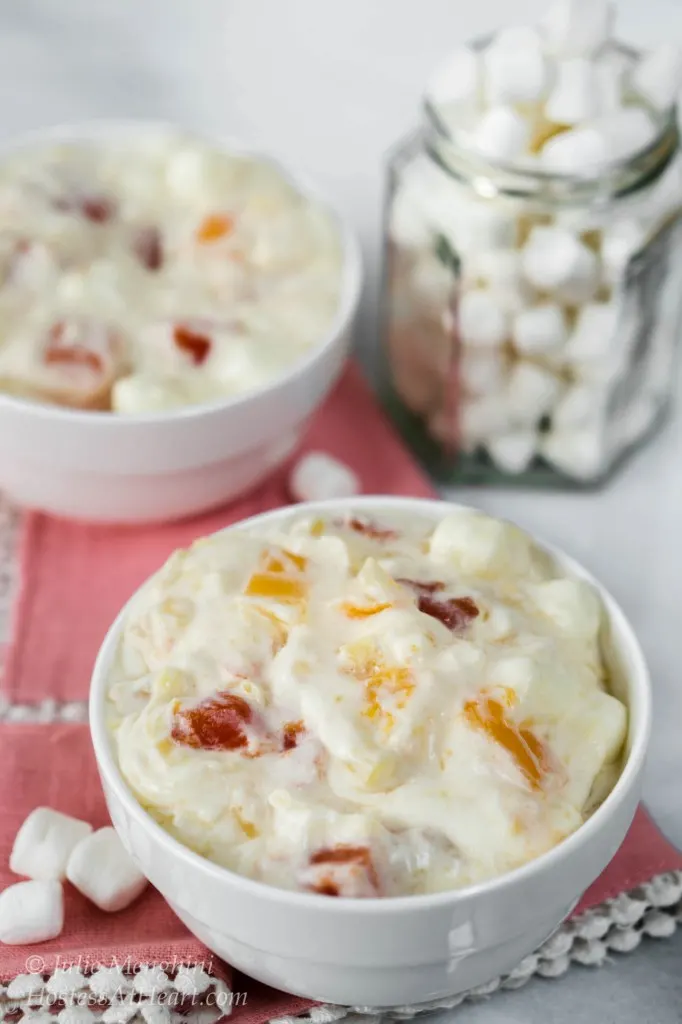 Tropical Fruit Cocktail salad is one of those "save the day" recipes. Dump 5 ingredients together and in about 5 nanoseconds you have a creamy dreamy dish that everyone is guaranteed to like!
Now I am sure you are wondering if I've forgotten how to cook, but I just had to share this fruit salad with Cool Whip. It's quick, easy, and perfect for any occasion.
When my kids were younger they always thought it was a special meal when I'd make this Fruit Cocktail salad. They loved it then and now make it for their families.
With the holidays, graduations, and nicer weather activities coming up, it's nice to have a recipe that is quick and easy to make that can be made ahead of time so you can concentrate on more important things.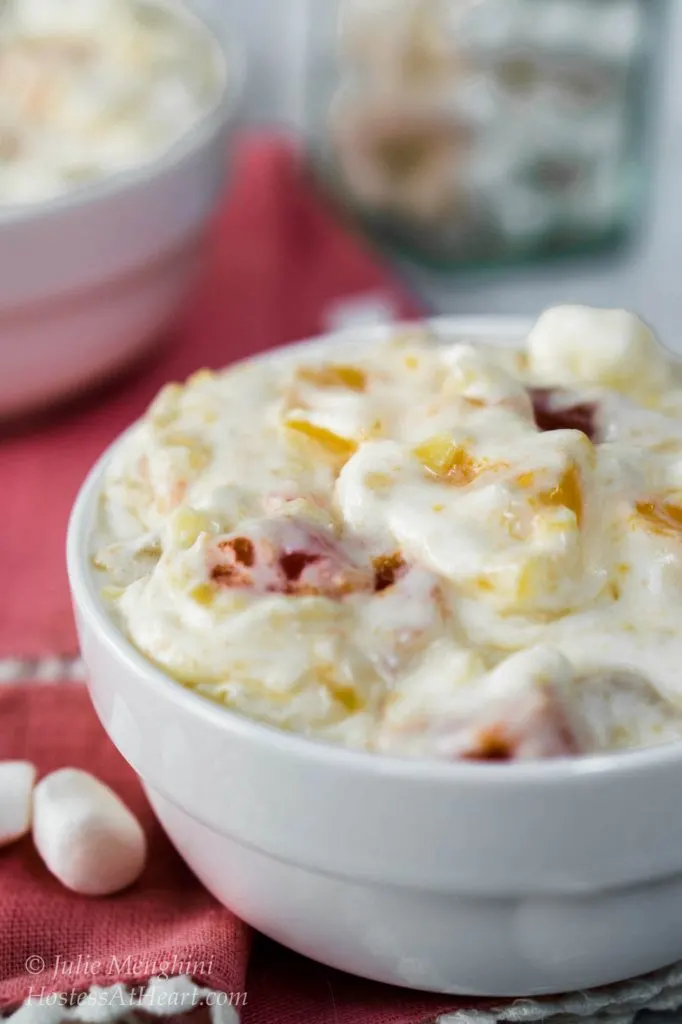 If you grew up with canned fruit cocktail, you knew that the one who opened the can got the cherry. The rest of us just got a bunch of peaches, pears, and grapes. They were good, but who's kidding who, the cherry was what you wanted.
With this fruit cocktail salad, you can just leave it as is, or hey, go dump in enough cherries for everyone. The addition of the miniature marshmallows makes it fun for all.
When we have a potluck with the neighbors I always bring this fruit cocktail recipe. The kiddos dive in to get their share (of the cherries) before the adults can get their hands on it. It makes a good-sized fruit cocktail salad so it's perfect for sharing.
What is Fruit Cocktail?
Fruit cocktail is a mixture of canned diced fruit in juice or syrup. It traditionally includes pears, peaches, grapes, and a maraschino cherry. The tropical version contains pineapple and papaya.
Dole Tropical Fruit instead of fruit cocktail. It has nice big pieces of fruit that aren't mushy like some canned fruit. The traditional fruit cocktail can be interchanged
Ingredients for Tropical Fruit Cocktail with Cool Whip & Pudding Recipe
Dole Tropical Fruit Cocktail – 15.25 oz can – Do not drain
Cool Whip – 8 oz container. You can use any variety. I use "lite".
Crushed pineapple 15.25 oz can which is a medium-sized can.
Miniature marshmallows
Instant lemon pudding which is the 3.4 oz or small box. Do not make the pudding. We just use the powder.
Variations that you can make to Fruit Cocktail Salad
Use different flavors of pudding. Vanilla, Lemon, and Coconut, are all delicious options.
Add a cup of nuts. Pecans or macadamia would both be delicious.
For a real tropical flair add toasted coconut.
Add additional maraschino cherries to make the kiddos happy!
Exchange Tropical Fruit salad with a traditional Fruit Cocktail.
Use rainbow-colored miniature marshmallows.
Pin

this to have on hand for when you need a quick delicious dish!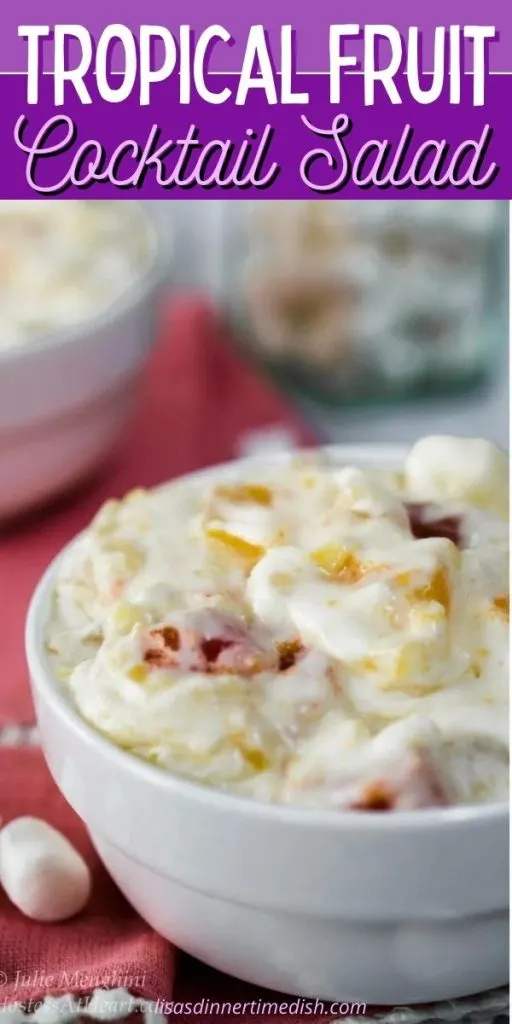 You May Need the following products:
Trifle Bowl – Just because it's a simple salad doesn't mean it can't be pretty! Serve it in this trifle bowl and guests will think it's a little fancier than it is!
Silicone Spatulas – This pretty set has a flat side and a curved side to take on your toughest job. I love that they are all one piece and can withstand 500°F! Throw out those old chipped ones and treat yourself!
Here are a few more recipes I think you'll like!
Don't forget to stop back and let me know how your Fruit Cocktail salad turned out.