Easy Blueberry Pineapple Hand Pies are a snap to put together for anyone and great for breakfast, snack or a dessert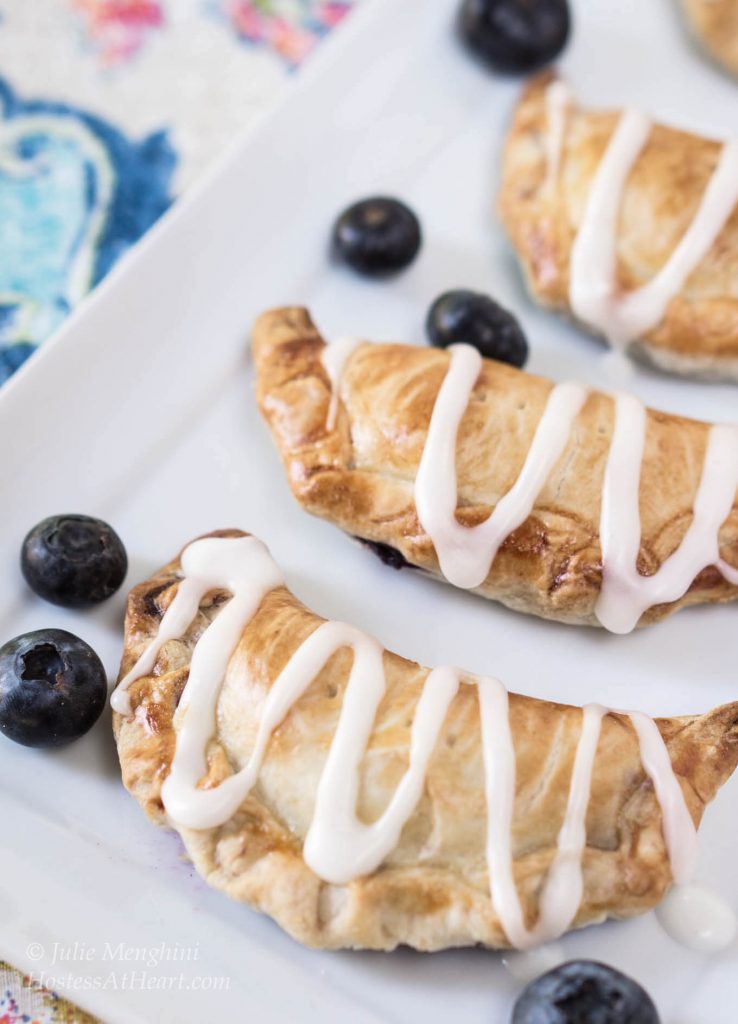 This post is sponsored by Baker's. This recipe and opinions are 100% my own.
When I walked into our local Baker's Supermarket earlier this week, I just said to myself, winter is over.
The produce looked amazing, and like I always do, I overbought. I just love the berries this time of year. I grabbed a large container of fresh blueberries, and before I knew it, I had an idea formulating in my little brain, and the ingredients in my basket, for homemade Easy Blueberry Pineapple Hand Pies.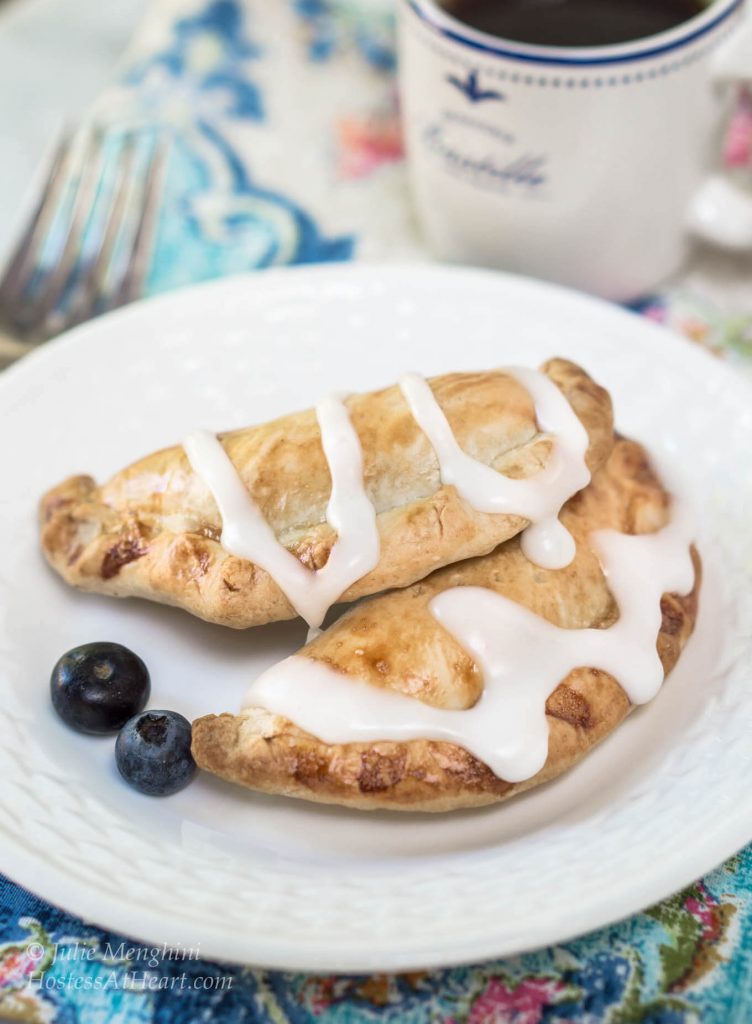 When I was young(er) I used to ride along with my grandmother to a town about 20 miles away to visit her mother, my great-grandmother.
On our way back home we often stopped by a bakery and bought day-old bread and pastries. My favorite was the hand pies.
I would get a couple of different flavors, and the hardest decision was which one to eat first. They were usually reserved for breakfast. I don't know why because I could eat them all day long.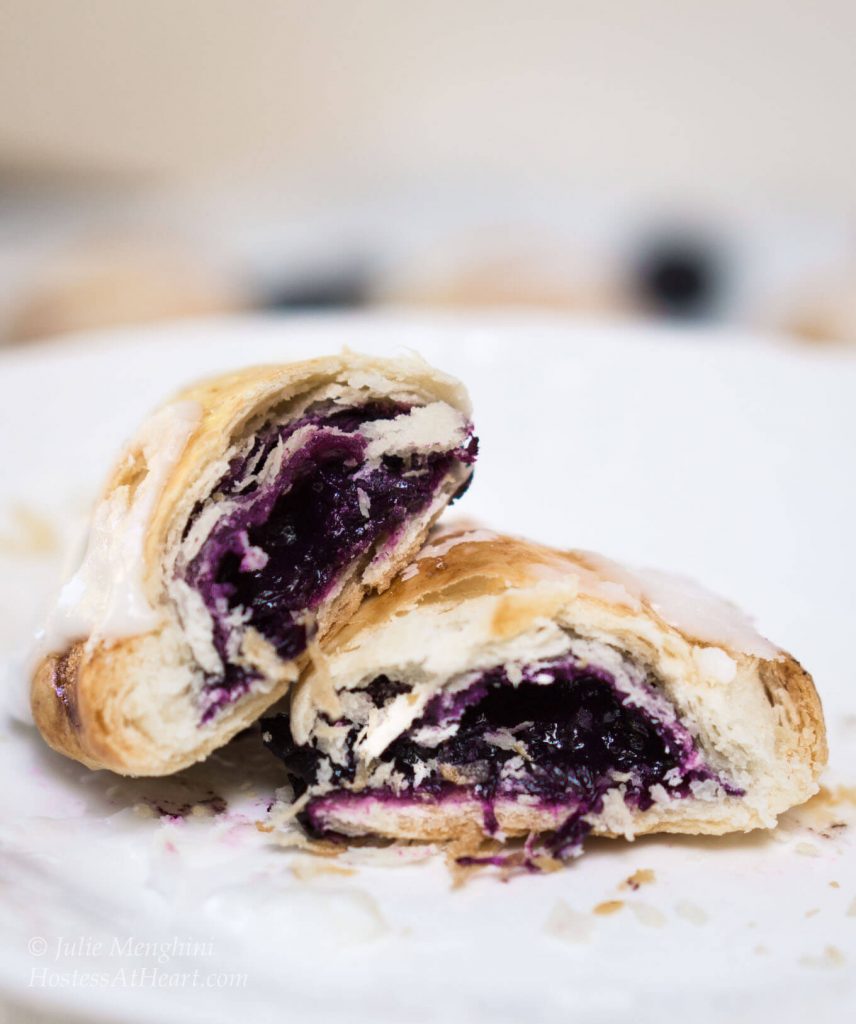 When I told John about my idea, he said he wasn't sure about the pineapple part. I didn't say a word because I was certain he would love them.
I just love combining fruit flavors, and will often use lemons such as in my Strawberry Rhubarb bread or other fruits like my Apple Harvest Banana bread.
You could make your own piecrust, but I took a quicker route so these are "semi-homemade".
Unroll and Bake Kroger pie crusts worked great and a can of Kroger crushed pineapple made an easy filling. Their pie crusts are flaky and buttery.
When making the filling, I left some berries whole so you could see what you were eating. Also, if you over-fill them, they will break open while baking. They will still be delicious so don't let any go to waste! Eat them I say!
To close the little pies, I wet one edge of the crust with a little water before folding them in half. I then turned up the edge and crimped it with my fingers to seal. You could use a fork. I liked rustic but go ahead and be fancy if that's what you like. Just make them…you'll love them…just like John did (wink wink).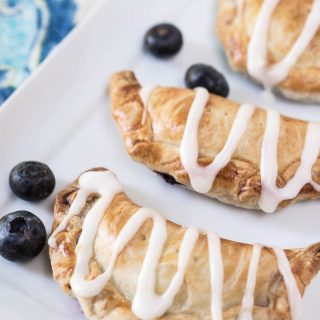 Easy Blueberry Pineapple Hand Pies
Easy Blueberry Pineapple Hand Pies are a snap to put together and make any breakfast, snack or dessert special.
Ingredients
1/2

cup

pineapple

Kroger crushed drained and juice retained

2

cups

blueberries

1/4

cup

white granulated sugar

1/2

tsp

ground cinnamon

1/4

tsp

nutmeg

1

tbsp

unsalted butter

1/8

tsp

salt

pinch

2

tbsp

all-purpose flour

1

egg

or egg white

1

pie crusts

Kroger Unroll and Bake

1

cup

powdered sugar
Instructions
Preheat oven to 425 degrees F. Line two baking sheets with parchment paper.

In a sauce pan, combine blueberries, pineapple, sugar, cinnamon, nutmeg, salt and butter. Cook over medium low heat until berries soften (5 minutes). Stir in flour and cook until thickened (about 2 minutes). Remove from heat and set aside to cool.

Lightly flour a work surface. Unroll pie crusts. Using a 4 inch round biscuit or cookie cutter stamp out 7 circles from each crust.

Using a cookie scoop or spoon drop 1 tablespoon of cooled filling onto the center of each pie crust circle. Don't overfill or they will break open during baking.

Lightly wet the outside edge of 1/2 pie crust circle. Fold in half. Fold and pinch edge to close. You can use a fork to do this but I liked the rustic look of the fold.

Mix egg (or egg white) with a small amount of water. Whip with a fork until foamy. Brush the top of each hand pie with egg mixture. Prick with a knife or fork to vent.

Place on the parchment paper lined baking sheet and bake 15 to 20 minutes or until golden brown. Allow to cool completely on the baking sheet.

Mix powdered sugar and a small amount of the reserved pineapple juice together to form a glaze. Drizzle over cooled hand pies. Allow to set briefly.

Store in an airtight container.
Nutrition
Serving:
14
g
Calories:
134
kcal
Carbohydrates:
23
g
Protein:
1
g
Fat:
4
g
Saturated Fat:
2
g
Cholesterol:
14
mg
Sodium:
58
mg
Potassium:
39
mg
Fiber:
1
g
Sugar:
15
g
Vitamin A:
53
IU
Vitamin C:
5
mg
Calcium:
6
mg
Iron:
1
mg
Nutritional Disclaimer
This recipe was calculated using the exact brands and measurements I used to make this recipe. If you are following a strict diet please note changing anything will cause the nutritional info to change. My calculations are intended as a guide only.
Let's keep in touch! You can find me on Pinterest, Instagram, Facebook, Twitter, and The Mix! Better yet, enter your email address in the box below and never miss a recipe!