Strawberry Rhubarb Bread Recipe is a soft and tender quick bread under a layer of crunchy sweet Streusel Topping. This Rhubarb Bread recipe could easily pass for rhubarb cake. It's delicious any time of day from breakfast to dinner.
I think my favorite thing to eat is quick bread. Quick bread doesn't require yeast. You can make so many variations. Some of my favorites are Peach Streusel Bread, Orange Pecan Coffee Cake, and Pumpkin Apple Bread.
This post has been upgraded from 5/2/16 to improve the reader's experience. No changes have been made to the recipe.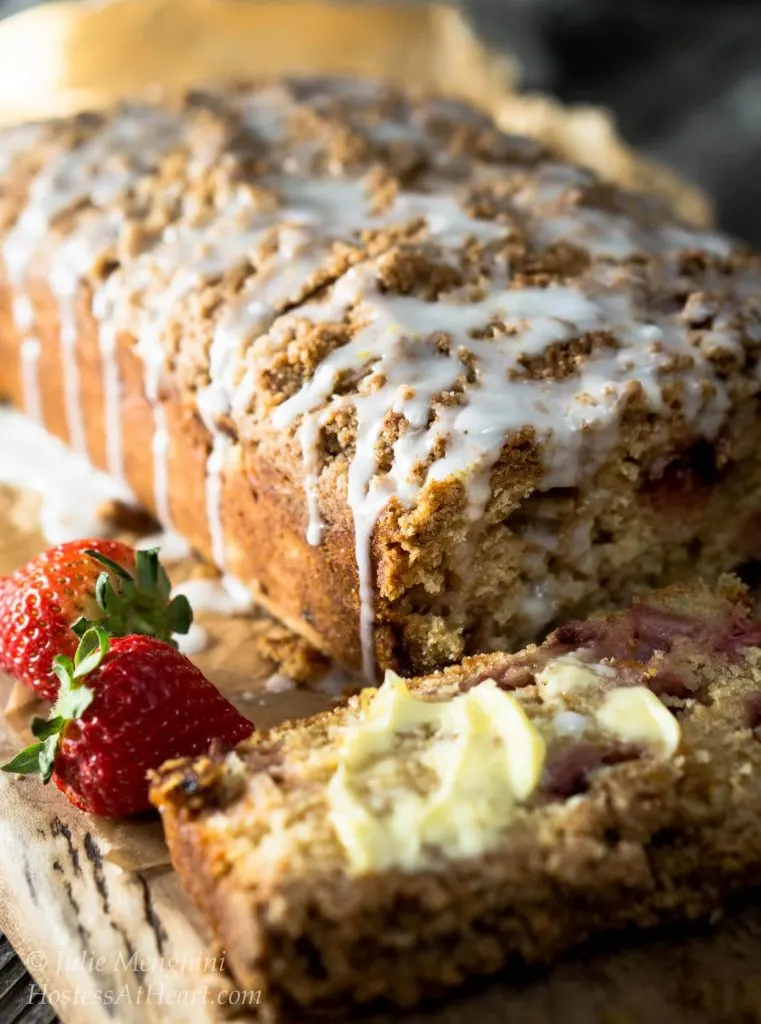 If you're unfamiliar with rhubarb, or just haven't used it much, I think putting together a loaf of Strawberry Rhubarb Bread with Streusel topping is a great place to start. John always said he didn't like rhubarb. This rhubarb loaf changed his mind!
Rhubarb F.A.Q's
Can rhubarb be eaten raw?
Yes, rhubarb stalks can be eaten. Don't eat the leaves however, they contain a poison called oxalic acid. Rhubarb contains vitamins A and K as well as other health benefits.
Does rhubarb have to be peeled before use?
No, rhubarb doesn't need to be peeled. Once the season is about over rhubarb can become fibrous so peeling may make them tastier. I prefer using it when it's young so it's moist and tender.
Should red or green rhubarb stalks be used?
Either! If you're baking the rhubarb, especially in a recipe that adds sugar, it doesn't matter. If you're eating it raw the red rhubarb can be a little less tart.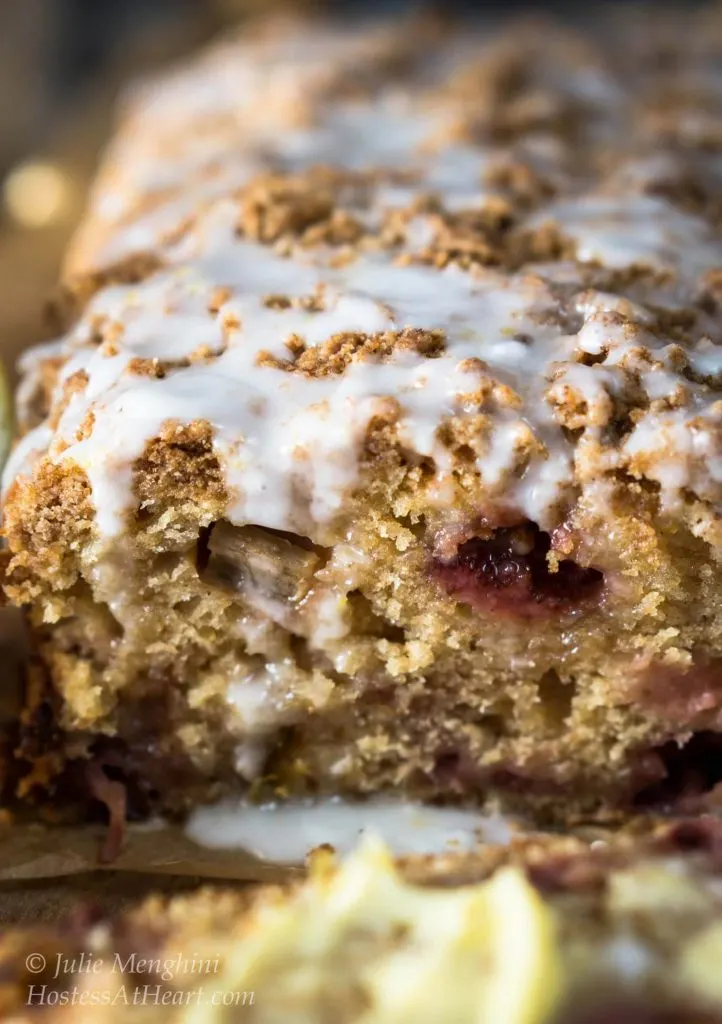 HOW TO MAKE STRAWBERRY RHUBARB BREAD
Ingredients for Strawberry Rhubarb Bread with Streusel Topping
All-Purpose Flour. Bleached or Unbleached.
Whole Wheat Flour. Adding whole wheat improves the crumb of this bread and makes the texture come out divine. It's worth a trip to the store for this ingredient.
Baking Powder. Fresh is the best! Buy new baking powder and baking soda every six months or so.
Baking Soda. Again, fresh is best.
Sugar.
Brown Sugar. Light or dark brown sugar will both work equally well.
Cinnamon. Saigon Cinnamon is my favorite but whatever you have at home works perfectly!
Salt. Kosher or ordinary table salt is fine.
Eggs. Large eggs are what I use to assure my baking comes out consistently.
Butter. I like unsalted butter best. If you use salted omit the salt ingredient.
Lemon Juice. Fresh or from a bottle works fine.
Buttermilk. If you don't have buttermilk, you can make a substitute.
Rhubarb. A red vegetable that looks similar to celery.
Fresh Strawberries. As fresh as possible.
How to make Strawberry Rhubarb Bread Recipe from Scratch
I think you'll find that making your own quick bread from scratch is just as easy as buying a mix.
Please note, that the printable recipe card has ingredient quantities, complete instructions, and nutritional information. The following is a quick overview of the recipe.
Preheat your oven and spray your loaf pan with non-stick cooking spray.
Whisk the dry ingredients together in a large bowl.
In a separate bowl, mix the liquid ingredients together.
Slowly pour the liquid ingredients into the dry ingredients. Using a spatula, gently fold the ingredients together until just combined. Don't over-stir.
Fold in the rhubarb and then the strawberries. I fold them in separately because the strawberries are more delicate.
Add the batter to the prepared pan and top with streusel topping.
Bake and then allow the loaf to cool in the pan on a cooling rack. Once cool, add the glaze.
How to make Streusel Topping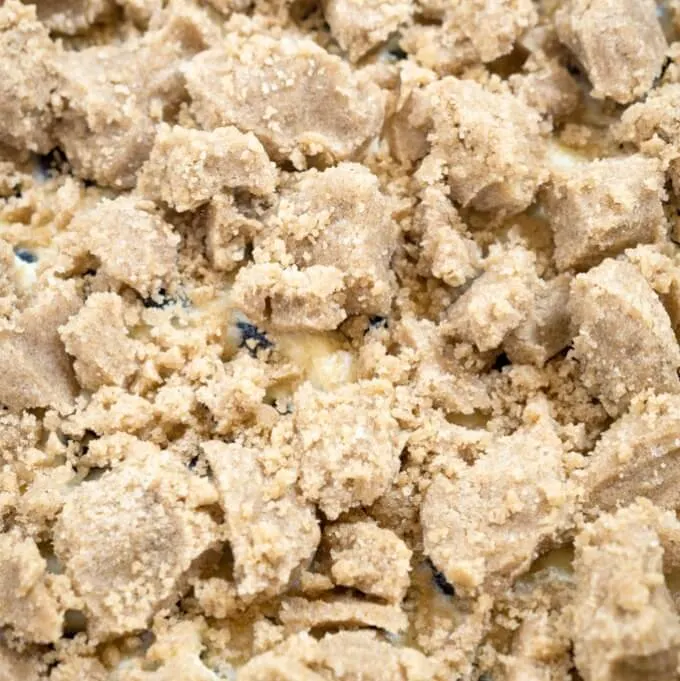 In a small bowl, mix the flour, brown sugar, and cinnamon together. Cut in the diced cold butter.
Cover the rhubarb quick bread batter with the streusel topping.
Bake the strawberry rhubarb bread. It will take about fifty-five minutes.
How to make Glaze
Combine the glaze ingredients. Add small amounts of milk until the glaze can be drizzled over the strawberry rhubarb loaf. If the glaze gets too thin add a little bit of powdered sugar.
Apply the glaze to the cooled bread using a whisk or fork. You can remove the bread from the loaf pan and put it on a serving plate before glazing or glaze it right in the pan.
You May Need These Supplies
HOW TO STORE STRAWBERRY RHUBARB BREAD WITH STREUSEL TOPPING
Refrigeration Storage
This is a very moist Strawberry Rhubarb Quick Bread. For that reason, I recommend storing it in the refrigerator for up to 3 days.
Freezing Rhubarb Bread
You can freeze Rhubarb bread for 3 to 4 months. Wrap it in plastic wrap and then in foil or place it in a resealable freezer bag. You can freeze the strawberry rhubarb loaf into serving-sized packages so that you can take out just what we need.
Strawberry Rhubarb Bread F.A.Q's
How do I keep the rhubarb from settling to the bottom?
Adding 1 to 2 teaspoons of flour to the rhubarb before you mix it into the batter will help keep it suspended throughout the batter.
Why did my strawberry rhubarb loaf sink?
Sinking is usually caused by one of two things.

1. Under baking the bread. You can tell when quick bread is done by using any of these methods:
a) Insert a toothpick into the center and when it comes out with just a few crumbs, remove it from the oven.
b) Lightly press down on the top of the loaf. It's done when it immediately springs back.
c) Use an instant-read thermometer. Insert it into the center of the bread and back to 200°F.

2. Baking soda or baking powder is no longer active. To test it, see our Baking Techniques, Tools, and Ingredients post.
Can I leave out the buttermilk?
Yes and no. In order for the baking soda to work it needs an acid to activate it which helps your bread rise and become light and fluffy. You can replace the buttermilk with yogurt or sour cream which I haven't tried. Make sure the batter isn't overly thick otherwise your bread will be dense.
Why is strawberry mixed with rhubarb?
Rhubarb is very tart so sugar is added and it's often mixed with sweet fruit such as strawberries to minimize the acidity.
CAN I USE FROZEN RHUBARB?
I prefer fresh rhubarb. You can use frozen rhubarb. Remove any ice crystals and mix while frozen.
If frozen rhubarb looks dry, it's been frozen for too long and shouldn't be used. The taste and texture wouldn't be the best.
You can also use frozen strawberries.
TIPS FOR THE STRAWBERRY RHUBARB BREAD RECIPE
Don't add too much fruit to this loaf. That will add too much moisture. One and one-half cups is plenty.
Slice the rhubarb thinly so that it cooks evenly.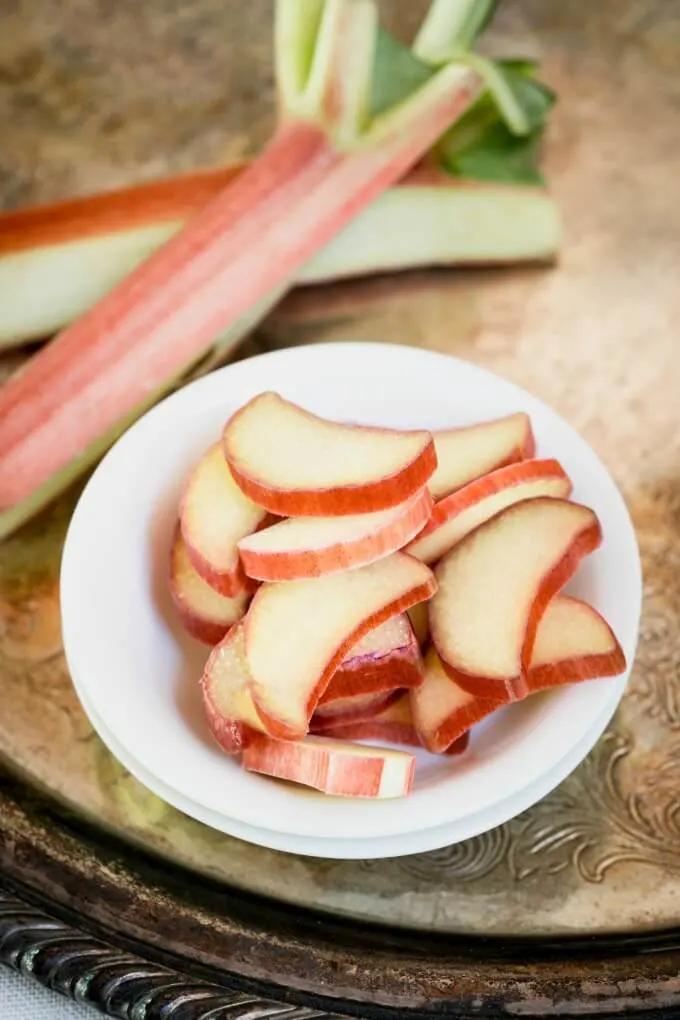 Don't overwork the streusel ingredients.

We use a wire pastry cutter. That keeps the cold butter from blending into the topping too much. Keeping the pieces in tack, resembling small pebbles, is what creates that crunchy texture.

Let the rhubarb loaf cool in the pan over a cooling rack instead of popping the bread out of the pan right away. That will help it firm up.
Wait for the loaf to cool before you cut it to get the perfect slice.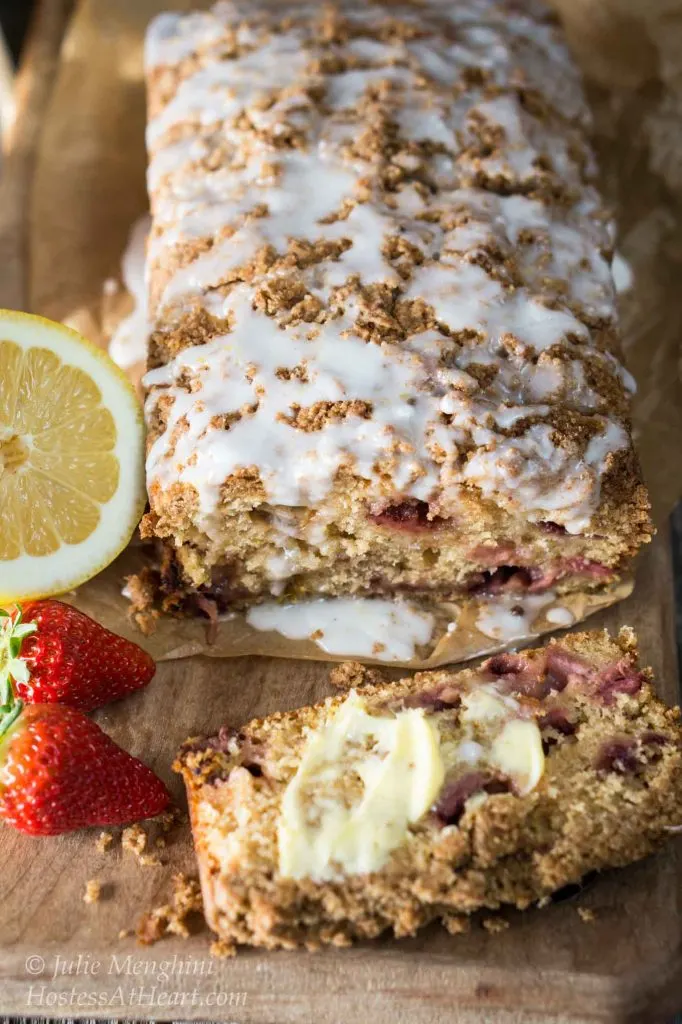 This recipe is a hit in every way possible. The crumb is so soft and moist. It's nice and sweet with a mix of tartness from the rhubarb.
The streusel gives this bread a delightful crunch, and the lemon just brightens up everything beautifully.
Strawberry Rhubarb Bread Variations and Substitutions
Make an all rhubarb bread recipe or all strawberry bread recipe. You'll want about 1-1/2 cups of fruit.
Replace the strawberries with blueberries.
Add nuts. Walnuts or pecans would be delicious.
For a healthier rhubarb bread recipe, you can eliminate the streusel topping and glaze (gasp).
What can I cook with rhubarb?
Don't forget to stop back and let me know how your Rhubarb Bread turned ut!
Pin this amazing Strawberry Rhubarb bread!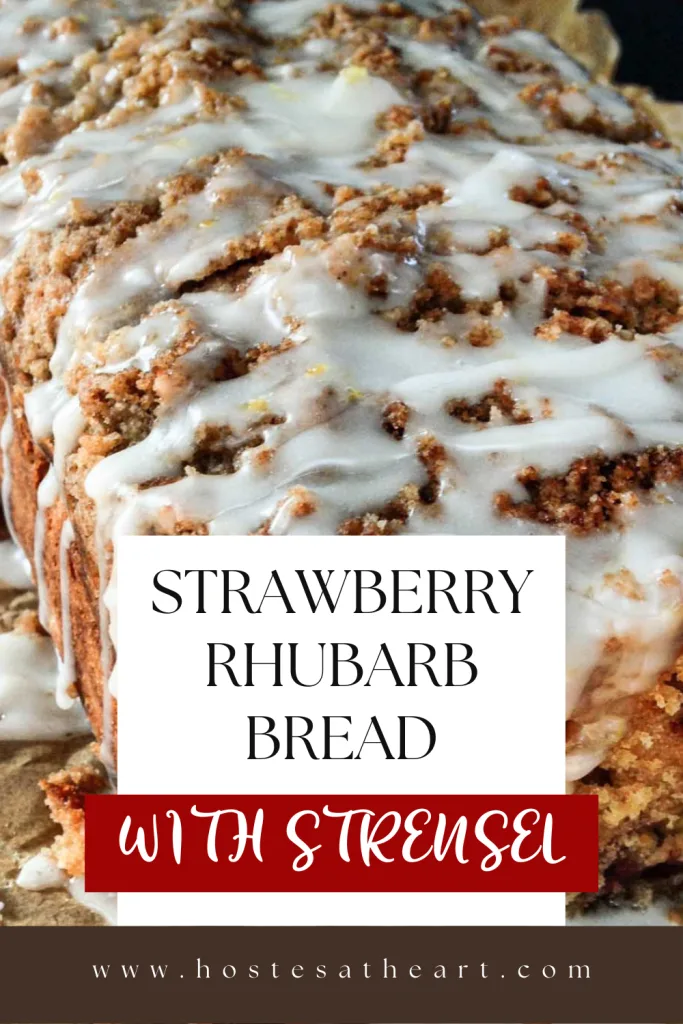 SOME OF OUR FAVORITE STRAWBERRY RECIPES