Vodka Chocolate Covered Strawberries is a gourmet finger food that's guaranteed to get the party started. Vodka Infused Chocolate covered strawberries are sweet, juicy and simple to make.
This recipe was updated from May 2015 to improve the reader experience. No changes were made to the recipe.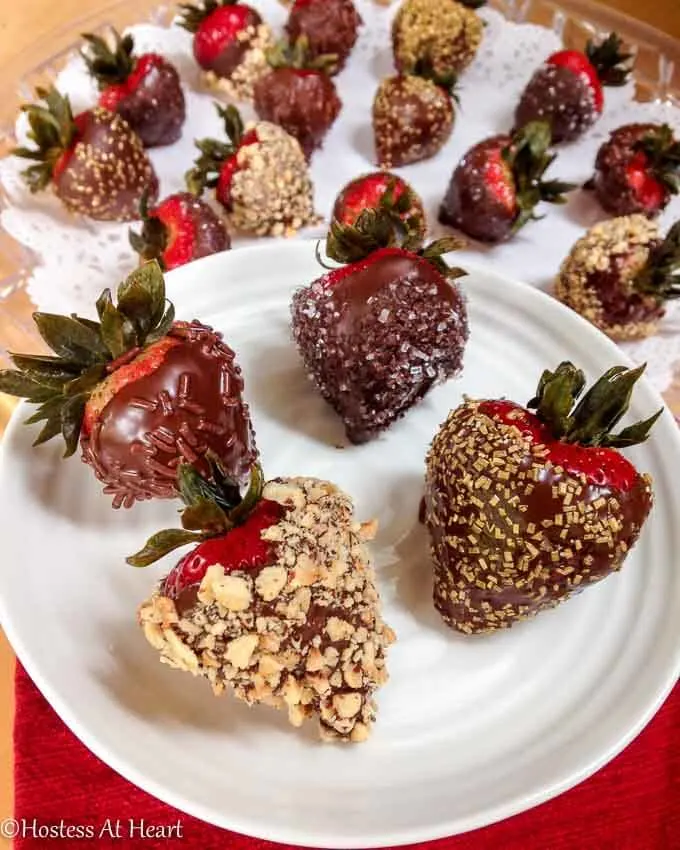 We have a wonderful friend that just had a birthday, and his wife was thoughtful enough to get a few of us together as a birthday surprise. I knew my Vodka Chocolate Covered Strawberries would be a welcome surprise too.
We didn't have to bring anything, but I never like showing up empty-handed. I like to feed people! I knew I wanted to bring something that would fit in with the party theme…booze of course! So, these Boozy Chocolate Covered Strawberries was a no-brainer.
I've been buying these amazing strawberries and thought about dipping them and dressing them up for the party.
I was looking in our liquor cabinet (is it bad that I need a whole cabinet just for booze? We will worry about that later) looking for the vodka. Then I came across a bottle of 360 Double Chocolate vodka and, as they say, "the rest is history". This isn't a paid endorsement for any product. It's what I used. Feel free to use your favorite brands.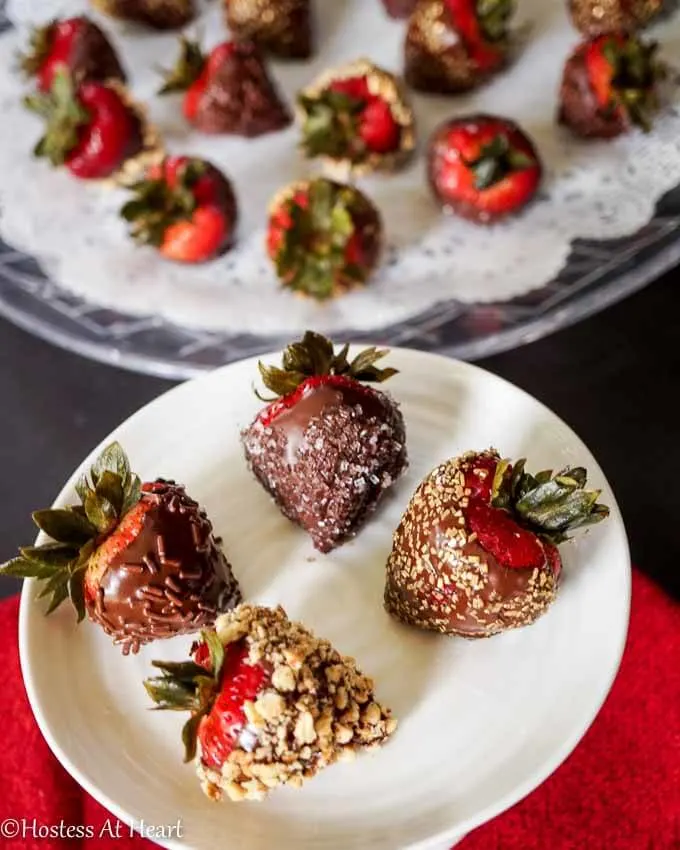 Chocolate Covered Strawberry Variations
Vodka is great for infusing fruit because it is neutral-tasting alcohol unless you use a flavored vodka as I did. You could use a different flavor of vodka. There are so many out there now. How about marshmallow for a S'mores flavored strawberry?
You could also use a different type of alcohol such as Rum or Tequila.
If you can melt your chocolate, you can use it. I love dark chocolate so that's what I used but you could use semi-sweet or white chocolate too. Melt both and dip each side for a tuxedo effect. Very elegant!
You don't have to do anything else to these dipped strawberries, but for me, the fun is making several different ones that really dress up the display. Your options are any kind of nut, candy sprinkles, crushed graham crackers or cookies, or coconut too.
Use several different fruits. We've infused pineapple in vodka which was amazing! You could use mandarin oranges too.
I keep the leaves on the strawberries so they can be picked up to eat. However, you could put decorative picks in them too.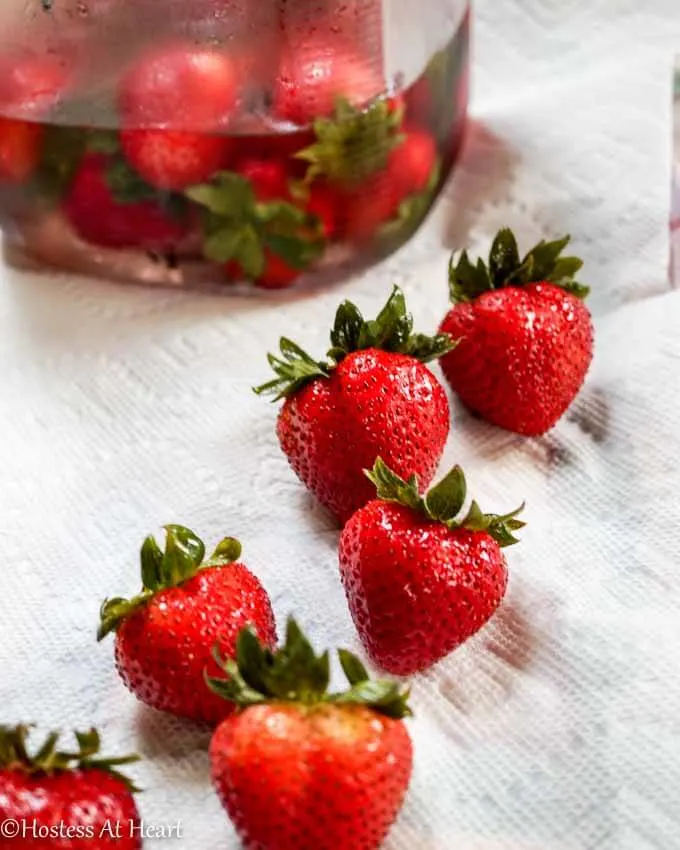 How to make Vodka-infused Chocolate covered Strawberries
Wash 24 large strawberries and put them in a large jar or container.
Cover the strawberries with enough vodka until submerged. My berries took one 750 ml bottle of the double chocolate vodka.

Use good vodka. If it isn't something you would drink, you sure don't want to eat it.

Put a lid on the jar/container and refrigerate the berries for 15 to 24 hours.
Remove the berries and put them on a paper towel and dab them dry.
Melt chocolate using a double-boiler or in the microwave, for 30-second intervals stirring after each, until smooth.
Holding onto the strawberry stem, dip the strawberry into the chocolate.
Spoon sprinkles or other garnishes onto the strawberries.
Allow the chocolate covered strawberries to set on a piece of waxed paper.
Vodka can be poured back into the bottle and refrigerated or other uses.
TIP For Garnishing Chocolate Coated Strawberries: I tried just rolling a few infused chocolate covered strawberries right in the bowls of sprinkles. The wet chocolate dripped into the bowls so the sprinkles couldn't be used. Spooning worked a lot better. Plus I liked the lightly sprinkled look.
How to store Vodka Chocolate Covered Strawberries:
I really recommend making these vodka-infused strawberries the day you need them. In that case, you can just leave them on the wax paper in a cool space (not the refrigerator) until you need them.
Refrigerate: If you're making them ahead of time, you can put them in an air-tight container lined with wax paper. Cover the berries with another layer of wax paper and then refrigerate them.
Keep in mind that it's normal to collect condensation on the refrigerated berries. Remove them from the refrigerator an hour before you need them and let them return to room temperature. I'd keep the vodka-infused chocolate-covered strawberries in a cool place until you need them.
How long do Vodka Chocolate Covered Strawberries last?
The length of time your infused berries last depends on how fresh the berries were when you bought them. Like all strawberries, they're better used sooner than later. I recommend they be eaten within a couple of days.
Can chocolate coated strawberries be frozen?
We don't recommend it. Berries can become mushy and the chocolate tends to break off. Definitely don't freeze them if you want to serve them to guests.
If you enjoy this recipe, here are a few more perfect for entertaining
Don't have time to make them now?

Pin it

for later!
These Vodka Chocolate Covered Strawberries went over just as well as I thought they would. I came home with an empty plate.
You could definitely taste the vodka, but it just enhanced the berries and didn't take over.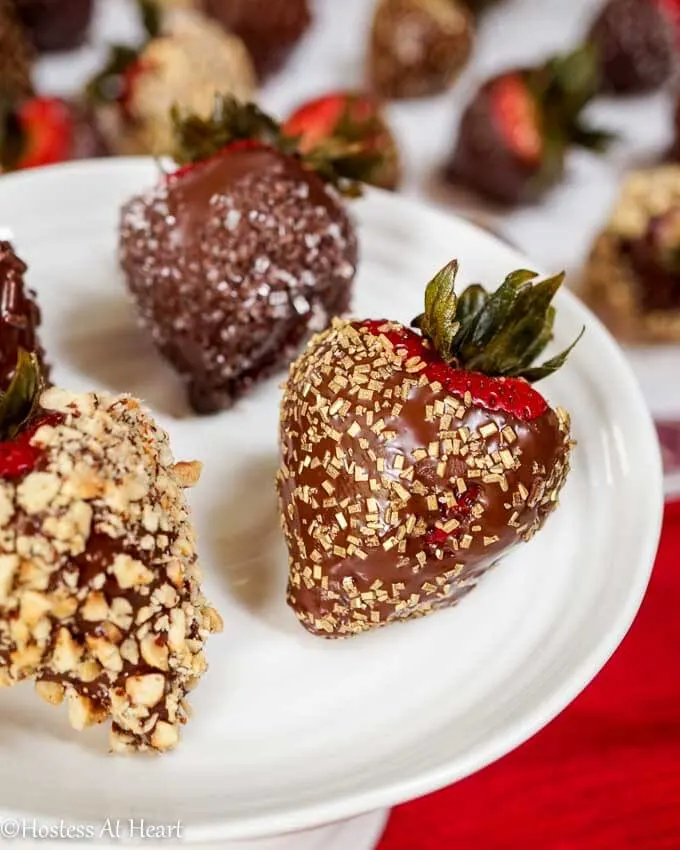 Vodka chocolate-covered strawberries perfect any time of year and just look a little fancier than they are. That makes them perfect for entertaining any time of year. Christmas and Valentine's Day would be perfect occasions for these boozy chocolate-covered strawberries don't you think?
Do you have a favorite party appetizer? Please share, you are my inspiration!
You don't need any special supplies to make these berries but for the fun of entertaining, here are a few items you may enjoy.
Pedestal Platter – I love using pedestal platters. The raise the sightline and create interest in your display. Plus, they're so pretty!
Cocktail Picks – I love using cocktail picks with my appetizers. They elevate a simple dish every time and encourage guests to help themselves.