This Reindeer Food recipe will fill Rudolf with enough energy to fly all night! Just a few nibbles of this Reindeer Food Snack will keep you on the nice list all year. People love it too!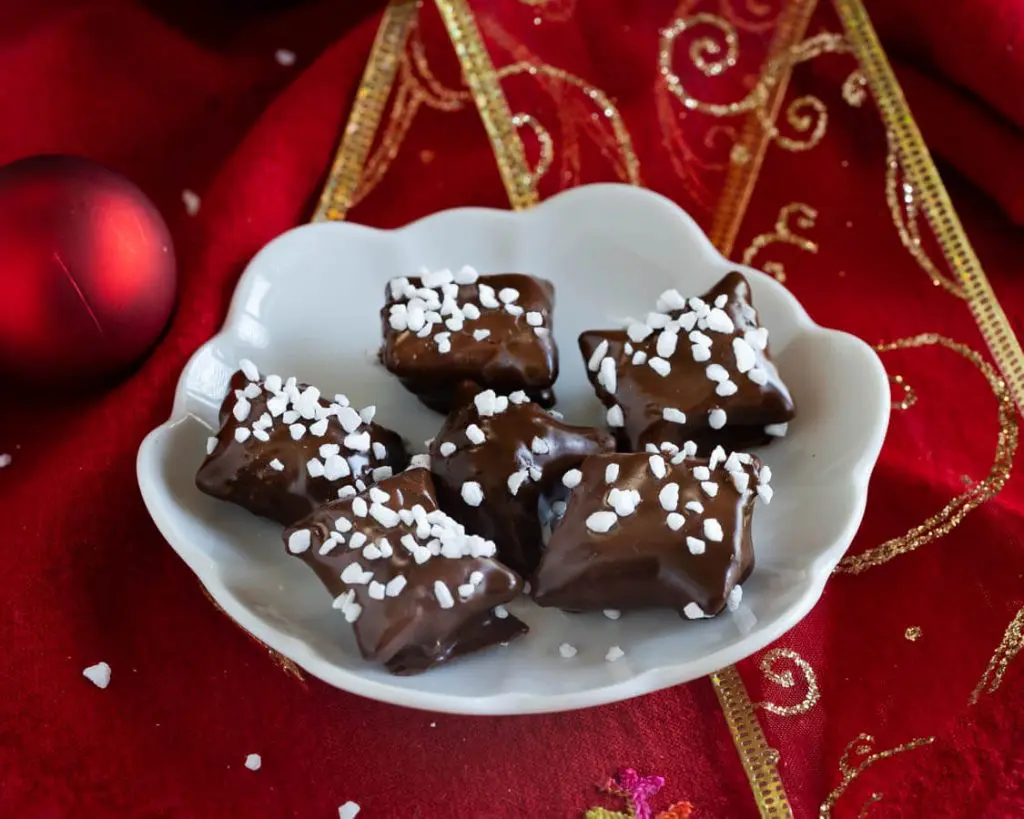 Reindeer Food recipe is a chocolate-covered Reindeer Chow that will have reindeer all over the world looking for your house.
Nothing will go to waste with this edible reindeer food recipe. It's people-friendly too!
The hard part will be to keep Santa from nibbling on this delicious Reindeer Food Snack too.
Let the kiddos help! They can sprinkle on the pearl sugar.
When they put out cookies for Santa, they can set out the Reindeer Food with a decorated note on how they made it special just for the reindeer.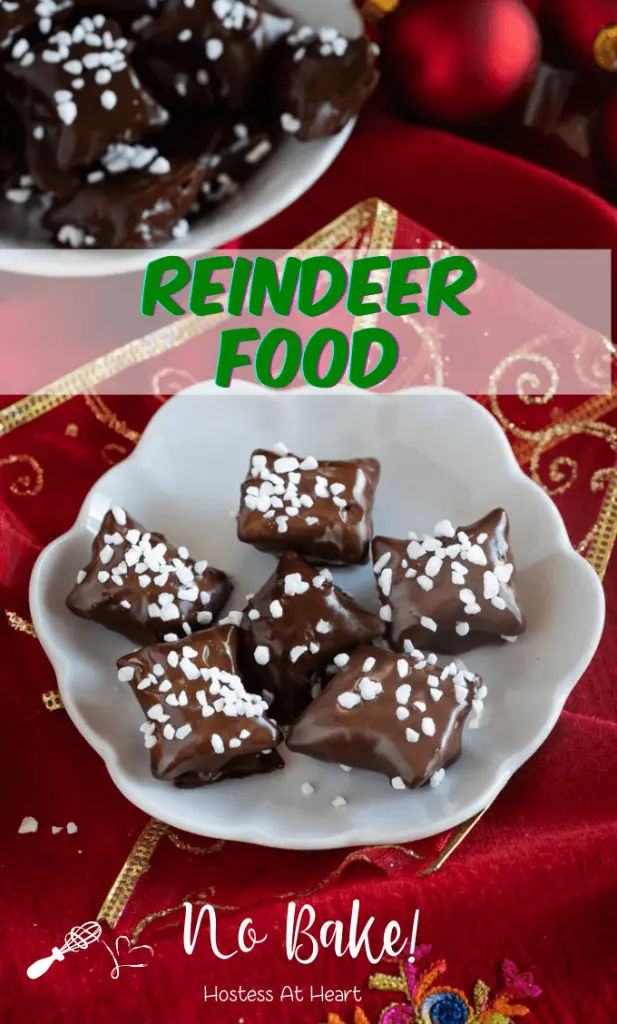 What we love about this Reindeer Food Recipe
This recipe doesn't need to be measured! Make as much as you want.

Just melt your chocolate and keep dipping the peanut butter pretzels until you run out of chocolate!

It's a great recipe to use when you have leftover melted chocolate from another recipe.
It will not go stale as cookies can.
It's a great filler for cookie platters and makes a great holiday gift.
It can be frozen!
What are the Reindeer Food Ingredients and variations?
Chocolate Chips – We used semi-sweet. Check out our "Make it Fast" section below!

Feel free to use milk chocolate or dark chocolate. You could also use chocolate almond bark, bar chocolate, candy melts, or chocolate wafers.

Peanut Butter Filled Pretzel Squares

You could also use Chex Mix or Crispix cereal.

Swedish Pearl Sugar – We love the way this sugar looks like snow but you can use any garnish.
How to make this Reindeer Food Recipe
Melt the chocolate.
Dip the peanut butter stuffed pretzels in the melted chocolate and put them on a wax paper-lined baking sheet.
Sprinkle with Swedish pearl sugar or the garnish of your choice.
Tip: We recommend just dipping 4 or 5 pretzels at a time. You need to sprinkle the chocolate covered pretzels before the chocolate dries or the sugar will not stick.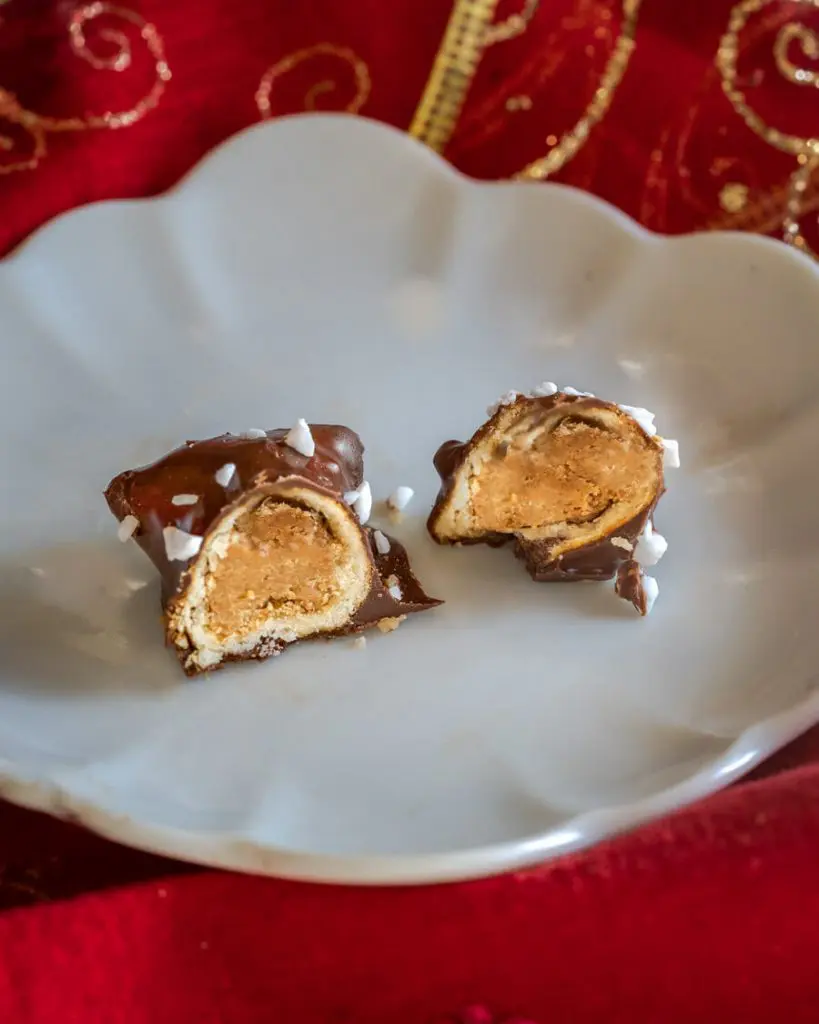 HOW TO MELT CHOCOLATE FOR DIPPING
You can use a double boiler, a saucepan on the stove, or the microwave for melting chocolate. We prefer to use a double boiler.
Note: Make sure that any equipment that you are using is totally dry. Water will cause chocolate to seize up into a clumpy mess.
To get smooth melted chocolate on the stove, melt slowly over low heat stirring occasionally in a double boiler.
When you use a double boiler, you want to fill the bottom pan with water but make sure the top pan isn't touching the water. It should hover just above the water.
You can also make your own double boiler by setting a heatproof metal or glass bowl over a saucepan. Make sure you get a good fit so the top doesn't slide. Sliding can cause an accident or cause burns from hot steam. Again, you want to put water in the bottom pan but don't allow the top to sit in the water.
If you use your microwave, heat the chocolate at 50% power for 30-second intervals stirring in between.
The reason we prefer a double boiler is that once the chocolate is melted you can put it on a hot pad and it will keep the chocolate warm while you dip them. We are finished before our chocolate cools and becomes too solidified to dip.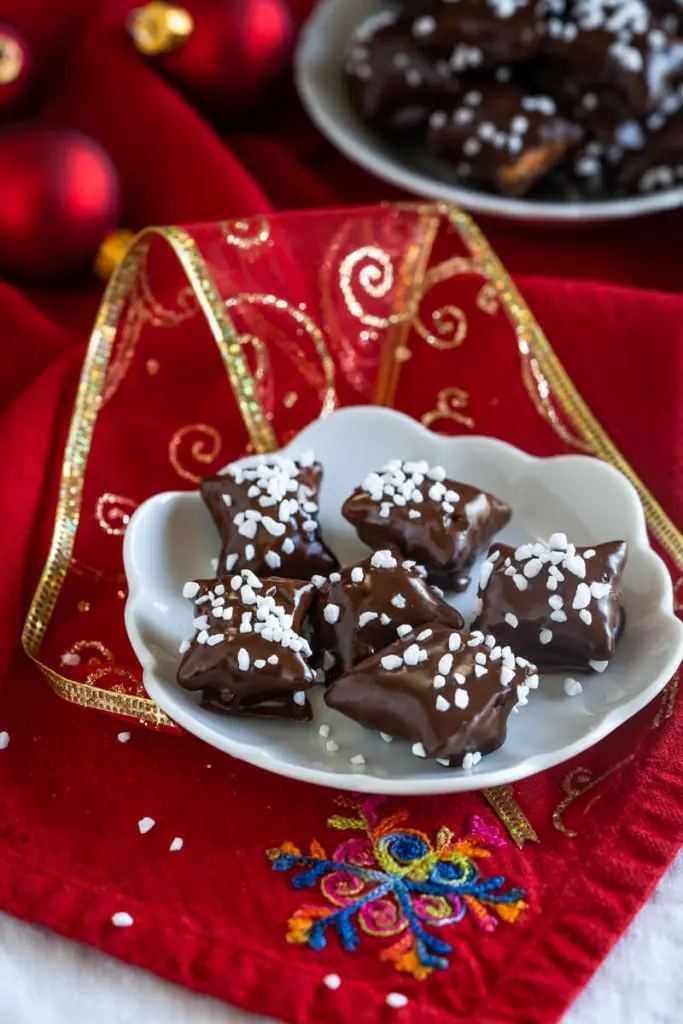 How to dip Peanut Butter Stuffed Pretzels
We prefer to put 4 or 5 pretzels right into the chocolate and then lift each one out with a fork. Give it a slight shake to remove the excess chocolate.
Put each pretzel on a wax paper-lined baking sheet and sprinkle with sugar immediately. If the chocolate dries before you sprinkle them the sugar will not stick.
Make It Fast!
When we made our Peanut Butter Ball recipe, we had a little bit of the chocolate left. Not enough to make more peanut butter balls. Just enough for some quick and easy Reindeer Food.
Since the chocolate was already melted, all we had to do was dip, sprinkle and dry!
We love snacks! Here are a few of our favorites!
We love snacks! You can find all of our SNACK recipes here!
This Reindeer Food Snack makes great fillers on your cookie platter or put some in a decorative jar or tin for a great holiday gift.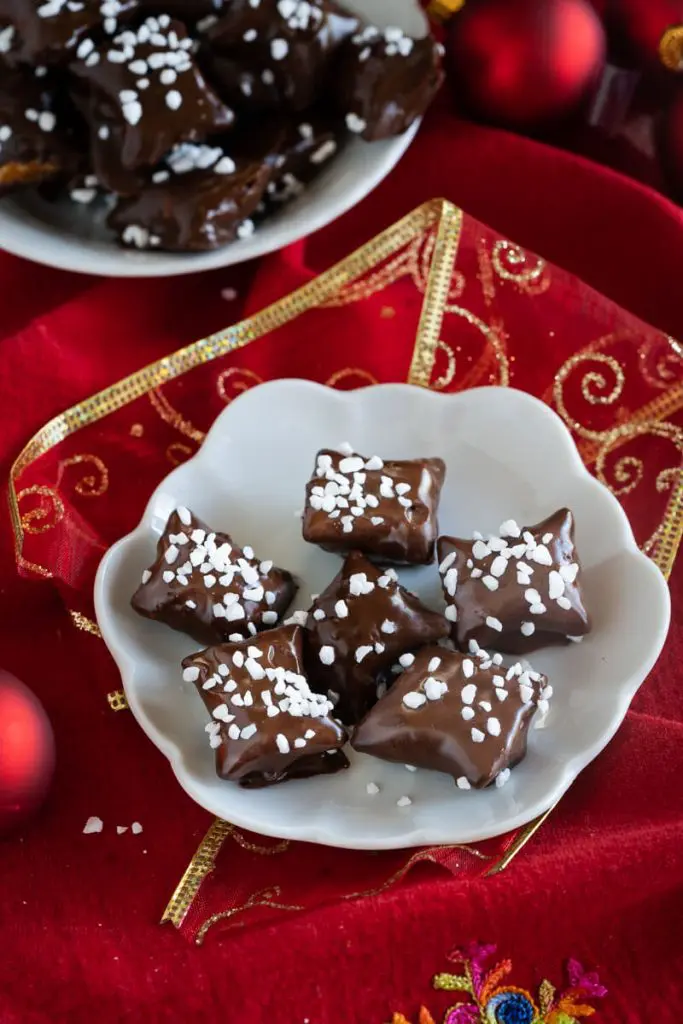 Recipes for a beautiful Cookie Platter
Pin this yummy Reindeer Chow Recipe!