Spicy Pretzels are crunchy, buttery, salty, and spicy. They're the perfect make-ahead finger food snack and impossible to pass without grabbing a handful.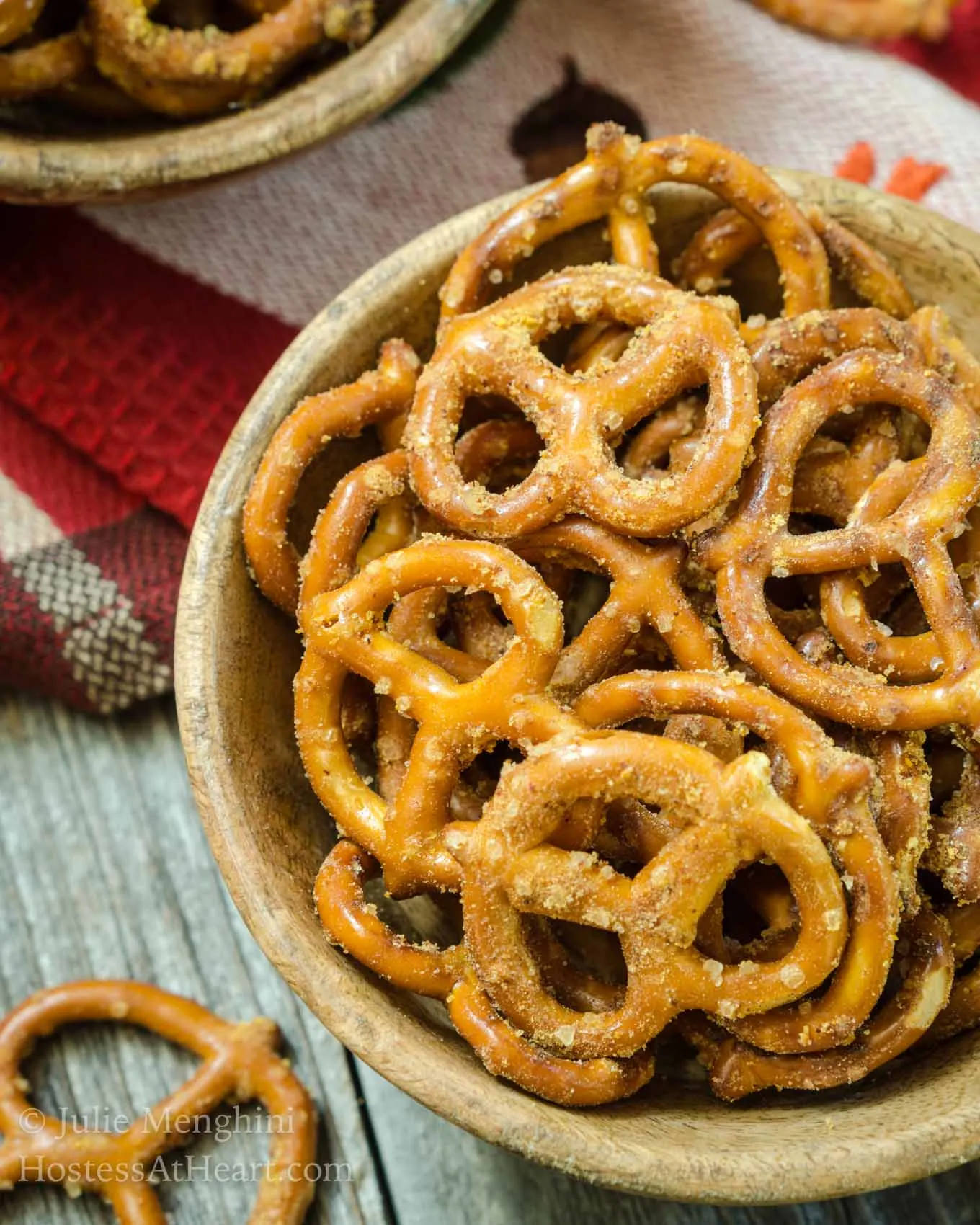 Spicy Pretzels combined with a nacho cheese seasoning is an easy baked finger food snack perfect for any get-together. Be sure to make plenty because this spicy snack is irresistible!
Spicy Pretzels are the kind of pull up your sleeves, grab a beverage, and dig in kind of snack recipe.
Appetizers can mean so many things. They can be served as finger food snacks, or as a light starter before a beautiful meal or casual tailgating snacks.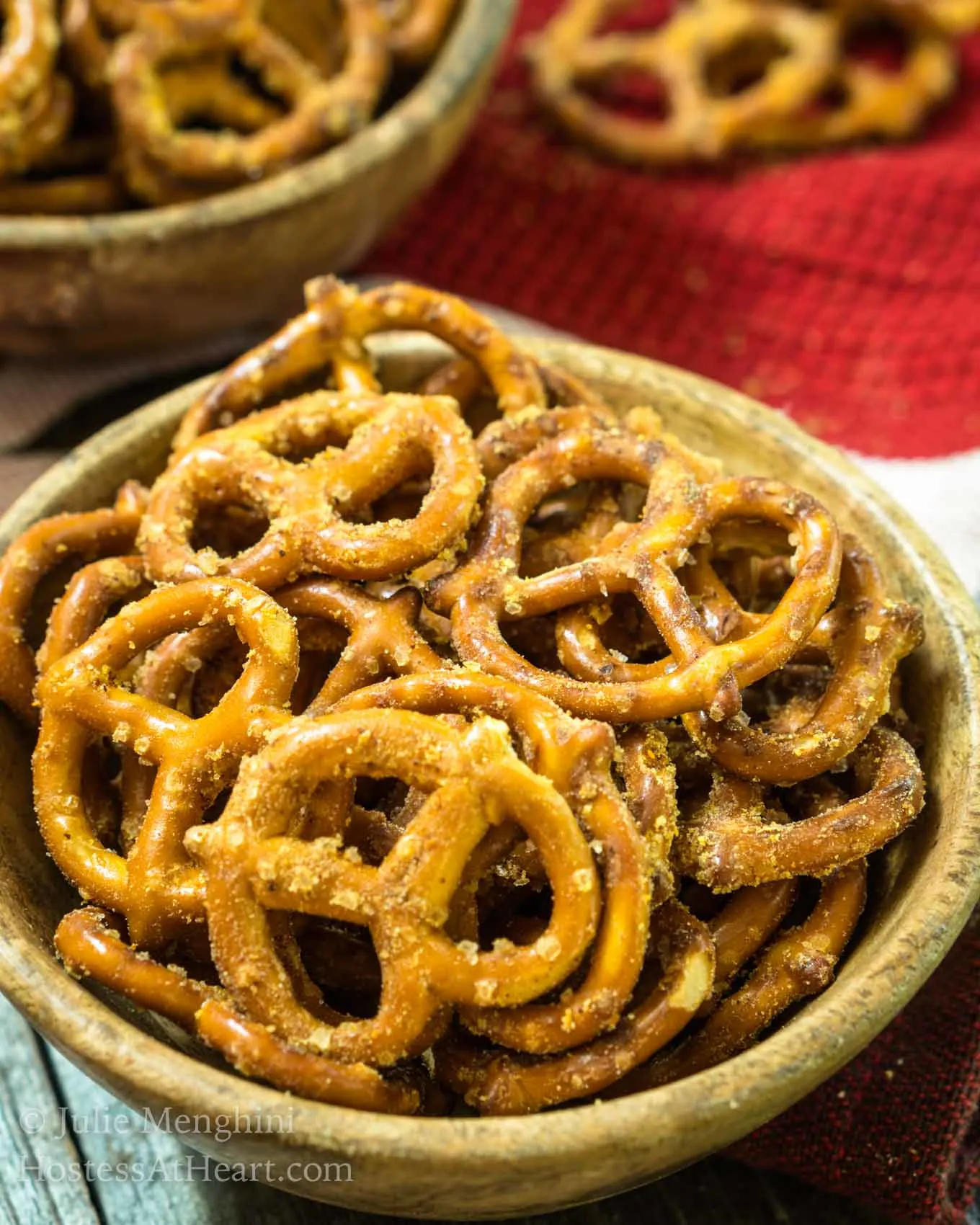 I probably spend more time planning appetizers when entertaining than I do the main meal.
I love dips and finger foods and always try to have something for everyone.
Something salty, sweet, dips and chips, and something new as well as the tried and true. These spicy pretzels are all of that!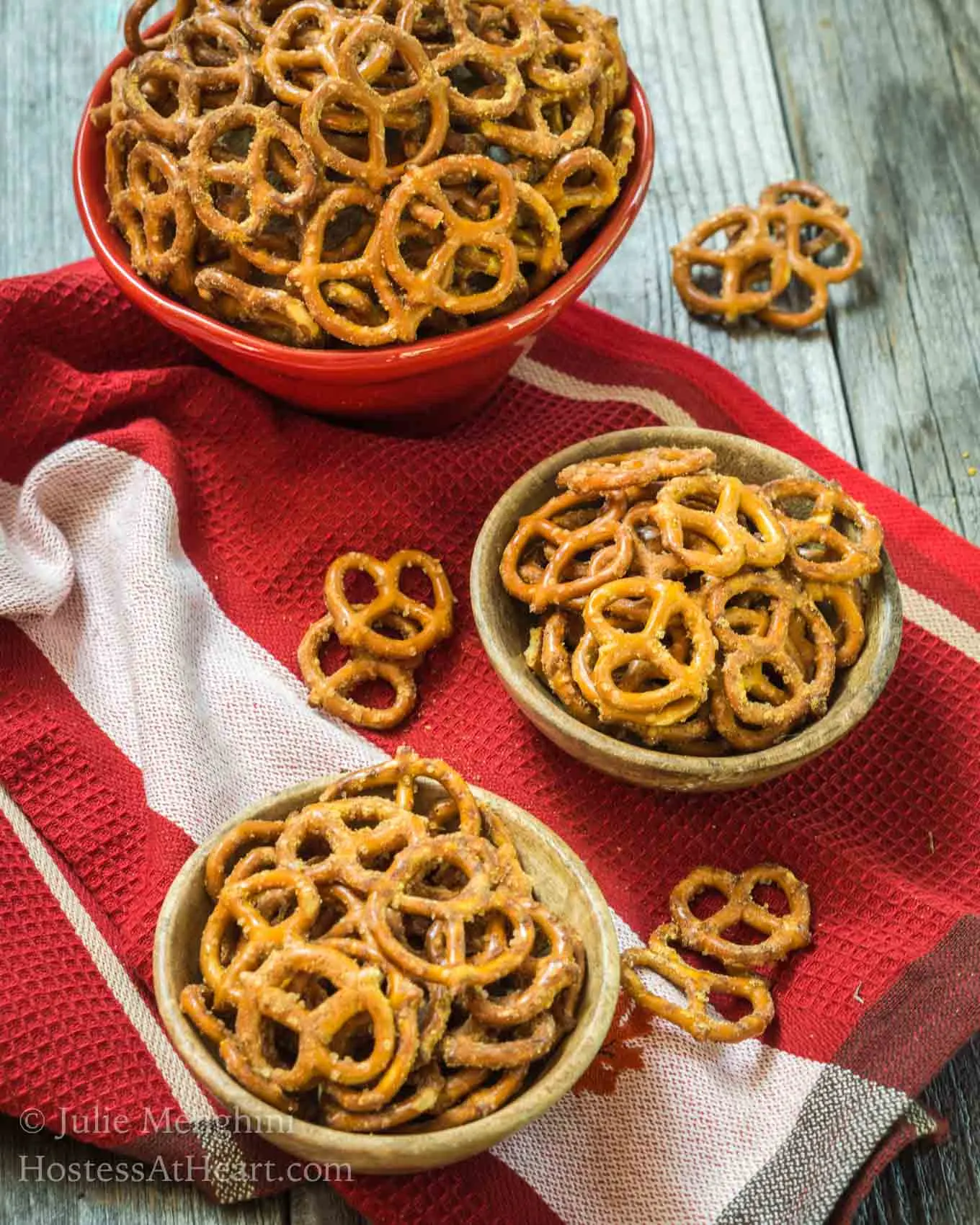 I was wondering why it's so hard for me to come up with a new snack or appetizer.
Entertaining in my book always requires easy make-ahead dips and plenty of finger food snacking.
The name of the game is to serve items that your friends can help themselves too and that aren't going to require a lot of your time while people are there.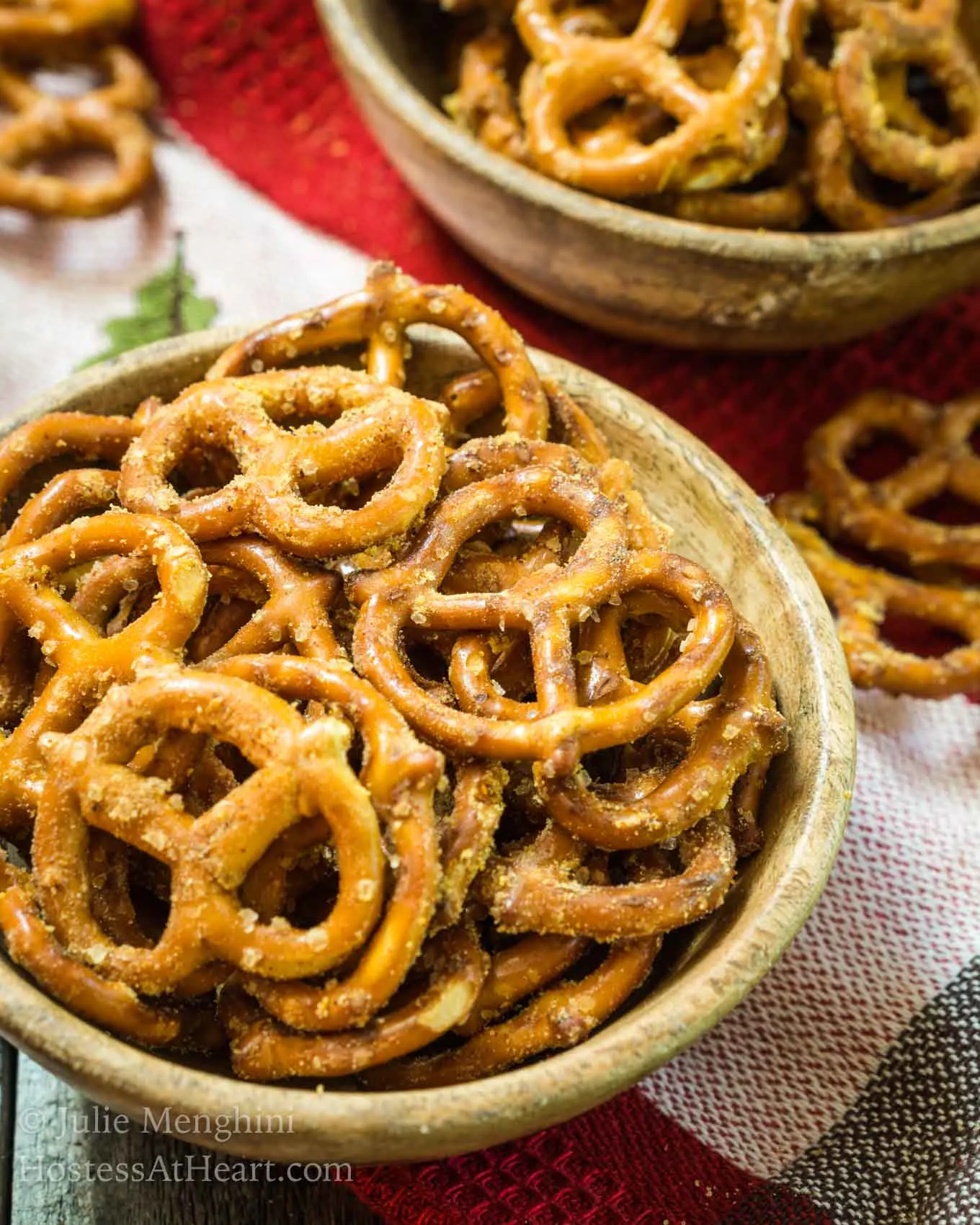 People want to visit with you, not watch you serve them. It took me a while to figure that one out until I watched my friends do what I was doing and wishing they weren't working so hard.
Spicy Nacho Cheese Pretzels are delicious and so easy to make. Best of all, they can be made ahead of time!
Spicy Pretzel Ingredients
With only 5 ingredients, they're quick to put together and budget friendly too.
Pretzels – You can use twists or sticks. I like using the smaller ones. They make the perfect finger food snack.
Vegetable Oil – You can use any neutral oil such as canola.
Garlic powder – The powder variety sticks well to the pretzels
Cayenne pepper – Oh yeah baby, make it as spicy as you want.
Nacho Cheddar Seasoning – Using seasoning mixes makes this homemade spicy pretzel recipe easy to make.
How to store Spicy Pretzels
Make them a couple of days in advance and store them in an airtight container at room temperature.
How to make this Spicy Pretzel Recipe
Combine the seasoning and oil in a small bowl. I like mixing mine in a 2-cup measuring cup for easy pouring.
Spread the pretzels out on rimmed baking sheets. I cover mine with foil for easy clean-up.
Pour the spiced oil mixture over the pretzels, using a spatula to distribute the mixture evenly.
Bake
Make it a spicy snack mix
You can add a variety of ingredients to make it a spicy snack mix by adding the following:
Small crackers such as soup crackers or goldfish crackers
Cereal such as Chex or Crispix
Peanuts or other nut varieties
Pin these Spicy Pretzels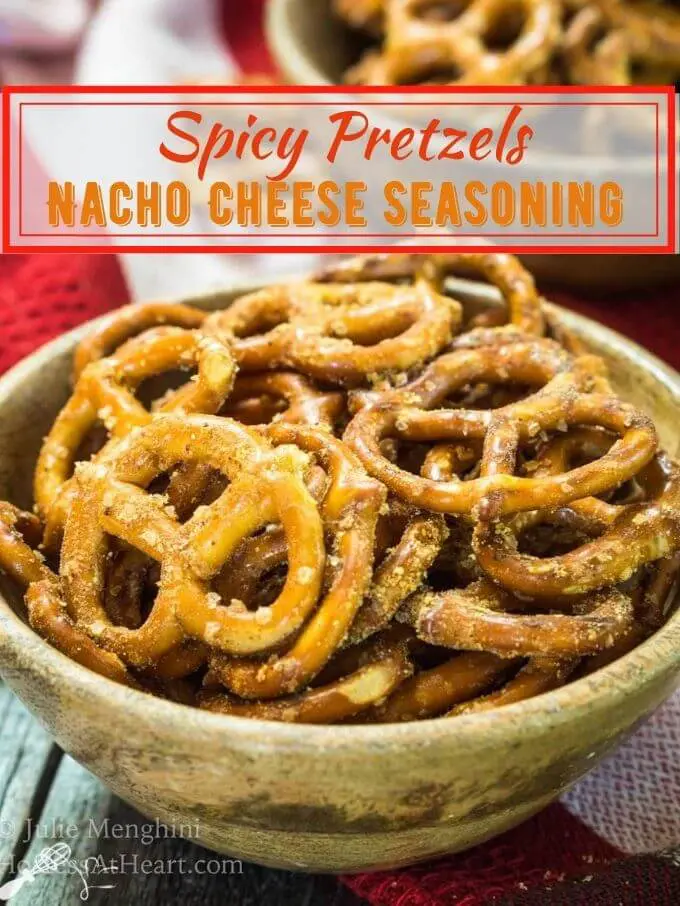 If you liked this Spicy Pretzel Recipe, here are a few you may enjoy
If you like this recipe, we would appreciate your comment and a 5-star ⭐️⭐️⭐️⭐️⭐️ review!
Our Most Popular Recipes
These pretzels will definitely be in the tried and true category for my next tailgating gathering that I'm hosting or attending. You just can't help yourself to walk by without grabbing a handful!
Here are some great snacks from some of my favorite bloggers
Don't forget to pin this Spicy Pretzel Recipe