While charcuterie has been popular for a while, putting charcuterie in a jar is the new way to keep things tidy and provide individual servings of charcuterie for your guests. This savory jarcuterie will be the perfect party pleaser with small plastic jars filled with tasty finger foods.
You could also make a sweet jarcuterie with these ideas and have one of each for your guests or family.
This is such a fun idea, you could take this a million different ways. Walk around the cheese cases and fancy cold cuts area at your grocery store for more ideas. Specialty grocery stores will have new and interesting options. Or keep it simple by following our easy ingredient suggestions.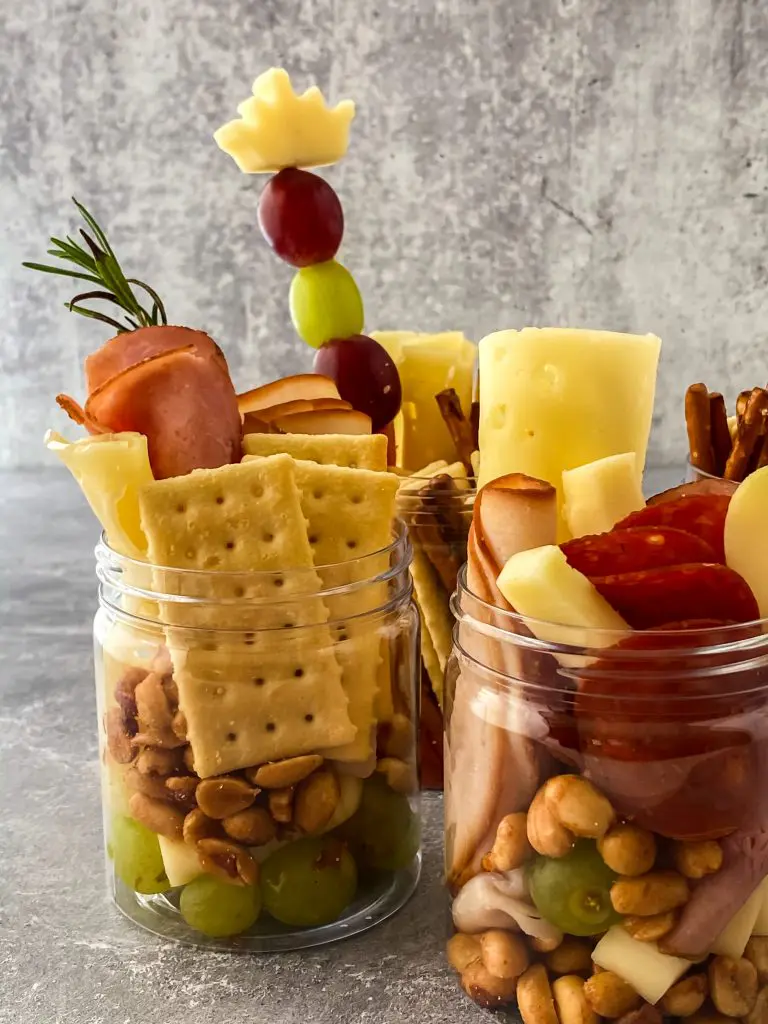 Ingredients for our Savory Charcuterie Jar
Small bite-sized foods make the perfect charcuterie ingredients for our savory jarcuterie. You definitely don't have to stick to this list. Pick things you know your family and friends will love and add interesting items just to keep it fun.
Maybe you're going for a theme as we did with our Patriotic Charcuterie Board? Skies the limit here!
Cold Cuts (ham, turkey, and pepperoni were used for the jarcuterie in our pictures)
Crackers. We used club-style crackers, but any firm crackers will work. Crumbly crackers are probably not the best choice.
Honey Roasted Nuts. Your favorite slightly-sweetened nuts add a nice touch.
Pretzel Sticks. Long and thin, these slip into the jar easily and add a little salt. They work great to spear the ingredients in the bottom of the jar too.
Sliced Cheese. Rolled up this works well for eating on the crackers or with cold cuts.
Block Cheese. This will be cut into chunks or fun shapes to fit your theme.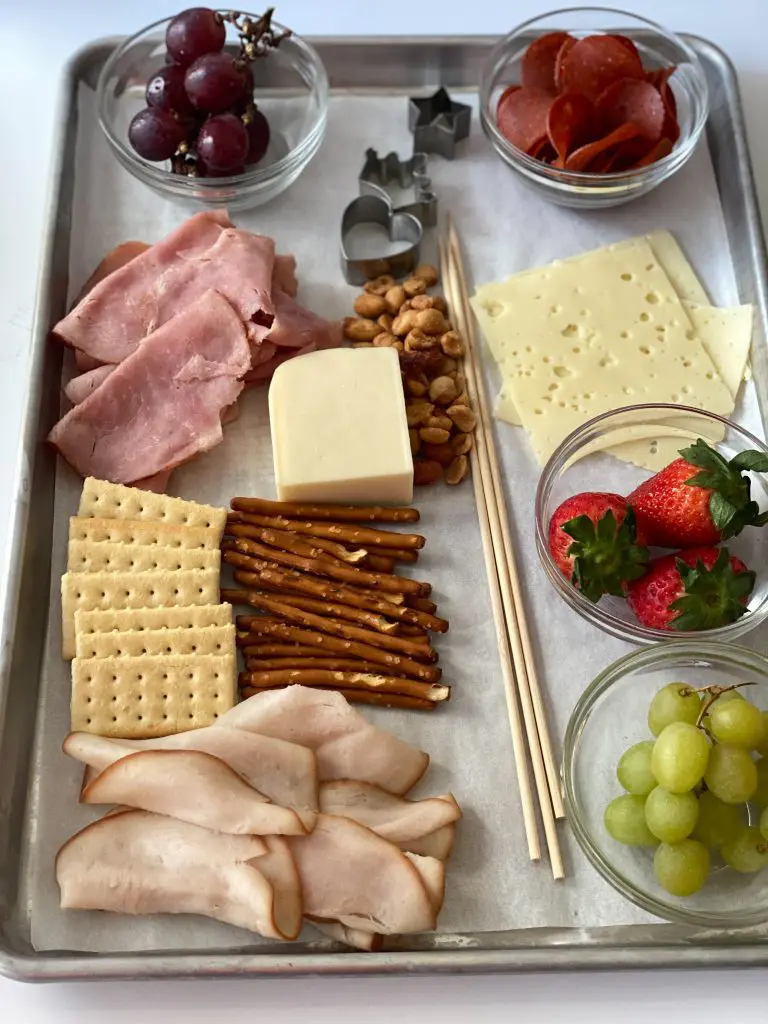 Other Charcuterie Jar Ideas
If you want more ideas for what to put in your savory jarcuterie, consider some of these finger foods. Try to look around your grocery store for low-moisture ingredients you can use right out of the package. Any of the recipes at the end of this post will also work great and add a personal touch to your charcuterie jar!
Pitted Olives
Cheese Sticks
Hard Breadsticks
Hard or soft salami varieties.
Carrot Sticks
Celery Sticks
Individual dip containers
Interesting cracker shapes
Red Pepper Slices
Cucumber Slices
Store-bought snack mix
Spicy Roasted Nuts
Jerky Sticks
You can add a dipping sauce such as Awesome Sauce or Homemade Ranch on the side. Everyone loves to dip right?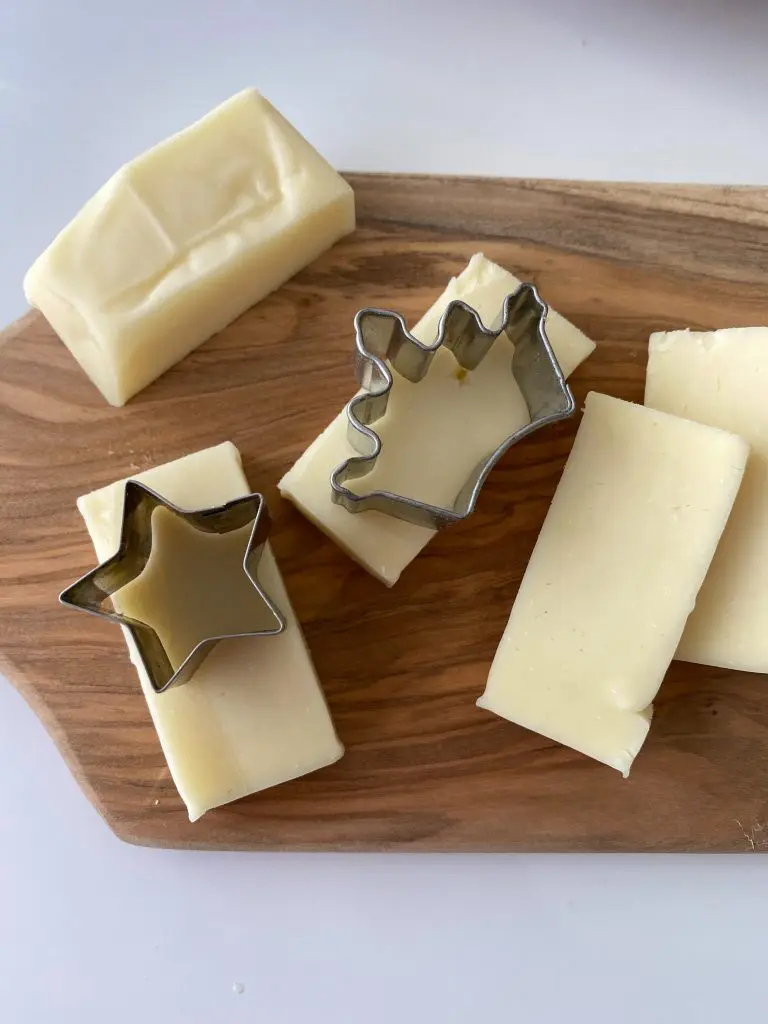 Putting Your Savory Jarcuterie Together
It's not super tricky assembling the charcuterie jars, but it will take some time so plan appropriately and enlist help to form an assembly line. Remember to make room in your refrigerator for a stack of pre-made jarcuterie as well — these cannot sit out all day. It would probably be easiest to prepare these a day ahead of time. Just make sure you don't include anything wet.
The cheese needs to be thick enough to stay on the skewer, and wide enough to fit your shape of choice. You will need to cut the block cheese to the appropriate thickness and length for your cookie cutters of choice to make the cheese designs.
Roll up the cold cuts and sliced cheese.
Layer everything inside the jars and take into consideration the way it looks.
Add the pretzel sticks last.
Adding the nuts throughout will help hold everything in place.
Enjoy the treat!
Tips for the Best Charcuterie Jar
Run your jars through the dishwasher before first use, to remove any factory dust.
If your savory jarcuterie will not be served immediately, the prepared jars should be refrigerated.
If you want to save time, let your guests customize their jars to exactly their own tastes by providing the jars and tongs with the ingredients on a table spread.
Keep it simple and easy with store-bought ingredients or add a personal touch with one of our homemade recipe recommendations.
Use the cookie cutters to customize your savory jarcuterie for any theme or holiday!
Dry the fruit after rinsing so none of the other ingredients get soggy.
Use fun miniature cookie cutters to cut your cheese, fruit and veggies into cute or thematic shapes.
Leftover jars will probably need to be disassembled to save the various food items separately in sealed containers in your refrigerator.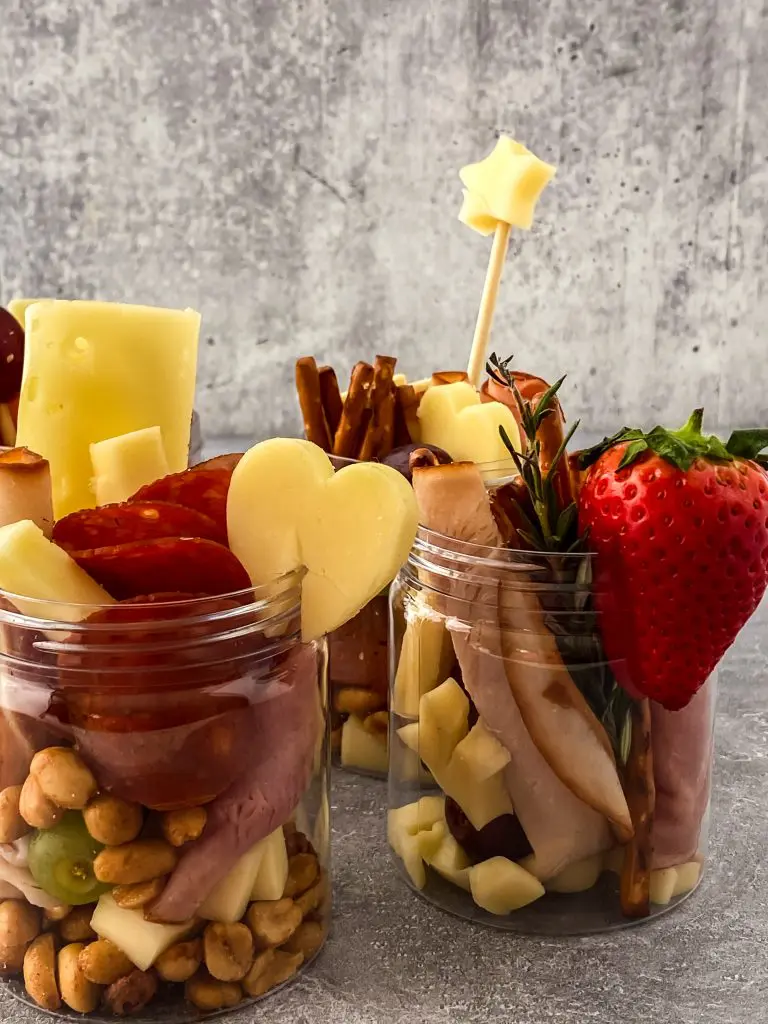 What You'll Need to Make Charcuterie in a Jar
Savory Jarcuterie Ideas
Add variety and your own personalization by making your own snack mixes or jarcuterie ingredients with these homemade recipes.
Spicy Sriracha Snack Mix. A little kick for your charcuterie experience.
Spiced Pretzel Recipe with Nacho Cheese Seasoning. A little less kick if you prefer to avoid the surprise.
German Soft Pretzels or Cinnamon Sugar Pretzels Make this recipe into sticks to fit into your jar.
Soft Bread Rolls. These would be fun balanced on top of the jar, or skewered and sticking out
Three Seed Crackers. If you wanted to go nuts, make your own delicious crackers too!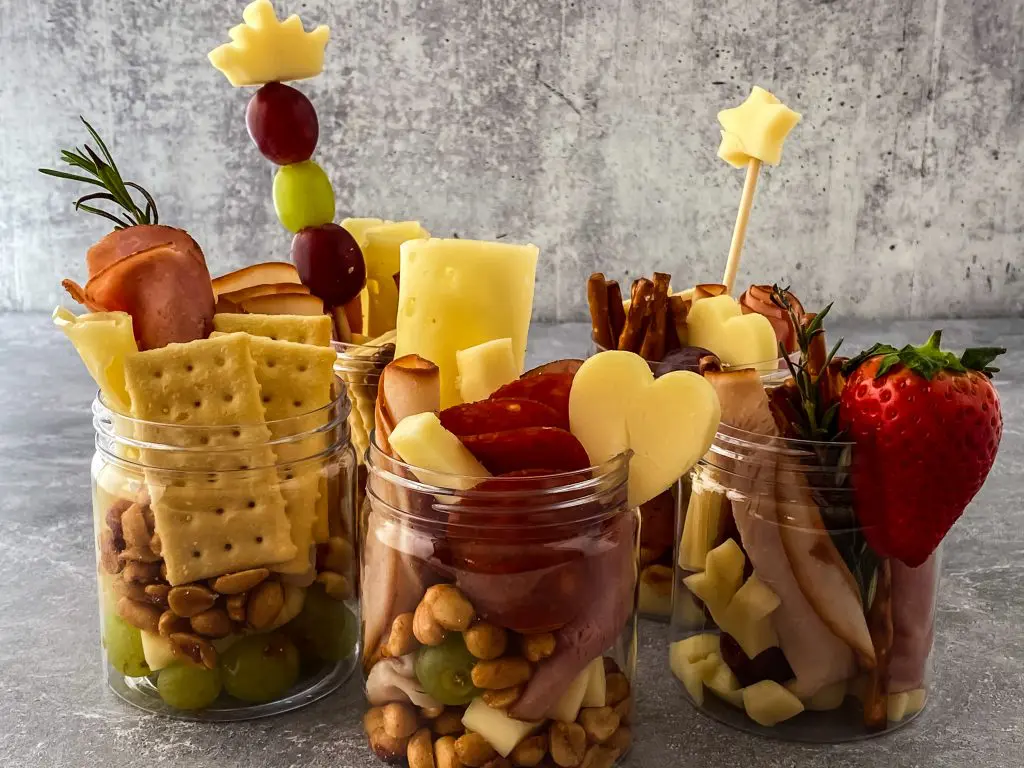 The name of the game is to just have fun. Jarcuterie takes you out of the kitchen and lets you enjoy yourself.