Spicy Sriracha Snack Chex Mix is one of those recipes that's a snap to make and quick to disappear. It's perfect for when a whole lot of munching is going on.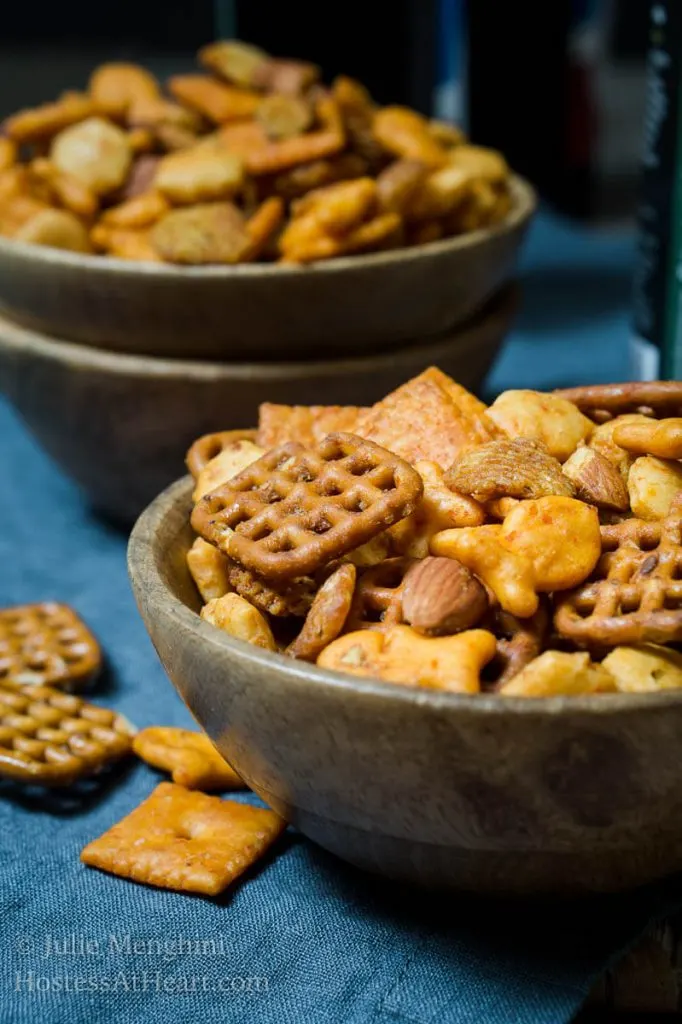 Spicy Sriracha Snack Chex Mix is one of those recipes that are so addicting once you get started munching. Of course, you have to follow a pretzel with a cracker with a goldfish and then an almond until you can see the bottom of the bowl and wonder how in the heck that happened!
It's finally cooling off after a too warm summer, and our favorite football team is on the field. We love inviting people over to watch it and I'm always looking for munchies to snack on. Our Freaky Friday Fall edition was perfect timing.

The Freaky Friday blog hop is a group of bloggers that are secretly assigned each others' blogs from which we choose a recipe appropriate for the theme.
The blog that I was given was Take Two Tapas. Take Two Tapas is the brain project of the amazing Jennifer. Jennifer started her blog because she enjoyed grazing on several different dishes instead of filling up on a big plate. I KNEW that the biggest problem with picking a recipe was picking just one recipe!
She has a ton that works for tailgating or entertaining!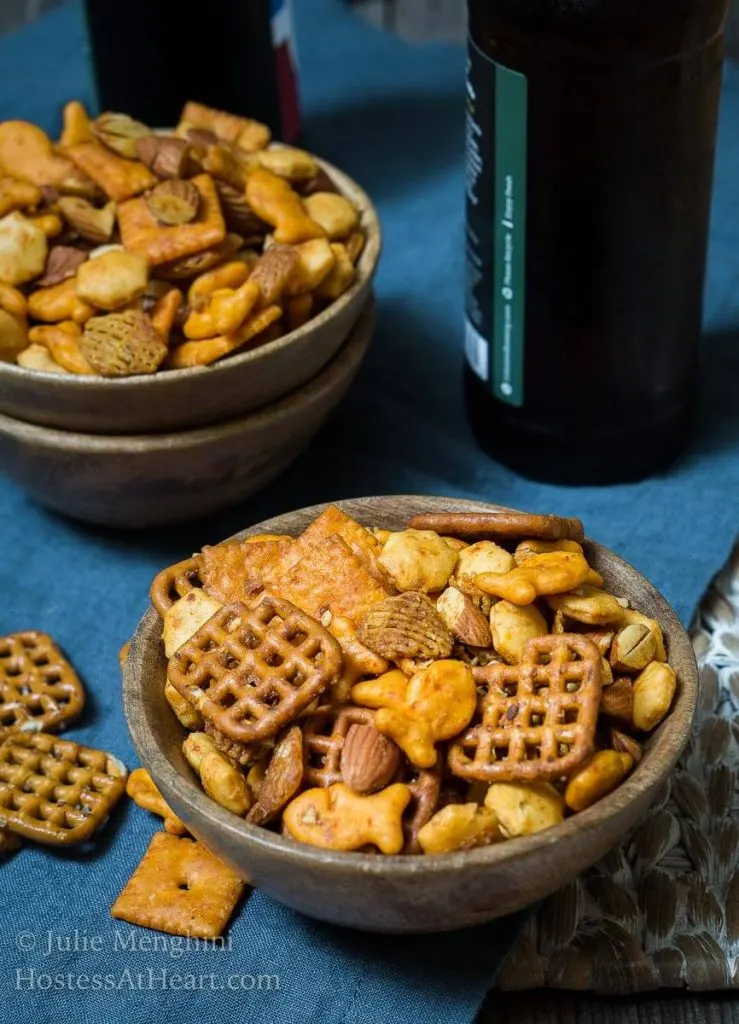 Her recipe for Spicy Sriracha Snack Chex Mix was exactly what I was looking for. Other contenders were her Wasabi Ginger Cheese Ball and her Extra Cheesy Pepperoni Pizza Skillet Dip. She is an amazing mixologist too. Check out her 3 Ingredient Margarita Beer Shandy Cocktail. She has a tailgating checklist available right now so run on over and pick it up.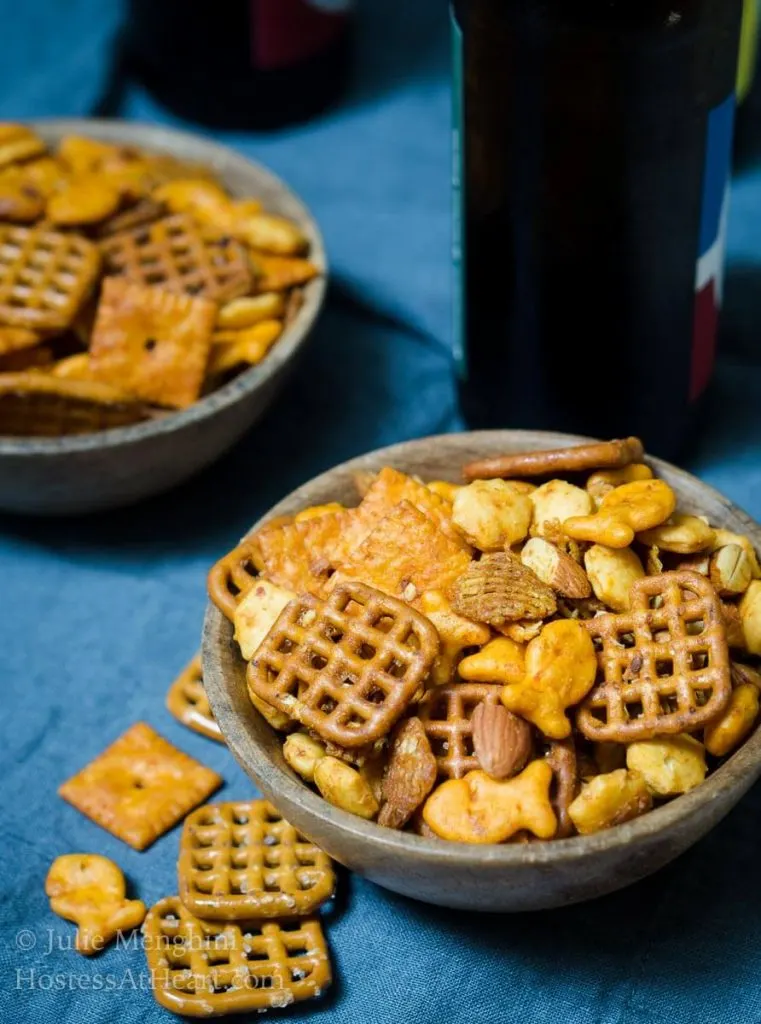 Here are a few more recipes perfect for tailgating!
Easy Pizza Knots Recipe – with Video
Easy Healthy Cilantro Lime Shrimp
Just thinking of these Spicy Sriracha Snack Chex Mix being all lonely on the counter while I was going through my photos for this post had me dashing (I dash) to the kitchen for a bowl. Just in case I lacked inspiration you know. John must have been looking for inspiration when he was hogging this mix after lunch too.
Let's keep in touch! You can find me on Pinterest, Instagram, Facebook, Twitter, and YouTube! Better yet, enter your email address in the box below and never miss a recipe!

Here is a list of all of this Freaky Friday Participants and what they made for our fall round!! I can't wait to dig into these recipes. They're always guaranteed to grace my table!
An Affair from the Heart – Rustic Harvest Stew
Take Two Tapas – Pepperoni Pizza Packets
LeMoine Family Kitchen – Mixed Berry Muffins
Hostess at Heart – Spicy Sriracha Snack Mix
Aunt Bee's Recipes – Easy Black Bean Soup
Bowl Me Over – Spicy Thai Noodle Soup with Shrimp
The Foodie Affair – Unstuffed Bell Pepper Casserole with Cauliflower Crumbles
Full Belly Sisters – Easy Coconut Macaroons
Who Needs A Cape? – Loaded Slow Cooker Pierogies
Lisa's dinnertime Dish – Italian Stuffed Pepper Cauliflower Rice Skillet
A Dish of Daily Life – Banana Crumb Cake with Pecans
The Devilish Dish – Slow Cooker Crack Chicken
Life Currents – Pineapple Serrano Hummus
Plattertalk – Baked Pumpkin Donuts
Pic Nic – Dark Chocolate Pecan Tart