Caramel Apple Pie Snack Mix combines toasted pecans and pretzels with buttery caramel. Dried apples complete this finger-friendly sweet and salty snack mix recipe.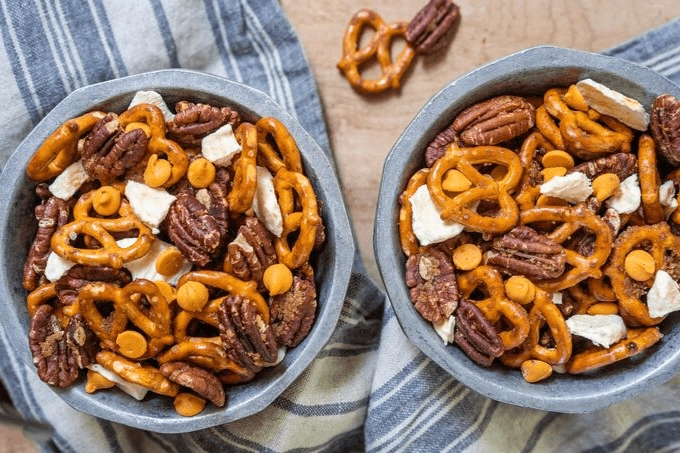 Caramel Apple Pie Snack Mix has become a Fall Snack Mix favorite in my house. We love to tailgate and get together with friends when cheering on our favorite teams. This party mix recipe makes the perfect game-time munchie!
I was visiting with a friend of mine recently and quizzed her on what she would like to see more of on my blog.
In her household, her husband is the chef du jour and she's the sous but when it comes to parties, she's in charge. She said she wanted more easy to make-and-take appetizers and snacks. I totally agreed with her!
When I entertain, I want something for everyone when it comes to food. I've found when people are talking or watching the big game, that they either take a little bit of everything all at once or nibble consistently.
Pin this amazing Caramel Apple Pie Snack Mix!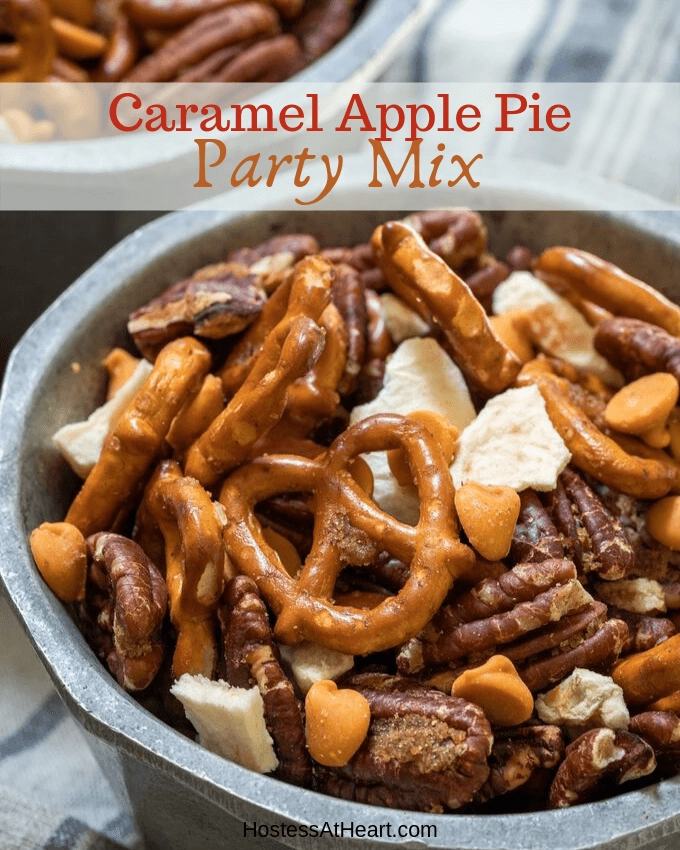 Me, I take a little bit of everything because once the game starts, I want to watch it. Not so with everyone. Some of my friends would rather chat and catch up. They're typically the nibblers.
My entertaining goals are:
People must be able to serve themselves.
Food must be able to sit out or easily kept cold or hot.
Set finger-food around in multiple places so everyone has access to it.
Keep it simple by choosing make-ahead choices.
Keep items that must be prepared to a minimum.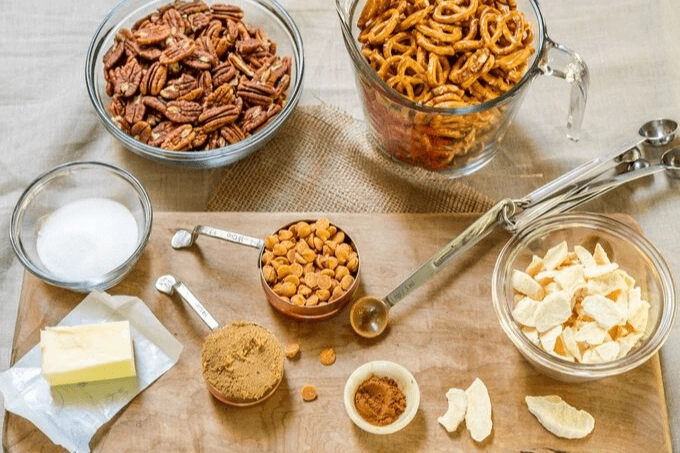 Ingredients for the Caramel Apple Pie Snack Mix:
Pecans – I used halves in this mix. The pieces variety would fall to the bottom of the bowl.
Pretzels – Small twists worked great and did a great job holding the caramel mix.
Dried apples – Apple rings are great. For this recipe, I actually used freeze-dried apples which stayed crisp. I chopped them up so they were the size of the other ingredients and dispersed evenly.
Caramel chips – These chips are delicious so include plenty! I used a salted caramel version that was great in this sweet and salty snack mix recipe.
Caramel Mix – Butter, brown sugar, sugar
Cinnamon and salt
Easy Homemade Party Mix
Caramel blended with pecans

Added pretzels to mixture
Variations to make your own Party Mix:
Add mini chocolate chips or other chocolate candy morsels to the mix.
Exchange the pecans for your favorite nut. Walnuts, cashews or almonds would make great substitutes.
Add dried cranberries.
Include yogurt-covered raisins
Drizzle the mixture with white or chocolate almond bark.
Make it a holiday favorite by adding candy eyeballs at Halloween or Christmas themed candies or pretzels.
Before you give me too much credit, there was a method to my madness making this amazing apple pie sweet snack mix. That's because it's our Freaky Friday Fall edition and the timing was perfect!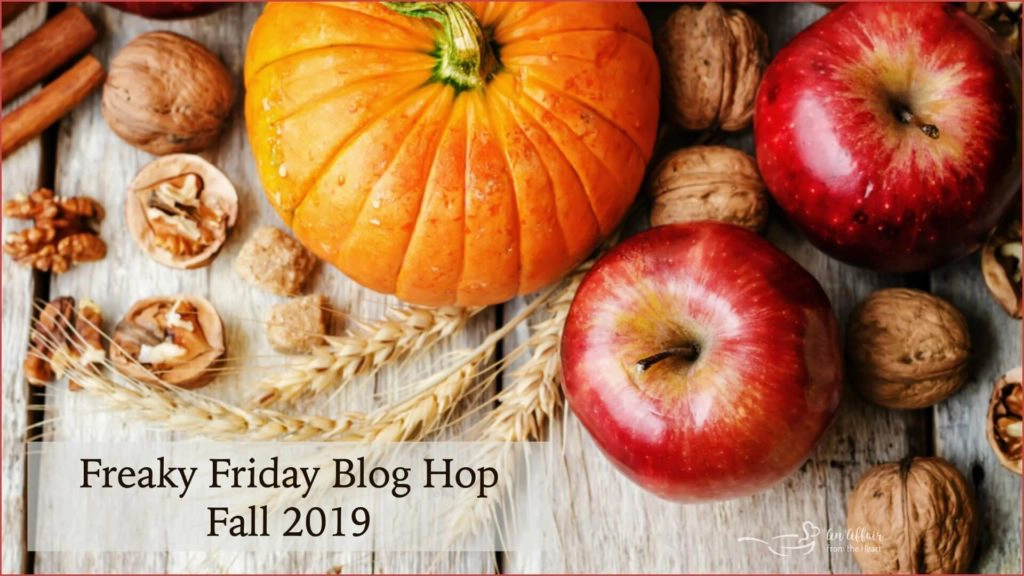 What's Freaky Friday?
The Freaky Friday blog hop, organized by Michaela who runs An Affair From the Heart, is a group of bloggers that are secretly assigned each others' blogs from which we choose a recipe appropriate for the theme. It's so much fun and there are so many quality recipes.
For this Fall edition, I was secretly assigned Kathy's blog, Lemon Blossoms!
Kathy has serious foodie chops! She's a professionally trained Chef and has worked with Wolf Gang Puck and Bobby Flay. She's been a private chef for the celebrities and now this California transplant is a southern girl with her husband and two boys.
This extremely talented girl inspires us to make easy, delicious, restaurant-quality meals at home. I had a heck of a time choosing just one recipe.
With tailgating on my mind, I was drawn to her Queso Fundido Dip. That is until I saw her Salted Caramel Apple Pie Bars and One Pot Chili Mac & Cheese. The list goes on but I finally settled on her Caramel Apple Pie Party Mix.
Make sure you head on over to Kathy's blog, Lemon Blossoms and check out all of her amazing recipes for yourself.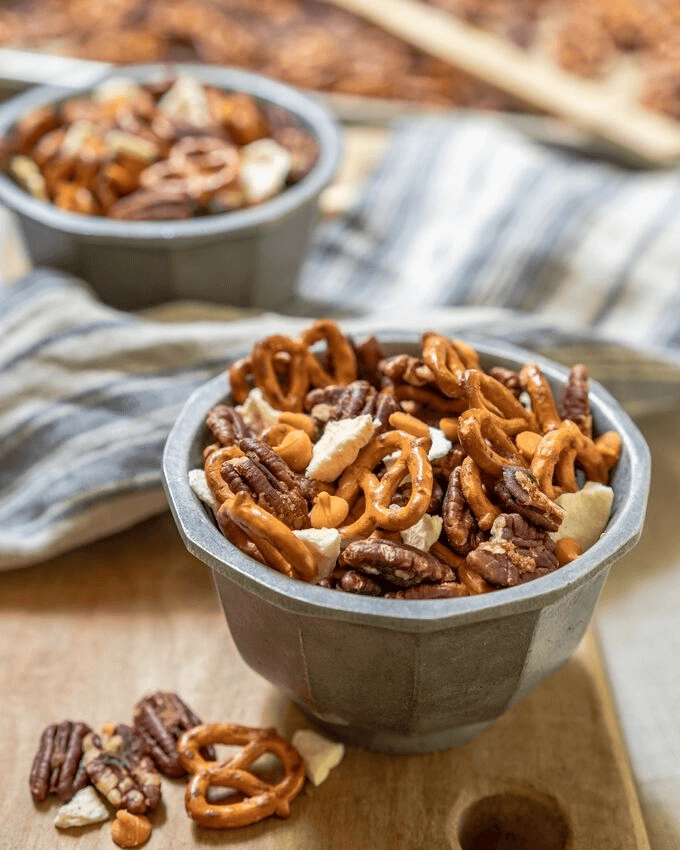 I served this amazing party mix recipe at a casual BBQ dinner we had the night before we were to leave on vacation. I bagged up the leftovers and took it as a snack on the airplane. It was a heck of a lot better than the cookie everyone else got.
Take a look at all of our Fall 2019 Freaky Friday Recipes:
Here are a few items you may need to make this Sweet and Salty Snack Mix Recipe:
Baking Sheets – These sheet pans are durable and I have four of them so I can get everything baked in a jiffy!
Parchment Paper – This is my favorite parchment paper. It's important to know that there is an oven temperature rating on parchment paper. If you exceed it your parchment paper can catch fire in your oven. This one is rated to 450°F, high enough for my bread recipes too.
Mixing Bowls – I use this set of bowls for mixing, serving, and storing, and transporting food. The pretty lids guarantee no spilling too!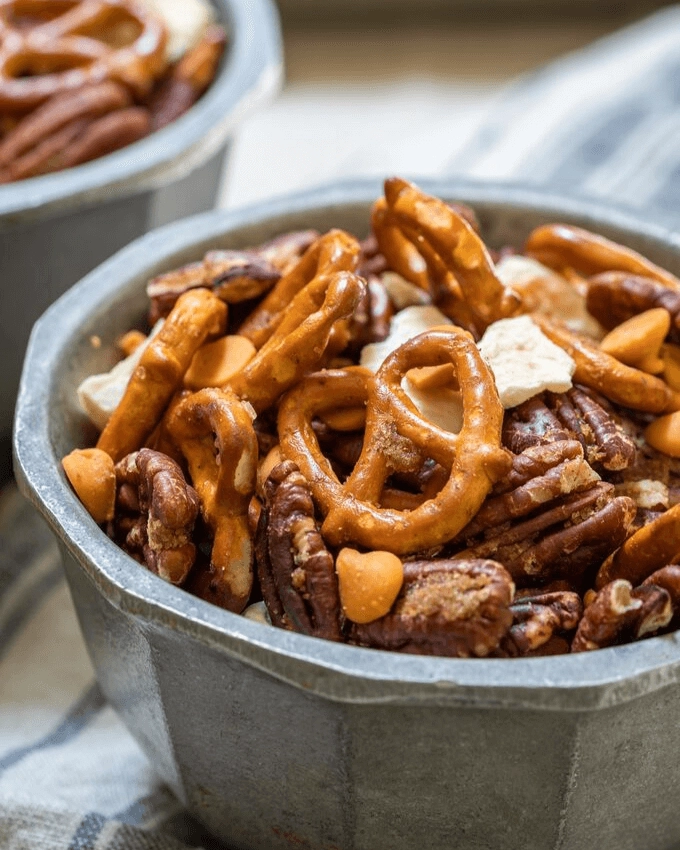 Be sure to check out these game day snacks too!
Caramel Crispix Snack Mix Recipe
This Addictive Caramel Crispix Snack Mix is so good! One batch of this caramel glazed snack mix will feed a crowd that no one can resist!
Check out this recipe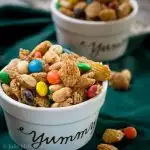 Spicy Pretzels with Nacho Cheese Seasoning
Spicy Pretzels are buttery, salty, crunchy, and spicy. They're the perfect make-ahead finger food snack and impossible to pass without grabbing a handful.
Check out this recipe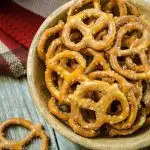 Spicy Sriracha Snack Chex Mix
Spicy Sriracha Snack Chex Mix is one of those recipes that's a snap to make and quick to disappear. It's perfect for when a whole lot of munching is going on.
Check out this recipe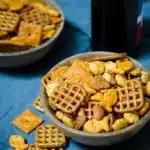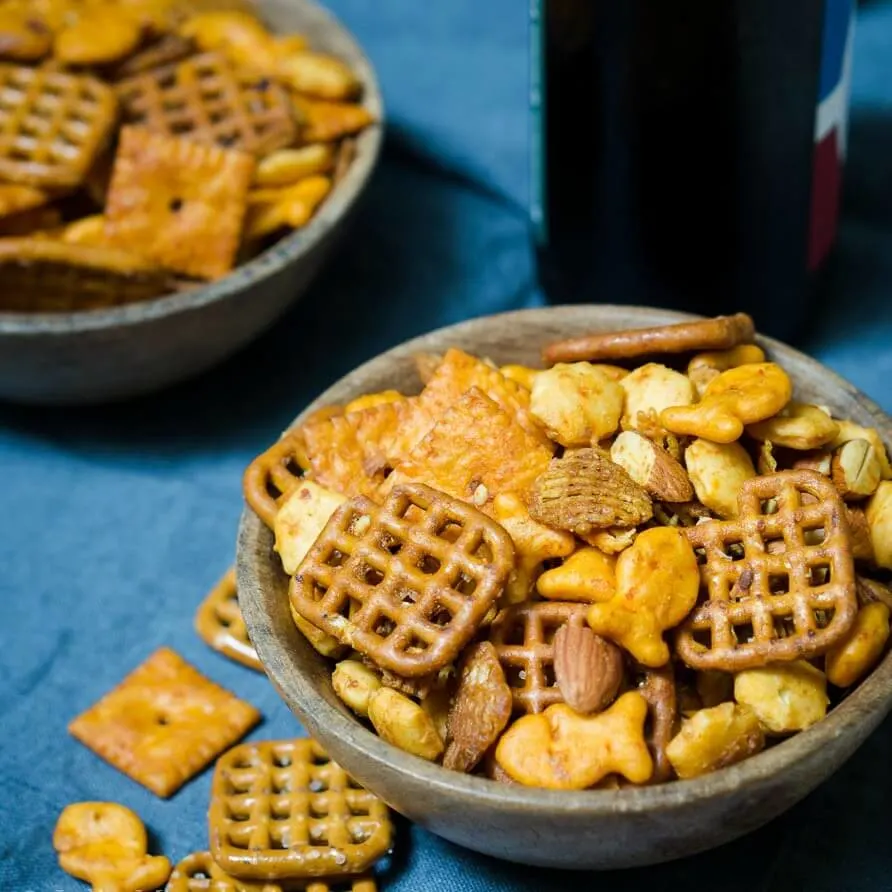 Please share, you are my inspiration!
Are you a nibbler or are you piling up a plate and going into a big game coma? What is your favorite party food recipe? lease share! You are my inspiration!