Smooth and Creamy Pumpkin Cheesecake Swirl Bars are easier to make than pie. This No-Crust Pumpkin Cheese Cake Bar recipe is full of warm fall spices and the pumpkin flavor you crave, all in a cool pumpkin dessert.
THIS POST HAS BEEN UPGRADED FROM 9/20/17 TO IMPROVE THE READER EXPERIENCE.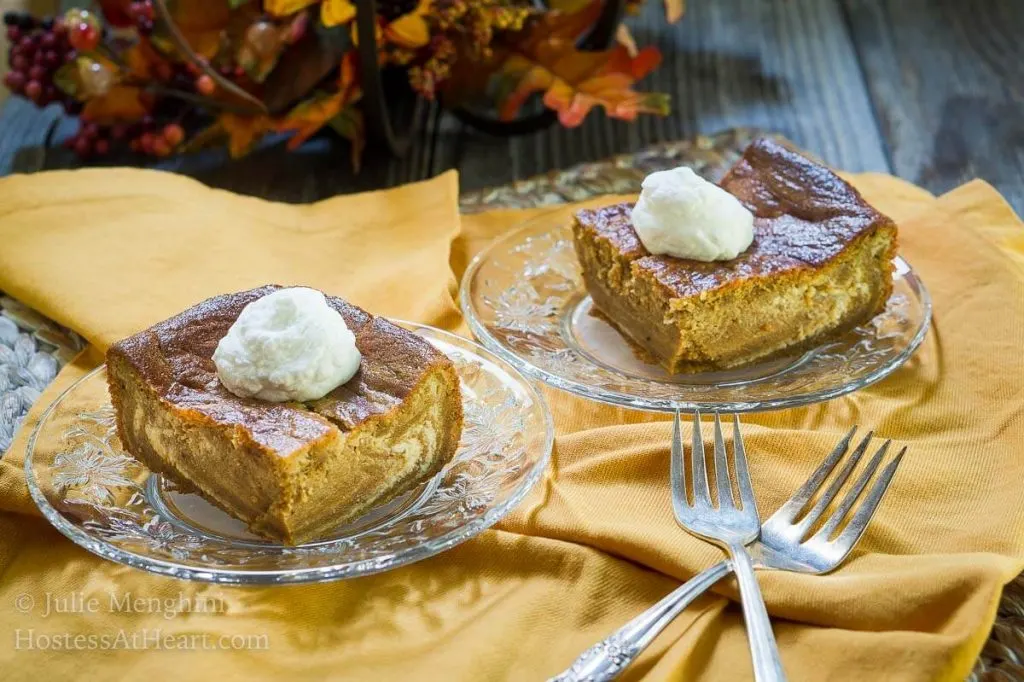 You can't be a foodie and think of Fall without the word Pumpkin somewhere in the mix. These Smooth & Creamy Pumpkin Cheesecake Swirl Bars will satisfy that fall craving and make enough to share!
Where I live, Nebraska, the weather starts getting cooler once Fall rolls around. That just makes my taste buds crave pumpkin, apples, and warmer spiced recipes. Pumpkin cream cheese swirl bars is an easy fix for those cravings!
It also makes me start thinking about the Holidays. Since I love sharing food with friends and family, I want my dishes to feel a little special too. Holidays give me a reason to do that and this pumpkin cheesecake swirl bars recipe makes it easy.
I LOVE these swirled pumpkin cheesecake bars!
And, here's why
There isn't a crust to make so these bars are easier to make than pumpkin pie.
There is no water bath involved in making swirled pumpkin cheesecake bars like there is in making a lot of other cheesecakes.
The pumpkin bars have a cake consistency, not like these smooth and creamy pumpkin cheesecake bars. They also require a delicious frosting but I can skip that here too.
Our pumpkin bar recipe also makes a large half-sheet pan which is difficult to get through for my family. This Cheesecake Bar recipe makes a 9×13 pan full. It's easy to make and take and I have no difficulty in using it up.
The swirl that you do in these bars makes them look a lot fancier than they are to make. Perfect for the Holidays!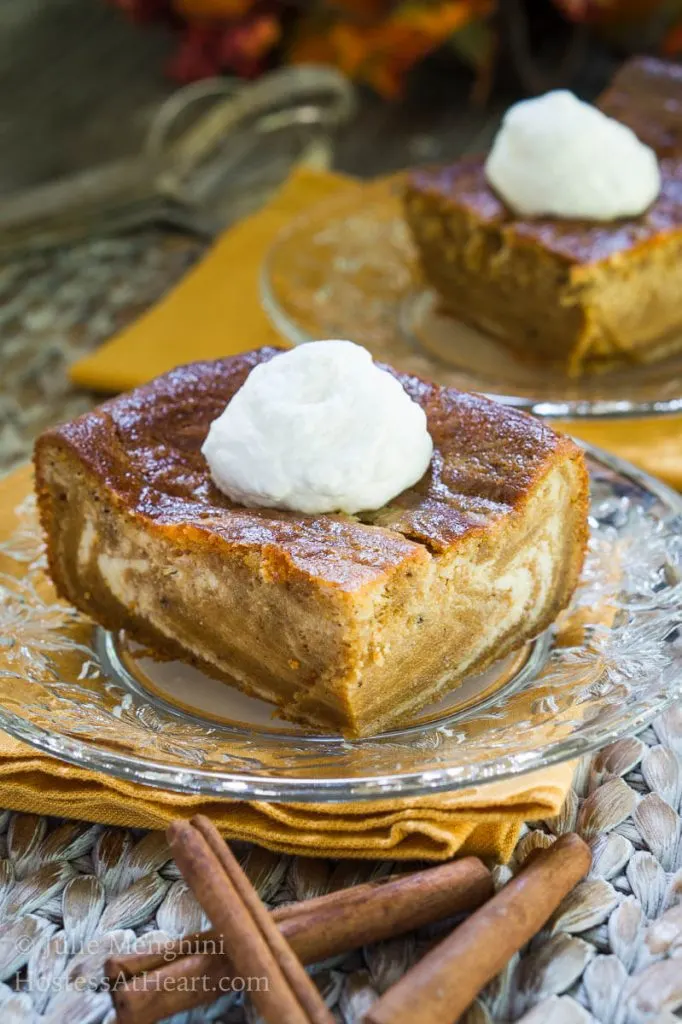 My Mother-In-Law gave me this 2006 Junior League of Omaha cookbook quite some time ago.
This book states that a local restaurant, "Wheatfields" created this Pumpkin Cheesecake Swirl Bar recipe. They're known for their amazing desserts. I couldn't wait to give it a try!
Pumpkin Cheesecake Bar Filling Ingredients
Pumpkin Mixture
Sugar – Both white and brown sugar.
Baking powder
Baking soda
Spices – Cloves, allspice, nutmeg, and cinnamon.
Salt – I prefer fine sea salt in baking but kosher or table salt is fine.
Flour – All-purpose flour, bleached or unbleached.
Pumpkin puree – Canned is what I used for convenience. Don't use Pumpkin Pie Filling.
Oil – Vegetable or canola.
Eggs – Large
Sweetened Condensed Milk
Cheesecake Mixture
Cream Cheese – Full-fat is recommended for a creamy pumpkin cheesecake bar.
Sugar
Eggs – Large
Sour cream – Full-fat is recommended. However, lite will also work. Don't use fat-free.
Vanilla – Pure vanilla is recommended. However, imitation will work.
Salt – just a pinch to bring out the sweetness in this pumpkin cheesecake mixture.
Here's how to make Pumpkin Cheesecake Swirl Bars:
For the Pumpkin Mixture:
Mix the dry ingredients together. You need sugar, brown sugar, baking powder, baking soda, cloves, allspice, nutmeg, cinnamon, salt, and flour.
Whisk the wet ingredients together. You need a pumpkin, oil, eggs, and condensed milk.
Add the wet ingredients to the dry ingredients.
Cheesecake Mixture:
Cream Cheesecake ingredients together using an electric mixer. You will need cream cheese, eggs, sour cream, vanilla, and salt.
Putting it all together:
Dollop the cream cheese mixture into the pumpkin batter. Gently swirl the batters together and gently pour into a prepared 9×13 baking dish.
Bake for about 45 minutes. You'll know these bars are done when they have just a slight jiggle when the pan is gently wiggled.
Cool, Chill, and Serve. I serve mine with a simple dab of whipped topping. (o.k. much more than a dab for me)
Don't have time to make it now? Pin it for later!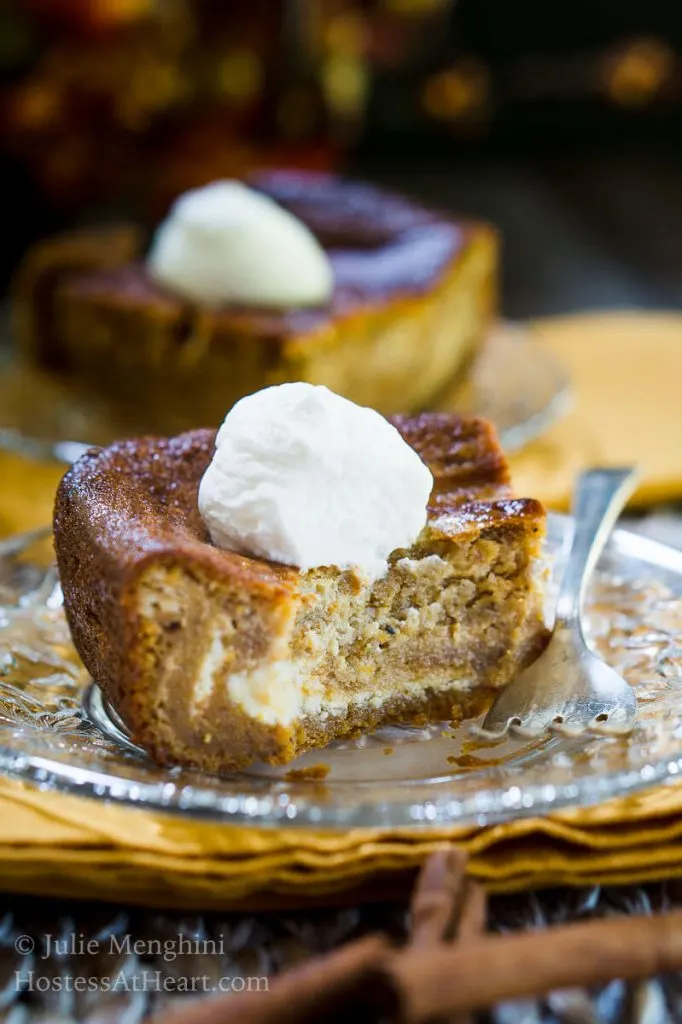 I actually made it twice. The instructions are a bit limited, so the first time I swirled the cheesecake layer right in the baking dish. I didn't get that nice swirl you see in these photos.
TIP: The second time I dolloped the cream cheese batter into the pumpkin batter right in the mixing bowl and gently swirled them before pouring it into the baking dish. That worked perfectly.
How to store swirled pumpkin cheesecake bars:
I store pumpkin cream cheese swirl bars covered in the refrigerator. They are best served cold (in my humble opinion).
Add the whipped topping at the time of serving. I don't recommend freezing these pumpkin cheesecake bars.
Once thawed the texture can become mealy.
Smooth & Creamy Pumpkin Cheesecake Swirl Bars
Here are a few things you may need to make the perfect Smooth & Creamy Pumpkin Cheesecake Swirl Bars:
Hostess At Heart participates in affiliate programs. As an Amazon Associate, I earn a commission from qualifying purchases. Please refer to my disclosure page for more information about these affiliate programs.
Baking Dish – I really like this cake pan. The lid allows me to take whatever I make so much easier too!
Mixing bowl set with lids – I use this set of bowls for my mixing jobs! I love that they're microwave safe and that it has a lid so I can make and take!
Whisks – I love my whisks and have them in several sizes, shapes, and colors. I have a gadget obsession I guess and love these!
If you enjoyed this recipe here are a few more you may like!
Don't forget to stop back and let me know how your Pumpkin Cheesecake Bars turned out!
This recipe makes a full 9×13 pan and will feed a good-sized group This recipe is exactly what my crowd loves for the holidays so I'll definitely be adding it to my table.
Please share, you are my inspiration!
What is your favorite holiday dessert? Please share in the comments below. You are my inspiration!