This Pumpkin Cheesecake Pie recipe starts with a buttery pie crust that's filled with a rich and creamy pumpkin cheesecake filling and topped with a mountain of rich brown sugar crumble. Pumpkin Pie Cheesecake makes the perfect Fall dessert.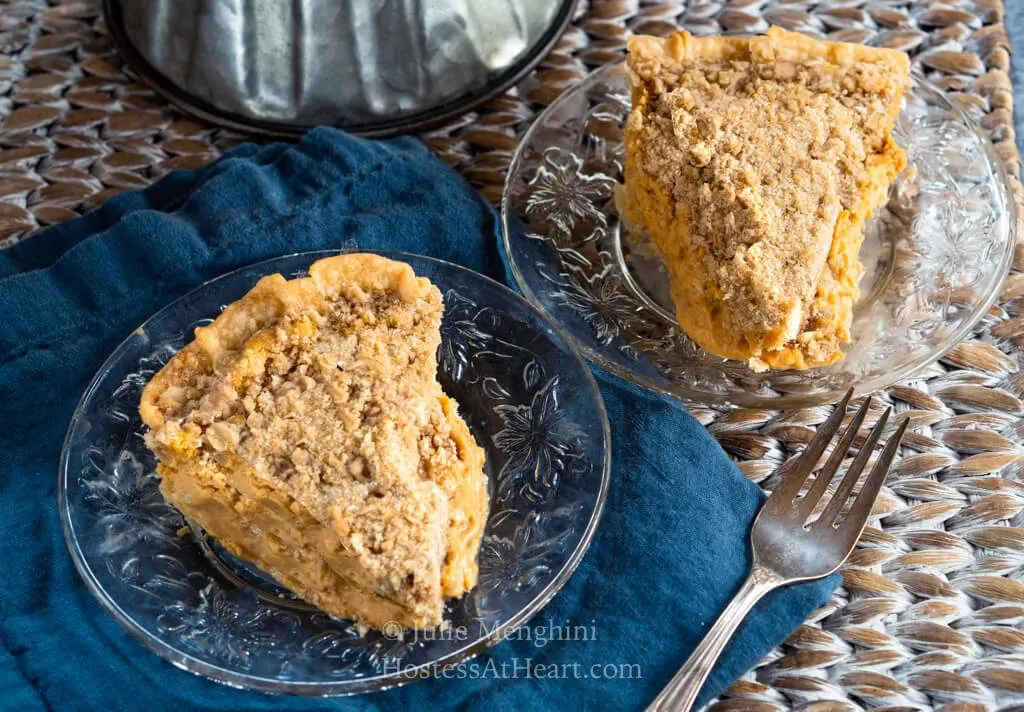 If the idea of making a cheesecake scares you, this one is for you. It is easy, delicious, and will impress the people lucky enough to get a piece.
Why I love this Pumpkin Cheesecake Pie
Streusel! This Pumpkin Cheesecake pie checks all of my dessert boxes. It's smooth and creamy under a mountain of a sweet crunchy crumble topping.
Holidays and Special Occasions. It's perfect for any occasion and special enough for the holidays.
Make ahead dessert. When my oven is full and I need a dessert, I can make this one the day before I need it.
Feeds a crowd! You think a pie should feed 8 tops right? Not this one, It fed over 10!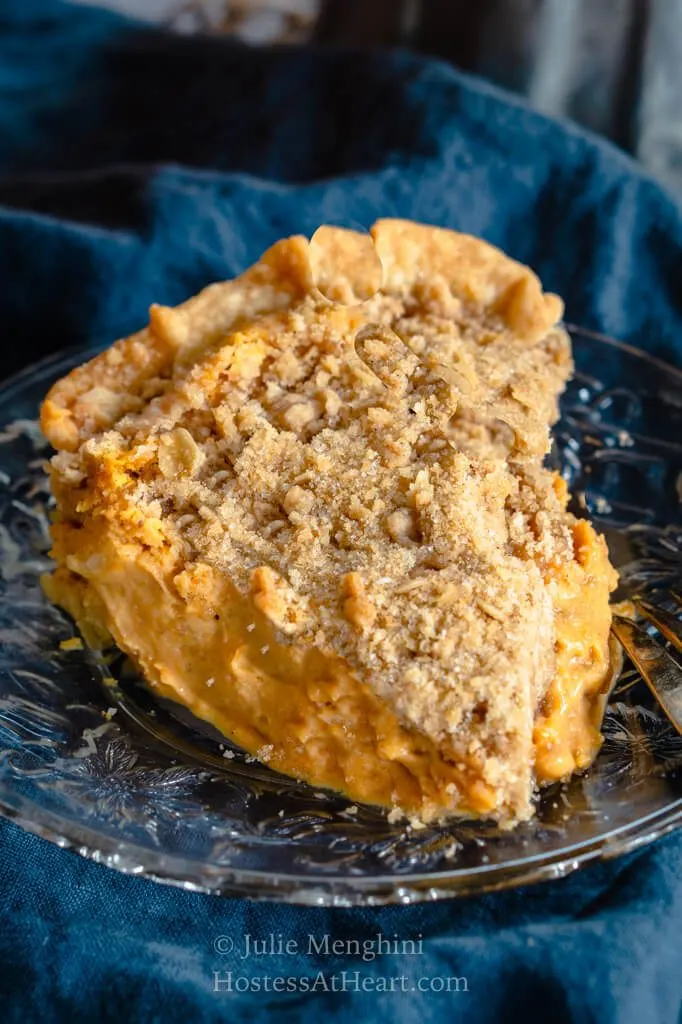 If you're thinking this girl doesn't know how to cut a pie, you may be partially correct. I can't even pretend that this Pumpkin Cheesecake Pie is cut and served perfectly but let me explain!
I rushed the chilling of this pie. It needs to be in the refrigerator for 8 hours and best if it's overnight.
This pie has such a creamy filling and once I sliced through that thick crumble topping, my filling was trying to escape! The only thing that I can say is that it didn't change the taste one little bit.
I made this pie for a group of 10 that I had for dinner and no one cared that their piece was oozing with filling under a mountain of crumbly topping.
What you'll need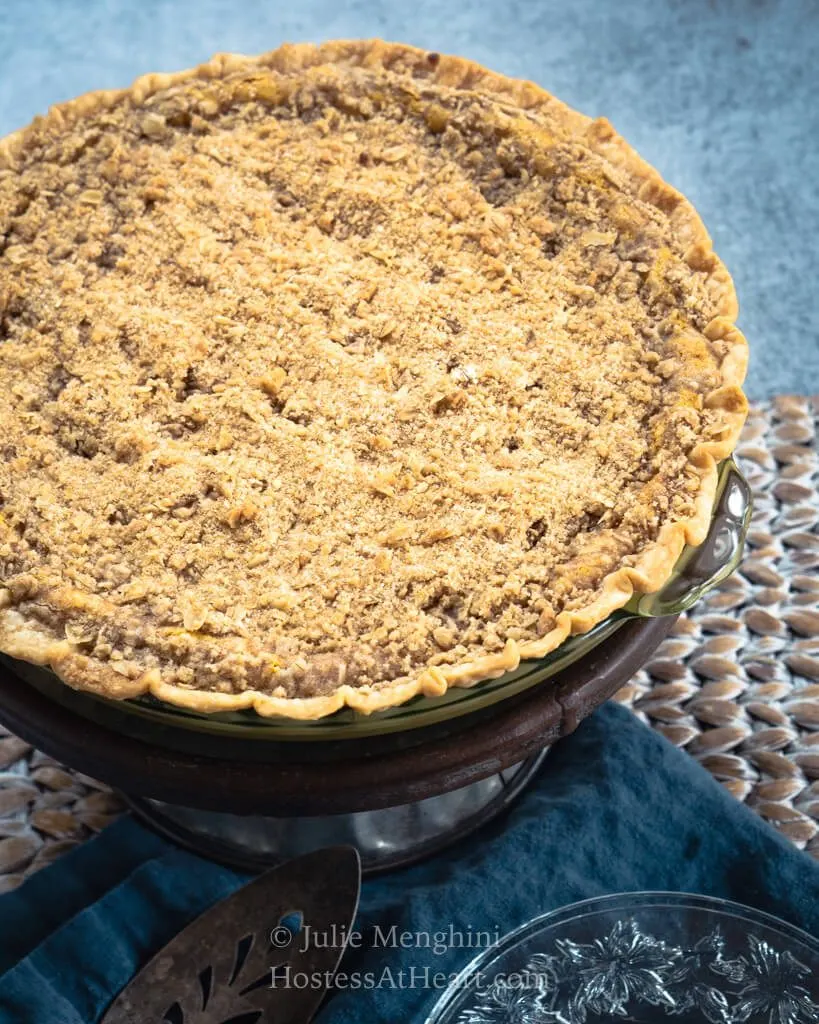 Pumpkin Cheesecake Pie Ingredients
You will need a pie crust for the bottom of this easy pumpkin cheesecake pie. We absolutely prefer my All-Butter Pie Crust. However, you can use your recipe or purchase one.
This pie dough recipe makes two crusts so you can make two pies or put one in the refrigerator or freezer for another recipe.
Fill the bottom of a pie plate with the pie crust. Flute the edges if desired. Place the pie crust in the refrigerator until you're ready for it. Not allowing the crust to get warm will assure that it's flaky.
Pumpkin Cheesecake Pie Filling Ingredients
Cream cheese – Full-fat variety makes this cheesecake pie with pumpkin rich and creamy.
Sugar – Both white and brown sugar.
Pumpkin puree – Homemade or purchased. Not Pumpkin Pie Filling.
Eggs – Large
Spices – Cinnamon and nutmeg.
Heavy Cream – Also known as Whipping Cream
Pumpkin Pie Cheesecake Topping Ingredients
All-Purpose Flour
Rolled Oats – I used old-fashioned rolled oats and not the quick variety even though they would work.
Sugar – White and Brown sugar
Cinnamon
Salt
Butter – Real butter is what we prefer for flavor. Use what you prefer.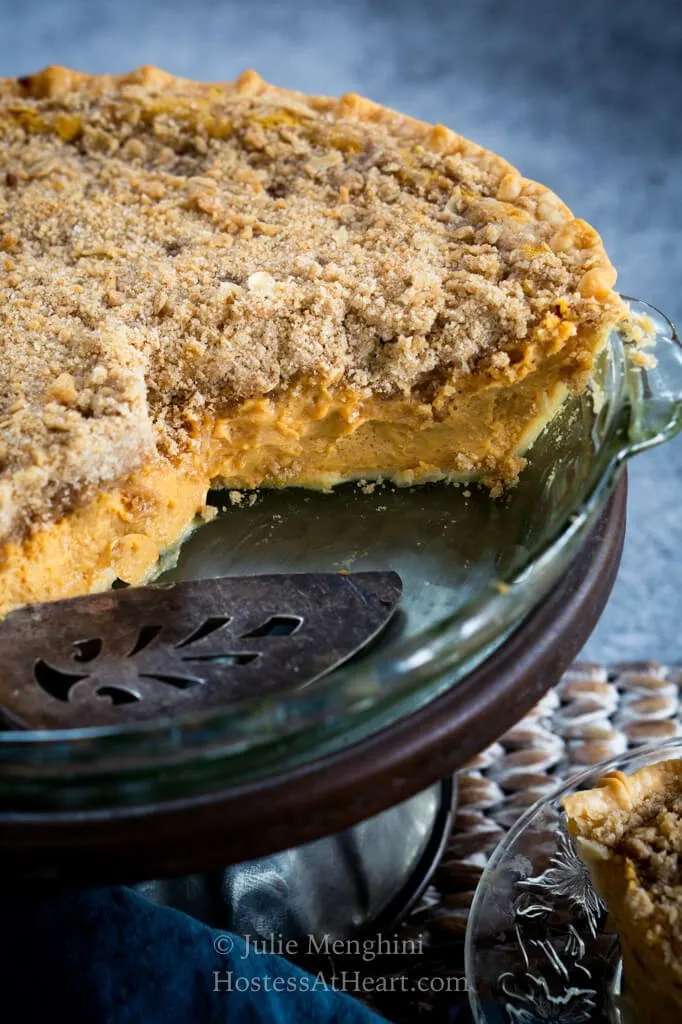 How to make Pumpkin Cheesecake Pie Recipe
Position the oven rack in the center of the oven. Preheat the oven so it's good and hot when your cheesecake pie is ready.
How to make Pumpkin Cheesecake Pie Topping
Step 1: Combine the flour, oats, white and brown sugar, cinnamon, and salt. Whisk together. Cut in the butter until the butter is approximately pea-sized. Set aside. I prefer to refrigerate it until I need it.
How to make Pumpkin Pie Cheesecake Filling Recipe
Step 1: In the bowl of an electric stand mixer, fitted with the paddle attachment, beat the cream cheese until smooth and creamy. Add the white sugar and brown sugar and beat until well incorporated. Add the eggs one at a time, beating the eggs in thoroughly before each addition.
Step 2: Add the pumpkin puree, cream, vanilla, cinnamon, and nutmeg to the cheesecake mixture. Beat until smooth.
Assemble and bake
Step 1: Place the pie plate filled with a pie crust on a parchment paper-lined baking sheet. Pour the pumpkin cheesecake filling onto the pie crust. Top with the crumble topping.
Place the pumpkin cheesecake pie in the oven for 1 hour, turning the pie halfway through. Turn off the oven and keep the oven door ajar to allow the pie to cool for 30 minutes.
Move the pumpkin dessert to a cooling rack to finish cooling. Refrigerate for 8 hours or preferably overnight lightly covered with a piece of waxed paper or plastic wrap.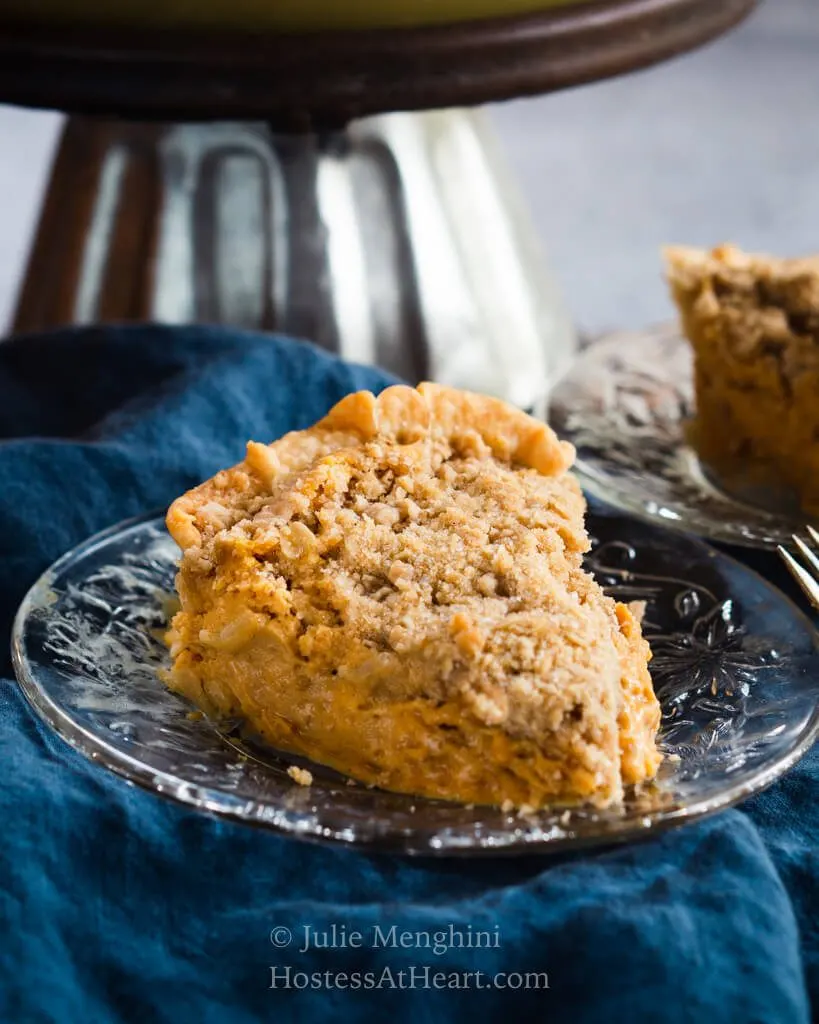 Tips for the perfect recipe for Pumpkin Pie Cheesecake
Dice the butter and keep it cold until making the crumble topping. Store it in the refrigerator until you're ready for it.
The pumpkin cheesecake ingredients should all be at room temperature in order for the filling to be smooth and creamy.
I put my pie plate on a parchment paper-lined baking sheet that's saved my oven from a mess when pies bubble over.
Use a wooden spoon to keep the oven door ajar. If it's allowed to slam your cheesecake can collapse or crack.
We love a great good dessert and here are a few more of our very favorites!
Don't forget to stop back and let me know how your Pumpkin Cheesecake Pie turned out!
Nothing is missing from this pie except a fork. Give it a try, and get ready for the accolades. Here are a few more pies we love!
Don't have time to make it now?

Pin it

for later!
This post was updated in November 2018 to make minor changes to the recipe and new photos.