This Swedish Apple Pie recipe is just as easy to make as it is delicious to eat. This crustless apple pie is full of fresh tender apples and loaded with warm cinnamon. It's the perfect no-fuss pie for an easy dessert or for the beginner baker!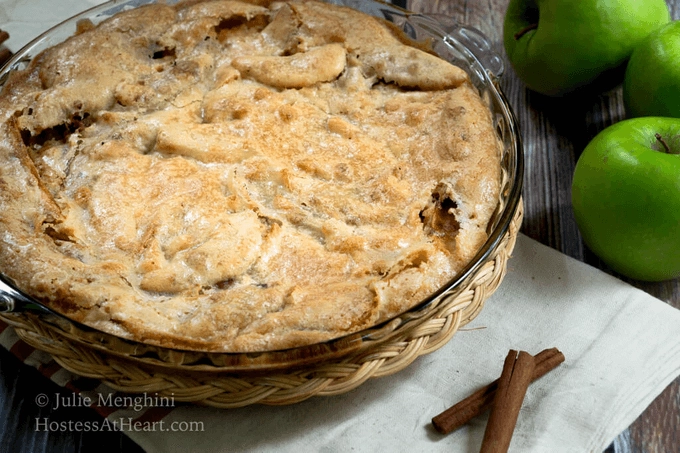 This Swedish Apple Pie recipe is one of those recipes that you are going to make over and over. It's so easy to put together because you don't have to make or mess with a crust! That makes it easy for anyone to put together.
I've been wanting to bring this Swedish apple pie recipe to you for such a long time! I don't know how Swedish it is but it's a recipe that my mother made and one of the very first pie recipes that I made.
When I was newly married, I just loved putting meals on the table that I knew John would love. We were compatible with my loving to cook and his loving to eat!
This recipe for Swedish apple pie was one of those recipes in my arsenals that made me feel like an accomplished baker. It is perfect for a new baker or someone that wants a no-fuss dessert.
Once you dig into this pie the last thing your going to complain about is that it doesn't have a pie crust!
When it bakes it creates a sweet thick filling that surrounds cinnamon-flavored baked apples under a flaky top. Add a scoop of ice cream and it's going to be a regular in your recipe arsenal too.
What are the best Apples to use for Swedish Apple Pie Recipe:
There are several varieties of apples that will work but also, several that will not. You want an apple that will keep its shape without becoming mushy when baked.
I've found a tart apple like the Granny Smith works in so many baking recipes. If you want something a little sweeter, Braeburn, Honeycrisp, and Winesap apples are good choices.
How many apples do you need for this No-crust Swedish Apple pie?
I used 5 in this recipe. However, it's more important to fill your pie plate than to count your apples. I used a deep-dish pie plate. Your pie plate may not be as deep, or your apples may be larger or smaller.
Your fruit will bake down so you'll want to fill your plate 3/4 full regardless of how many apples it takes.
Ingredients for a Swedish Apple Pie:
Apples – I like firm tart apples in this pie. Granny Smith is my go-to for this apple pie.
Sugar – White sugar.
Butter – You can use salted or unsalted in this recipe. If you use unsalted, add a pinch of kosher salt. Nothing fancy here!
Egg – I use large eggs.
Flour – All-purpose flour works just fine.
Cinnamon – Ground cinnamon and lots of it!
Only 6 ingredients and none of them fancy. That makes this Swedish crustless apple pie perfect for the novice baker or me when I want a quick and easy dessert!
I have a bad habit of trying new recipes and neglecting our tried and true ones. Not the case with this one!
This Swedish Apple Pie has never failed to be delicious. This no-crust apple pie recipe is also a great pie to make if you are a beginner baker. There are just a few simple steps and wah-la, you have a pie!
No one needs to know how easy it is!
Items you may need to make this Swedish Apple Pie:
Pie Plate – I've got several pie plates but I find myself returning to this simple plate. It shows off my baked items and is very reasonable.
Tips to make the perfect pie:
Cut your apples all about the same thickness. Keep them about 1/4 to 1/2 thick. They'll lay in the plate more uniformly.
This recipe calls for melting your butter and it also contains an egg. You'll want to cool your melted butter slightly so when mixed together you don't end up with scrambled egg!
Pin this amazing Swedish Apple Pie Recipe to your favorite board!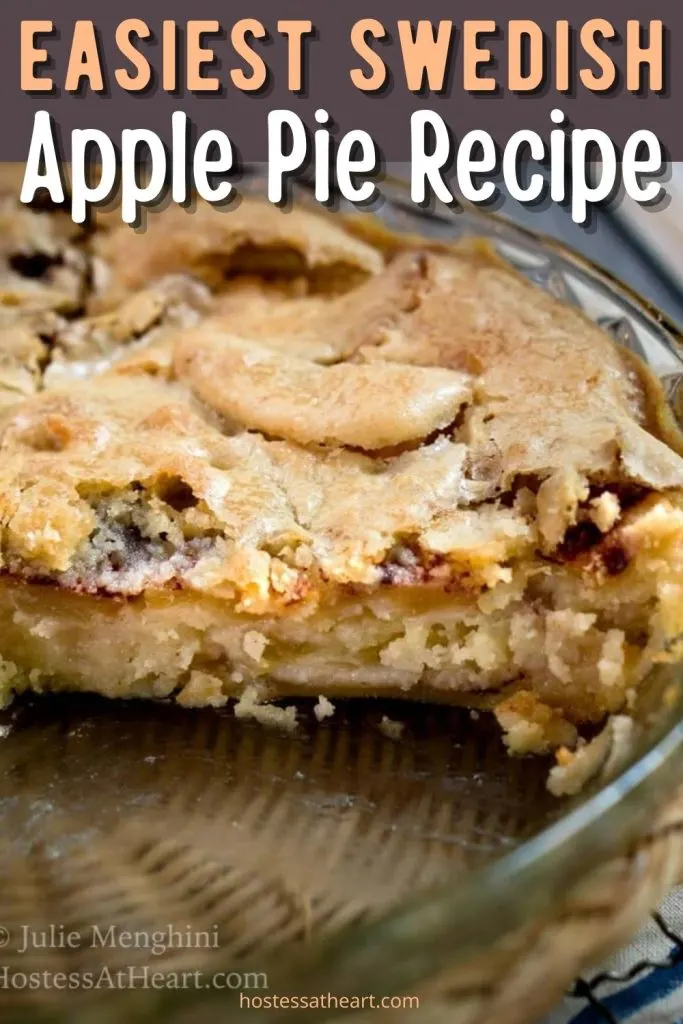 As much as I love this pie, here are a few more that we love!
If you want an easy and delicious pie and don't want to mess with a crust you're going to love this pie. It looks different every time I make it based on how the apples settle.
Don't forget to stop back and let me know how your crustless Apple Pie turned out!
As much as I like to bake, there were a few things that I really resisted trying. Pie crust was one of them and I didn't mind using a store-bought crust.
That is until I learned to make my own! Yep, homemade pie crust is better and explained in my Pineapple Cream Meringue Tart recipe. You don't have to worry about any of that pie with this recipe. The batter that you pour over the top seeps into the pie and leaves a lightly crunchy crust that is a delight to bite into.
What's your favorite pie recipe? Please share, you are my inspiration!