Rustic Cast Iron Skillet Apple Pie recipe is loaded with thick cinnamon apples on top of a crust sitting in a layer of hot buttery caramel. This pie just begs for a scoop of ice cream and a crowd to help you eat it.
THIS POST HAS BEEN UPGRADED FROM 8/22/14 TO IMPROVE READER EXPERIENCE.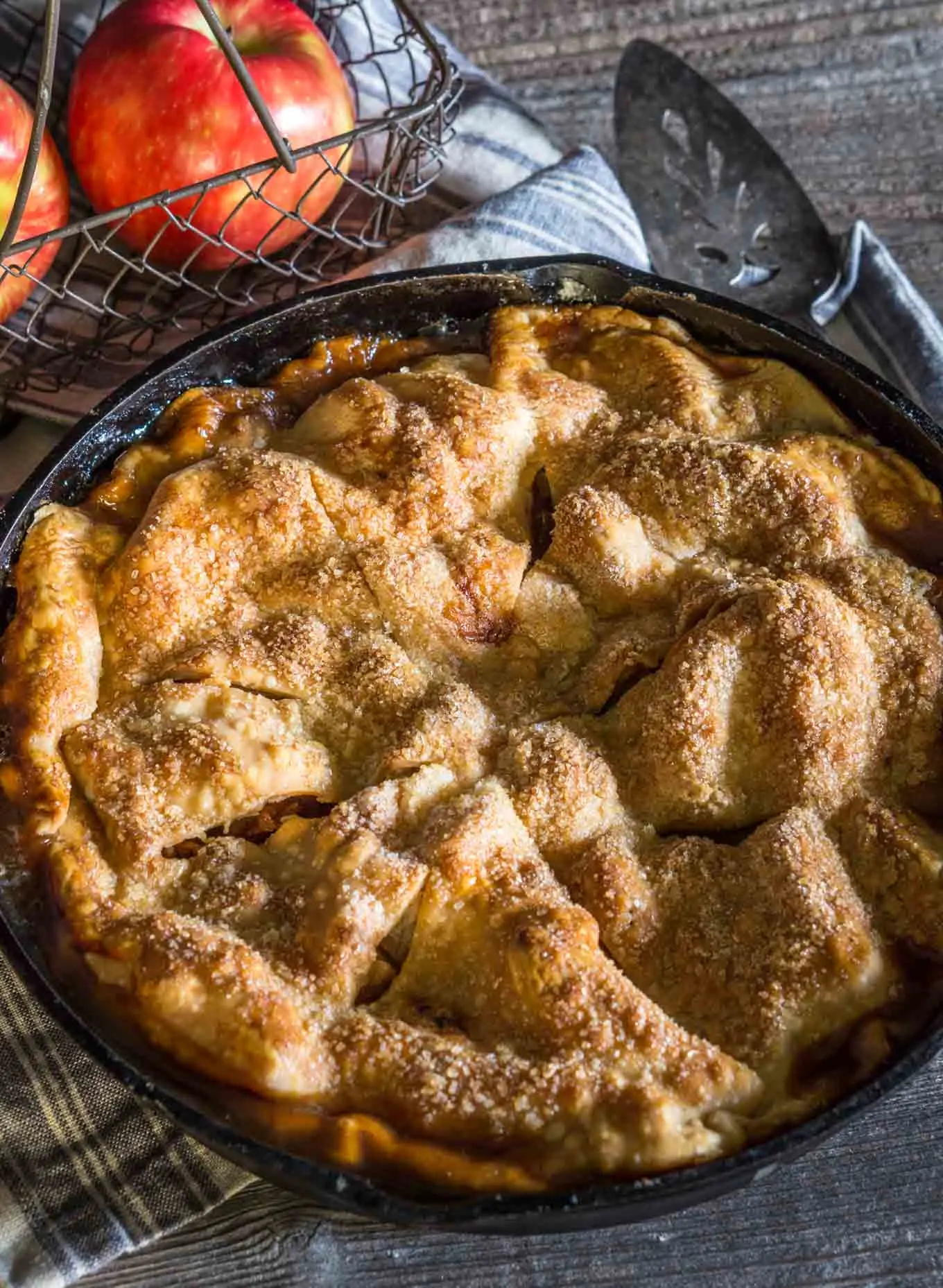 Skillet Apple Pie hides a layer of thick buttery caramel below the bottom crust that bakes into the pie. Cast Iron Apple Pie is a simple rustic but easy pie to bake that will soon be everyone's favorite apple pie.
Have you seen my "Apple Baked Beans" post where I told you about our Back-to-School potluck that we participate in every year with our neighborhood kiddos?
In addition to the apple baked beans, I bring the dessert. They've requested the same dessert for the last several years in a row, Cast Iron Skillet Apple Pie.

Even though the weather is still warm, baked apple desserts are my favorite and I can eat them any time of year.
Years ago I found this recipe for Skillet Apple Pie in Southern Living SEPTEMBER 2011 and it's still our most requested dessert. One bite will tell you why!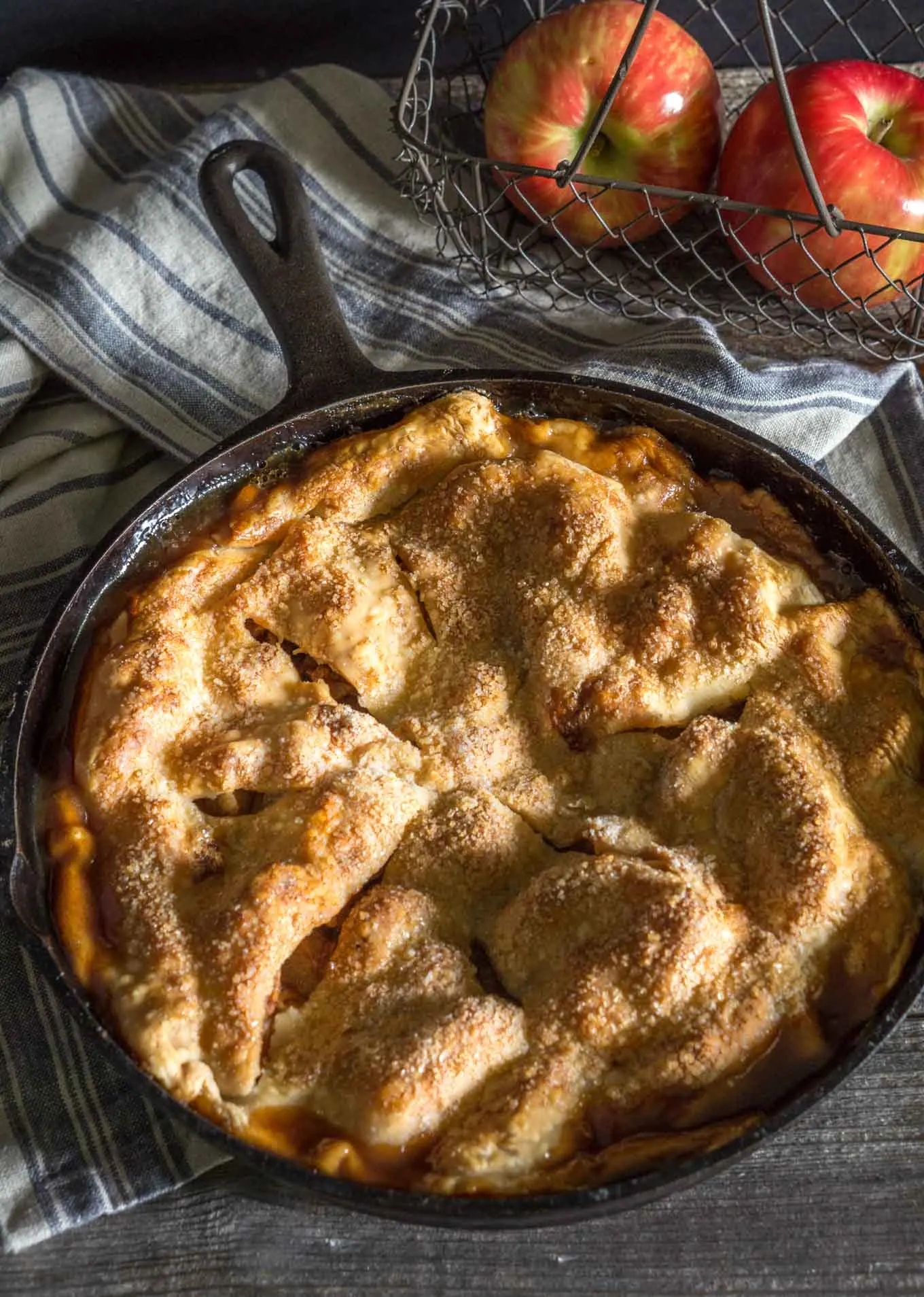 I served this pie like a cobbler by scooping servings out with a large spoon instead of slicing it. It goes a lot further that way and you can make sure each serving gets a healthy dose of that caramel bottom.
Either way, it's scrumptious! If you can serve it hot, all the better. My guests are always intrigued when I show up with an Apple pie in a skillet.
How to transport this pie?
When I have to transport this pie, I'll cover the top with foil and place it in the bottom of a cooler with a towel covering the bottom like a nest and then wrap another towel around the pie.
The skillet really holds the heat and the cooler helps keep it warm until it's time to serve it.
What are the best baking apples?
You want a firmer apple for baking. Softer apples will break down too much and will not let you slice or spoon a decent looking serving.
Plus the texture isn't as desirable as being able to bite into a loaded slice of skillet apple pie! Good baking apples according to Bon Appetit include:
Granny Smith – also my go-to for baking!
Jonagold
Honey Crisp – also my favorite for everyday eating.
Braeburn
Mutsu
Winesap
Doesn't this Skillet Apple Pie just scream ooey gooey comfort food? You would never believe how easy it is to make.
How to Make a Cast Iron Apple Pie
First, melt the brown sugar and butter together in the bottom of the skillet. Let it cool so can put the bottom crust down on it without melting the crust or your fingers!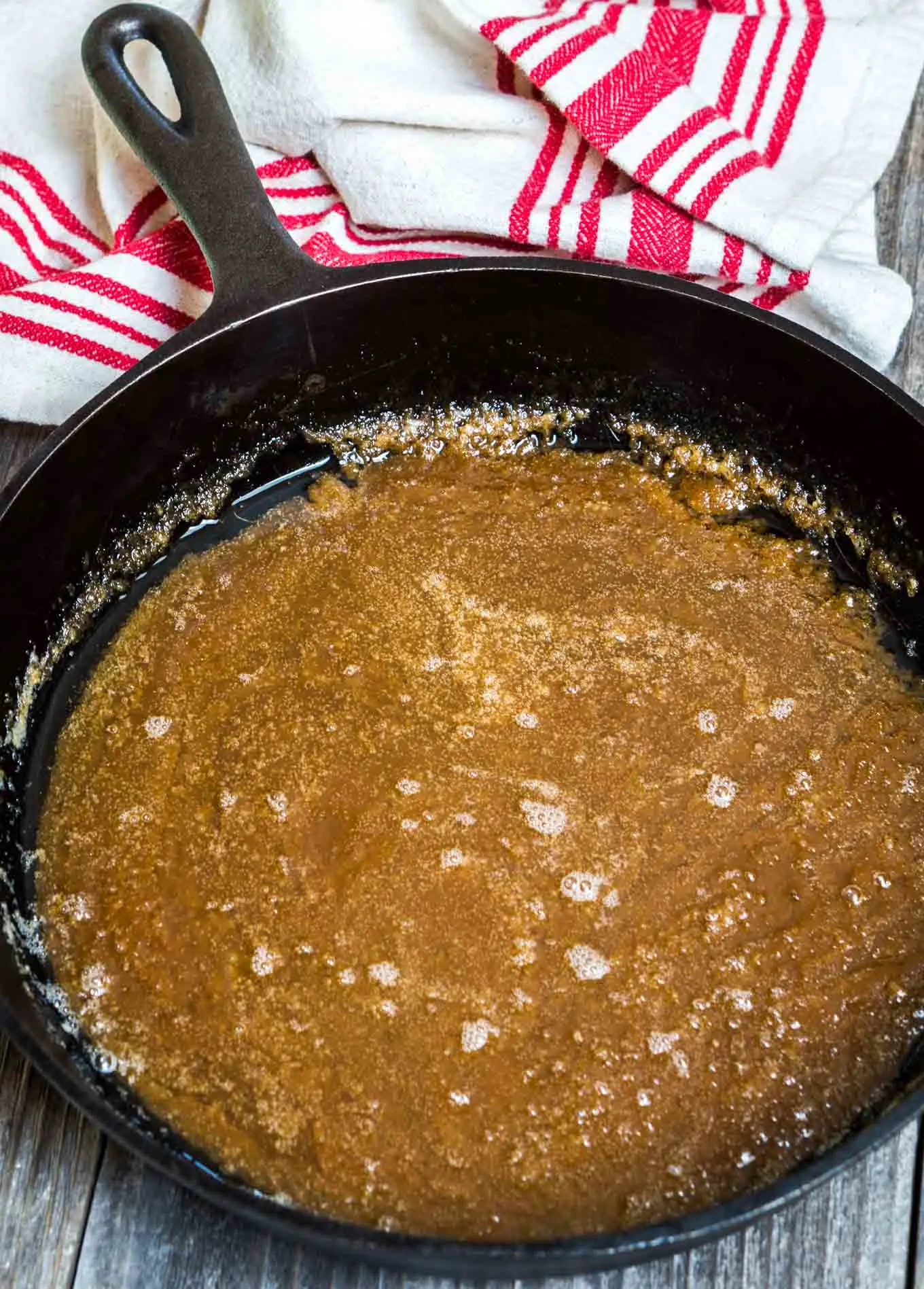 Slice the apples 1/2 inch thick. I don't measure my cinnamon I just sprinkle away until I'm happy. I always use more cinnamon than the recipe calls for because we love cinnamon.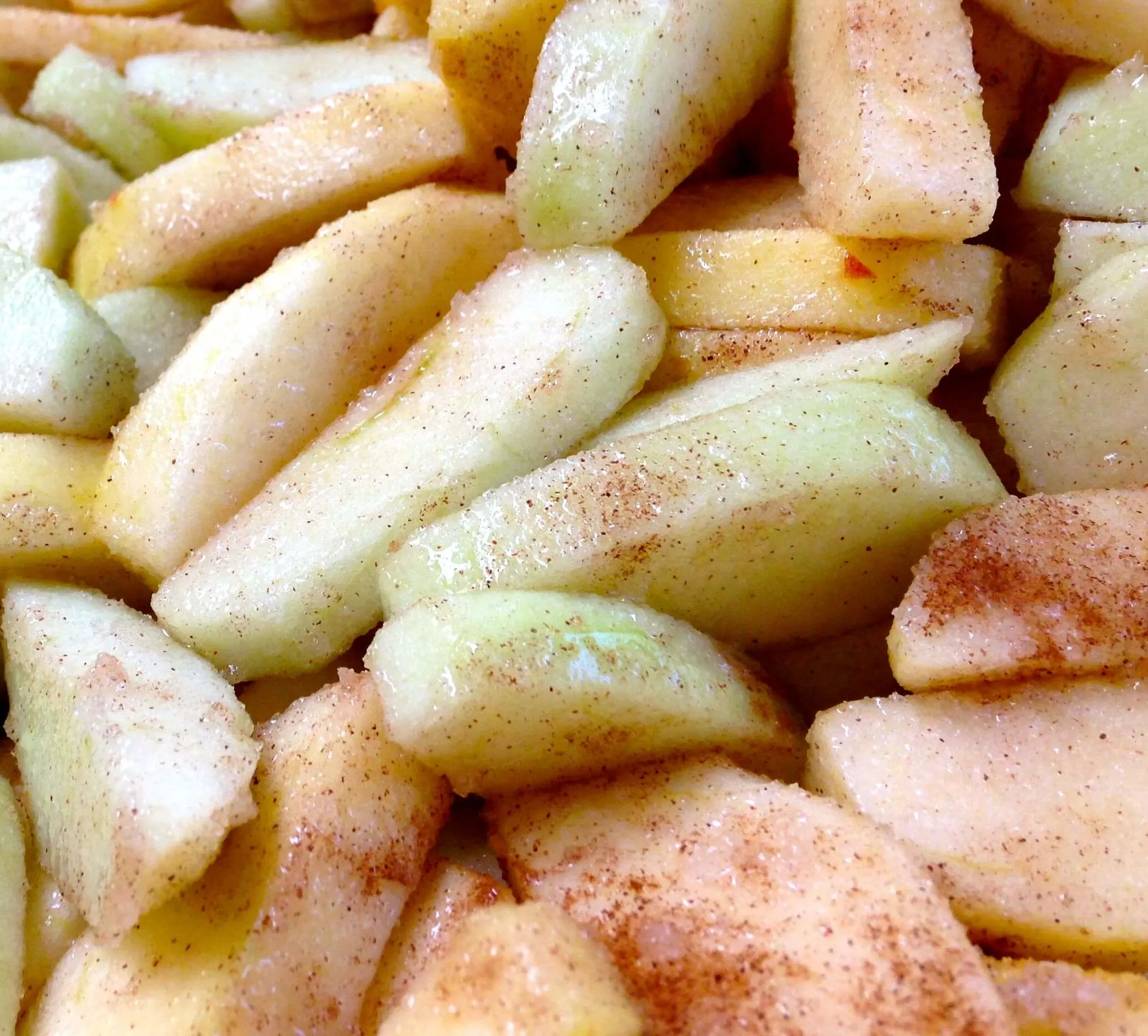 Place the first crust down over that warm buttery brown sugar mixture. Rustic right? Trust me, it will be just fine. Press it down carefully on the sugar mixture and up the sides.
You need to be gentle but work quickly. Once the crust starts getting warm, you aren't going to be able to move it around. I used a refrigerator crust. You can make your own. Please don't judge.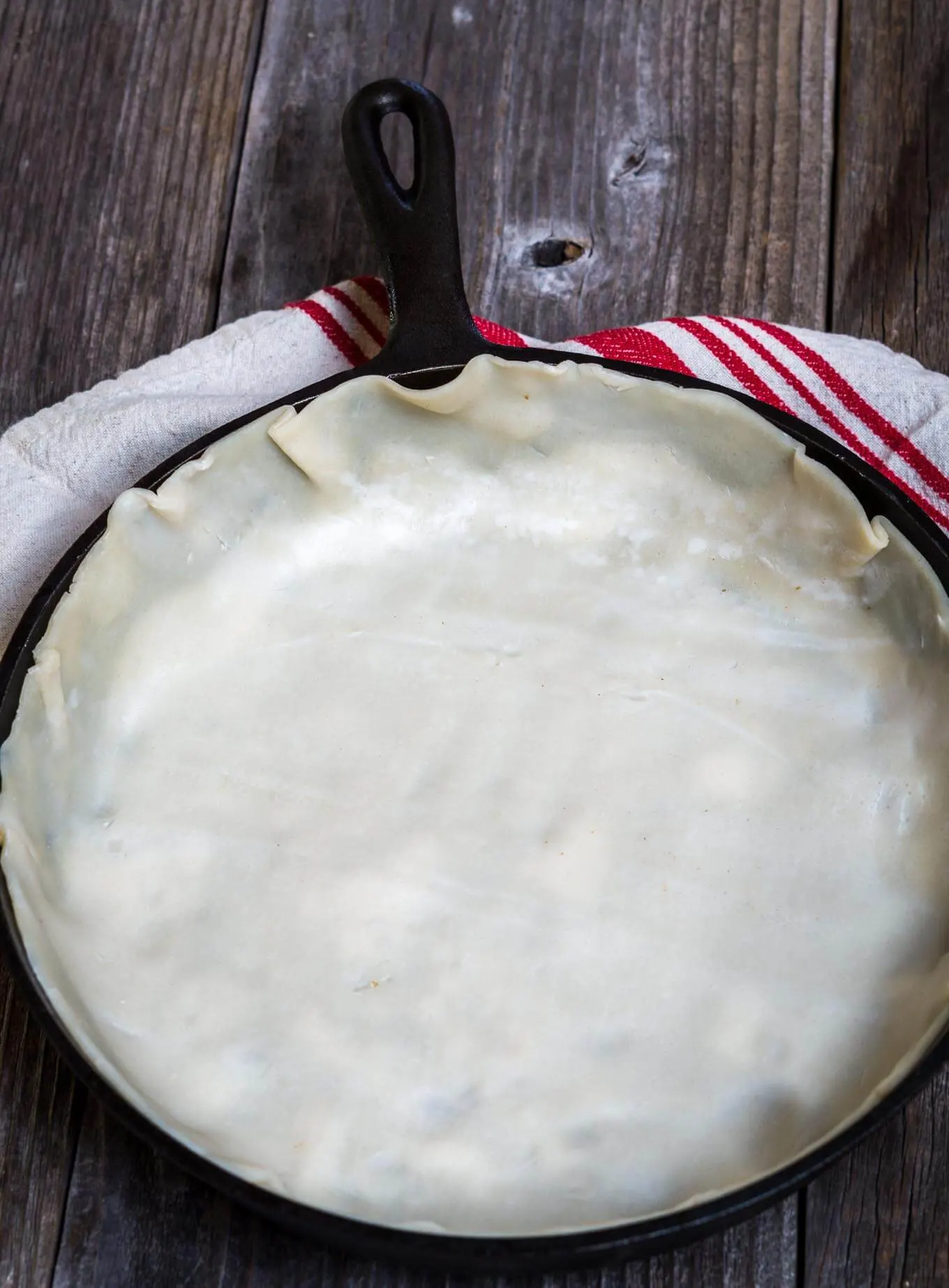 Spoon the apples on top of the pie crust. The pan looks really full but the apples will cook down.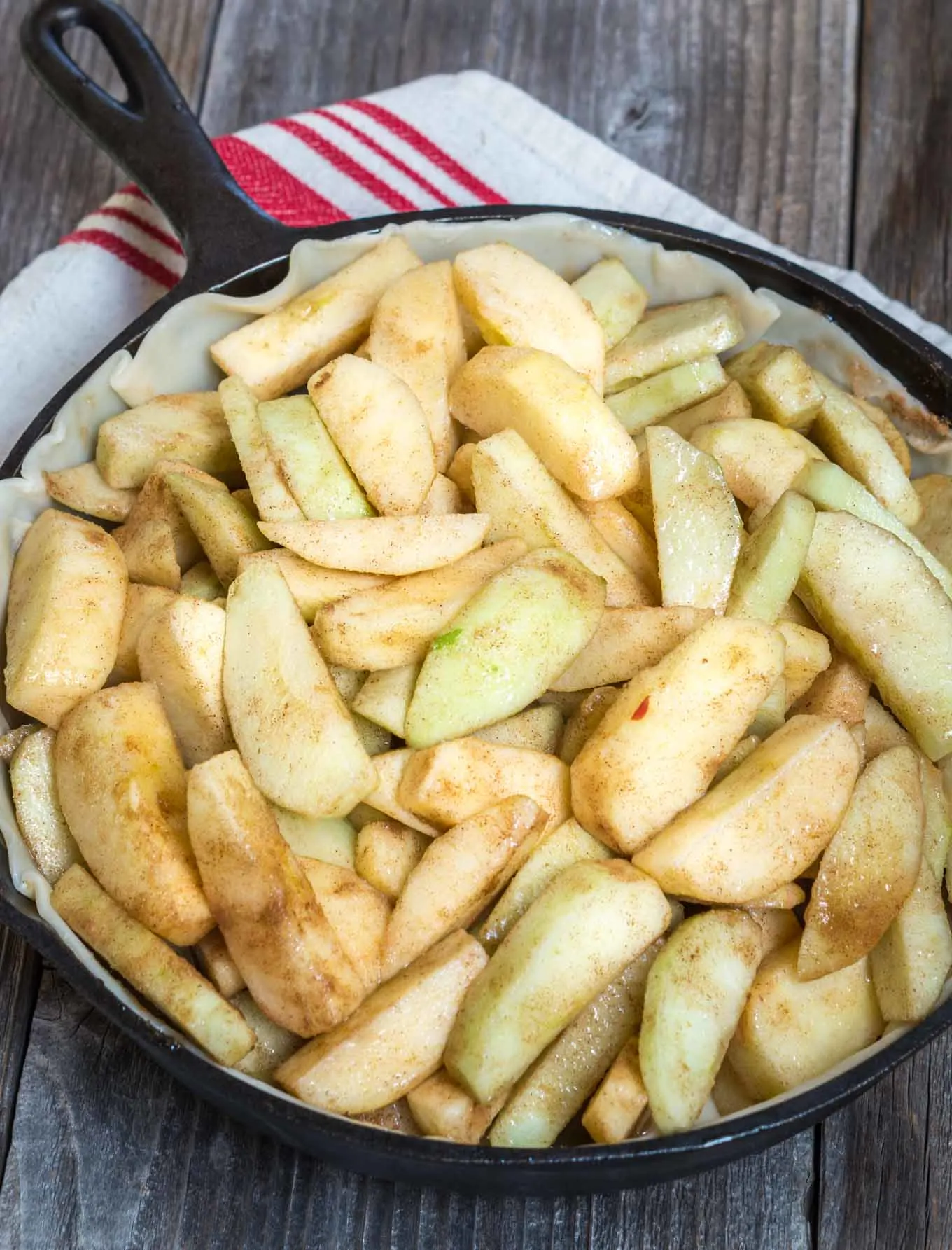 Put the remaining pie crust over the top and just slide the edges down into the pan a bit.
Whisk an egg white with a small amount of water until foamy. Brush top of pie crust with the egg white.
Sprinkle with white sugar, turbinado sugar, or a mix of both. I like the crunch that you get with turbinado sugar.
Cut 4 or 5 slits in the top so steam can escape.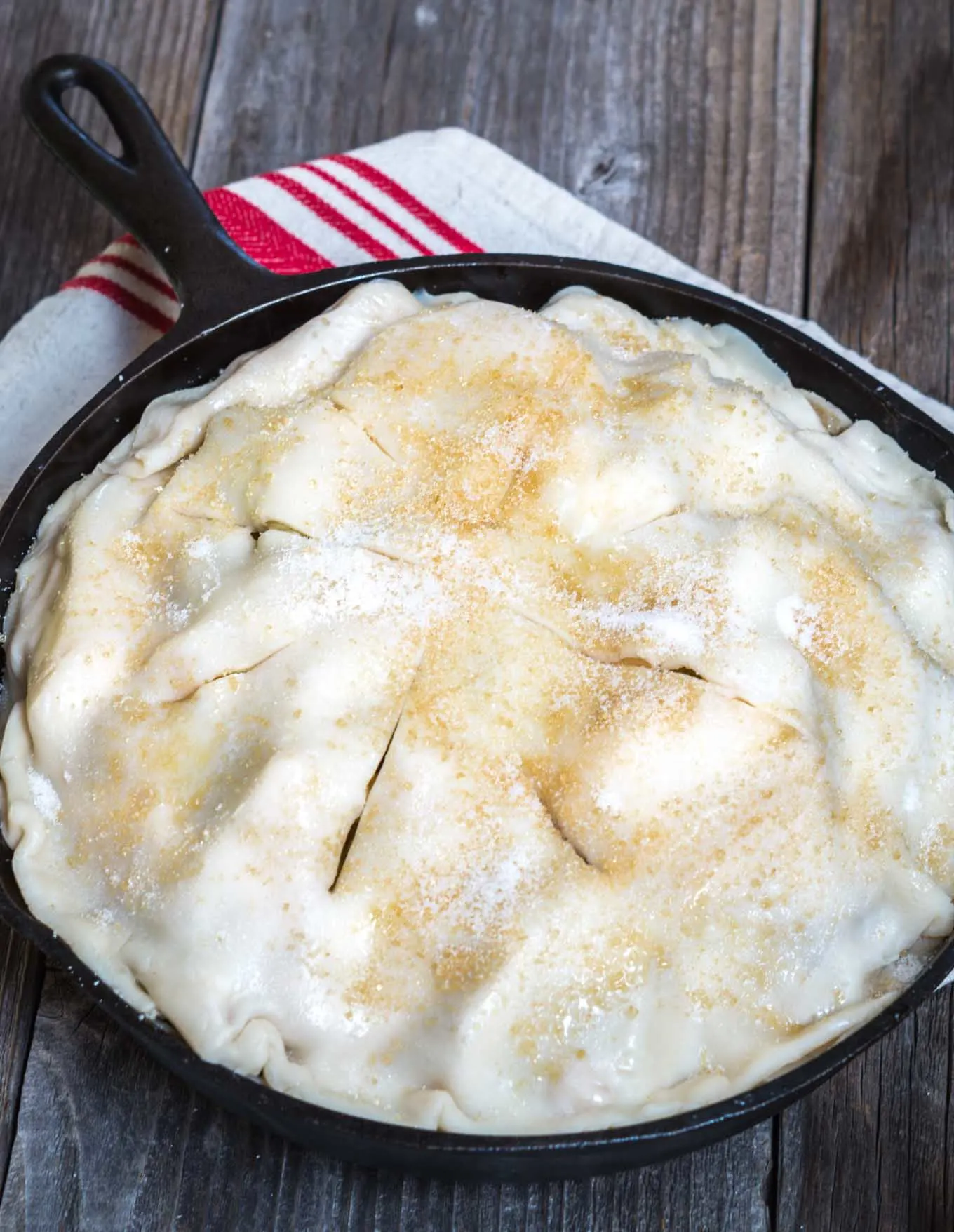 Tips to help you make the perfect Cast Iron Apple Pie:
Put a baking sheet or pan on the rack below your skillet to catch any drips. I had a mess the first time I made this in my oven.
You can make this pie on the grill! We've done it several times so I don't heat up my kitchen.
You can make this pie in a dutch oven or other deep-sided pans. I personally recommend cast-iron, however.
Cut apples at least 1/2-inch thick. They cook down and everyone wants a pie loaded with thick apples.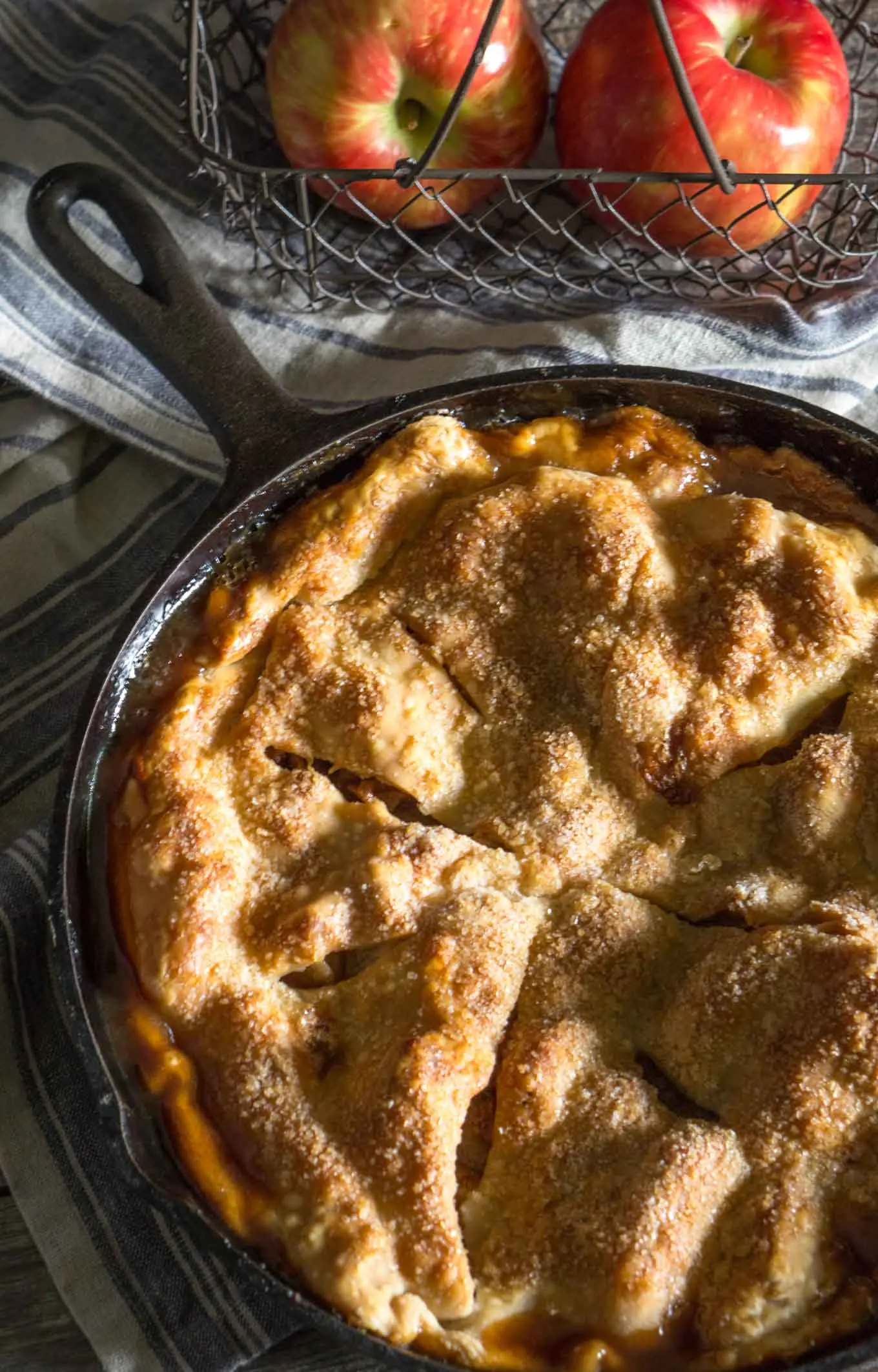 A few items that you will use to make this Skillet Apple Pie:
Hostess At Heart participates in affiliate programs. As an Amazon Associate, I earn a commission from qualifying purchases. Please refer to my disclosure page for more information about these affiliate programs.
10-inch cast-iron skillet – I use cast iron skillets whenever I can. There isn't anything like them when it comes to browning food. They last forever, and they're our favorite pan for camping too.
Oven Mitts – When I work with heavy pots and pans I want an oven mitt versus a hot pad. These mitts are heat rated to 550° so are good for the oven or bbq and come in several colors. They also come in a longer length for longer arms!
Pastry Brush – I like the silicone pastry/basting brushes for this job. They stand up to a high heat that makes them perfect for the bbq too!
More amazing apple recipes
What is your favorite way to use cast-iron? What is your favorite pie? Please share! You are my inspiration!
You're going to love this recipe! Here are a few more cast iron skillet recipes!