Apple Pear Salad with Lemon Poppyseed Dressing is the perfect combination of flavors and textures. It's sweet, salty, crunchy, and delicious!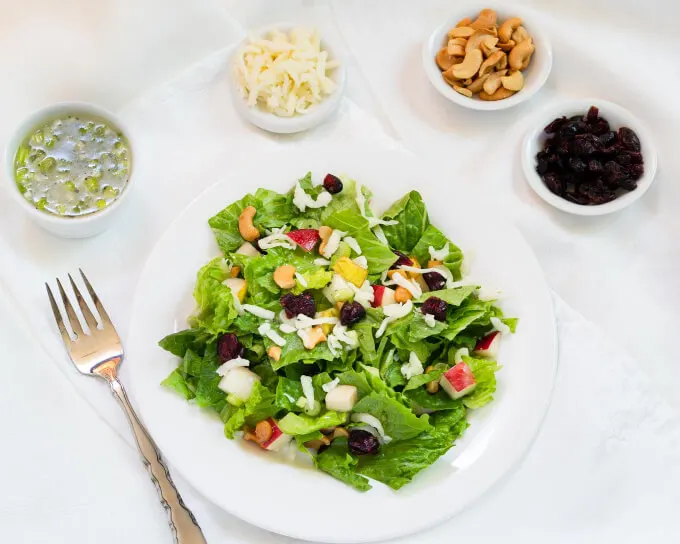 I NEVER used to eat salad as a meal. The salad was a side dish that started the meal. That is until I started eating salads like this Apple Pear Salad with Lemon Poppyseed dressing.
I don't want a salad as a meal to feel like a punishment. You know, the salads you prepare once you've gone on a calorie binge for a week? Just me?
I want a salad like this Apple salad. It's stuffed with fresh apple and pear and doesn't stop there. Salty Swiss cheese, cashews, and craisins are added to the mix and all topped with a sweet tangy Lemon Poppyseed dressing.
When I have a salad like this Apple Salad Recipe I can walk away satisfied without feeling weighed down followed by the inevitable food coma that zaps any momentum that I had before my meal.
Apple Pear Salad variations
Make this salad your own. I can't think of a soul that wouldn't like the Lemon Poppyseed dressing. Drizzle it on your own creation. Here are a few ideas:
Bacon – add it and don't look back. Everything's better with bacon right?
Use any cheese you like. I like shredding my own because I think it tastes fresher. A time saver is buying pre-shredded.
Use all apples or pears or any fresh fruit you want. I do recommend using fresh fruit and cutting right before you want to eat the salad, Fresh cut fruit doesn't look very pretty if you try and do it too far ahead of time.
Add chicken or turkey for a boost of protein.
Cashews can be replaced with any nut. Walnuts and almonds can help you feel full.
Lemon Poppyseed dressing, not your thing? How about a delicious Balsamic Vinaigrette?
Homemade Croutons
Homemade Croutons are great on salads, in soup or just as a snack. They are a delicious way to use up bread that could go to waste.
Check out this recipe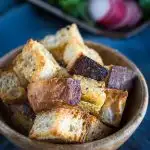 ---
---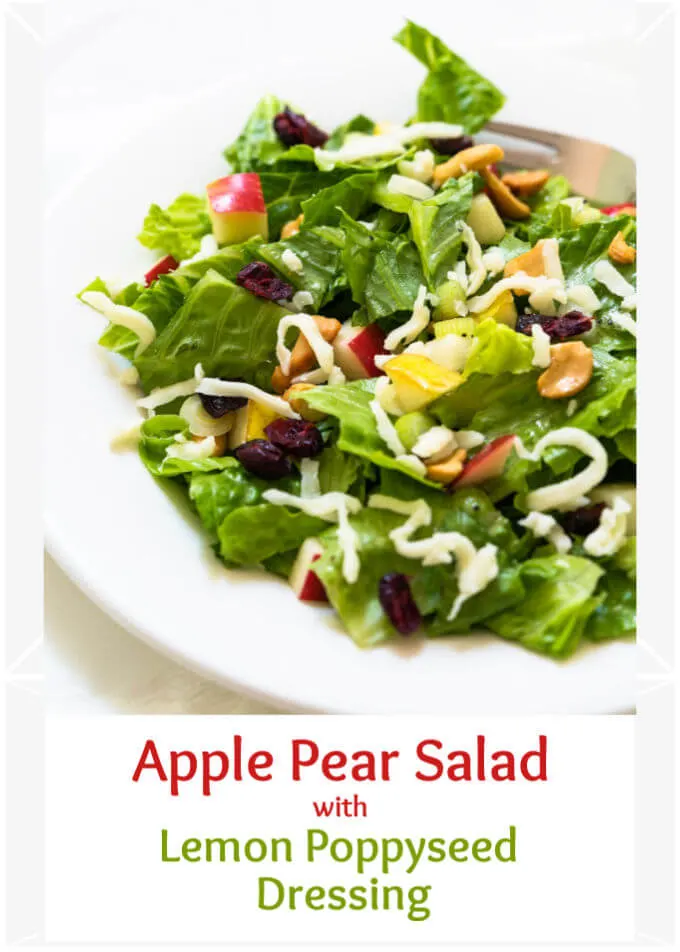 A few items you may need to make this Apple Pear Salad recipe:
Salad Spinner – The bag says triple washed yet people still get sick from eating contaminated lettuce. I wash and spin dry all my lettuce. It removes bugs from organic produce and extra dirt that doesn't like to rinse off too. I use it for fruit, herbs, and greens.
Salad Dressing Shaker – I like this one because I can mix, store, and serve all from the same container. I have two of them because I often have more than one kind of dressing mixed up.
Salad Serving Bowl – Even if it's just family, I love serving salad from a beautiful bowl. This bowl is great for snacks such as popcorn too which makes it perfect for the next party!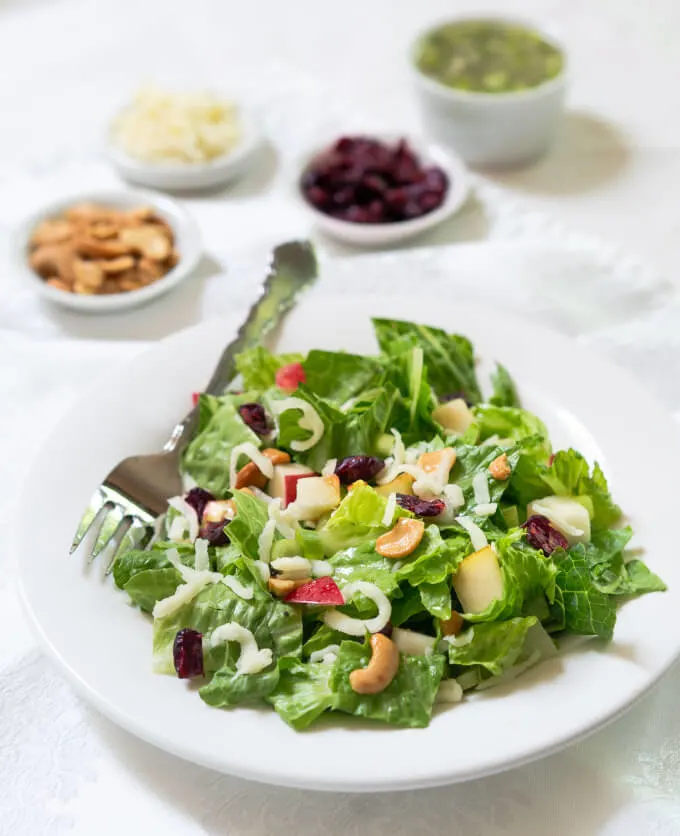 What is your favorite salad? Please share by leaving us a comment below. You are our inspiration!