Hands-Off Garlic Fingerling Potatoes recipe is buttery delicious. These potatoes make the perfect side to any meal and they're quick and easy to make.
THIS POST HAS BEEN UPGRADED FROM 9/24/15 TO IMPROVE READER EXPERIENCE.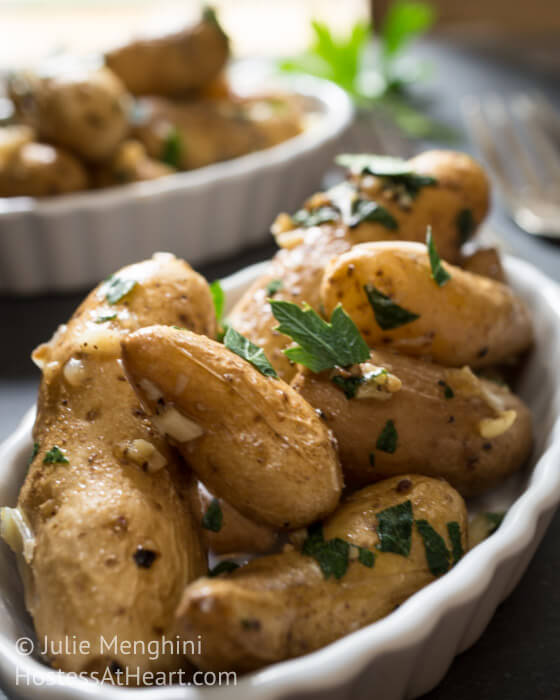 Hands-Off Garlic Fingerling Potatoes are my very favorite potato recipe. They are so easy to cook and don't need to be cut up. They really take on the flavors that you add to them. This recipe pretty much lets you walk away from the stove so they can do their magic all by themselves.
This weekend I bought a pint of fingerling potatoes at the farmers market. We were grilling steak, and I just love a potato with a good steak. The problem I have is when John is on the grill, I'm inside cooking the sides. I decided to do a little experiment cooking this fingerling potato recipe, and ta-da a new method for my fingerling potatoes was born.
I totally understand how busy you are so if you don't have time for our helpful tips and delicious recipe ideas, just scroll to the bottom of the page where you can find the printable recipe card.
How to cook fingerling potatoes on the stove:
Scrub potatoes clean but don't peel them.
Heat up olive oil in a lidded pot or skillet large enough to allow most of the potatoes to come in contact with the bottom.
Put the potatoes in the pan and sprinkle with salt and pepper and shake the pan to disperse the olive oil and seasoning.
Cover with the lid and turn the burner to low (simmer). Set the timer to 10 minutes. Shake the pan once again. Set the timer for another 5 minutes. Potatoes are done when fork-tender.
Add garlic and herbs if using. Cover with heat off for 5 minutes.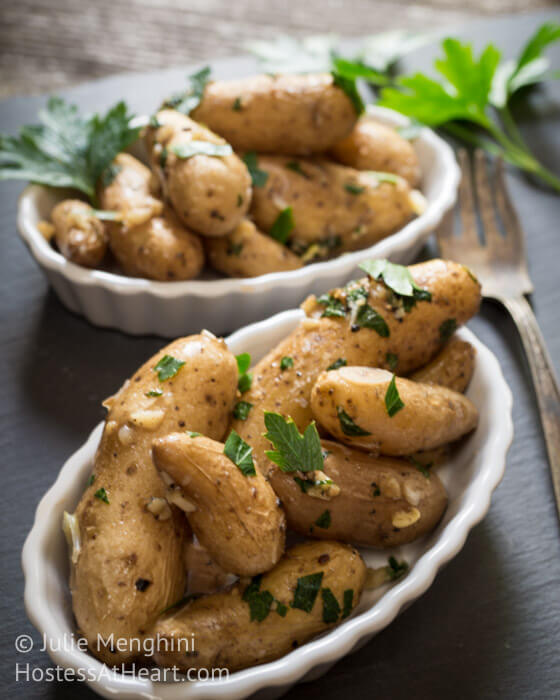 When I first started seeing fingerling potatoes, I thought maybe they were just small New Potatoes?
I knew that they would be delicious as a side dish. I've made them before and sometimes will use fresh rosemary and thyme, or dill. This time it was with fresh garlic. Ohhhh heaven's I believe that Garlic Fingerling Potatoes is what will be happening a lot in my house from now on.
What are Fingerling potatoes?
Fingerling potatoes are their own variety. They are a mature potato that is shaped literally like a stubby finger. They do come in different colors and according to The Gourmet Sleuth varieties such as Anna Cheeka's Ozette, Purple Peruvian, and Russian Banana to name a few.
What's the difference between New potatoes and Fingerling potatoes?
New potatoes are actually immature potatoes that get cleared out of the field to make way for the rest of the remaining potatoes to mature. They not any special variety and according to The Kitchen are any variety of potatoes that the farmer grows. Baby potatoes are New potatoes too but can be slightly more mature.
Tip: You can substitute any medium-starch potato, such as Yukon golds, especially baby ones or new potatoes for this recipe.

When we want potatoes, I prefer fingerling potatoes. Here's why:
These potatoes have thin skin so they don't need to be peeled.
They're small enough to cook whole so there's no slicing and dicing and cook quickly.
They take on the flavors that you add to them.
Fingerling potatoes are delicious when boiled, roasted or fried.
They can be mashed, served whole, or in a salad.
The #1 reason is, THEY'RE DELICIOUS! They're tender and have a buttery flavor.
You can definitely cut them in half and allow them to get all of that roasted brown flavor which I also do. You have to watch them when cooked this way but boy are they worth it!
Garlic can become bitter if it burns. For that reason, I just allow the garlic to steam into the potatoes at the end. They will cook somewhat in the hot pan but will not burn. You can use any herb or even grated parmesan too. Again, I add the herbs at the end. They stay bright and add flavor.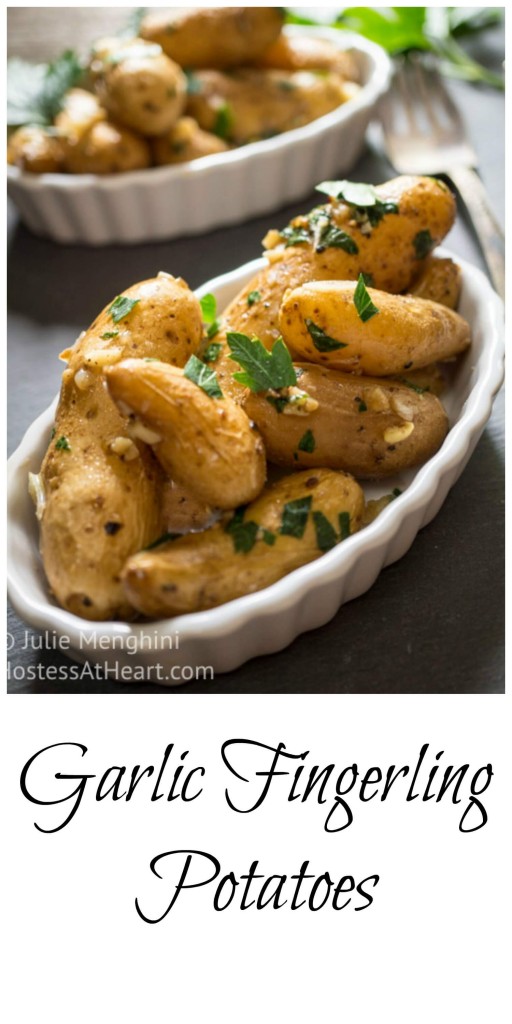 A few things you may need to make this delicious potato recipe:
The following are affiliate links. We are a participant in the Amazon Services LLC Associates Program, an affiliate advertising program designed to provide a means for us to earn fees by linking to Amazon.com and affiliated sites. For more information, please see our disclosure.
Vegetable Brush – I try and keep the peel/skin on my fruit and vegetables. They contain vitamins and other nutrients. It's important to get them clean and using a brush works well!
Saute Pan – I prefer stainless steel pans. I love how this pan has a flat bottom so more food can sit on it directly. I also like the glass lid so I can see how it's cooking.
Chef's Knife – This is my favorite knife and I use it 95% of the time. I've used this knife for years and it still looks brand new. It's been worth the investment!
If you like this recipe, please comment below and leave me a 5-⭐️⭐️⭐️⭐️⭐️ review! Here are a few more recipes I think you'll love!
Hands Off Garlic Fingerling Potatoes Recipe
Hands Off Garlic Fingerling Potatoes is a quick and easy delicious potato recipe that makes the perfect side to any meal!
Ingredients
1

pint

fingerling potatoes

washed

2

tsp

butter

unsalted or olive oil

1

tsp

minced garlic

salt and pepper to taste

2

tablespoons

chopped parsley for garnish
Instructions
Melt butter in the bottom of a heavy skillet or saucepan. Add potatoes and sprinkle them with salt and pepper. Cover with a tightly fitting lid. Turn the burner to low.

After 10 minutes, shake the pan to turn the potatoes. Set the timer for 5 more minutes to test for doneness. Potatoes are done when they feel soft when pierced with a fork. Don't let them overcook, however. (See notes)

When the potatoes are finished cooking, remove them from the burner and add minced garlic. Shake to distribute. Let the potatoes sit covered for an additional 5 minutes. Garnish with parsley, thyme, rosemary or grated parmesan.
Notes
Adapted from Ina Garten Dill potato recipe.
The potatoes can take anywhere from 15 to 30 minutes to cook depending on the size and the amount of the potatoes you're cooking.  Test after 15 minutes to judge where they're at.  If there's only a small give when pierced they need an additional 10 minutes.  If they are becoming soft 5 minutes may be all you need.
Nutrition
Calories:
110
kcal
|
Carbohydrates:
21
g
|
Protein:
2
g
|
Fat:
2
g
|
Saturated Fat:
1
g
|
Cholesterol:
5
mg
|
Sodium:
8
mg
|
Potassium:
509
mg
|
Fiber:
2
g
|
Vitamin A:
230
IU
|
Vitamin C:
26.2
mg
|
Calcium:
17
mg
|
Iron:
1
mg
This recipe was calculated using the exact brands and measurements I used to make this recipe. If you are following a strict diet please note changing anything will cause the nutritional info to change. My calculations are intended as a guide only.
Have you ever tried Fingerling potatoes? I hope you will and let me know what you think. What is your favorite way to enjoy potatoes?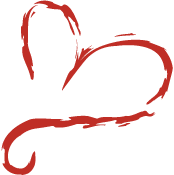 Thank you from the bottom of my heart for spending some time with me today!