This Hands Off Garlic Fingerling Potatoes recipe is delicious. These potatoes make the perfect side to any meal and are quick and easy to make.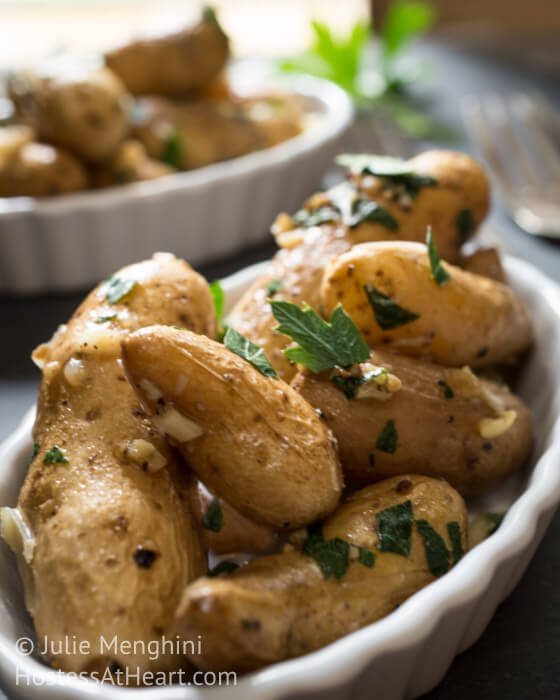 Hands Off Garlic Fingerling Potatoes are my very favorite potato recipe.  They are so easy to cook, don't need to be cut up, and really take on they flavors that you add to them.  This recipe pretty much lets you walk away from them so they can do their magic all by themselves.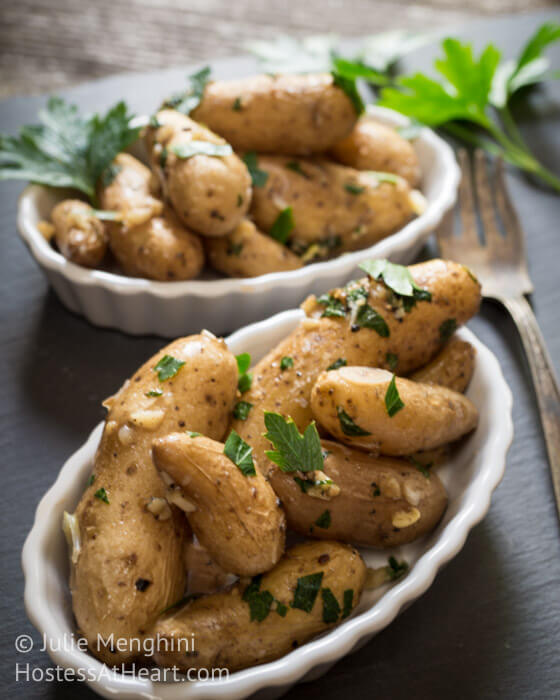 This weekend I bought a pint of fingerling potatoes at the farmers market.  We were grilling steak, and I knew that they would be delicious as a side.  I've made these before and sometimes will use fresh rosemary and thyme, or dill.  I made them this time with fresh garlic.
You don't need a recipe for these taters, but I just love these little guys so much that I thought I just had to share.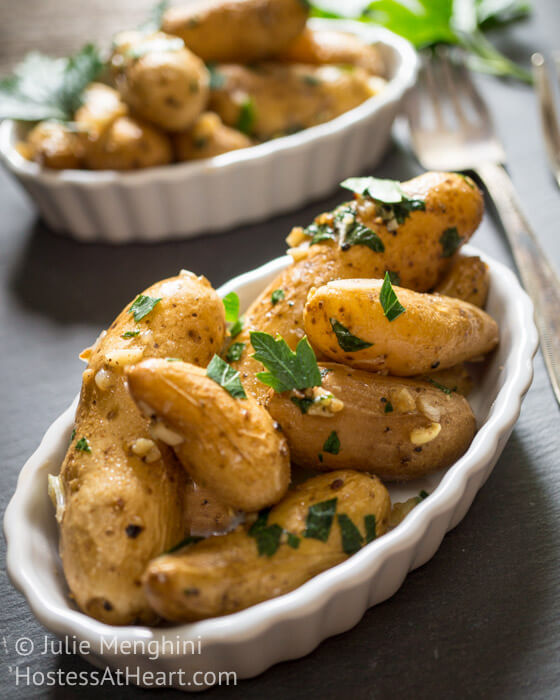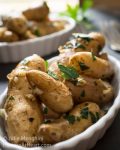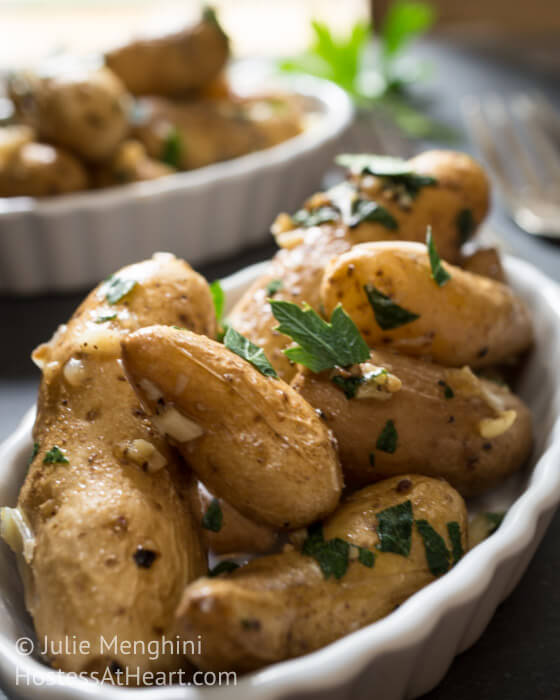 Hands Off Garlic Fingerling Potatoes
Hands Off Garlic Fingerling Potatoes is a quick and easy delicious potato recipe that makes the perfect side to any meal!
Ingredients
1

pint

fingerling potatoes

red or white

2

teaspoons

unsalted butter

1

teaspoon

minced garlic

salt and pepper to taste

2

tablespoons

chopped parsley for garnish
Instructions
Melt butter in the bottom of a heavy skillet. Add potatoes, salt and pepper. Cover with a tightly fitting lid. Allow to cook on low for 20 to 30 minutes, or until potatoes are tender when poked with a fork. Shake occasionally to prevent burning. Add minced garlic and shake to distribute. Turn off burner and allow the potatoes to sit covered for an additional 5 minutes. Garnish with parsley.
Recipe Notes
Adapted from Ina Garten Dill potato recipe
Nutrition Facts
Hands Off Garlic Fingerling Potatoes
Amount Per Serving
Calories 110
Calories from Fat 18
% Daily Value*
Total Fat 2g 3%
Cholesterol 5mg 2%
Sodium 8mg 0%
Potassium 509mg 15%
Total Carbohydrates 21g 7%
Protein 2g 4%
* Percent Daily Values are based on a 2000 calorie diet.
If you over cook garlic, it becomes bitter.  For that reason, I just allow it to steam into the potatoes at the end.  You can use any herb or even grated parmesan.
Linked to Throwback Thursdays, Fiesta Friday & Saucy Saturdays