Nothing says comfort food like this warm and creamy Cheesy Hashbrown Casserole Recipe loaded with buttery cheesy goodness. Your whole family will drool with anticipation when it comes to the table.
This is a fantastic EASY Cheesy Hashbrown Potato Casserole recipe. You can make it in a crockpot or oven, whichever one works best for you. I like making it in the slow cooker because that frees up my oven for other dishes. It's honestly the ultimate comfort side dish that goes with everything.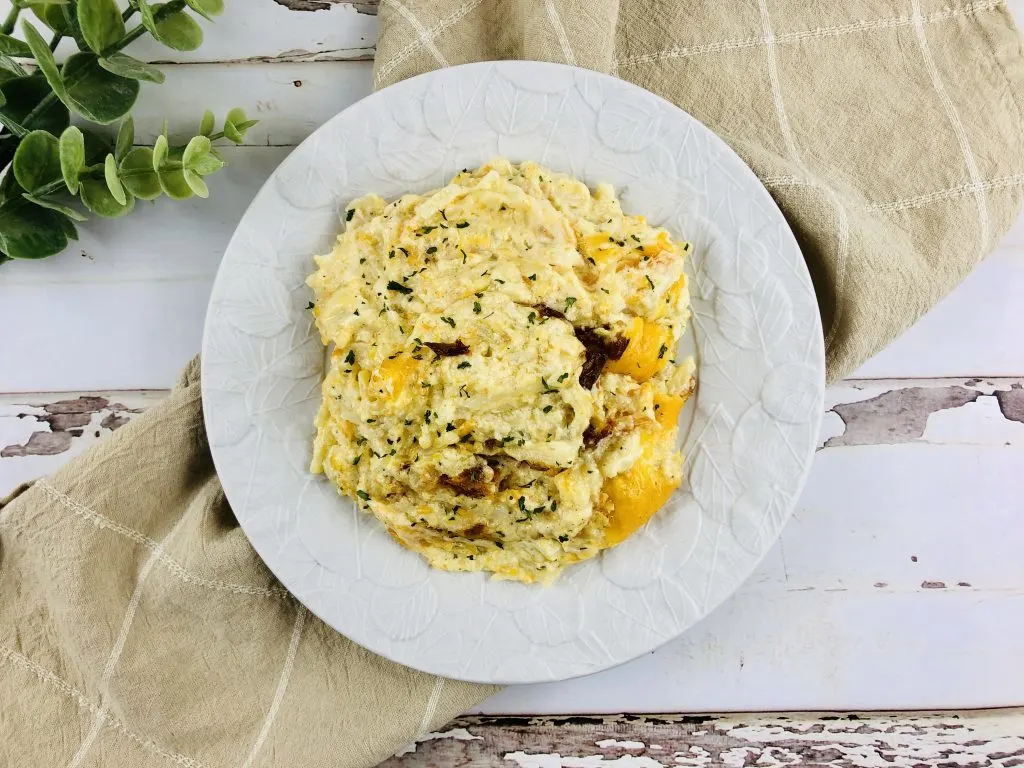 An easy potato recipe is my go-to whether I'm looking for an easy dinner or entertaining. This cheesy hashbrowns casserole is a favorite if I'm not making my Cheesy Potato Casserole or these amazing Parmesan Roasted Potatoes.
How Do You Make Hash Brown Casserole?
Step 1: Prep the slow cooker
One of the biggest issues I've had in the past is this gooey cheesy Hashbrown Casserole would stick to the slow cooker. I solved that issue by spraying the slow cooker with non-stick cooking spray or using a slow cooker liner. Those liners make cleanup a breeze!
Step 2: Mix the Cheesy Potato Casserole ingredients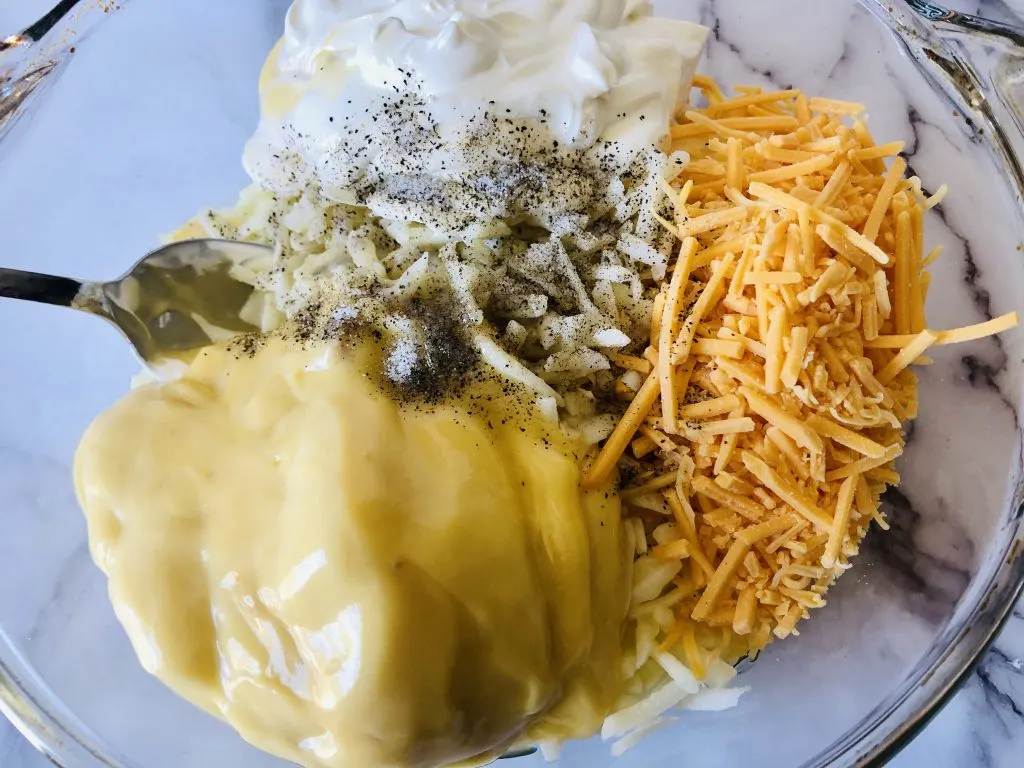 The glory of this recipe is that it's simple to put together. I just mix all of the ingredients together except for one cup of the cheese which you set aside. Make sure it is thoroughly mixed. Those silicone spoons work great for this job.
Step 3: Bake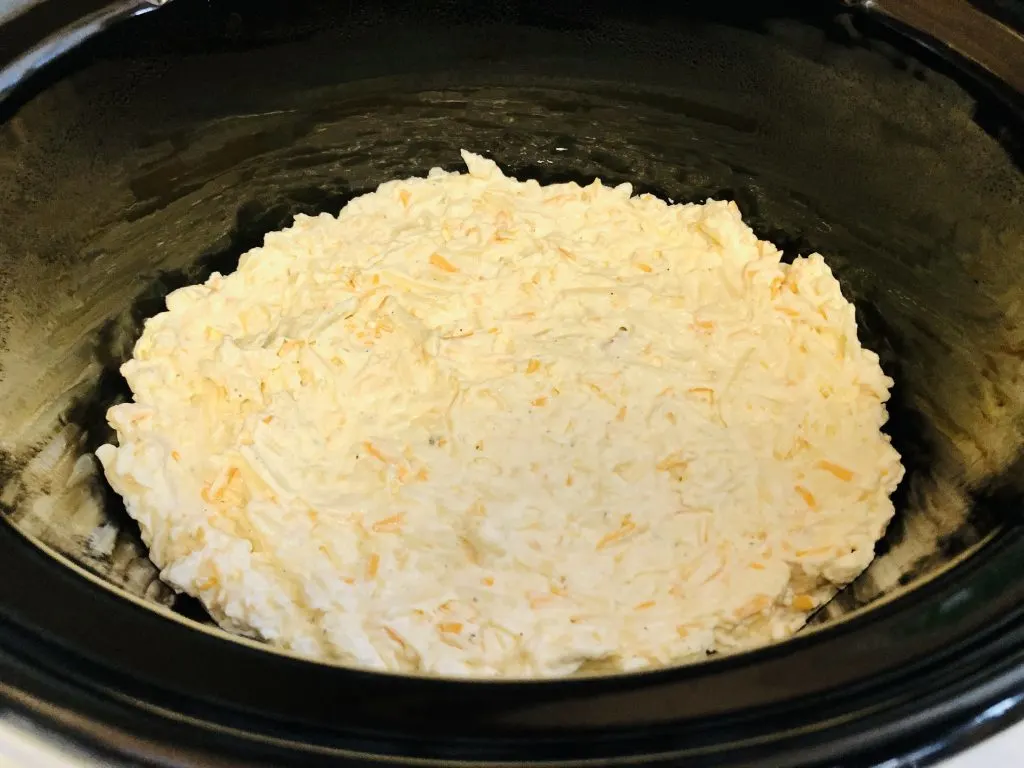 Place this mixture in the crockpot and lightly press it down to form an even layer. Cook it on low for four hours. Add the reserved cheese and cook it for an additional twenty minutes with the lid on to finish it off.
Ingredients for the Cheesy Hashbrown Casserole Recipe
Hashbrowns. We used frozen shredded hash browns.
Cream of Chicken Soup. This comes in a can but if you have allergies you can also make your own.
Sour Cream. The light version works fine.
Cheddar Cheese. Grated and divided per the recipe.
Butter. You can use salted or unsalted butter.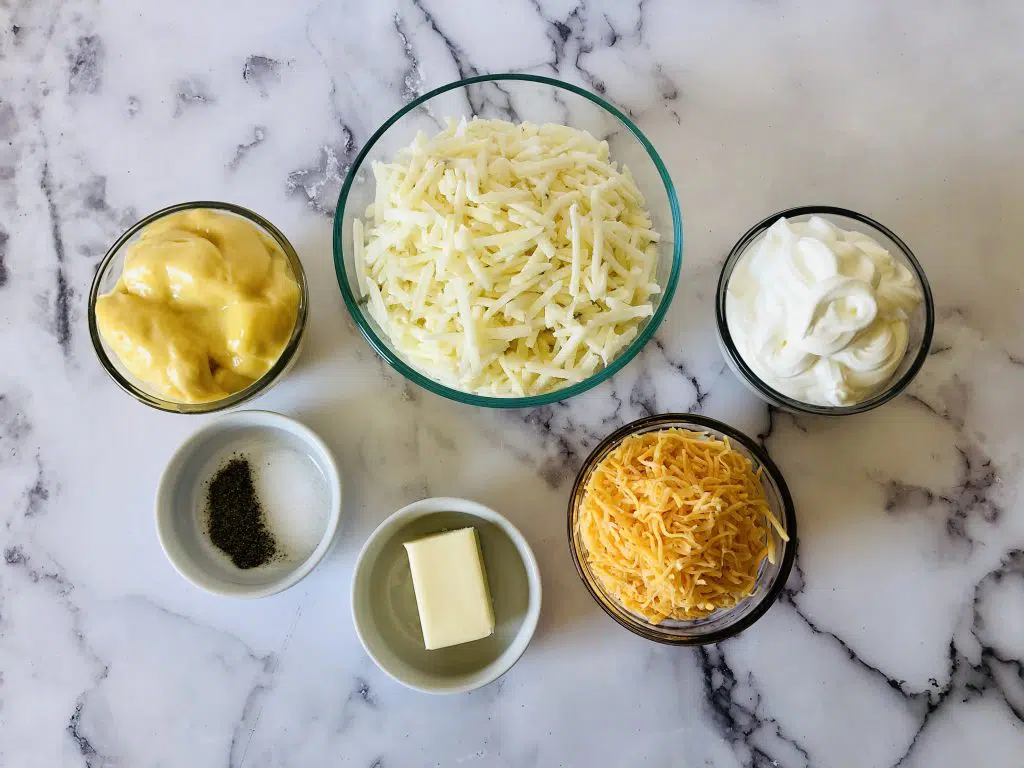 Variations on the Cheesy Hashbrown Casserole Recipe
Use a Cream of Celery soup or Mushroom soup for a vegetarian option.
Add cooked shredded chicken. Meat takes this side dish and makes it a complete meal!
Add cooked cubed ham.
Try adding browned and drained ground beef or sauasge.
Mix in a tablespoon or two of dried, minced onions for a little onion flavor.
Tips for Making the Perfect Cheesy Hashbrown Potato Casserole
I've mixed all of the cheese into the casserole at once instead of sprinkling it on at the end and melting it. It just cuts out the last step but none of the flavor.
Mix the ingredients by hand. Don't overmix or your casserold will become mushy.
This recipe can also be baked in a 9×13 pan at 350°F for 1 hour if you forget to put it in the crockpot.
FAQ's for the perfect Cheesy Hashbrown Potatoe Casserole
Should you thaw frozen hash browns before cooking?

No, you definitely do not need to thaw the hashbrowns before putting them in the slow cooker.
What cut of hashbrowns are best?

I use shredded hashbrowns for this recipe. You can also get the shredded hashbrowns with red and green bell peppers and onion, also called "O'Brien Style". I don't use the diced hash brown potatoes which are usually called "Country Style" for this recipe.
Pin this recipe to your favorite side dish board!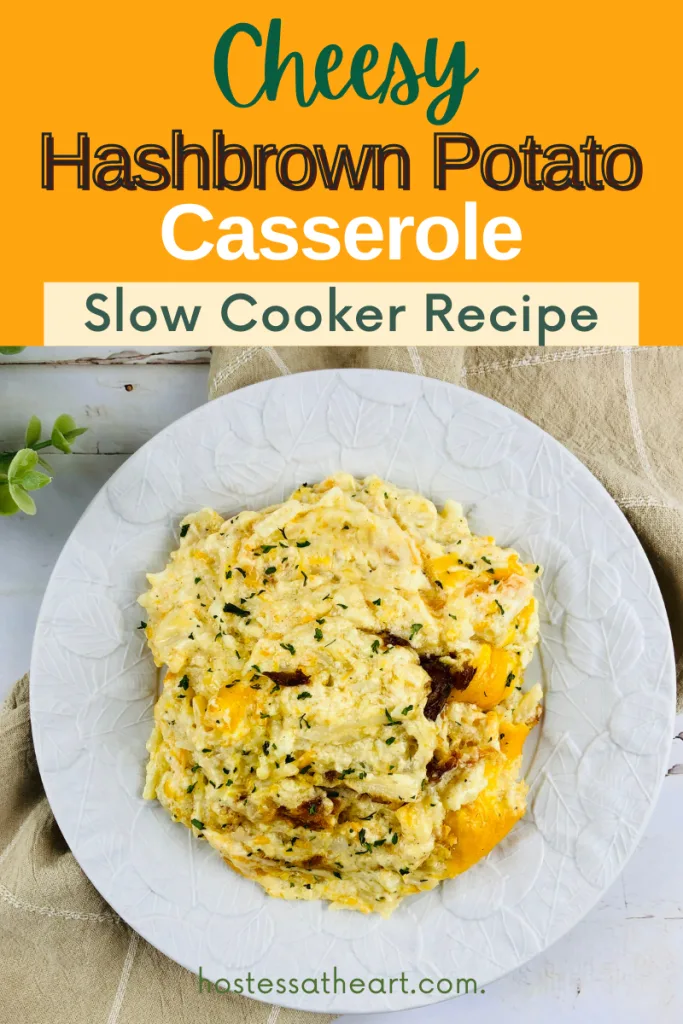 Can cheesy hashbrown potatoes casserole be made ahead of time?

Yes, you can make it ahead of time. Mix it together the night before and plug in the slow cooker when you're ready to heat them up.
Can these potatoes be cooked in the oven?

Yes! Add all of the ingredients except one cup of cheese to a greased 9×13 baking dish. Bake at 350°F for 45 minutes, covered. Top with cheese and bake 15 to 20 minutes or until the cheese is melted.
How to Store and Reheat Cheesy Hashbrown Potato Casserole
Uncooked Potato Casserole recommendations
You can freeze the uncooked casserole to prep it for later.

Put it all in a large freezer-quality plastic zipper baggy and seal it up. Next, move it into the freezer where you can keep it for up to three months.

When you are ready for it, you can place the frozen ingredients into the crockpot and cook.
Cooked Potato Casserole Recommendations
Keep any unused potato casserole in the refrigerator for up to 4 days.
You can also freeze the cooked cheesy hash brown casserole recipe. I've frozen it right in the casserole dish but prefer to use a freezer bag laid flat. It takes up less room.

Let it thaw in the refrigerator overnight. Heat it up in the oven at 350° just until it's hot (since it's already cooked). You can top it with more cheese if you like. You can also just heat up individual portions in the microwave.

Don't reheat it in the slow cooker. Your potatoes will turn to mush from over-cooking.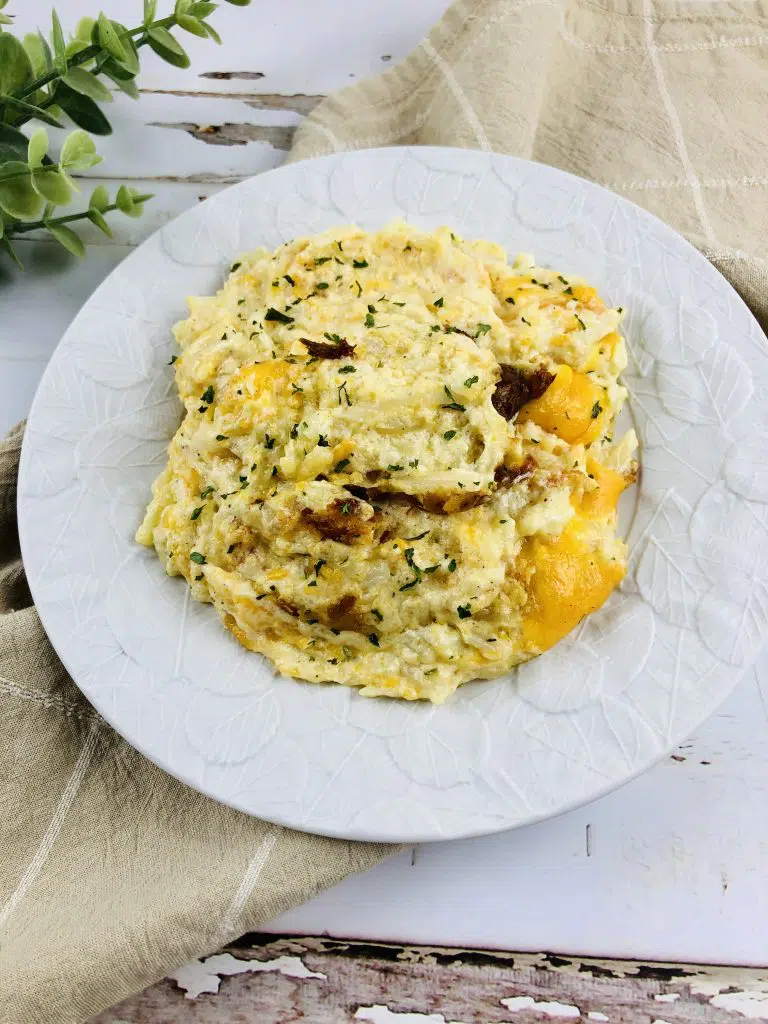 Equipment needed to make Cheesy Hashbrown Potato Recipe
Slow Cooker – We use this slow cooker. It works great but doesn't have all the bells and whistles making it affordable.
Slow Cooker Liners – These liners make clean-up a breeze! No more sticky cooked on mess.
Silicone Spoons – These spoons work great with cheesy recipes and they clean up in the dishwasher.
What is good to eat with hash brown casserole?
Hashbrown casserole is a great side dish for many different entrees. Here are a few of our favorites to make it a meal.
Don't forget to Come Back and Let me Know How your Cheesy Hashbrown Casserole Turned Out!
Related Recipes
Make Ahead Holiday Meals

We share Recipes From Our Dinner Table! Join our group and share your recipes, too! While you're at it, join our Pinterest board, too!