Roasted Turkey Roulade is a delicious dinner alternative to cooking a whole turkey. This easy turkey roll recipe is the perfect blend of sweet and savory flavors.
This recipe was originally posted in 2015 and has been updated to improve reader experience.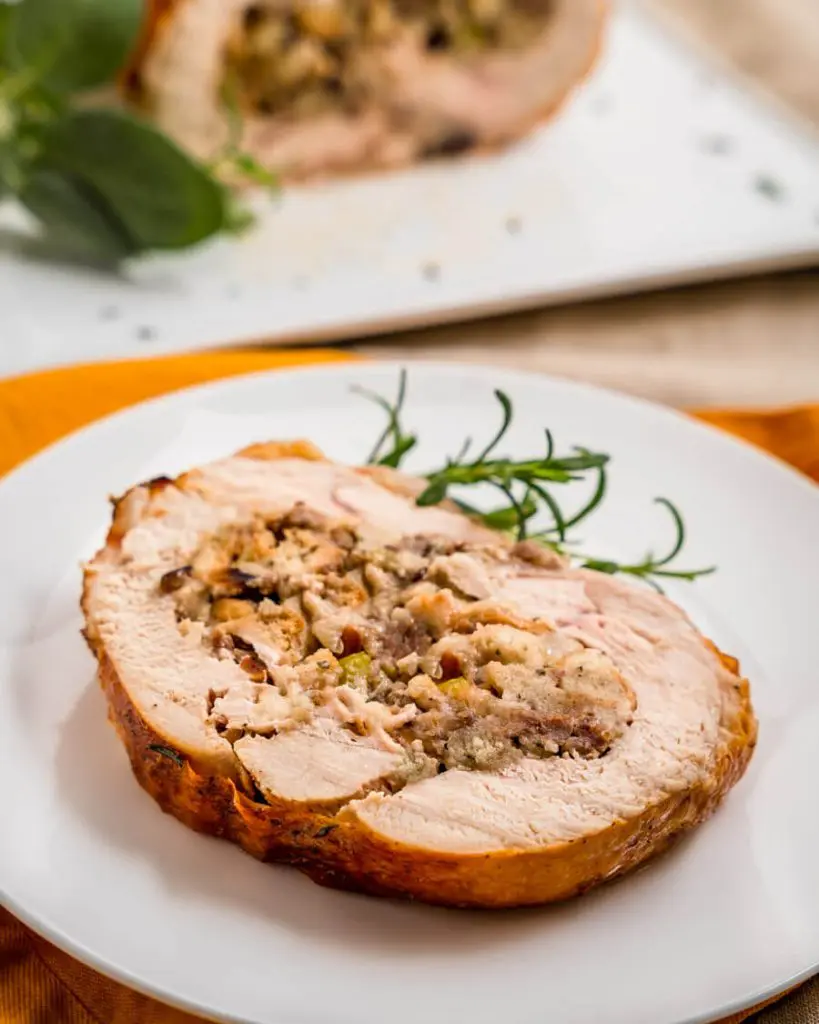 Roasted Turkey Roulade is the perfect Holiday meal. Your guests will be wowed by this culinary beauty.
We love that making this turkey roll recipe takes care of the turkey and stuffing without any tedious carving.
It's impressive to look at and maybe looks a little intimidating to make, however, it really isn't difficult at all! We'll show you how!
Our turkey roll is savory with just a touch of sweet and this recipe makes enough extra stuffing that no one will leave your table hungry!
What is a Turkey Roulade?
A roulade is a technique in which ingredients are rolled. This recipe consists of a homemade stuffing rolled into a boneless turkey breast. Boneless Turkey Roll is another name for this recipe.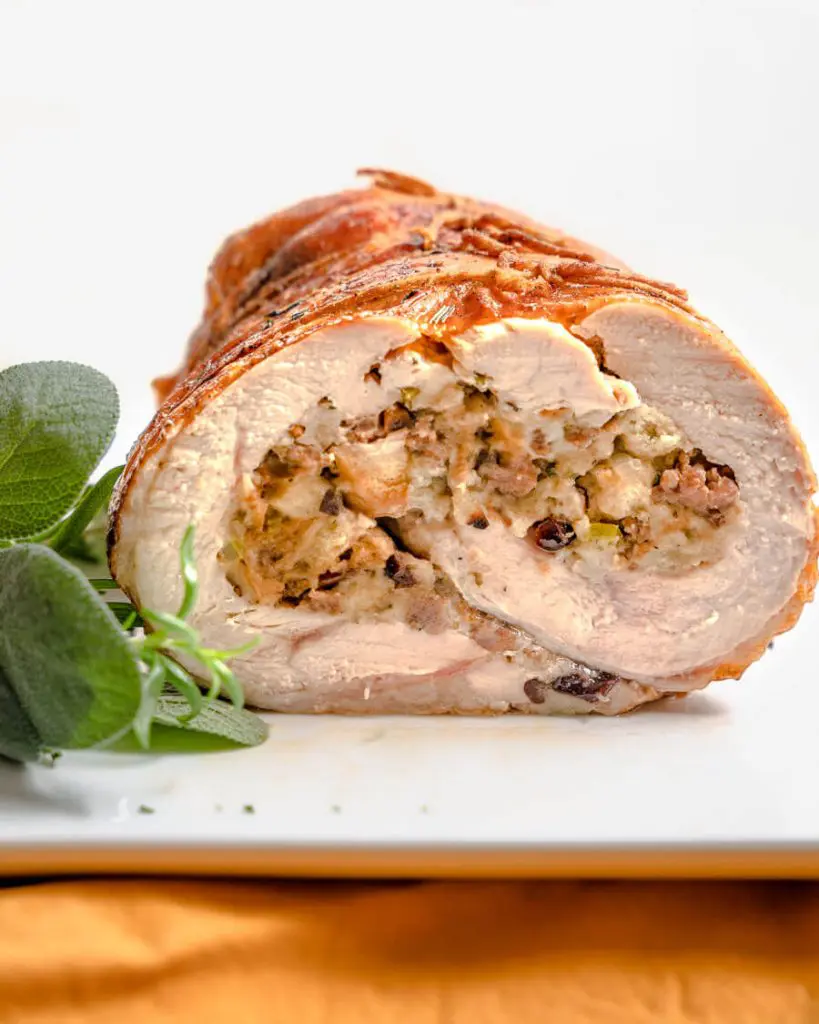 Why we love a Roulade
A much more manageable size making serving easier.

It also makes freezing much easier. To freeze we slice the roulade into serving-sized pieces and then lay them flat in between pieces of plastic wrap, foil, or waxed paper placed in a resealable storage bag or foil.

They cook much quicker! Eliminating the bone speeds up the cooking.

That leaves you with more oven time over the holidays!

You can stuff them with your favorite stuffing recipe.

Other filling ideas include wild rice or quinoa.
Once you try this technique, you'll be hooked! We are, just take a look at our Lamb Roulade and our Pork Roulade!
Ingredients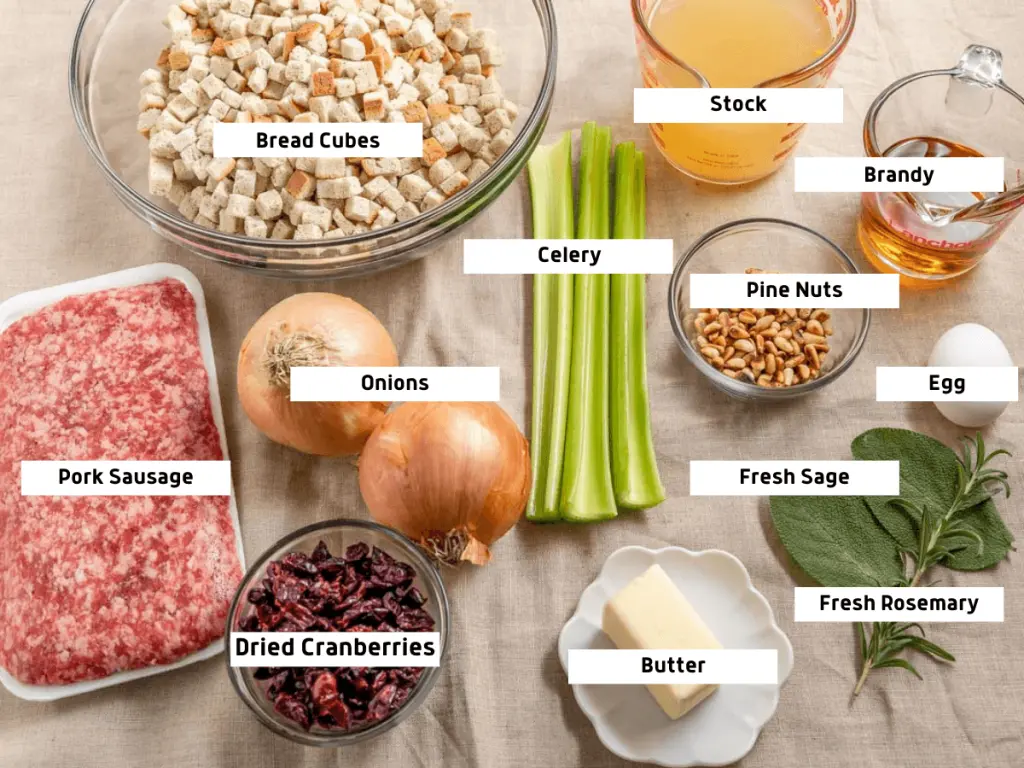 Turkey breast – Boneless and butterflied (see the note below)
Onions – We used yellow onions but use your favorite
Celery
Butter – We used unsalted. If you use salted, just adjust your seasoning to use less
Bread Cubes – I use pre-seasoned cubes. Use what you like, purchased, or homemade.
Pine nuts – you can substitute with another chopped nut or leave them out.
Turkey or chicken stock – Purchased or make your own. I explain how below.
Dried cranberries – Craisins
Brandy – A non-alcoholic substitute would be apple juice
Egg – We use large eggs
Fresh herbs – sage and rosemary. Thyme would be another great addition.
Butterflying Technique
The turkey breast is actually made up of two sides of meat separated by the breast bone.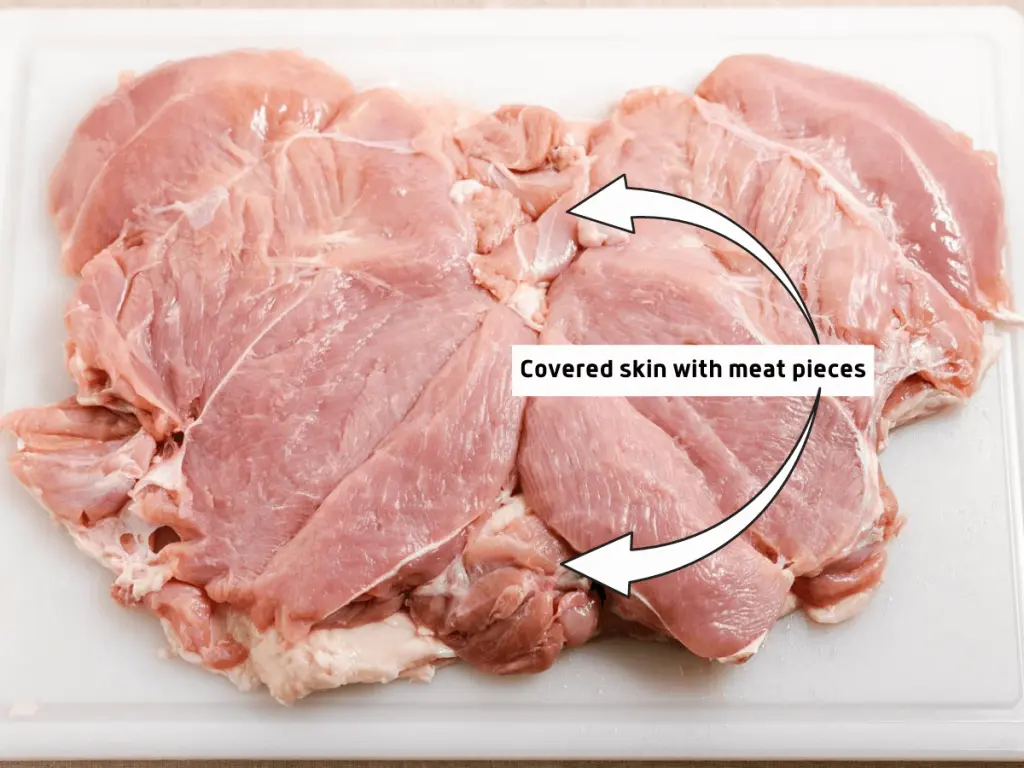 When you remove the breast bone, you can flatten the breast.

The meat will resemble two ovals of meat joined together by the underlying skin.

We don't pound the meat to the same thickness. Where it was thicker, we sliced it to an even thickness and put the sliced pieces of meat over the skin that attached both sides of the breast meat. This created more of a rectangle shape which allowed us to roll the turkey breast evenly.
Note: When you buy a turkey breast make sure it's the actual turkey breast. Some turkey breasts sold by your grocer are just made of turkey breast meat pieces and will not roll out.
Also, if it's an actual turkey breast, look at the size. The boneless turkey breasts in the store can often include just one side and are under 2 pounds.
They will work but you'll have a smaller turkey roll and a lot more dressing than you need. Our turkey breast was 5 pounds.
Tips for stuffing a Turkey Roulade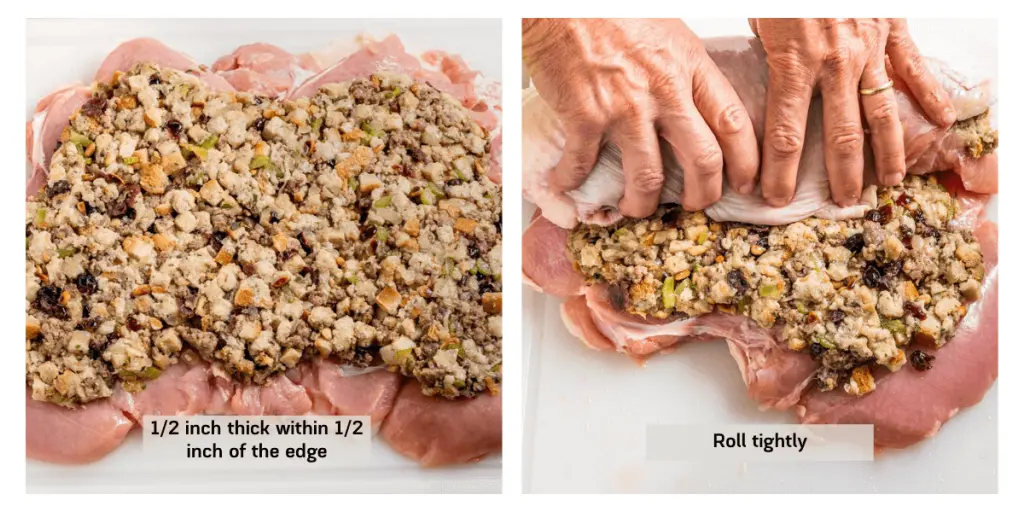 With the skin side down, apply a 1/2-inch thick layer of the stuffing to the meat side.

Leave 1/2-inch from the edge. Otherwise, the stuffing will just ooze out the sides. If it does, just stuff it back in.

Roll the turkey breast as firmly as you can without losing all the filling and secure the turkey roll by tieing it with kitchen twine.

A second pair of hands can be very helpful for holding it together while you tie it.
Place the turkey breast seam side down over a baking rack sitting over a baking sheet or roasting pan.
Baste with butter and season with salt and pepper.

Bake.
Note: We were careful not to touch the spoon we used to apply the stuffing with the raw turkey meat so our bowl of stuffing was never contaminated with the raw poultry. We just spooned the stuffing onto the meat and spread it out with a spatula.
If you're baking the dressing right away, that wouldn't be an issue. However, if you plan on freezing the dressing unbaked, you wouldn't want any food safety concerns.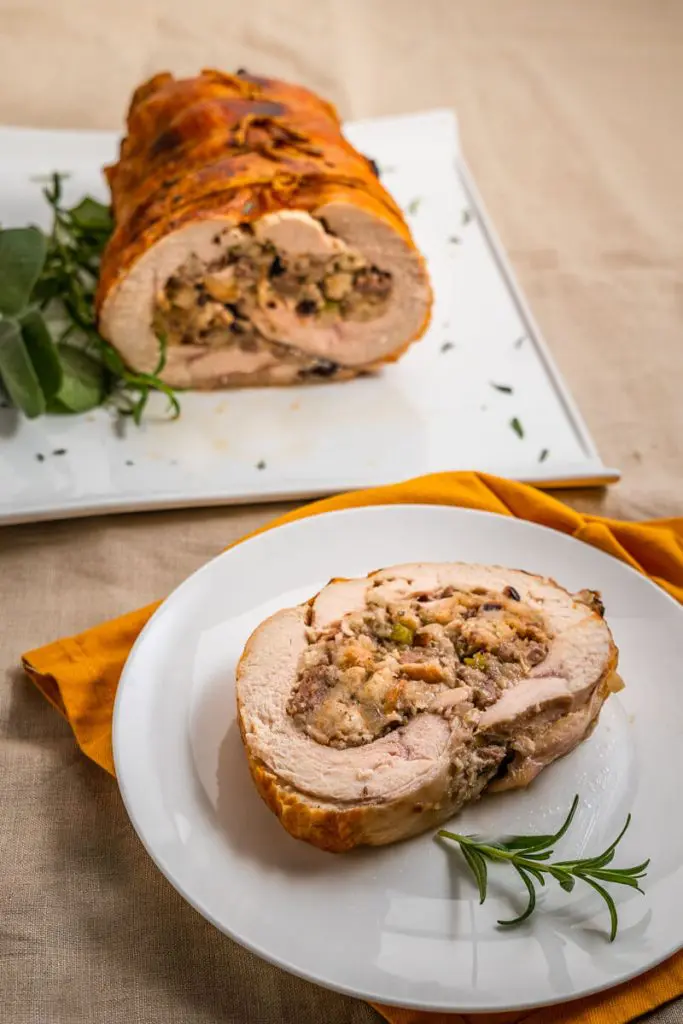 How to make homemade Turkey Stock
It's cheaper to buy an entire turkey and remove the breast yourself. That leaves you with all of those flavorful bones and any parts you don't routinely bake anyway.
To make homemade turkey stock, put the bones in a large saucepan. I cut out the backbone, the breast bone, and had the giblets and neck bone that were in the cavity of the turkey.
Cover the bones and any additional pieces mentioned above with water. Additionally, you can add onion, celery, and carrots for additional flavor.
Bring to a low boil and then add salt, pepper, and optionally additional herbs, dry or fresh. Turn to a simmer and cook for about 2 hours.
After simmer is complete, you can pour the stock through a strainer or just spoon out the bones and any additions you've made.

I skim off any cooked herbs or cooked pieces but don't cool and remove the fat. The fat in your homemade turkey stock adds flavor to the stuffing or makes amazing homemade gravy.
Any leftover stock can be frozen.
If you have your butcher butterfly your turkey breast make sure to tell them that you want the bones.
Proper cooking tips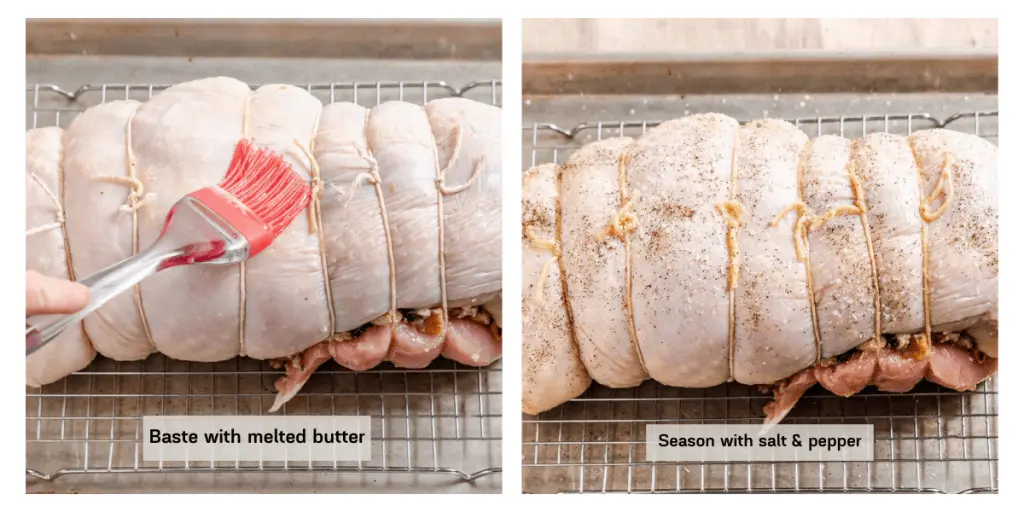 We placed our Turkey Roulade seam side down on a rack placed over a baking sheet. We brushed the skin with melted butter before placing it in the oven and basted it again about 20 minutes before it was fully cooked.
That keeps the skin supple and browns it beautifully. We didn't have to cover it but if your turkey starts to get too dark, you can tent a piece of aluminum foil over the top.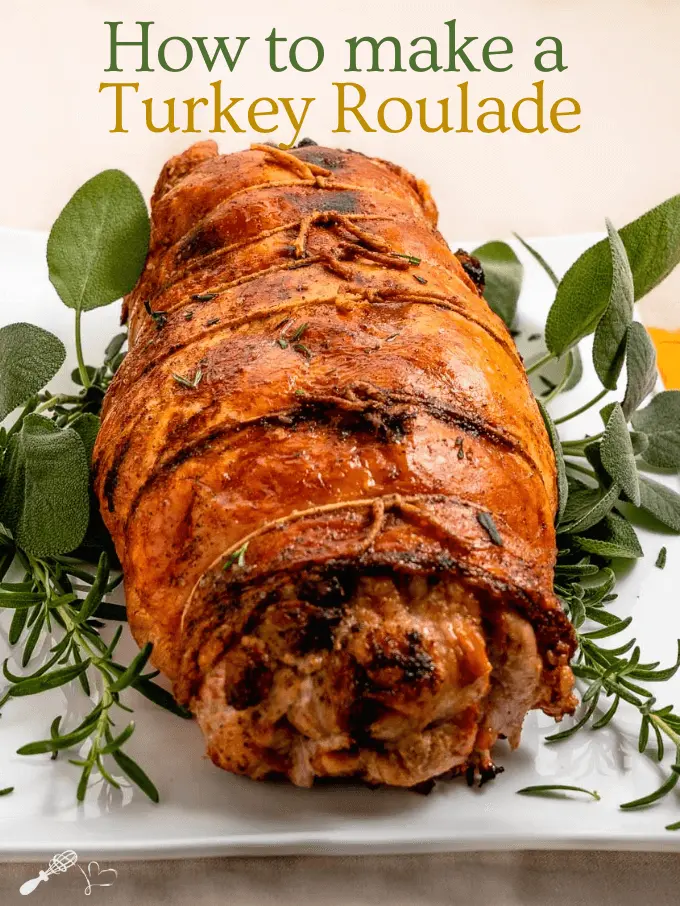 You can cook your Turkey Roll on the grill. Use indirect heat which actually just turns your grill into an oven. This allows you to free up the oven for other dishes.
The most important thing when cooking any poultry is that it's cooked to the proper temperature to assure no food-born illnesses arise.
The CDC states turkey can be removed from the oven when it reaches an internal temperature of 165°F.
Since the meat is butterflied and we don't have any bones to worry about. That makes it easier to get a good temperature reading with an instant-read thermometer.
We allow our turkey to rest for 15 to 20 minutes before slicing it. We actually allow any meat we cook to rest. That assures the juices can be reabsorbed making a juicy result.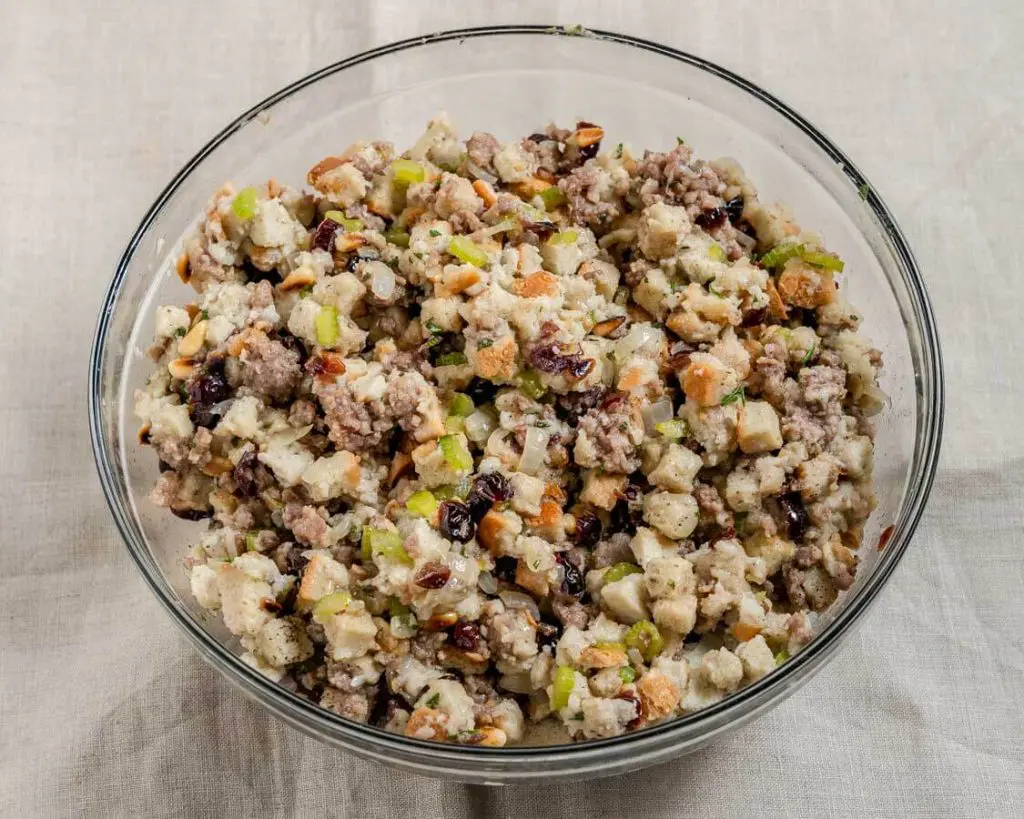 This recipe will make more stuffing than what is needed for the turkey roll.
Leftover stuffing can be baked in a buttered dish for 40 to 45 minutes. Cover the stuffing with a lid or aluminum foil for the first 20 minutes and remove the covering for the remaining 20 minutes until browned.
Leftover dressing can also be frozen baked or unbaked in a covered airtight container.
If you like this recipe, we would appreciate your comment and a 5-star ⭐️⭐️⭐️⭐️⭐️ review!
Our favorite side dishes
Like we stated, one of the good things about this recipe is you don't need a lot of additional dishes to go with it. Here are a few of our favorites.
Pin this favorite Holiday recipe!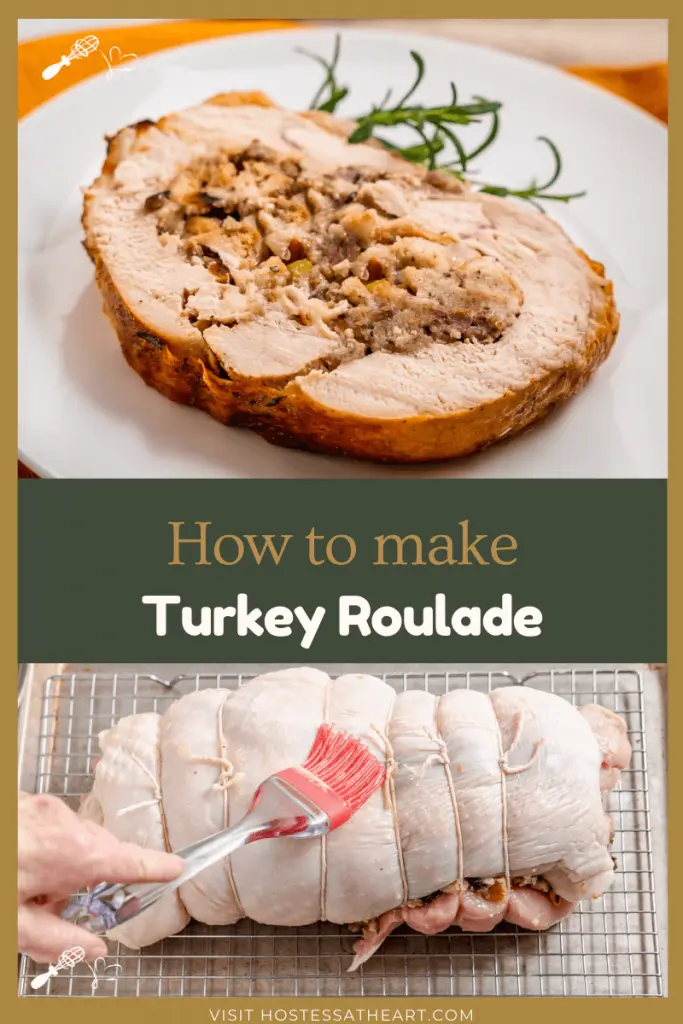 Some of our favorite Turkey Recipes
We love turkey! You can find all of our Turkey Recipes here.
DRUM ROLL…OUR MOST POPULAR RECIPES!