This Roasted Turkey Roulade recipe is a one dish meal that combines a sweet and savory combination, leaving one moist, delicious and impressive meal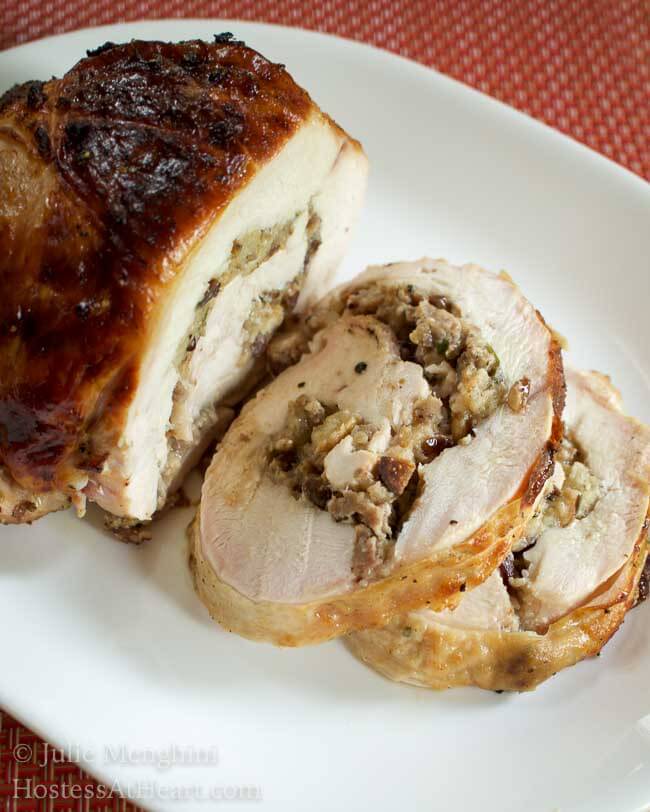 My husband John and I have been together since we were 19 years old. We both attended the University of Nebraska, where we met, and he was the city kid that always wanted to be country, and I was the country kid that always wanted to be city.
This month we celebrated out 35th wedding anniversary. If you asked me what the secret to a successful marriage was the only thing that I could come up with is to show them and tell them that you love them. We are not selfish or materialistic people. When we married, we had nothing but each other, and yet, we had everything. Whether you are married or not, I wish you happiness. The kind of happiness that I have had for so many years.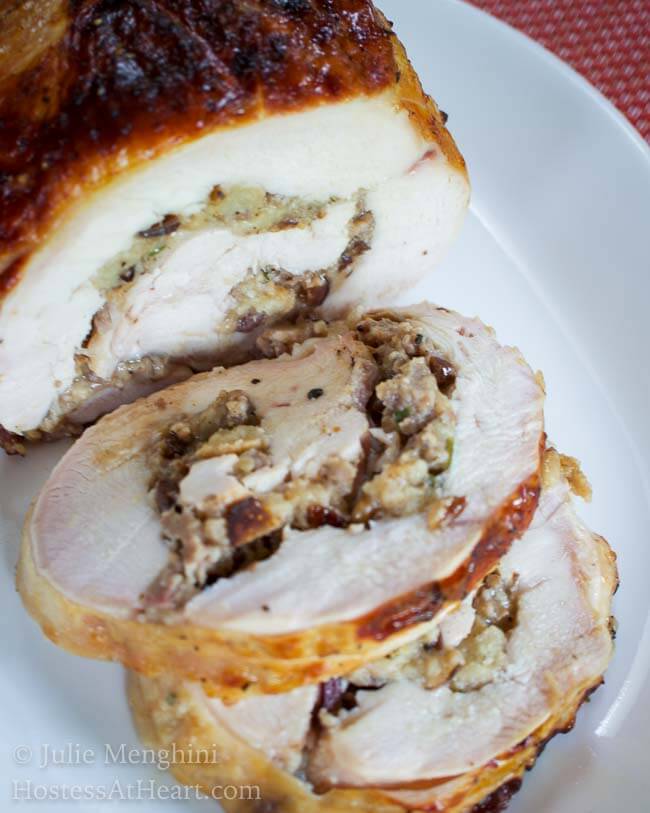 As you know, I just love tinkering in my kitchen. I make most of the meals on a weekly basis. However, when it comes to the grill, or in our case, The Big Green Egg, John is the boss and I am his sous. This is not a sponsored post. This is the grill that we prefer. I don't mind and love rubbing elbows with him when he creates one of his masterpieces.
John saw this Ina Garten recipe for Turkey Roulade that he has really wanted to try. This was a weekend recipe where we knew we would have the time to try something a bit more time consuming and new to us. I am so glad we did! We followed Ina's recipe to the tee. Now I am sure Ina's butcher butterflied her turkey breast in a perfect rectangle. It was pretty comical to watch John hold the turkey together, with the stuffing trying it's best to escape, while I tied it up. I used quite a bit of string to hold Ole Tom Turkey together, but you cut if off in the end any way, and no one saw how trussed up we had that guy.
The things we would change next time would be to add more savory to the sweet. She calls for sweet and hot sausage. I would probably just use Italian sausage or a mix of Italian regular and hot next time. I wouldn't use any sweet sausage. The figs and cranberry are sweet enough. Also, I would add more of the Italian spice profiles, such as additional oregano or sage. Regardless, it was delicious. The turkey was moist and tender. This recipe makes enough stuffing to have some on the side as well.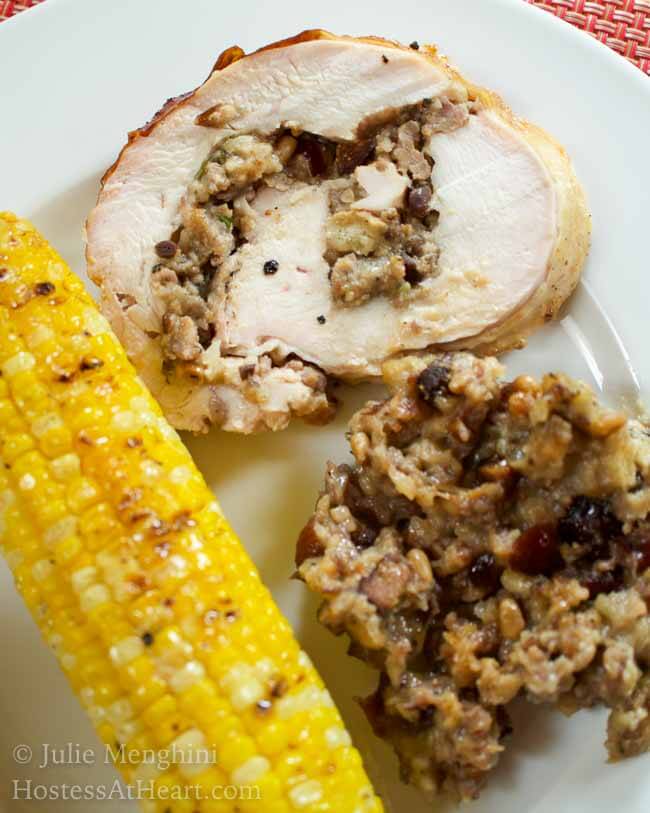 Roasted Turkey Roulade
This Roasted Turkey Roulade recipe is a one dish meal that combines a sweet and savory combination, leaving one moist, delicious and impressive meal.
Ingredients
3/4

cup

dried figs

stems removed and chopped

3/4

cup

dried cranberries

1/2

cup

Calvados or Brandy

4

tablespoons

1/2 stick unsalted butter

1 1/2

cups

diced onions

2 onions

1

cup

1/2-inch-diced celery (3 stalks)

3/4

pound

pork sausage

casings removed (Italian and/or hot mixed)

1 1/2

tablespoons

chopped fresh rosemary leaves

1/4

cup

pine nuts

toasted

3

cups

cubed herb-seasoned stuffing mix

1 1/2

cups

chicken stock

1

extra-large egg

beaten

Kosher salt and freshly ground black pepper

1

whole

2 halves turkey breast, boned and butterflied (5 pounds) - Have your butcher do this.

3

tablespoons

unsalted butter

melted
Instructions
Put the dried figs and cranberries in a small saucepan and pour in Brandy and 1/2 cup water. Bring the mixture to a boil over medium heat, then lower the heat and simmer for 2 minutes. Remove from the heat and set aside.

Put the stuffing and chicken stock in a large bowl.

Melt the butter in a large (12-inch) skillet over medium heat. Add the onions and celery and saute until softened, about 5 minutes. Add the sausage, crumbling it into small bits, and saute until cooked and browned. Add the figs and cranberries with the liquid, the chopped rosemary, and pine nuts, and cook for 2 more minutes.

Add the sausage mixture, egg, 1 teaspoon salt, and 1/2 teaspoon pepper to the stuffing and stir well.

Preheat the oven or grill to 325 degrees F.

Lay the butterflied turkey breast skin side down on a cutting board. Sprinkle the meat with 2 teaspoons salt and 1 teaspoon pepper. Spread the stuffing in a 1/2-inch-thick layer over the meat, leaving a half-inch border on all sides. Don't mound the stuffing or the turkey will be more difficult to roll. Leftover stuffing can be baked in a buttered dish for 40 to 45 minutes. Cover stuffing with a lid for the first 20 minutes and remove the lid for the remaining 20 minutes to slightly brown.

Cut several long pieces of kitchen twine. Starting at 1 end, roll the turkey like a jelly roll and tuck in any stuffing that tries to escape on the sides. Don't use over-firm pressure or you will loose your stuffing. Tie the roast firmly with kitchen twine every 2 inches to make a compact cylinder. This is the easiest with an extra person to tie while one holds the roll together.

Place the stuffed turkey breast seam side down on the rack on the sheet pan. For grilling, place in a cast iron dutch oven, on a rack, uncovered. Brush with the melted butter, sprinkle generously with salt and pepper, and roast for 1 3/4 to 2 hours, until an instant-read thermometer registers 150 degrees F in the center. (I test in a few places.) Cover the turkey with aluminum foil and allow it to rest at room temperature for 15 minutes. Carve 1/2-inch-thick slices and serve warm with the extra stuffing.
Notes
Recipe adapted from Ina Garten, Food Network, https://www.foodnetwork.com/recipes/ina-garten/roasted-turkey-roulade-recipe.html
Nutrition
Serving:
12
g
|
Calories:
429
kcal
|
Carbohydrates:
48
g
|
Protein:
12
g
|
Fat:
19
g
|
Saturated Fat:
8
g
|
Cholesterol:
67
mg
|
Sodium:
841
mg
|
Potassium:
351
mg
|
Fiber:
3
g
|
Sugar:
15
g
|
Vitamin A:
311
IU
|
Vitamin C:
2
mg
|
Calcium:
77
mg
|
Iron:
3
mg
This recipe was calculated using the exact brands and measurements I used to make this recipe. If you are following a strict diet please note changing anything will cause the nutritional info to change. My calculations are intended as a guide only.
I hope you will give this recipe a try. It was delicious. The best part though was sharing it with my best friend and the man I love. Thanks for putting up with a mushy post!