Fried Dressing Patties have a tender moist center with a buttery crunchy exterior. They're the perfect quick and easy recipe for using leftover dressing!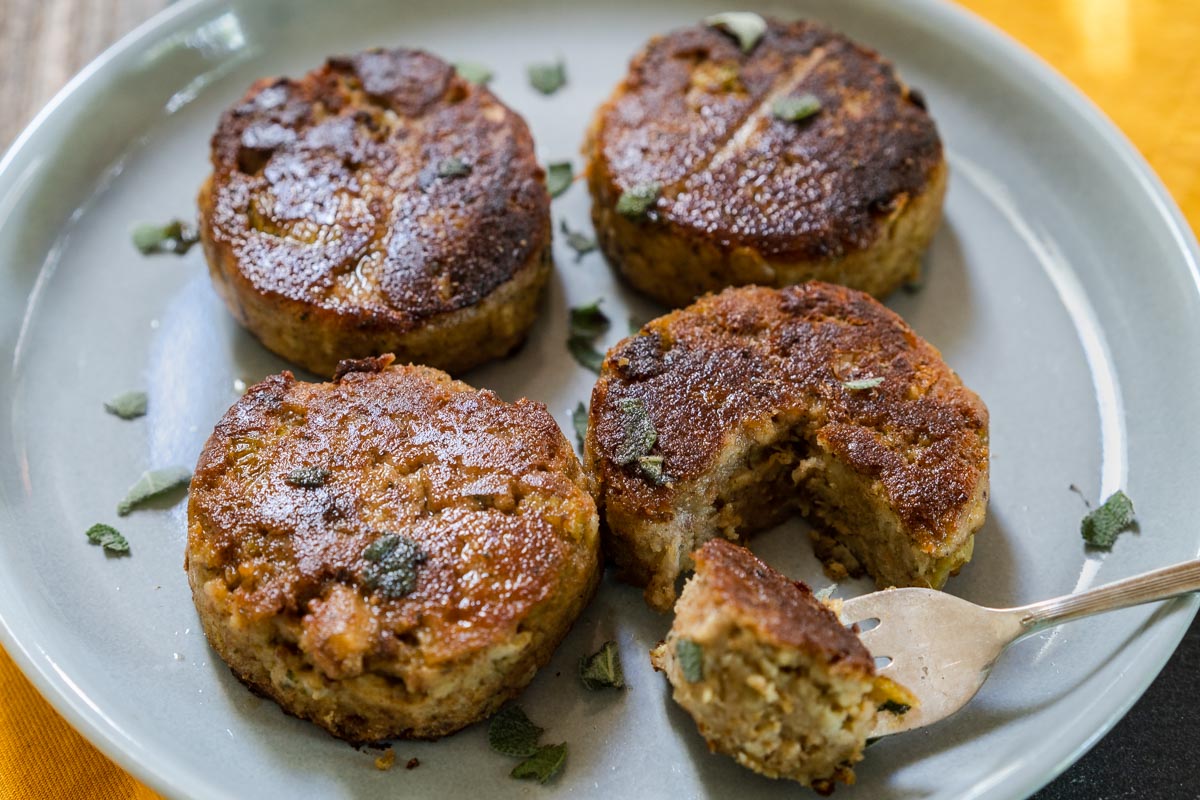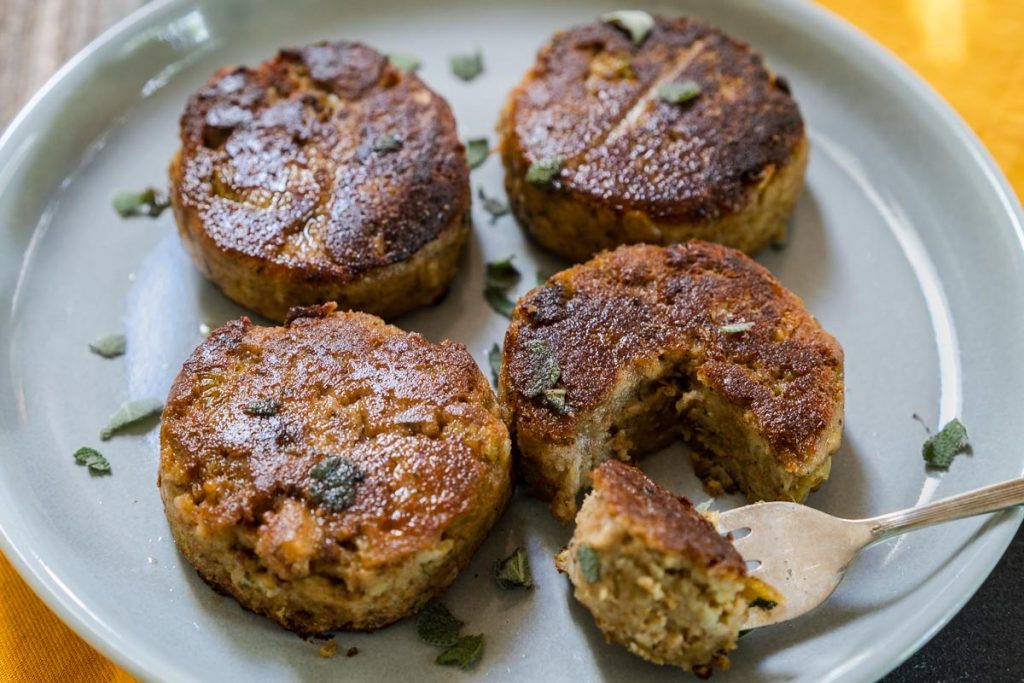 Fried Dressing Patties recipe is a delicious way to use up Thanksgiving dressing leftovers.
They're quick and easy to make and are the perfect side dish to any meal. You'll feel good about repurposing leftovers instead of throwing them out when the family refuses one more spoonful!
Our Thanksgiving Dressing Recipe is one of our most requested dishes over the holidays.
It's a simple homemade dressing that family members request to take home so I always make plenty.
But, let's face it you can only eat so much of it until your family is tired of it or the food police say to throw it out.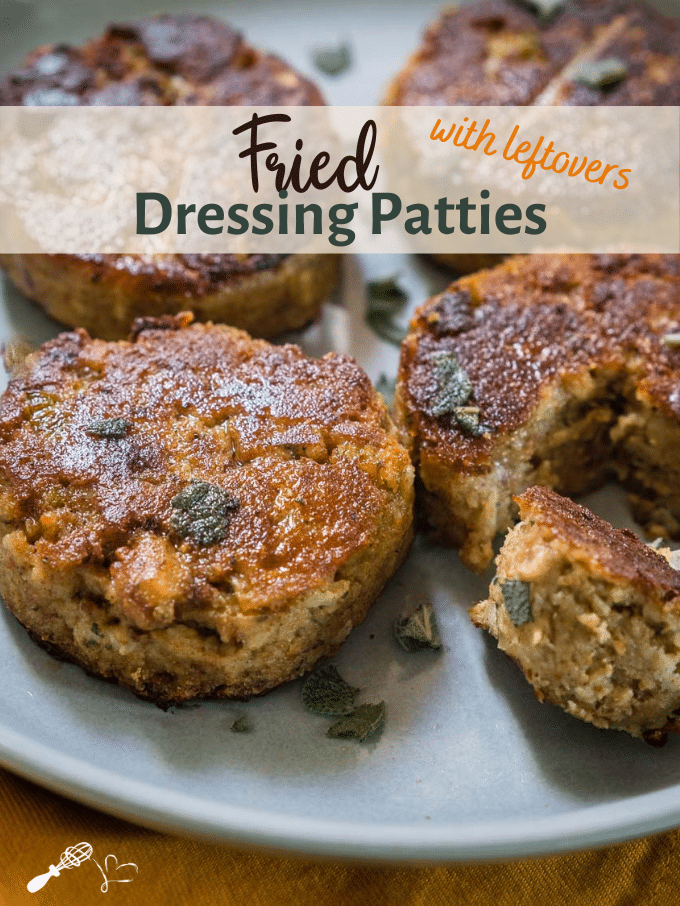 This Thanksgiving Leftover Food Guide and FoodSafety.org are good resources on how long food can be safely stored.
Dressing is good for 3 to 4 days in the refrigerator.
We often make up an extra dish of dressing to freeze and bake when we start craving it again.
Last year we fried up Dressing Patties and repurposed them with some of our other leftover meals.
The glory of doing that is after we pan-fried them, we sealed them in an airtight container and slipped them into the freezer!
There's no need to wait for the holidays! You can enjoy delicious patties all year long. They make a great side dish and thaw out in a jiffy.
Just stick them into the microwave for a couple of minutes and wahla, you've got your side dish finished!
Tip: You can also freeze them before frying. Just thaw and then fry them. That will give you a nice crisp buttery exterior.
Note: This recipe can be increased very easily.
How to make this Dressing Patties Recipe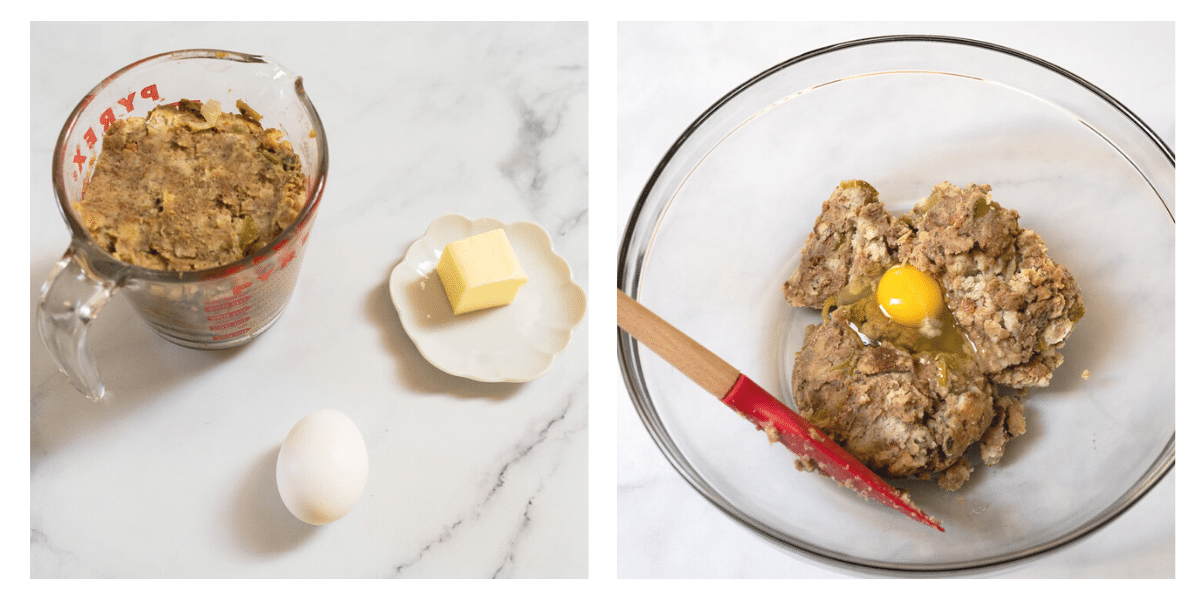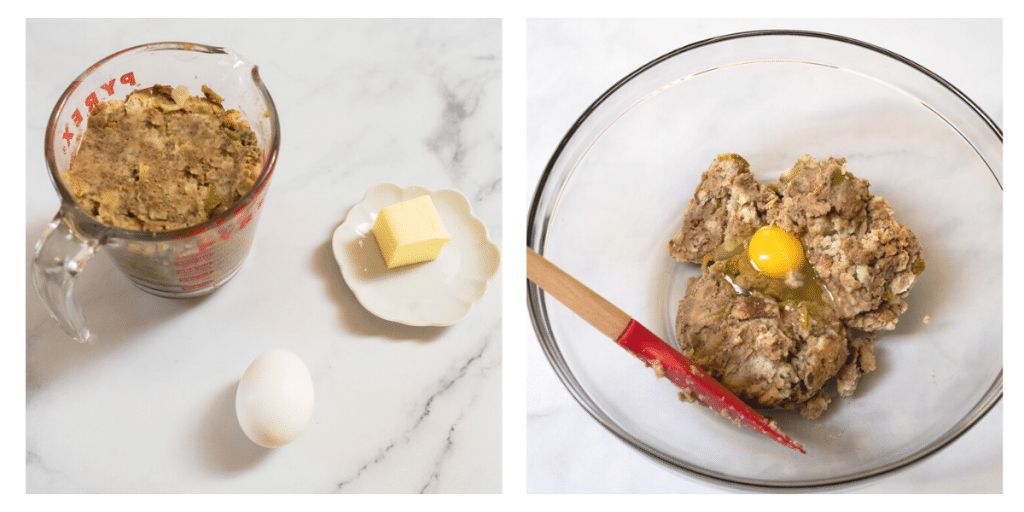 Combine the leftover dressing with an egg. The egg acts as a binder and will keep your patty together. Feel free to add a couple of drops of water if it isn't sticky enough to press together.
We used a 3-inch biscuit cutter to make uniformed sized Fried Dressing Patties.
Heat butter in a large skillet. When hot, add the Dressing Patties and cook approximately 4 minutes on each side. We love using a fish spatula for this task.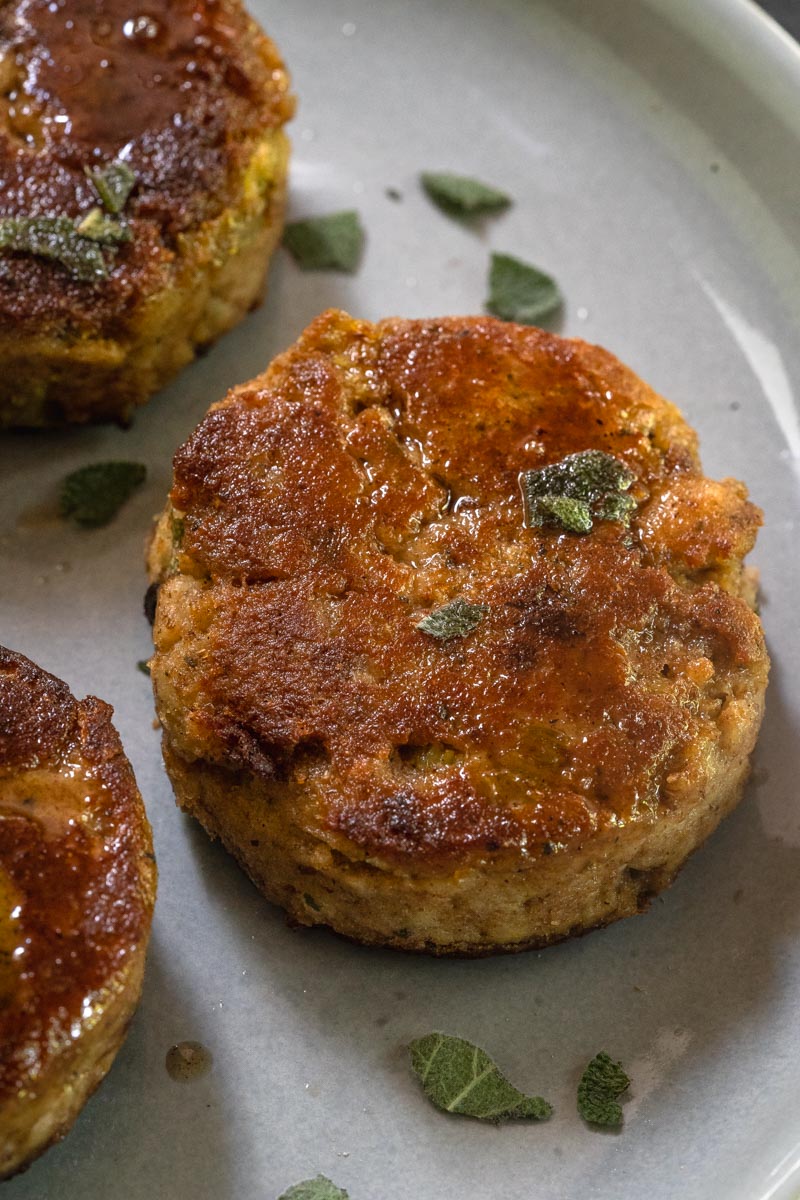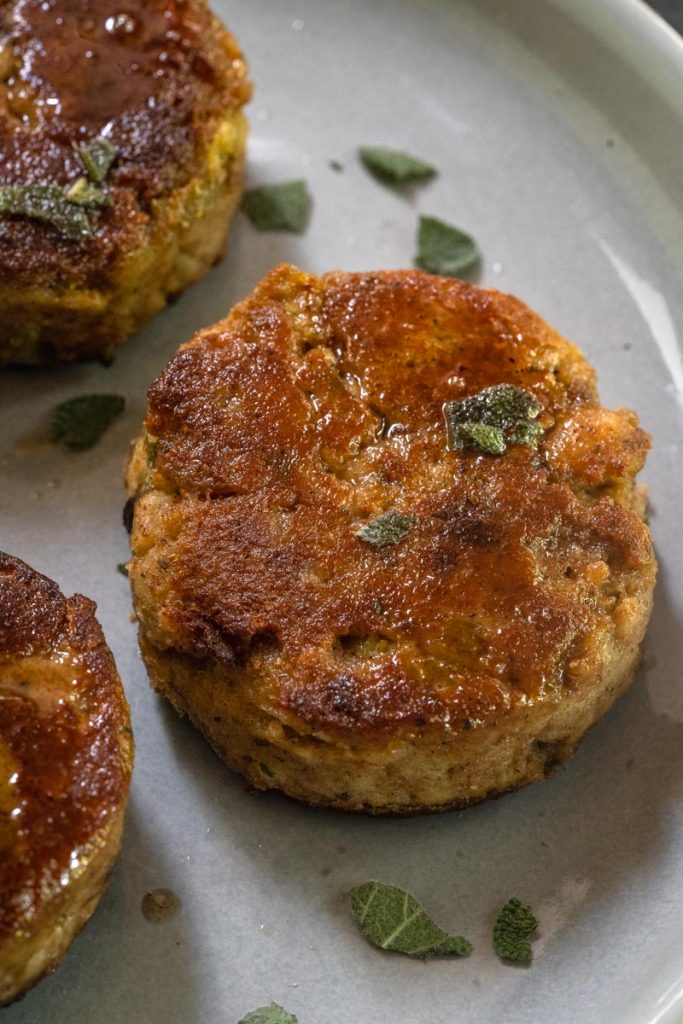 Tips for the Perfect Dressing Patties
Uniformed sized patties will cook at the same rate.
Make sure the butter is melted and hot in the skillet so the patties will form a crust and not just absorb the butter.
Don't crowd the skillet. These cook quickly so it doesn't take long to have them all cooked up in a jiffy.
Cook over medium-high heat.

If it's too hot they will burn and not get warm in the center.
If it's not high enough, it will be difficult to get that crispy exterior.

When freezing the patties, allow them to cool completely before adding to an air-tight container. Otherwise, the exterior will not be crispy.
Frozen Fried Dressing Patties don't have to be thawed.

Just pop them into the microwave for a couple of minutes or let them sit in the refrigerator (plan ahead method).

You can re-crisp the patties by adding them back to a hot skillet lined with a little butter or placed briefly under the broiler.
Pin this amazing recipe!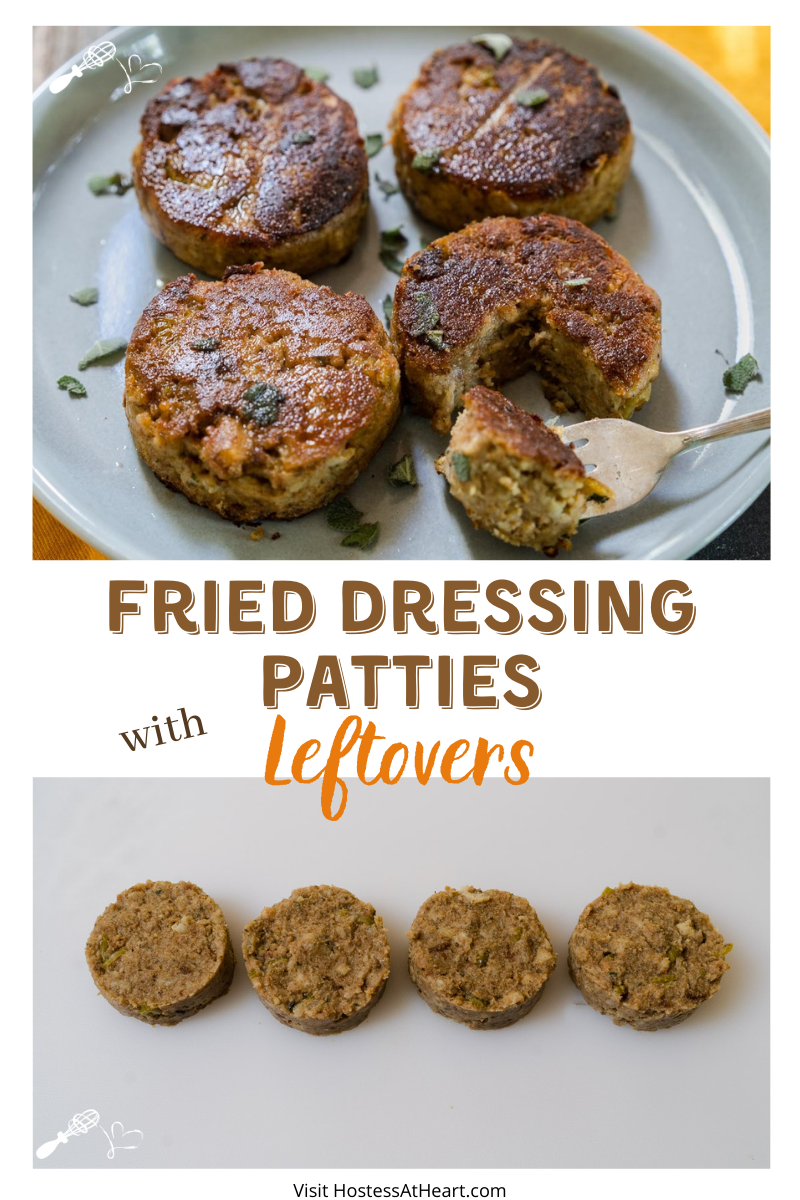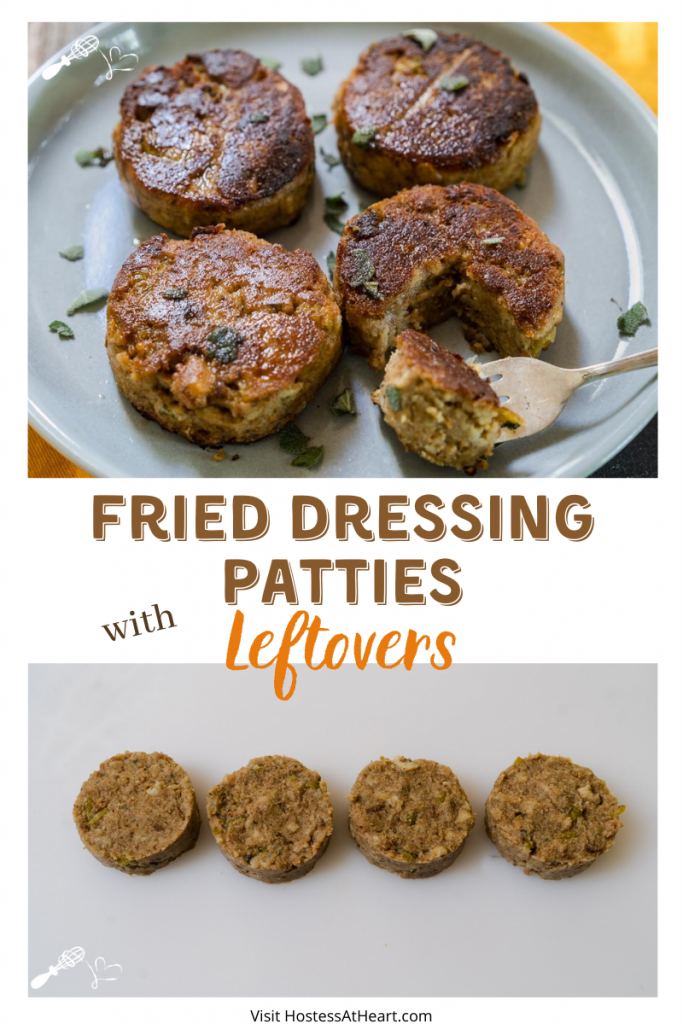 More Thanksgiving Leftover Recipes
Fried Dressing Patties Recipe
Fried Dressing Patties have a tender moist center with a buttery crunchy exterior. It's an easy delicious recipe for using leftover dressing!
Instructions
Combine ingredients and press together until somewhat sticky.

Use a 3-inch biscuit cutter to fill and form patties. You can also form individual patties with your hands.

Heat 2 tbsp butter in a large skillet. Add the dressing patties and fry 4 minutes on each side over medium-high heat.
This recipe was calculated using the exact brands and measurements I used to make this recipe. If you are following a strict diet please note changing anything will cause the nutritional info to change. My calculations are intended as a guide only.