Dorothy's Shrimp Stir Fry recipe is loaded with plump shrimp and crunchy vegetables in a shrimp stir fry sauce that's deliciously sweet and spicy.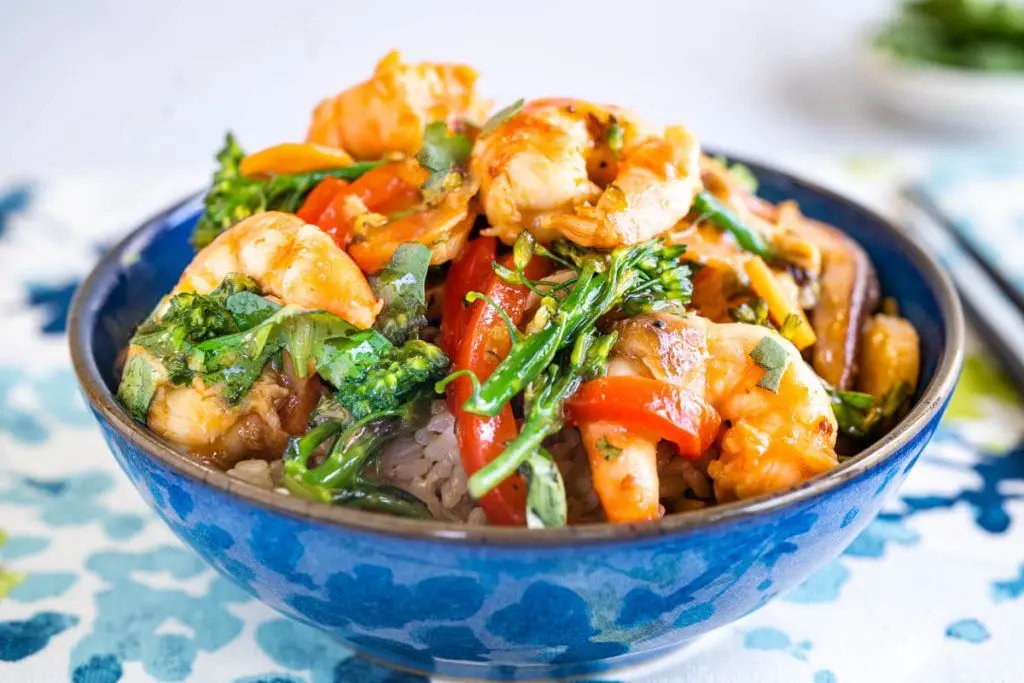 Who doesn't like a delicious easy stir fry recipe? On the table in 20 minutes makes Dorothy's Easy Shrimp Stir Fry a weeknight favorite.
We love making stir fry recipes at home. There isn't anything easier in my humble opinion, and Dorothy's Shrimp Stir Fry is made with ingredients that you probably already have in your pantry.
We love Shrimp and Vegetable Stir Fry. Here's Why:
It's so versatile and can be a healthier choice! Here are the ingredients we used and the variations you can make so it's a recipe that your family will love!
Stir Fry Meat
Shrimp – We use extra-large (26-30), peeled, deveined with the tails removed. Shrimp become rubbery when overcooked. The larger shrimp have close to the same cooking time as our stir fry vegetables.
You can use a different protein such as beef or chicken or make it vegetarian by skipping the protein or using tofu.
Stir Fry Vegetables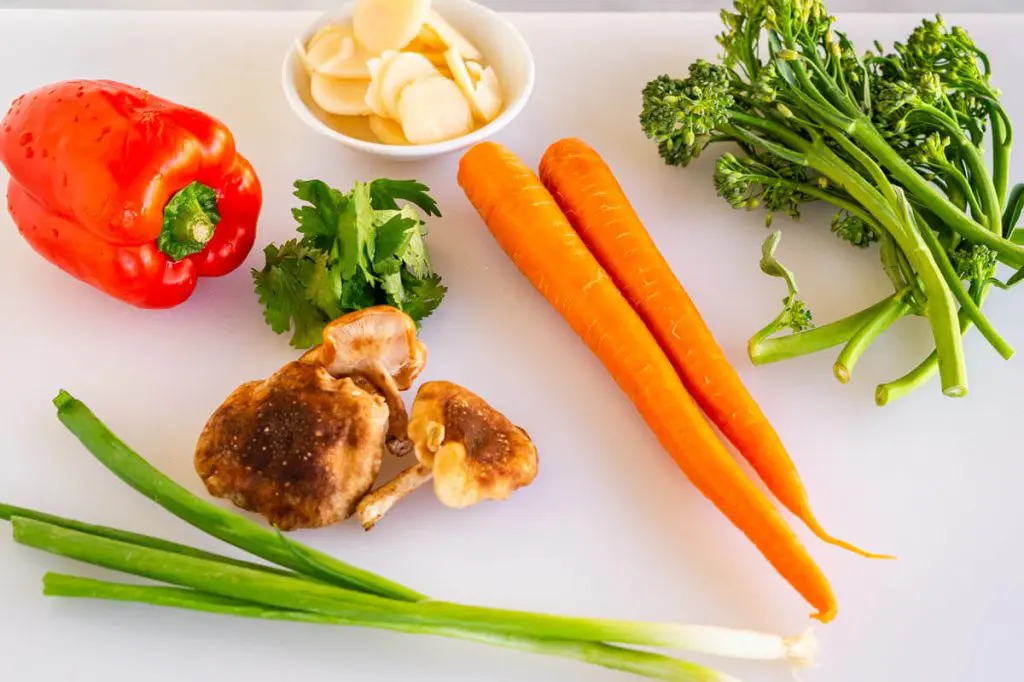 Broccolini – Most recipes call for broccoli. I like broccolini because it cooks at the same rate as most other vegetables. If you use broccoli, I suggest that you steam or parboil it before stir-frying it.
Carrots – We love the crunch and color that carrots add. Slice them thinly.
Red pepper – We're eating the rainbow with this dish. You could use green pepper or another color.
Mushrooms – Shiitake mushrooms are among our favorite variety. Remove the tougher stem and slice them in a similar thickness as your other vegetables.
Green onion (scallions) – We didn't cook the green onions. Putting them in like a garnish at the end added a fresh mild onion flavor. You could slice up an onion and stir fry it with the other vegetables too.
Water Chestnuts – We love the crunch water chestnuts add. They don't need cooking but including them in the cooking process warms them up.
You could make shrimp stir fry with frozen vegetables. Thaw the vegetables first so you don't add moisture to the stir fry which could leave you with soggy veggies.
Other vegetable options include bok choy, bamboo shoots, snow peas, asparagus, and zucchini.
This post is sponsored by Dorothy Lynch Home Style Dressing & Condiment, but my love of their product and the opinions stated here are all my own.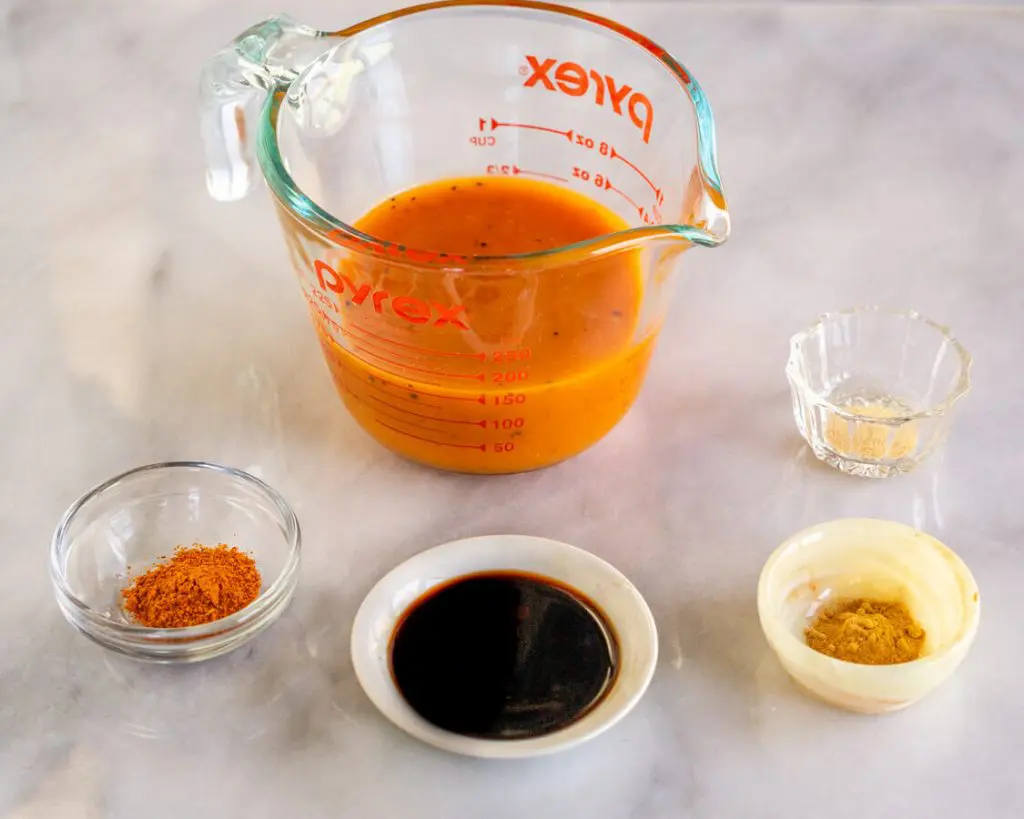 Semi-homemade Stir Fry Sauce
Ground ginger – You can substitute fresh ginger.
Garlic powder – Or granulated garlic. You can use fresh
Soy Sauce – We used low sodium.
Cayenne – We love the balance of a sweet and spicy stir fry flavor. Cayenne adds heat without another flavor such as Sriracha.
Dorothy Lynch Home Style Dressing & Condiment – This tomato-based ingredient is sweet and spicy. It's also gluten-free. Using Dorothy Lynch allowed us to make this sauce quickly and semi-homemade. I'll tell you more about it.
Stir Fry Garnishes
Cilantro. Another great choice would be Thai basil or parsley.

Bump this recipe up by adding cashews.
What to serve with Shrimp Stir Fry
We made our Simple Asian Rice recipe to go with our Shrimp Stir Fry. Our 5-Spice Rice would be delicious too.
We actually put a scoop of it in the bottom of our serving bowl. You could mix it right into the pan and get all of that delicious shrimp stir fry sauce mixed in.
Serve it over noodles. Great choices would be lo mein, udon, or ramen.
Make this a low carbohydrate or gluten-free meal by serving it over cauliflower rice.
What is Dorothy Lynch Home Style Dressing & Condiment?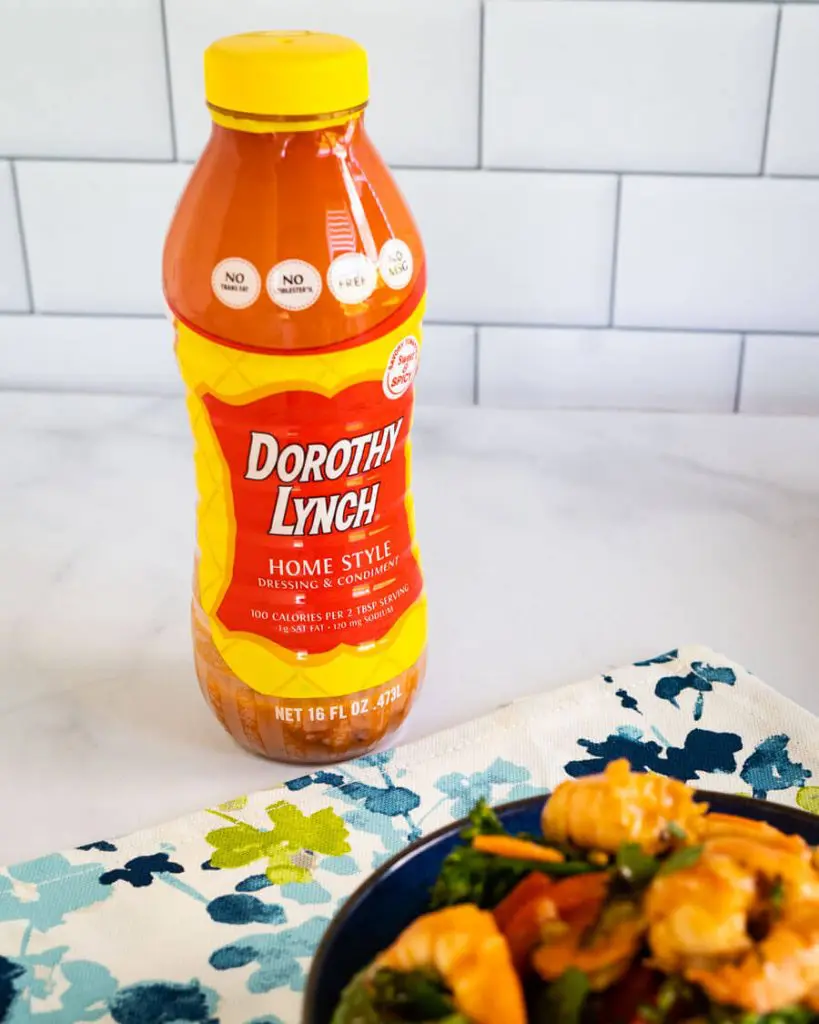 I would guess Dorothy Lynch Home Style Dressing & Condiment is an ingredient that every Nebraska household has.
Dorothy Lynch Home Style Dressing & Condiment was developed by Dorothy Lynch in 1940 in St. Paul, Nebraska. She first shared it in an American Legion Club and the members would bring in their own containers to take some home.
Growing up we were never without a bottle of our favorite dressing. In restaurants, you asked for Dorothy Lynch. It's not French dressing which is oil-based. Dorothy Lynch is a thick and creamy tomato-based dressing.
Dorothy Lynch is deliciously sweet and spicy making it perfect for using it as a dressing, sauce, or dip and the perfect ingredient in our Easy Shrimp Stir Fry Sauce. Other great recipes that are delicious with this product is our Cheesy Football Appetizer and Black Pepper Drop Biscuit recipes!
This is a gluten-free product that contains no MSG, cholesterol, or trans fats.
Dorothy Lynch Dressing & Condiment is available as Home Style or Light & Lean, and can be found in grocery stores including HyVee and Walmart. It can also be purchased online at Buy Nebraska or Amazon. You'll also find more amazing recipes on Dorothy Lynch's website. or on Dorothy Lynch's website.
How to Make Shrimp Stir Fry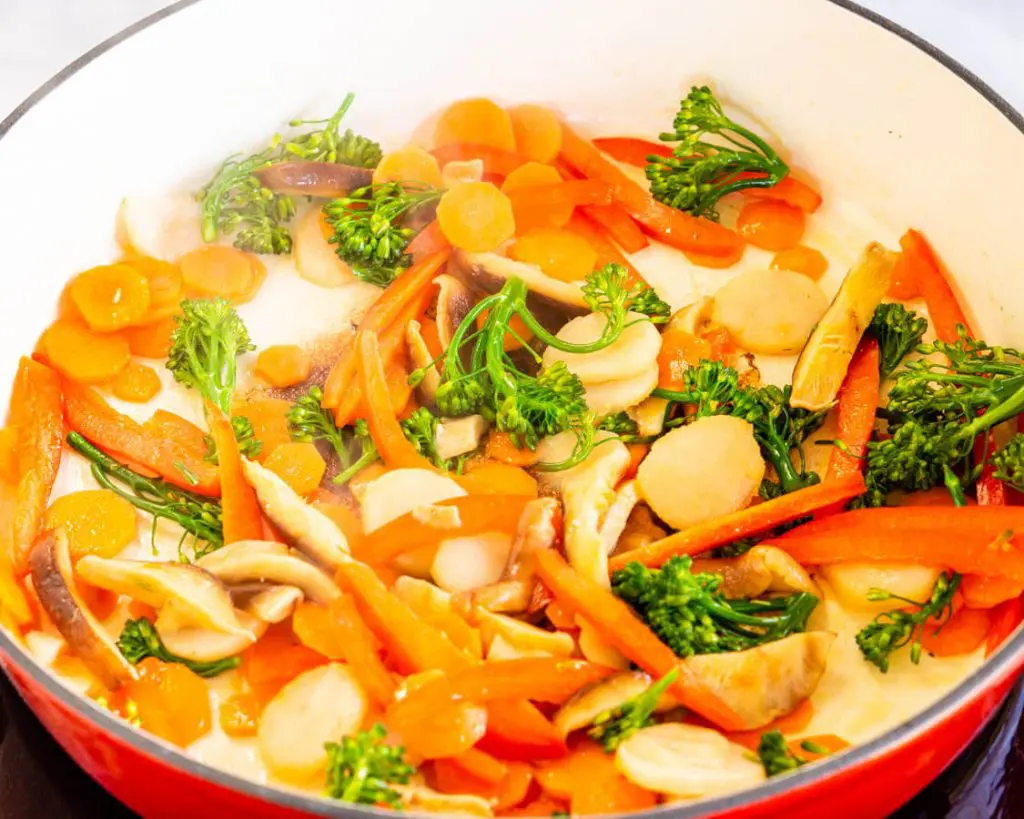 Stir the Stir Fry Sauce ingredients together and set aside.
Cover the bottom of a large skillet with cooking oil. Use a neutral cooking oil such as canola, vegetable oil, or sesame oil for flavor. Heat the oil until hot.
Add the shrimp and cook on both sides. Remove them from the skillet just before they're done. They'll continue to cook for a brief time and will also be added back to the hot pan when we add our sauce.
Use more oil if needed and cook the vegetables until bright and colorful. You want them slightly undercooked or al dente.
Put the shrimp back into the pan with the vegetables.
Pour the sauce over the shrimp and vegetables. Stir to combine.
Add green onions and lightly stir.
Garnish with cilantro.
Serve immediately over rice or noodles.
If you like this Easy Shrimp Stir Fry here are a few more Asian-inspired recipes I think you'll enjoy.
We love Asian food. You can find all of our Asian recipes here.
Recommended Products
Braiser – I love this pan. It's lower on the sides so I can use it like a skillet, a wok, or a dutch oven.
Tongs – I like this set with the silicone tips. They will not scratch your pan surfaces.
Try these Shrimp Recipes out!
Are you a stir fry lover? What's your favorite combination? Please leave me a comment below. I love getting ideas from you!
If you like this recipe, we would appreciate your comment and a 5-star ⭐️⭐️⭐️⭐️⭐️ review!
Most popular recipes!