Dorothy's Cheesy Football recipe is the perfect finger food appetizer. They are an easy football appetizer that is sweet and spicy and can be made ahead of time, letting you watch the big game.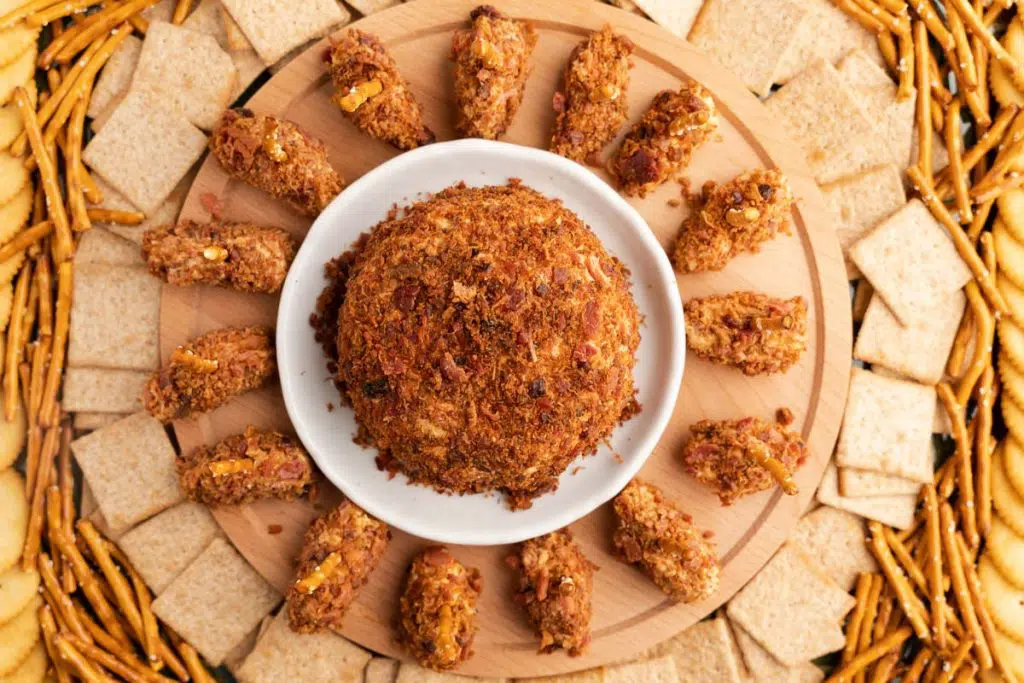 Do you send out invitations for a football party and then spin your wheels trying to figure out what the perfect appetizers are? Dorothy's Cheesy Football Appetizer recipe was just made for game day.
We used to plan a lot of game-day parties but found ourselves messing with food and appetizers and practically missing the game. Pretty soon, it turned into a party of two because it just wasn't any fun. Then we got smart(er).
Why we love Cheese Football Appetizer
Make-ahead appetizer – That's the best advice we can give. Make this cheesy appetizer a couple of days in advance.
Guests can help themselves – Finger food appetizers allow your friends to load up and either mingle or sit in front of the big screen. That leaves you with plenty of time to do the same!
Easy cleanup – We make our cheesy footballs in one bowl, chill them on a covered plate, roll them in a smaller dish and then everything goes into the dishwasher. How easy is that?
Presentation – Wow your guests by surrounding your cheesy footballs and cheeseball with crackers and pretzels. Everyone will think you've gone to a lot of work but it's so easy to do and replenish.

We made a center cheeseball and surrounded it by our mini cheesy footballs. You can make one larger cheeseball or all mini footballs.

Convenience – All of the ingredients can be stored in the refrigerator before you get around to making it.
Flavor variations – It's so easy to change just a few things to get a totally different look. You can make several different variations and we'll show you how in the variation section.
Safe at room temperature – Some football appetizers aren't very appetizing unless they're kept cold or served hot. This football appetizer can be kept at room temperature for several hours without any safety concerns.
Cheesy Football Ingredients
Cream Cheese – We used a full fat version but light would also work. We haven't tried using fat-free.
Dorothy Lynch Home Style Dressing & Condiment
Horseradish
Garlic Powder
Paprika
Pepperjack Cheese
Bacon Bits
Cayenne – optional.
This post is sponsored by Dorothy Lynch Home Style Dressing & Condiment, but my love of their product and the opinions stated here are all my own.
WHAT IS DOROTHY LYNCH HOME STYLE DRESSING & CONDIMENT?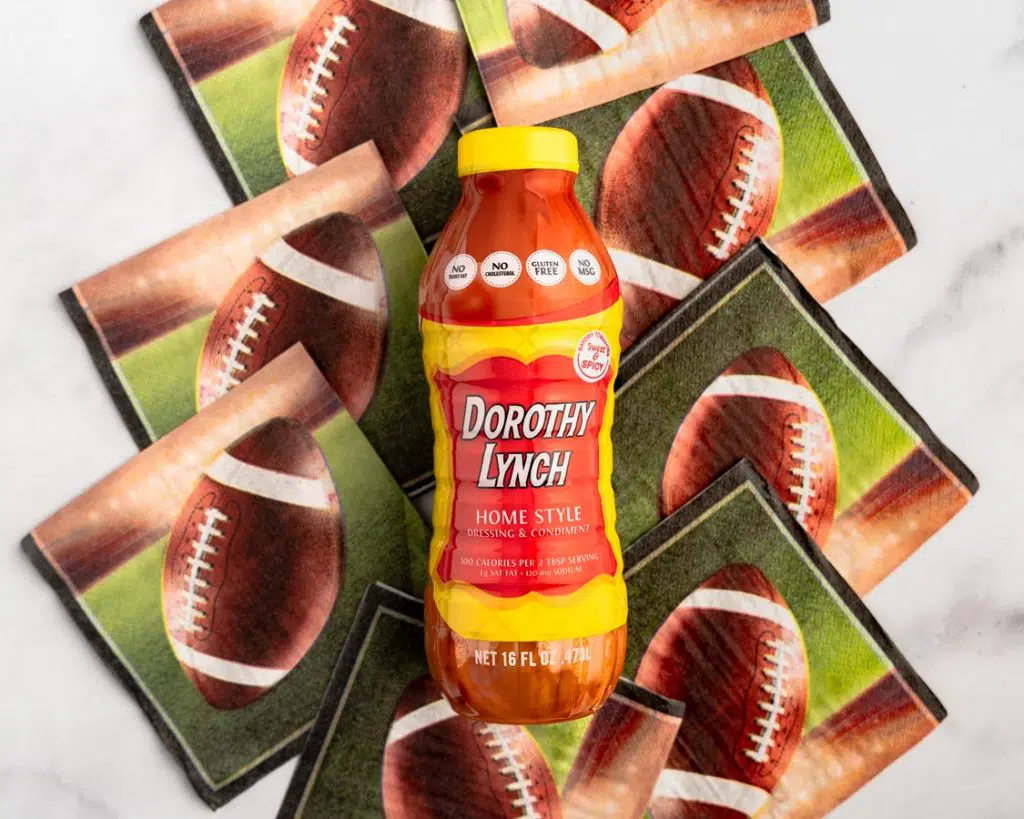 I would guess Dorothy Lynch Home Style Dressing & Condiment is an ingredient that every Nebraska household has.
Dorothy Lynch Home Style Dressing & Condiment was developed by Dorothy Lynch in 1940 in St. Paul, Nebraska. She first shared it in an American Legion Club and the members would bring in their own containers to take some home.
Growing up we were never without a bottle of our favorite dressing. In restaurants, you asked for Dorothy Lynch. It's not French dressing which is oil-based. Dorothy Lynch is a thick and creamy tomato-based dressing.
Dorothy Lynch is deliciously sweet and spicy making it perfect for using it as a dressing, sauce, or dip and the perfect ingredient in our Dorothy's Cheesy Footballs Appetizer, Dorothy's Shrimp Stirfry, and Dorothy's Black Pepper Drop Biscuit recipes.
This is a gluten-free product that contains no MSG, cholesterol, or trans fats.
Where can you find your own Dorothy Lynch Dressing & Condiment?
Dorothy Lynch Dressing & Condiment is available as Home Style or Light & Lean and can be found in grocery stores including HyVee and Walmart. It can also be purchased online at Buy Nebraska or Amazon.
You'll can find more amazing recipes on Dorothy Lynch's website. You've got to take a look at our Dorothy's Easy Shrimp Stirfry recipe too. It's so easy and amazingly delicious.
How to make Dorothy's Football Game Appetizer
In a medium-sized bowl blend room-temperature cream cheese until fluffy.
Add the paprika, garlic powder, and the horseradish. Blend until thoroughly combined.
Add the Dorothy Lynch Home Style Dressing & Condiment. Blend until combined.
Stir in the pepperjack cheese.
Cover the bowl and chill for 1 hour.
Using a 2 teaspoon scoop or a spoon, scoop out the filling and form it into a football shape. Set it on a plastic wrap covered plate or tray. Continue until all of the filling is used.

If you're making a cheeseball, spoon the filling into the center of a piece of plastic wrap. Gather the 4 corners together, twisting them together until tight and put it into a bowl.

Cover and chill for 1 hour.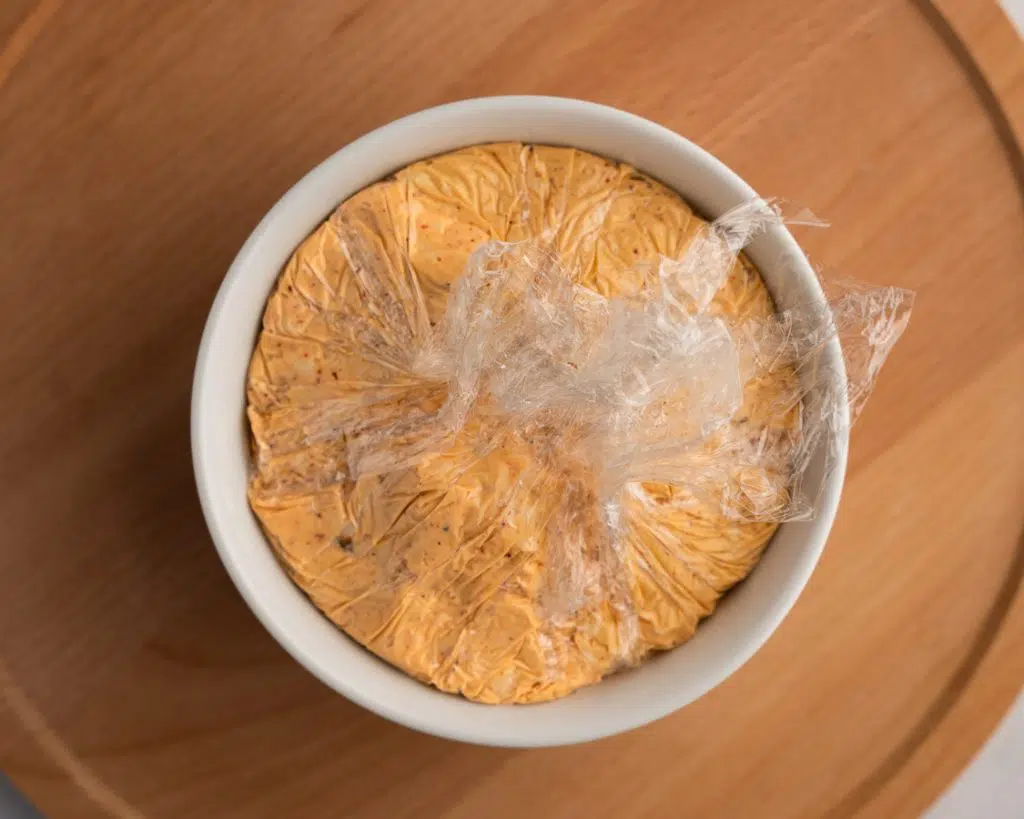 Combine the bacon bits and cayenne together on a plate or bowl. Roll the footballs and/or cheeseball into the bacon mixture. Cover and chill until serving.
Place pretzel sticks into the cheesy footballs when serving or set crackers and pretzel sticks around the cheese footbal appetizer so your guests can choose how they want to eat this delicious finger-food appetizer.
See the recipe card for the full instructions and video.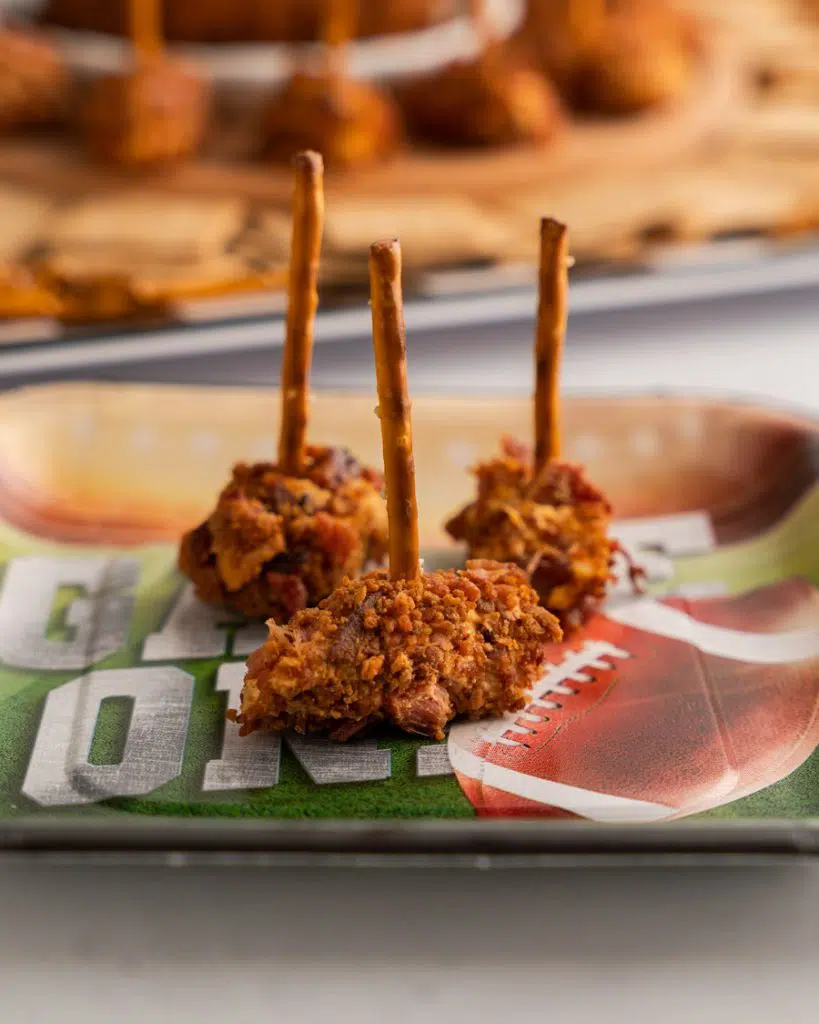 FAQ's
Can you freeze cheesy football or a cheeseball?
Yes, you can! We recommend wrapping them in plastic wrap and then enclosing them in a reclosable bag or air-tight container. To thaw, place them in the refrigerator.
You can freeze the footballs and cheeseballs before coating them in the bacon mixture for up to 4 weeks. We don't recommend freezing them after coating them with the bacon because the bacon will loose it's crispiness.
How long will the cheesy football or cheeseball last in the refrigerator?
Using the ingredients we've used will allow you to refrigerate this recipe for up to two weeks. If you add ingredients that are more perishable, use the recommendations for those ingredients.
Can cheesy footballs and cheeseballs safely sit out at room temperature?
Yes, the ingredients in this recipe can safely sit out for up to 4 hours according to the food safety specialists at Clemson University's Cooperative Extension. Don't refrigerate or freeze any leftovers after they have been allowed to sit out for an extended period of time.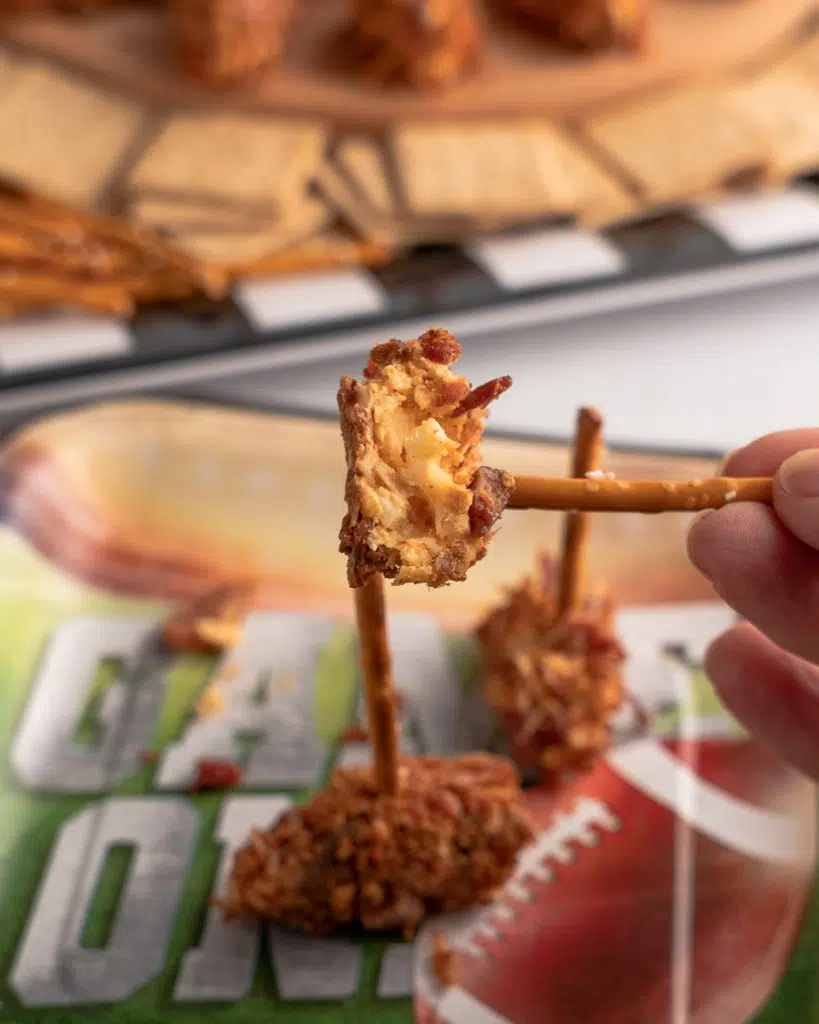 Tips for perfect Cheese Football Appetizers
The filling is too thin – If your filling is too thin to form a shape, add more shredded cheese. Chilling it longer will also help firm it up.
Blend the cream cheese at room temperature but not at a warm temperature. It will be harder to get the right consistency.
Shred your own cheese. Commercially shredded cheese can be used but often contain anti-clumping ingredients that dry out the cheese. Shredding your own tastes much better and is more economical. It takes only minutes. Here you can read more about shredding your own cheese. We use a box grater for making this a quick task.
Put the pretzel sticks into the cheese footballs just before guests arrive or just let them spear their own. We don't recommend spearing them and then storing them in the refrigerator because the pretzels get soft.
If you're making a cheeseball, we find that we can get the perfect round by pressing the plastic wrap into a bowl. However, you can do the same technique with any shaped bowl as shown above.
Do not coat the bottom of the cheeseball with bacon. It will adhere better to your serving plate and not slide around when people are helping themselves.
If your bacon bits have large pieces they are less likely to stick to the little cheese footballs. We ran our bacon bits through a mini food processor and ground them up a little before adding the cayenne.
Pin this delicious Cheesy Football Appetizer Recipe
Variations on Cheesy Football and Cheeseball Recipe
For a vegetarian option or the non-bacon eater, roll the shapes into nuts such as sliced almonds, chopped pecans or walnuts. Sliced scallions, or more shredded cheese are great options too.
If you love bacon, add extra bacon bits to the cheesy filling.
If you want less spice, don't add the cayenne to the bacon bits.
To make it spicier, add 1/4 to 1/2 teaspoon of cayenne to the cheese mixture.
Replace the pepperjack cheese with the semi-soft cheese such as cheddar or mozzarella.
If you like this recipe, we would appreciate your comment and a 5-star ⭐️⭐️⭐️⭐️⭐️ review!
More great Finger Food Appetizers