During late Summer and Fall when pears are in season I love to make a delicious pear crisp and serve it up hot with ice cream. Our pear crisp recipe with cinnamon streusel topping is the perfect finish to any meal.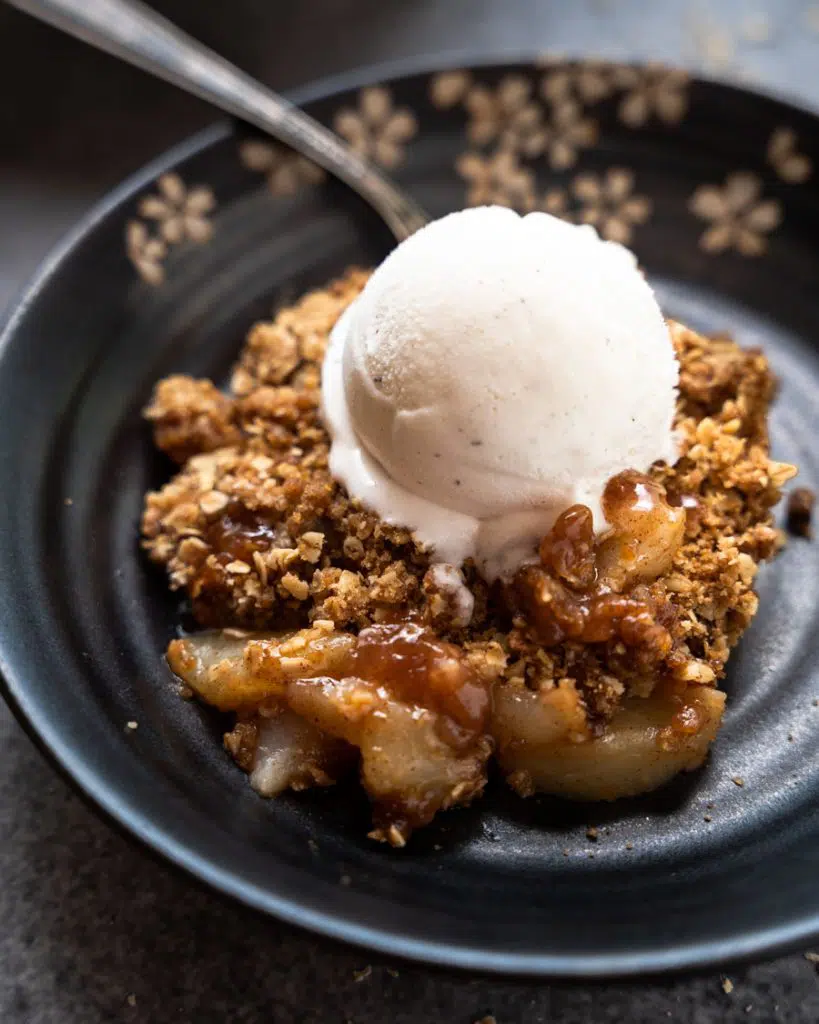 Make a delicious pear crisp and serve hot with ice cream. Our Easy Pear Crisp recipe with cinnamon streusel topping is loaded with warm bubbly caramel flavor and a crispy streusel topping.
How to Make Pear Crisp
Ingredients for Pear Crisp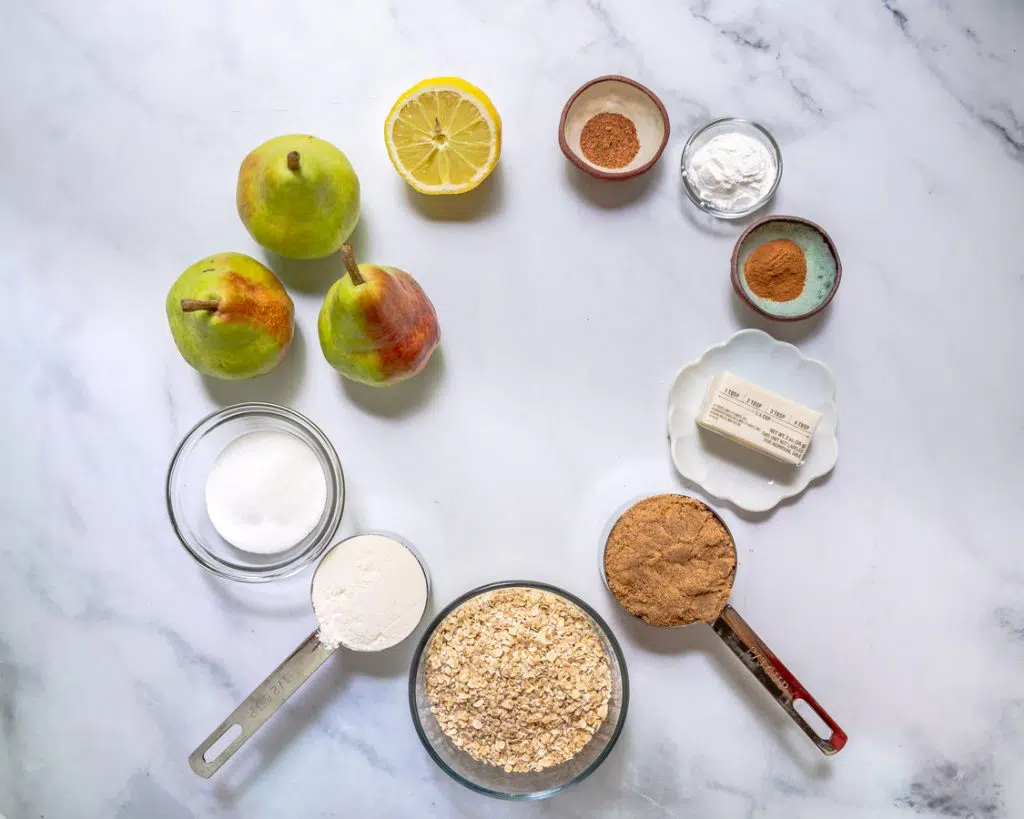 Bartlett Pears. Peeled, cored, & sliced ⅛" to ¼" thick.
White Sugar.
Cinnamon.
Cornstarch.
Lemon Juice. Freshly Squeezed.
Streusel Topping. See the recipe for the topping below.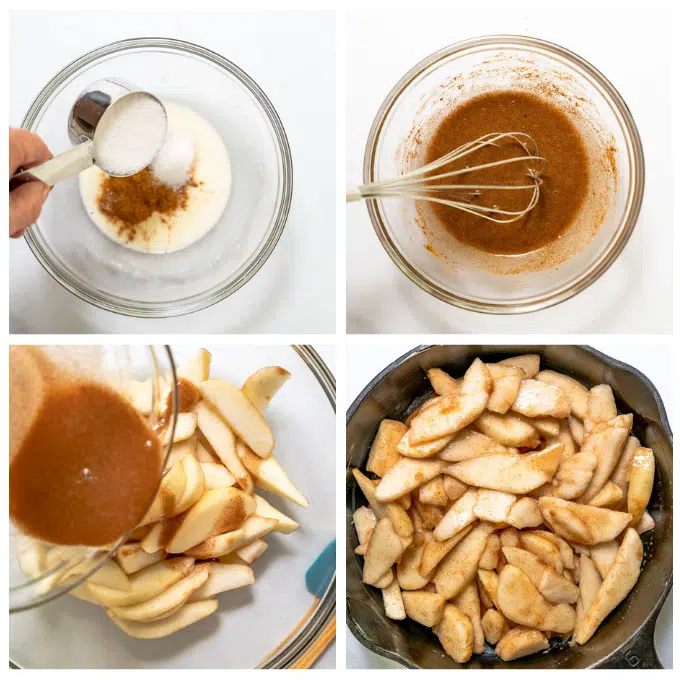 Pear Filling
Preheat your oven and coat your pan of choice with butter. We like using cast-iron because it makes our sauce all caramelly.
Combine the cornstarch and lemon juice and stir until it is well-mixed.
Add the sugar and cinammon.
Slice your pears and add them to a large bowl. Pour the cornstarch mixture over the pears and stir to coat. Add these to the buttered cast iron skillet.
Pear Crisp Streusel Topping Recipe
Ingredients for Streusel Topping
Rolled Oats. The quick-cooking kind.
Brown Sugar. We prefer dark but the light is fine too if that's what you have.
All-Purpose Flour.
Nutmeg.
Cinnamon.
Butter. Cold and diced.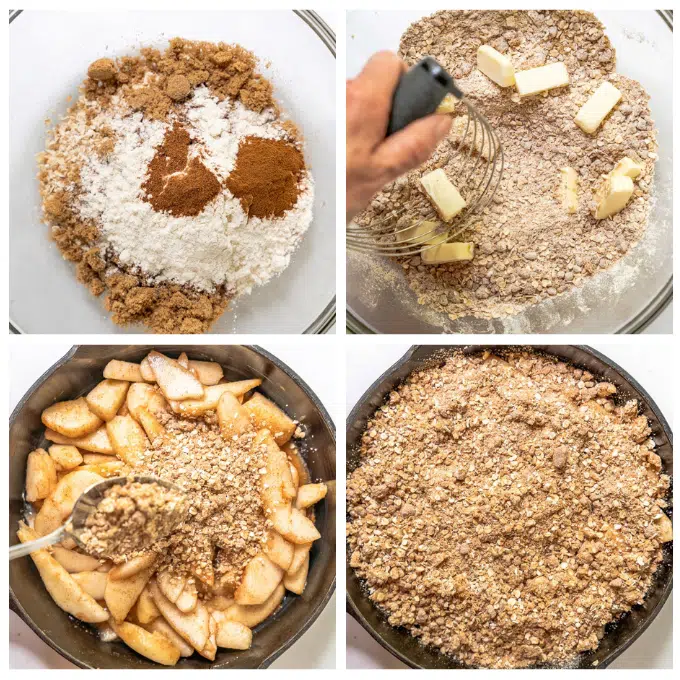 Mix all of the ingredients for the streusel topping except the butter and combine well.
Cut in the cold butter using a pastry blender for best results.
Spoon the resulting crumble over the pear filling and bake for thirty to thirty five minutes.
Serve hot with ice cream or serve it chilled.
Tips for Making an Easy Pear Crisp
Our streusel recipe is very generous. You may not need it all or it works with a larger skillet. You can freeze what you don't use.
If you have three to four pears, use a nine-inch skillet. If you have more than four pears, use a larger skillet.
Your pears should be evenly sliced so that they bake up at the same rate and consistency.
Should you have lots of extra pears, just freeze them for later! Slice your extra pears, place them in a freezer-safe plastic baggy, and keep them for up to six months. I like to put the exact amount I need for the recipe in each bag and label it so its all ready to go for the pear crisp recipe!
Instead of using your hands, I strongly recommend that you use a pastry cutter to combine the butter with the other ingredients. The cold butter preserves the texture of the streusel. If you use your hands, your butter will warm up and not give you that crispy topping that makes this pear crisp recipe over the top.
Your pears should still be mostly firm to give your dessert a great texture without becoming weepy. Refrigerate your pears to prevent overripening.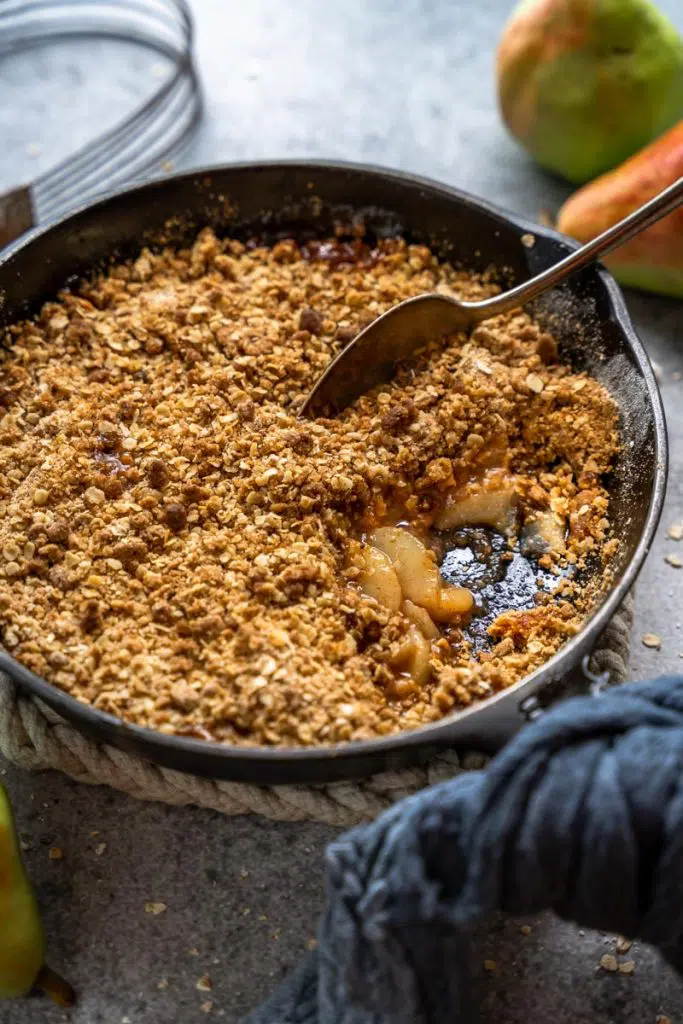 Variations
Add up to 1⁄2 cup of chopped nuts to the streusel topping. Walnuts or pecans would be
delicious.
If you don't have enough pears, you can mix apples and pears without changing the recipe.
FAQ
Do you peel pears for crisp?
The peeling of pears is pretty tough so definitely prefer to peel them. To peel your pears fast and easy, just slice off the top and bottom of the pear and peal the rest with a vegetable peeler.
Can you use canned pears?
The liquid and texture of canned pears can be off-putting so I don't recommend it. Canned pears are very soft and don't hold their shape as well as fresh pears. If you have canned pears you need to use, three cans are the perfect amount.
What is the best kind of pears for baking?
Bosc or Anjou are usually recommended because they are not as delicate as other pears and will produce a nice texture after baking. However, we love the flavor of a good juicy Bartlett pear in our fresh pear recipes. You can use a mix of pear varieties.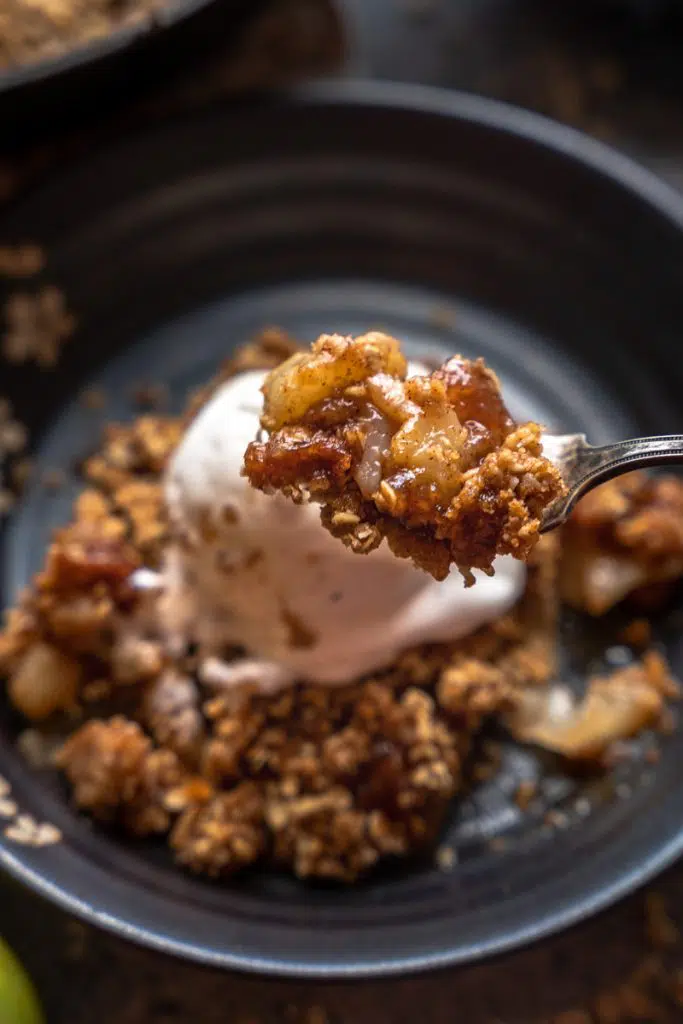 Do I have to use a cast-iron skillet for this recipe?
You don't have to have a cast-iron skillet to make this recipe, but it sure makes a beautiful presentation! Any baking dish will do.
Does pear crisp need to be refrigerated?
When pear crisp is left on the counter at room temperature it seeps and the caramelized juices escape. Refrigeration will help seal the juices inside.
How long to bake pear crisp?
It takes about thirty to thirty-five minutes to bake the pear crisp recipe until the topping is golden brown and you can see the caramelized pear juices bubbling around the edges of the pan.
Note: Do not overbake the streusel topping. If it starts getting dark it will taste burnt. Cover the baking dish with foil if you suspect the streusel is baking too fast.
Storing Leftovers
Can you freeze a pear crisp?
Absolutely! One thing I like to do with extra pears is to freeze an unbaked pear crisp. Line a nine-inch skillet with parchment paper, build your pear crisp in it but leave off the streusel, wrap it up with the parchment paper and tape, place it skillet and all in the freezer, and freeze for thirty minutes to retain the shape. Then remove it to a freezer-safe plastic baggy and keep it in the freezer ready to bake for up to six months. When you are ready to make it, you will need to add baking time and make the streusel to add partway through the baking process.
You can also freeze individual portions of the prepared dessert and thaw it to serve. Heat it through with the microwave after thawing to enjoy it hot.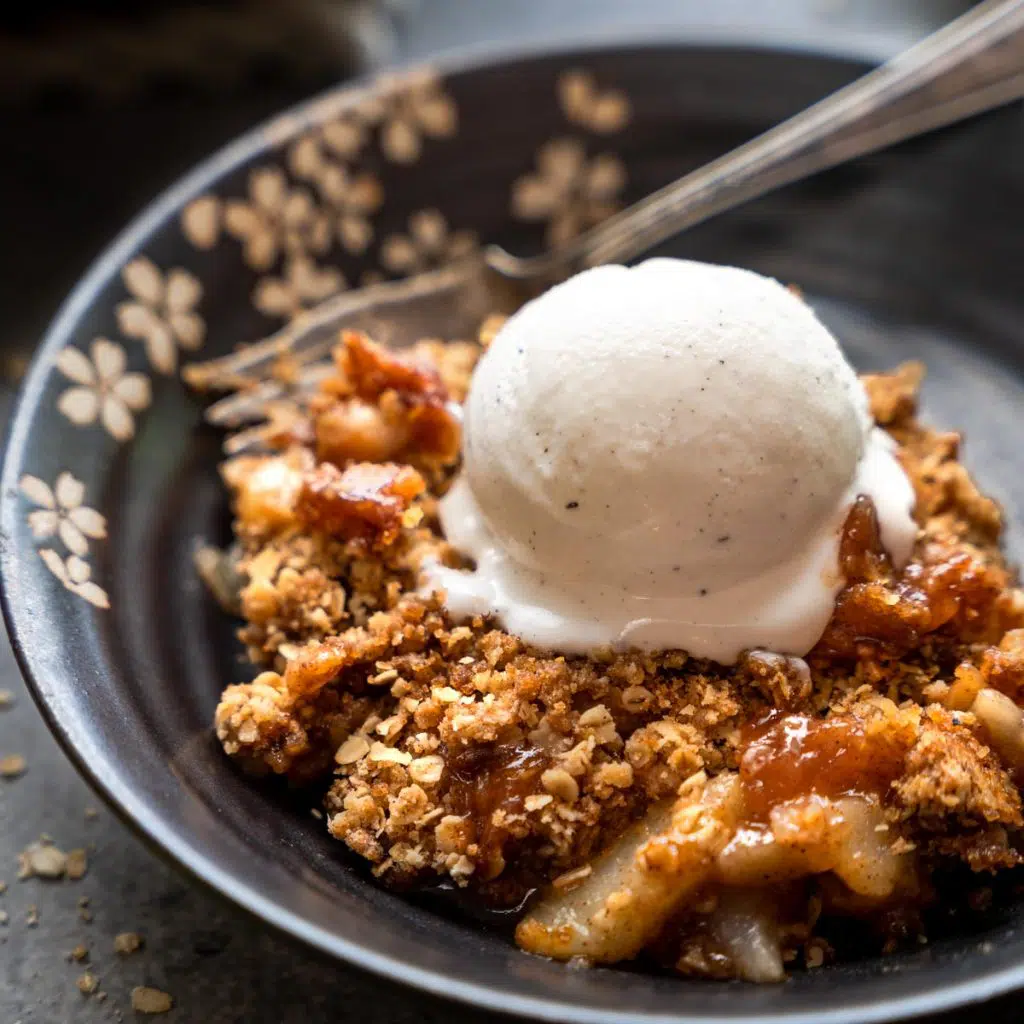 How long will pear crisp keep in the refrigerator?
Keep your baked pear crisp in the refrigerator for up to four days in an airtight container, and reheat it in the microwave for thirty seconds to one minute to enjoy warm with ice cream. You can also eat it cold.
Other Great Crisp and Dessert Recipes
Peach Crisp Recipe – Fresh Peach Dessert
Quick and Easy Apple Crisp Recipe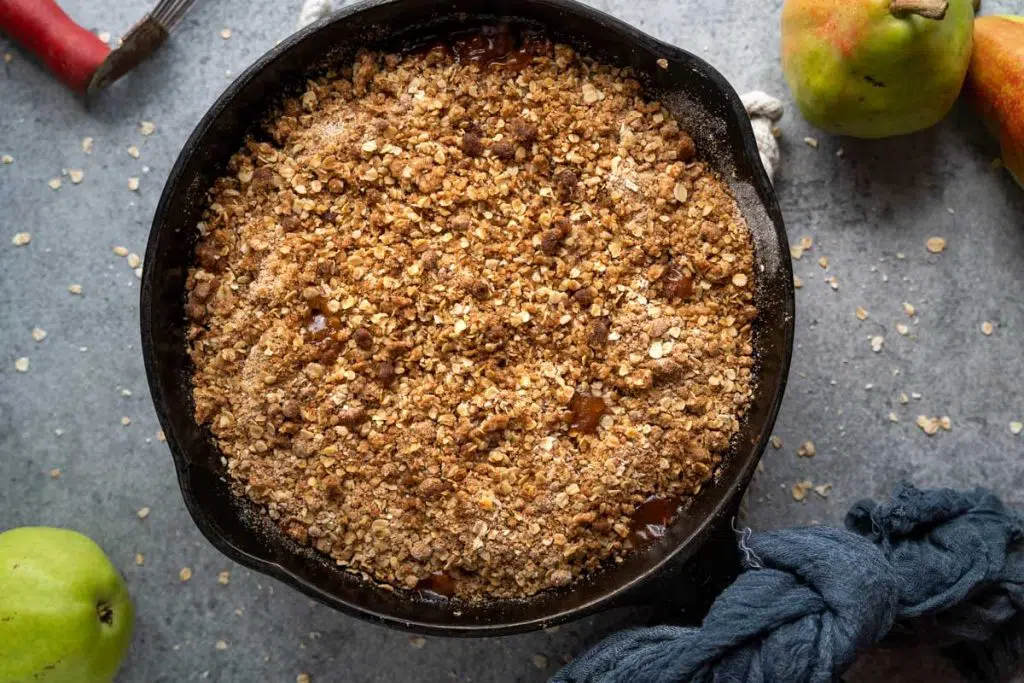 If you like this recipe, we would appreciate your comment and a 5-star ⭐️⭐️⭐️⭐️⭐️ review!
More #FallFlavors Recipes Below:
Appetizers and Snacks
Breakfast and Baked Goods
Side Dishes
Main Dishes
Desserts
Thank you to our #FallFlavors sponsors, Millican Pecan, Dixie Crystals, Melissa's Produce, Taylor & Colledge, Nairn's, and Republic of Tea who supported this year's event.
a Rafflecopter giveaway
Six (6) winners will be randomly selected. The prize packages will be sent directly from the giveaway sponsors. Bloggers are not responsible for prize fulfillment. Winners have 24 hours to respond once notified by email, or they forfeit the prize and an alternate winner will be chosen. The #FallFlavors bloggers are not responsible for the fulfillment or delivery of the prize packages. Bloggers hosting this giveaway and their immediate family members living in the household cannot enter or win the giveaway. Entries will be verified. No purchase necessary. Void where prohibited by law. Must be 18 years of age or older to enter giveaway and the contest is open only to US residents. This promotion is in no way sponsored, endorsed, administered by, or associated with Facebook, Instagram, Pinterest, Twitter or any other social channel mentioned in the #FallFlavors posts or entries. Thank you to our sponsors Millican Pecan Company, Dixie Crystals, Melissa's Produce, Taylor & Colledge, Republic of Tea, and Nairn's for providing prizes.
Welcome to #FallFlavors where more than 25 food bloggers are sharing recipes with favorite Fall flavors. Our sponsors, Millican Pecan, Dixie Crystals, Melissa's Produce, Taylor & Colledge, Nairn's, and Republic of Tea, have furnished participating bloggers with complimentary product to use in their recipe creations that they will be sharing this week. These same sponsors have generously offered prizes for our giveaway so be sure to enter and share with your friends so they can enter too. Be sure to follow our Fall Flavors Pinterest account for more inspiration.
Prize 1: Texas Pecan Candy Basket from Millican Pecan
The Millican Pecan Texas Pecan Candy Basket is loaded with a variety of pecan gifts. Includes 6 Milk Chocolate Pecan Clusters, 6 Milk Chocolate Caramillicans (similar to Turtles), 6 White Chocolate Caramillicans, 6 Pecan Pralines, and a 1/2 lb. Bag of Flavored Pecans! Every bit DELICIOUS! A $75 value.
Prize 2: Williams Sonoma Cleartouch Nonstick 6-Piece Bakeware Set from Dixie Crystals
Perfect for the occasional baker, our entry-level collection features a sturdy nonstick silicone coating at a great value. Aluminized steel, the material of choice for professional bakers, provides excellent heat transfer for even baking, so food turns out beautifully and releases easily, every time. 6-Piece Set includes: Half-sheet pan, 12-cup muffin pan, round cake pan, square cake pan, rectangular cake pan, loaf pan. An $80 value.
Prize 3: 3 Month Melissa's Produce Gift Subscription
A stunning selection of the most delicious produce will be delivered once a month for 3 months. At Melissa's, the produce is selected at their peak of perfection and packed by hand to ensure safe arrival. A $124 value.
Prize 4: A Red Dancing Leaves Teapot and a tin of Hot Apple Cider Tea from The Republic of Tea
Let the aroma of fresh apple and mulled cider spices envelop you as you sip this golden infusion. The crisp, lingering finish will leave you wanting more! A naturally-caffeine free blend of apples, cinnamon cloves and ginger. Reminiscent of apple cider, with the luscious aroma of cinnamon and cloves, make this cup the perfect accompaniment to the colors of the harvest season.
Embossed, windswept leaves whirl across this 20 oz ceramic teapot. Includes a stainless steel infuser. An exclusive design by The Republic of Tea. A $44 value
Prize 5: A selection of six flavors of Oat Crackers from Nairn's
One winner will receive a box of each Nairn's Original, Chocolate Chip, Stem Ginger Oat Grahams, Caramelized Onions, Rosemary & Sea Salt Flatbreads, and Oat Cracker. Nairn's has been baking oats since 1896. They use simple, natural, and wholesome ingredients in their products. Minimum $25 value
Prize 6: A Selection of extracts from Taylor and Colledge.
One winner will receive a selection of extracts to include vanilla bean, almond, lemon, and lavender. In 1897, Taylor & Colledge won its first award for excellence in vanilla. Since then, the Taylor & Colledge commitment for unsurpassed quality has earned its reputation as one of the world's finest producers of vanilla. Minimum of $25 value
Pin it now!