Chicken Chili Stuffed Acorn Squash Recipe is a complete meal. This Spicy Acorn Squash recipe is a warm comfort dish that's loaded with color, texture, and flavor.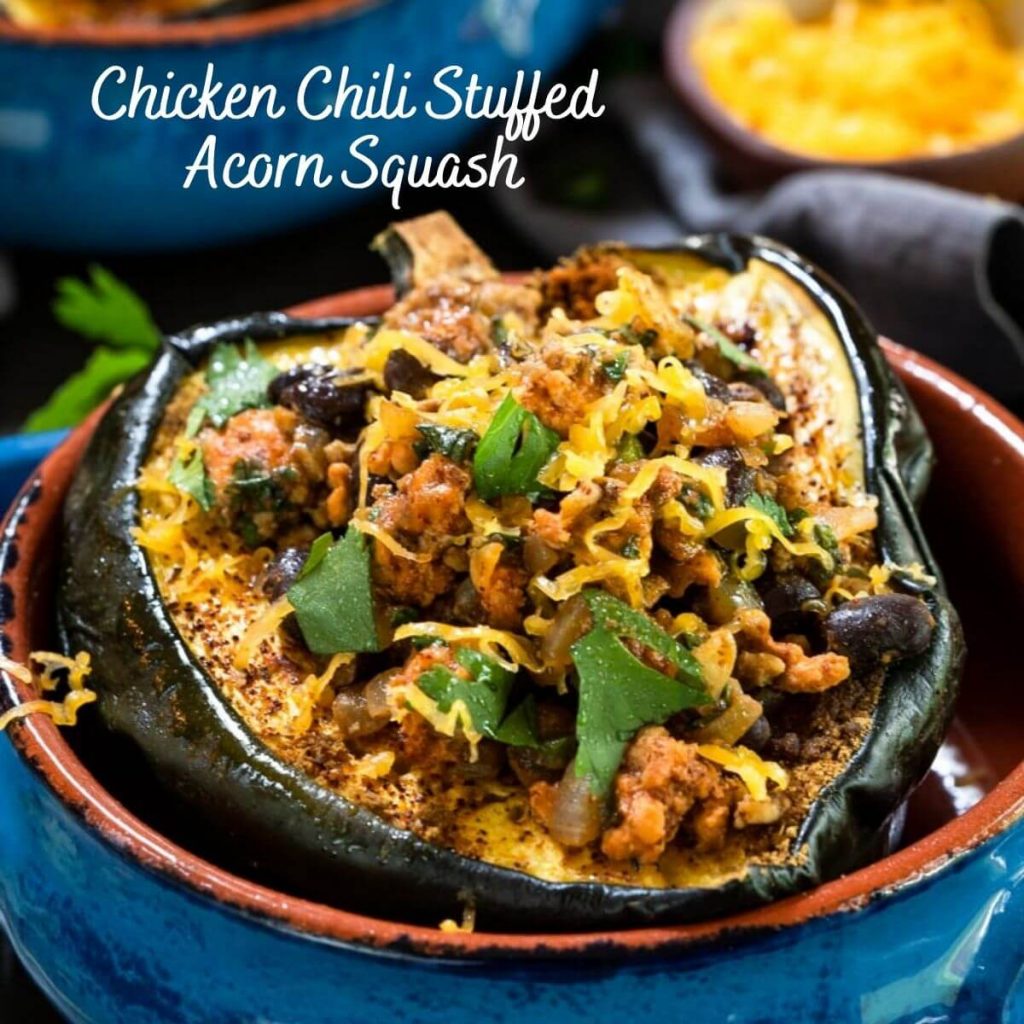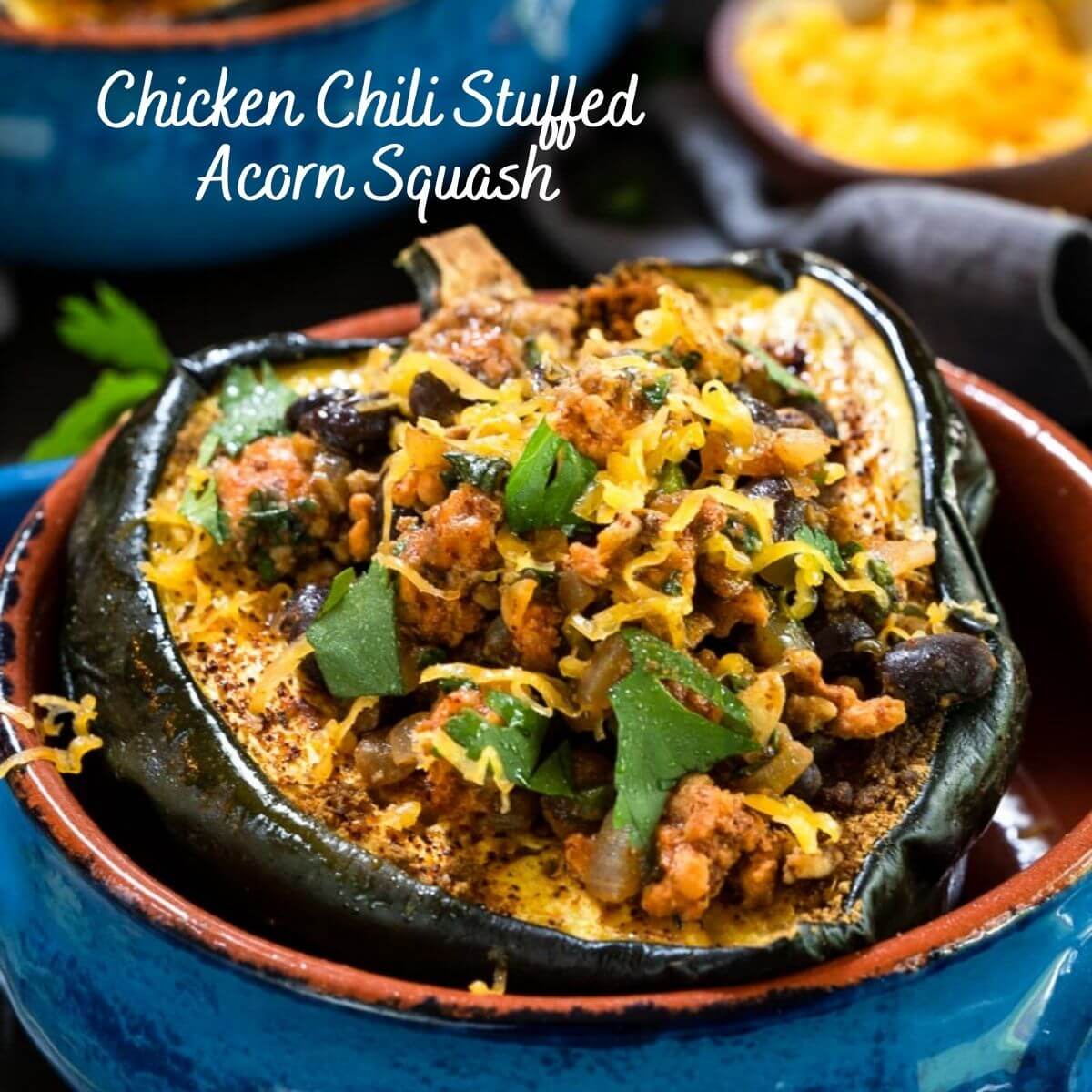 Stuffed Acorn Squash makes a complete meal that's good for you and tastes great.
Roasted acorn squash is naturally sweet and is the perfect contrast to the spicy chicken chili.
Who doesn't love a one-dish meal where you can eat the bowl?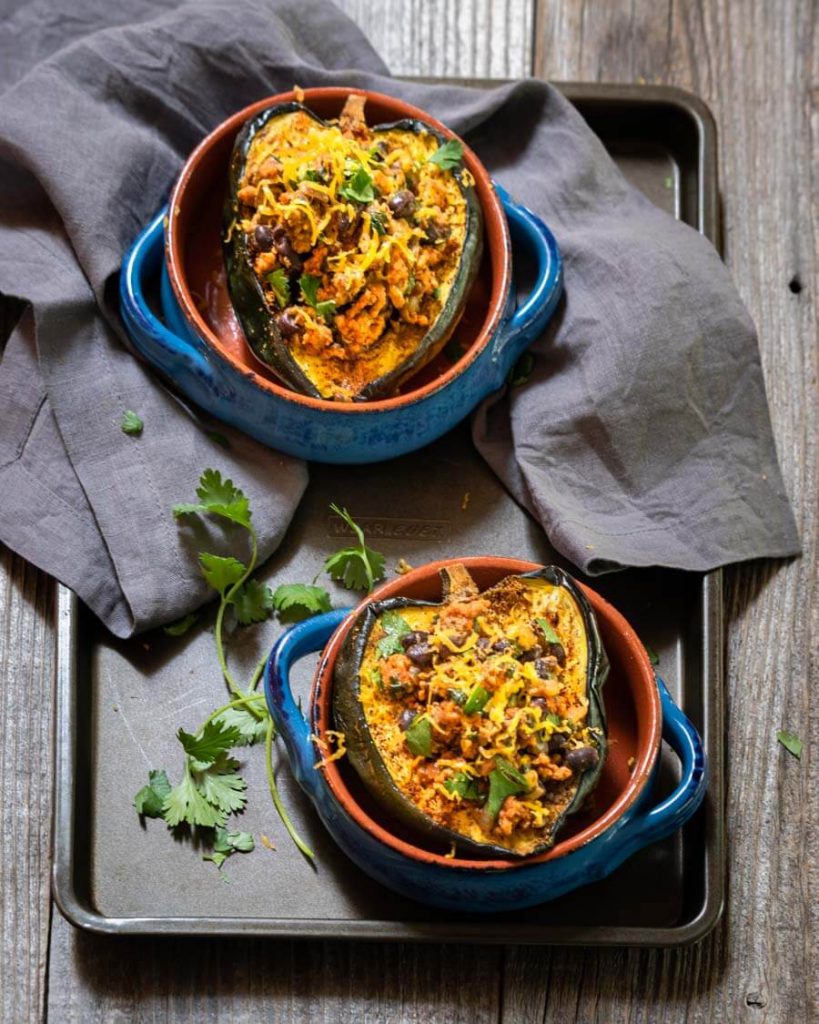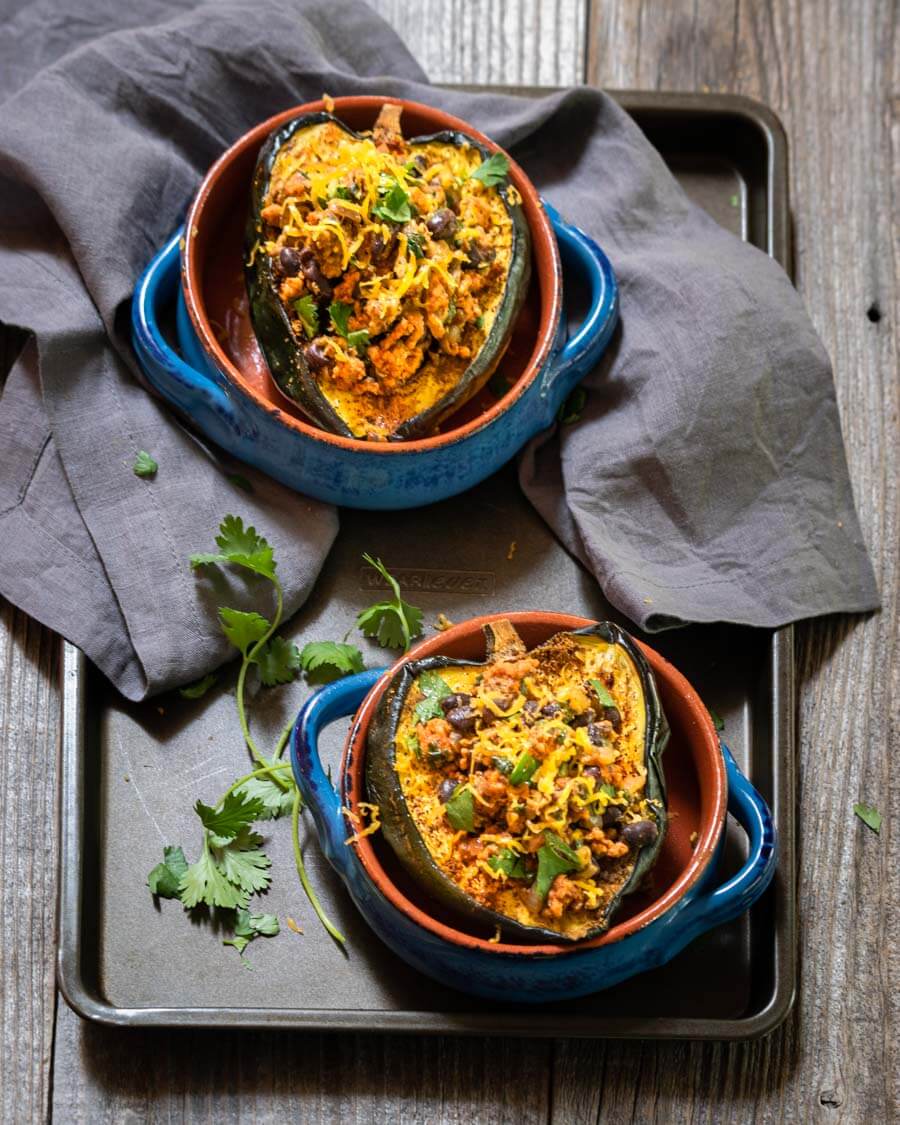 What we love about squash!
Any recipe that you use with sweet potatoes, you can use with squash. The consistency and mild flavor are very much the same. I'll be sharing some of my favorites with you.
So many squash varieties store amazingly well. By keeping squash in a cool, dark, and well-ventilated area, they will last for 3 months or more.

Check the squash regularly. Once they start to soften or show signs of rot, it's time to throw them out.

Squash is loaded with vitamins and fiber.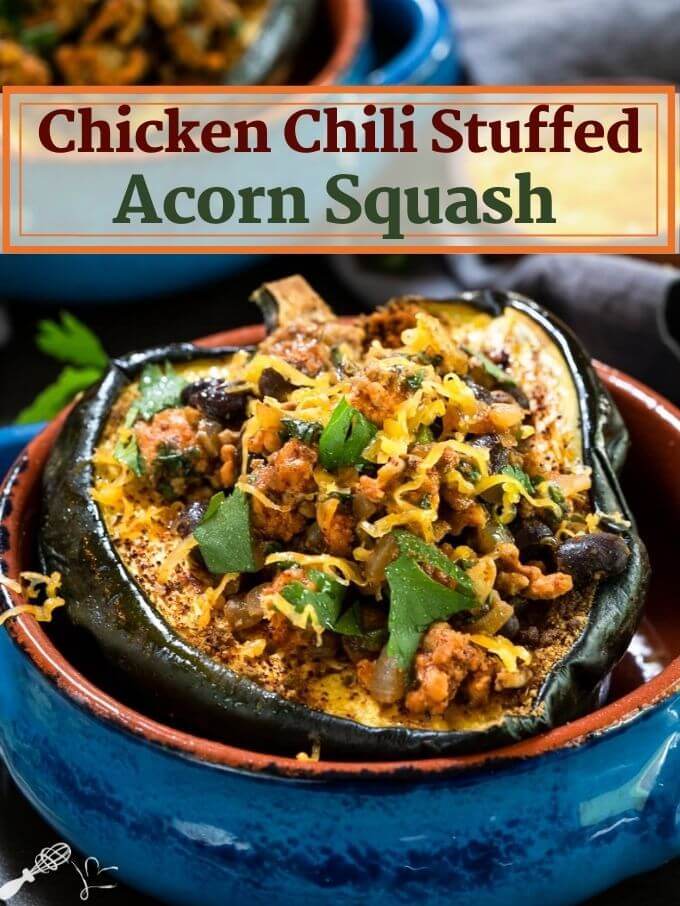 How to pick an Acorn Squash
Once the Acorn squash turns dark green, they're ripe. It's not uncommon to have yellow or orange coloring on acorn squash. That's generally the side that was laying on the ground. As long as it doesn't have soft spots, it's still fine to use.

If the skin is glossy, it's immature and wasn't ready to be picked. Choose a dull-skinned acorn squash.

When cut open, if you see mold or rot, don't use it.

Choose squash that feels like it's heavy for its size. Avoid squash that has punctures or slits in the skin.
Our favorite winter squash varieties to bake are acorn, butternut, and delicata. There are a ton of varieties that we haven't tried so don't let our opinion hold you back! What's your favorite? Share in the comments below.
I found What's Cooking America a lot of great information on the different varieties and the best ways to prepare each variety.
How to prepare acorn squash for baking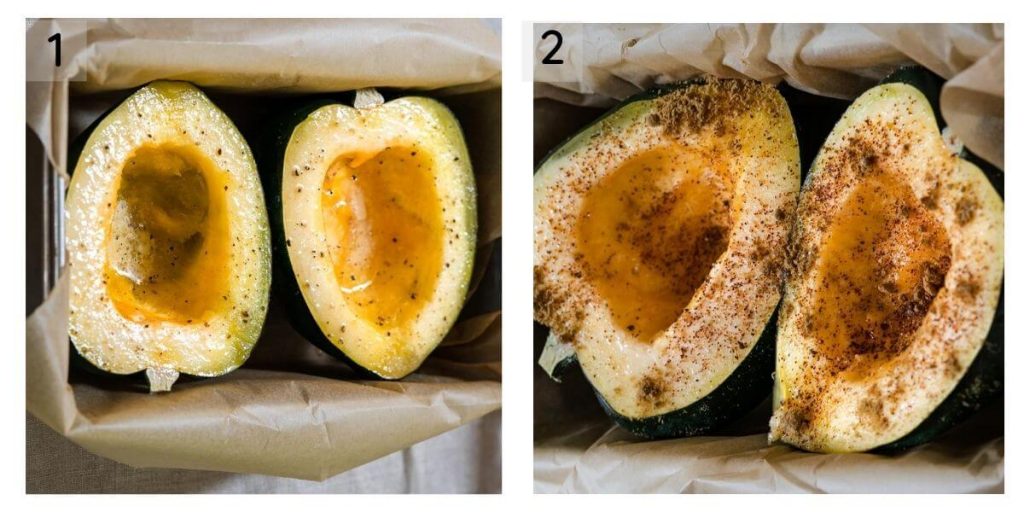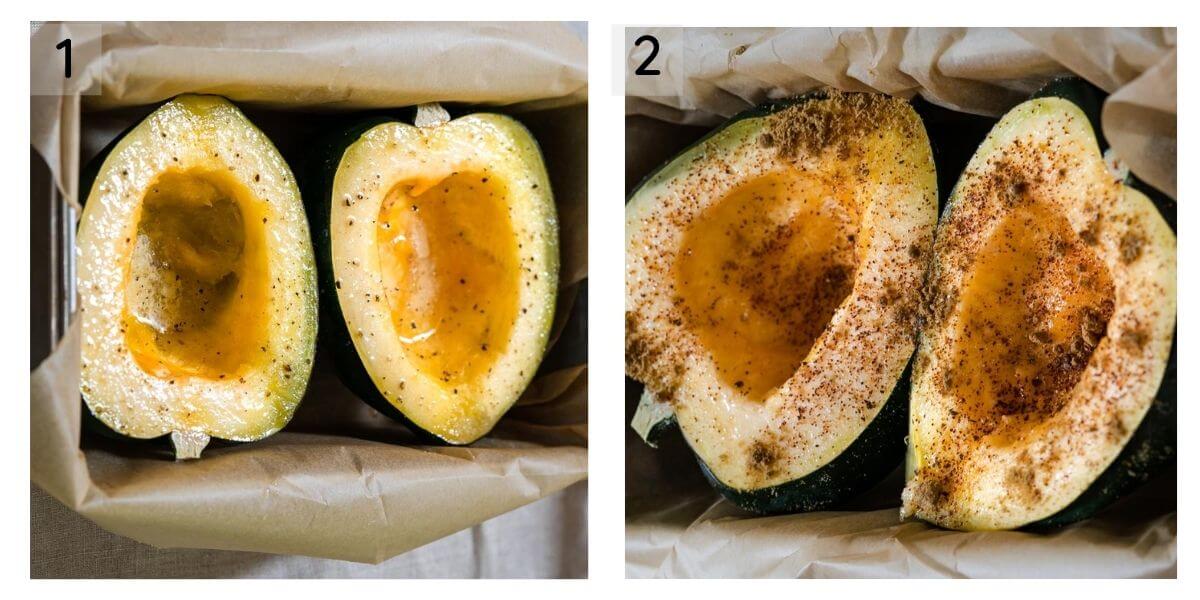 It's important to wash the outside of the squash.

When you cut a squash, any debris on the outside is transferred to the inside.

Microwave the entire squash for only 3 minutes.

This will steam the skin and make it much easier to cut. It will not cook your squash for this short amount of time.
Handle the squash with a potholder or paper towel because it will be hot.

Lay the squash on its side, and use a large enough knife to cut through the squash.

Be careful not to let the squash roll as you cut it. Placing it on a kitchen towel placed over a cutting board can help.

Scoop the seeds out of the squash.

A large spoon or an ice-cream scoop works well.
Save the seeds. Baked and seasoned (pepitas), they make a healthy snack.

Loaf pans work well to bake acorn squash because the will keep them from tipping over.

Some recipes have you roasting acorn squash flesh side down. I've never found that necessary. You can always cover it if you want.
Tips for baking and stuffing squash
Lining the baking dish or pan with parchment paper or foil will make for easy cleanup.
You can add as much or as little stuffing to acorn squash as you want. Be sure not to let liquids such as juice or butter overflow the squash cavity. It will have no benefit or offer flavor sitting in the bottom of your dish.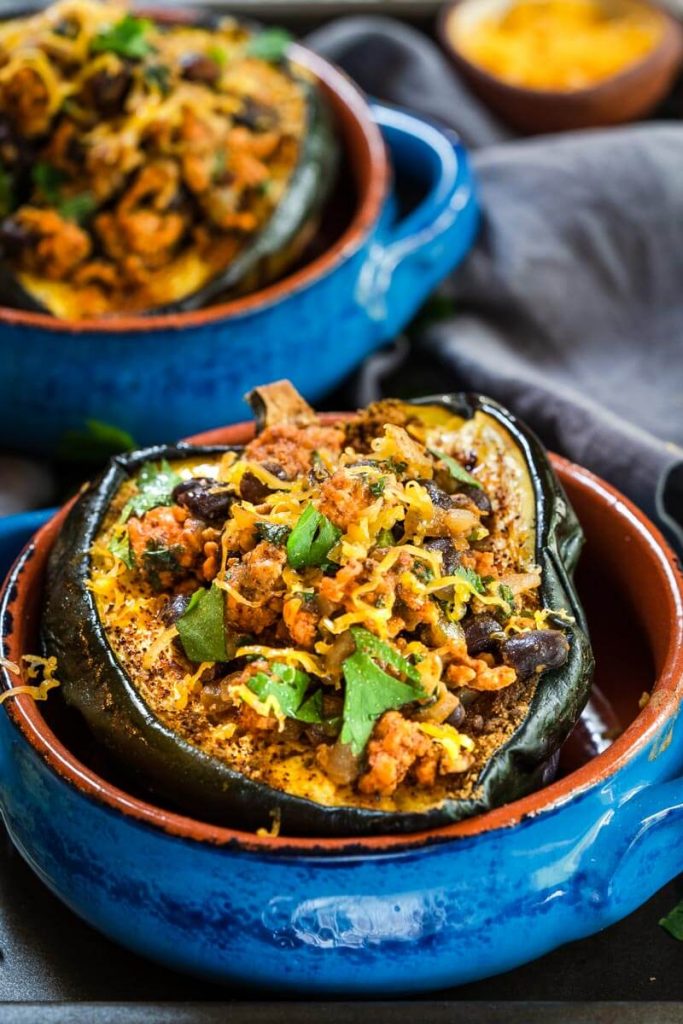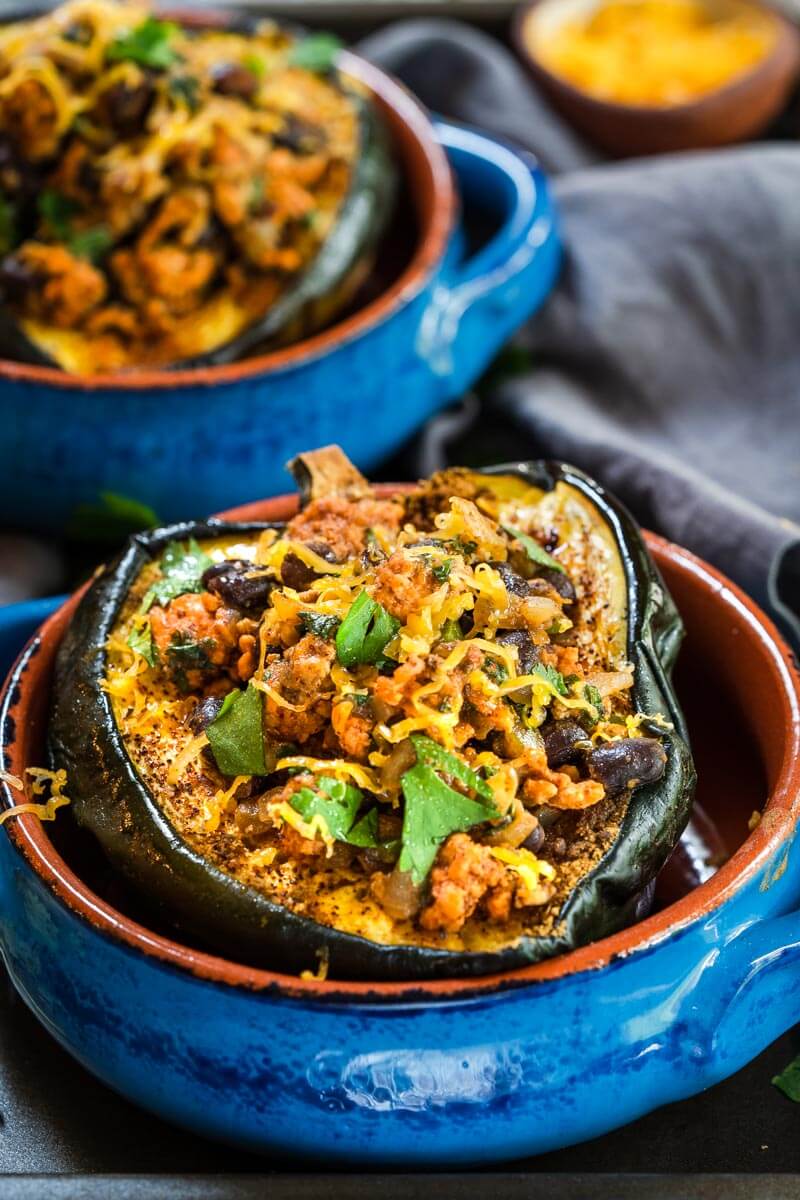 Chili Stuffed Acorn squash variations
Chili variations: The spicy chicken chili that I made for this stuffed acorn squash recipe is simple to make. It works well because of the spicy contrast to the sweetness of the squash.

Ground turkey or beef can be substituted evenly for the ground chicken.

You can certainly use your own favorite recipe. You can also make this one and leave out the chicken for a vegetarian stuffed squash recipe.

Rice, spelt, farro or other whole grains are delicious for stuffing squash.
Leftover dressing or stuffing is delicious and a great way to repurpose leftovers.
Add fresh or dried fruit or nuts.
I've never frozen a Stuffed Acorn Squash. You can prepare the chili ahead of time and freeze it and then bake your squash when you need a delicious homemade dinner.
If you like this Stuffed Acorn Squash Recipe, you may enjoy these recipes too.
Pin this delicious Spicy Acorn Squash Recipe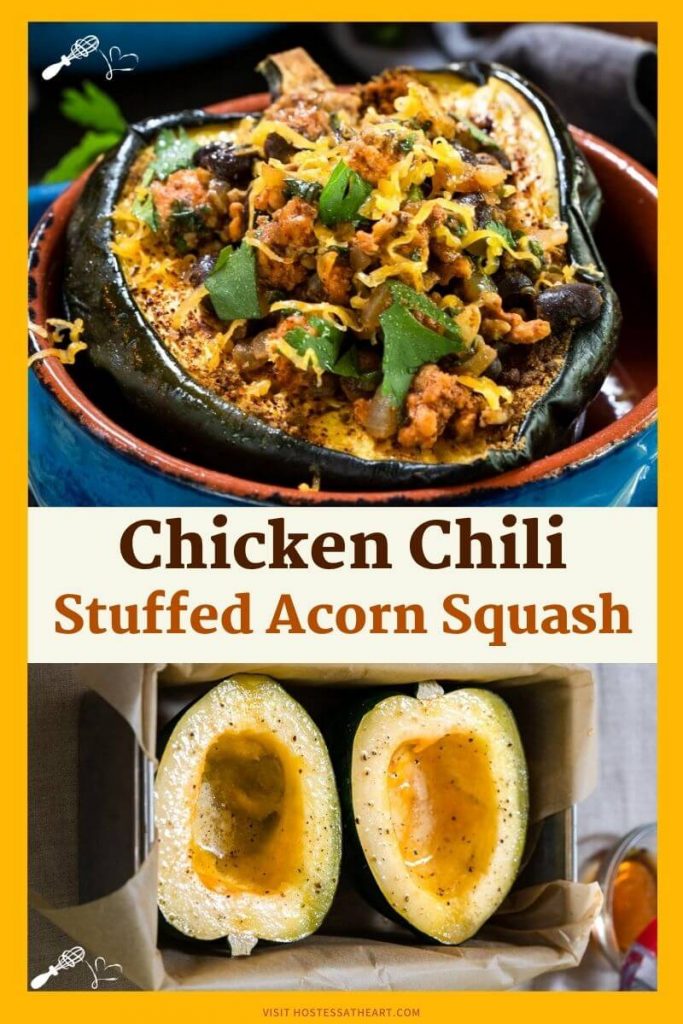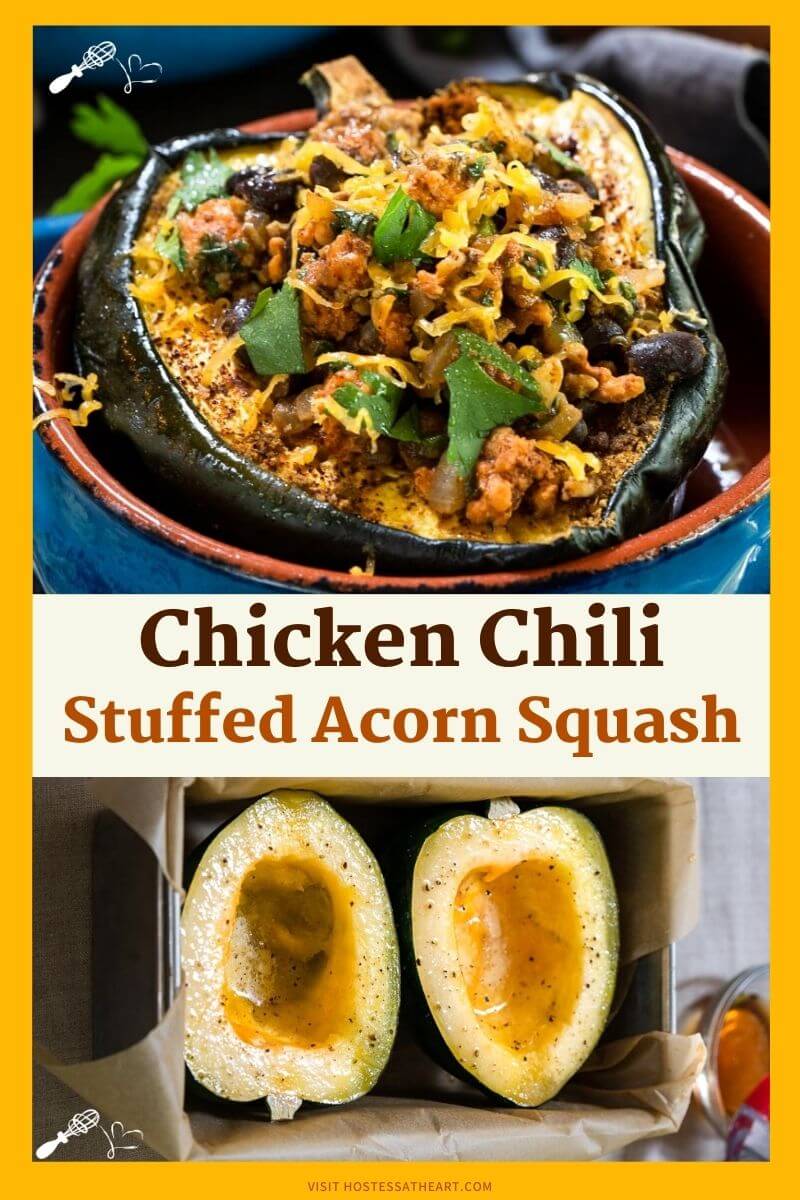 What to serve with Chicken Chili Stuffed Acorn Squash
We consider this chili-stuffed acorn squash our main dish. Adding just a side dish or some homemade bread will have the family rushing to the dinner table. Here are a few of our suggestions.
I hope you enjoyed this recipe. We love hearing from you and receiving your comments and requests!
Chicken Chili Stuffed Acorn Squash
Chicken Chili Stuffed Acorn Squash is a complete meal. This Spicy Acorn Squash recipe is a warm comfort dish that's loaded with color, texture, and flavor.
Ingredients
Squash
2

Acorn Squash

4

tsp

butter

divided

2

tsp

maple syrup

1/4

tsp

salt

1/4

tsp

black pepper

1

tbsp

chili powder

2

tsp

ground cumin
Chicken Chili Filling
2

tsp

olive oil

1

lb

ground chicken

1

onion

2

jalapenos

seeded, ribs removed, and diced (use 3 for more spice)

14

oz

black beans

14

oz

fire-roasted diced tomatoes

Do not drain

1/2

cup

cilantro

3

tsp

chili powder

2

tsp

ground cumin

1

tsp

salt

1/2

tsp

black pepper
Garnishes – shredded cheese and additional cilantro.
Instructions
Squash
Preheat the oven (or grill) to 400°F.

Wash the outside of the squash.

Microwave the whole acorn squash for 3 to 3-1/2 minutes. Remove with hot pads or a towel. Lay the squash on its side (not end) and slice the squash in half. Scoop out the seeds using a spoon. Put the squash in a baking dish lined with parchment paper. A loaf pan works well too.

Melt the butter in a small dish and add the maple syrup. Brush the mixture over the cut halves of each acorn squash. Pour any remaining equally into the cavity of each squash.

Stir the salt, pepper, chili powder, and cumin together and sprinkle it over each half of the squash.

Bake for 45 to 50 minutes or until the squash is fork-tender.
Chicken Chili – Make while squash is baking
Heat the olive oil in a Dutch oven over medium-high heat. Add the ground chicken and onion. Cook until the chicken is completely cooked. If necessary, drain off any fat.

Stir in cumin, chili powder, salt, and pepper. Cook until the spices are aromatic.

Add black beans, tomatoes. cilantro and jalapeno. Stir to combine. Salt and pepper to taste. Cook until heated through.

Spoon the chicken chili into the cooked squash. Garnish with cheese and cilantro and serve.
Notes
If you need more moisture in the chili mixture, you can add water. Make sure to taste it after each addition. Adjust salt, pepper, chili powder, and cumin levels.
Nutrition
Sodium:
1101
mg
|
Calcium:
177
mg
|
Vitamin C:
36
mg
|
Vitamin A:
2742
IU
|
Sugar:
6
g
|
Fiber:
15
g
|
Potassium:
1874
mg
|
Cholesterol:
108
mg
|
Calories:
484
kcal
|
Saturated Fat:
6
g
|
Fat:
15
g
|
Protein:
32
g
|
Carbohydrates:
59
g
|
Iron:
7
mg
This recipe was calculated using the exact brands and measurements I used to make this recipe. If you are following a strict diet please note changing anything will cause the nutritional info to change. My calculations are intended as a guide only.
Our most popular recipes