Chicken Chili Stuffed Acorn Squash Recipe combines the natural sweetness of baked squash and spicy chicken chili. It's a hearty, yet healthier meal that's on the table in less than an hour. It's easy to make and even more delicious to eat.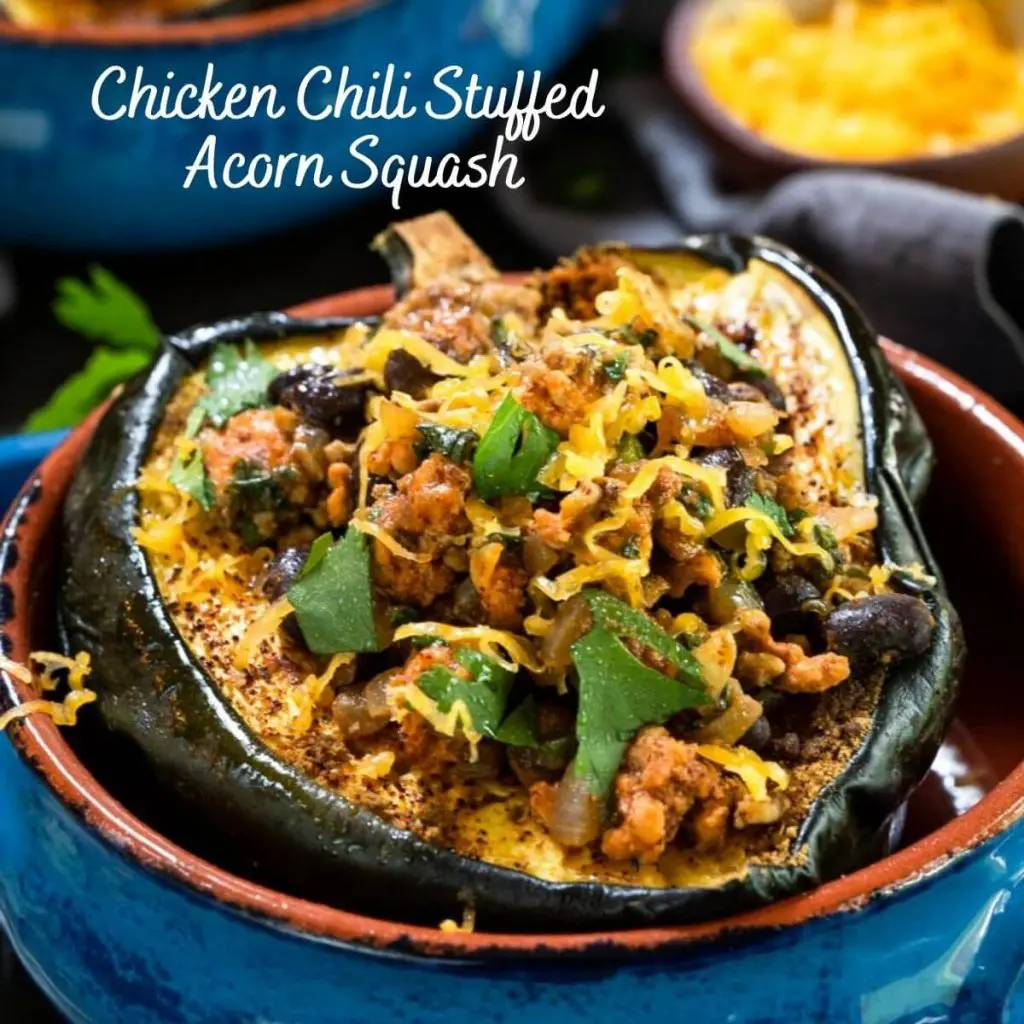 Whether you're a vegetarian, flexitarian, or full-fledged omnivore, this dish is sure to please. Here, you'll learn how to make this simple, yet satisfying meal from start to finish.
Why we love stuffed acorn squash recipes
Roasted acorn squash is naturally sweet and is the perfect contrast to the spicy chicken chili.
Everyone gets their own serving. Who doesn't love a one-dish meal where you can eat the bowl?
As decadent as this recipe tastes, it's a good choice. An entire serving is under 500 calories.
Any recipe that you use with sweet potatoes, you can use with squash. The consistency and mild flavor are very much the same. I'll be sharing some of my favorites with you.
So many squash varieties store amazingly well. By keeping squash in a cool, dark, and well-ventilated area, they will last for 3 months or more.

Check the squash regularly. Once they start to soften or show signs of rot, it's time to throw them out.

Squash is loaded with vitamins and fiber.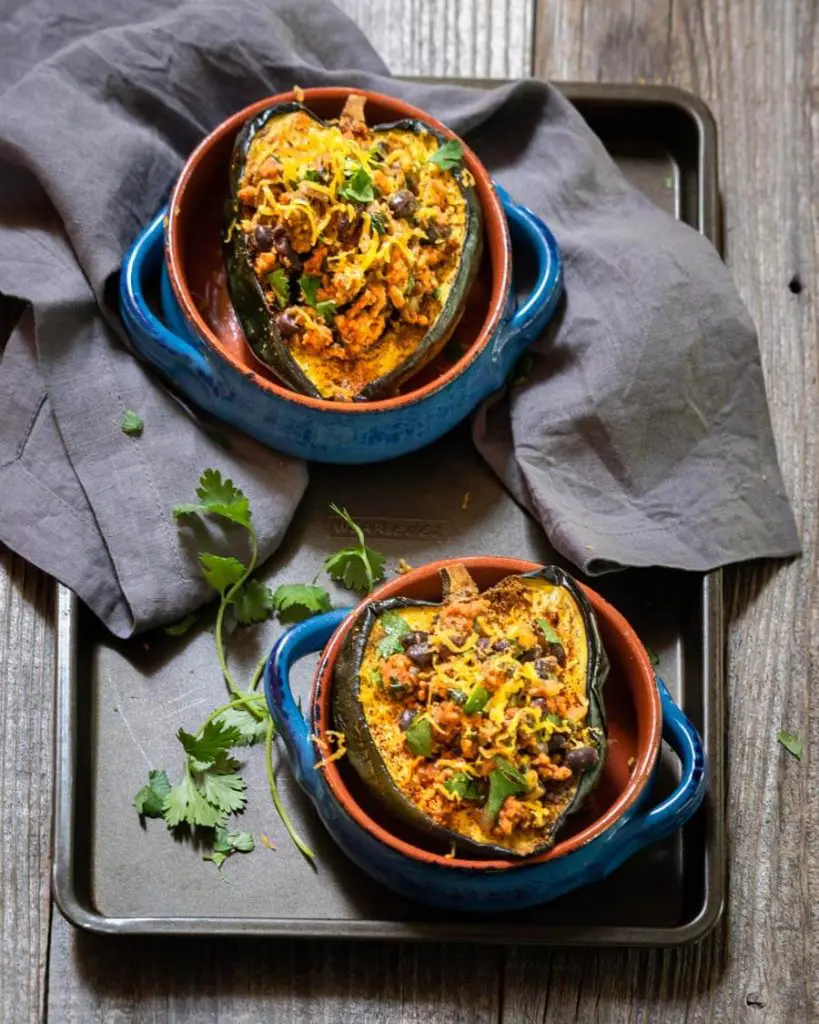 How to pick an Acorn Squash
Once the Acorn squash turns dark green, they're ripe. It's not uncommon to have yellow or orange coloring on acorn squash. That's generally the side that was lying on the ground. As long as it doesn't have soft spots, it's still fine to use.

If the skin is glossy, it's immature and wasn't ready to be picked. Choose a dull-skinned acorn squash.
When cut open, if you see mold or rot, don't use it.

Choose squash that feels like it's heavy for its size. Avoid squash that has punctures or slits in the skin.
Our favorite winter squash varieties to bake are acorn, butternut, and delicata. There are a ton of varieties that we haven't tried so don't let our opinion hold you back! What's your favorite? Share in the comments below.
I found What's Cooking America a lot of great information on the different varieties and the best ways to prepare each variety.
Ground chicken stuffed acorn squash ingredients
Acorn Squash. This is my favorite squash for this recipe because it has a deep well to hold all of the chicken chili.
Ground chicken. You could also use turkey or beef.
Butter. Salted or unsalted.
Maple syrup. Add a touch of sweetness to the squash. You could replace it with honey.
Seasoning. Salt, pepper, chili powder, and ground cumin.
Onion. Yellow or white onion is what I recommend.
Jalapenos. Fresh.
Black beans I used canned.
Diced tomatoes. Fire-roasted were great in this recipe but any will work.
Cilantro. Fresh in the chili ingredients and additional as a garnish.
Garnishes. Shredded cheese, fresh cilantro, and sour cream. Any or all are optional
How to prepare acorn squash for baking
Hostess At Heart participates in affiliate programs. As an Amazon Associate, I earn a commission from qualifying purchases. Please refer to my disclosure page for more information about these affiliate programs.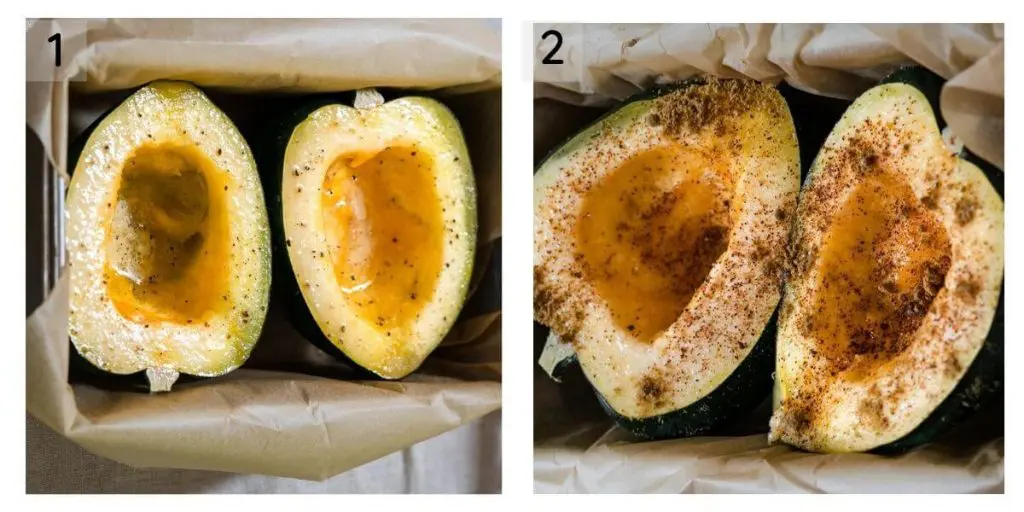 It's important to wash the outside of the squash.

When you cut a squash, any debris on the outside is transferred to the inside.

Microwave the entire squash for only 3 minutes.

This will steam the skin and make it much easier to cut. It will not cook your squash for this short amount of time.
Handle the squash with a potholder or paper towel because it will be hot.

Lay the acorn squash halves on their side, and use a large enough knife to cut through the squash.

Be careful not to let the squash roll as you cut it. Placing it on a kitchen towel placed over a cutting board can help.

Scoop the seeds out of the squash.

A large spoon or an ice-cream scoop works well.
Save the seeds. You can bake squash seeds just like you do pumpkin seeds. Baked and seasoned (pepitas) make a healthy snack.

Loaf pans work well to bake acorn squash because they will keep them from tipping over.

Some recipes have you roasting acorn squash flesh side down. I've never found that necessary. You can always cover it if you want.
How to make chili stuffed acorn squash
Please note, that the printable recipe card has ingredient quantities, complete instructions, and nutritional information. The following is a quick overview of the recipe.
1: Prepare and bake
Prepare the squash for baking as explained in the section above.
Season the inside of the squash.
Bake in a preheated oven.
2: Make chicken chili
Brown the ground chicken and the onion together. Drain if necessary.
Add spices and cook until aromatic. Add the black beans, tomatoes, cilantro, and jalapeno.
Cook until heated through.
3: Assemble and serve
Put the cooked squash in a serving bowl. Add the chicken chili. Garnish as desired and serve.
Tips for baking and stuffing squash
Lining the baking dish or pan with parchment paper or foil will ensure easy cleanup.
You can add as much or as little stuffing to acorn squash as you want. Be sure not to let liquids such as juice or butter overflow the squash cavity. It will have no benefit or offer flavor sitting at your dish's bottom.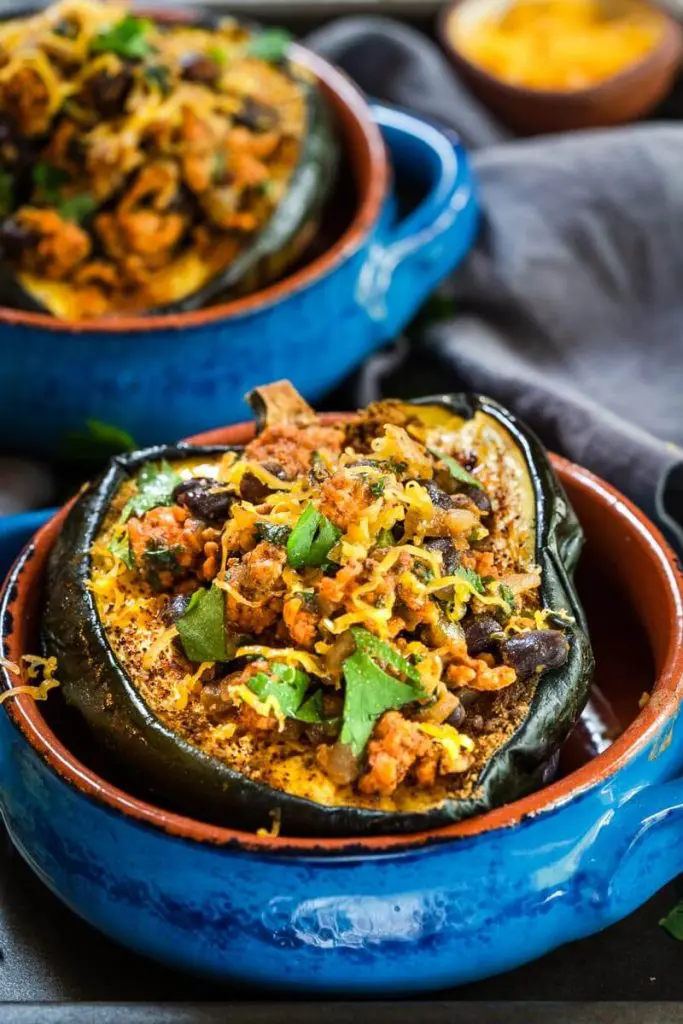 Stuffed squash variations
Chili variations: The spicy chicken chili that I made for this stuffed acorn squash recipe is simple to make. It works well because of the spicy contrast to the sweetness of the squash.

Ground turkey, beef, or sausage can be substituted evenly for ground chicken.
You can certainly use your own favorite recipe. You can also make this one and leave out the chicken for a vegetarian stuffed squash recipe.

Rice, spelt, farro, or other whole grains are delicious for stuffing squash.
Leftover dressing or stuffing is a delicious way to repurpose leftovers.
Add fresh or dried fruit or nuts.
I've never frozen a Stuffed Acorn Squash. You can prepare the chili ahead of time freeze it and then bake your squash when you need a delicious homemade dinner.
What to serve with Stuffed Acorn Squash
We consider this chili-stuffed acorn squash our main dish. Adding just a side dish or some homemade bread will have the family rushing to the dinner table. Here are a few of our suggestions.
I hope you enjoyed this delicious recipe as much as we do. Drop me a comment below, and don't forget to give it a star rating. ⭐⭐⭐⭐⭐. Your comments and ratings help others decide if this recipe is for them too.
This recipe was originally posted on 9/16/2020. Additional details and tips have been added. No changes were made to the recipe.
If you like this Stuffed Acorn Squash Recipe, you may enjoy these squash recipes too.
Pin this amazing recipe!
Our most popular recipes