Grandpa George's Easy Zucchini Bread recipe is tender, moist, and delicious. It's a quick two-loaf recipe made with everyday ingredients that you'll love.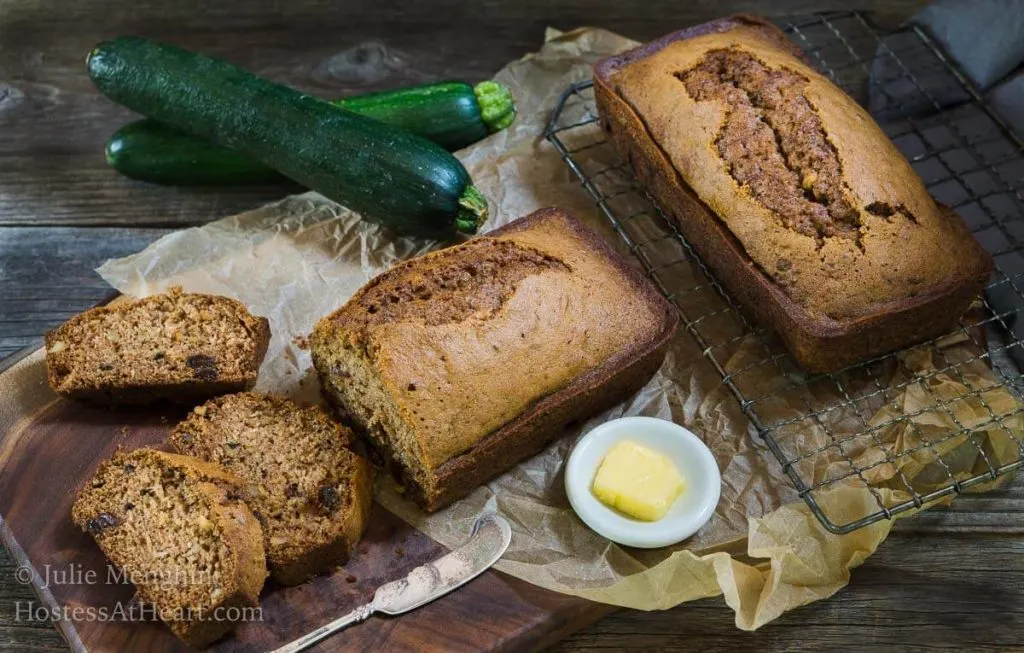 Grandpa George's Easy Zucchini Bread recipe makes two loaves of tender moist zucchini bread using simple ingredients. Eat one now and freeze one when fresh zucchini is only a memory.
This Grandpa George's Zbread (Zucchini Bread) recipe post is the definition of Hostess At Heart.
We value the stories that go with food and recipes about as much as we love eating it.
We also love recipes that use simple ingredients that are easy to find and delicious to eat!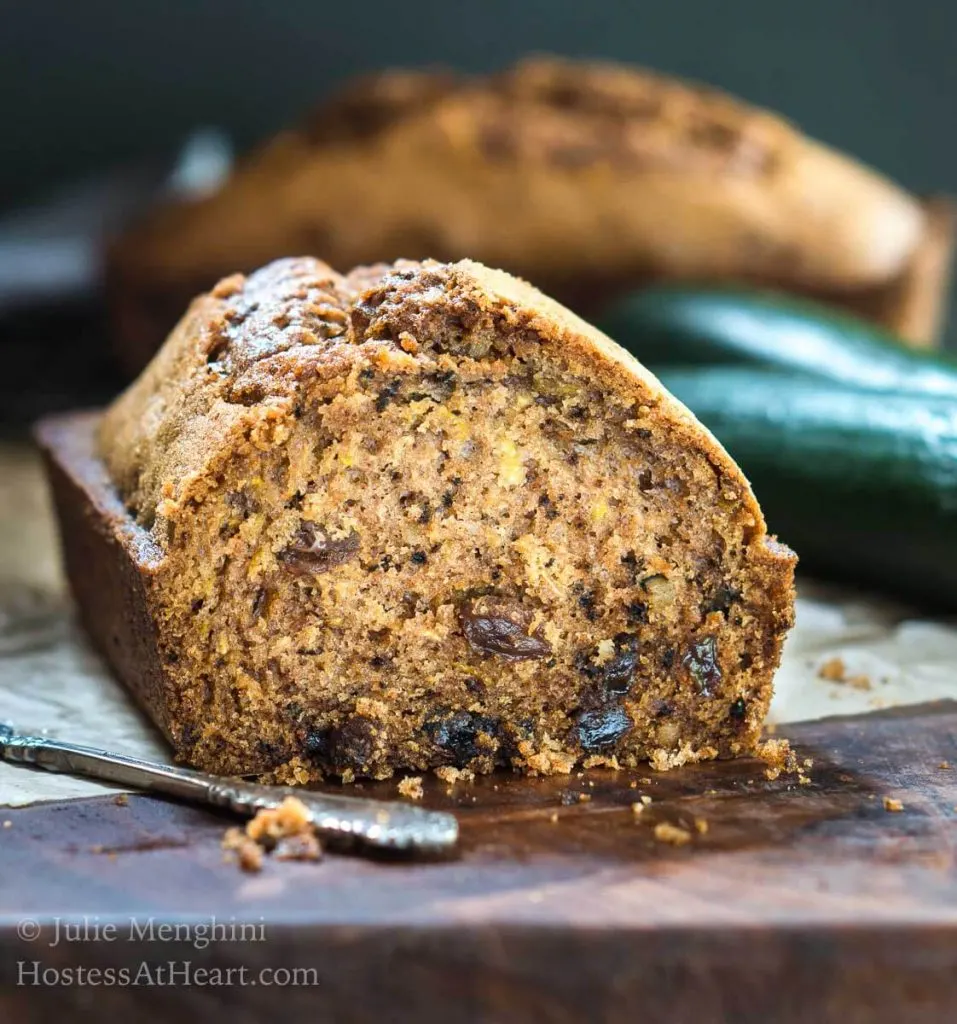 I was visiting our Farmer's Markets when it was just getting started in the Spring. They didn't have a lot of produce yet but I couldn't wait to get my hands on what was available.
I was at one of the vendors and I heard this gentleman ask for zucchini. The answer was that it would be a couple more weeks yet.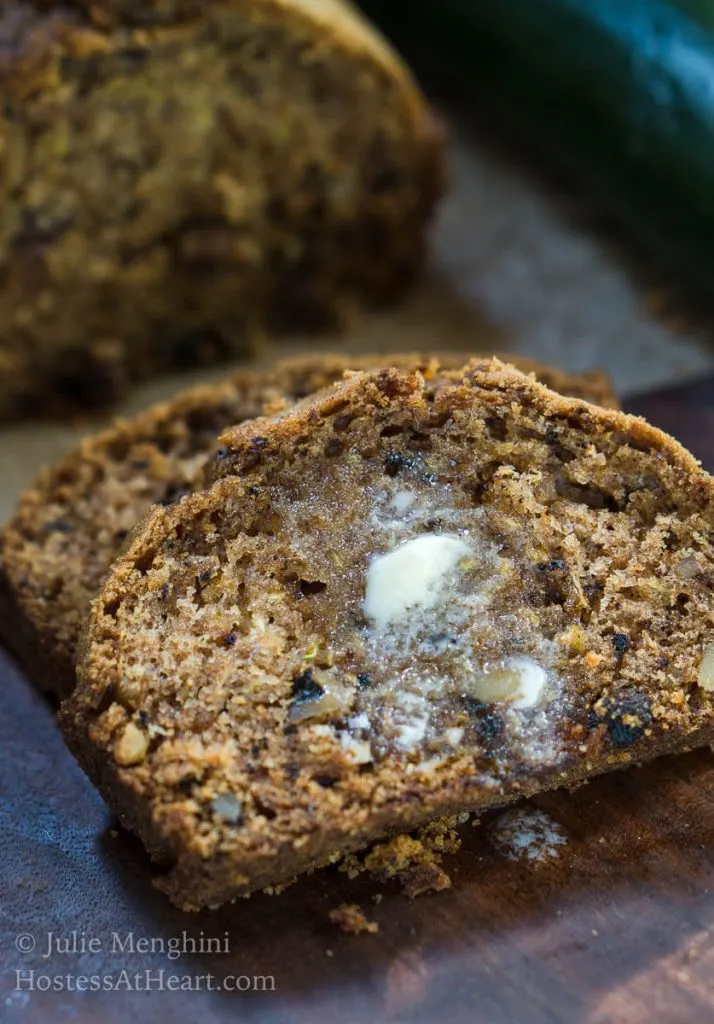 As I was leaving I stopped this gentleman, now referred to as George, and asked what was his favorite way to use zucchini.
He told me that he's spent some time perfecting a zucchini bread recipe using raw sugar instead of white granulated sugar.
Like me, he tries to use as few processed ingredients as possible. He went on to say that his family loves his homemade zucchini bread referred to as Grandpa's "Zbread" but he hadn't shared his recipe…yet. Intrigued? You bet.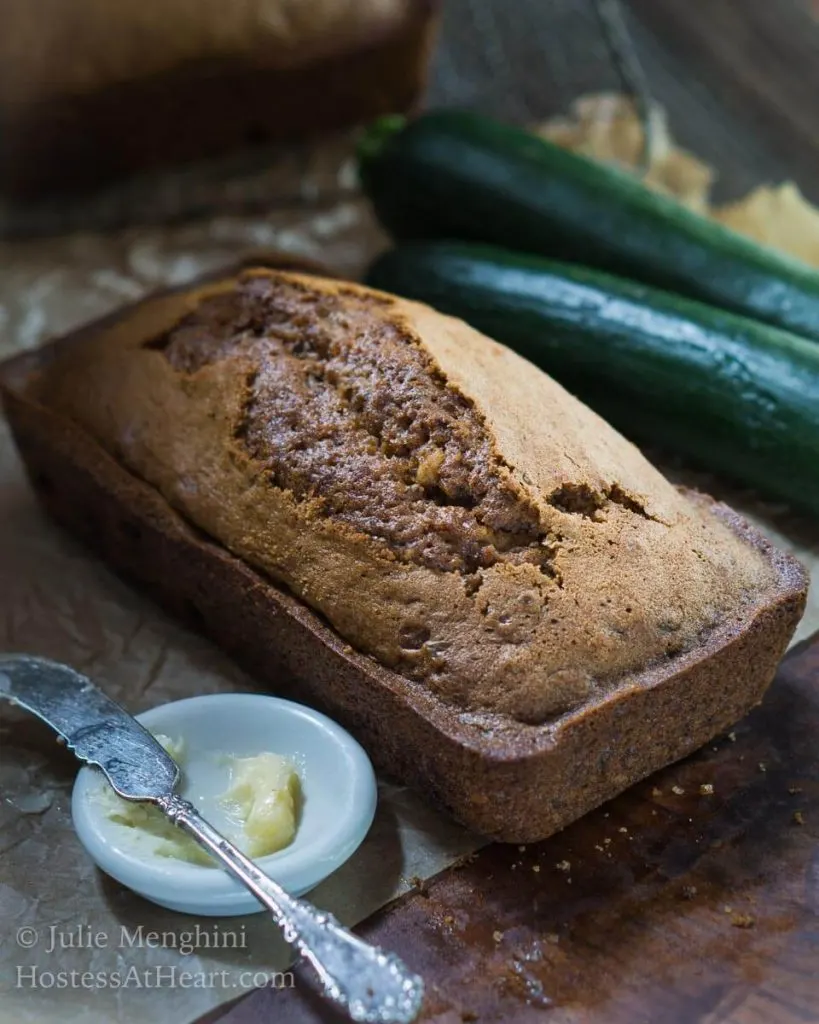 Why bake bread with Zucchini?
Zucchini is a squash with a lot of water content that adds moisture to baked goods. It is tasteless in bread so even squash haters love this Easy Zucchini Bread.
Do you peel zucchini for Zucchini Bread?
No, you don't have to peel the zucchini. The peel is tender in younger zucchinis. If the zucchini are large (over 13 inches), you may want to peel them and remove any seeds that feel hard.
This is how I prepared the zucchini for this Zucchini Bread Recipe.
Wash the zucchini and slice off the stem and any blemishes
Using a box grater, shred the zucchini against the large grater side and put it in a paper towel-lined bowl.

You don't need to squeeze the moisture out of the zucchini. Lightly pressing the zucchini is enough to remove excess moisture.
You can also use a spiralizer and then just chop the spirals into smaller pieces.
Homemade Zucchini Bread ingredients and variations
Fresh Zucchini
Eggs – I use large eggs for consistent results. Eggs add moisture and help bind the ingredients together
Vegetable oil – provides additional moisture. It also slows down the gluten formation allowing your bakery to be tender and fluffy.

1 cup of applesauce or yogurt can be substituted for the oil.
Canola or other neutral oils can be used as well.

Sugar – George's recipe uses sugar in the raw. Granulated sugar can ve substituted.
Flour – All-purpose Flour

You can use a combination of flour such as adding some wheat or other whole grain flour. This recipe hasn't been tested using 100% whole grain flour, however.

Baking Powder and Baking Soda – Act as leaveners to help this bread rise in the oven
Cinnamon – A combination of spices work well in this Zucchini Bread recipe. Nutmeg is a favorite of ours.
Vanilla Extract – Imitation is fine in baking bread such as this one.
Salt – I use table salt or extra-fine sea salt when baking. It mixes and dissolved better than coarser salts.
Some other zucchini bread ingredient variations that you can make would be to add chocolate chips, raisins, and nuts.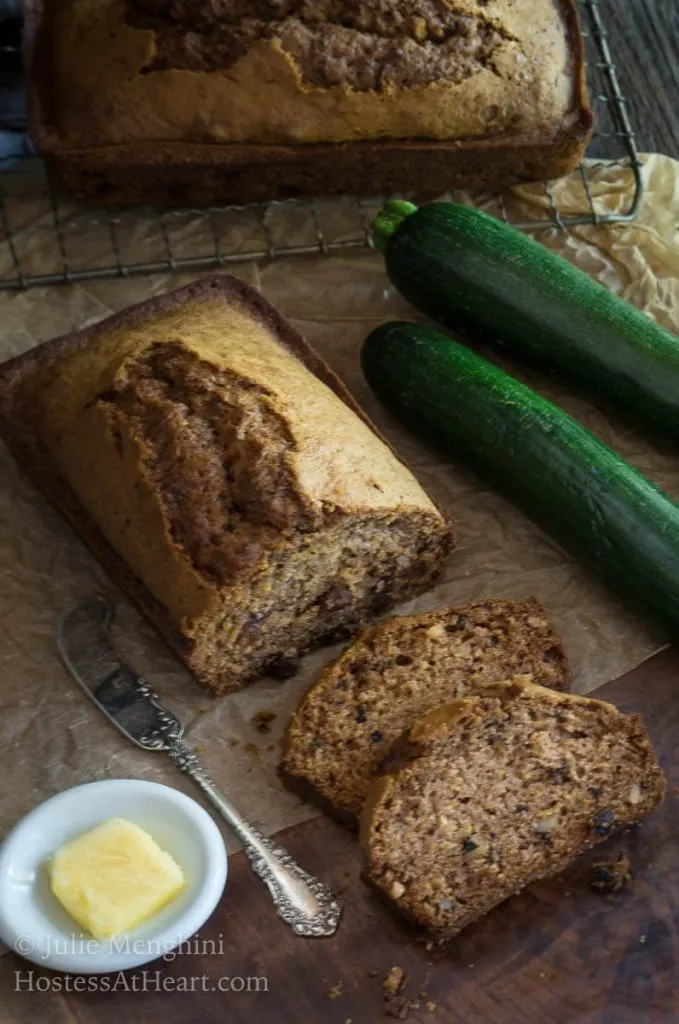 How to make Easy Zucchini Bread
Shred the zucchini.
In a medium-sized bowl, combine the eggs, oil, sugar, and vanilla.
Add the zucchini to the wet ingredients.
In a large bowl, add the flour, baking soda, baking powder, cinnamon, and salt. Whisk to combine.
Make a well in the dry ingredients and pour in the wet ingredients. Using a spatula, fold the ingredients together.

Tip: Don't beat or over stir the batter. This can keep the center of the bread from rising and appear sunken.

Pour the batter into two 8×13″ prepared loaf pans.
Bake
We love that this recipe makes two loaves of bread. They freeze beautifully so we eat one and freeze the other one. Who wouldn't love a slice of this homemade zucchini bread with a hot bowl of our BEST chili?
If you like this recipe, here are a few more you'll enjoy
We LOVE baking bread! You can find all of our bread recipes here!
I can't tell you how honored that I feel that George trusted me to make and share his Homemade Zucchini Bread recipe.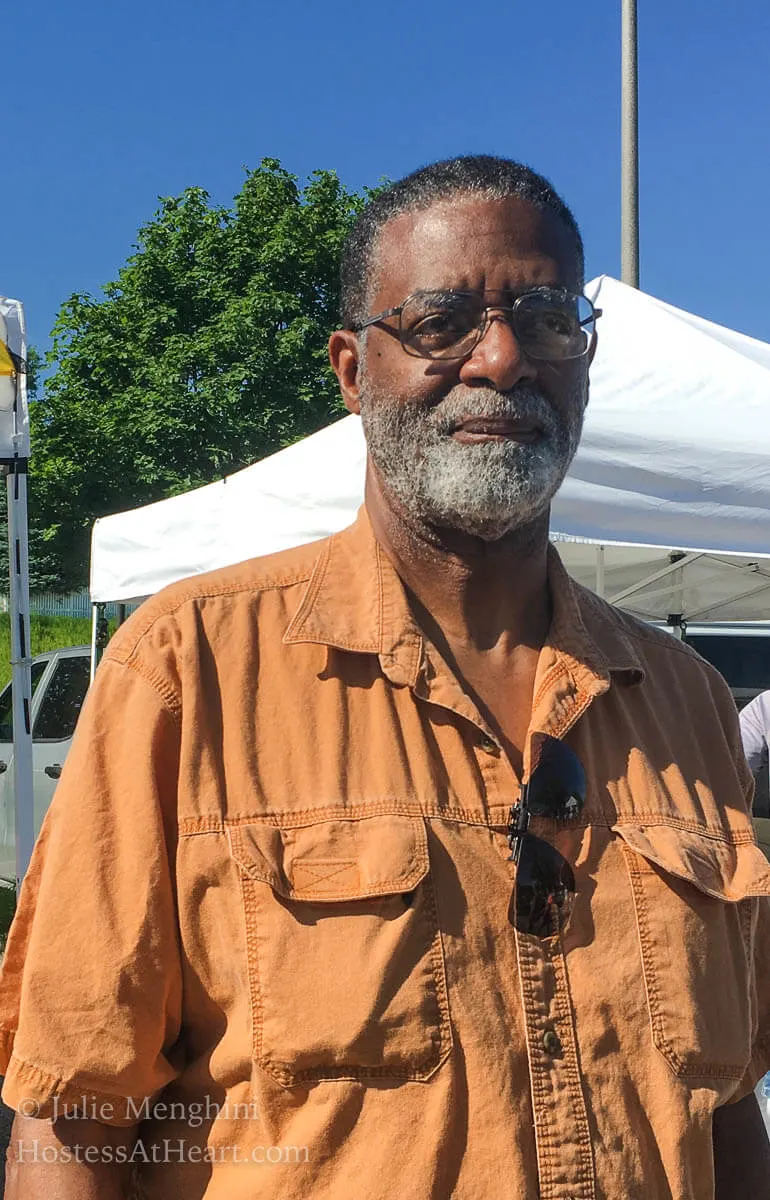 Here's my friend George and a couple more friends that I will be seeing a lot of this summer. Will you look at this lettuce! Yep, I took some home and it was amazing.
I'm sure that his family will cherish his recipe for years to come as much as we do.
Don't have time to make it now?

Pin it

for later!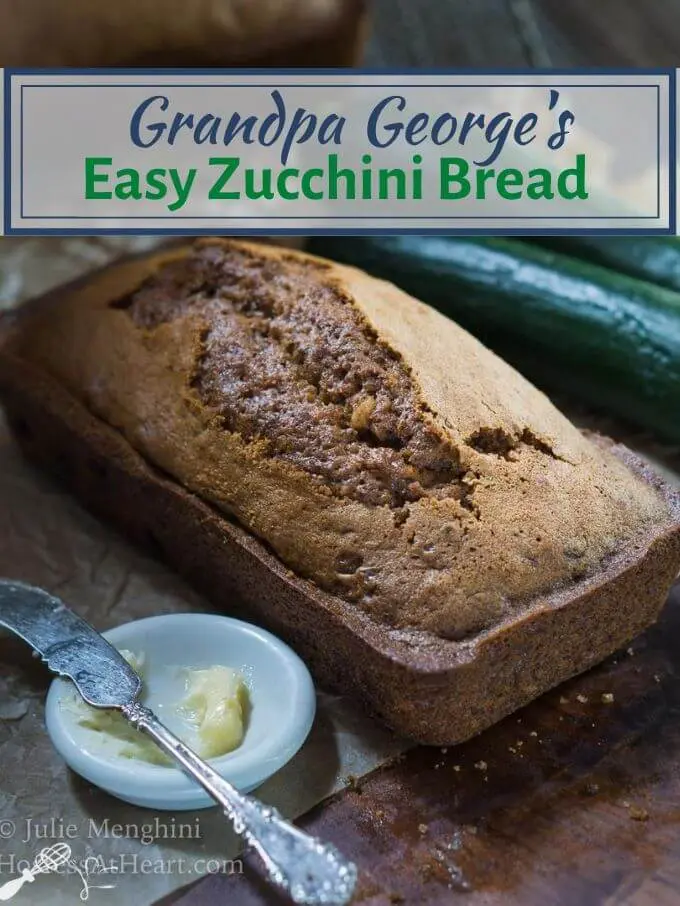 Our most popular recipes
Pin this recipe before you go!