Our homemade applesauce bread recipe is moist, tender, and bursting with the essence of apples. This easy quick bread will fill your kitchen with the warm, comforting aroma of freshly baked bread with warm spices.
I adore baking quick bread recipes whether it's a loaf, muffins, sweet, or savory. If you're a quick bread lover like me, try this Banana Bread recipe that also uses the benefits of applesauce. Other quick bread that we can't get enough of is our gluten-free Cherry Bread, our popular Basic Muffins, and sweet, tart, and crunchy Strawberry Rhubarb Bread.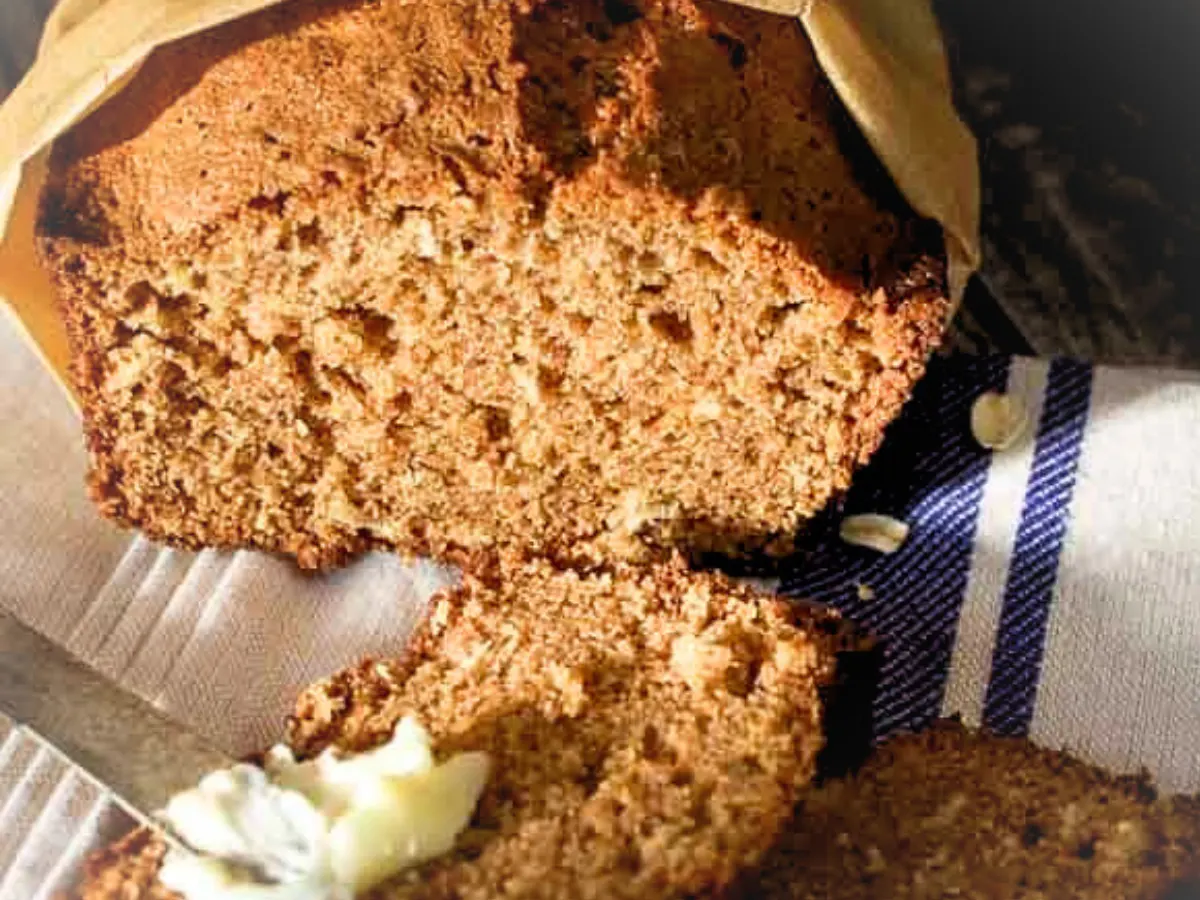 Today, I'm excited to share a simple and mouthwatering recipe for Applesauce Quick Bread. This delightful treat combines the goodness of applesauce with the warm fall flavors of cinnamon, allspice, and nutmeg. Get your aprons on, gather your ingredients, and let's dive into the world of baking!
Why you'll love Applesauce Bread
Quick bread recipe. There's no dealing with yeast and rising times, and you can have a loaf of homemade bread in no time.
Gifting – Nothing says love like gifting a loaf of homemade bread. It fills me with joy when I share home-baked goods. So whether you're baking for the holidays or just to let someone know you're thinking about them, your own homemade Spiced Applesauce Bread will be appreciated.
Easy recipe. There's nothing difficult about putting this bread together. The technique is simple and ingredients are probably already in your pantry.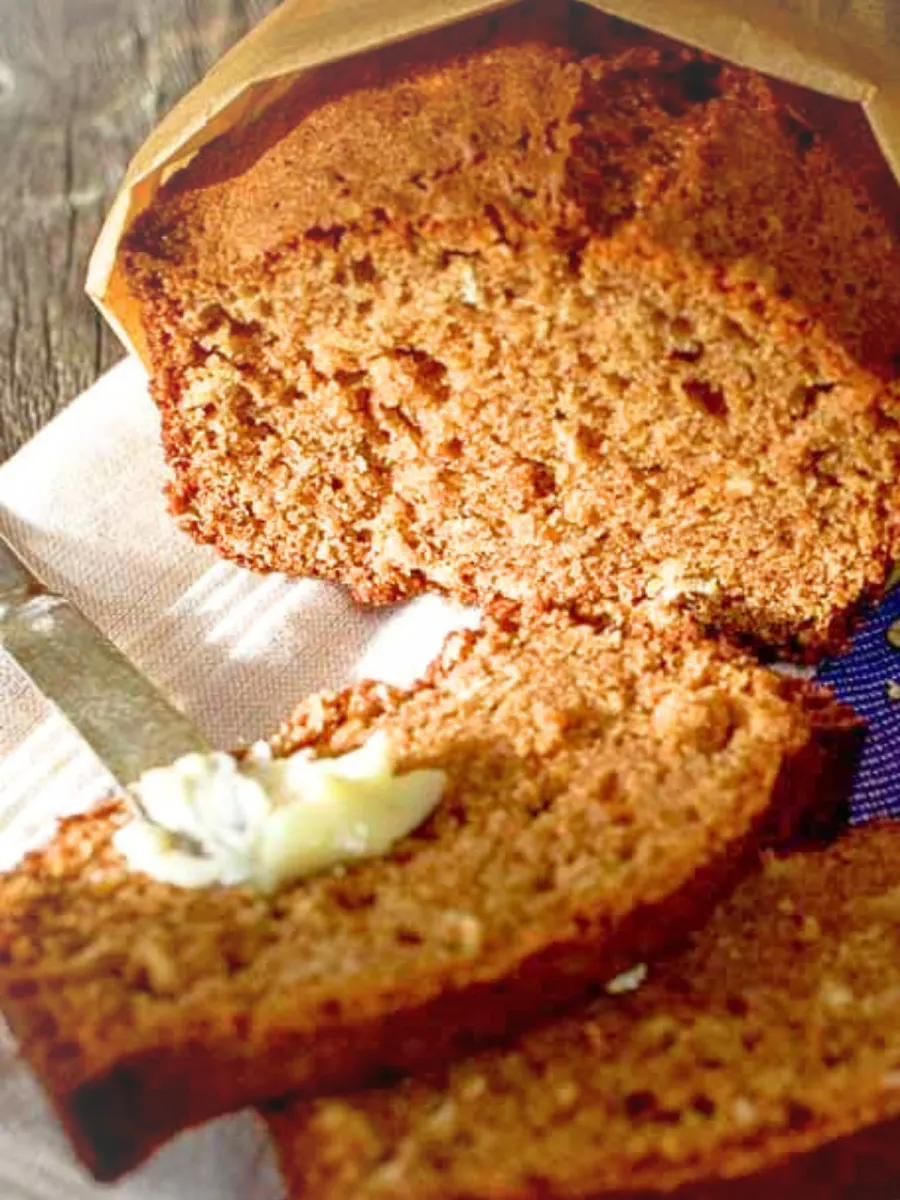 Why use Applesauce in homemade baked goods?
Unsweetened applesauce is a versatile ingredient that brings numerous benefits to baked goods. Let me share with you why incorporating unsweetened applesauce in your recipes is a great choice!
Natural Sweetness: Unsweetened applesauce adds natural sweetness to your baked goods without the need for excessive amounts of refined sugar. The sweetness comes from the natural sugars present in apples, offering a healthier alternative while still satisfying your sweet tooth. It also adds the essence of apple flavor.
Moisture and Tenderness: One of the remarkable qualities of unsweetened applesauce is its ability to keep baked goods moist and tender. When used in recipes like cakes, muffins, or bread, it helps retain moisture, resulting in a delightful texture that's soft and moist with every bite.
Fat Reduction: Applesauce can be used as a substitute for butter or oil in certain recipes, making it an excellent choice for those seeking to reduce fat content. By replacing a portion or even the entirety of the fat in a recipe with unsweetened applesauce, you can enjoy lighter and healthier treats without sacrificing taste or texture.
Easy Applesauce Bread Ingredients and Variations
Please note, that the printable recipe card has ingredient quantities, complete instructions, and nutritional information. The following is a quick overview of the recipe.
Unsweetened Applesauce. I use store-bought applesauce. You can make your own homemade applesauce as well.
Eggs. Grade A large eggs were used in this recipe.
Vegetable oil. Canola, or another neutral-flavored cooking oil.
Sugar. White granulated sugar. You can also use half brown sugar and half white sugar for a hint of molasses flavor or coconut sugar.
Vanilla. Pure vanilla extract is what we prefer. Use what you have.
Flour. This recipe uses a flour blend of all-purpose flour and whole wheat flour. You can use just the all-purpose flour but, I haven't t tested this recipe using just wheat flour.
Baking powder and baking soda. Make sure these ingredients are replaced every six months to ensure that they're active.
Spices. Ground cinnamon, nutmeg, and allspice give this bread a warm and aromatic flavor. You can substitute with equal amounts of apple pie spice.
Salt. I prefer using fine sea salt in my baking. It distributes and dissolves better eliminating pockets of salt in the batter.
Rolled Oats. The nutty flavor works in this Oatmeal Applesauce Bread and gives the benefit of more fiber.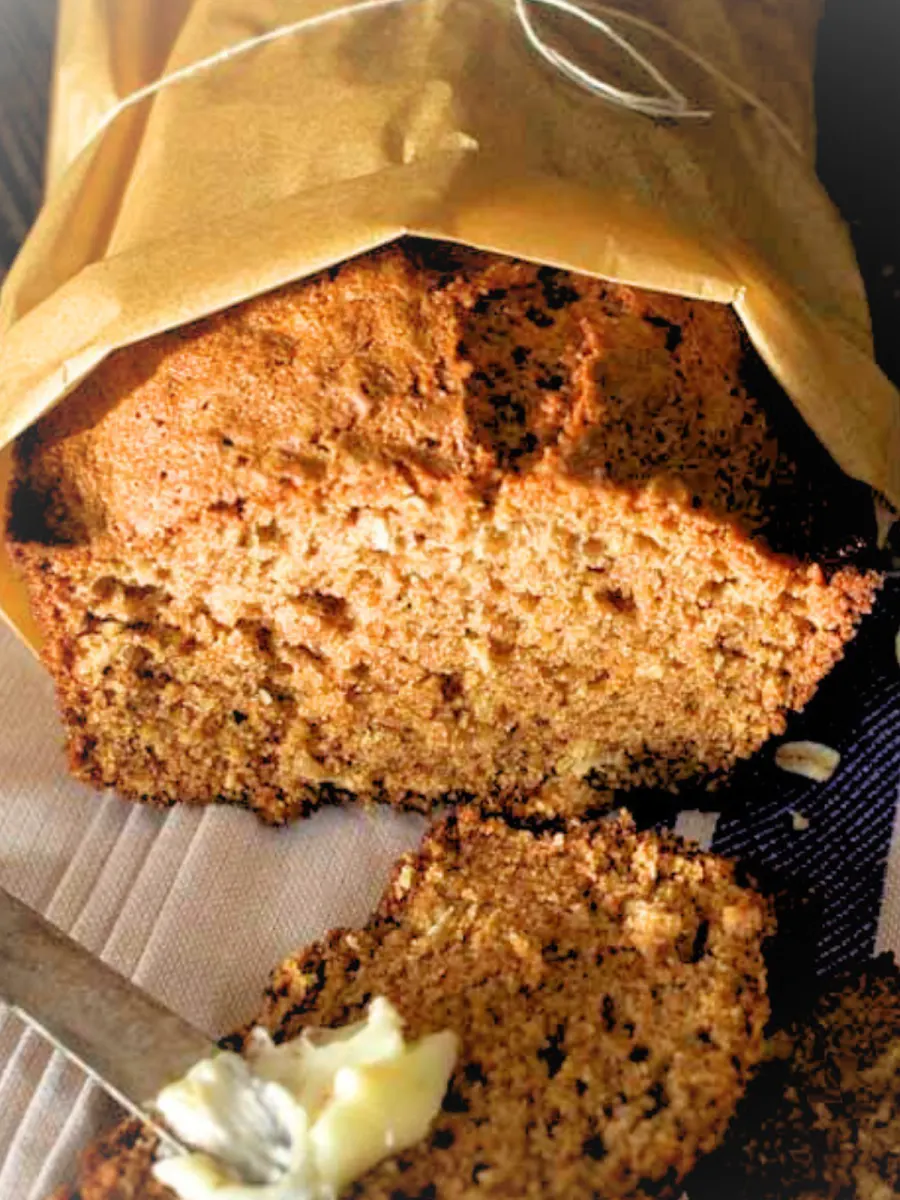 Variations – Make it your own!
It's so easy to make this into whole different bread. Add chopped walnuts, chocolate chips, raisins, and chopped pecans.
Add a crumb topping (streusel) like we did with our Pumpkin Apple bread. It adds a delicious crunch and great flavor.
Make applesauce muffins. This delicious muffin making it an easy breakfast or snack.
How to make Applesauce Oatmeal Bread
Step 1: Preparing the Bread Batter: First things first, preheat your oven to 350°F (175°C) and grease a loaf pan with a little bit of oil or butter or even just a spritz of non-stick cooking spray. Now, let's start making the batter!
In a medium-sized mixing bowl, combine (dry ingredients) the flour, baking soda, baking powder, salt, cinnamon, allspice, and nutmeg. Give it a gentle whisk to ensure all the ingredients are well incorporated.
Next, in a separate larger bowl, add (wet mixture) the granulated sugar, vegetable oil, egg, applesauce, and vanilla extract. Stir everything together until it forms a smooth mixture.
Gradually add the dry ingredients to the wet mixture, stirring gently until just combined. Be careful not to overmix, as it can result in a dense loaf of bread.
Step 2: Baking the Bread: Now that our batter is ready, pour it into the prepared loaf pan. Use a spatula to even out the top and make sure it spreads evenly.
Place the loaf pan in the preheated oven and bake for approximately 50-60 minutes. To check if the bread is done, insert a toothpick into the center. If it comes out clean or with a few crumbs, it's ready!
Once baked, remove the bread from the oven and let it cool in the pan for about 10 minutes. Then, transfer it to a wire rack to cool completely.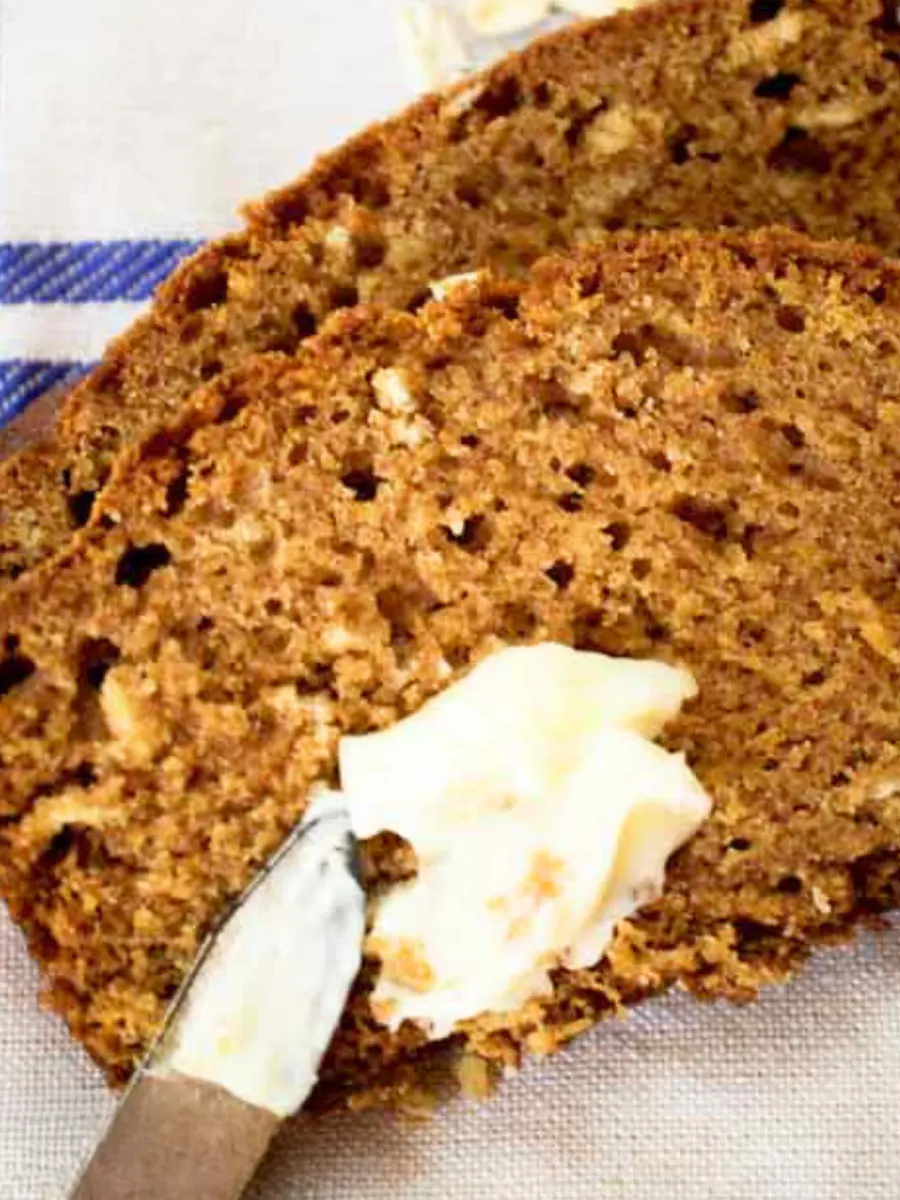 Storage Tips
Here's the best way to store this mouthwatering treat, ensuring it stays fresh and delicious for as long as possible.
Completely Cooled Loaf: Once you've taken the applesauce bread out of the oven, allow it to cool completely on a wire rack. This step prevents condensation from forming inside the storage container, which could make the bread soggy.
Airtight Container: To maintain the bread's moisture and prevent it from drying out, store it in an airtight container. A resealable plastic bag or a tightly sealed food storage container would work perfectly for this.
Room Temperature: If you plan to consume the bread within 1–2 days, storing it at room temperature is ideal. Just make sure the room is relatively cool and dry. Placing it in the pantry or on the kitchen counter away from direct sunlight should do the trick.
Refrigeration (for longer storage): If you think it will take longer to finish the bread or if the weather is particularly warm and humid, consider refrigerating it. Wrap the bread in plastic wrap or aluminum foil before placing it in the fridge. This helps retain its moisture and flavor while also preventing it from absorbing any odors from the fridge.
Freezing (for extended storage): For longer-term storage (up to 3 months), freezing is the way to go. Ensure the bread is completely cooled before wrapping it tightly in plastic wrap or aluminum foil or place it in a freezer bag. You can also slice the bread before freezing to make it easier to thaw individual portions.
Thawing Frozen Bread: When you're ready to enjoy your frozen applesauce bread, simply take out the desired number of slices and let them thaw at room temperature for a few hours or overnight. You can also reheat individual slices in the microwave for a warm after-school snack.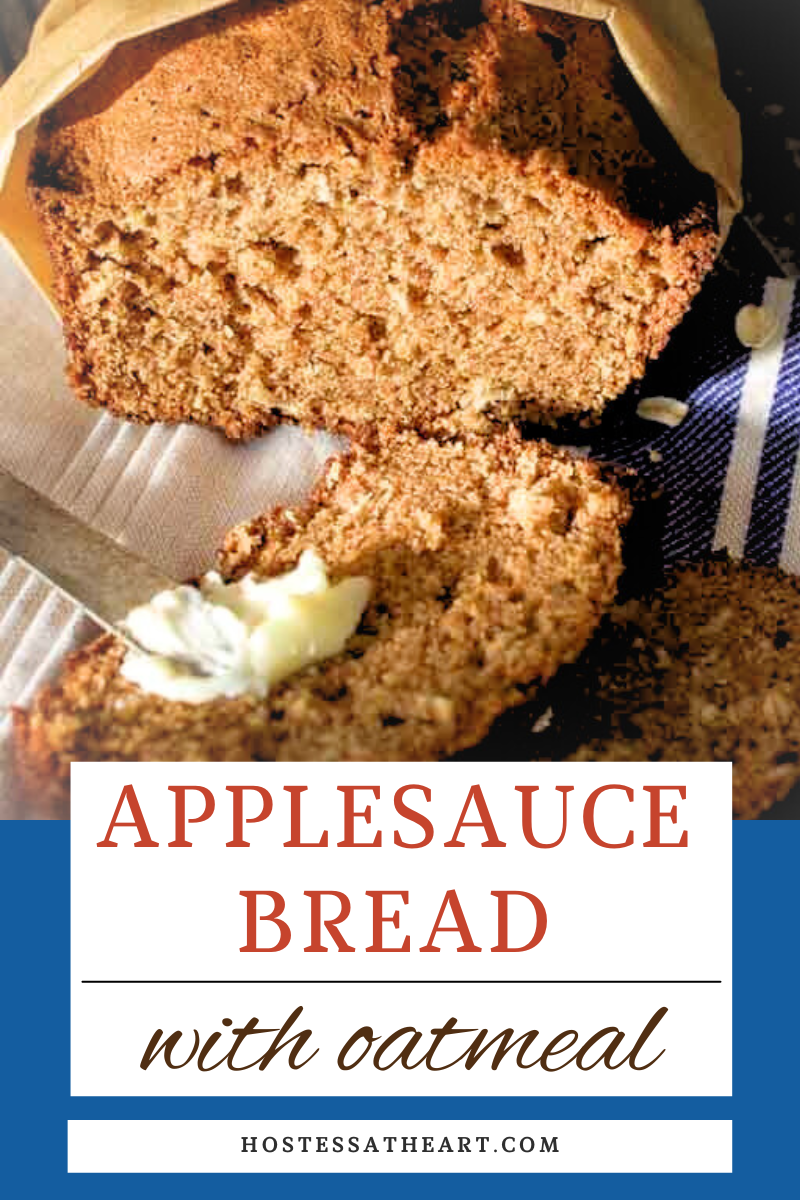 There you have it. I hope you enjoy this simple recipe for Applesauce Bread. It's a wonderful way to enjoy the flavors of apples and spice in a homemade treat. Here are a few more recipes you may enjoy:
My husband and I ate the whole darned thing. We ate it for breakfast, lunch, and dinner. It was moist and just sweet enough.
I hope you enjoyed this delicious recipe as much as we do. Drop me a comment below, and don't forget to give it a star rating. ⭐⭐⭐⭐⭐. Your comments and ratings help others decide if this recipe is for them too.
This Oatmeal Applesauce Bread Recipe was originally shared on July 14, 2014 so it was due for an update. I've included tips to help you make this beautiful aromatic bread.
This recipe was originally made as a part of a challenge for the "Bread Bakers" group hosted by Kids and Chic, and our challenge was to create a bread using "oats".
What is Bread Bakers?
It's a group of bread loving bakers who get together once a month to bake bread with a common ingredient or theme. You can see all our of lovely bread by following our
Bread Bakers Pinterest Board
. Links are also updated after each event on the
Bread Bakers home page
.
If you are a food blogger and would like to join us, just send Stacy an email with your blog URL to [email protected].
Oatmeal Bread Recipes
I would like to dedicate this post to Selma who lost her battle to cancer on July 4th, 2015. Selma also loved baking bread and was a talented baker, friend, mother and so much more. She had a sourdough starter that she called "Twinkle". Selma sent me some of this starter that I cherish and will be featuring in a future post.