Soft and tender Banana Blueberry Muffins are lightly sweet with a burst of fresh blueberries in every bite. This homemade muffin recipe is quick and easy to make and is perfect for breakfast or a delicious treat when you're looking for something to hold you over until dinner.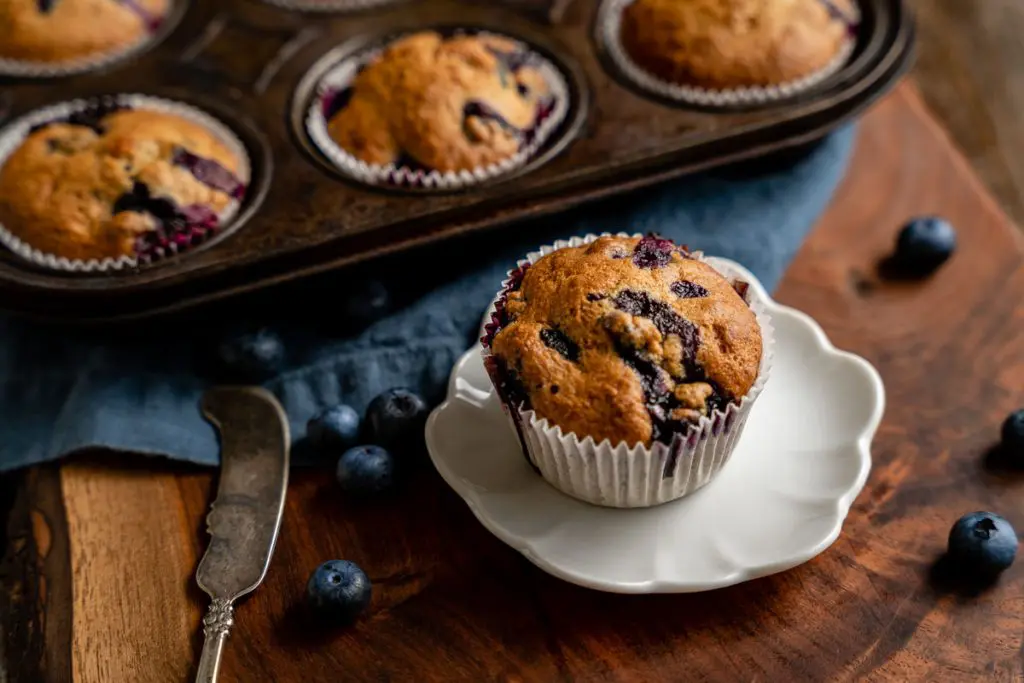 These Banana Blueberry Muffins with Applesauce aren't missing a thing in the flavor department What they are missing is added fats (oil or butter) and dairy.
I've been on a serious homemade muffin kick lately. It's no secret that I love making easy muffin recipes. One of the recipes that have just blown up the blog this year is my Homemade Muffin Recipe.
So when I have ripe bananas one of the first things that I think of is making muffins or our Banana Bread with Applesauce.
Adding blueberries to our Banana Blueberry Muffin recipe made these muffins less about the banana flavor and more of a smooth berry-forward muffin. Banana Blueberry recipes is one of my favorite combinations.
Blueberry Banana Muffins Recipe Ingredients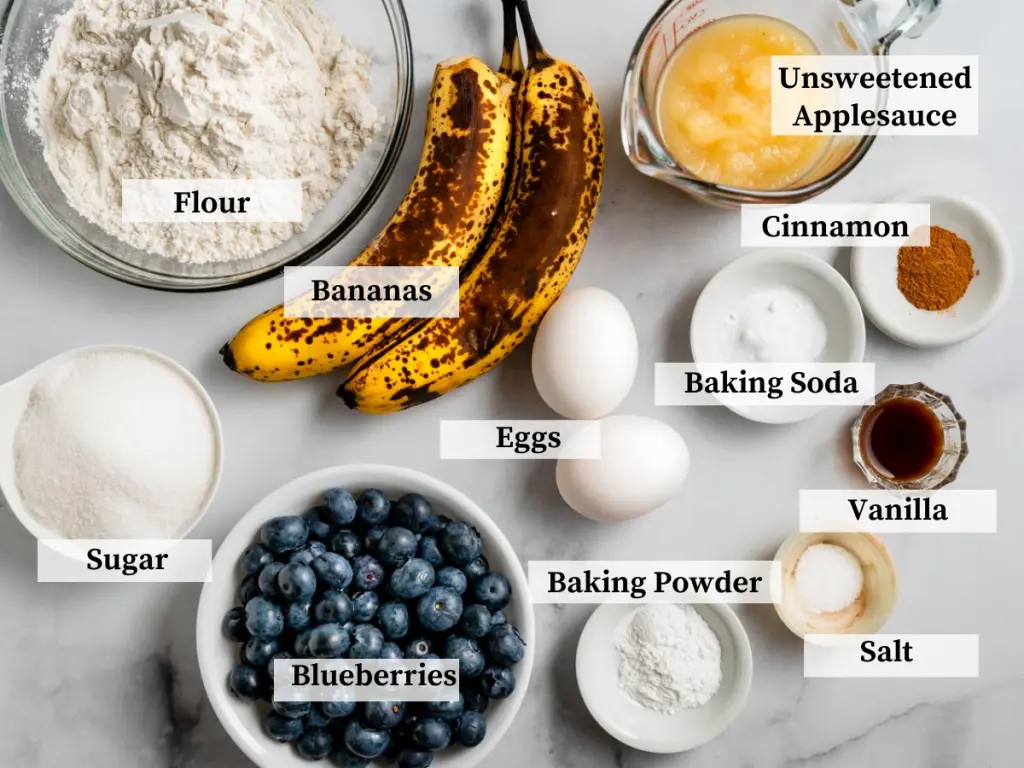 All-purpose flour. Scoop and level method
Baking powder. When is the last time you replaced yours? It needs to be fresh, less than six months old.
Baking soda. Used for leavening to give the bread a good rise.
Cinnamon
Salt. We used kosher or fine sea salt in our baking which dissolves easier than a coarser salt.
Bananas – This banana muffin recipe takes 2 bananas. There's no need to measure.
Blueberries. We prefer fresh. Frozen may be used. Just mix them into the batter no need to thaw.
Eggs. We use grade A large in all our baking for consistency.
Sugar. White granulated Sugar.
Unsweetened applesauce. Adds moisture and flavor to our banana blueberry applesauce muffins without added oil or butter.
Tip: If you need to know how to test your baking powder and baking soda to see if it's still potent, refer to our Baking Basics. It will also explain the differences in flour scooping techniques.
Ingredient Variations
You can replace some of the all-purpose flour with whole wheat flour. We recommend no more than 1/3 whole wheat or 1 cup all-purpose flour and 1/2 cup whole wheat flour. If you increase the whole wheat ratio, the muffins will still be delicious but tend to be somewhat dense.
Add nutmeg, cloves, or ginger in addition to the cinnamon. We recommend no more 1/4 teaspoon of each.
Feel free to add chopped nuts or dried fruit such as raisins. We recommend approximately 1/4 cup.
How to make Banana and Blueberry Muffins
Preheat the oven and grease or line two muffin tins with liner paper.
In a large bowl, combine mashed bananas, applesauce, eggs, vanilla, and sugar.

In a medium bowl, combine flour, salt, cinnamon, baking powder, and baking soda. Whisk together.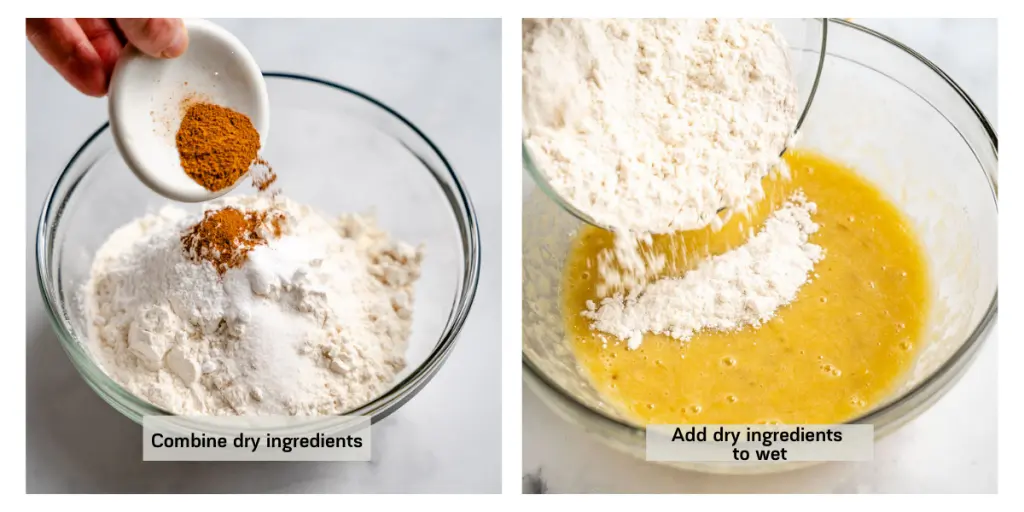 Add dry ingredients to the wet ingredients. Mix until just combined. Fold in the blueberries.

Fill the muffin tin.
Bake
HOW TO MASH BANANAS

Use your mixer, a potato masher, or a fork to mash up the bananas. If you leave the bananas lumpy, you'll have small lumps of banana in your bread. I like to over-mash my bananas and combine them with the applesauce for a smooth consistent texture, but I know some people love little banana chunks so it's up to you.
HOW RIPE SHOULD BANANAS BE FOR BANANA MUFFINS?
Bananas are almost never too ripe for banana bread. They are nicely sweet as soon as they have little brown spots. As the spotting increases and the fruit softens the banana gets sweeter. Even when the skin is almost solid black, the banana can still be used for this homemade banana bread recipe. I don't throw out bananas unless they have started molding.
Once our bananas get ripe, I'll put them in a bag into the freezer. We're bananas for bananas in baking, and we love keeping them on hand,
HOW TO RIPEN BANANAS QUICKLY
If your bananas are still green, you can use this trick to ripen them fast and reap all the benefits of flavor and sweetness of a ripe banana without the wait. Bake at 300°F for fifteen to twenty minutes, until the peels are almost black all over, with just a very thin stripe of yellow remaining in the middle. For more tips on ripening bananas fast read this post.
FAQ's
Can you use frozen blueberries in this blueberry banana muffin recipe?
Yes, you can! While you can use fresh blueberries in this recipe, frozen blueberries also work well.

The skin on frozen berries can become soft and when baked melt into the batter. Fresh berries will stay more intact as they bake so you'll get that burst of fresh berries when you bite into them.
How do you stop blueberries from sinking in muffins?
Lightly coat the blueberries in flour and just fold them into the batter until they're mixed. Or

Put ⅓ of the batter into the muffin cups before you add the berries. Stir the berries into the rest of the batter. Spoon it on top of the partially filled muffins. We've made this recipe using this method and just filling the muffin tin. Personally, it didn't make that much of a difference.
How do I keep my muffins from sticking to the paper?
Since these muffins are fat and dairy-free, they will have a bigger chance of sticking to the muffin liners.

Our first recommendation is to use silicone or non-stick muffin papers. Cheaper muffin papers don't release as well.

You can line the muffin tin with liners and then give them a quick spray with non-stick cooking spray or just grease the muffin pan without papers.

Lastly, let your banana blueberry muffins cool before removing the liner. The muffins often shrink and will contract from the liner.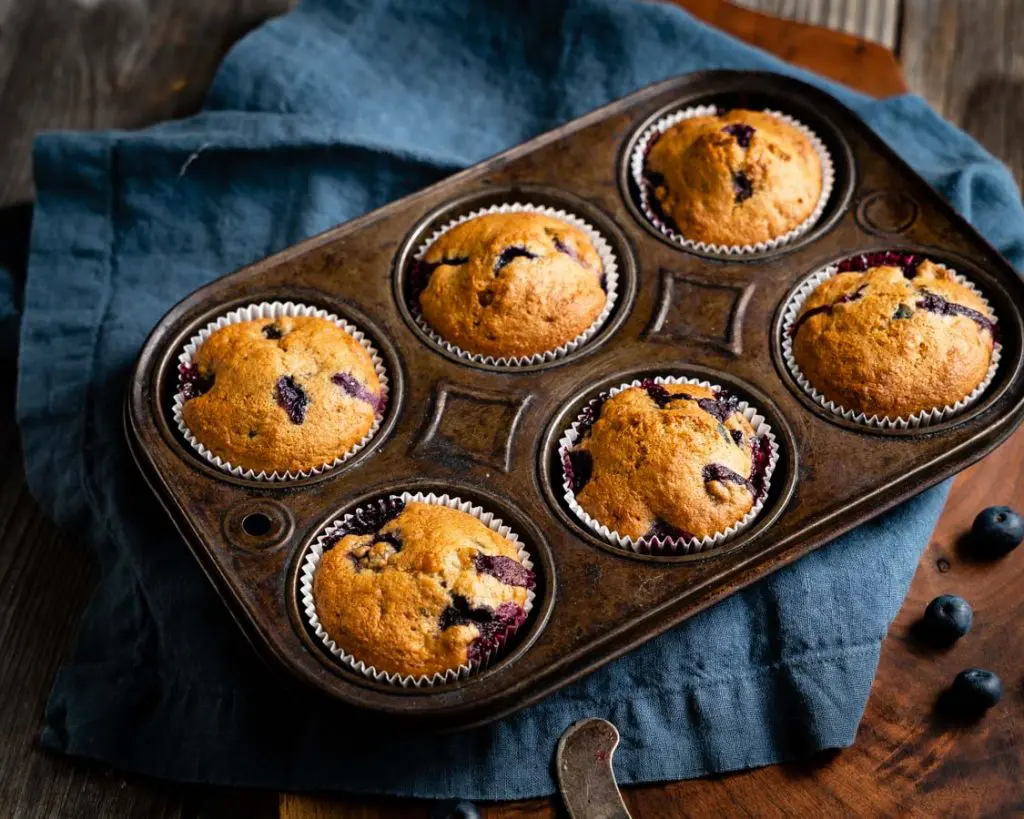 Tips for the perfect Blueberry Banana Muffins
You can mix these muffins by hand or use an electric mixer. The secret to good muffins is to mix the wet ingredients separately from the dry ingredients so they're not overmixed. . Doing so will create a hard, dense, or dry muffin.
Use a potato masher to mash the bananas. We found that mashing them with the applesauce works well.
Using room temperature ingredients will assure that your muffins are light and fluffy. If you don't have time to pull ingredients out of the refrigerator a couple of hours ahead (and who actually remembers to do that?!), here are some tips. To take the chill off of the egg, submerge it into warm water (not hot) food 5 minutes.
Don't be tempted to overfill the tin. We filled ours 2/3 to just under 3/4 full.
Fill the muffin papers and get them into the oven as soon as you can after making the batter. As soon as the ingredients are combined, the chemical reactions start that helps your muffins rise. If you wait your muffins can lose some of their ability to rise.
Don't over bake this muffin recipe. We check bakery about 5 minutes before the minimum time is up. Once a toothpick inserted into the center comes out with just a few crumbs they're done.
STORING YOUR HOMEMADE MUFFINS
Muffins can be stored at room temperature or in the refrigerator in an airtight container for 3 to 5 days if you actually have leftovers!
These Banana and Blueberry Muffins freeze well for up to 3 months in an airtight container.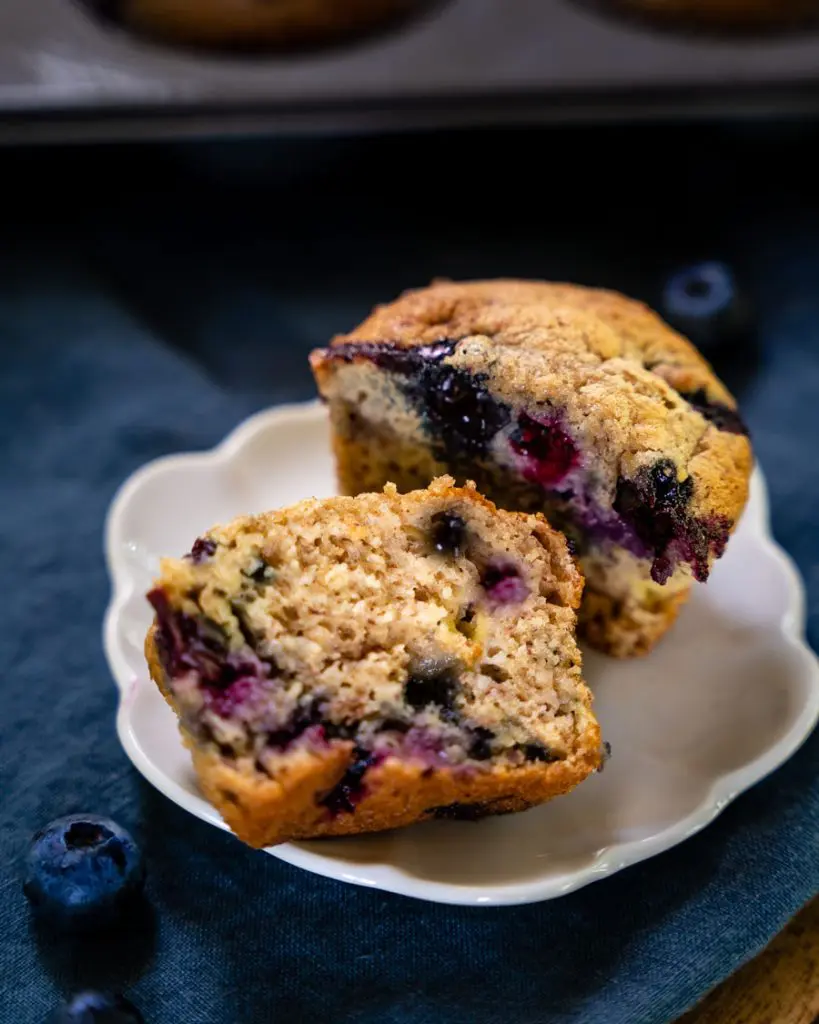 BAKING TOOLS YOU MAY NEED
Hostess At Heart participates in affiliate programs. As an Amazon Associate, I earn a commission from qualifying purchases. Please refer to my disclosure page for more information about these affiliate programs.
12-cup Non-stick muffin pan – I love these muffin pans and have three of them so I can get them all filled and baked at once. They're great for egg cups too!
Muffin Liners – Not all muffin cup liners are created equal. We learned that the hard way. Choose a grease-proof, non-stick liner.
Scoops – This scoop which is the perfect size for scooping ice cream, muffins or large cookies.
Pin this amazing Banana Blueberry Muffins Recipes!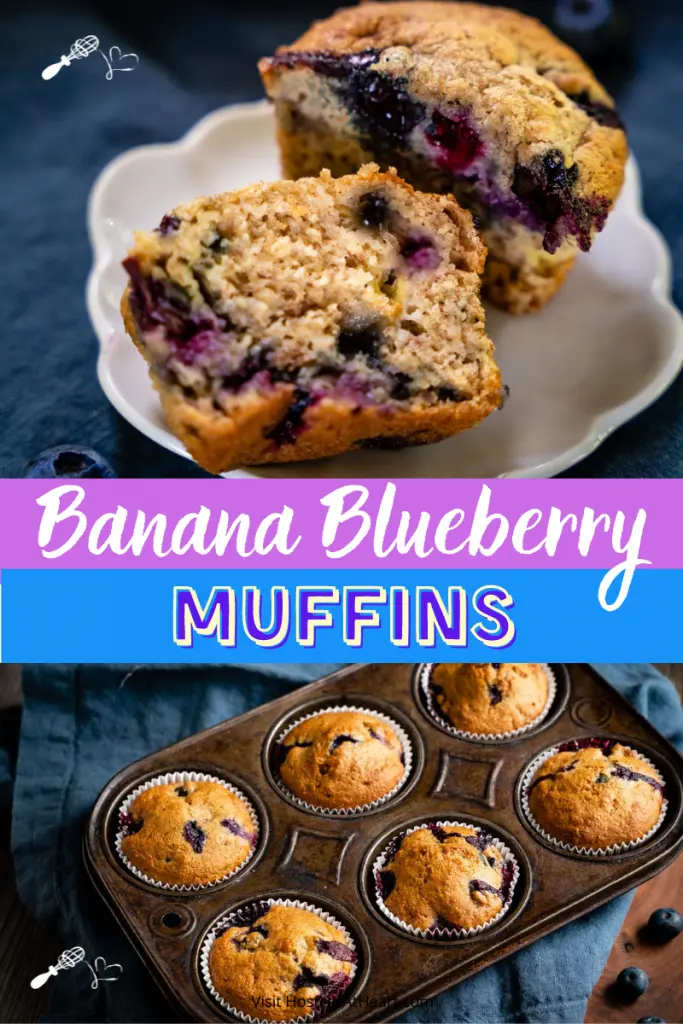 If you enjoyed these Blueberry Muffins with Applesauce, you may like these recipes too.
If you still have a few fresh blueberries, just search this site by typing in blueberries. Some of our most popular recipes include our Puff Pastry with Blueberries, Salmon Salad with Blueberries, and our Blueberry Hand Pies.
If you like this recipe, we would appreciate your comment and a 5-star ⭐️⭐️⭐️⭐️⭐️ review!