Cherry Almond muffins are naturally sweet with a smooth almond flavor. These Cherry muffins with almond flour are very moist, tender, and delicious.
We are muffin lovers. I love having baked from scratch muffins for any meal of the day, and Cherry Almond Muffins with Almond Flour is a great choice for guests with special dietary needs.
This recipe was originally published in 2020 so it was time for an update. I've added some instructions and tips that I believe will make it easier to follow. No changes were made to the actual recipe.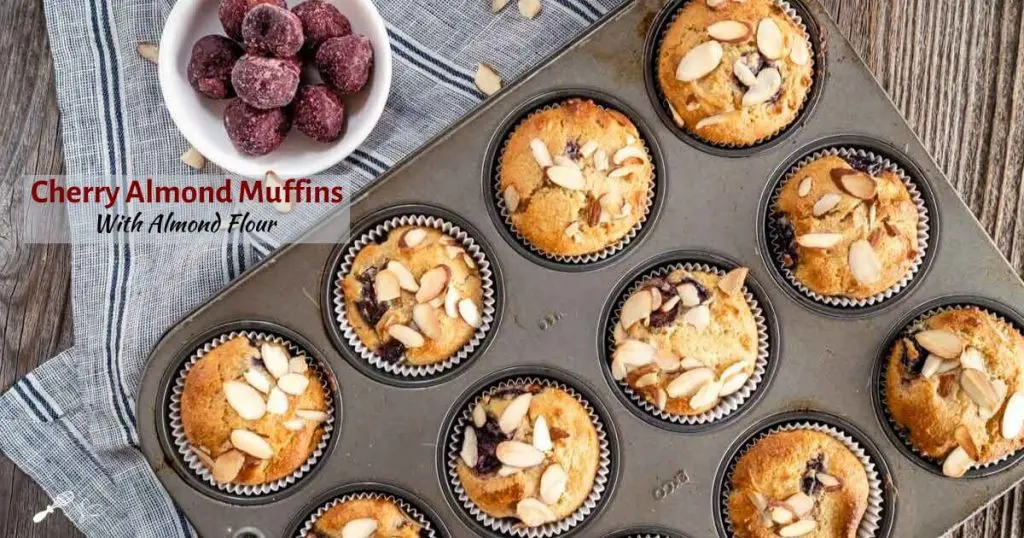 Baking with almond flour isn't difficult. With a few tips, these delicious Cherry Almond muffins can be on your table ready to be enjoyed. They're also a delicious alternative for gluten-sensitive people.
I set out to make a delicious cherry almond muffin with almond flour. What I got was a gluten-free, lower-carb muffin that's absolutely delicious!
Does baking with almond flour scare you? Don't let it. with the following tips, these FEAR FREE Cherry Almond muffins with almond flour can be perfected in your own kitchen in a jiffy.
This post is sponsored by Thrive Market but the opinions here, and the love I have for their products and their story are all my own.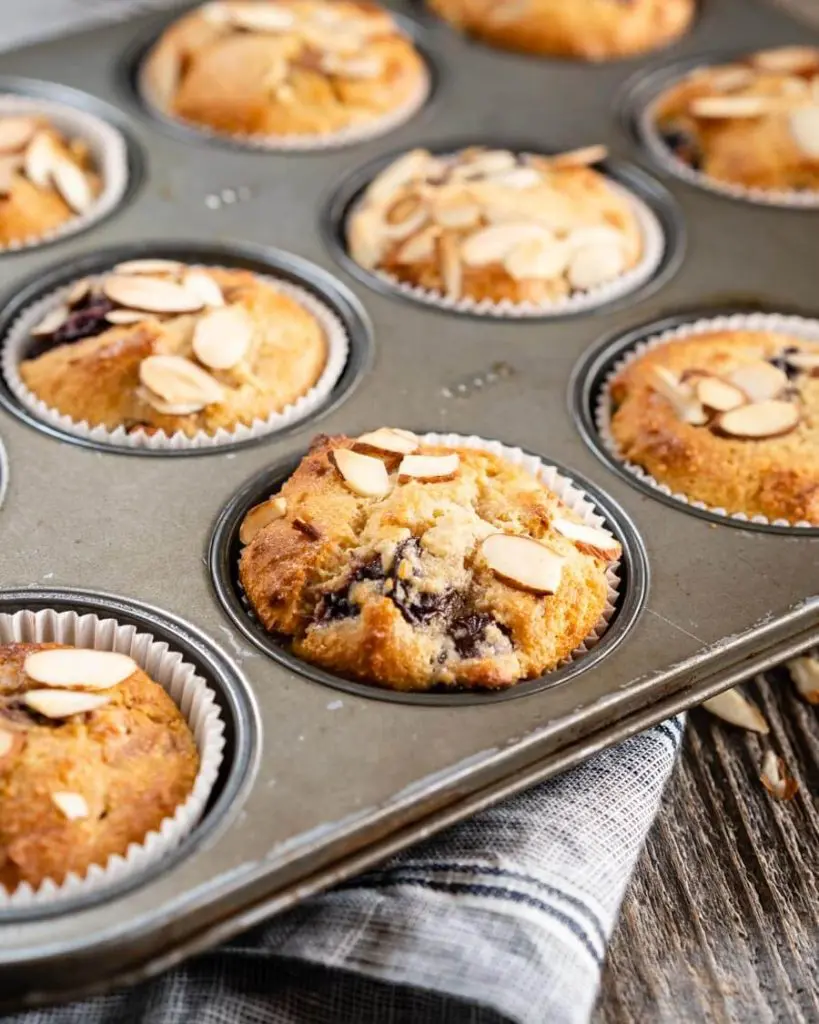 Why bake with almond flour?
There are several reasons why almond flour makes a great ingredient to bake with including:
It's incredibly nutritious. Almond flour is rich in vitamin E and magnesium which are two important nutrients for health.
It's a wheat-free and gluten-free so people that are sensitive to gluten can eat recipes containing almond flour. Note it's important to check the packaging to make sure the flour is not contaminated with gluten.
Almond flour is low in carbohydrates and high in good fats and fiber which is important for individuals that watch their blood sugar. Healthy gluten-free Cherry Muffins can be a delicious alternative.

The extra fat in almond flour extends the shelf-life of your muffins by up to 3 days!
You can read about the health benefits of using almond flour from healthline.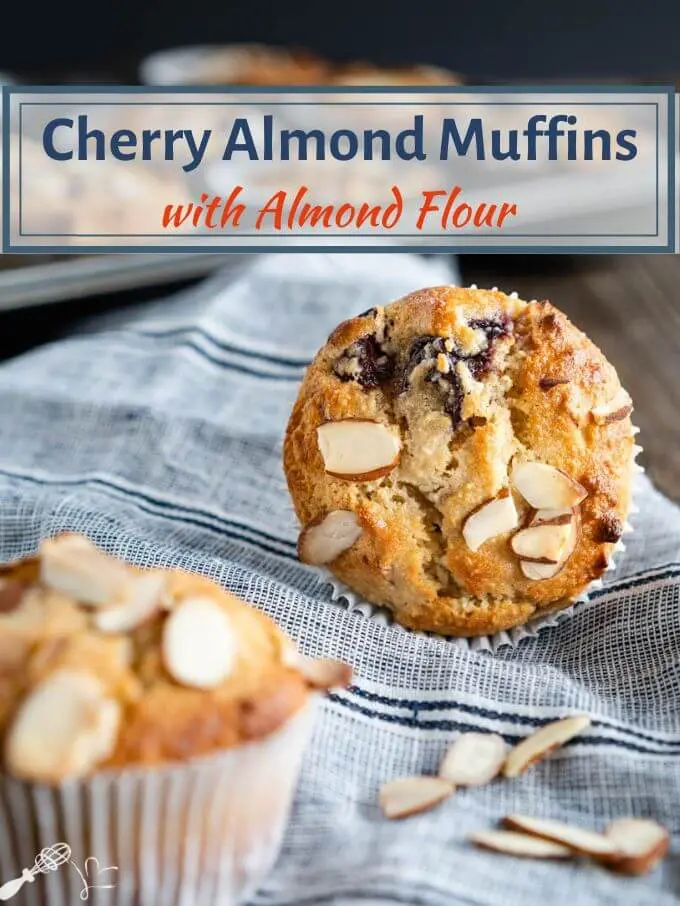 How to substitute almond flour for all-purpose flour
In some recipes, you can substitute almond flour and all-purpose flour at a 1:1 ratio. King Arthur Flour states to add 1/3 cup to recipes that use yeast per cup of wheat flour or 1/4 cup (25%) for non-yeast bakery.
Baked goods that use almond flour can be flatter and denser because they don't contain gluten which is what helps dough stretch and traps more air, which helps baked goods rise.
To make up for the gluten, some bakers add Xanthan Gum which is a fine-ground powder that becomes gelatinous when combined with a liquid. It can help with making the texture less dense.
You can also increase the protein by adding an additional egg that will provide structure. This is what I did for these gluten free cherry almond muffins because Xanthan Gum isn't an ingredient the average baker has in their pantry.
As you can see these Cherry Almond Muffins aren't flat.
Cherry and Almond Muffin Ingredients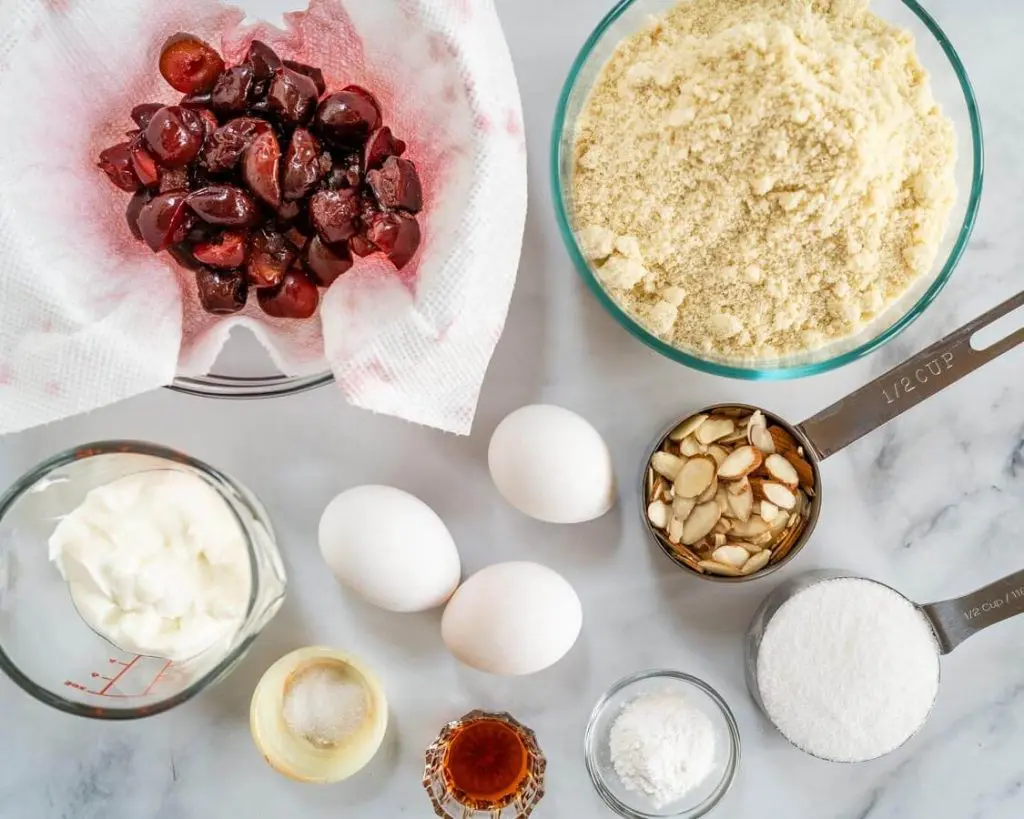 Cherries – we used frozen cherries. We let them thaw, chopped them, and then let them drain over a paper towel while we mixed the other ingredients.

You can use fresh cherries or even make dried cherry almond muffins.

Eggs – We use large eggs
Sour Cream – Full fat or light will work. You can substitute with yogurt as well. To make a
Baking Powder – Acts as a leaven in this recipe
Vanilla extract – I use pure organic vanilla extract. You could use imitation. Almond extract would be a great substitution too.
Salt – a little salt brings out the sweetness of the other ingredients.
Almond flour – blanched
Sugar – I used white granulated sugar.
Sliced almonds – In the muffins and as a garnish.
How to make Cherry Muffins with Almond Flour
Combine dry ingredients and whisk them together.
Combine wet ingredients and whisk until blended.
Add the wet ingredients to the dry ingredients. Stir only until combined.
Fold in cherries and almond slices.
Fill muffin cups 3/4 full.
Garnish with almond slices.
The batter is thick. Don't add additional liquid!
Bake until a toothpick or cake tester comes out with light crumbs.
Cool in the pan.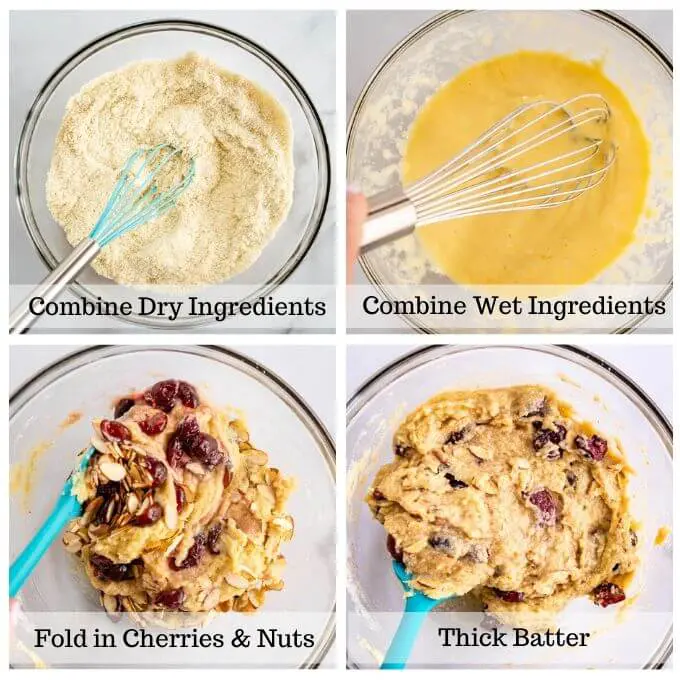 The muffin batter is thick. However, almond flour is a very moist ingredient so I resisted adding additional liquid. I'm glad that I did because these muffins baked up moist and tender.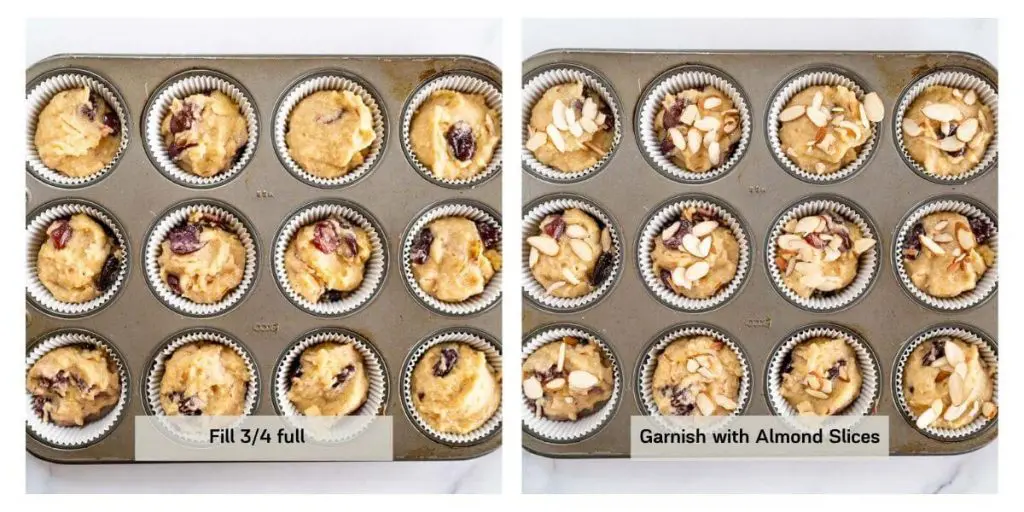 Where to buy almond flour
I chose to buy my almond flour from Thrive Market. Here are just a few reasons why:
Certified Gluten-Free
Gluten-Free
Paleo
Vegetarian
Vegan
I use blanched almond flour. What is Blanched Almond Flour? Blanched means that the almond skin has been removed from the nut.
Here's a little more information about Thrive Market and why I'm really excited to work with them.
Thrive Market is a company that has high standards. These standards are evident in their core principles.
Consumer Conscious – Gives the consumer access to organic and non-GMO food, beauty, and home products.

All of their products are vetted to ensure it meets the highest standards in the industry.
Savings average $32 per order compared to other stores.
Your membership allows you to shop by over 70+ diets and lifestyles.
Offer 30-day risk-free access for all new members to make sure your membership is right for you.

Ecologically responsible – They're planet responsible by using Carbon-neutral shipping to deliver products directly to you in 100% recyclable materials.
Community values – When you join, you help sponsor membership and shopping credit for low-income families, students, teachers, veterans, and first responders.
You can give a membership as a gift and even add extra shopping credit for the recipient. I sure wish I'd known about Thrive Market when my children were setting up their own homes! I'd be making this almond muffins recipe constantly.
There are no hard sell tactics I promise. You can browse without committing or you can join with their 30-day risk-free access to make sure it's right for you.
You know I only work with companies and products that I believe in and that I truly love.
Top Cherry Almond Flour Muffins Comment
I have always been intimidated to bake with almond flour – but not anymore!! These muffins were PERFECTION!!

~ Michaela K.
Tips for the perfect Cherry Almond Muffins
Almond flour is very moist and can pack so always use the scoop and level method when measuring almond flour unless your recipe tells you otherwise such as by weight.
Use room temperature ingredients which definitely help your ingredients to blend together without clumping.
Grease the pan well. Low carb bakery tends to stick.
Almond flour browns very quickly so check your muffins at least 5 minutes before you think they'll be done. If they're not done but getting brown you can cover them with aluminum foil.
Let the gluten free almond muffins cool completely. Almond flour bakery comes together and the texture is much better upon cooling.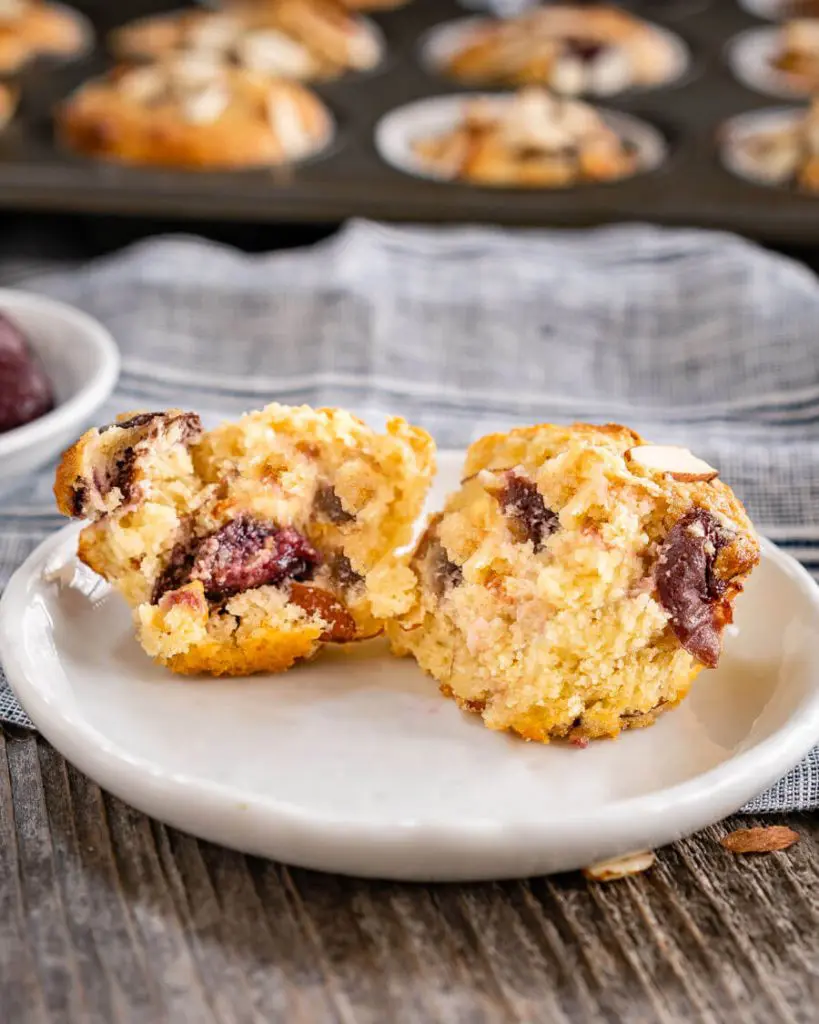 How To Reheat and Store Cherry Almond Muffins
Best Way To Store Cherry and Almond Muffins Recipe
Keep leftover muffins in an airtight container at room temperature or in the refrigerator. They may get soggy with extended storage. The muffins will keep for two or three days.
How Long Will Almond Flour Cherry Muffins Last In the Fridge?
Two or three days before they become too soggy.
Can I Freeze and Thaw the Gluten Free Cherry Muffins
Yes. If you will have plenty of leftovers I definitely recommend freezing the extra muffins in airtight containers or freezer quality plastic zip bags. Thaw for thirty seconds in the microwave.
How To Reheat Apple Cinnamon Muffins
Room temperature muffins will reheat in ten to fifteen seconds in the microwave. Frozen muffins will reheat in thirty seconds or so in the microwave. Depending on your microwave you may need to adjust these times.
Want more delicious recipes? Follow Hostess At Heart on Pinterest!
If you like this cherry muffin recipe, here are a few more recipes you may enjoy
If you like this recipe, we would appreciate your comment and a 5-star ⭐️⭐️⭐️⭐️⭐️ review!
My daughter is gluten sensitive and bakes a lot with almond flour and told me her meatballs using almond flour are amazing. Maybe she'll do a guest post for me?
Do you love baking with almond flour? What's your favorite recipe? So far, Almond Cherry Muffins is mine!
Here are a few of the items in my last order. That lavender lotion is amazing! They also have muffin liners and many of the ingredients you may need when you make your own almond flour muffins!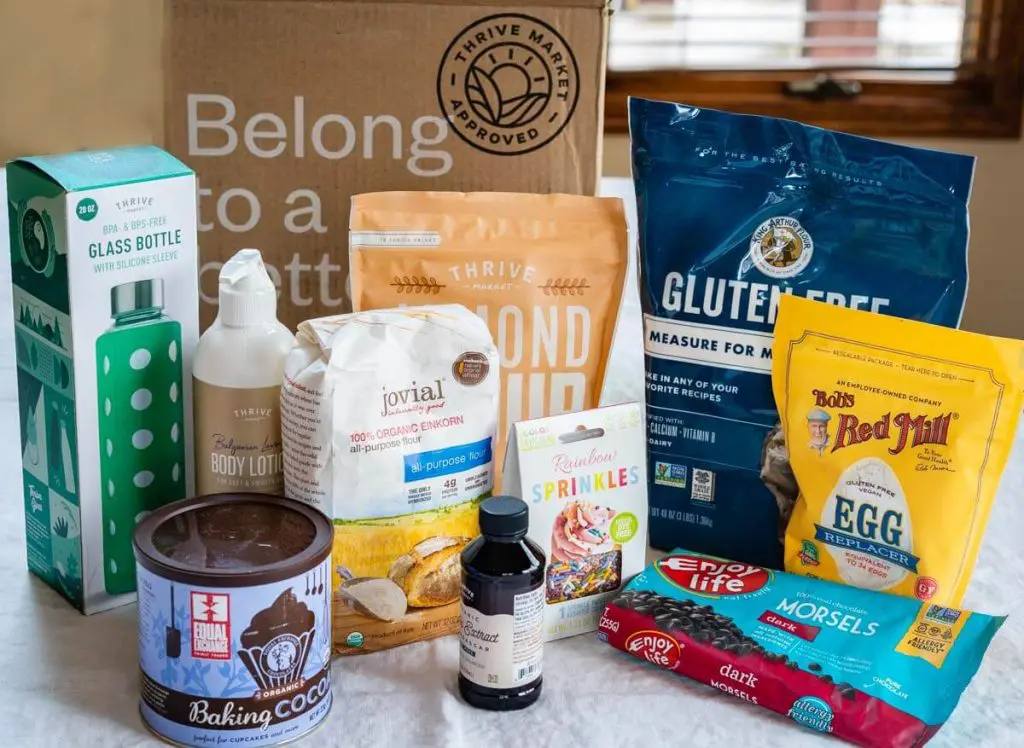 Readers favorite recipes