Rhubarb muffin recipe makes a moist sweet and tender muffin loaded with fresh rhubarb under a warm and crunchy brown sugar cinnamon streusel topping.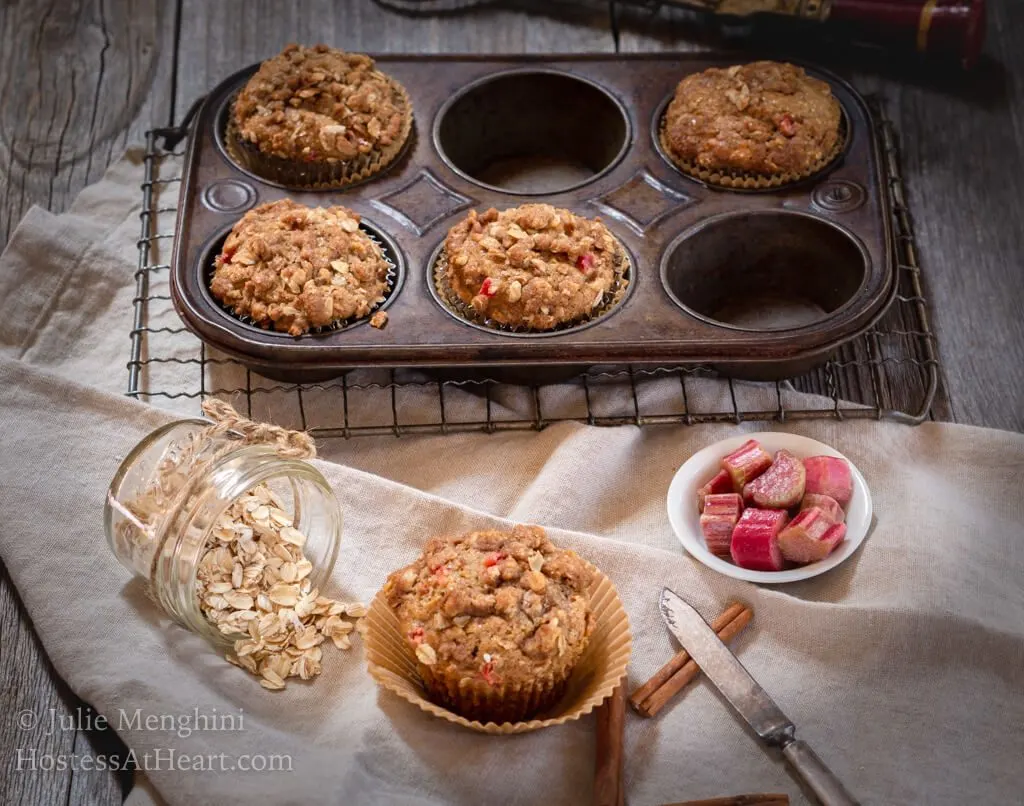 Rhubarb is one of the first things to pop up once the weather gets warmer. We love the stuff and these Rhubarb Muffins with Cinnamon Butter Crumble is one of the first things I make whenever I get my hands on some.
It's time for the Spring version of "The Freaky Friday" blog hop, and I'm bringing Rhubarb Oat Muffins with Cinnamon Butter Crumble to the party!
The Freaky Friday blog hop organized by Michaela who runs An Affair From the Heart, is a group of bloggers that are secretly assigned each others' blogs from which we choose a recipe.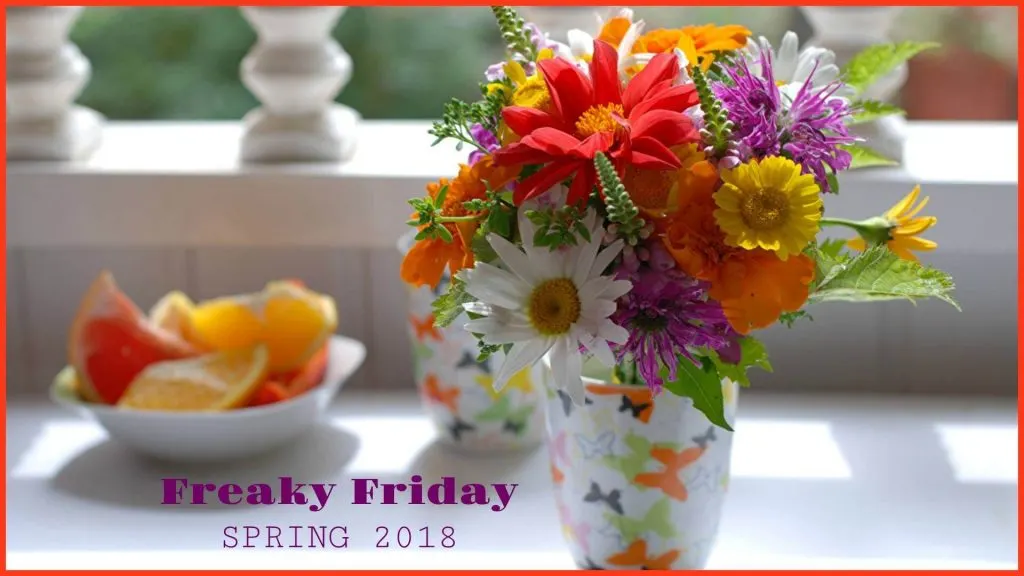 It is so much fun, and the bloggers that participate are all amazing foodies. The biggest problem I always have is picking just one recipe to post about.
This time I had the pleasure of being assigned Michele's blog "Bacon Fatte". Michele is a Minnesota gal who doesn't apologize for her use of bacon, butter, or booze.
How can you not love someone like that? Michele does an amazing job making colorful dishes for the family and some amazing entertaining cuisine.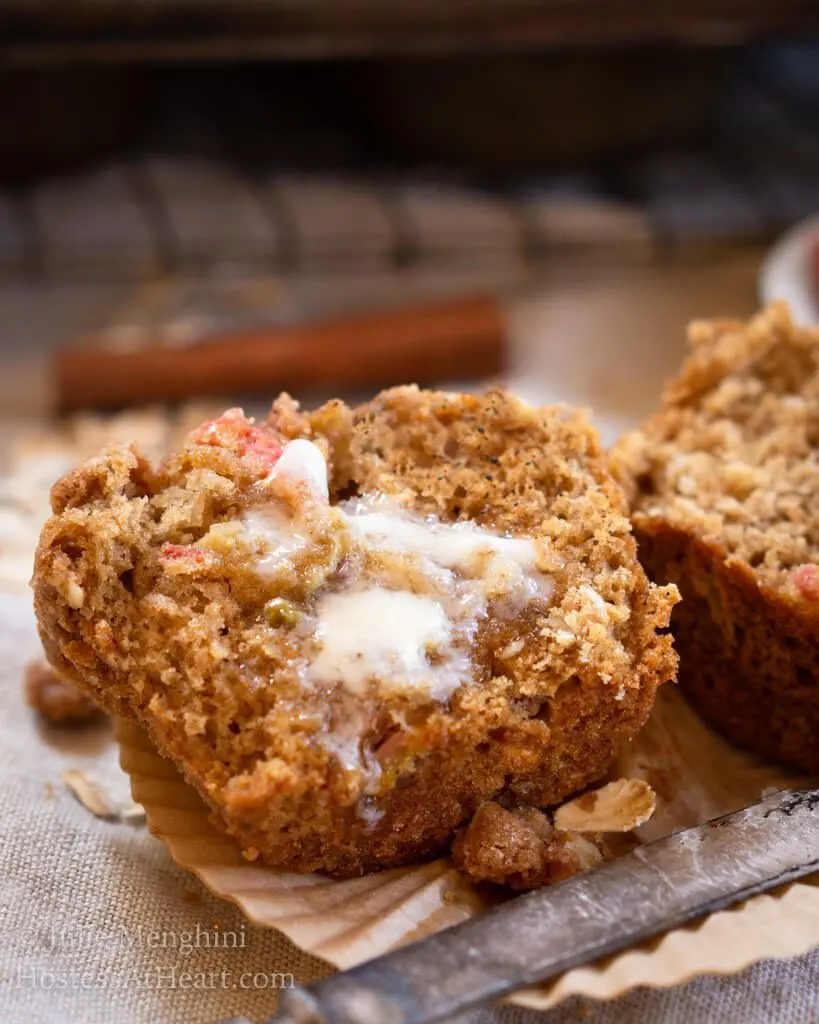 I had a heck of a task trying to decide on which recipe to make. Her Linguine con le Vongole and her New Potato Salad with Basil, Shallots, and Lemon were all contenders.
Our selection needed to be springy was the only stipulation. You know me, guess what my search gravitated toward?
Yep, bread and Michele didn't disappoint. I had my eye on her Spiced Bakery Style Ginger Pear Muffins but her Rhubarb Oat Muffins with Cinnamon Butter Crumble were the ultimate winner.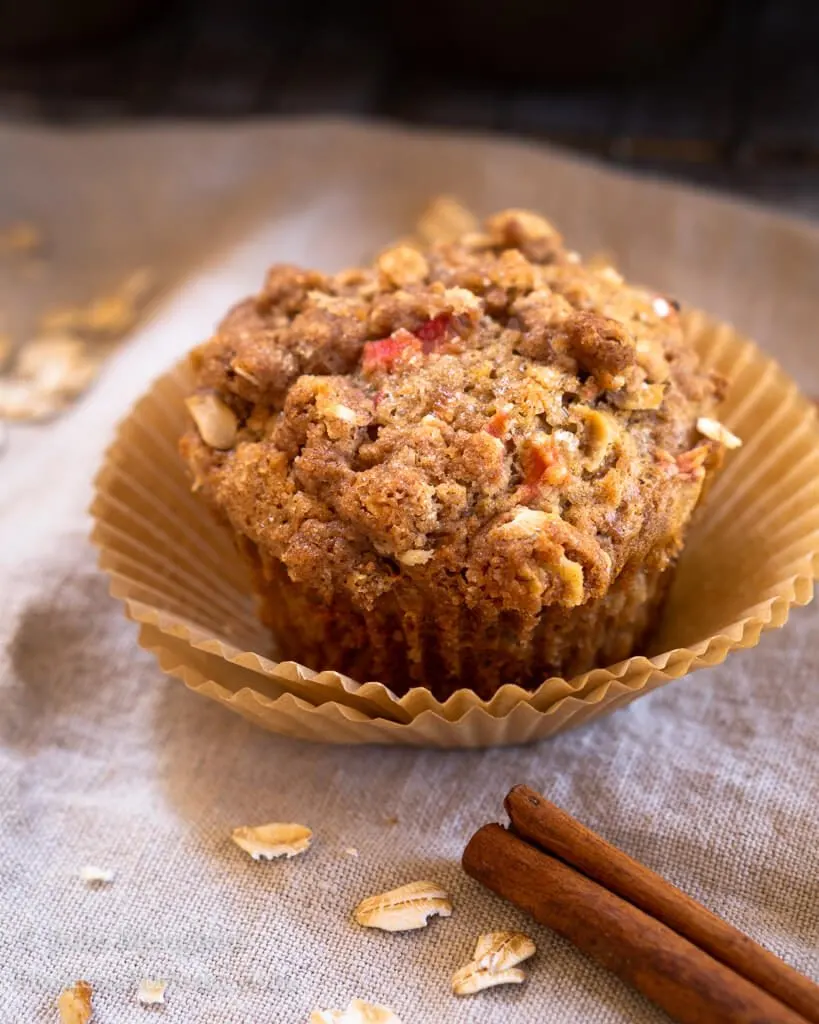 These muffins have such a beautiful contrast between the sweetened rhubarb and warm cinnamon and brown sugar.
Even though the batter is quite thick they bake up soft and tender. They're perfect with a cup of coffee for breakfast or a special treat with dinner. They're easy to put together and makes up to 24 muffins!
How to make Rhubarb Muffins
There are two steps to making these muffins. I make the Streusel top first and just set it aside. Let's start with it.
Cinnamon Brown Sugar Streusel Topping
Combine flour, old-fashioned oats, brown sugar, cinnamon, and turbinado sugar together in a small bowl.
Dice cold butter. Using two forks or a pastry cutter, cut the butter into the dry ingredients until it appears crumbly. Set aside (I put mine in the refrigerator).

Don't overwork it or it will blend together and not crumble over the muffin.
Don't use your fingers. The heat in your hands will soften the butter and break down your crumble.
Muffin Batter
In a large bowl combine the dry ingredients, flour, brown sugar, cinnamon, oats, baking soda, and salt. Whisk together until blended.
In a separate bowl combine the wet ingredients, milk, vinegar, vanilla extract, oil, and egg. Whisk together.
Add the wet ingredients to the dry ingredients using a spatula. Mix only until combined.
Fold in the rhubarb.
Assemble/Finish
Fill muffin cups 3/4 full. Sprinkle with additional rhubarb pieces and crumble. For an extra crunch sprinkle the top with turbinado sugar.
Bake
Tips for the perfect muffin
Chop the rhubarb into smaller pieces to ensure that it disperses evenly and bakes evenly.
Milk and vinegar listed in the ingredients can be replaced with buttermilk.
Don't over mix the crumble or the batter, mixing only as long as necessary. Over mixing will result in a tough muffin.
You can use frozen rhubarb. Frozen rhubarb holds a lot of moisture and should ve thawed and extra moisture lightly pressed before using it.
Turn the muffin pan halfway through baking to assure muffins bake evenly. Remove the muffins when a toothpick or cake tester comes out with light crumbs.
Let the muffins cool in the pan 10 minutes and then remove them from the pan.
It's best to use two pans but if you only have one, make sure it's cool before refilling it.
Storing Rhubarb Muffins
Muffins are best stored in a cake carrier or covered container once they're completely cool. They don't do well in a plastic bag because the crumble will become soggy. Muffins freeze well in an airtight container.
Other Rhubarb recipes that you may enjoy
Pin it

this amazing rhubarb muffin recipe!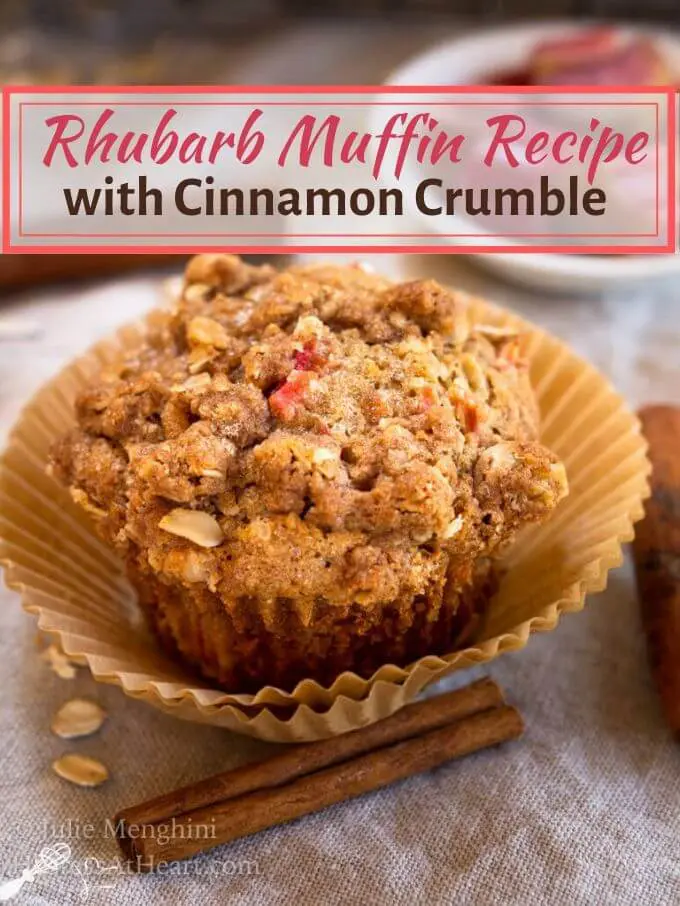 We're muffin lovers and these are some of our favorites!
I hope you enjoyed this delicious recipe as much as we do. Drop me a comment below, and don't forget to give it a star rating. ⭐⭐⭐⭐⭐. Your comments and ratings help others decide if this recipe is for them too.
Just go see for yourself all of the amazing recipes on Bacon Fatte. I'll guarantee you'll want to stay awhile. While you're at it, take a look at what these other Freaky Friday participants are cooking up!
A Dish of Daily Life – Korean BBQ Chicken Skewers
An Affair from the Heart – Everything Bagel Dip
Bacon Fatte – No Bake Strawberry Shortcake Dessert
Bowl Me Over – Best Enchilada Sauce
Hostess at Heart – Rhubarb Oat Muffins
Life Currents – French Onion Tart
Lisa's Dinnertime Dish – Tuscan Pork Sheet Pan Dinner
Mildly Meandering – Roasted Red Pepper Dip
Take Two Tapas – Mexican Beer Cheese Skillet
West Via Midwest – Reuben Totchos
Who Needs a Cape? – Raspberry Daiquiri Pie