This Apple Muffins Recipe with Crumble Topping combines mouthwatering juicy apples with warm cozy spices under a crunchy crumble topping. They're perfect for any occasion – a special event or a sweet surprise for your family.
When the apple harvest starts, my taste buds turn to baking anything with this delicious fruit. Apple pies, crisps, filling, cakes, breads, or even stuffed pork chops. I just can't get enough of it.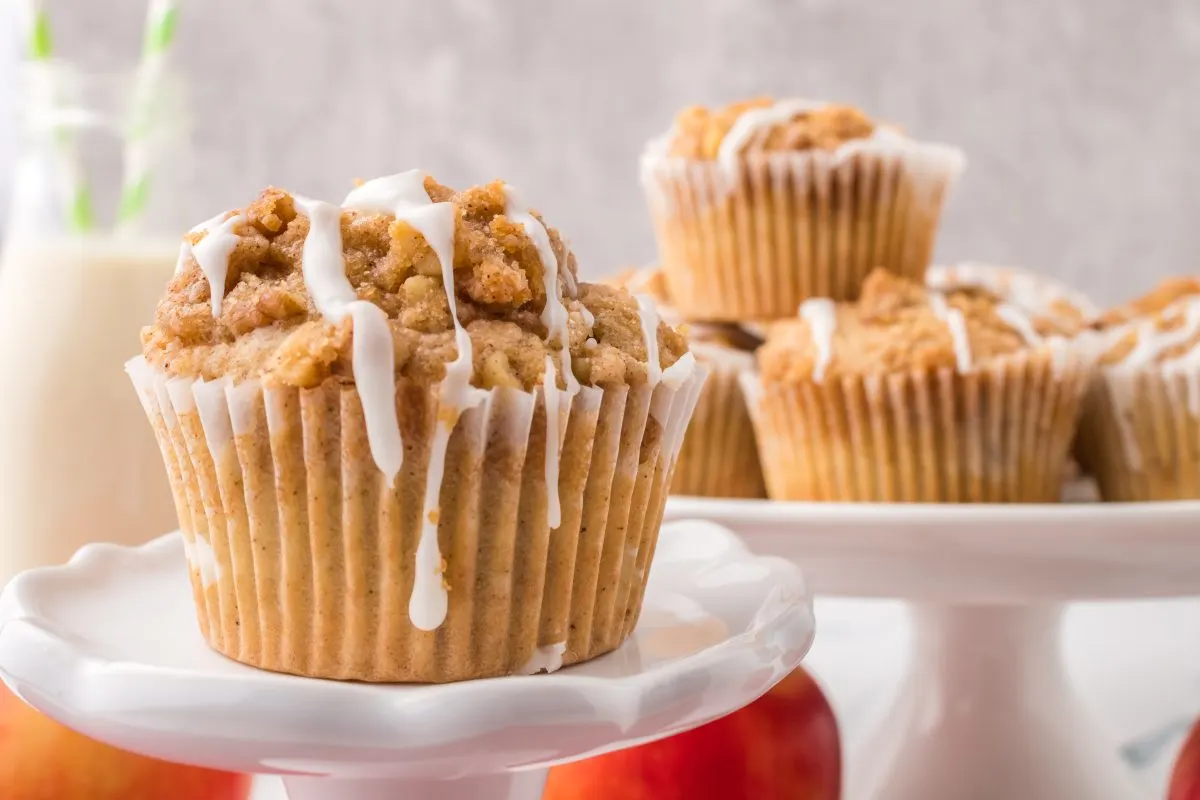 In this post, we'll guide you through the recipe step-by-step, providing tips and tricks along the way to ensure that your apple muffins turn out perfectly. So don't wait any longer; grab your ingredients and get baking!
Why You'll Love Our Apple Muffins
The flavor is incredible. My favorite thing about this recipe is how soft, sugary, and flavorful the apple muffins turn out every time!
Texture. If you love a muffin with the perfect crumb, this one is the apple muffin recipe for you. Our slightly crunchy fall-flavored muffin is going to make your day!
Easy to make. Just like any quick bread, these rich muffins come together fast.
Quick grab-and-go breakfast or snack. Take one in the car on your way to work or school. Throw one in the lunchbox for an afternoon snack. Savor one after dinner for a sweet treat to finish off the evening.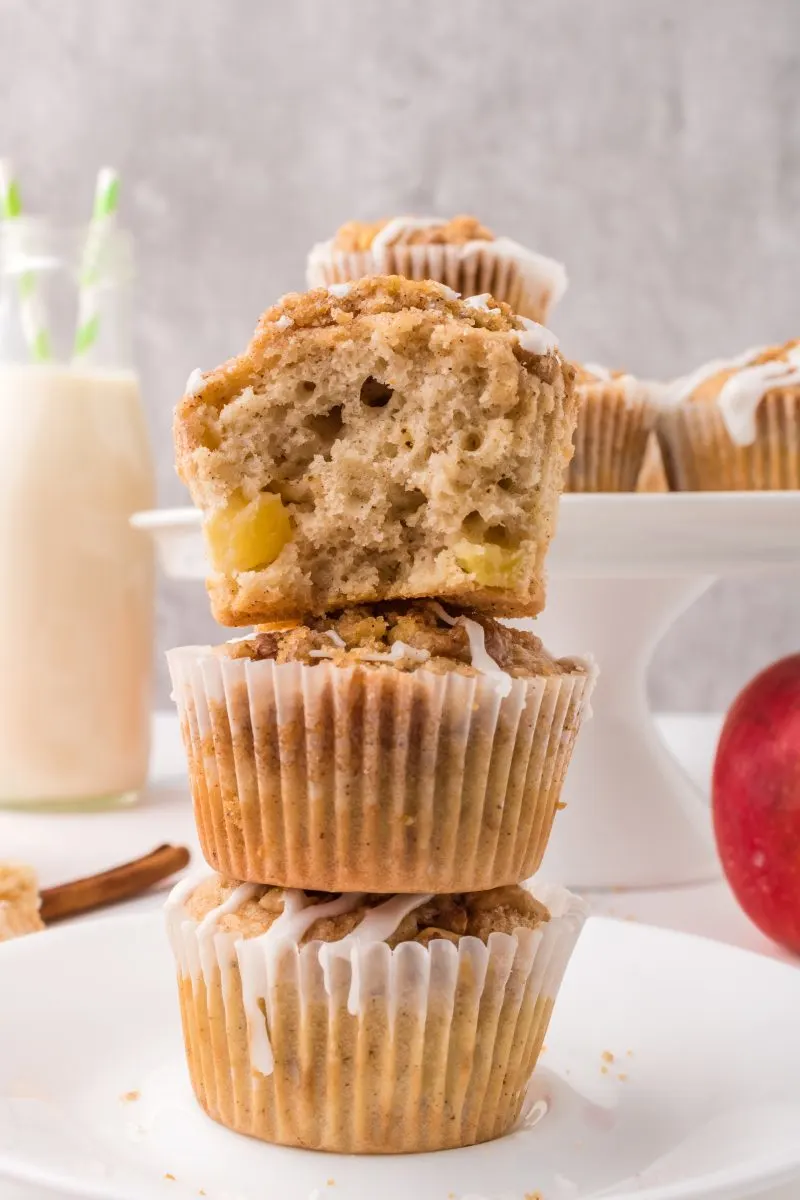 Equipment Needed
Best Apples for Baking Apple Muffins
A firm apple will bake up soft without being mushy. Stay away from Red and Golden Delicious Apples or Gala Apples.
Granny Smith. This is my go-to baking apple. They're firm and tart apples but bake up soft and delicious without becoming mushy.
Jonagold. A large, sweet apple with a thin skin. Perfect if you like to leave the skins on!
Honeycrisp. A perfectly crisp sweet and sour apple that works great for baking and is also a great snacking apple.
Braeburn. A tasty, classic, firm, and sweet apple perfect for baking.
Mutsu. Also called a Crispin apple.
Winesap. Sweet apples with a tangy finish.
Pink Lady. This apple resembles a Honeycrisp but is not as crisp or sweet raw. They are great for baking!
Ingredients you'll need for this recipe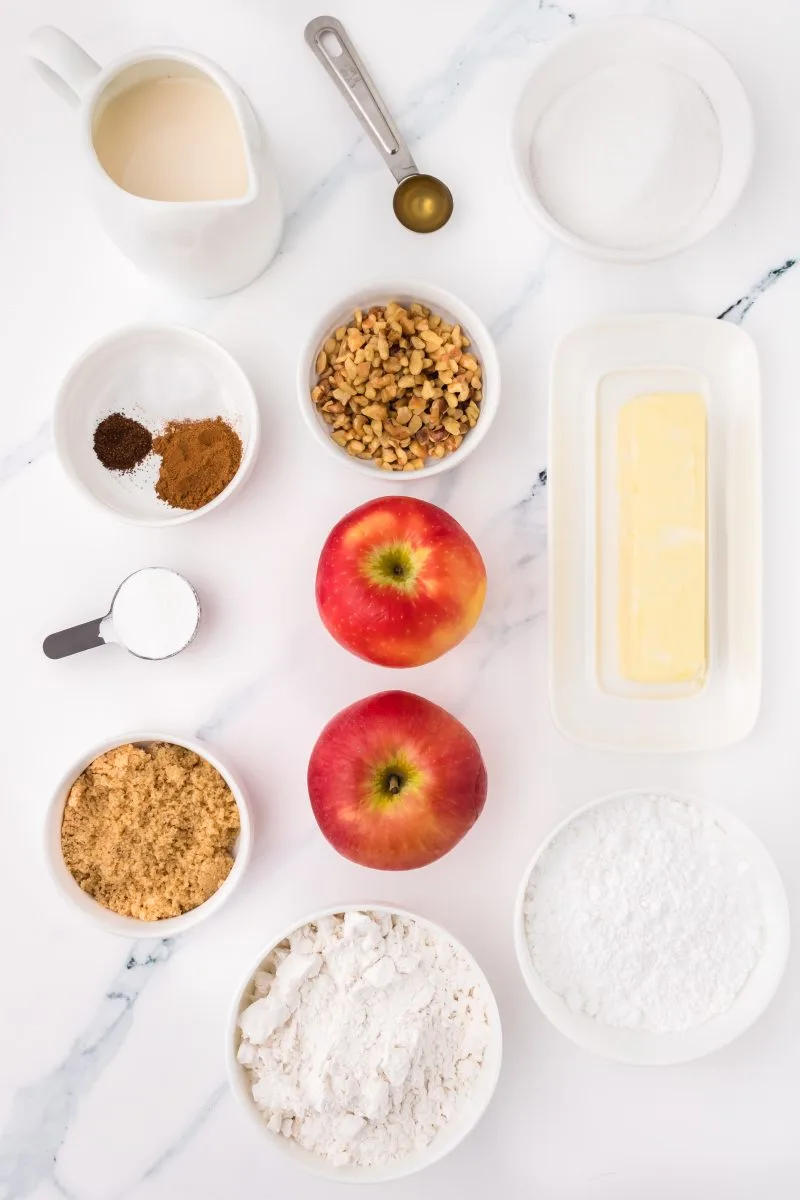 Milk. Whole milk will give this muffin a soft texture.
Apple Cider Vinegar. The acidity will act with the baking powder to provide a fluffy crumb.
All-Purpose Flour. Either bleached or unbleached.
Sugar. White Granulated sugar.
Baking Powder.
Ground Cinnamon.
Ground Cloves.
Salt. Fine sea salt is what we prefer but use any salt that you prefer to bake with.
Butter. You can use salted or unsalted butter.
Apples. See our recommendations above.
Ingredients for the Crumble Topping
Brown Sugar. Dark or light varieties are fine.
All-Purpose Flour.
Ground Cinnamon.
Butter.
Walnuts. You can substitute with another nut such as pecans or almonds.
Optional Icing
How To Make Apple Muffins
Please note, that the printable recipe card has ingredient quantities, complete instructions, and nutritional information. The following is a quick overview of the recipe.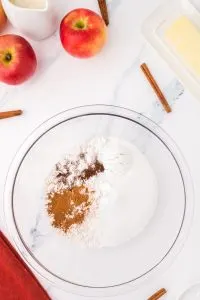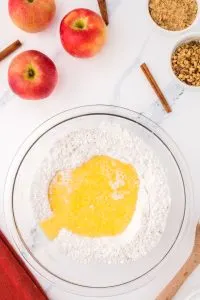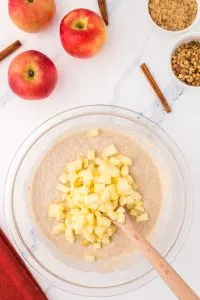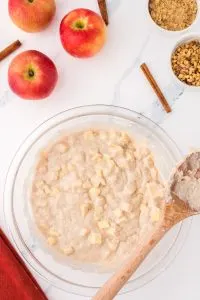 Step One. Get everything ready for the apple muffins recipe.
Preheat your oven. Prepare your pans.
Step Two. Let the first mixture sit.
Mix the apple cider vinegar in with the milk and allow it to sit until needed in the batter, or at least 3-5 minutes.
Step Three. Mix the apple muffins.
Mix all dry ingredients for the muffins. Add the milk and melted butter. Fold in the apples.
Step Four. Mix the crumb topping.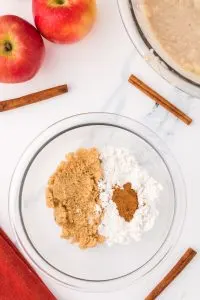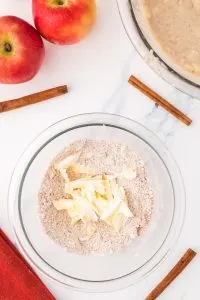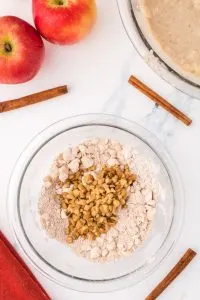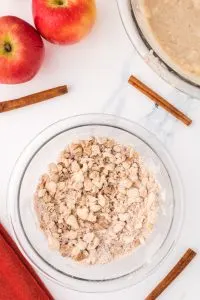 Make the topping by stirring together the sugar, flour, and cinnamon. Cut in the butter until well incorporated, but don't stir. Fold in the walnuts.
Step Five. Bake your apple muffins.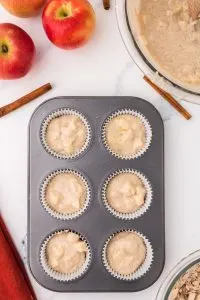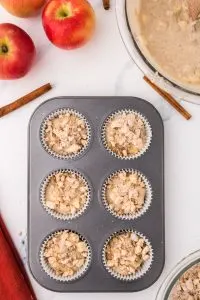 Fill the muffin liners ⅔ of the way up with the batter, then top with the crumb mixture. Bake for 20 minutes.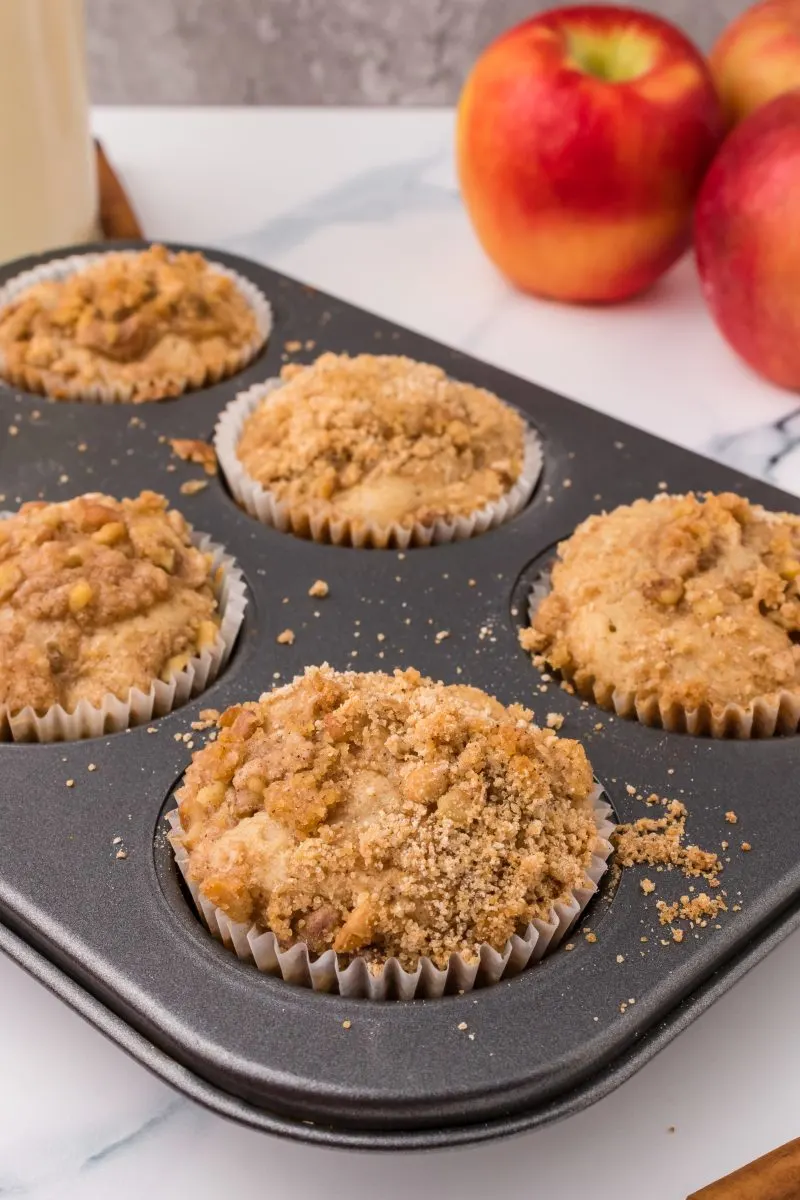 Step Six. Prepare and Apply the Glaze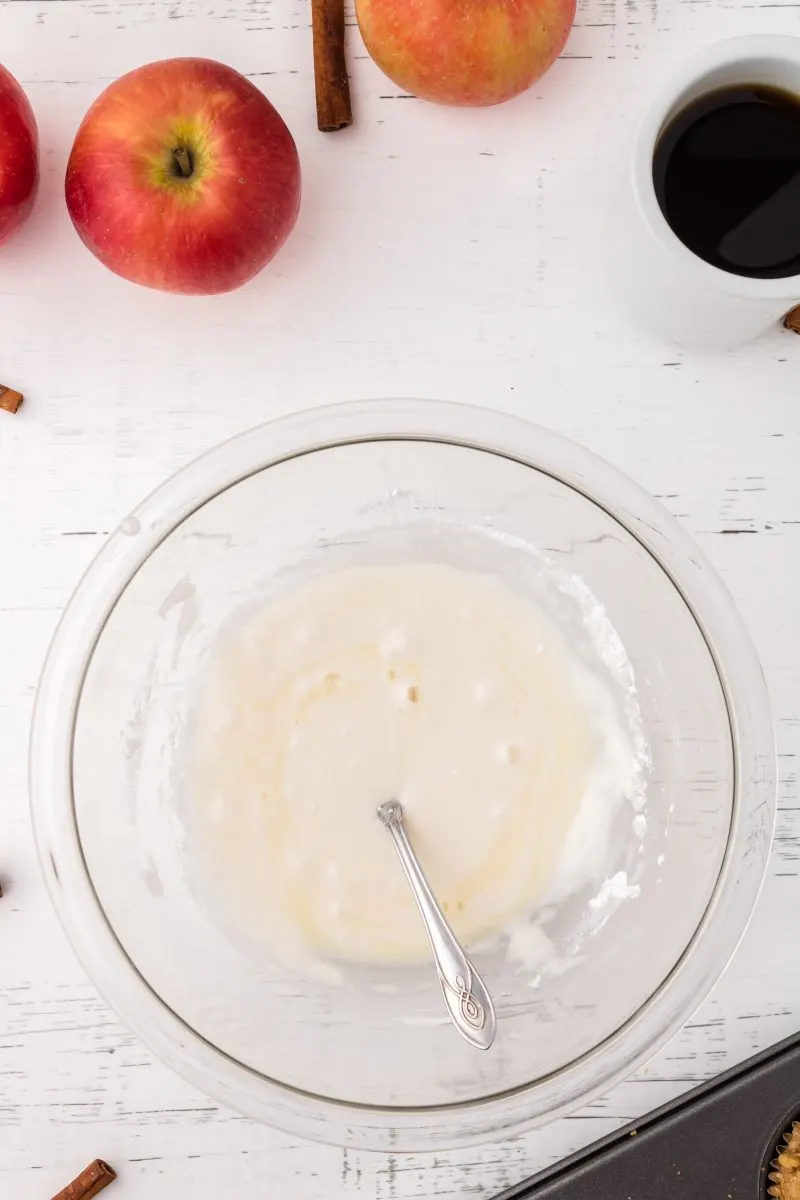 Add the powdered sugar to a small bowl. Add enough milk or cream until the consistency is thin enough to apply to the muffins. Dip a large-tined fork or whisk into the glaze and shake it gently over the muffins.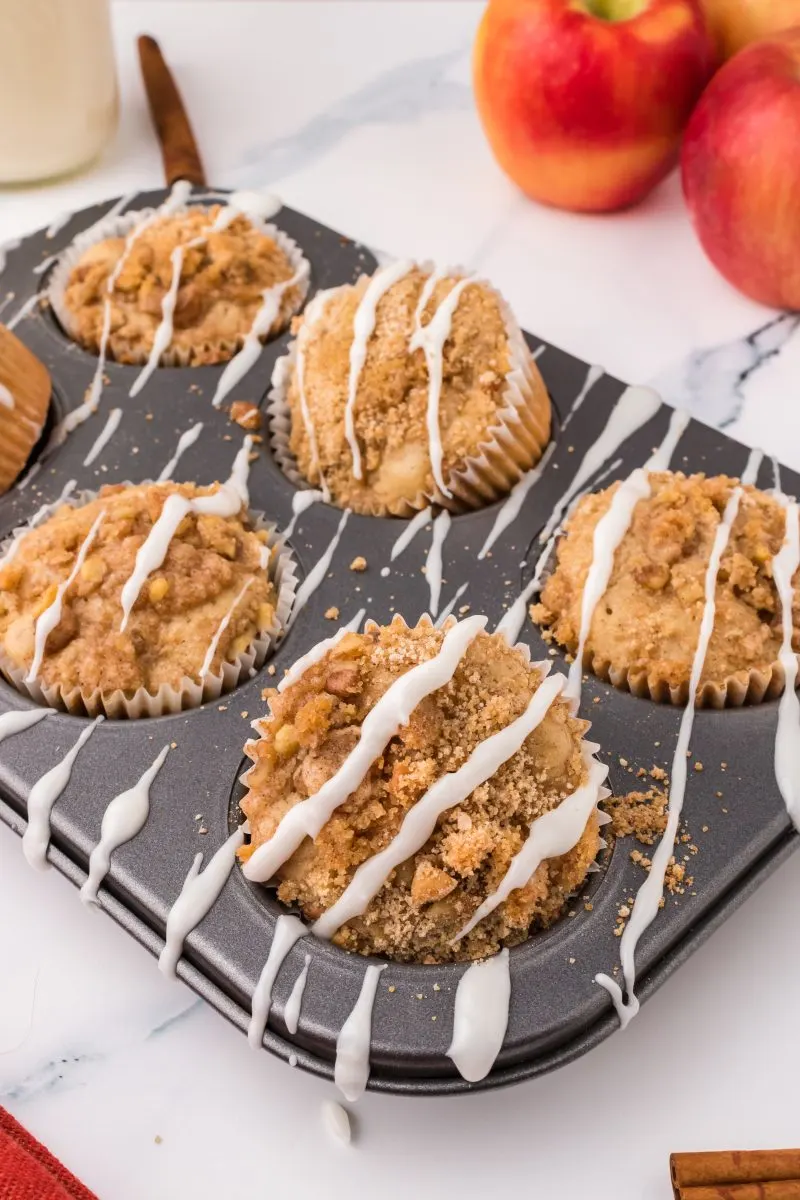 Frequently Asked Questions
Are these muffins dry?
No, these muffins have been tested many times and always come out soft and moist, with a bit of crunch from the apples and walnuts. If your muffins turn out dry, try baking the next batch for a little less time (17-18 minutes) and checking with a toothpick to see if they are done.
Can I use oil instead of butter?
For the muffin itself, yes, you can substitute oil for butter. However, you will still need butter for the muffin topping; there is not a good substitute for butter in the topping. Leave the topping off if you're making a vegetarian muffin.
What is the difference between streusel topping and crumb topping?
There isn't any difference. They're both made with butter, sugar, and flour. They can either contain oats and/or nuts.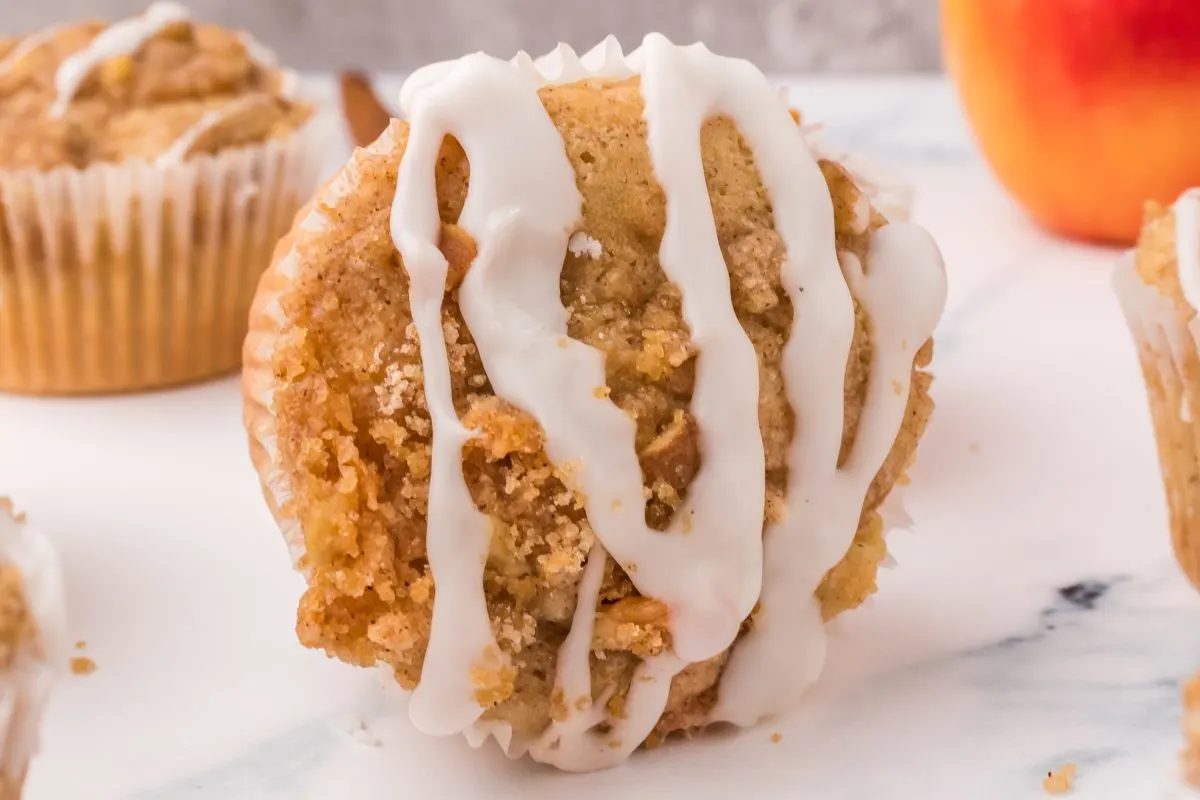 How To Reheat & Store Apple Muffins
Best Way to Store Apple Muffins
Keep your leftover muffins in an airtight container at room temperature or in the refrigerator for three to five days.
Can I Freeze Apple Muffins?
Yes! Muffins and quick breads freeze extremely well. Wrap each muffin individually in parchment paper and then place them down into an airtight container or freezer bag. Wrapping them first helps prevent frostbite but isn't strictly necessary.
How to Reheat Apple Muffins
I like to reheat muffins in the microwave. It should take ten to twenty seconds. A frozen muffin will thaw and reheat in thirty seconds or so.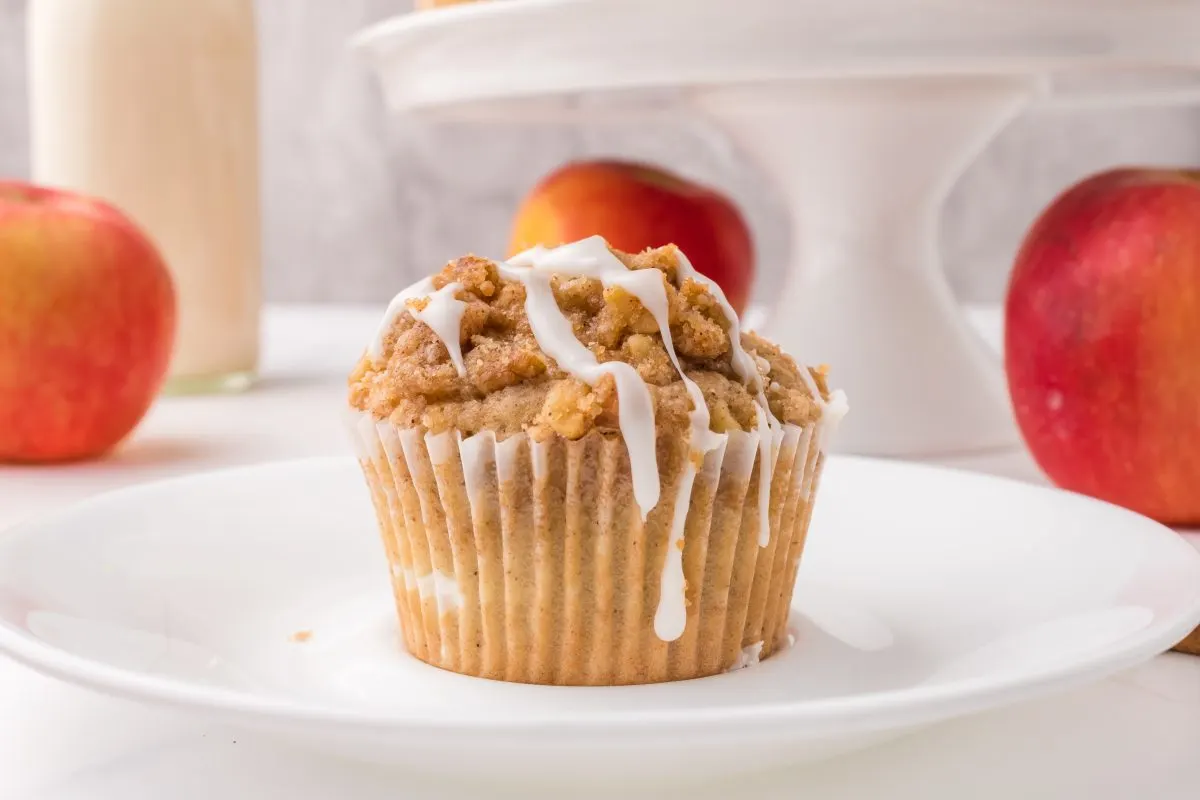 Tips for the Perfect Apple Muffins
Use cold butter for crumble topping and cut into the topping using a pastry cutter or two forks. Don't use your fingers. The heat from your hands will soften the butter, and you'll lose the texture.
The topping shouldn't be overworked. You want to see pea-sized pieces of butter. If you don't, add 1/4 cup more butter. I recommend using two forks or a pastry cutter to make the crumble.
It is not recommended to decrease the amount of sugar or spices in this recipe; if you do this, the muffins will start to taste bland and won't have a 'pop' of flavor as this recipe does.
Don't overmix the batter: Overmixing the batter can cause the muffins to be tough and dense. Mix just until the ingredients are combined, and no dry pockets remain.
Fill the muffin cups evenly: Use a cookie scoop or spoon to ensure each muffin cup has the same amount of batter. This will help your muffins bake uniformly and avoid overcooked or undercooked spots.
Chop apples into chunks. Grated apple or apple diced too finely will not hold up in the recipe. You want to see fresh apple pieces throughout.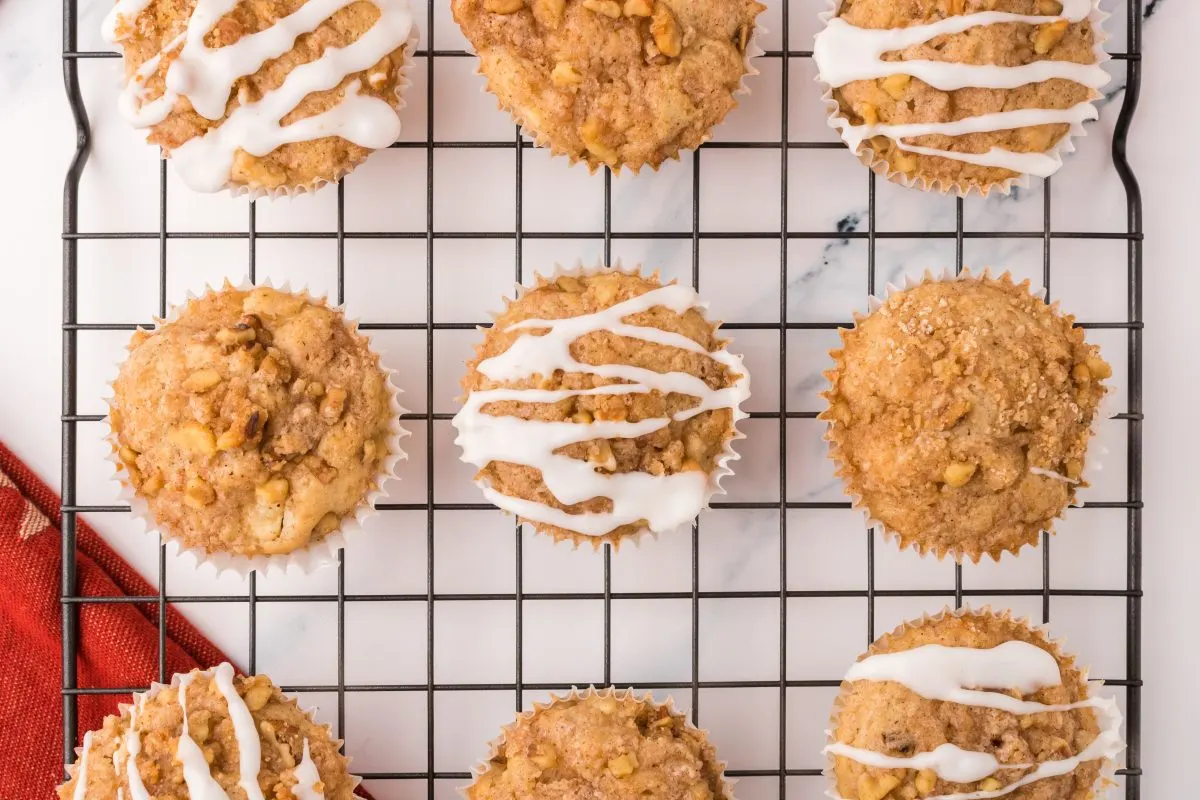 If you enjoyed this recipe, check these out!
If you tried this delicious recipe, don't forget to rate it and leave me a comment telling me what you think. I love hearing from you!
Want more delicious recipes? Follow Hostess At Heart on Pinterest!