Looking for the ultimate breakfast treat? This French toast muffins recipe with streusel topping is a decadent and delicious option. These muffins are sure to impress, ideal for a special occasion or as a sweet indulgence. Plus, they're easy to make and perfect for sharing.
Can you imagine waking up to the smell of homemade muffins loaded with warm cinnamon and brown sugar baking? They're guaranteed to get lazy bones out of bed and running for the kitchen. And, just like our Basic Muffin recipe, they make a delicious grab-and-go breakfast.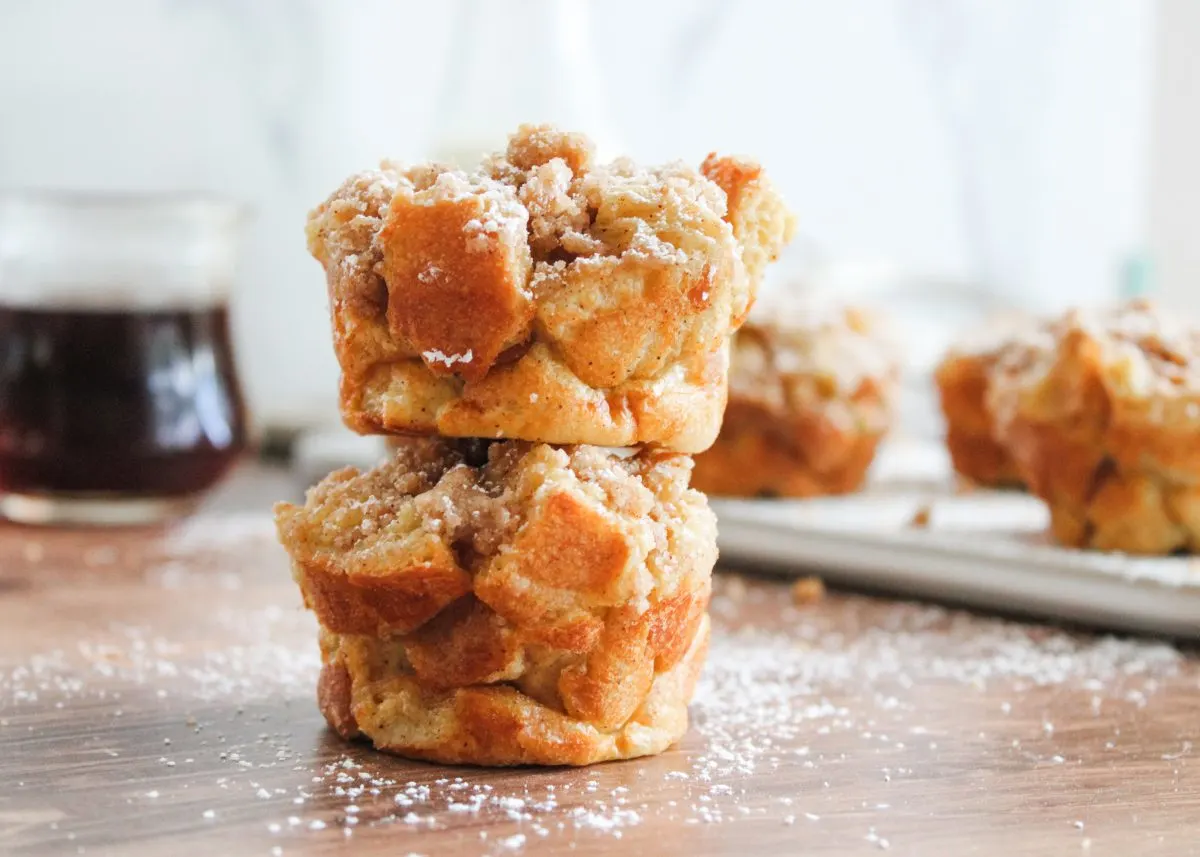 In this article, we will explore the ingredients, directions, tips, and variations, as well as serving suggestions for this delectable breakfast or brunch dish. Get ready to elevate your breakfast game with this mouthwatering recipe.
Why You'll Love Our French Toast Muffins Recipe
Family-friendly meal. Everyone can eat simultaneously, which is more difficult if you make French toast.
Versatility. Perfect for breakfast, brunch, or snack. Add fruit, nuts, or make a different topping for variety.
Cost-effective. Head to the day-old bread section and buy what's on clearance. Stale bread made our delicious Bread Pudding and it makes amazing French Toast Muffins. And, everyone gets their own!
Make-and-take – Take a pan of these muffins anytime you're invited to breakfast or brunch and I'll guarantee you'll be on the A-list for future invites.
Equipment Needed
Hostess At Heart participates in affiliate programs. As an Amazon Associate, I earn a commission from qualifying purchases. Please refer to my disclosure page for more information about these affiliate programs.
Muffin Pan – I love these 12-cup muffin pans. I believe you need at least two because most recipes make more than 12.
Mixing Bowls – I use this set of bowls for mixing, serving, storing, and transporting food. The pretty lids guarantee no spilling too!
Ice Cream Scoop – This is a 4-tablespoon scoop which is the perfect size for scooping ice cream and muffins!
Ingredients
For the exact recipe ingredients and French Toast Muffin instructions, please see the recipe card.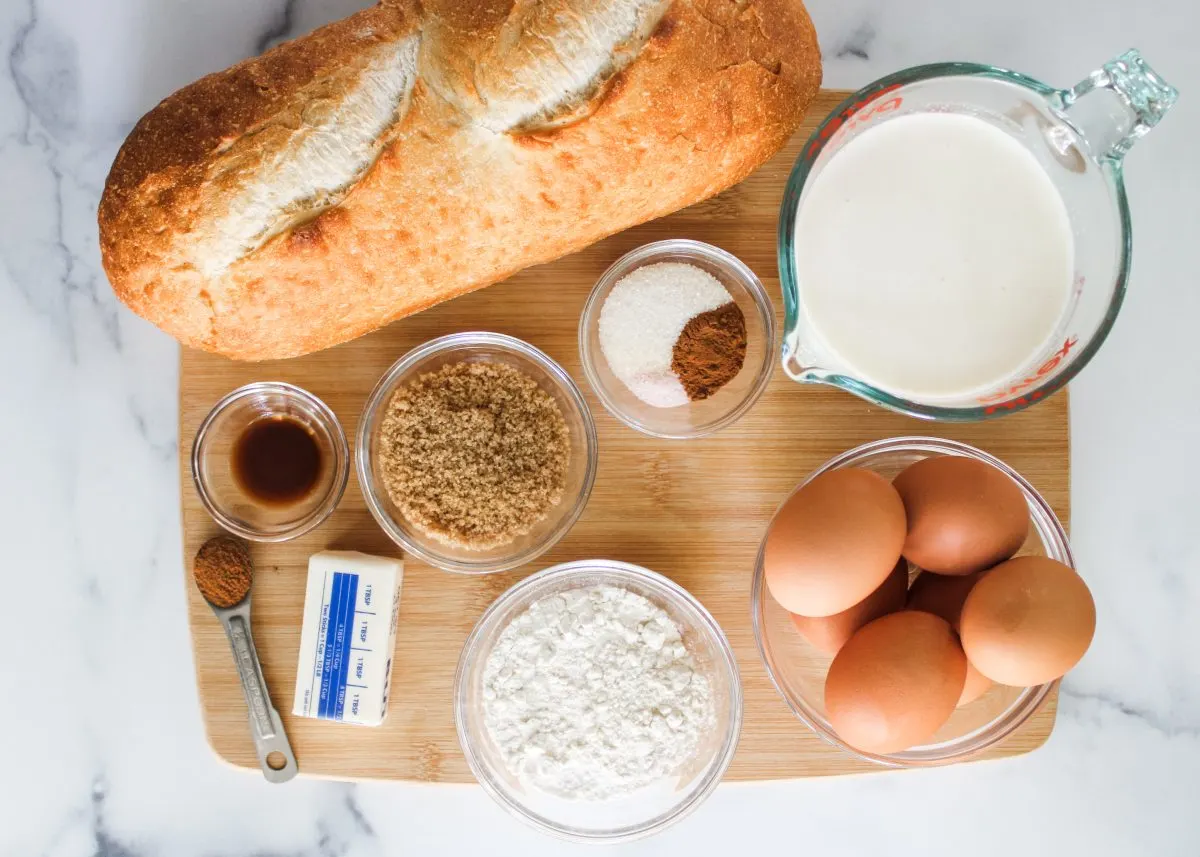 Sourdough Bread. About one pound of day-old bread.
Milk. I use whole milk but any variety including nut varieties will work.
Eggs. Grade A Large is what I use in all my baking for consistency.
Granulated Sugar. White sugar.
Ground Cinnamon. We love cinnamon and will usually even bump up the amount called for.
Salt. Any salt will do. Kosher or table salt included.
Vanilla Extract. Pure vanilla is what I use. It's fine if you use imitation.
Streusel Topping Ingredients
Flour. All-purpose flour, bleached or unbleached.
Brown Sugar. I always use dark because I like the extra flavor of molasses. Use what you prefer.
Cinnamon. Adding cinnamon to the base recipe and the topping makes a cohesive dish.
Butter. Use the real stuff. I love a good quality butter for it's flavor and the richness it adds.
How To Make French Toast Muffins
Step One. Prepare to make the French Toast Muffins Recipe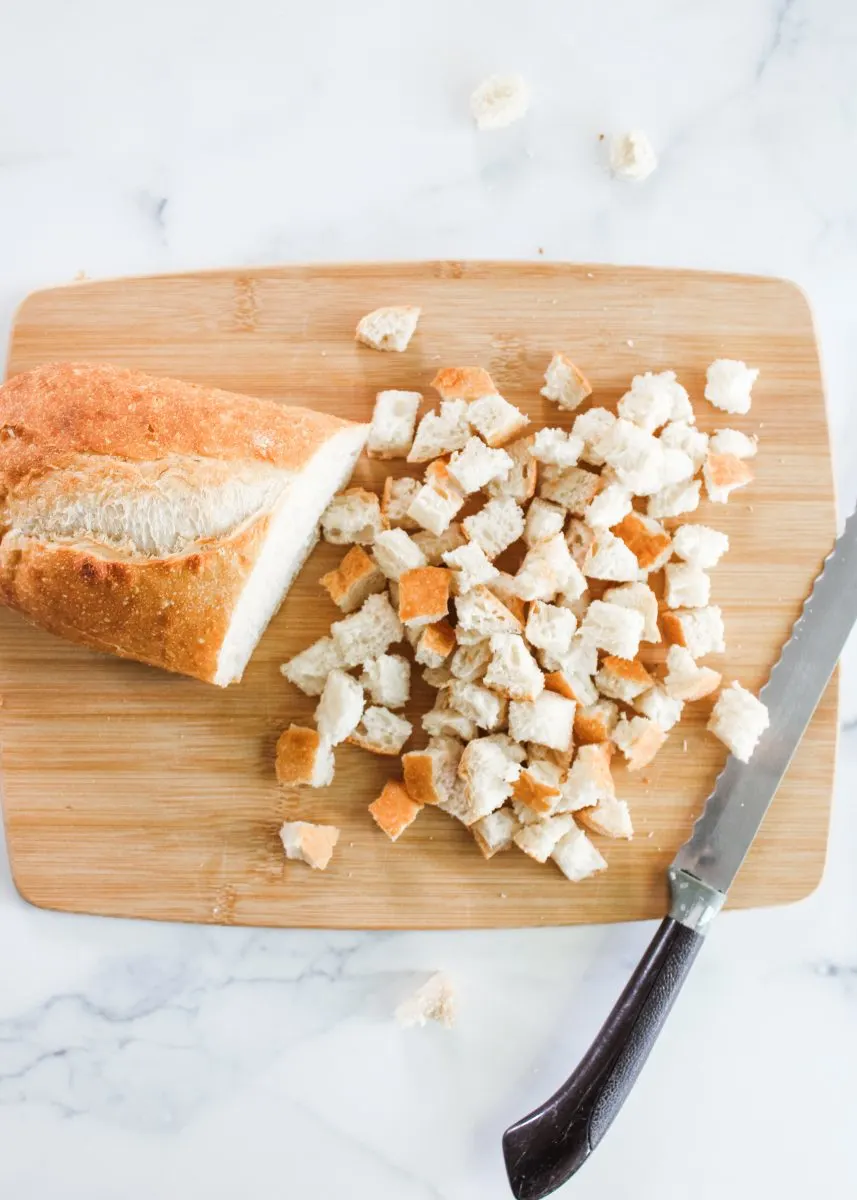 Preheat the oven to 350 °F. Grease a muffin pan with cooking spray. Set aside. Pull out your ingredients to make sure you have everything you need. Slice sourdough bread into ½ inch cubes.
Step Two. Mix the simple ingredients for French Toast Muffins.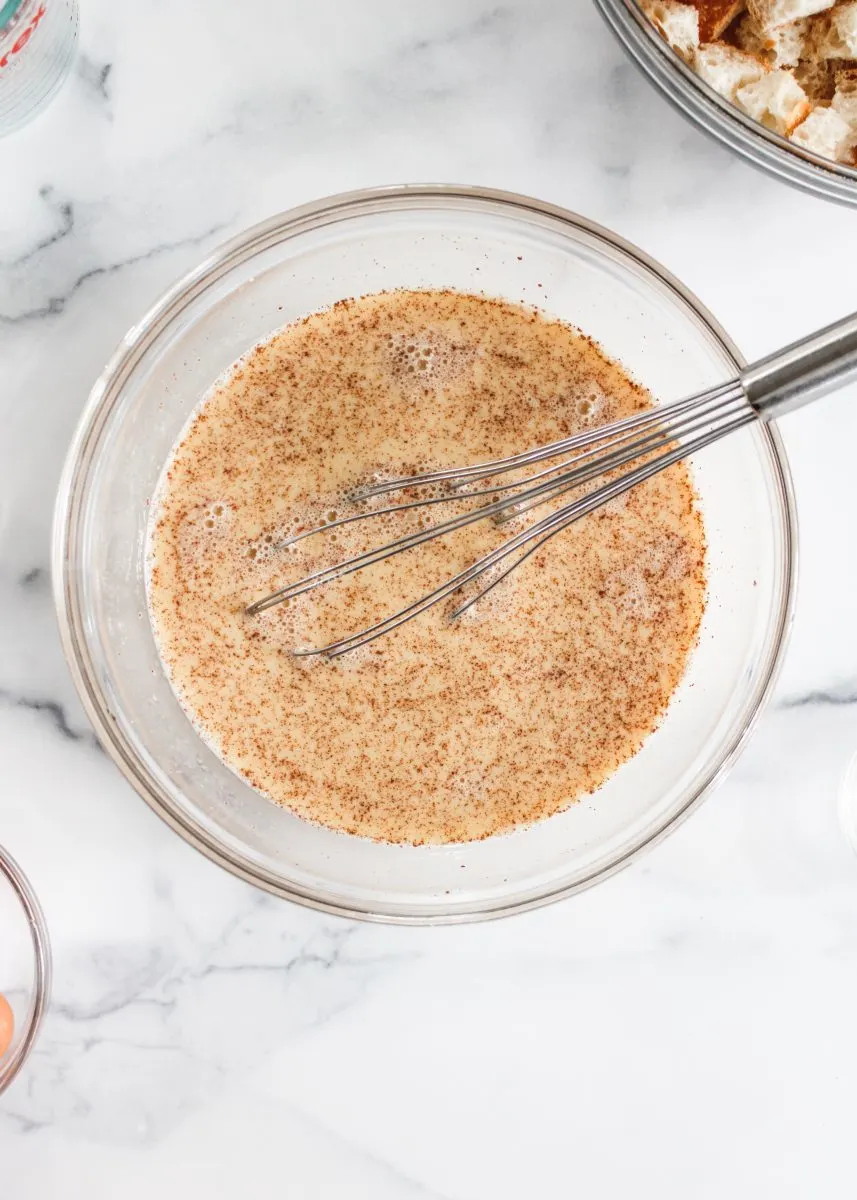 In a medium mixing bowl, beat the eggs. Add milk, sugar, cinnamon, salt, and vanilla.
Step Three. Soak the mixture.
Pour egg mixture over the bread. Carefully mix to coat all the bread cubes evenly. Let sit for ten minutes to soak in.
Step Four. Make the Streusel.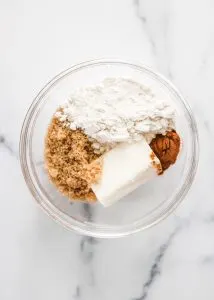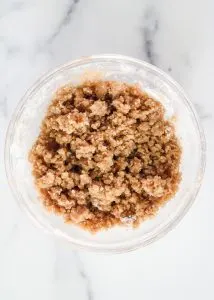 In a small bowl, combine the flour, brown sugar, and cinnamon for the topping. Cut in the butter.
Step Five. Bake your French Toast Muffins.
Scoop bread into the muffin tin, then sprinkle topping on each one. Place it in the oven and bake for 20 minutes.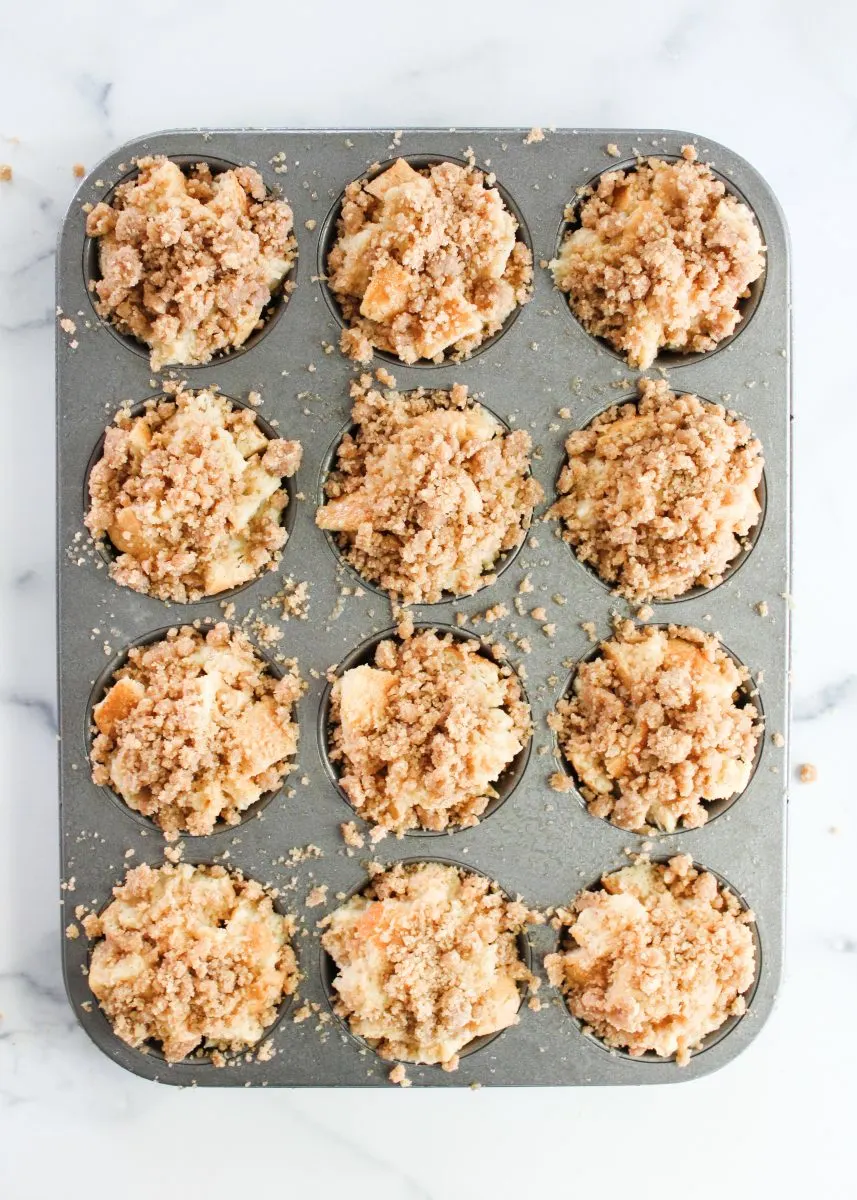 How to Serve French Toast Muffins
When it comes to serving your French Toast Muffins with Streusel Topping, there are various ways to change the recipe. For a classic breakfast, serve them warm with a pat of butter and a drizzle of maple syrup.
If you want to make a feast, serve them with Sausage and Potatoes, or how about a Green Chile Quiche? These recipes will balance out the sweetness.
For a more formal presentation, try serving your French Toast Muffins with fresh fruit and a dusting of powdered sugar.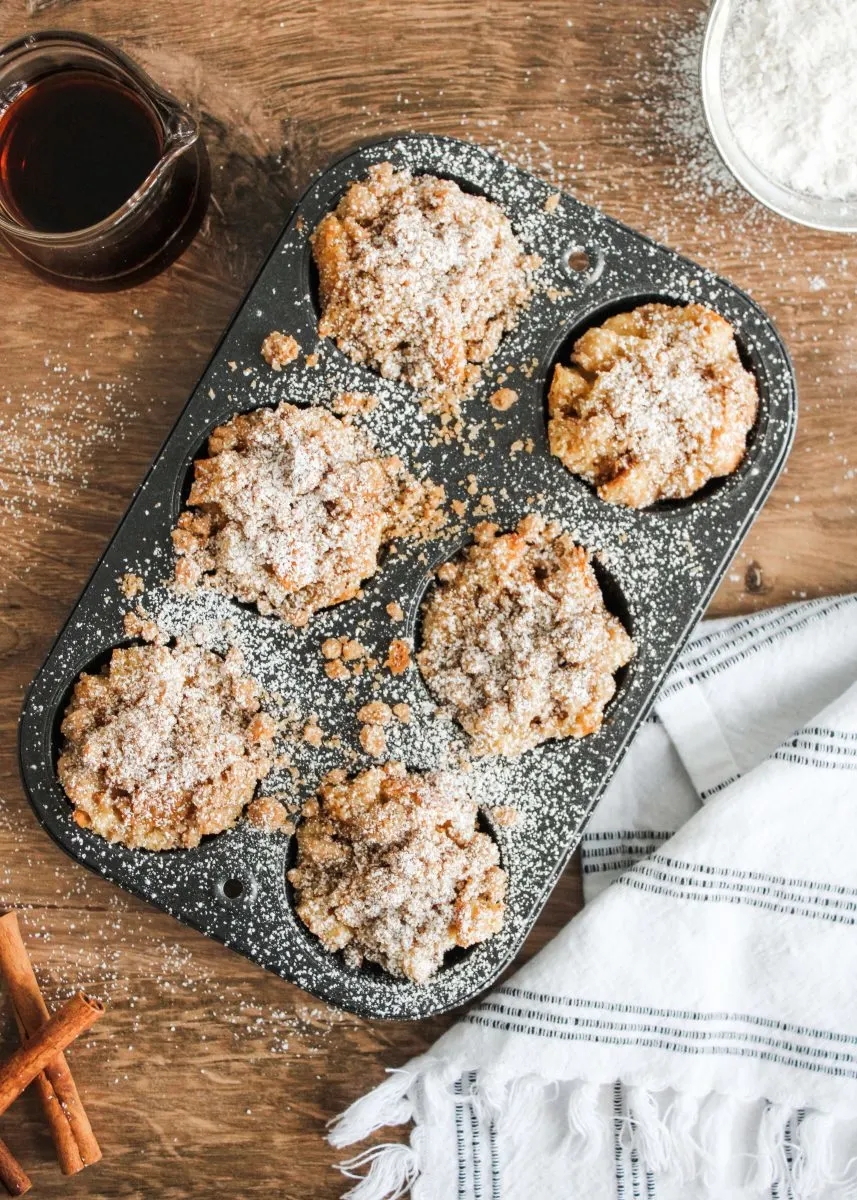 Frequently Asked Questions
How do you prevent muffin cups from being soggy?
Use the right amount of bread-to-egg mixture combination. Too little, and you'll have less bread to soak up the egg mixture. Too much, and they will be dry.
What kind of bread is best for French toast?
I've found using heavier bread, such as sourdough, works well. Soft sandwich bread is more apt to become soggy. Let the bread dry out a little. If you're making French Toast Muffin cups for breakfast, slice up your bread and let it sit out overnight. This is the perfect recipe for stale or day-old bread.
Can these be made ahead of time?
Yes, you can. They're best eaten the day you make them but can be made the day before and stored.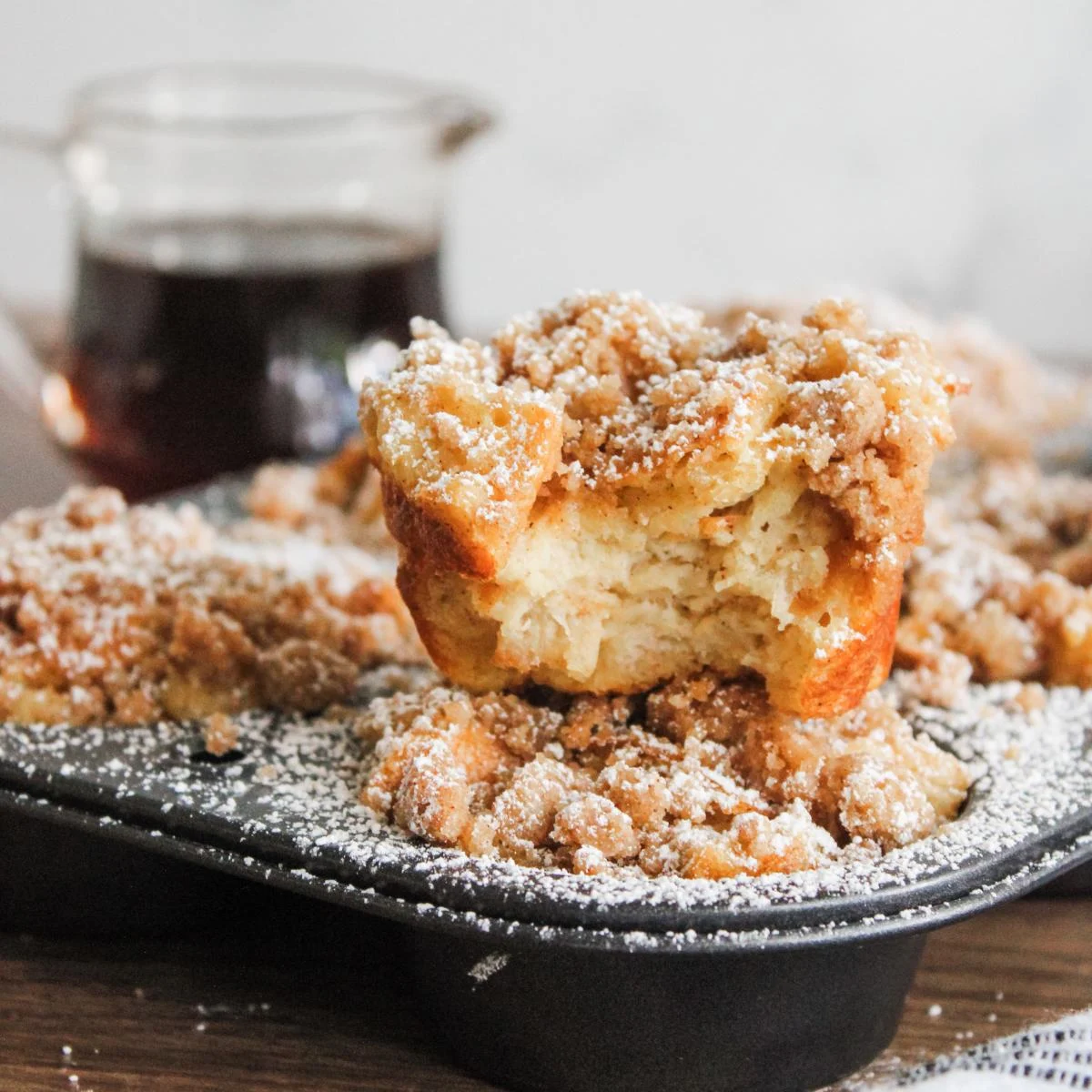 How To Reheat & Store French Toast Muffins
Best way to store French Toast Muffins
Keep your leftover breakfast muffins in the refrigerator loosely covered. You don't want them to dry out but you don't want them to become soggy because of condensation either.
Can I freeze French Toast Muffins Cups?
Yes. Keep them in an airtight container in the freezer. I believe that they freeze better without the topping.
How to reheat French Toast Muffins
Ten to twenty seconds in the microwave is perfect. If frozen, start with thirty seconds and then add ten seconds at a time as needed. Once muffins are thawed, serve with a dusting of powdered sugar or berries.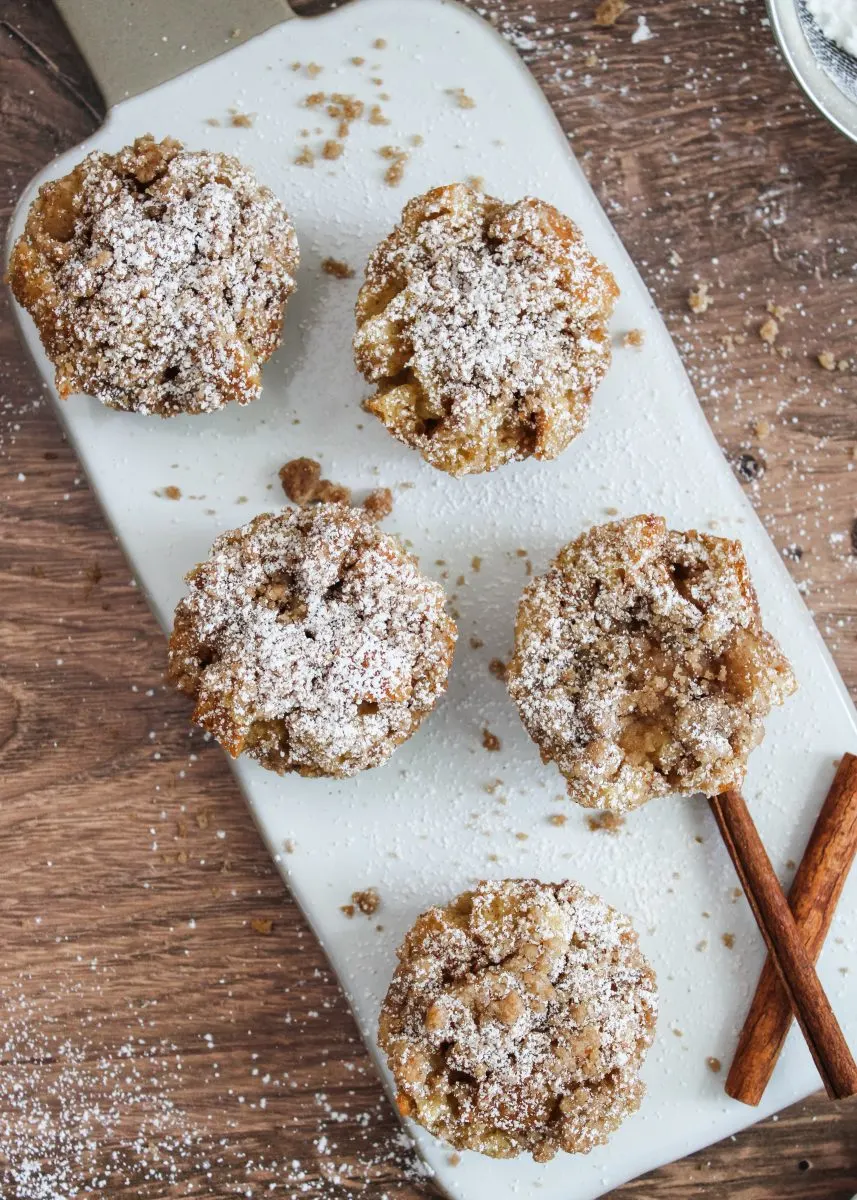 Tips for the Perfect French Toast Muffin
Skip the topping for a less sugary breakfast; they taste just as good.
Serve with warm maple syrup, powdered sugar, or berries.
You can freeze without the topping for up to three months.
Try different types of bread for variation: Challah, brioche, and even flavored bread such as Cinnamon Raisin or Cranberry Walnut bread will all work.
Play with toppings. Chopped nuts like pecans, walnuts, or almonds add a satisfying crunch, while fresh berries like raspberries or strawberries can add a pop of color and freshness. You can even drizzle some maple syrup or honey for a touch of sweetness.
This is the perfect recipe to use for old French bread when you purchase it for a different meal and forget to use it! It works great with stale bread and keeps you from having to toss it out.
If you tried this delicious recipe, don't forget to rate it and leave me a comment telling me what you think. I love hearing from you!
Pin this amazing recipe!