Celebrate your favorite holiday with a beautiful 6 Braid Challah, made from my favorite Challah bread recipe. This rich, decadent loaf is as delicious in all of its braided glory as it is beautiful and pillowy bread.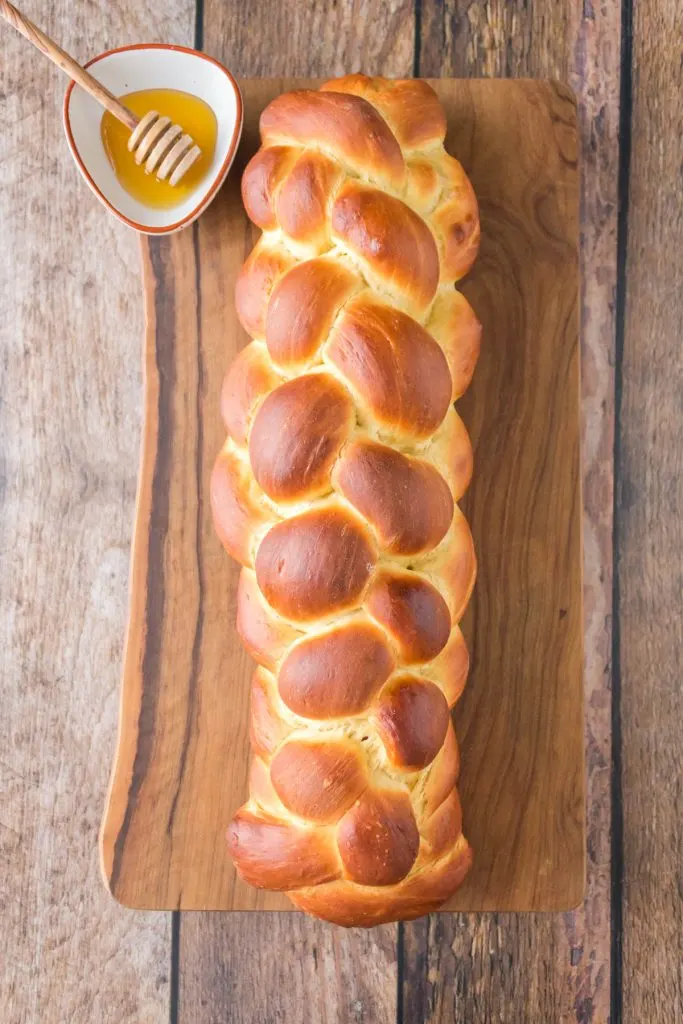 Why You'll Love This Recipe for Challah Bread
Gorgeous Presentation. Nothing says love and amazing baker like a carefully braided loaf of Challah.
Special Tradition. The traditions behind a loaf of 6 braid Challah are rich and sweet, just like the bread itself. Make this bread something your family joyfully shares on special days.
Delicious Homemade Bread. The taste, flavor, and texture of this bread combine to make something truly special.
Equipment Needed for Braided Challah
Hostess At Heart participates in affiliate programs. As an Amazon Associate, I earn a commission from qualifying purchases. Please refer to my disclosure page for more information about these affiliate programs.
Stand-Up Mixer. If you are going to make homemade bread, you need a stand mixer!
Pastry Mat. I recommend this Oxo Good Grip Silicone mat.
Mixing Bowl. This set has a nice range of sizes.
Bread Riser – When the weather turns cool, I use this bread riser to help my bread proof.
Ingredients for Braided Challah
Active Dry Yeast. These are sold in little packets near the spices and baking powder and baking soda are in your grocery store. There are two or three kinds. Make sure you don't buy the quick yeast. If yeast confuses you, I explain more about it in my Basic Techniques Post.
Honey. For sweetener to feed the yeast and help the bread rise beautifully.
Olive Oil. To keep the bread Kosher, oil is used for the necessary fat.
Eggs. A higher number of eggs than most bread recipes give this Challah a soft texture and beautiful color.
Salt. For flavor.
All-Purpose Flour. You could also use bread flour if you bake enough to justify keeping it in your pantry.
Water. Used for moisture in the dough.
Please note, that the printable recipe card has ingredient quantities, complete instructions, and nutritional information. The following is a quick overview of the recipe.
How to Make Challah Bread
Step One. Mix your water, yeast, and honey and let it stand for four minutes. This is called proofing the yeast. When the four minutes is up, your mixture should be frothy. If it is not frothy with bubbles on top your yeast has expired and you need to begin again with new yeast.
Step Two. In a stand mixer, combine the frothy mixture from step one with olive oil, eggs, and salt.
Step Three. Add half of the flour and mix on low. Add the second half in the same way.
Step Four. Continue mixing at medium speed for a few minutes.
Step Five. Set the dough aside to rise in an oiled bowl.
Step Six. Cut the dough into 6 pieces and roll each piece of the dough into a 20 inches rope.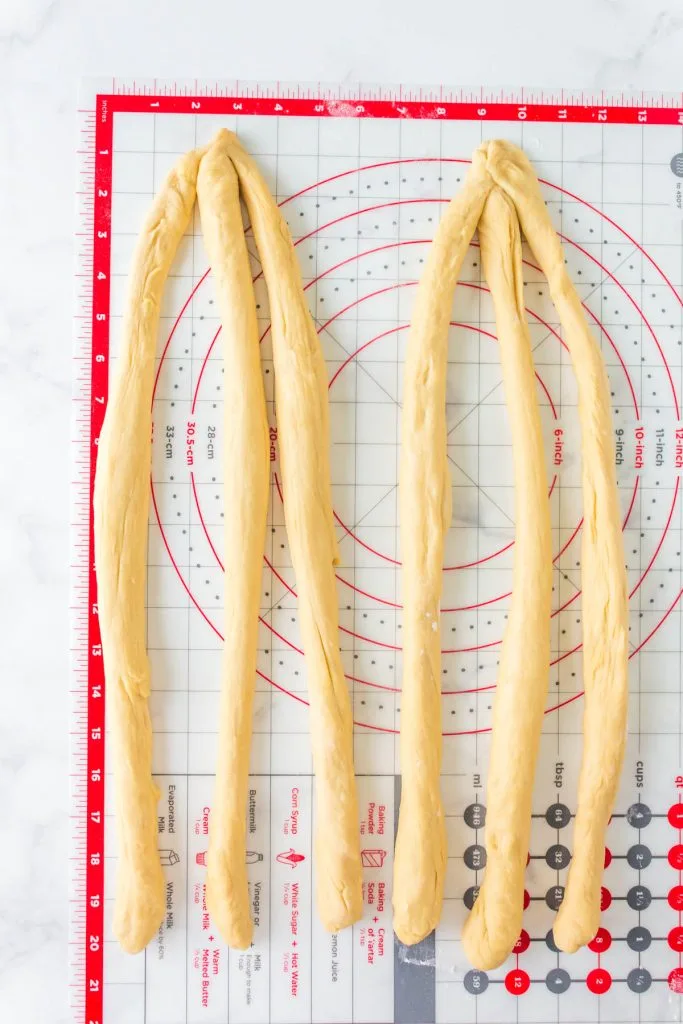 How to Braid Challah
Step Seven. Attach the end of 3 ropes by pressing them together. Do the same thing with the other 3 ropes. Press the top of the ropes together. At this point, you should have all 6 ropes. Place them in front of you and separate them (fan them out like an octopus).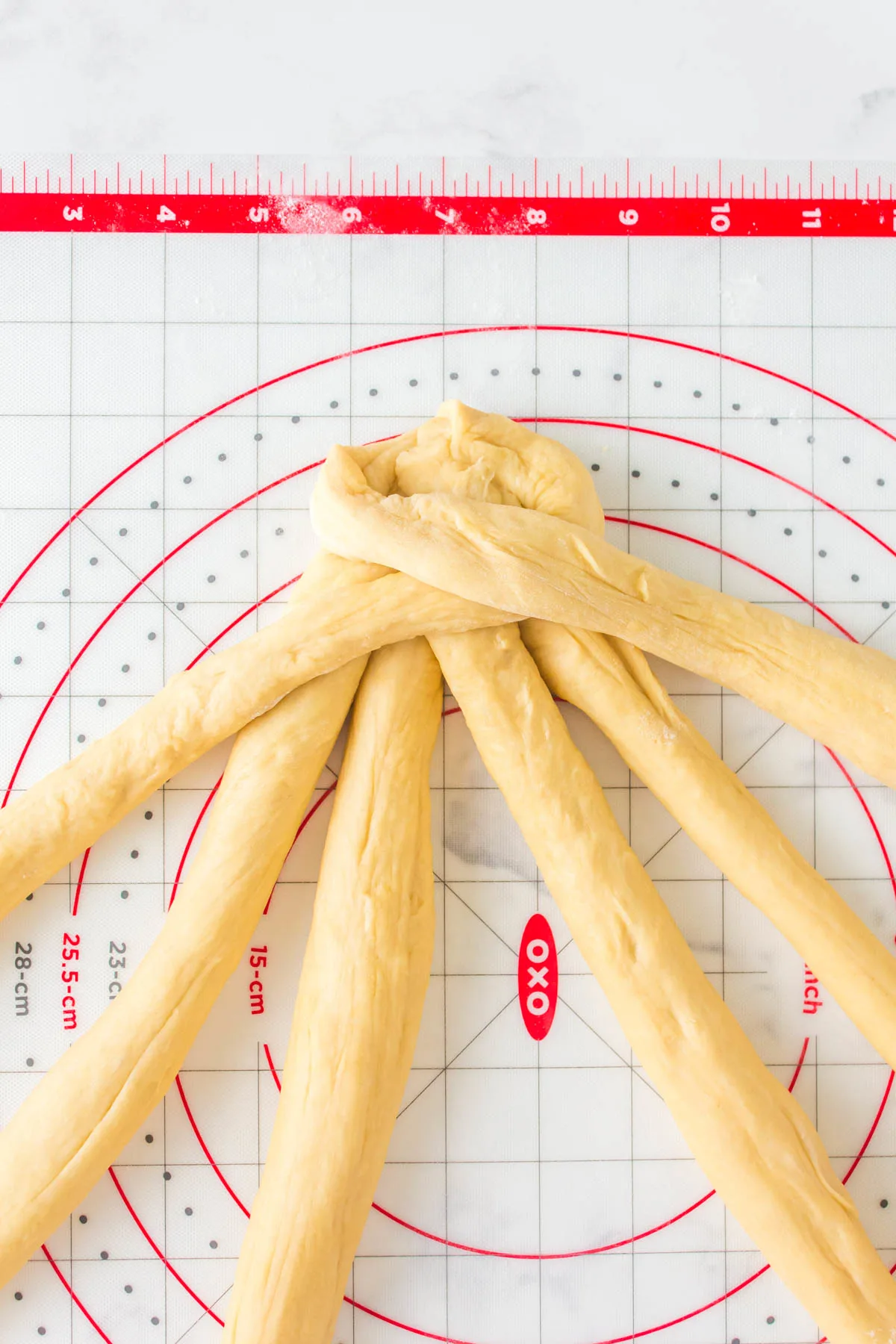 Step Eight. Take the rope from the outside on the right and cross over all of them. Then cross the outside rope from the left and cross over. The rope that is over is brought back to the middle. Then take the second rope from the left.
Step Nine. Preheat the oven to 375°F now so that it will be good and hot when the bread is ready to bake.
Step Ten. Once the braid is complete, transfer it to a cookie sheet lined with parchment paper.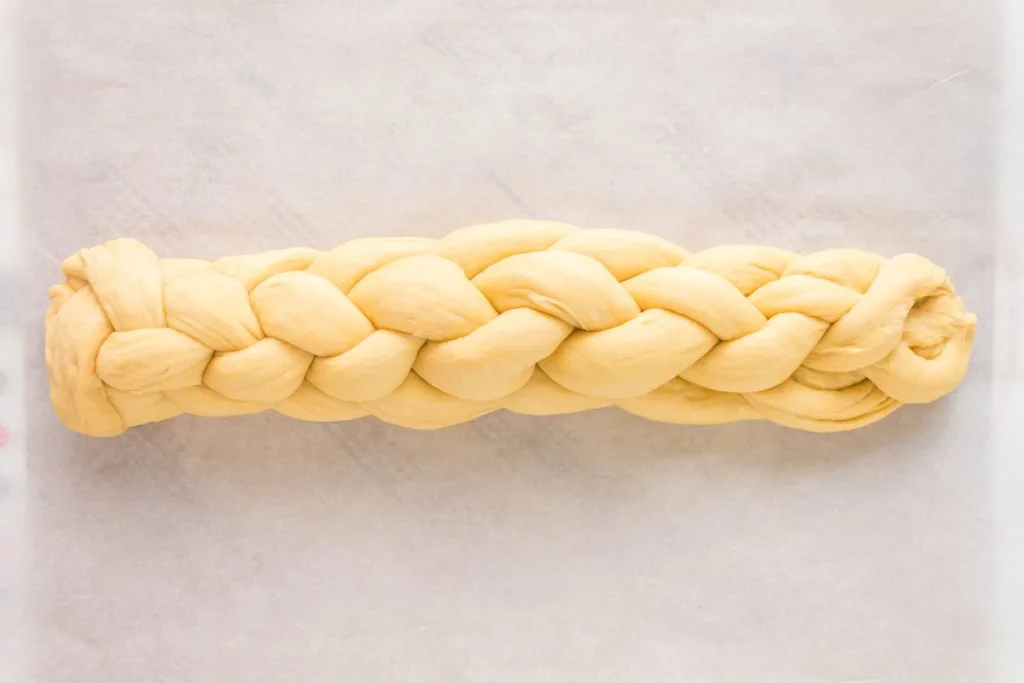 Step Eleven. Allow the dough to rise for 30 minutes in a warm draft-free place.
Step Twelve. Add an egg wash for shine and color on the crust. In a small bowl mix, 1 egg white with 1 teaspoon of water and brush it gently over the bread. dough.
Step Thirteen. Bake in a preheated oven for 23-25 minutes or until an instant-read thermometer reaches 190° degrees F.
Step Fourteen. Remove the bread from the baking sheet and cool completely on a cooling rack.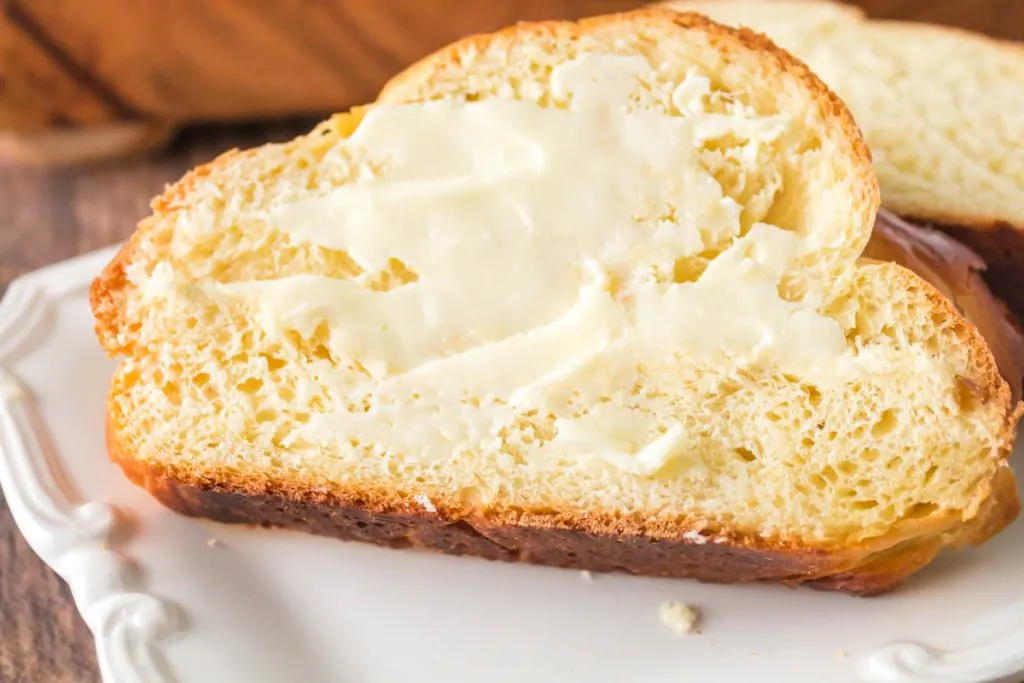 Substitutions & Additions
You can substitute butter for the oil if you aren't concerned about keeping the Challah Kosher.
If you have bread flour it can be used in place of the all-purpose flour for this recipe.
Add raisins or dried cranberries to this challah bread recipe for a sweet touch. It could even be served for breakfast.
You can add sesame seeds or poppy seeds to the outside of the bread before baking for a special touch.
If you do not have olive oil, you can substitute it with any neutral-flavored oil such as vegetable or canola oils.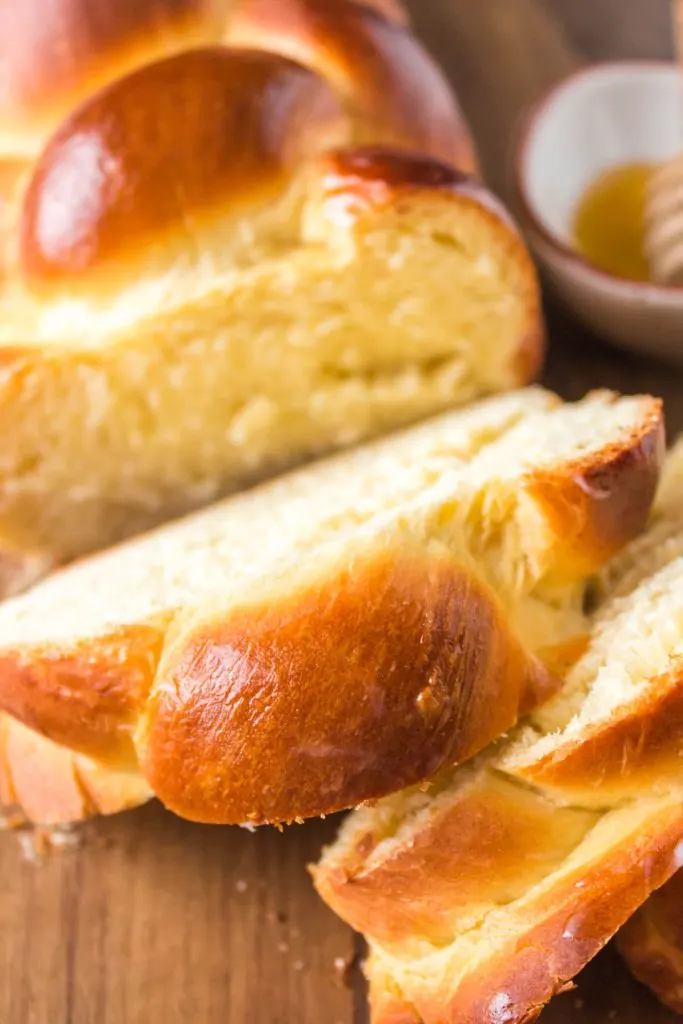 How To Reheat & Store Braided Challah
You can keep the Challah at room temperature for up to 3 days and in the fridge for up to 5
days.
Best Way To Store a 6 Braid Challah
Place the completely cooled loaf in a freezer-quality plastic zipper bag and keep it on the counter for several days. Use freezer-quality bags that have thicker plastic and are more air-tight than storage bags.
How Long Will Challah Bread Recipe Last In the Fridge?
It can keep in the refrigerator for up to five days.
Can I Freeze/Thaw Braided Challah
Yes. Wrap the bread in parchment paper so that it can breathe but be protected from freezer burn. Place the wrapped bread into a freezer-quality plastic zipper baggy. It will keep for several months. Thaw at room temperature.
How To Reheat Challah Braid
If you want your bread to be hot, you can heat a slice in the microwave for ten to fifteen seconds. You can also reheat an entire loaf or slices in the oven for five minutes or so. I love Challah bread toasted with a drizzle of jam or honey.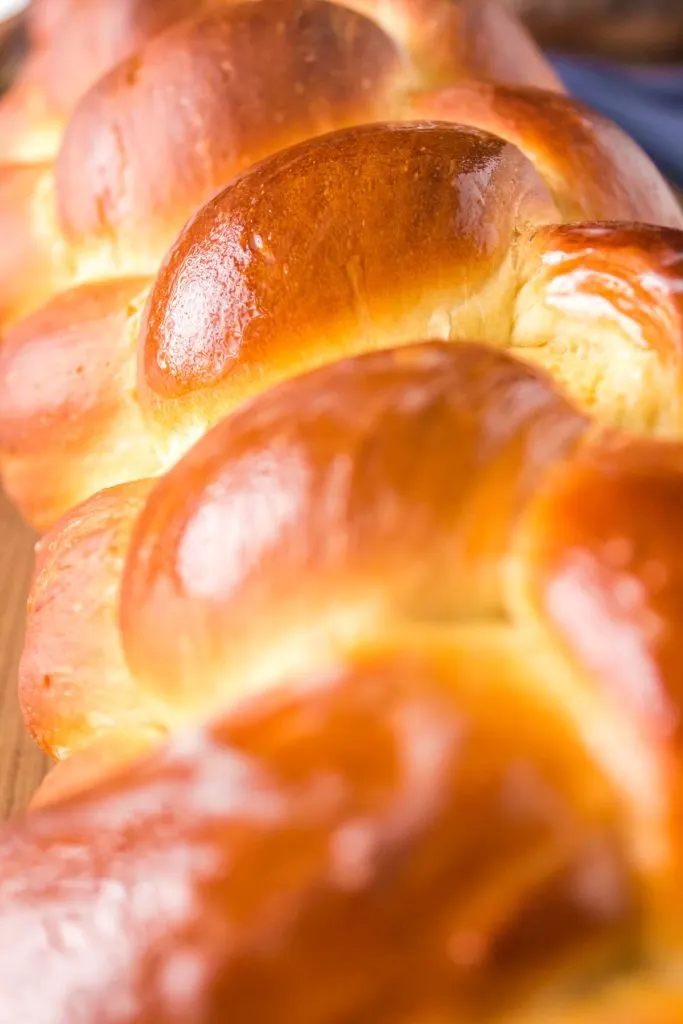 Challah Bread Recipe FAQs
What is Challah bread?
A beautifully braided bread made from six strands of yeast dough, traditionally served by Jewish people on the Sabbath and special holidays. The dough has more eggs than most bread doughs and this results in rich yellow color and a caramel-colored exterior.
How do you pronounce Challah?
"hahll-AH" is the correct pronunciation for this type of bread. The c in ch is silent, and the h at the beginning is pronounced in a more guttural way.
Why is Challah Bread Braided?
The strands of a 6 Braid Challah are supposed to represent the six days of creation and honor the creator while encouraging reflection and prayer during the process of braiding the bread.
How is brioche different from challah?
Our Challah bread recipe is dairy-free, Kosher Jewish bread. Brioche is a French bread made with a very similar recipe but includes butter instead of oil.
How long does Challah stay fresh?
Bread is always at its best right out of the oven, but braided Challah will keep in an airtight container on the counter for three or four days.
Tips to Make the Perfect 6 Braid Challah
Check your yeast! Use fresh yeast that has not expired. Keep your yeast in a cool, dry location. Make sure it is not kept in a cabinet next to the stovetop where it might get overheated.
Make sure the dough isn't too sticky. The dough will be sticky but when pressing on it with your fingers it should not leave any dough on your fingers.
Getting the bread to rise. A warm location is best for getting bread to rise. If you are continuing other meal preparations while the dough is rising, try to set it near the oven and stovetop in your kitchen, but not so close that the heat will kill the yeast. If you have a "proof" setting on your oven, you can place the bread directly in the oven on that setting to rise.
Always bake bread in a thoroughly preheated oven. The burst of heat is what makes this bread soft and pillowy.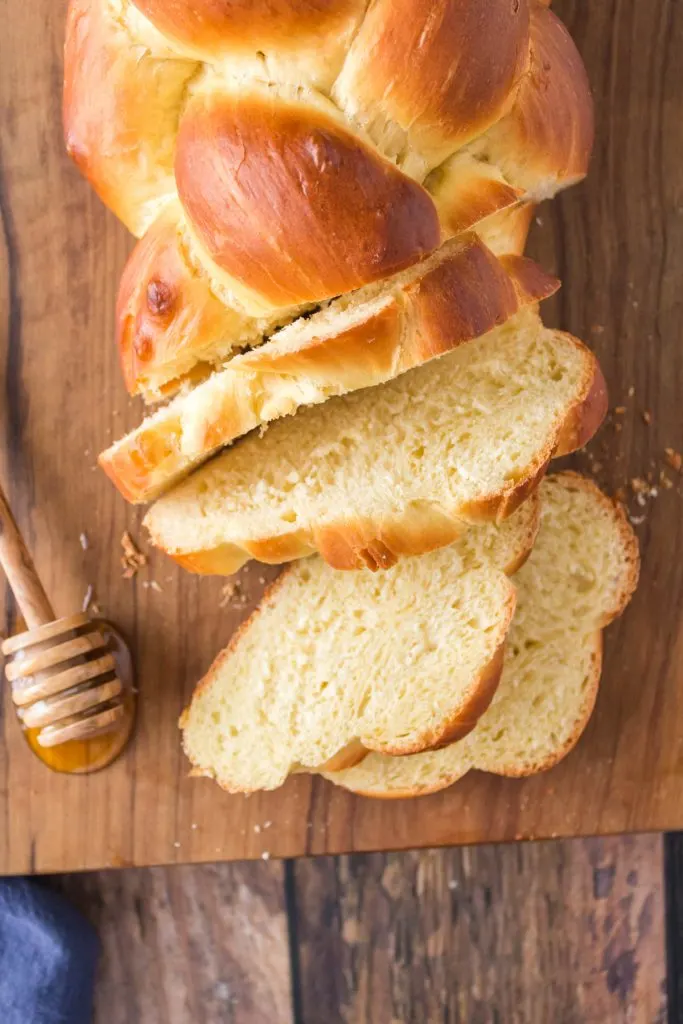 Other Bread Recipes You'll Love
Don't forget to stop back and let me know how your Challah Bread turned out.
Want more delicious recipes? Follow Hostess At Heart on Pinterest!