Spiced Apple Star Bread is a sweet buttery bread loaded with warm cinnamon and plump apples that's fun to make. It looks holiday special but perfect at any time.
When the apple harvest starts, my taste buds turn to baking anything with this delicious fruit. Apple pies, crisps, muffins, filling, cakes, breads, or even stuffed pork chops. I just can't get enough!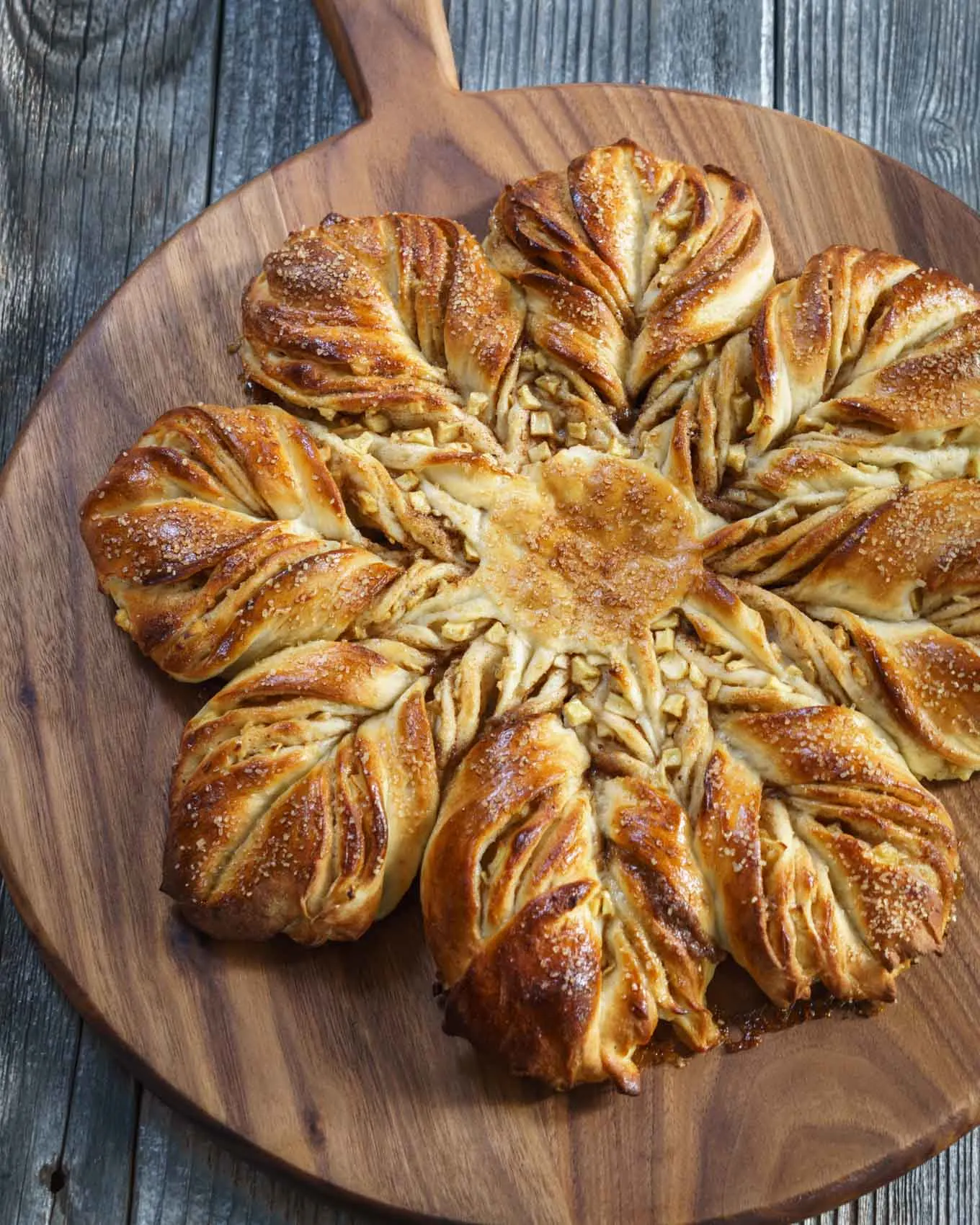 This Cinnamon Star Bread is soft and tender and tastes like a cinnamon roll loaded with fresh apple.
With the fall spices and brown sugar it's like a caramel apple without the stick.
This star shaped bread is perfect for a holiday morning but easy enough to make when you're craving a delicious pastry.
We originally made this bread when I was participating in a monthly bread challenge.
The challenge was to create a bread using fall fruits or vegetables. Sweet or savory bread was all game.
Our Spiced Apple Star Bread just screams fall!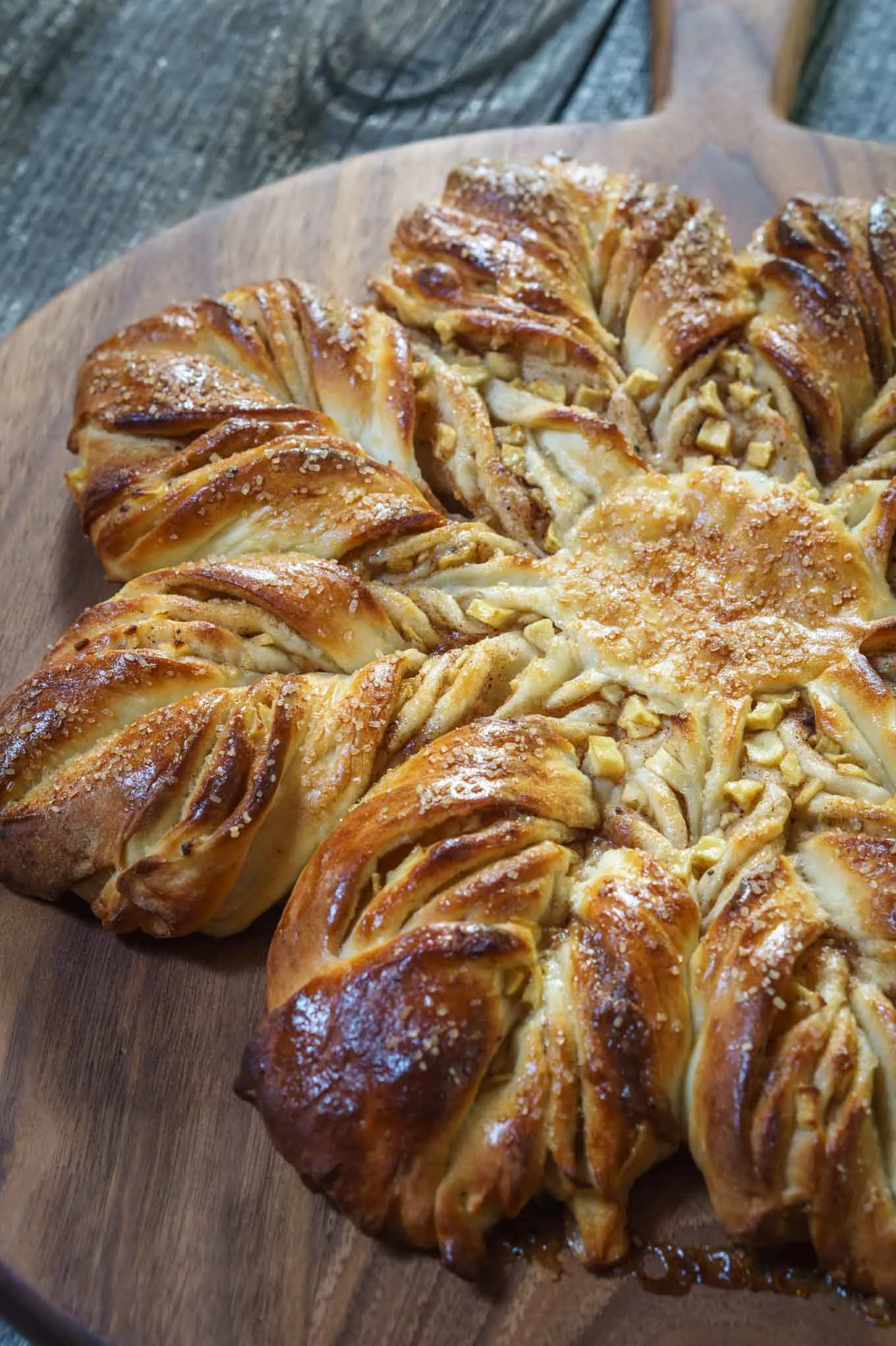 Quite some time ago we saw Cinnamon Star Bread on the King Arthur website.
It was one of those recipes that we just couldn't get out of my mind.
We wanted to make it but it really looked labor-intensive.
One of the reasons we joined the Bread Bakers group was to learn and challenge myself when it comes to baking bread.
This event was the perfect time to give it a try.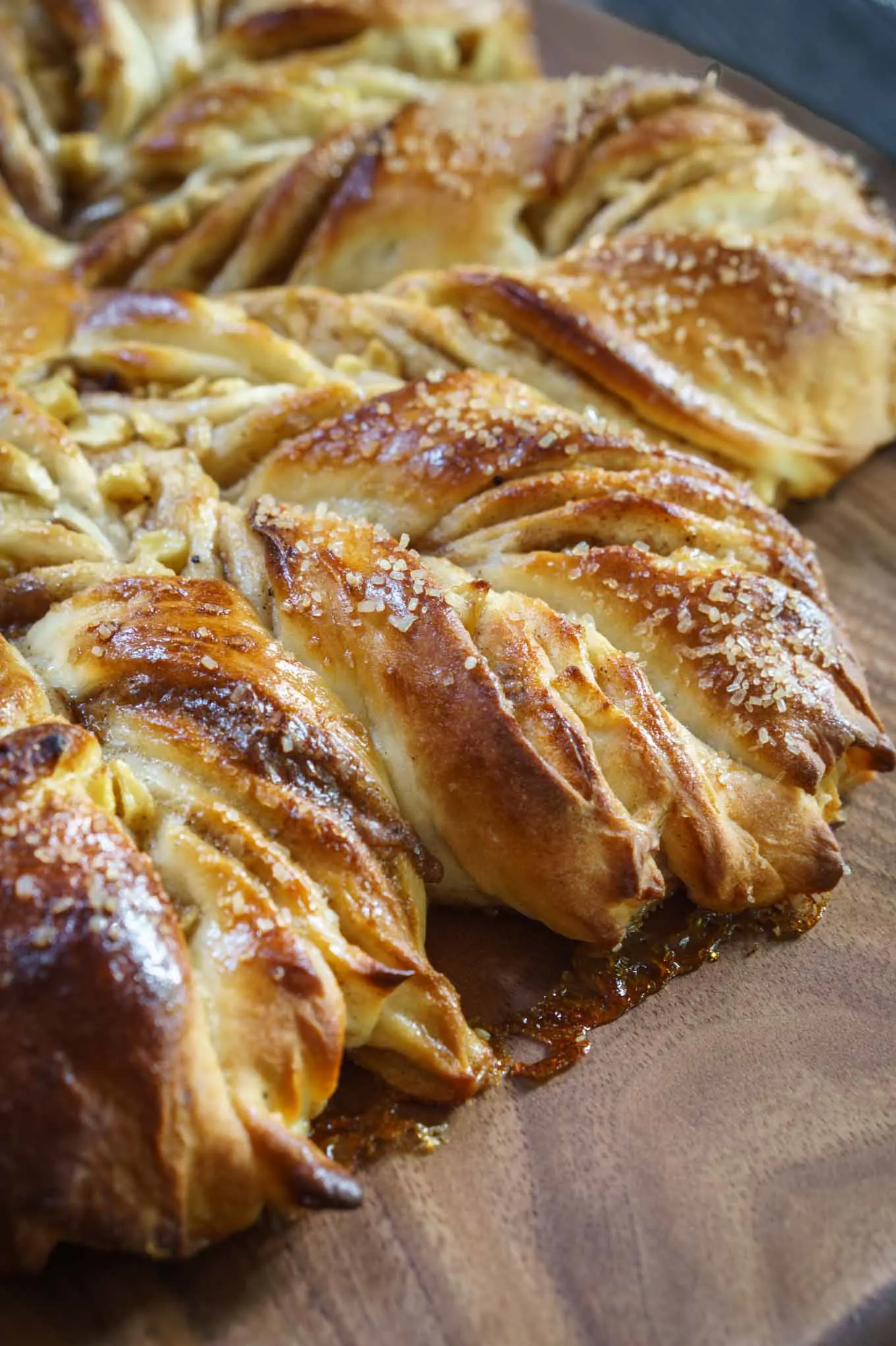 Star Bread Fillings
To put a spin on the Cinnamon Star Bread, we stuffed our bread it with apples. Here are some more ideas.
Add raisins to the apples
Substitute the apples with pears
Substitute the fruit with chocolate chips
How to make Spiced Apple Star Bread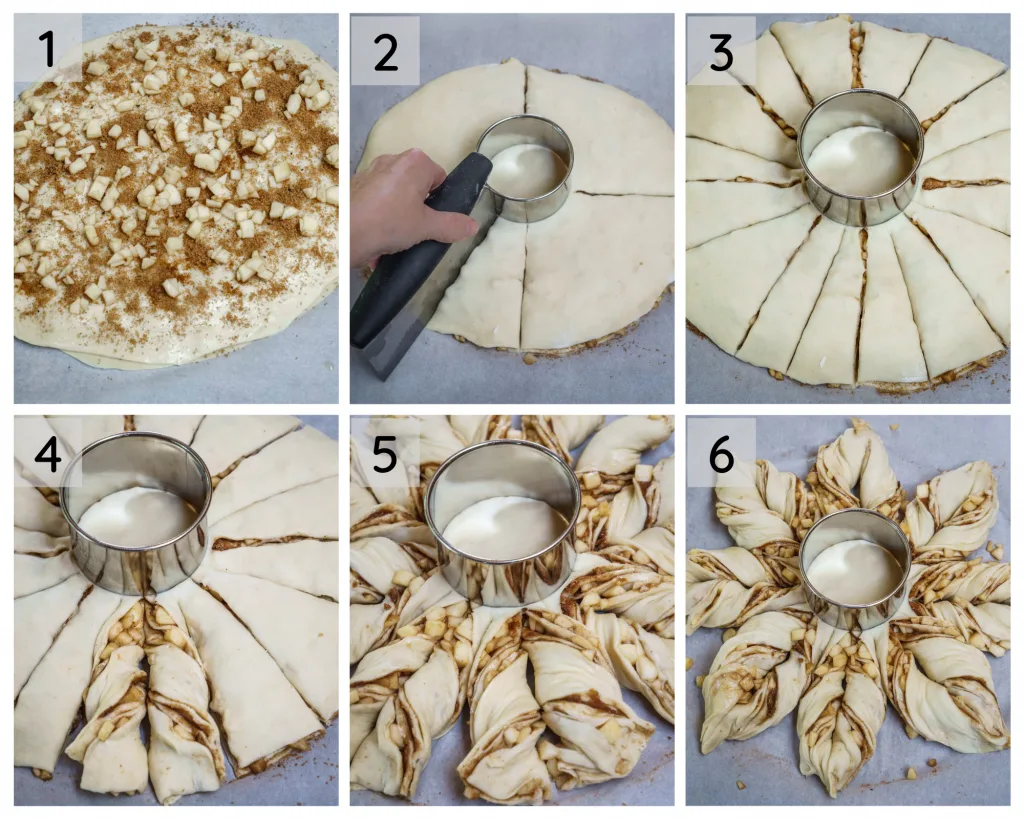 We used an electric stand mixer for this recipe. Add the dough ingredients to the bowl, and with the mixer running, slowly add the water until the dough is soft and smooth, not wet and sticky.

Cover the dough and let it rise for one hour.

Using a bench scraper, cut the risen dough into 4 pieces. I rolled them into balls and covered them for 15 minutes while I prepared the filling.
Roll each ball into a 10-inch circle.

I turn a baking sheet upside down and cover it with parchment paper. Put the first dough circle on the parchment paper.

Brush the dough with melted butter and sprinkle it with brown sugar and 1/3 of the diced apples.
Place the second dough circle on top of the first one and stretch it to match up the edges of the first circle.
Repeat the filling and third dough circle. Place the 4th circle over the previous 3 but don't top it with filling.
Place a 2-1/2 to 3-inch biscuit cutter in the center of the top dough circle.

Don't cut through the dough. Just place it there.
You can also use a glass. You just need a circle you can work around.

Using the bench scraper or sharp knife, make 4 cuts through all 4 layers evenly spaced through all four layers. Repeat until you have 16 cuts to the center.
Each 2 strips make one star tip. Pick up two strips and twist them twice away from each other. Continue until all 16 strips have been twisted.
Pinch the pairs of strips together to create a point.
Remove the cutter. Cover with a clean towel and let star rise 45 minutes. While star rises, preheat the oven
Remove towel and brush with beaten egg. Sprinkle with Turbinado or demerara sugar.
Bake
That many steps? Not really, I just really broke them down so it would be easy for you to shape your bread.
Love it? Pin it!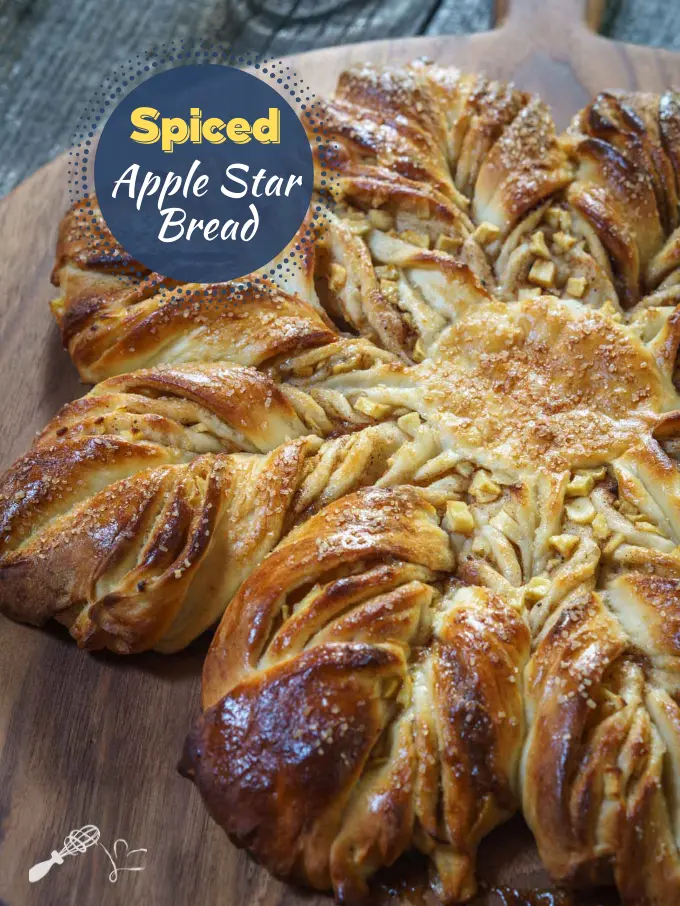 Tips for the perfect Star Bread
Dice the apples in small pieces to make twisting the bread easier without losing the filling.

We recommend using fresh apples. Canned or jar apple slices will have too much moisture making the bread soggy and/or lose it's shape.

Don't overfill the dough. You will just lose the extra filling when you twist it or it will be difficult to shape.
Don't overproof the second rise. By doing so, you will lose the shape.
We added turbinado (sugar in the raw) to the top of our bread because we love the crunch you get when you bite into it. You could skip the sugar and just apply a dusting of powdered sugar or a simple glaze.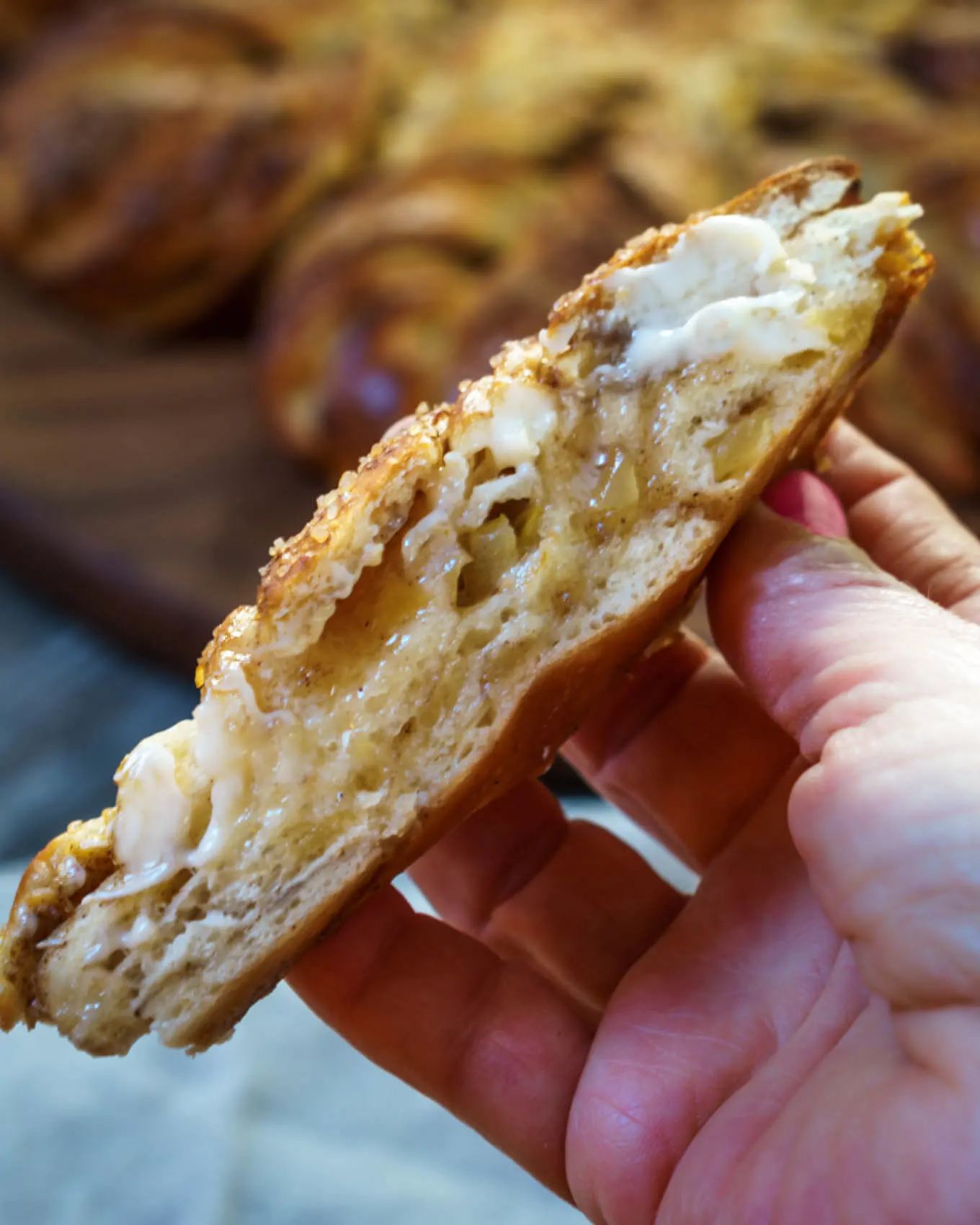 I'm hoping all of these details will encourage you to give it a try and I hope you'll let me know if you have any questions.
If you like this recipe here are some other shaped bread recipes you may enjoy.
We LOVE baking bread! You can find all of our bread recipes here!
The bread gods were definitely with me. There isn't anything difficult about making this bread and I'll be making it several times throughout the year.
It's not any more difficult than making cinnamon rolls, and makes an amazing gift!
If you like this recipe, we would appreciate your comment and a 5-star ⭐️⭐️⭐️⭐️⭐️ review!
Some of our most popular recipes!
Don't have time to make it now?

Pin it

for later!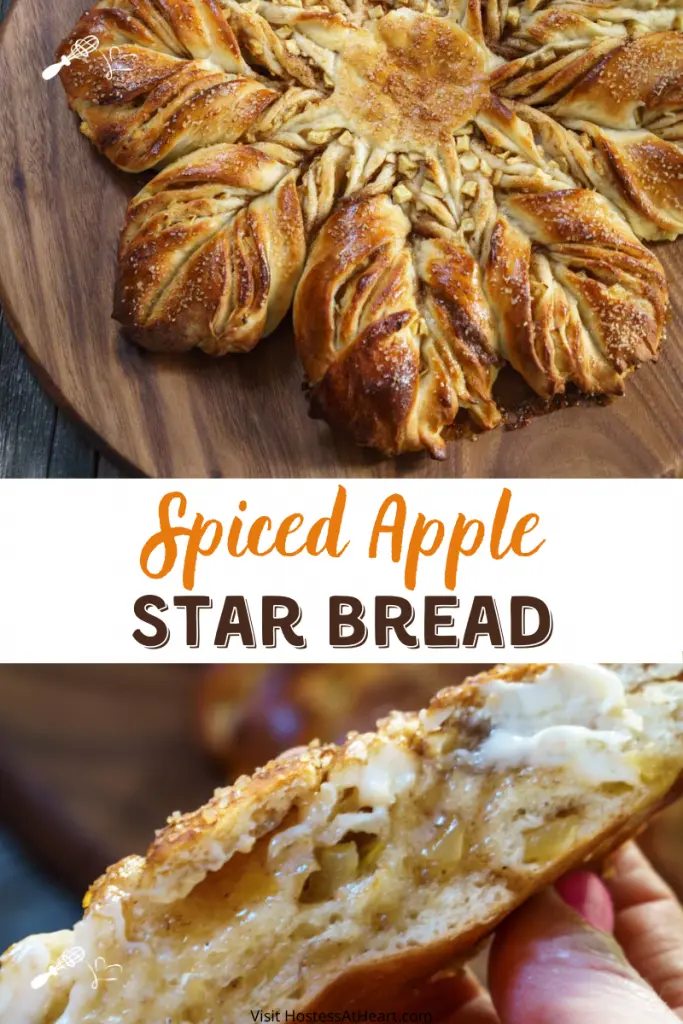 Thank you Pavani for hosting this month's fun challenge. We can't wait to go through all of the recipes and hope you will check them out too.
This month's for BreadBakers', we're baking bread with fall fruits and vegetables, for example, apples, grapes, pears, sweet potatoes, cauliflower, broccoli, acorn squash, butternut squash etc.
Our host of the month is Pavani at Cook's Hideout. Check out what the Bread Bakers have come up with Fall Fruits & Vegetables.
#BreadBakers is a group of bread loving bakers who get together once a month to bake bread with a common ingredient or theme. You can see all our of lovely bread by following our Pinterest board right here. Links are also updated after each event on the #BreadBakers home page.
We take turns hosting each month and choosing the theme/ingredient. If you are a food blogger and would like to join us, just send Stacy an email with your blog URL to [email protected].