Cheese Stuffed Pork Chops with Apple recipe makes an oven-baked stuffed pork chop that's tender, juicy, and delicious. Crisp salty bacon combined with sweet apple and smooth cheese transforms a simple chop into gourmet status, and you'll love how quick and easy they are to make.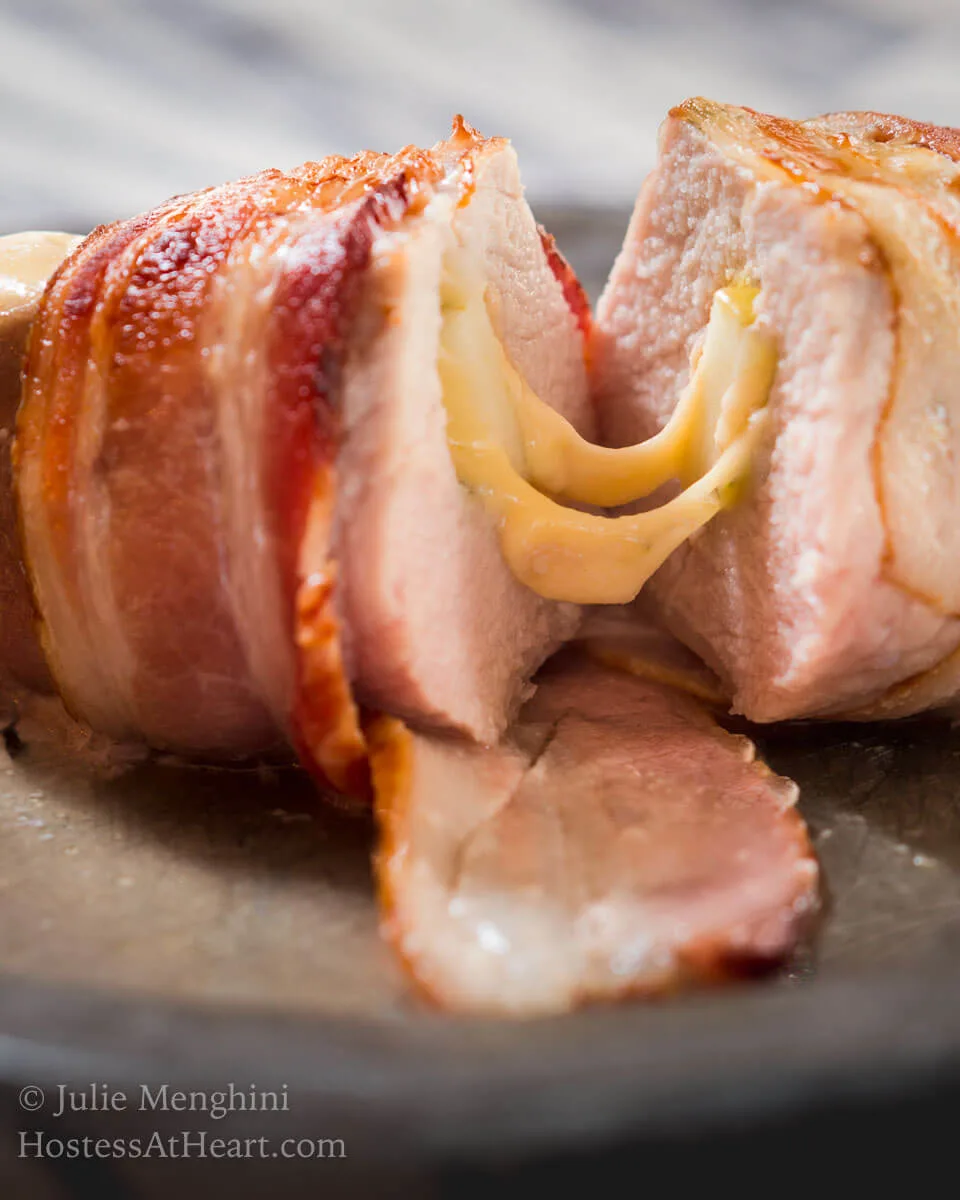 Stuffed Pork Chops with Creamy Gouda Cheese and Apple couldn't be easier. This stuffed pork chop recipe combines salty smoky bacon with sweet apples and creamy gouda. Nothing is missing in this simply delicious recipe!
We love pork chops, but Stuffed Pork Chops with Cheese and Apple that have been wrapped in bacon? That's a recipe you can make easily for one or a dozen and it's so easy that it makes a great weeknight dinner.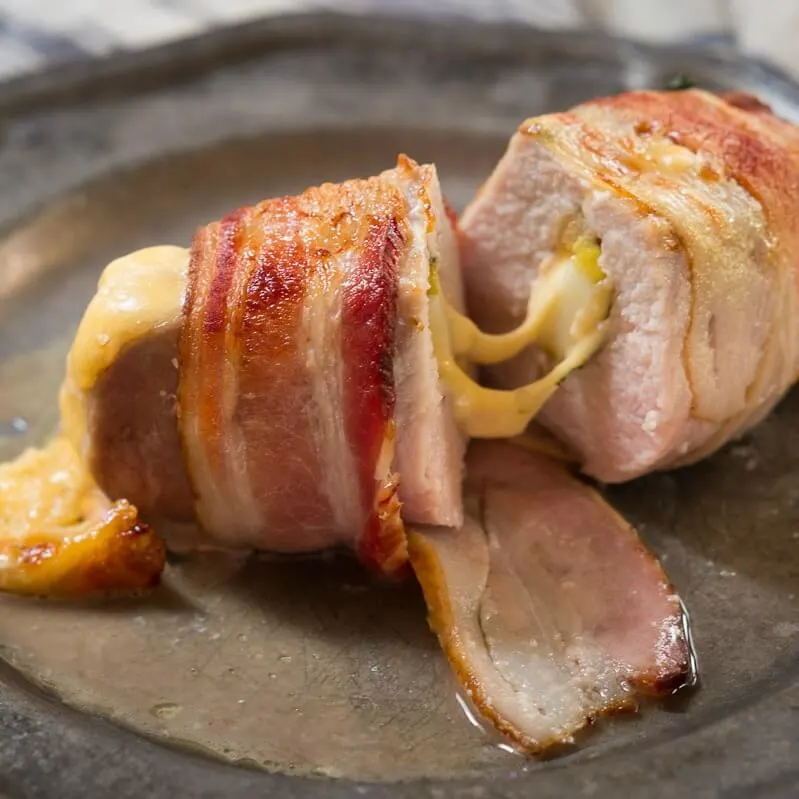 Ingredients
Pork Chops – we used thick (1-1/2 to 2″) boneless pork loin chops.
Cheese – we used a block of Gouda.
Bacon – thinly sliced is recommended and the variety is your choice (hickory, apple smoked, etc.).
Apple – we've used green apples and red apples and both work great. We recommend using a good baking apple such as Granny Smith or Braeburn to prevent them from getting too soft.
Fresh Thyme – this is optional but thyme goes so well with pork. You could also combine it with some rosemary or sage.
Recommended kitchen tools
Hostess At Heart participates in affiliate programs. As an Amazon Associate, I earn a commission from qualifying purchases. Please refer to my disclosure page for more information about these affiliate programs.
How to make Stuffed Pork Chops with Apple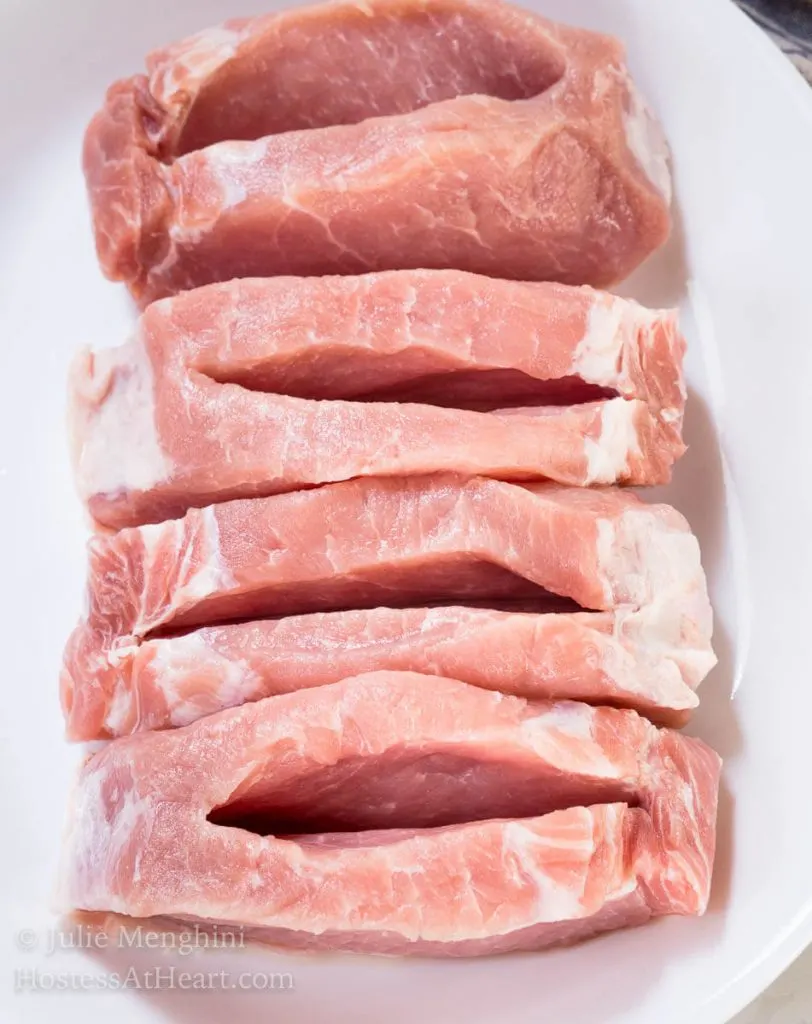 Pat the pork chop dry and using a sharp knife, slice a deep pocket into the center of the pork chop. Be careful not to slice all of the way through the bottom or sides so you don't lose your filling or its flavors.
Cut the apples into 1/8″ slices. We didn't bother to peel them.
Slice the cheese into 1/4″ slices.
Insert two slices of cheese with an apple slice in between into the opening of the pork chop.
Wrap the stuffed pork chop with bacon and secure it with toothpicks.
Place the cheese stuffed pork chops into a baking dish that's been sprayed with non-stick cooking spray and bake.
Tips to cook the perfect apple stuffed pork chop
Take the pork chops out of the refrigerator 15 minutes before you cook them. Bringing the meat to room temperature helps them cook evenly.
Overcooked chops are tough. A slightly pink interior is perfect.

Use an instant-read thermometer and cook to 145. Insert the thermometer in several places to assure a correct reading and try to measure the temperature of the meat only. Not the filling.

Allow the cooked pork chop to rest for 5 minutes after they're cooked. This allows the fibers to relax and for the juices to absorb making a juicy tender chop.
We use a thicker chop 1-½ to 2" since we were going to split it open to stuff it. If you used a thin pork chop, the meat would be cooked before the apple was baked.
We don't cover the pork chops. Wrapping them in bacon keeps them moist and crisps up our bacon. If your bacon isn't crisping, you may need to increase the temperature of your oven to 400 for the last 10 minutes.
How long does it take to cook stuffed pork chops? You should always use an instant-read thermometer instead of relying on time or temperature. Pork should be baked when the internal temperature reads 145°F. Here are some more pork safety tips.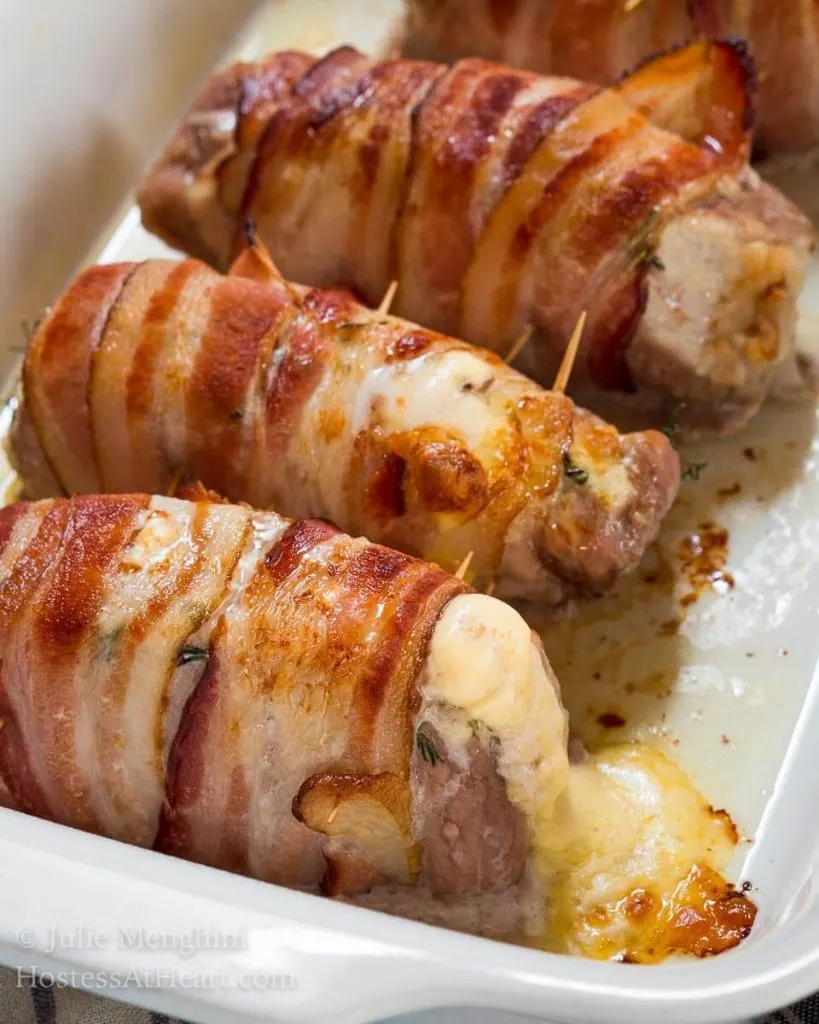 How to store leftover Cheese Stuffed Pork Chops
Keep leftovers refrigerator and consume them within 4 to 5 days. Meat should be refrigerated within 2 hours of cooking.
While pork chops freeze well, we don't recommend freezing stuffed pork chops. The consistency of the apple and cheese can change.
If you liked this pork recipe here are a few more you may enjoy
Still looking for delicious pork recipes? Find all of our delicious pork recipes here.
The perfect side dish for Cheese Stuffed Pork Chops
When choosing a side dish, our go-to would be recipes that cook on the stovetop in the same amount of time that it takes to cook this Stuffed Pork Chop recipe since our oven is in use. Recipes that or don't require cooking at all are perfect too!
If you liked this recipe, we would appreciate your comment and a 5-star ⭐️⭐️⭐️⭐️⭐️ review!
This post was originally sponsored by Crystal Farms Cheese® but the opinions here are all my own.
POPULAR RECIPES