Pork Chops with Cranberry-Thyme Sauce look and taste like it's only for a very special occasion but it's quick enough to put on your table any day of the week.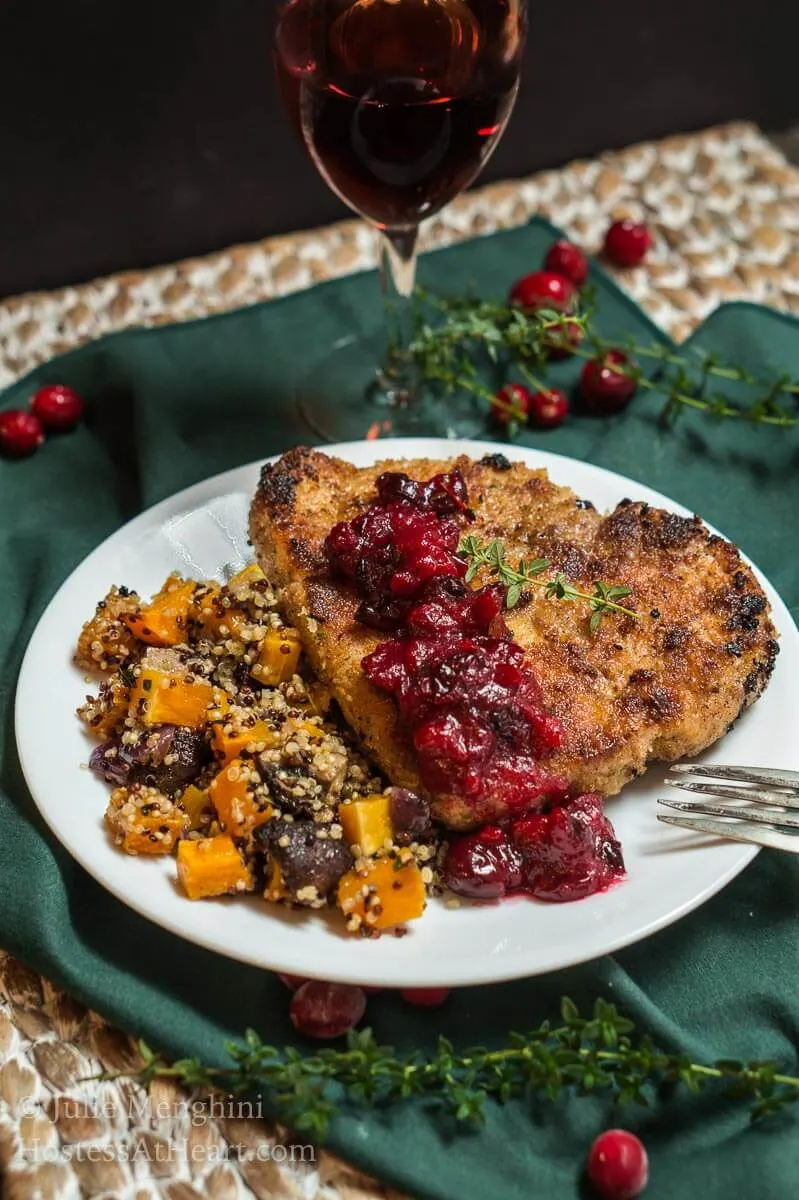 We love pork chops, and there are so many delicious ways to cook them. Pork Chops with Cranberry-Thyme sauce is amazing. It tastes like it's only for a special occasion, but it is quick and easy enough to put on your table any day of the week.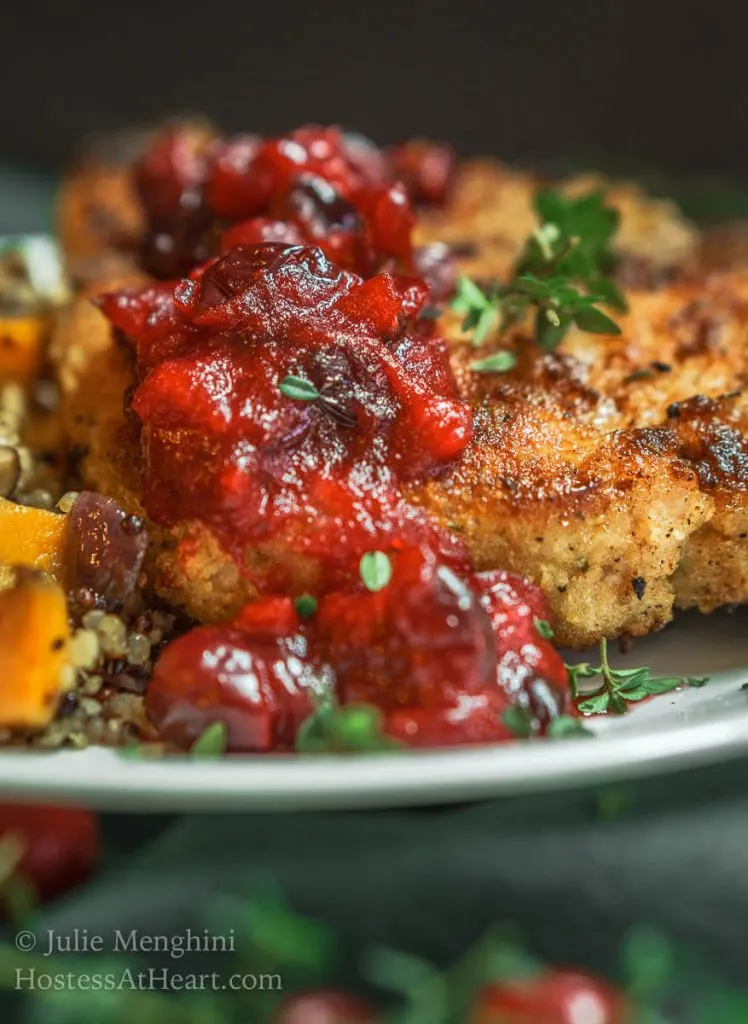 When I grew up, all of our dinners were based on meat and potatoes. I don't ever remember a piece of fruit touching the meat let alone cooking them together. That's not the case anymore. There are a lot of recipes that combine protein and fruit such as my Raspberry Jalapeno Shrimp Tacos or Braised Chicken Thighs with Tart Cherries.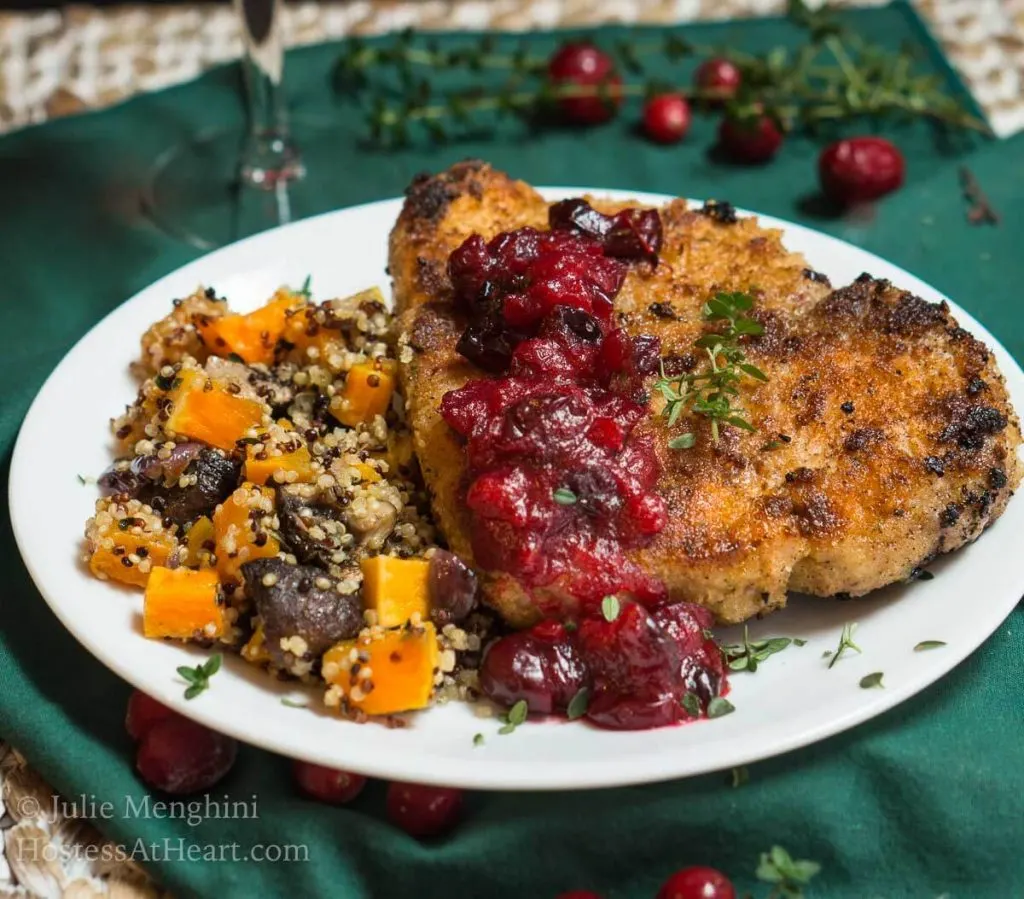 Breaded pork chops are our favorite as long as the chop is browned and not dry. Who wants soggy breading or a dusty chop?
To keep this from happening, I put a quick sear on them in a hot cast-iron skillet and finish them in the oven. The cranberry-thyme sauce is the perfect combination of sweet and savory to finish the whole thing off.
We love these pork chops all year round. If we're not using the cranberry-thyme sauce, they're amazing slathered in this simple White Country Gravy from my friend at An Affair From the Heart.
You really have to use an Instant-Read thermometer to assure these chops don't overcook too.
Don't have time to make it now?

Pin it

for later!
Did you see that yummy side dish? I made Tri-color Quinoa with Roasted Vegetables from Loretta at Safari of the Mind. A great friend and an amazing cook. My roasted vegetables included butternut squash, red onions, and portobello mushrooms. It went really well with the pork chops!
Are you keeping up with all of the amazing cranberry recipes this week? Here are a few more!
Welcome to #CranberryWeek, hosted by Caroline's Cooking and A Kitchen Hoor's Adventures. We'll be sharing cranberry-inspired creations all week long in celebration of national cranberry day. Search #CranberryWeek to keep up to date and follow the #CranberryWeek Pinterest board for more cranberry inspiration. But first, see all the other cranberry recipes being shared today:
If you like cranberries like I love cranberries, here are a couple more of my favorite recipes!