White Chocolate Peppermint Cookies are soft and tender. This festive chocolate peppermint cookie recipe makes a delicious addition to any holiday get-together and gifts.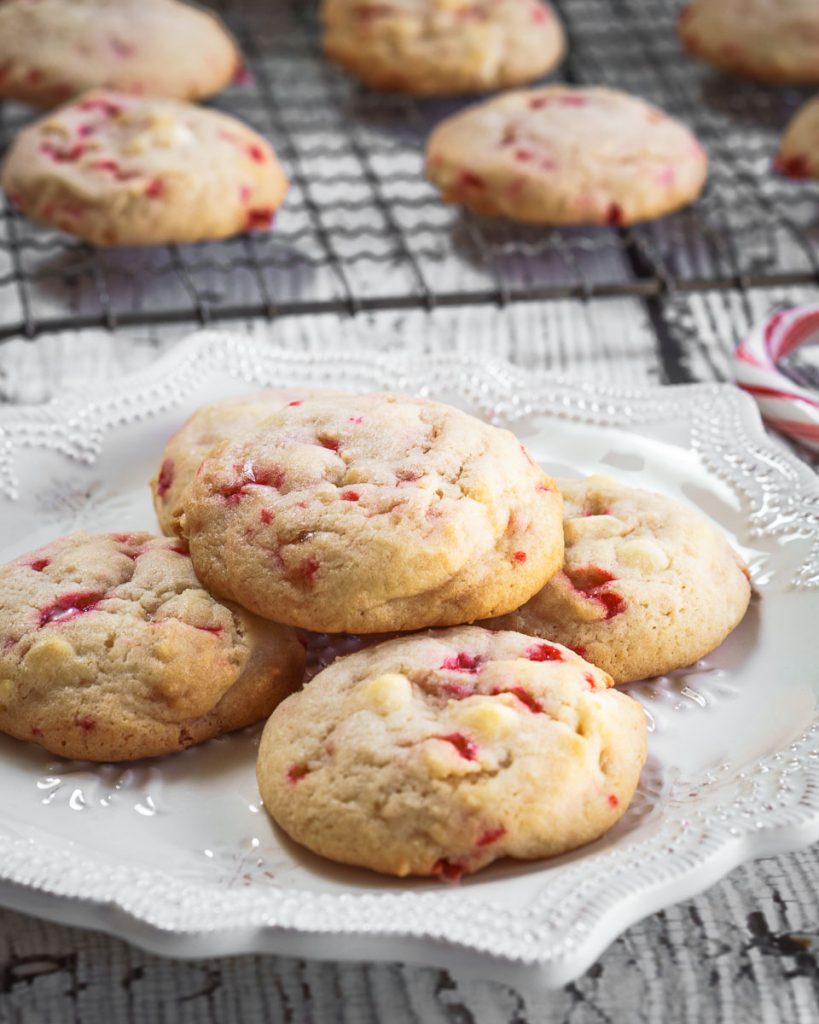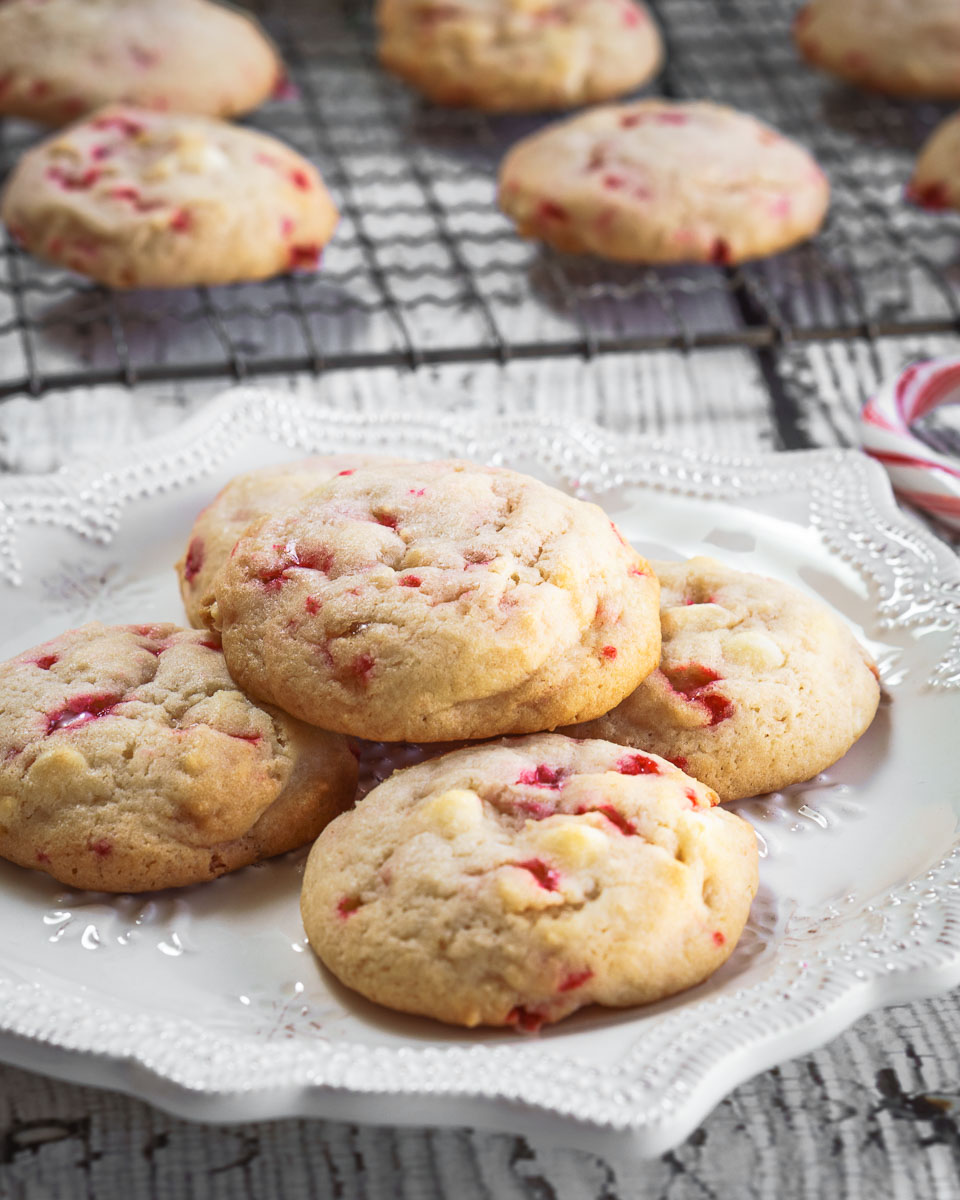 There is nothing like a cold winter day or the holidays to make me start to crave hot chocolate and peppermint. It's festive and just warms you from the inside out. White Chocolate Peppermint cookies will go perfectly with a cup of hot chocolate.
When I start getting in the holiday mood, one of the first things I think about is baking. I love having a pretty tray of sweets for holiday get-togethers.
I always bake some tried and true favorites like our Nut Rolls and our Lemon Snowflake Cookies and add a few that I've had on my want list. Included on this list was to come up with a Chocolate Peppermint Cookies recipe.
You know I love to bake right? Well, there is something about developing cookies. I have about a 50% success rate. The last two varieties that I tried flopped with a capital F for failure.
My first attempt at these cookies turned out as flat as pancakes. I dumped the batter after trying to adjust the size of the cookie and the temperature of my oven three separate ways. I really do get bummed out about throwing away ingredients like this.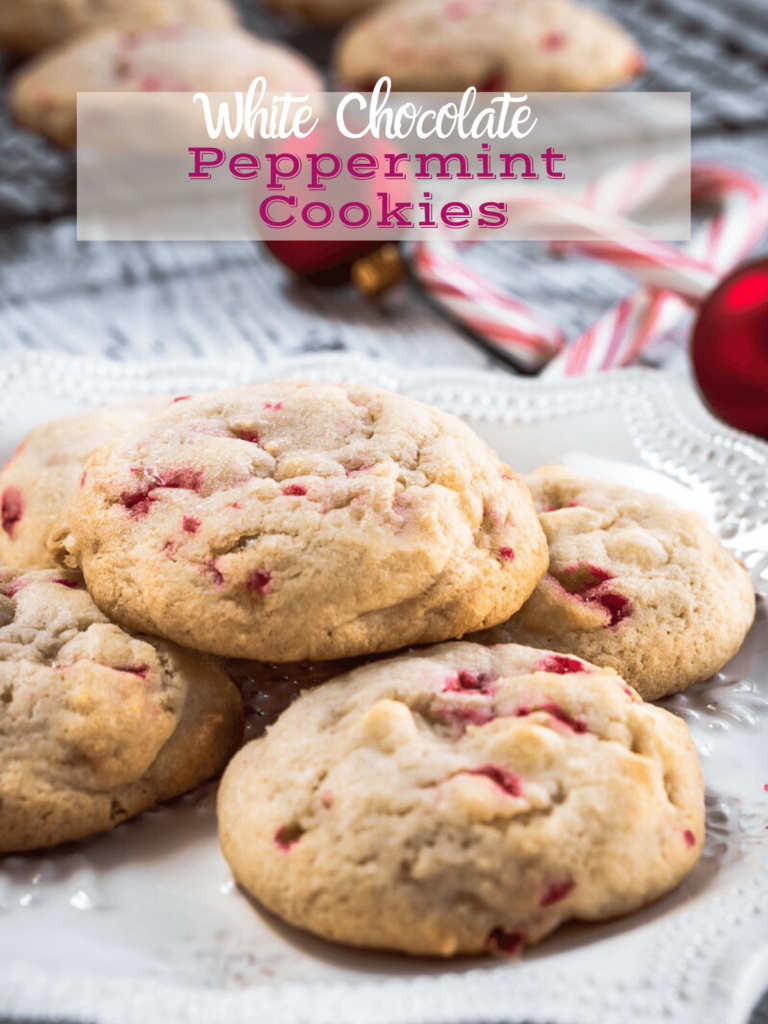 After sleeping on it and wallowing in defeat I decided to give it another try. I made some adjustments to the recipe and held my breath.
You could have heard my taa daa a block away when I pulled out these beautifully domed peppermint cookies from the oven.
A few things you may need:
These chocolate peppermint cookies are soft and tender and the white chocolate mixes deliciously with the peppermint. They taste so festive, and the specks of red always add a holiday touch.
Baking Sheets – These sheet pans are durable and I have four of them so I can get everything baked in a jiffy!
Scoops – Ever wonder how every cookie, meatball or muffin is the same size? Scoops! I use them a lot and own this set. I've had them for years!
Ingredients for these Chocolate Peppermint Cookies
Flour – All-purpose
Baking soda
Baking powder
Butter – I used unsalted
Sugar – white granulated
Eggs – large
Vanilla extract – I used pure but imitation is acceptable for baking
White chocolate chips
Peppermint candy cane pieces
Don't have time to make it now?

Pin it

for later!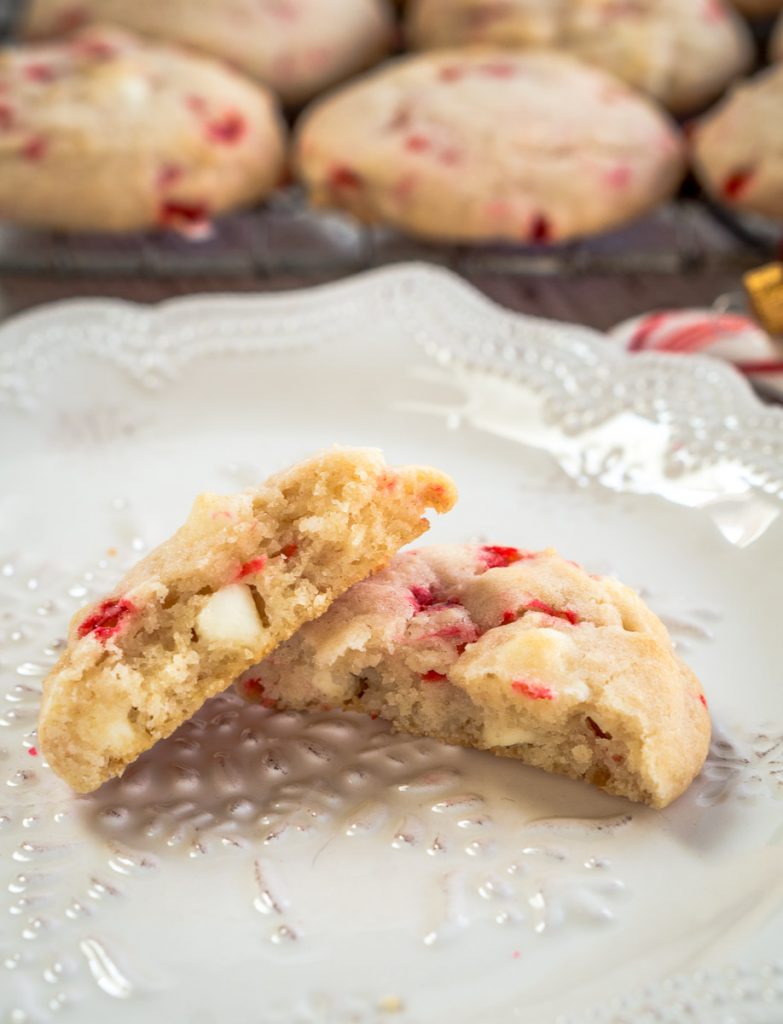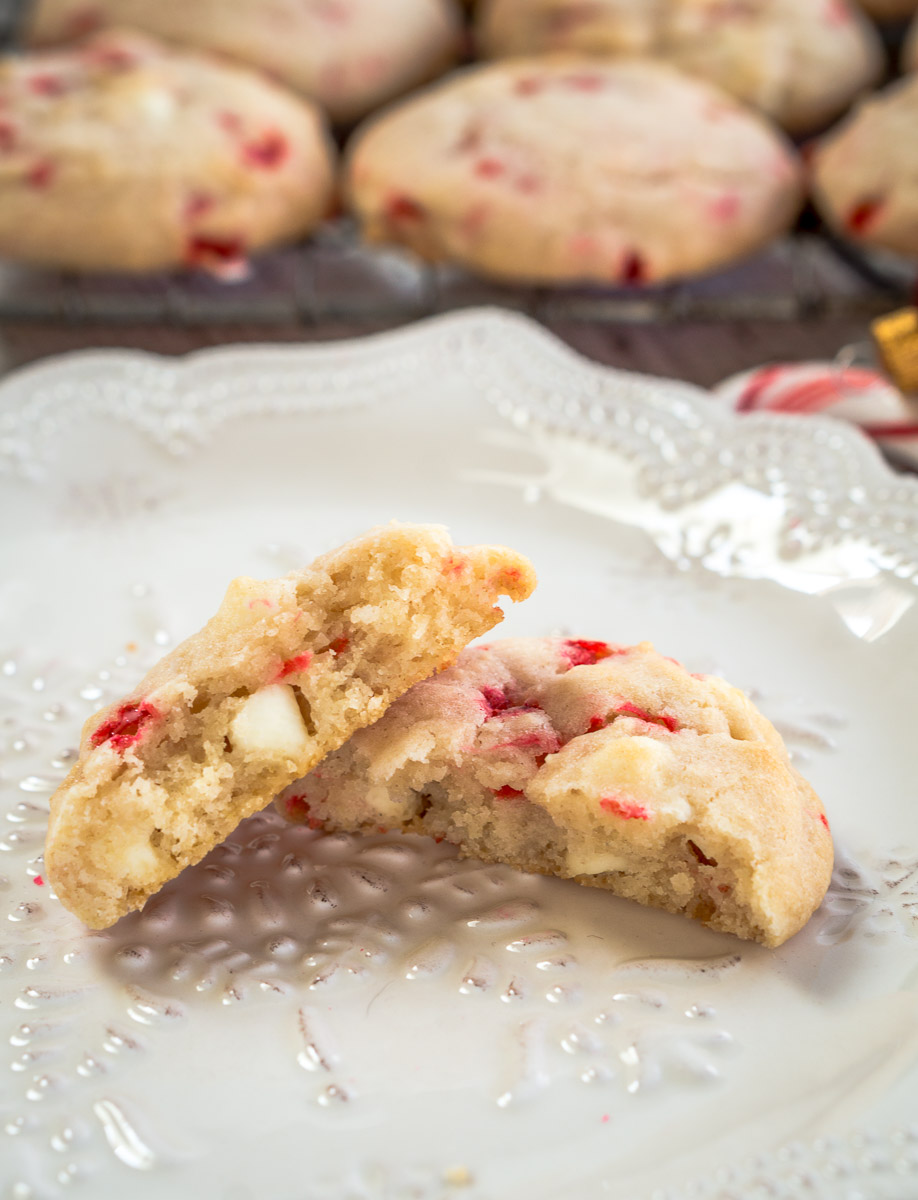 You can now buy peppermint already crushed into the perfect-sized pieces. However, it's not hard to crush your own candy canes. I put the candy canes in a zipped lock bag and whack it with a wooden rolling pin. It's oddly satisfying.
Tips for making the perfect Chocolate Peppermint cookies:
Don't crush candy canes too finely. The peppermint candy canes are sugar and can cause the cookies to spread too much.
Use a scoop when making cookies. They bake evenly when all the same size.
Line the baking sheet with parchment paper or a silicone mat. If the candy sticks to the baking sheet it can burn.
Peppermint Cookie variations:
Substitute chocolate chips or chocolate mint chips for white chocolate chips 1:1.
Add nuts such as macadamia or pecans.
Add a few drops of red food coloring to the cookie dough for a pretty pink cookie.
Holiday baking recipes you might enjoy
If you tried this delicious recipe, don't forget to rate it and leave me a comment telling me what you think. I love hearing from you!
I hope you'll join me on social media. If you make this chocolate peppermint cookies recipe, take a picture and share it. I'd love to feature you and give you the thanks you deserve.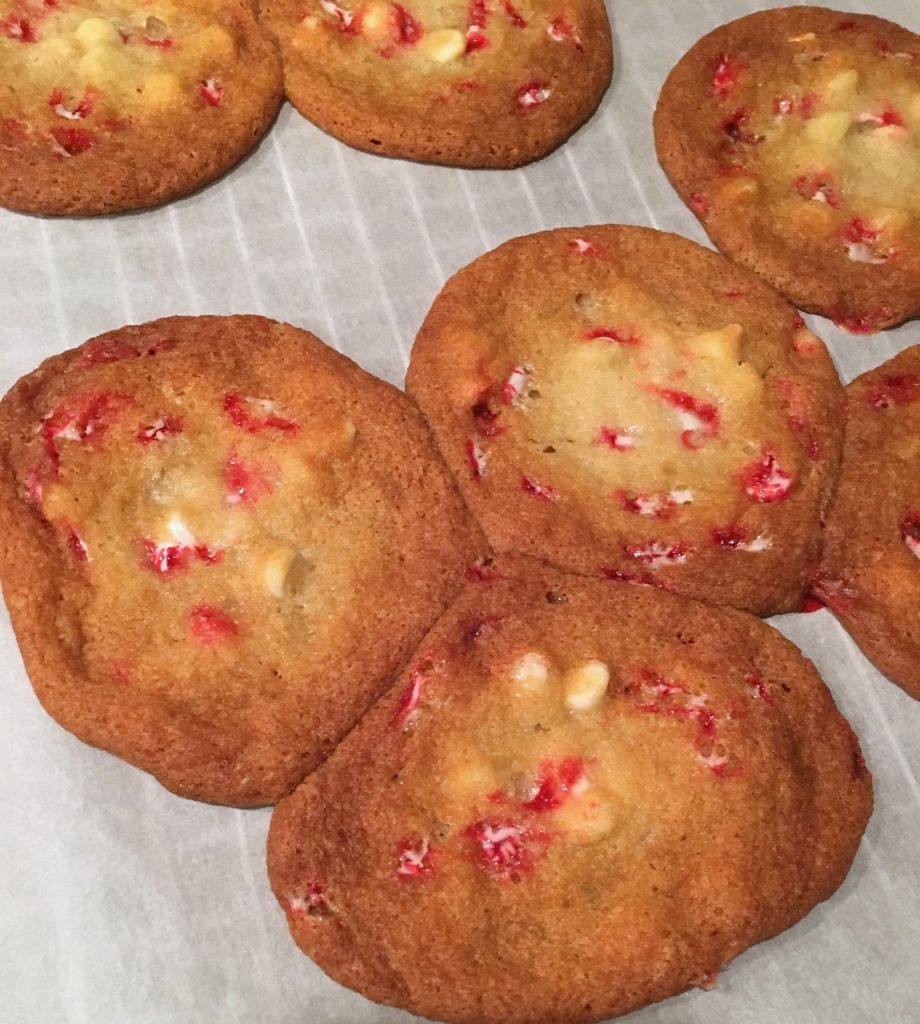 Now you've told me in the past that you wanted proof that failures come out of my kitchen. Well, here's proof! I thought I'd never say this, but there is such a thing as too much butter.
What is your favorite treat to put on your holiday cookie platter? Please share!
This post has been updated to improve readers' experience. No changes were made to the recipe.