Homemade Butter Cookies have a soft center with a crisp crunch on the outside. This old-fashioned recipe is perfect for the holidays but easy enough for any day!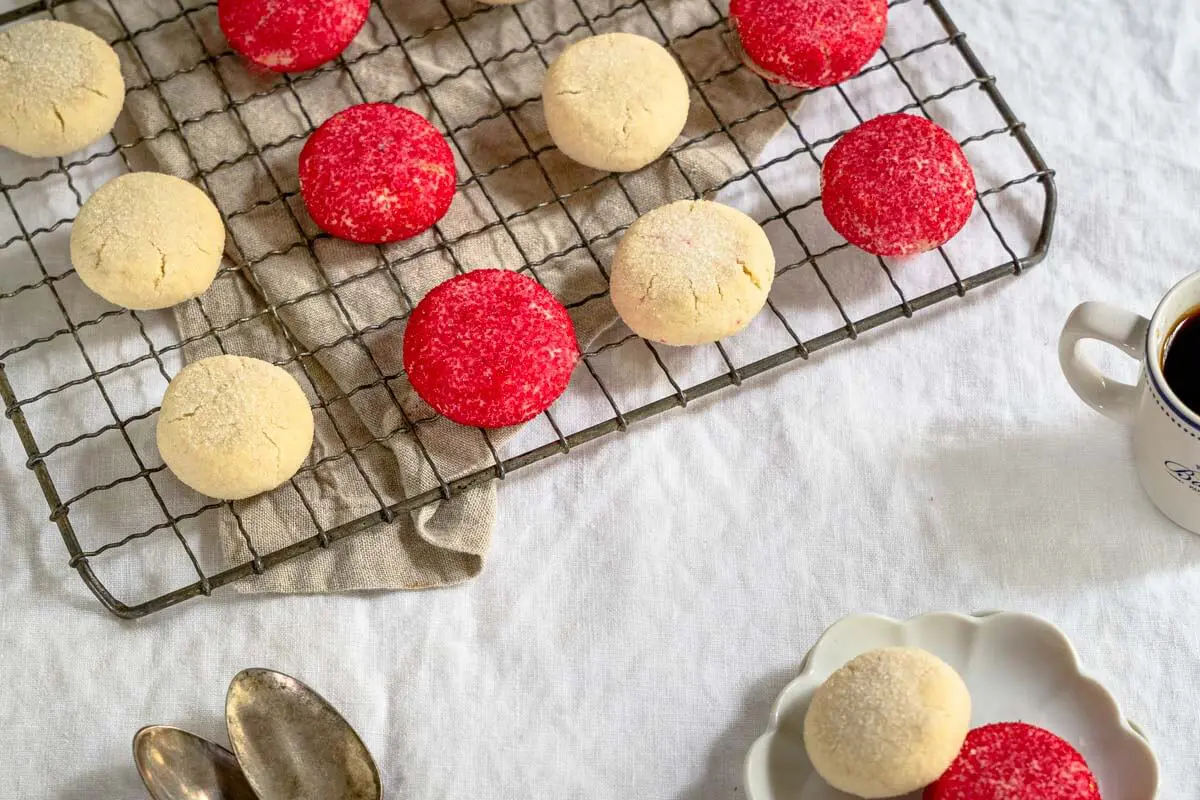 There's nothing like a tried and true Old Fashioned recipe. Especially when it's quick and easy to make like this delicious Homemade Butter Cookies recipe.
These little butter cookies are perfect to dress up with decorative sugar for the holidays and simple enough to make for a casual get-together.
They use simple ingredients, no fancy techniques, and mix up in a jiffy.
Freaky Friday Virtual Cookie Exchange Blog hop

What's so special about these cookies?
As much as I would love to take credit for baking this old-fashioned butter cookie recipe, this recipe is actually inspired by the Cookie Exchange edition of our Freaky Friday Blog Hop.
What is the Freaky Friday Blog Hop? Freaky Friday is a blog hop with some of my favorite food blogger buddies!
We secretly get assigned one another's blogs to make a recipe from, and then we all reveal who we had and what we made on the same Friday, and that is today!
The Freaky Friday blog hop is organized by Michaela who runs An Affair From the Heart.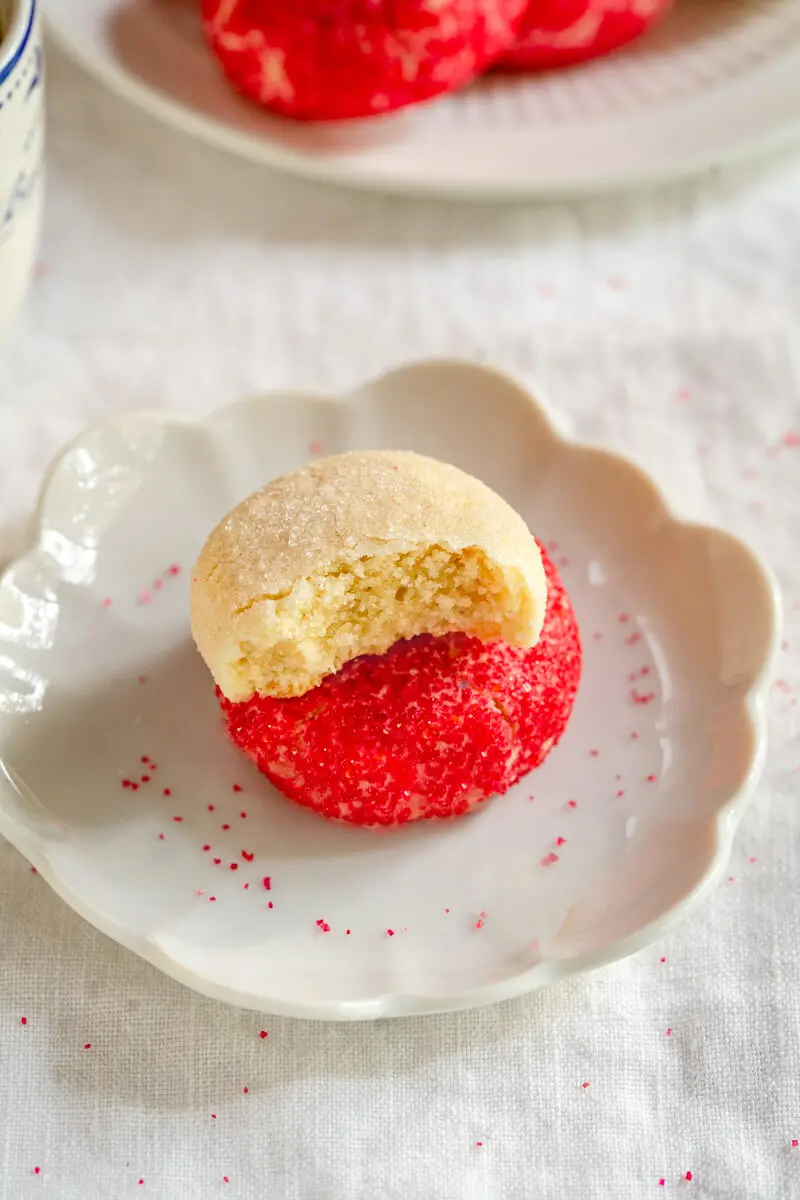 I was so excited to get my friend Debra's blog "Bowl Me Over" for our Virtual Cookie Exchange edition of Freaky Friday.
Let me tell you a little bit about Debra.
Debra and I met a few years back when John and I were in her home state of California. It was one of those meet-ups where you felt you'd been friends for years and the conversation just picked up where it left off the last time.
Besides being a great cook and an animal lover, Debra is a sweetheart and volunteers to bake and deliver custom birthday cakes, cookies and cupcakes for children in the foster system. That just warms my heart!
One thing we have in common with our blogs is that we TRY to keep our dishes on the healthier side, but it has to be flavorful too.
Her blog name, Bowl Me Over, is appropriately named because a lot of her recipes start with one ingredient, often leftovers, thrown in a bowl, and built into an amazing recipe from there.
Previously I made Debra's Teriyaki Chicken Bowl and it's still one of the recipes that I make routinely.
Since this is a cookie exchange, I wanted a recipe that was suitable for a cookie tray. Debra had some amazing contenders such as her Old-Fashioned Butterscotch Cookie Recipe, Easy Peanut Butter Oatmeal Cookies, and her White Chocolate Macadamia Nut Cookies!
Ultimately, I had to go with her Grandma Bertha's Homemade Butter Cookies. Like Debra, we cherish those family recipes so this one was perfect for our cookie exchange blog hop.
I make a lot of large cookies and when shaping these cookies thought the 1-inch had to be a mistake!
I followed the recipe and they're just perfect as a sweet little treat after dinner or with a cup of tea in the afternoon.
The recipe makes 36 to 40 cookies and freezes beautifully so you can make them now and freeze a few for later! Just put them in an air-tight container.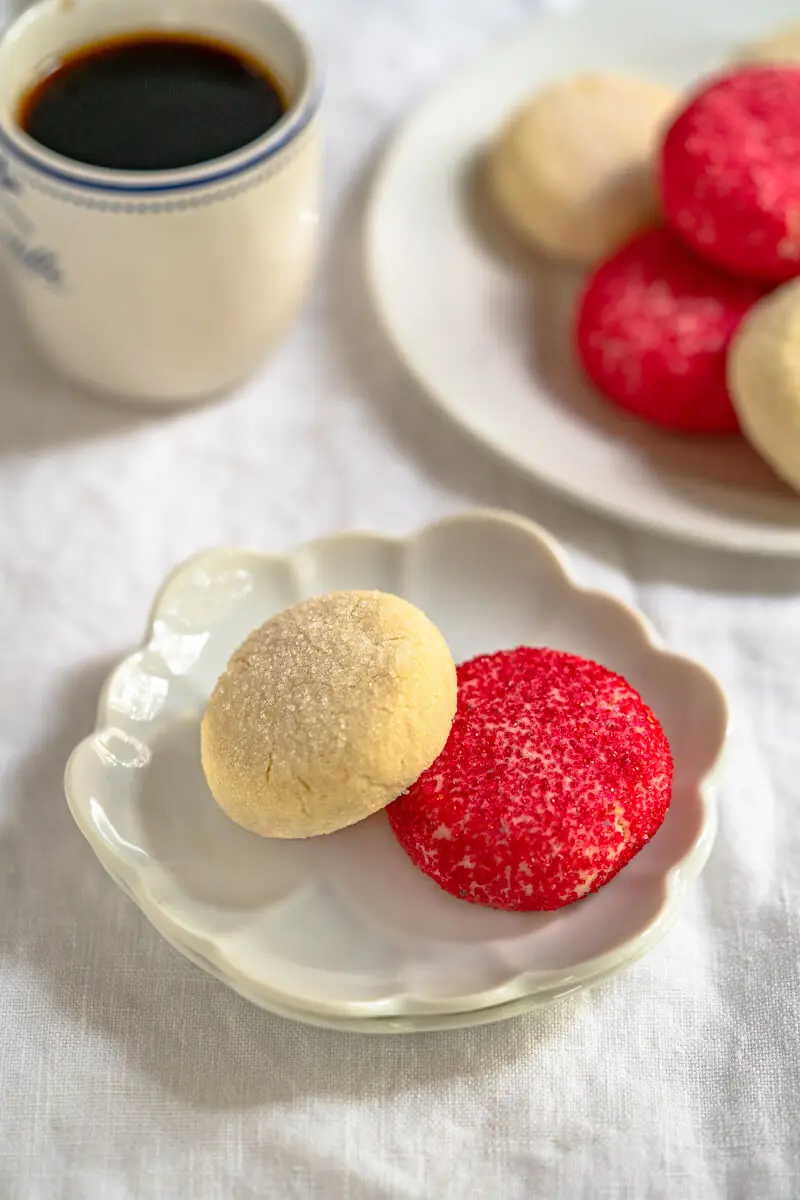 What's the difference between Butter, Sugar, and Shortbread Cookies?
When we first made this recipe, it made me wonder if it was more of a shortbread cookie since it isn't an overly sweet. However, with the rich butter, it could pass for a sugar cookie. Here's the difference.
Sugar cookies are often sweeter and rolled and cut out. You could roll out this butter cookie recipe. The texture of the dough is very similar to a sugar cookie dough. It's not as sweet as a sugar cookie, however.
Shortbread cookies traditionally have a higher butter to flour ratio and tend to have more of a crumbly texture. They're generally baked at a lower temperature as well.
This cookie has a soft center with that delightful crunch on the outside so it definitely isn't a shortbread cookie.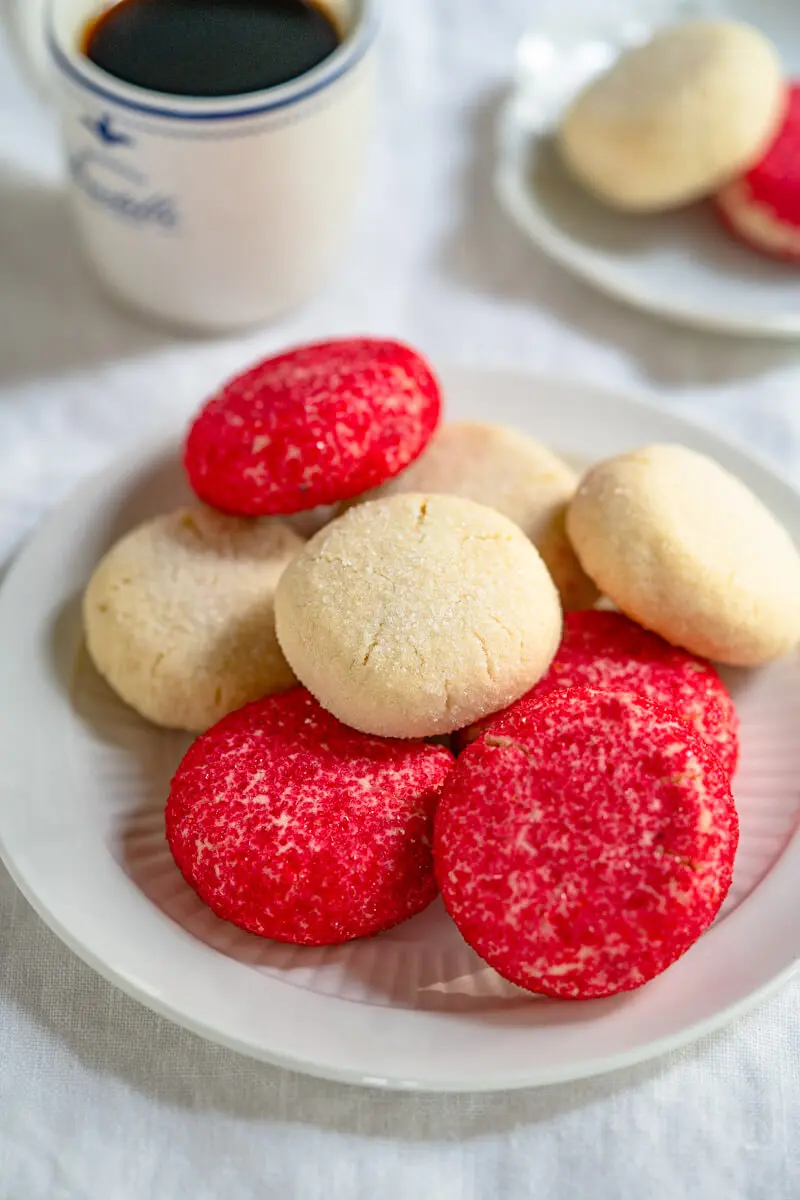 Butter Cookie Recipe Ingredients
Like so many old-school cookie recipes, the ingredients are simple and you probably already have them on hand.
Butter – this recipe uses salted butter
Sugar – white granulated sugar
Flour – all-purpose flour
Egg – we use large eggs for consistency
Baking powder
Vanilla extract – we use pure vanilla in this recipe
Decorating sugar – colored sugar, white sugar, turbinado sugar, or sanding sugar are good choices but totally optional.
How to make Homemade Butter Cookies
Step 1: Make the dough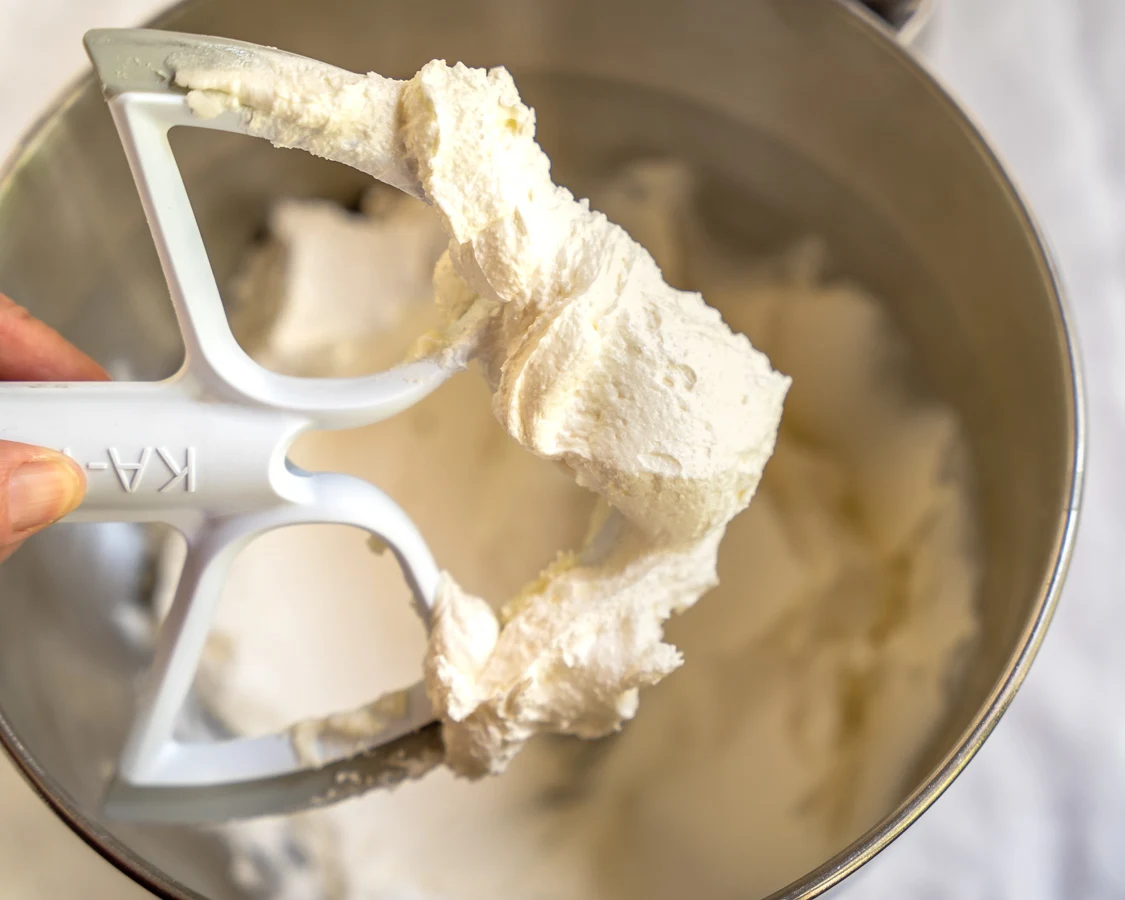 Cream the butter and the sugar together until it's light and fluffy.
Add the egg and the vanilla. Mix until combined.
Sift the flour and the baking powder together. With the mixer running on low, spoon the flour mixture into the butter mixture.
Cover and chill the dough for one hour. Alternately you can mix it one day and finish it another. Just make sure it's covered so it doesn't dry out.
Step 2: Shape the dough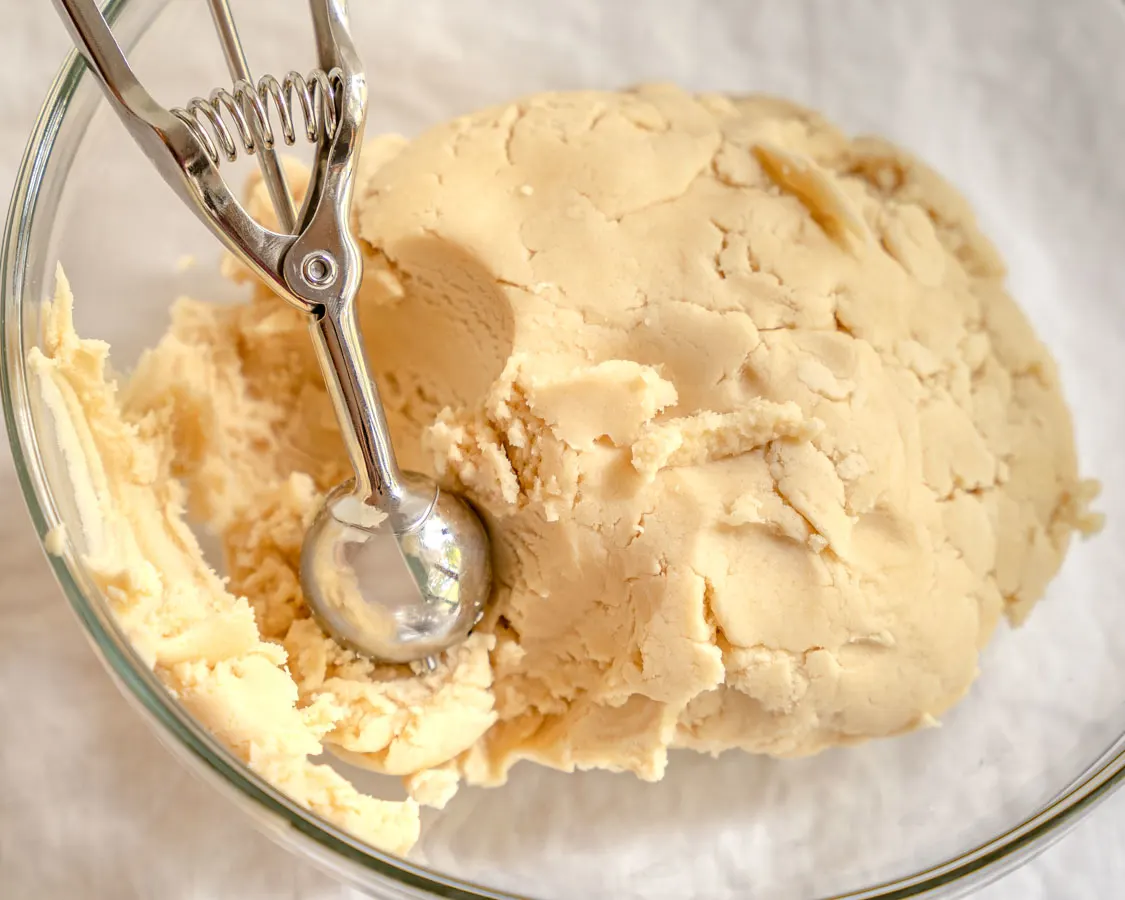 Scoop the chilled dough and roll into 1-inch balls.
Roll the dough ball in decorative sugar and place the shaped dough on a parchment paper-lined baking sheet.
Lightly press the top of the dough with the back of a spoon to gently flatten them.
Bake.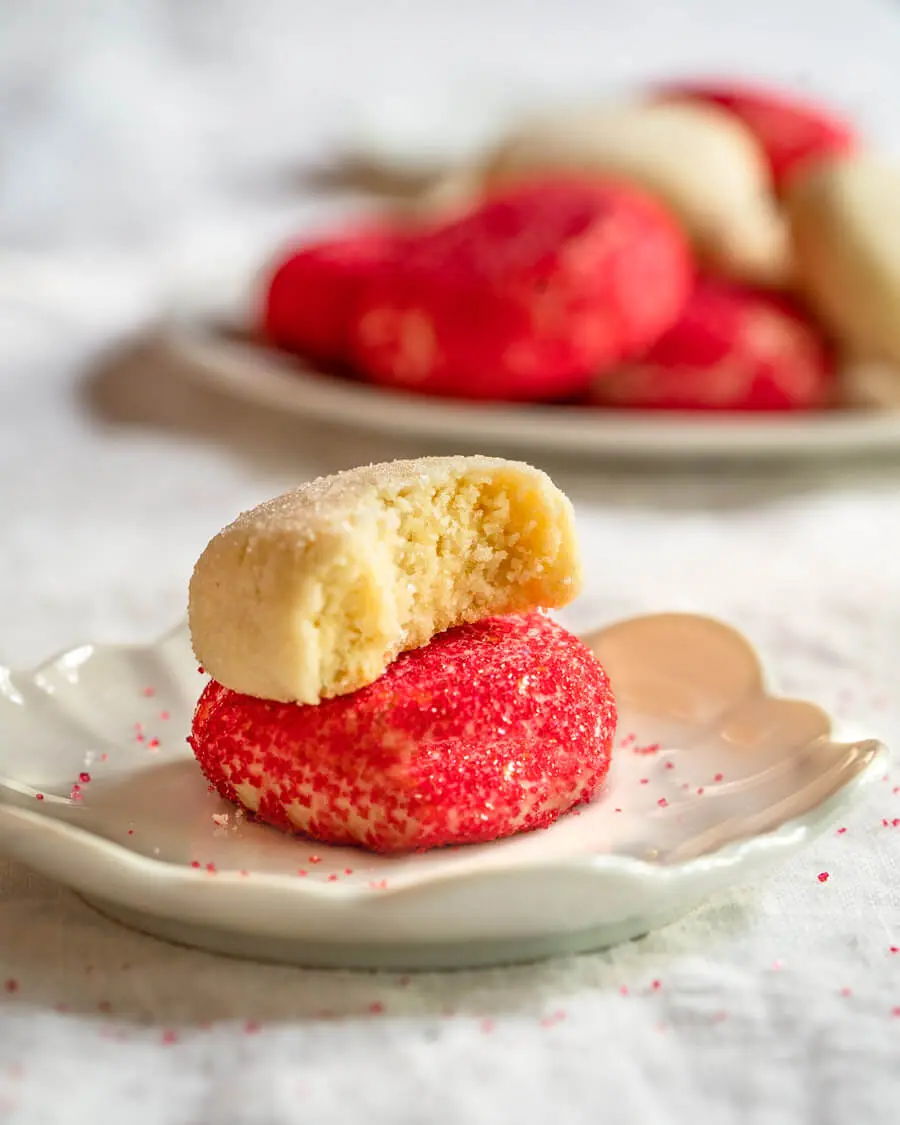 Tips for the perfect Butter Cookie
Measure your ingredients using the scoop and level technique for the flour and baking powder.

This recipe is dependent on the ratio of butter to sugar to flour so it's important that correct measurements are used.

You want your butter and sugar to be light and fluffy but don't over mix it until it breaks down.
Press the tops of the cookies lightly until they just start to resist. Pressing too hard will make the cookies crack on the edges.
Cookies don't spread while baking so you can bake up to 16 cookies on a baking sheet.
These cookies are small. Don't over bake them. Our cookies baked for only 9 minutes and weren't browned when we removed them from the oven but they had a crisp exterior.

We also removed them from the pan and moved them to a cooling rack within a couple of minutes of when we took them out of the oven.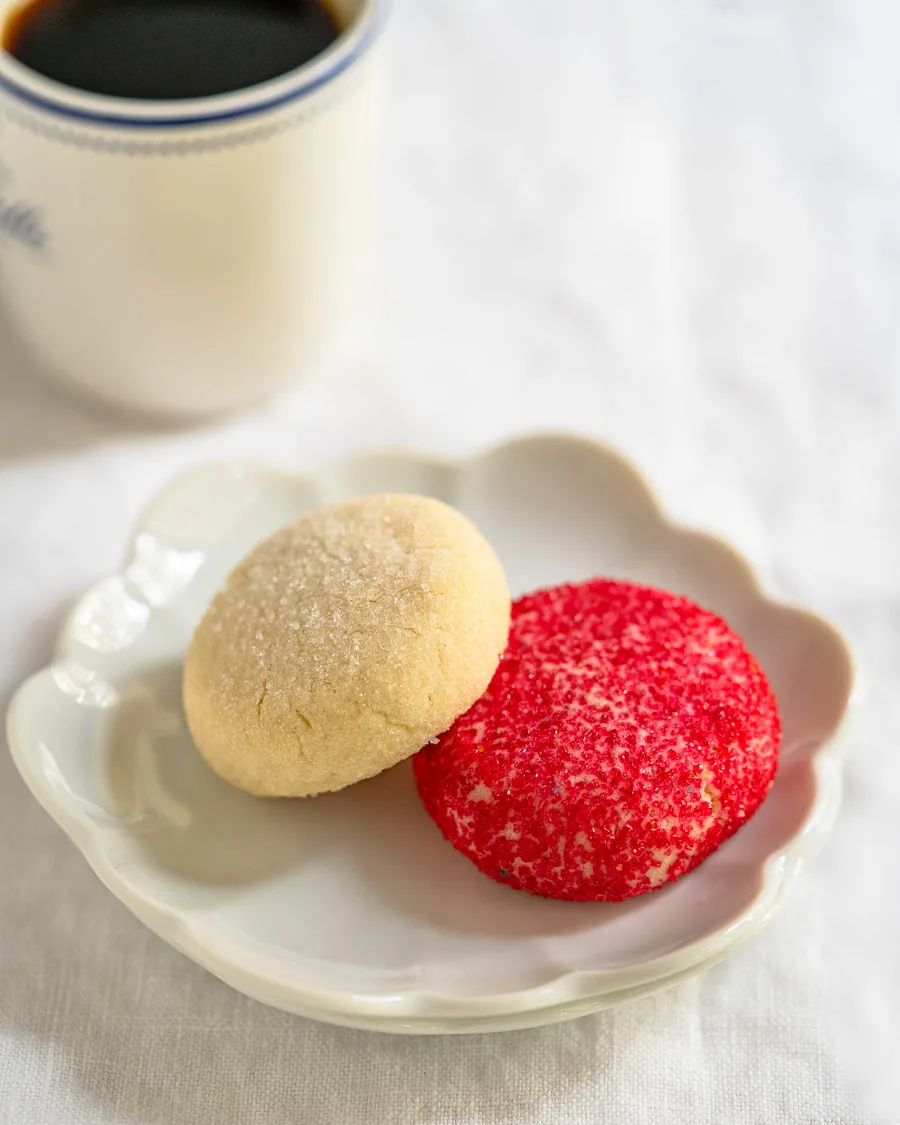 If you like this Butter Cookie recipe here are a few more I think you'll enjoy!
We love cookies! You can find all of our cookie recipes here!
In Debras post she said she had a lot of fun photographing these cookies. As you can tell, I did too!
Wouldn't these homemade Butter Cookies be adorable on your cookie tray? They'd also be perfect as a holiday gift alongside a new teacup and your favorite tea!
We'd like to thank Debra for this yummy cookie recipe, and I hope you'll check out Bowl Me Over and take a look at her recipes.
If you tried this delicious recipe, don't forget to rate it and leave me a comment telling me what you think. I love hearing from you!
Take a look at all of our 2020 Freaky Friday Holiday Cookie Exchange Recipes:
Pin this homemade cookie recipe!