This Homemade Sugar Cookie Recipe makes a soft and chewy cookie with delicate crispy edges that taste like it's bathed in vanilla and browned butter!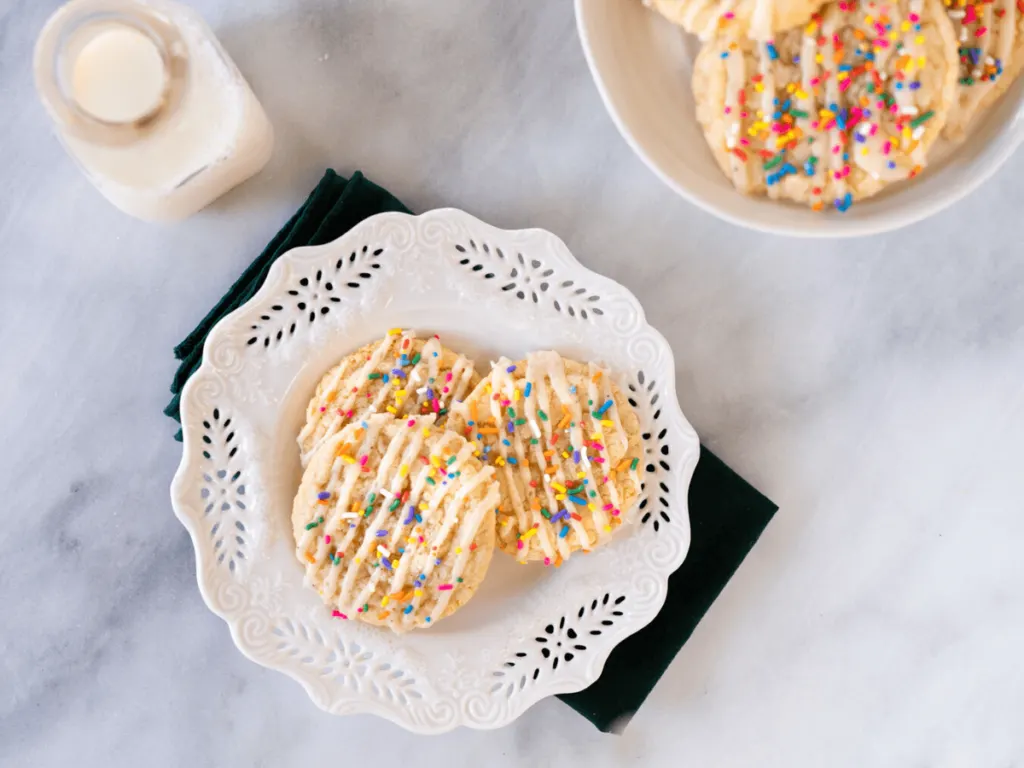 Pan WHAT? That's what I thought too! This Pan Banging Homemade Sugar Cookie recipe is just fun to make. Best of all they're quick and easy. That makes them perfect for the little kiddos to help.
For someone that spends almost every waking hour wondering how to get the perfect rise in their homemade sugar cookies, and then intentionally banging them while baking is just crazy. Right?
Well, let me tell you a little bit about how these cookies came about.
Today I'm celebrating our annual Freaky Friday Annual Virtual Holiday Cookie Exchange.
The Freaky Friday blog hop, organized by Michaela who runs An Affair From the Heart, is a group of bloggers that are secretly assigned each others' blogs from which we choose a recipe appropriate for the theme. It's so much fun and there are so many quality recipes.
The theme for this event is very appropriate. The recipe had to be a cookie, bar, candy or holiday type Chex/snack mix. Something you would see on a holiday platter.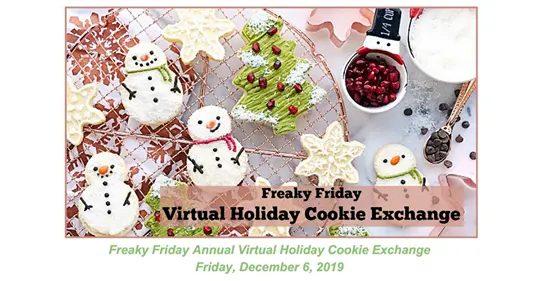 The secret blog that I was assigned was The Fresh Cooky by the ever so talented Kathleen. I was really happy to get Kathleen's blog for this round because she's really picky when it comes to her cookies. I knew I'd get a good recipe no matter which one I picked.
Let me tell you a little bit about Kathleen. Kathleen is a wife and a mother of two somewhat picky boys. She grew up cooking and baking just like she does with her boys now.
She enjoys entertaining, family, and friends just like we do, and I liked her instantly when she said she wasn't perfect and doesn't pretend to be. I am often one hot mess and just assumed that's normal for most of us right?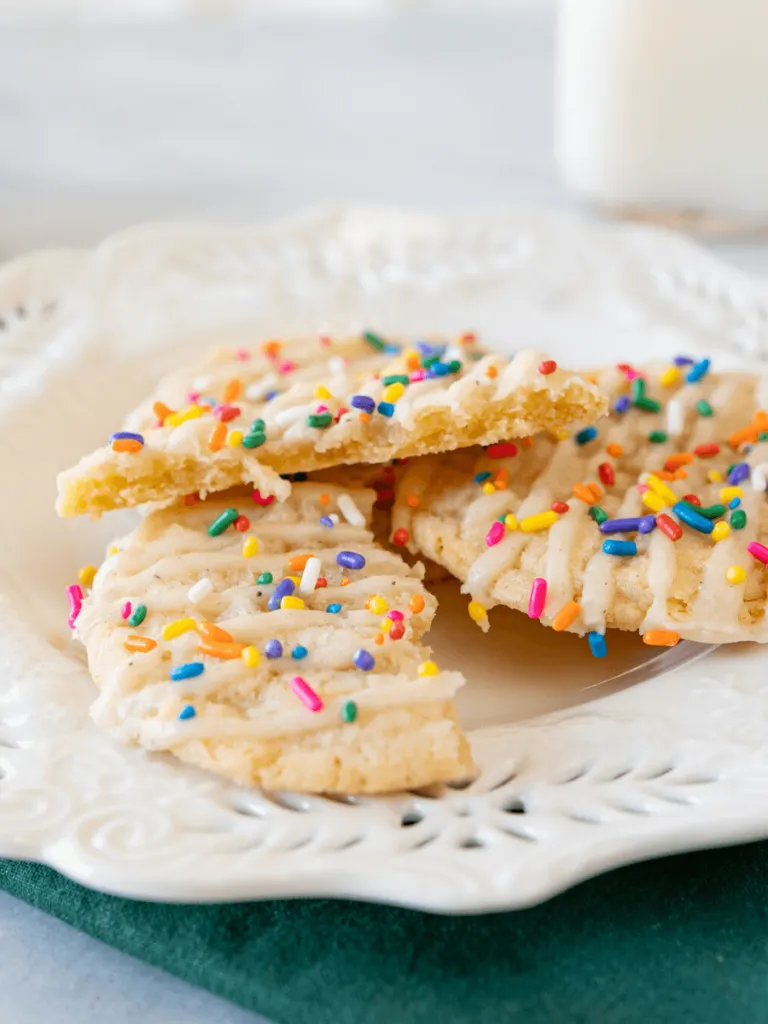 The Fresh Cookie has a ton of recipes that I couldn't decide between such as Chewy Cookie Butter Snickerdoodles which would have been John's first choice, or her Chocolate Chip Pudding Cookies which is next on my list!
Then there was her Oatmeal Sandwich Cookies with Maple Brown Sugar Buttercream. You can see my dilemma! Right? I was just too intrigued by this pan banging thing.
What is a Pan Banging Cookie anyway?
As I said, this goes against anything that I've ever learned, but you actually bang the pan while they're baking a couple of times to flatten them.
This process was developed by Sarah Kieffer in her cookbook, The Vanilla Bean Baking Book, her gastronomic creation of the Pan Banging Chocolate Chip Cookie. The result is a soft and chewy sugar cookie with crispy edges. As Kathleen stated, it's quite easy and oddly satisfying!
Ingredients for this simple Sugar Cookie:
Butter – I used unsalted. If you use salted, don't add any additional salt.
Sugar – I used white granulated. Kathleen uses natural cane sugar.
Egg – Large
Vanilla extract – I use pure but in baking, you can use imitation and may not detect the difference.
Flour – I use all-purpose flour and sometimes unbleached all-purpose. They're interchangeable. The only difference is unbleached is just one less step in the processing of the flour.
Baking soda – acts as the leavening in this recipe.
Salt – I use kosher but any is fine. Omit if you use salted butter.
Water – just a bit and any water that you can drink can be used.
Powdered sugar – also known as confectioners sugar. Used in the glaze.
Sprinkles – optional but not really. Sprinkles are fun!
If you're not a sprinkle kind of baker, these tasty sugar cookies are still the best ever! Just don't say you don't like browned butter glaze o.k.?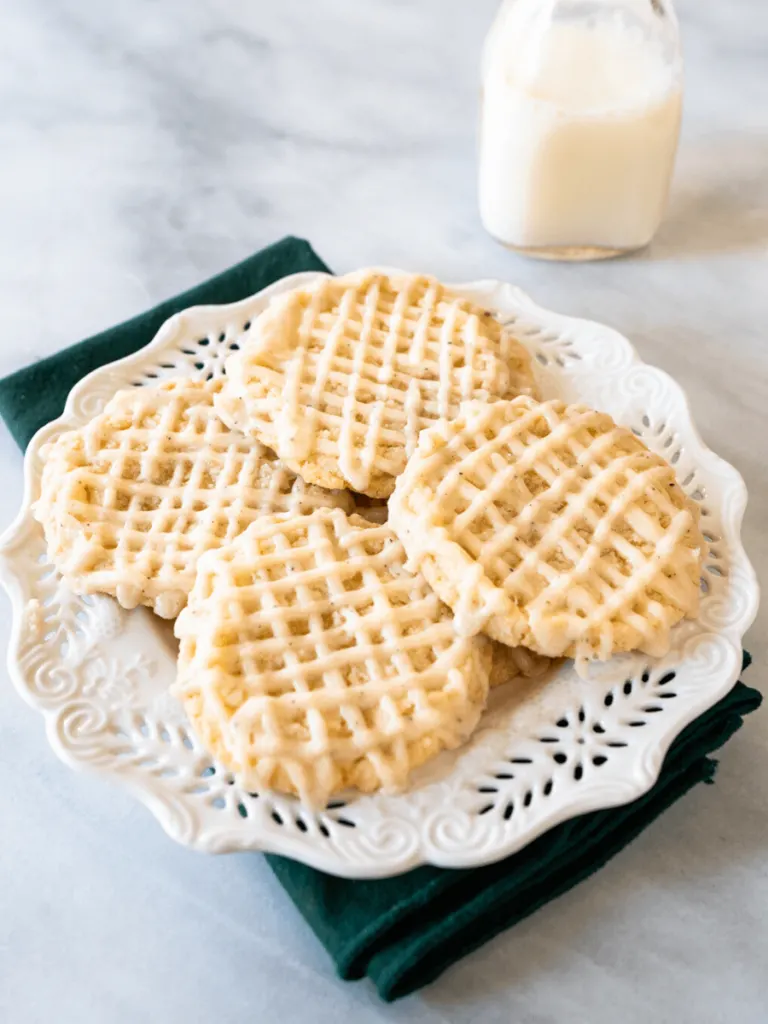 Tips for Pan Banging Sugar Cookies
Make sure your ingredients are all at room temperature.
Whipping butter isn't just mixing butter. You want it light and fluffy which usually takes at least 2 minutes at medium-high speed using your electric mixer. It will lighten in color. I've included a photo for you. Just scroll down a bit.
Give your oven plenty of time to preheat. I start mine before I begin mixing my dough.
Whisk dry ingredients together. Have you ever bitten into a cookie and tasted salt? The baker skipped this step. Sad face inserted here.
You literally have to bang this pan while the cookies are baking. Place your oven rack in the middle of the oven and don't have any racks above it. That helps prevent burns to your hands and arms.
I used a medium-sized cookie scoop which makes a two-tablespoon cookie. You could use a large scoop (3 tablespoons) but that's overkill in my opinion.
Fill cookie sheets with only 6 cookies. You want your cookies to have plenty of room to spread (bang) out.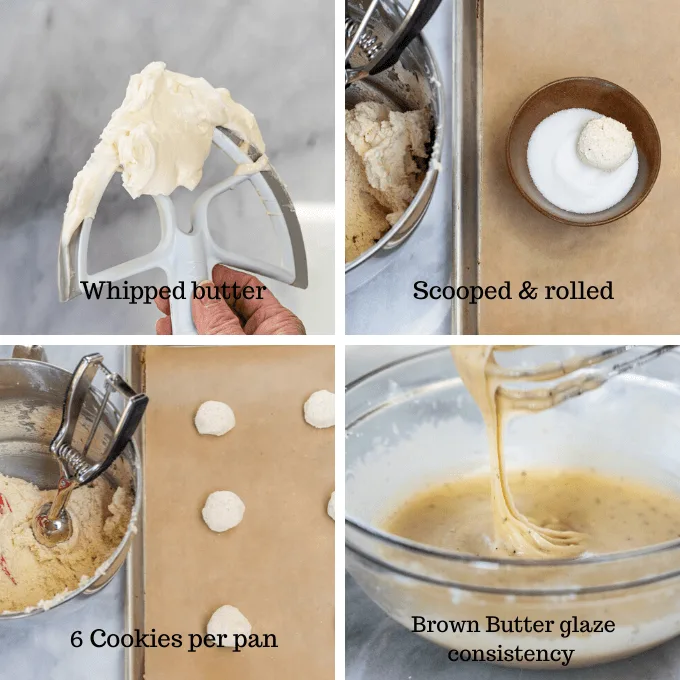 How to make this Homemade Sugar Cookie Recipe:
Using an electric mixer, whip the softened butter for 2 minutes at medium-high speed until lighter in color and fluffy. Add the sugar and beat for an additional 2 minutes.
Add the egg, vanilla, and water. Mix until everything is blended and fluffy.
In a separate bowl, mix your dry ingredients, flour, baking soda, and salt together. Whisk to combine.
Gradually add your dry ingredients to your wet ingredients. Mix until well combined.
Scoop out the cookie dough into a ball. Roll each cookie ball in sugar and place on a parchment paper-lined cookie sheet.
Place the pan in the freezer for 10 minutes while you scoop up your next sheet.
Place the pan in the oven and after about 5 to 6 minutes lift the cookie sheet off the rack and drop it twice. Let bake for 2 more minutes and bang again. Let bake until cookies are slightly browned on the edges, just a minute or two more, and remove the pan from the oven. Bang them one last time.
Let them cool completely on the pan which will help them firm up.
How to make Browned Butter Glaze:
In a small saucepan, over medium-low heat melt the butter. It will sizzle and pop. Swirl the pan every once in a while. Butter will darken to a caramel color and brown bits will form on the bottom. This is the milk solids in the butter also known as flavor! Turn the heat to low until some of the foam subsides. Remove from the heat and allow the butter to cool.
Combine the powdered sugar, browned butter, and vanilla extract. Mix and then add one teaspoon of water at a time until glaze it's thick enough to drizzle or pipe.
Just for the heck of it, I wanted to see what my cookies would look like if I didn't bang them. They're still flattish but not as crinkled. Bang away I say bang away!
Can you freeze this homemade sugar cookie recipe? You can definitely freeze these simple sugar cookies. I wouldn't glaze or sprinkle them beforehand, however. I separate my cookies between layers of waxed paper and then in an air-tight container for up to 3 months.
If you don't have sneaky freezer pirates that are prone to stealing your homemade sugar cookies, let them come to room temperature before glazing and sprinkling.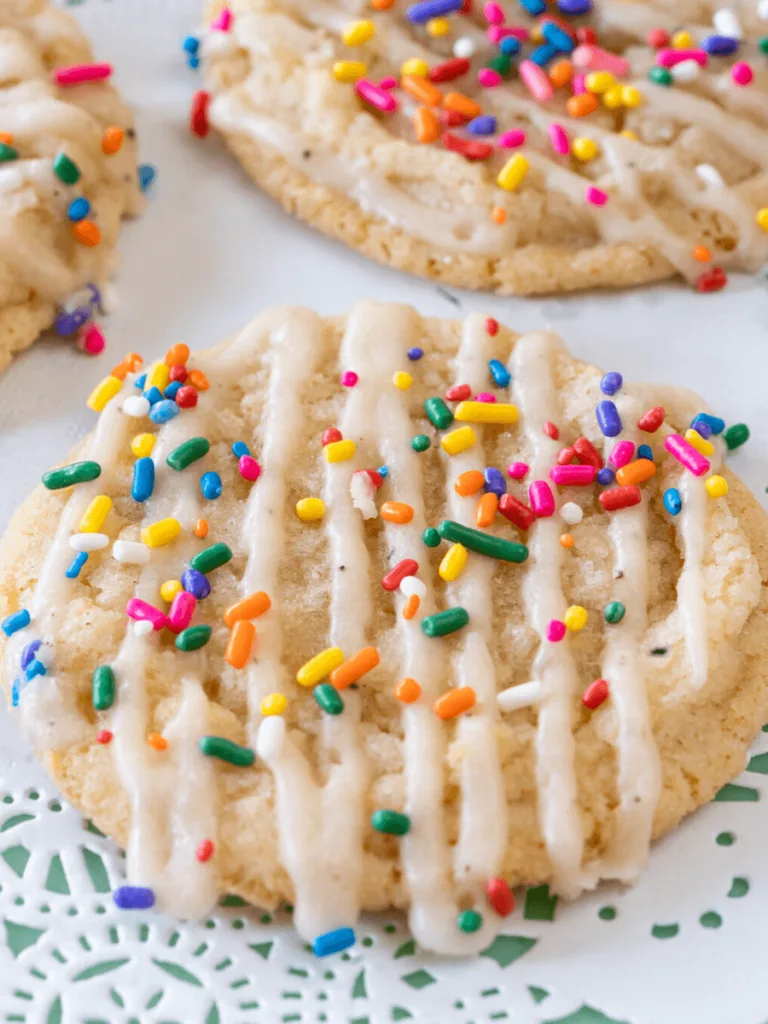 Items you may need…
Sheet pans – I love these pans! I've got 4 of them and they're so sturdy. I had these cookies baked in no time!
Scoops – I used the medium-sized scoop for this homemade sugar cookie recipe but you could use a large scoop for bigger cookies too.
I've made some amazing recipes for The Freaky Friday Blog Hop including Peanut Butter Pretzel Puppy Chow and Caramel Apple Pie Snack Mix which are great finger-friendly snacks that would make a great addition to your cookie tray.
If you're looking for more sweet and gooey desserts, how about a Triple Chocolate Caramel Cookie Bar or a Decadent Derby Pie Brownie Bar? Oh heavens, I can't even describe how wonderful they are!
If you love cookies like I do, here are more amazing recipes!
I love baking for Christmas but the rolling and cut-out sugar cookies are so much work! I'll be making these Pan Banging Easy Homemade Sugar Cookies all year long!
Take a look at all of our 2019 Freaky Friday Holiday Cookie Exchange Recipes: