Have you ever had a Crumbl Sugar Cookie? If not, I encourage you to go preheat the oven. These delicious, melt-in-your-mouth cookies are soft, tender, and so quick and easy to make. And, in my humble opinion, life-changing!
Does the idea of rolling and cutting out sugar cookies fill you with dread? It does me! The mess and all of the steps are an all-day-long project, right? If so, you're going to love Copycat Crumbl Cookie Recipe. These large cookies are soft, tender. and so buttery moist.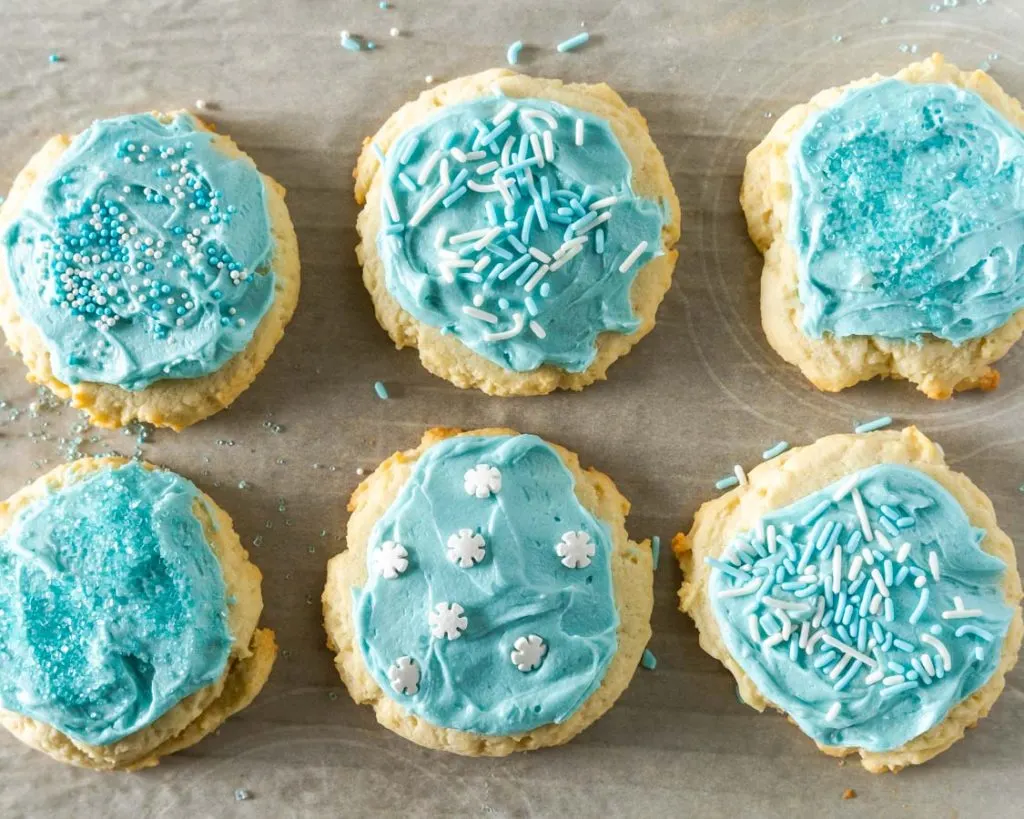 Best of all, Copycat Crumbl Sugar Cookie Recipe is so quick and easy to make. I may be a lazy cookie baker but that being said, the cookies I love to eat are not dry or crispy. They've got to be melt in your mouth delicious like our Lemon Snowflake Cookies, Old-fashioned Butter Cookies, and my Nutella Thumbprint cookies.
What are Crumbl Sugar Cookies?
Until I saw this recipe, I'd never heard of Crumbl Cookies. Turns out, this recipe was developed by two college-aged cousins that opened a store to sell what they felt was the perfect cookie, a chocolate chip variety was their first. Evidently, a lot of people agreed that these cookies are amazing because they've opened in 35 states!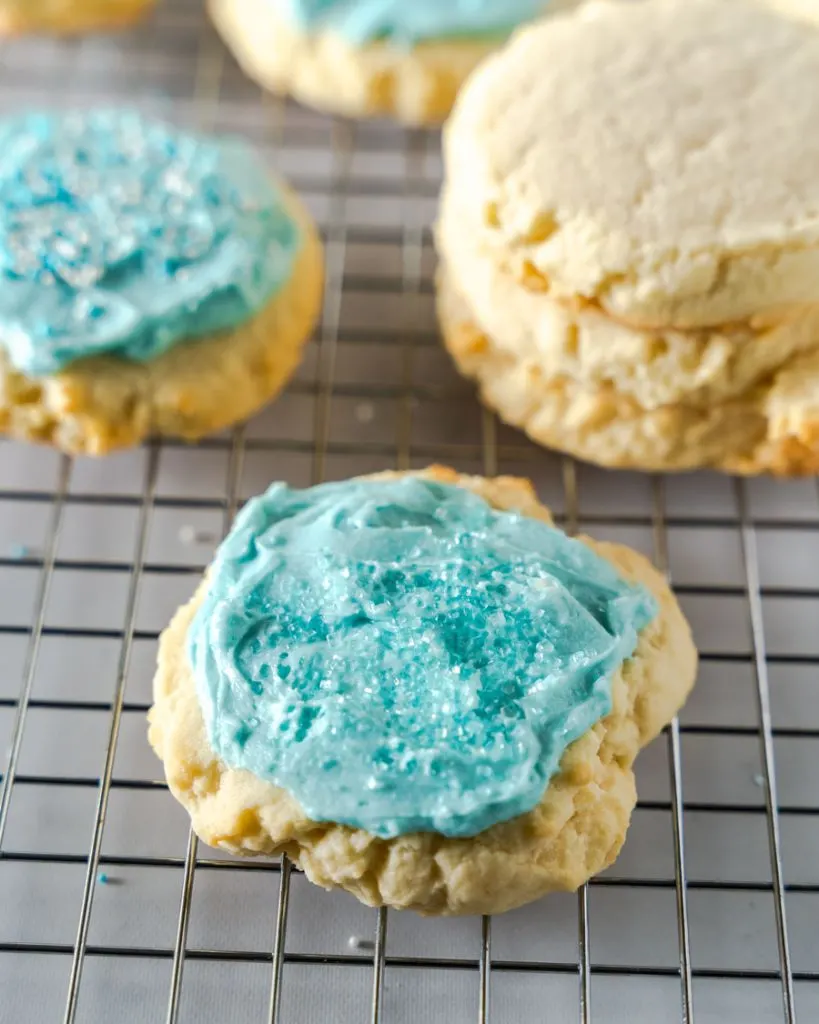 Why you'll love Copycat Crumbl Cookies
The first reason is all of the money you'll save! Once you try these cookies, you won't be joining all the people in line just to buy them! Believe me, it wraps around the building.
Copycat Crumbl cookies are so easy to make at home. They take minimal ingredients that you probably already have in your pantry.
No fancy techniques. There's no rolling and stamping out these Crumble Sugar cookies. You can choose to frost them or just top them with sanding sugar if you choose.
The #1 reason to try Crumbl Cookie Copycat Recipe is Freaky Friday!
I wish that I could take the credit for discovering these cookies and developing the copycat crumble cookie recipe, but I can't! This recipe is actually inspired by the FREAKY FRIDAY VIRTUAL COOKIE EXCHANGE EVENT.
What is Freaky Friday
What is the Freaky Friday Blog Hop? Freaky Friday is a blog hop with some of my favorite food blogger buddies 5 times a year. There's one for each season followed by the Virtual Cookie Exchange.
We secretly get assigned one another's blogs to make a recipe from, and then we all reveal who we had and what we made on the same Friday!
The theme for this event is very appropriate. The recipe had to be a cookie, bar, candy, or holiday type Chex/snack mix. Something you would see on a holiday platter.
This old-fashioned blog hop is organized by Michaela who runs An Affair From the Heart. It's a lot of work but she's amazing at keeping us all organized and sharing the fun! Check out her blog for some amazing recipes all year long.
The secret blog that I was assigned was The Fresh Cooky by the ever so talented Kathleen. I was really happy to get Kathleen's blog for this round because she's really picky when it comes to her cookies. I knew I'd get a good recipe no matter which one I picked.
Let me tell you a little bit about Kathleen. Kathleen is a wife and a mother of two somewhat picky boys. She grew up cooking and baking just like she does with her boys now.
She enjoys entertaining, family, and friends just like we do, and I liked her instantly when she said she wasn't perfect and doesn't pretend to be. I am often one hot mess and just assumed that's normal for most of us right?
The Fresh Cooky is always where I turn when I have questions regarding high-altitude cooking. She bakes at 5,280 feet above sea level so has some tricks and tips that make her recipes a success.
I always have a list of Kathleen's recipes that I want to put on our table. Her Copycat "Nothing but Bundt Cake Recipe" is melt-in-your-mouth perfect for that chocolate fix. Her Ooey gooey Cinnamon Rolls are on our Christmas morning menu. I just love the story that she tells with this recipe! She's not just a baker. Kathleen has recipes for just about anything you're looking for. Her Easy Chile Relleno Casserole is perfect for any meal of the day!
A year ago I made her Pan-Banging Sugar Cookies and they're so darned good! They're also another great alternative to Sugar Cookie cut-outs.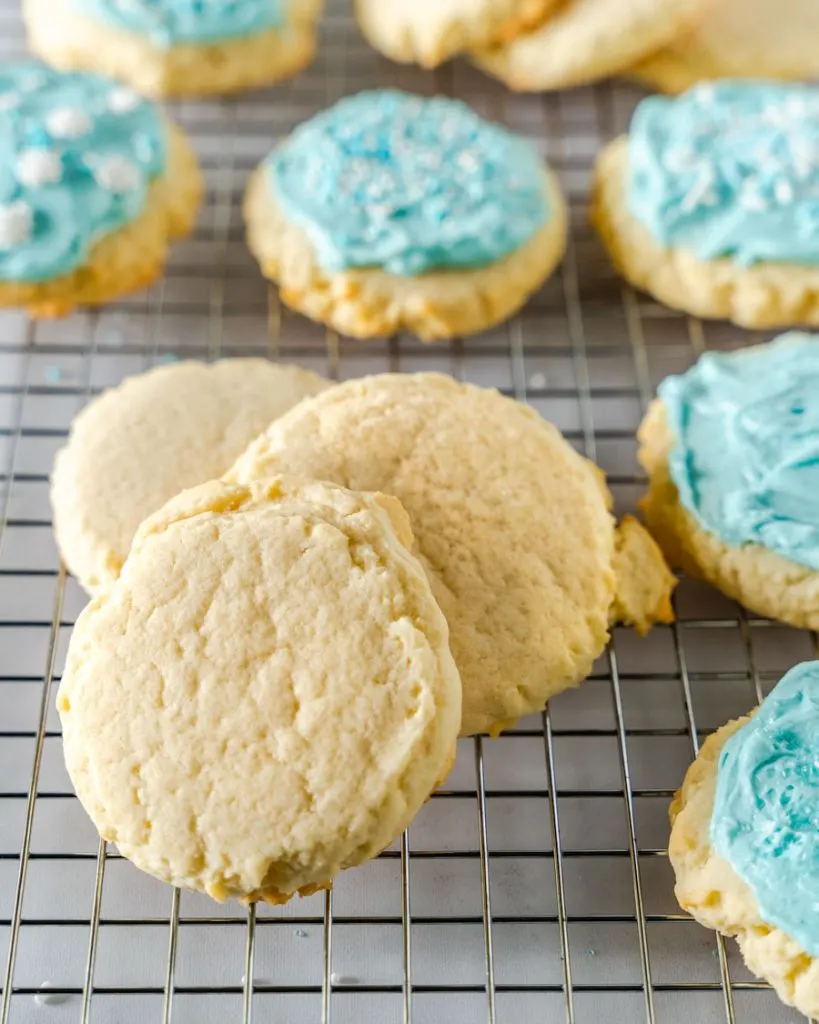 Crumble Cookie Ingredients
Crumble Sugar Cookie Dough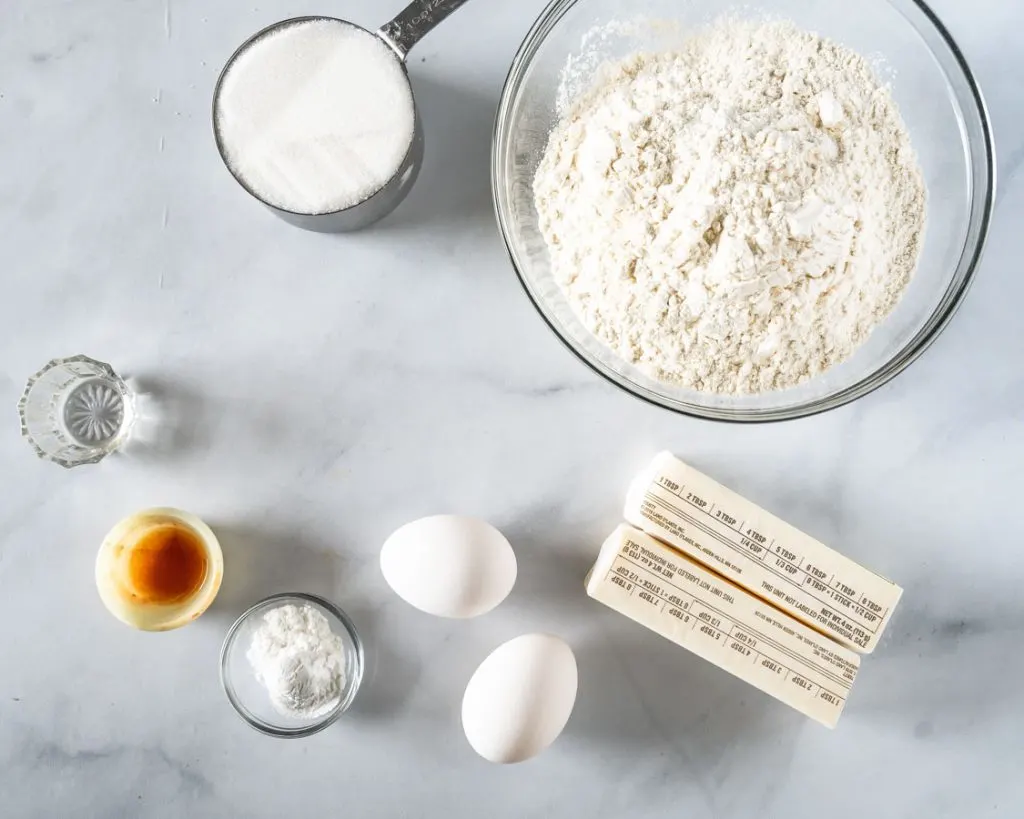 Flour – All-purpose flour. Bleached or unbleached is fine.
Baking Powder
Butter – I used salted butter. If you use unsalted butter, add 1/4 to 1/2 teaspoon of salt. We use real butter.
Sugar – White granulated
Egg – I use Grade A eggs for consistency in our baking.
Almond and Vanilla Extract – If you don't have or don't care for almond extract, you can use all vanilla extract.
Almond Buttercream Frosting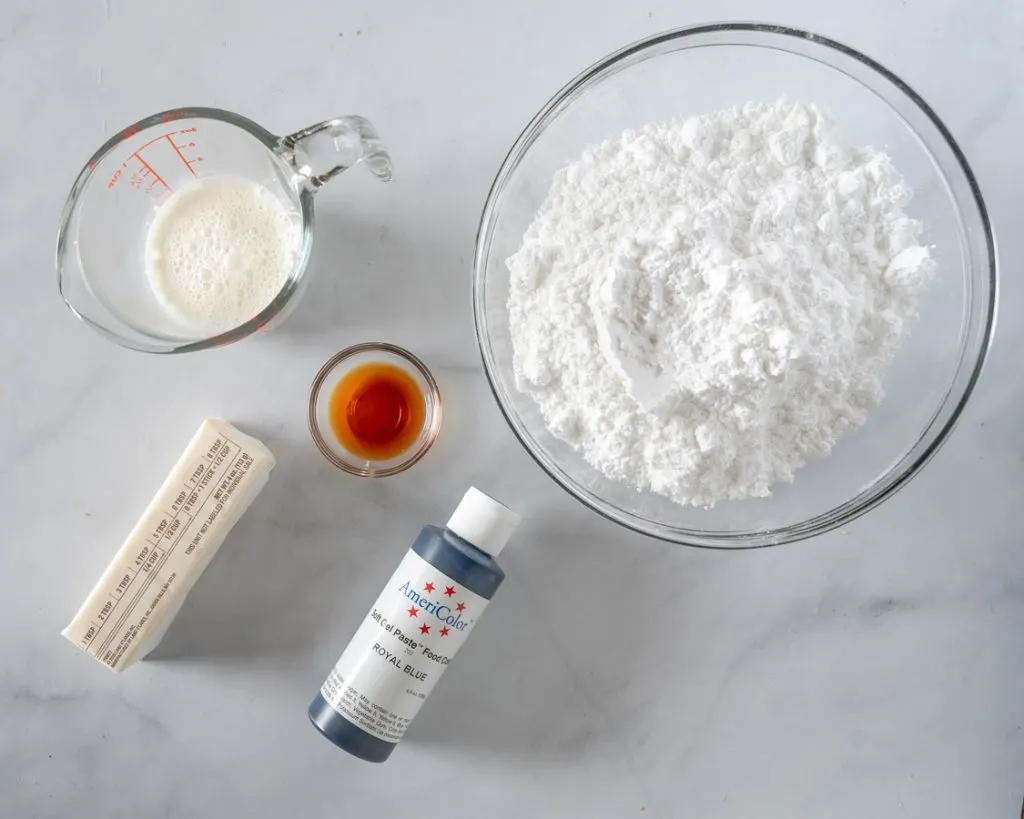 Butter – We use the real stuff! Make sure it' at room temperature
Powdered sugar – We measure and then sift.
Almond extract – You can substitute with vanilla.
Cream – I love the smooth sweetness that real cream adds to buttercream frosting. However, you can use any milk, half and half or even water for a vegetarian option.
Food coloring – I use gel-based food coloring. The colors are true and they're nut free making them safe for people with nut allergies.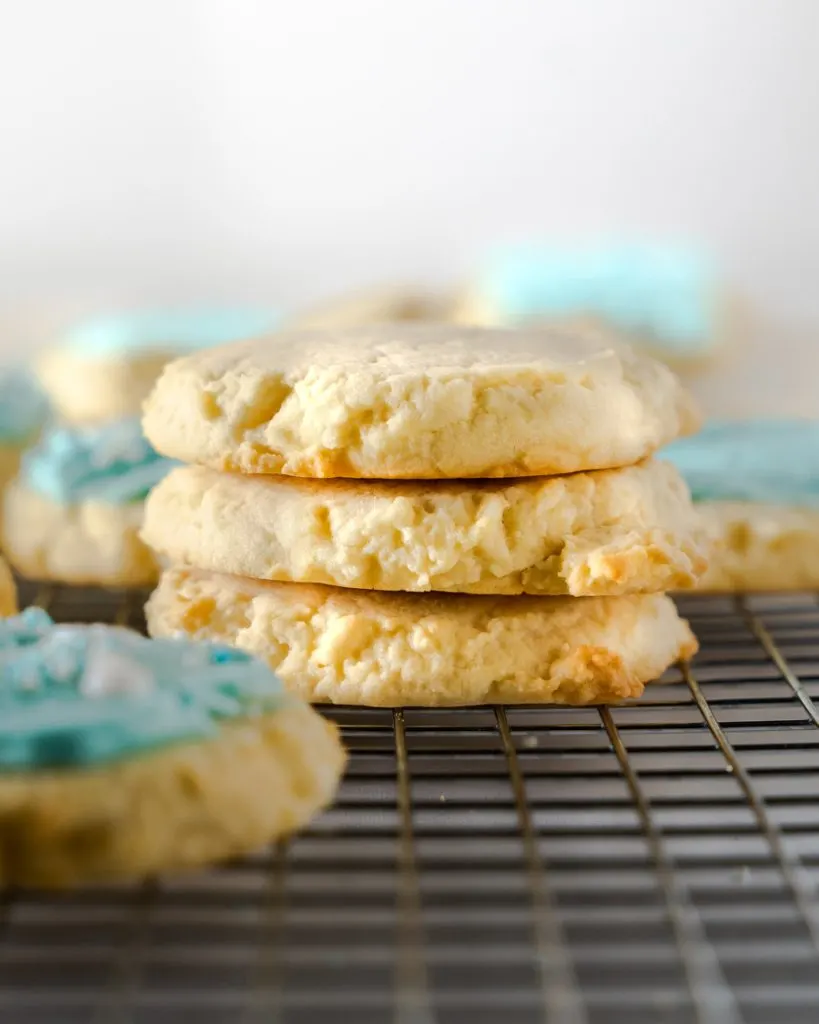 Tips to make the perfect Crumbl Cookie Copycat Recipe
Make sure your ingredients are fresh, especially your Baking Powder. If you're not sure you can test it. Our Basic Baking Techniques will show you how.
Don't skimp on the fat! We use real full-fat butter in our baking which will assure a moist and tender result. You can use vegetable shortening as a vegetarian option. It may change the texture some what.
Preheat the oven. We preheat our oven for at least 30 minutes before baking. You want it thoroughly up to temperature before baking. You'll also want to avoid opening the oven door.
Thoroughly beat the butter and sugar together. I use an electric stand mixer and will beat the butter and sugar together for up to 5 minutes on high. You want the mixture to appear lighter in color and very fluffy before adding the remaining ingredients.
Use room temperature ingredients. They will blend together more evenly.

You don't want your butter so soft that it's on the verge of melting. You want a dent to show when you press it with your finger. You don't want your finger to push right through.
Also, if you forget to take the eggs out of the refrigerator you can submerge them in room temperature water for 5 minutes to bring them to room temperature.

If you don't have multiple baking sheets, make sure they're thoroughly cooled before putting another batch of sugar cookie dough on them.
I always bake on parchment paper. You can also use a silicone mat. Different sheet pand colors and surfaces will bake differently. Adding parchment paper or a silicone mat removes this difference. It also helps to keep your cookie dough from spreading out too much. Don't reuse parchment paper!
Tips to make Creamy Almond Buttercream Frosting
We used real butter. You can use vegetable shortening for a vegetarian option.
We sift the measured powdered sugar after measuring it which helps the frosting to blend smoothly.
Buttercream can be made ahead of time. You'll want to cover it until you use it so that it doesn't develop a crust. You'll also want to keep it cool so that it doesn't separate from getting too warm. It also spreads nicely if it's cool (not cold).
How to make Copycat Crumbl Cookies
The first thing I do is to make sure the rack in my oven is centered. Then preheat the oven to 350°F. I then line 3 baking sheets with parchment paper.
Step 1: Blend the wet ingredients
In the bowl of an electric mixer, beat room temperature butter with the sugar. Once mixed, blend on medium-high for 3 to 5 minutes or until the color is light and the texture is fluffy.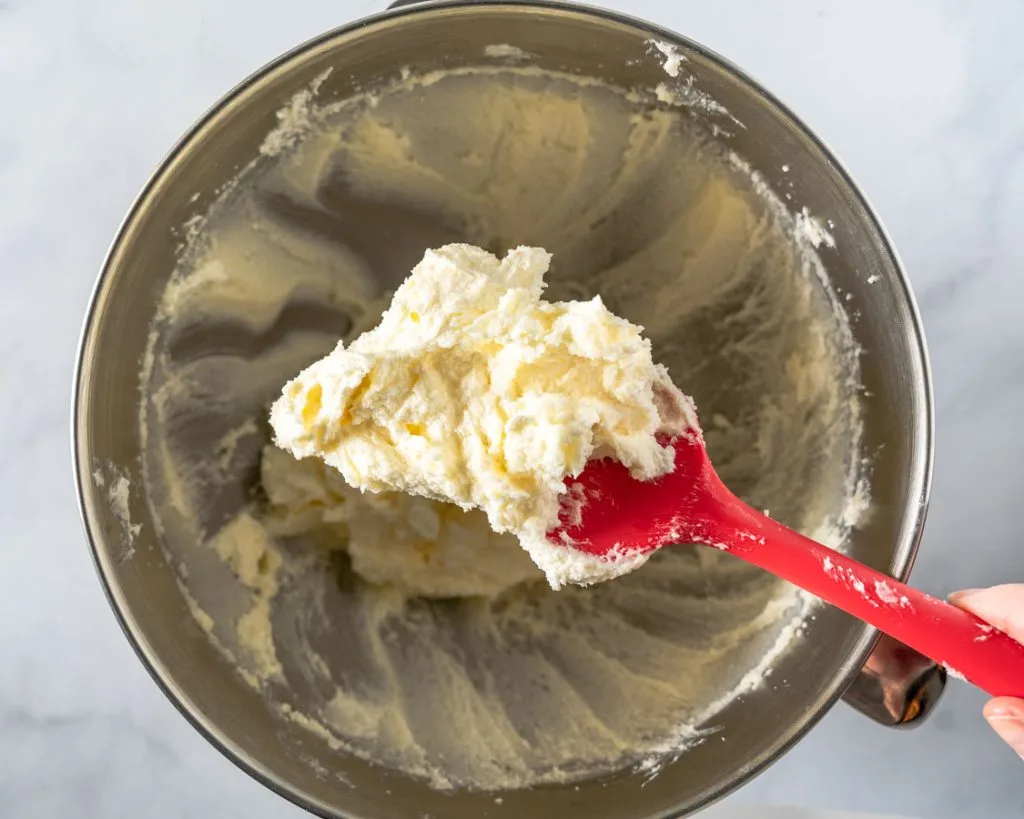 Add the egg. We lightly scramble it with a fork before adding it which makes combining it a little easier.
Add the Almond and Vanilla extracts and mix until blended.
Step 2: Combine and add the dry ingredients
In a separate bowl, add the flour and baking powder. Also, add 1/4 or 1/2 teaspoon of salt if you used unsalted butter. Whisk the ingredients together until thoroughly combined.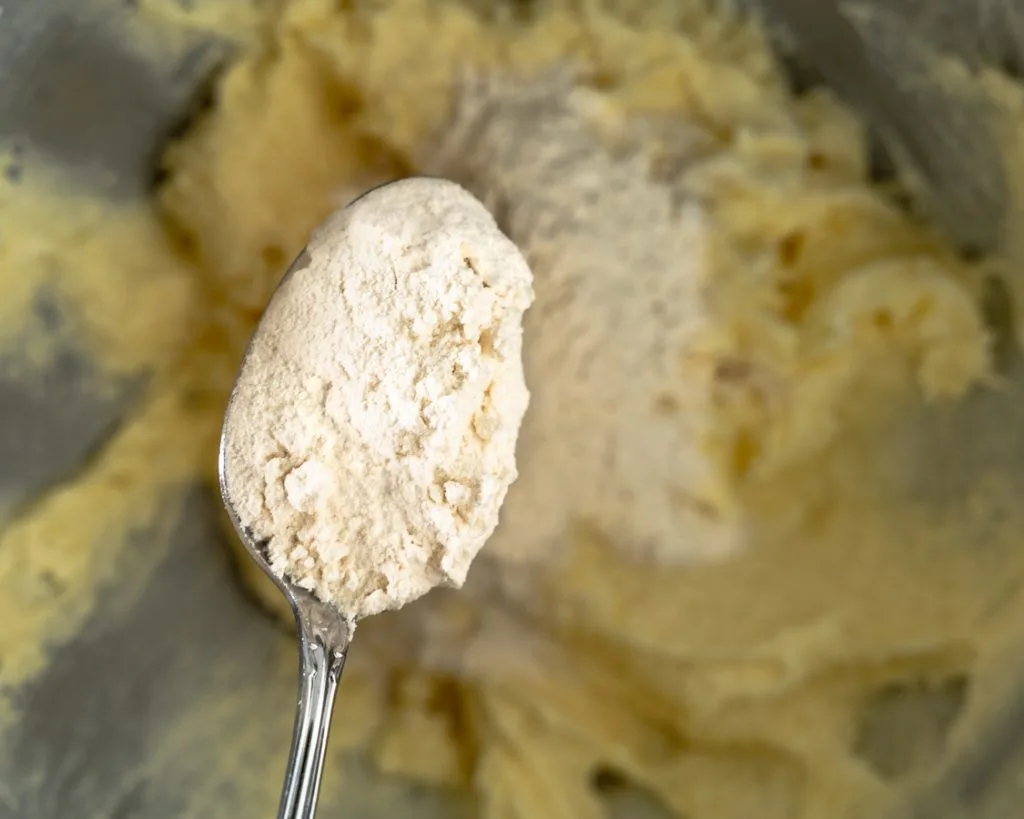 With the mixer on low, add the dry ingredients one large tablespoon at a time until thoroughly combined.
Step 3: Scoop, bake, & cool

Using a 3-tablespoon scoop, scoop cookie dough out and place it on the prepared baking sheets. Let some of the dough hang over the edge of the scoop. That's what gives these crumble sugar cookies that rustic look.
I baked 6 cookies per sheet. Using the bottom of a flat surface such as a glass or measuring cup, press the cookies lightly. Don't overpress. These are thicker cookies.
Bake until cookies are no longer glossy and are puffy in appearance. You're not looking for them to brown as you do other cookie recipes. Cool on the baking sheet. They'll set as they cool.
Buttercream Frosting
Add the butter to the mixer and beat until light and fluffy. Add the sifted powdered sugar until completely combined and no additional sugar is visible. Add the cream until the frosting is a spreadable consistency. Add the extract and food coloring. You can use any color for all kinds of occasions and add sprinkles! That just makes them fun!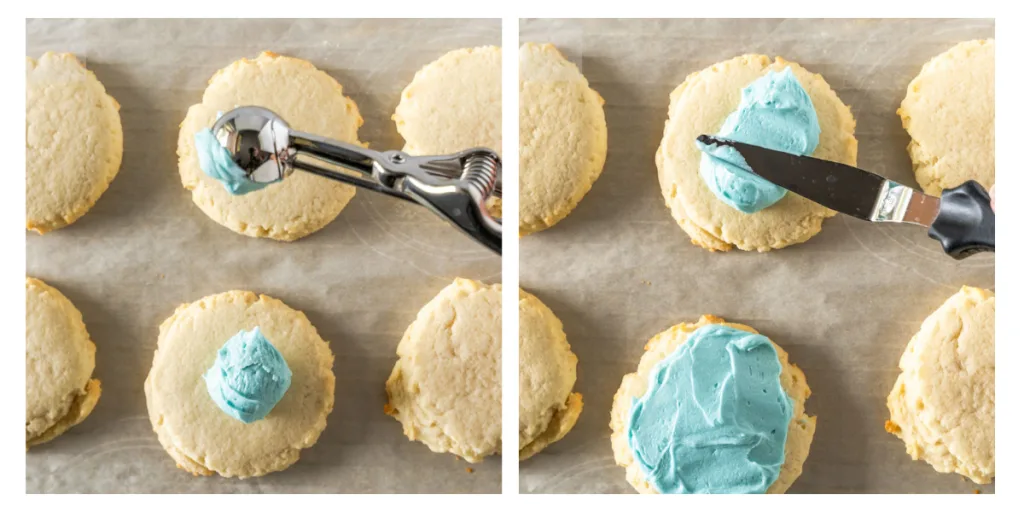 Put a small scoop of frosting on each cookie and spread it using an offset spatula.
FAQ's
How do you store Crumble Sugar Cookies?
I store these cookies at room temperature for up to 5 days in an airtight container
Can you freeze Crumble Cookies?
Yes, you can freeze Crumble cookies for up to 3 months. I like to freeze the cookies before they're frosted and then frost them once thawed.

You can also freeze unbaked shaped cookie dough in an airtight container. Just remove the amount that you want to bake and bake as instructed once thawed or bake frozen. You'll need to add an extra minute or two.
Can you freeze Buttercream Frosting?
Yes, you can also freeze the buttercream frosting. Let it thaw either in the refrigerator overnight or at room temperature. Stir it and then frost.
Don't Forget To Come Back And Let Me Know How Your Copycat Crumble Sugar Cookies Turned Out!
If you enjoyed these Copycat Crumbl Cookies, here are a few more holiday favorites you may like
Take a look at all of our 2021 Freaky Friday Holiday Cookie Exchange Recipes:
Don't forget to Pin this amazing Crumbl Sugar Cookie Recipe!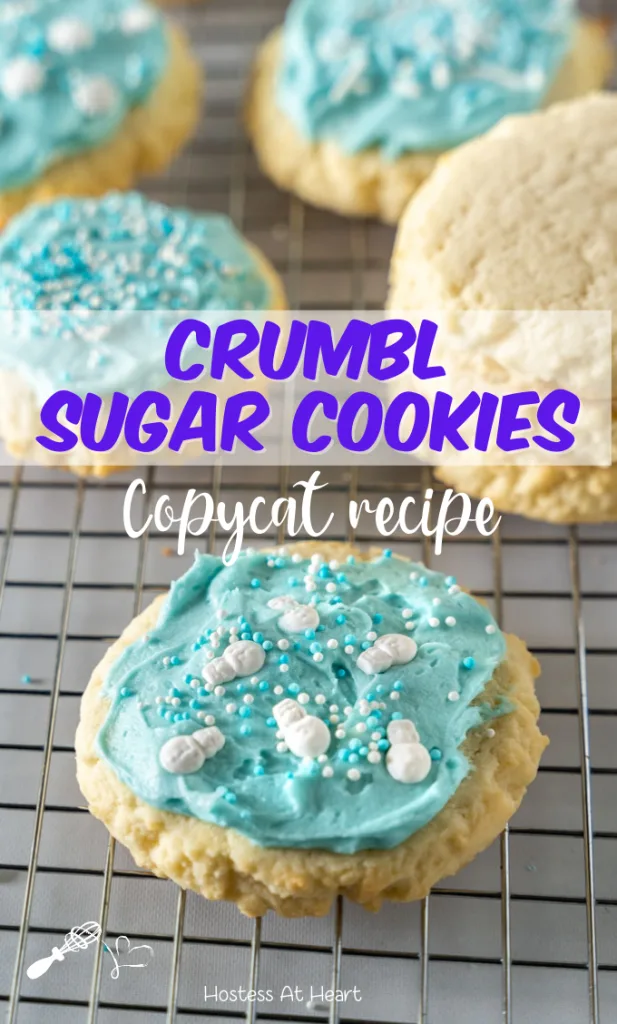 Related Recipes