As the holiday season approaches, one of the things my family looks forward to is homemade candy. That's why I was so excited to develop this simple but elegant microwave fudge recipe.
Our chocolate almond fudge recipe is so smooth and creamy and it's perfect for gifting, layering on a sweet charcuterie board, or adding to a cookie platter. The best part is that it will only take about ten minutes to prepare.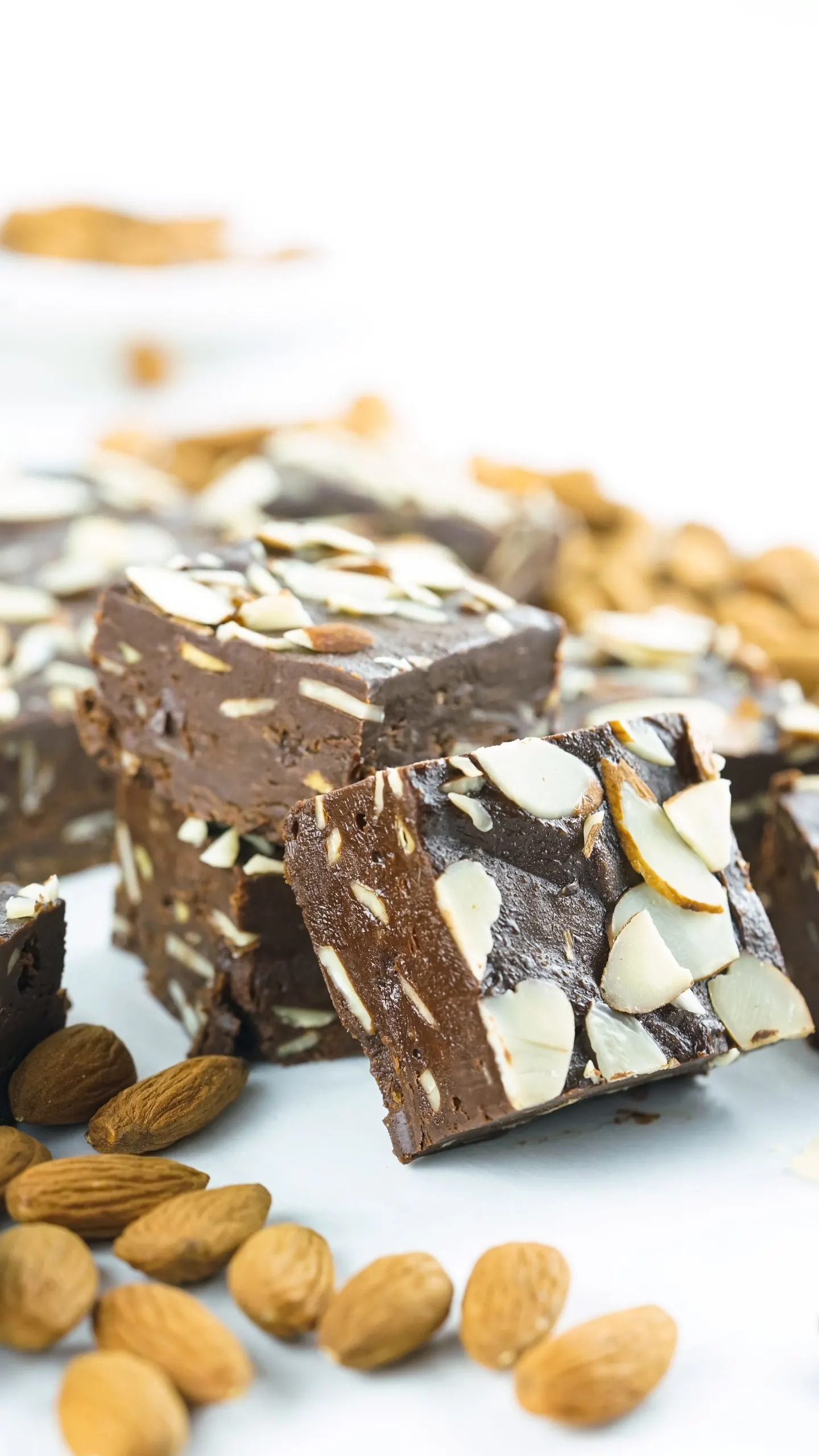 How to Make Microwave Fudge
Making this microwave fudge recipe is quite possibly the easiest fudge you will ever make. You only need four ingredients and a few simple steps to pull this off. No more failed fudge attempts!
Step 1: Mix and Microwave Chocolate Almond Fudge Ingredients
First, you will melt your chocolate in the microwave. I recommend microwaving the chocolate at 50% power for 30-second intervals, stirring in between each interval. When the chocolate is smooth and creamy and ready to go, you will heat the frosting in the microwave. Add the almond extract to the frosting and stir it really well. Next, mix the frosting, almonds, and chocolate together.
Step 2: Pour and set Chocolate Almond Fudge
Pour this mixture into a prepared pan, tapping it a few times to level the fudge. I know it is tempting to eat the fudge right away, but you should chill the pan for a few hours for the best results.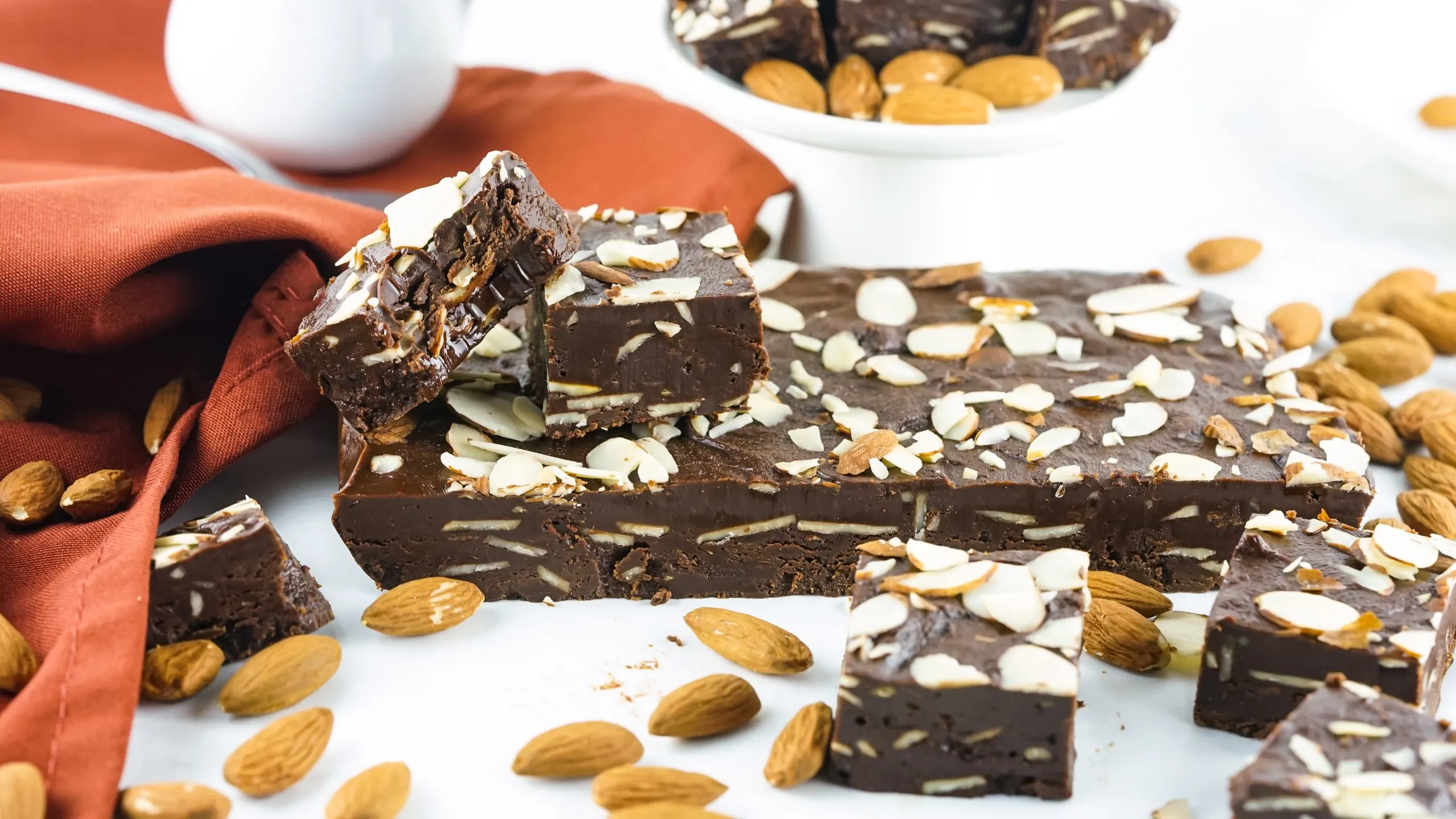 Ingredients for the Microwave Fudge Recipe
Chocolate Chips – we used dark but any variety will work. Do not buy generic chips as they tend to not work.
Chocolate Frosting – we purchased ours for convenience.
Sliced Almonds. Slivered almonds work best in this recipe. Toasting the almonds first will improve the flavor of your candy.
Almond Extract. A beautiful flavoring to complement the almonds.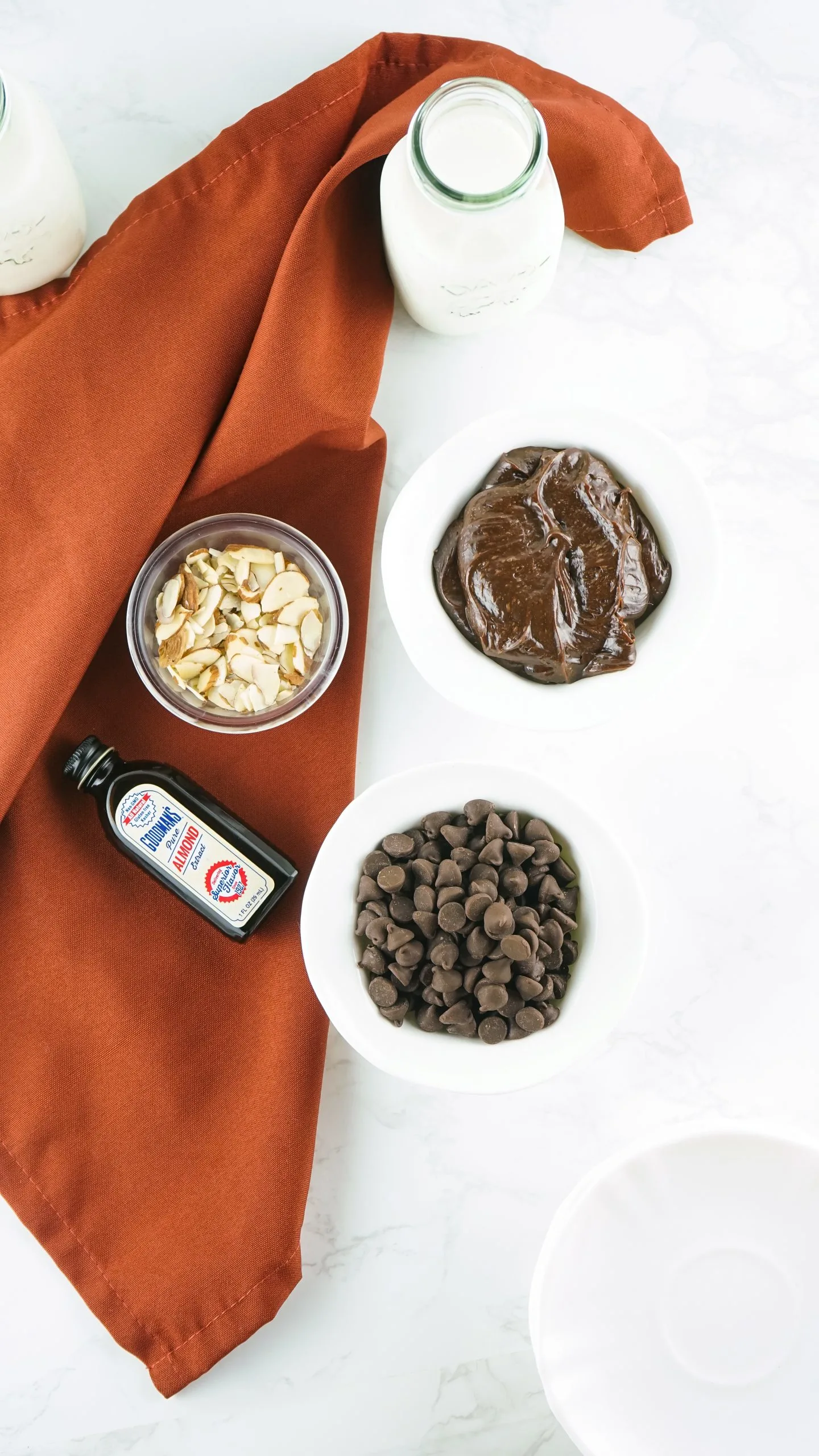 Variations for the Chocolate Almond Fudge Recipe
Use dark chocolate chips instead for a more intense chocolate flavor.
Try walnuts or pecans to change up the nut.
Add coconut flakes to the top for a fudge reminiscent of the candy bar.
Try a different extract flavor for a completely different fudge. You could use peppermint, vanilla, or orange.
Tips for the Best Microwave Fudge
Do not add your almond extract directly to the chocolate. If you do it will seize up instantly. Instead, add it to the frosting first.
If you accidentally add the almond extract straight into the chocolate, you can save it, but you'll have to add the frosting on top and then vigorously mix and get a good arm workout while you're at it. It's much easier if you don't make that mistake.
Don't have a microwave? You can make our microwave fudge on the stovetop instead. Just set it at a very low temperature or use a double boiler. Stir until everything melts together and make sure it is mixed well before pouring it into the pan to cool.
If you want thinner fudge, you can use a 9-inch pan instead.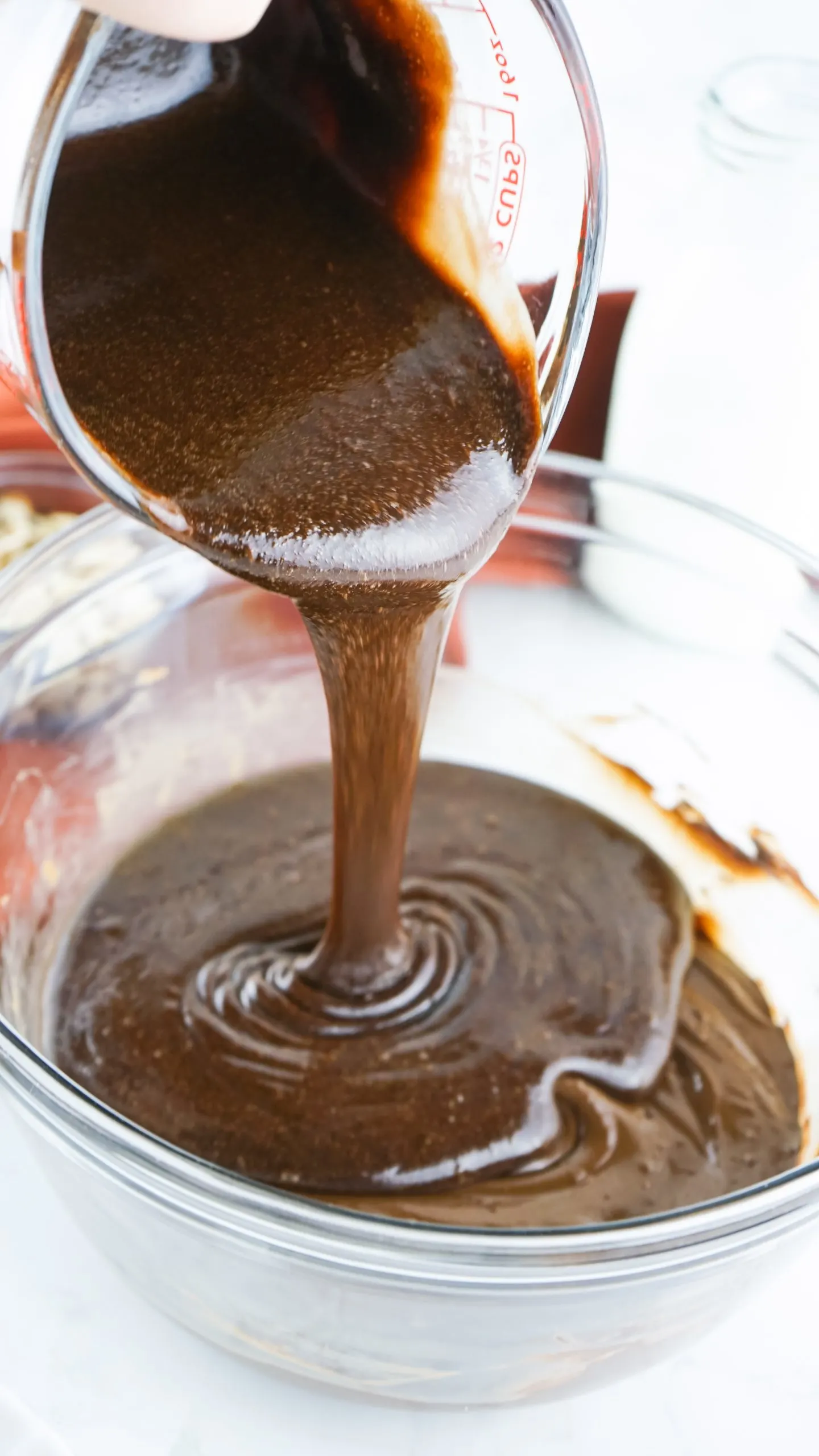 To get a pretty square of fudge, I trim the edges of the fudge first and it makes for very clean sides.
Tapping your pan of fudge on the counter a few times after pouring the fudge mixture in will help it settle into the pan and even out on top.
You might be tempted to cut the fudge with a butter knife, but a really good sharp knife run under hot water to warm it up a bit and then dried with a paper towel or dish towel will give you super clean cuts.
Make sure that you don't rush melting the chocolate. I recommend microwaving the chocolate at 50% power for 30-second intervals, stirring in between each interval. If your microwave is super powerful, drop that down to ten to fifteen seconds between stirs. Chips don't lose their shape as they melt, so unless you stir them you will not know when they are ready and will risk burning your chocolate.
How to easily toast nuts
Toast nuts in 10-inch skillet over medium heat until browned and fragrant. Remove the nuts from the skillet immediately to a bowl to stop roasting. Note: No non-stick spray or oil is used.
Why is my homemade fudge clumpy?
Old chocolate chips or generic chocolate chips can melt poorly and create a clumpy mess instead of nice smooth fudge. Be careful not to overheat your chocolate, but if you are following our instructions to a tee and still have a clumpy mess it might be time to replace your chocolate.
Why is my microwave fudge hard to spread in the pan and crunchy after it chills?
Overheating or burning your chocolate is the most common reason fudge hardens before it is supposed to and becomes crunchy as it sets. If you consistently have this problem, reduce the time your chocolate is in the microwave to ten to fifteen seconds between stirs. Also, consider replacing your chocolate. Check the expiration date.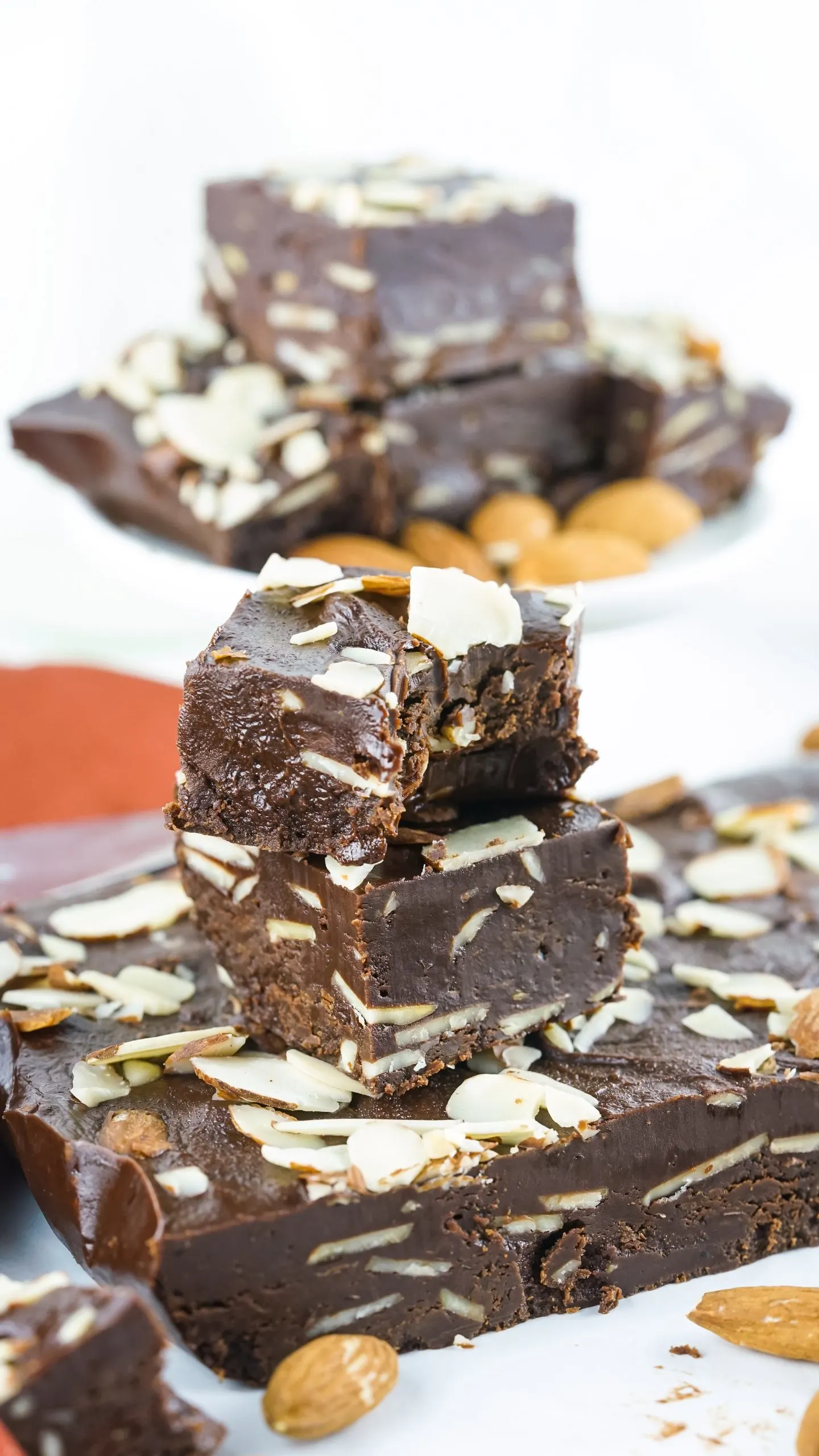 Products we used
8-inch pan – For taller pieces of fudge, use an 8-inch pan. If you only have a 9-inch or can substitute a similar sized pan use it.
Parchment paper – make removing the fudge from the pan easy. Just lift it out and slice it!
4-cup measuring cup – You can melt and mix the ingredients in this cup and easily pour it into the pan.
Storing Homemade Microwave Fudge
Chocolate fudge should be refrigerated. If you live in a cold-weather climate, over the Christmas holidays when your refrigerator is stuffed you can keep the fudge in airtight, animal-proof storage outside or in a cold garage.
In the refrigerator, it will last two to three weeks. Fudge can be frozen for two to three months if it is kept in an airtight container. It doesn't take long to thaw at room temperature and can also be thawed in the refrigerator.
Don't forget to stop back and let me know how your Chocolate Almond Fudge turned out!
If you enjoyed this recipe, you make like these too!
Still looking for Candy and Fudge Recipes? Take a look at these!
Welcome to #CandyFudgeFavorites Day hosted by Jennifer from Take Two Tapas! It's the holidays and we are celebrating the holiday tradition of making candy and fudge!
Join me and my fellow bloggers as we share our favorite holiday candy and fudge recipes today. I know you will see some old favorites and I hope you find some new ones!
Don't forget to pin this Microwave Fudge Recipe!