This make-ahead recipe for easy Valentine's Day Fudge can be adapted to any holiday or theme. The gorgeous color contrast and delicious creamy taste are perfect for any party table or celebration.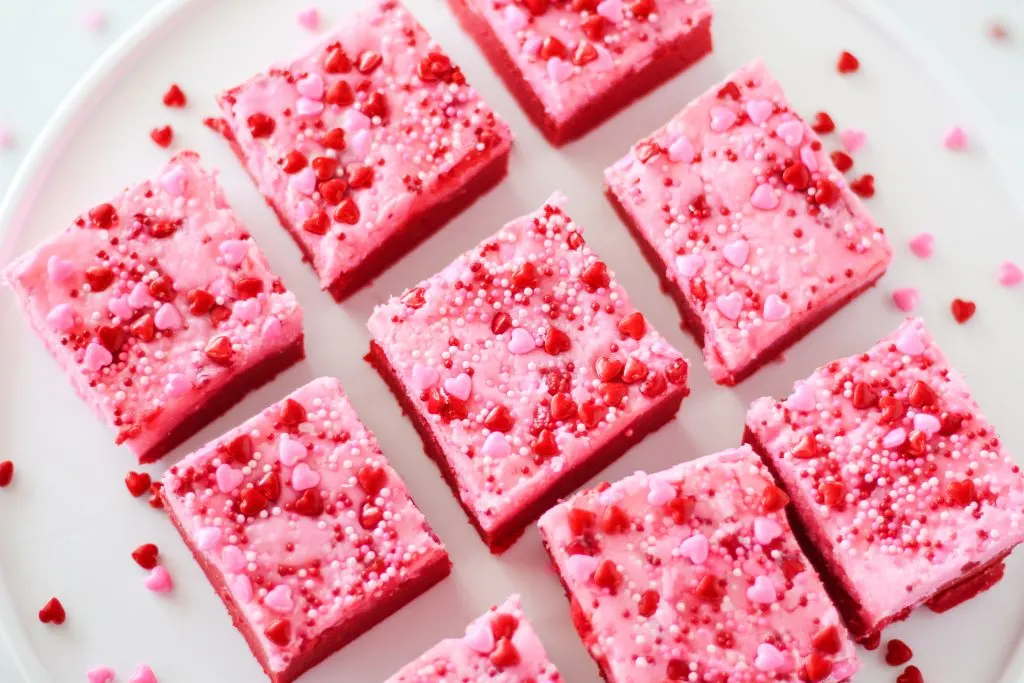 Why You'll Love This Easy Valentine's Day Fudge Recipe
This fudge recipe can be made in the microwave or it is an easy fudge recipe on the stove. That means you have ultimate flexibility and either way the fudge will come together fast.
My Valentine's Day Fudge recipe is quick and easy to make. In less than twenty minutes you can have yummy fudge chilling in the refrigerator and in one hour it is ready to serve.
The recipe has very few ingredients, so it's very likely that you have what you need already in your pantry. It's perfect for a last-minute treat to take to a friend's house or a surprise office party.
This easy make-ahead recipe can be kept in the refrigerator for a few days before your big event so you don't have to include it in the party-day chaos of preparation.
Easily adapt this recipe for any holiday or theme when you want to serve fudge. Change up the colors for Christmas, 4th of July, birthdays, weddings, or any special event.
With the right presentation, such as a pretty box or bag and ribbon, Valentine's Day Fudge makes a great gift. You can make up a batch to gift teachers, coaches, club parents, or even your significant other.
The Valentine's Day Fudge Recipe is easy enough that kids can help in the kitchen, which is a wonderful chance to bond and learn important life skills.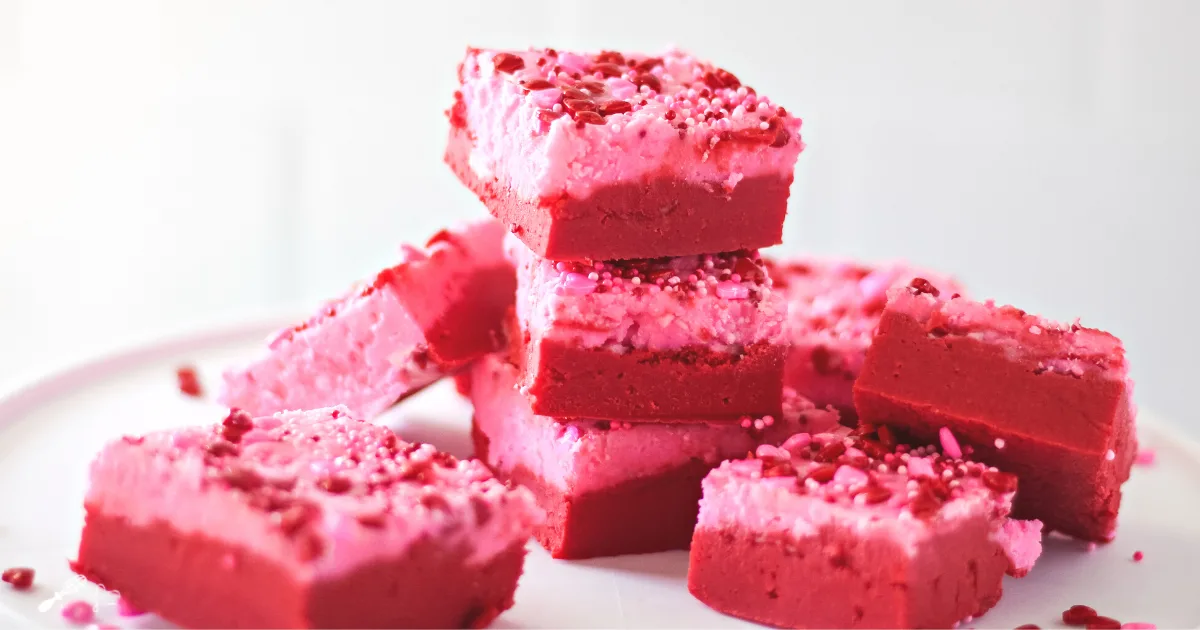 Equipment Needed To Make The Valentine's Day Fudge Recipe
Hand mixer. This is essential to get the cream cheese mixed in perfectly smooth.
9×13 Pan. You can use glass or metal as either will work.
Parchment Paper. Having this on hand is a must for every kitchen since it makes cleanup a breeze.
Ingredients for your Valentine's Day Fudge
Red Candy Melts. You can find these at your local craft store in the baking aisle. You can also sometimes find them at a party supply store.
White Chocolate Almond Bark. This is not the same as white chocolate.
Cream Cheese. Room temperature. Do not buy generic or low fat as neither will work for this recipe.
Butter. I use real butter.
Hot Pink Food Coloring. Change up the colors for your specific theme.
Decorative Sprinkles. Again, these can be theme-specific.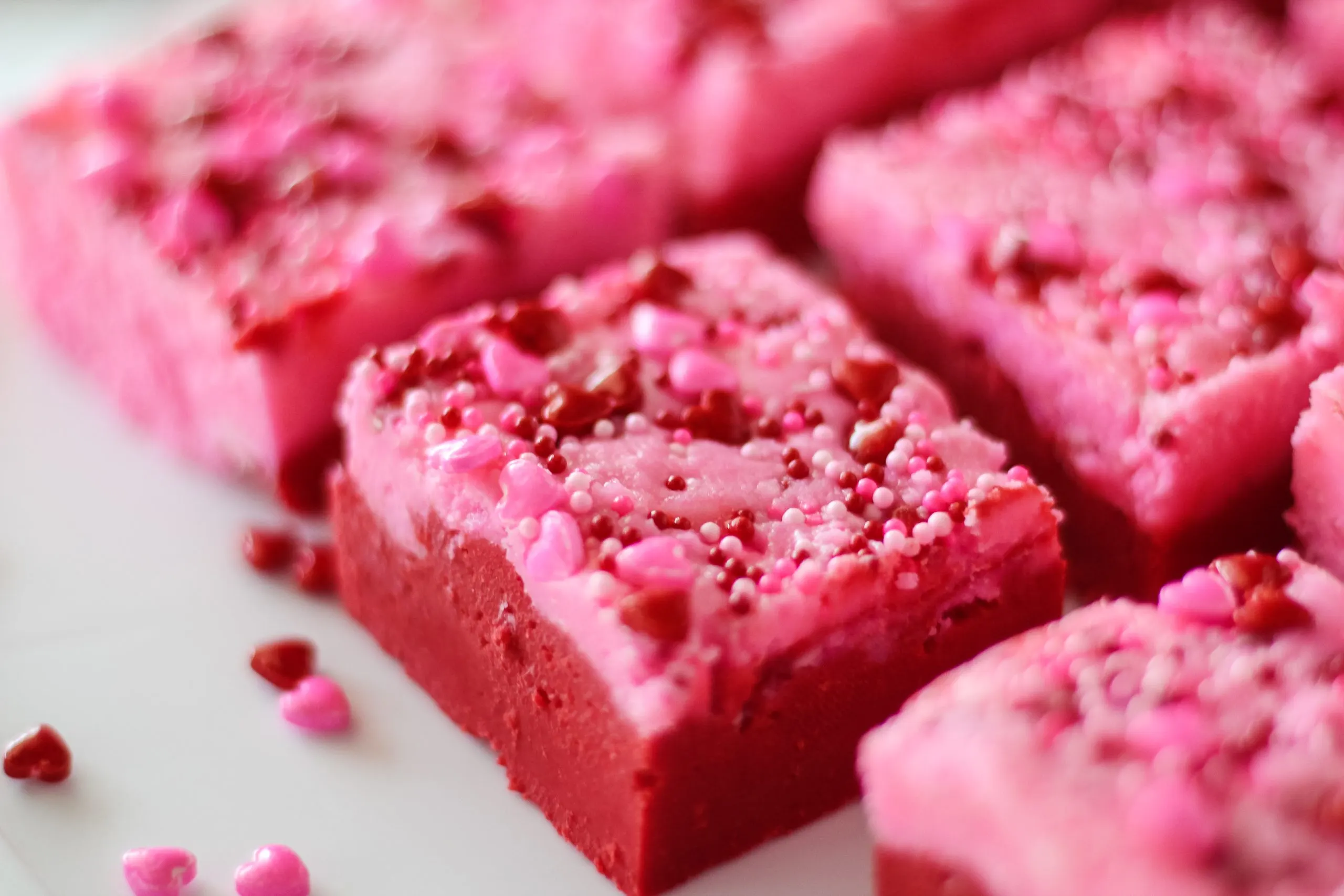 How to Make Fudge Easy Recipe
Line a 9×13 dish with parchment paper.
Using an electric mixer, beat HALF of the cream cheese on high until it's smooth and creamy.
Melt one pound of Red Melting Chocolate in a microwavable bowl in the microwave (in 30 second intervals) until melted and smooth.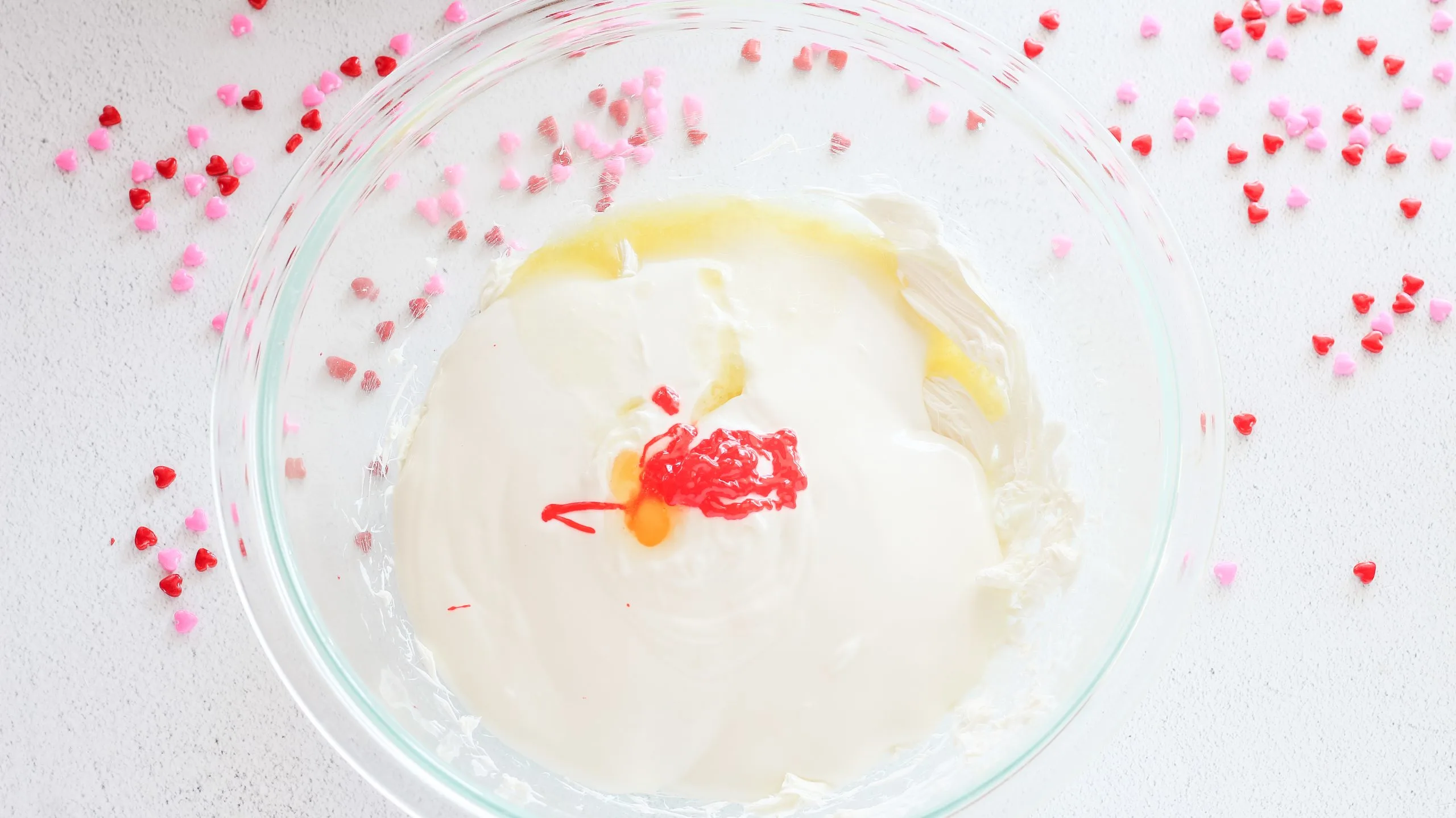 Add your melted chocolate and HALF of your melted butter to your mixing bowl. Mix on high until well combined.
Spread your red fudge mixture into the 9×13 prepared pan. Smooth it out evenly and cover the dish while you prepare the pink layer.
Add your other half of the cream cheese to a clean mixing bowl and beat until smooth.
Melt the white chocolate almond bark in the microwave.
Add in the melted almond bark and the other half of your butter to the mixing bowl. Mix until well combined.
Add your hot pink gel food coloring, and mix again until well combined.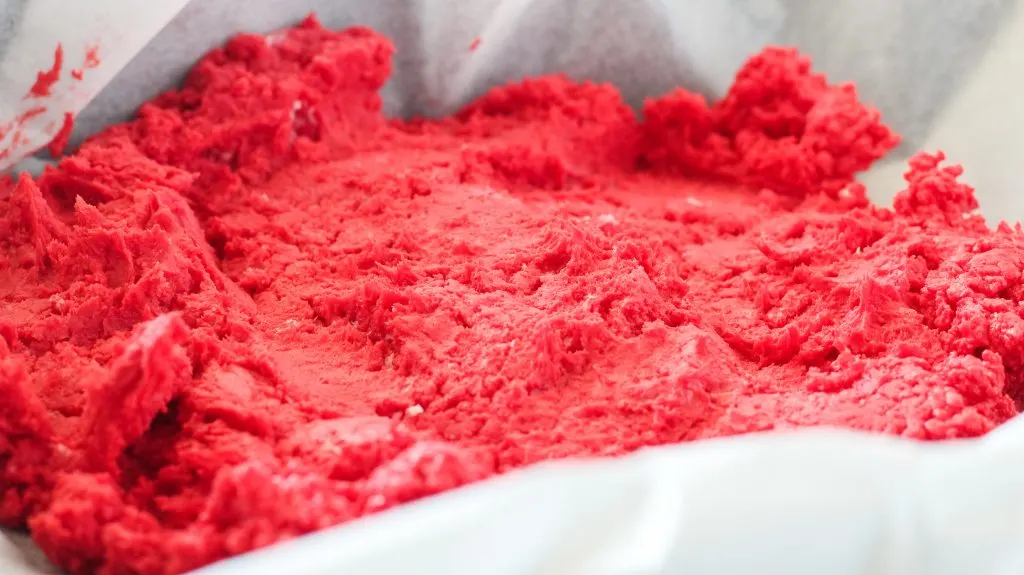 Spread the pink fudge mixture evenly over the top of the red fudge mixture.
Immediately add your favorite Valentine sprinkles on top of the fudge.
Cover with plastic wrap and chill for at least 1 hour.
Remove the fudge by grabbing the edges of the parchment paper and lifting straight up and out of the baking dish.
Cut the chilled fudge into even squares.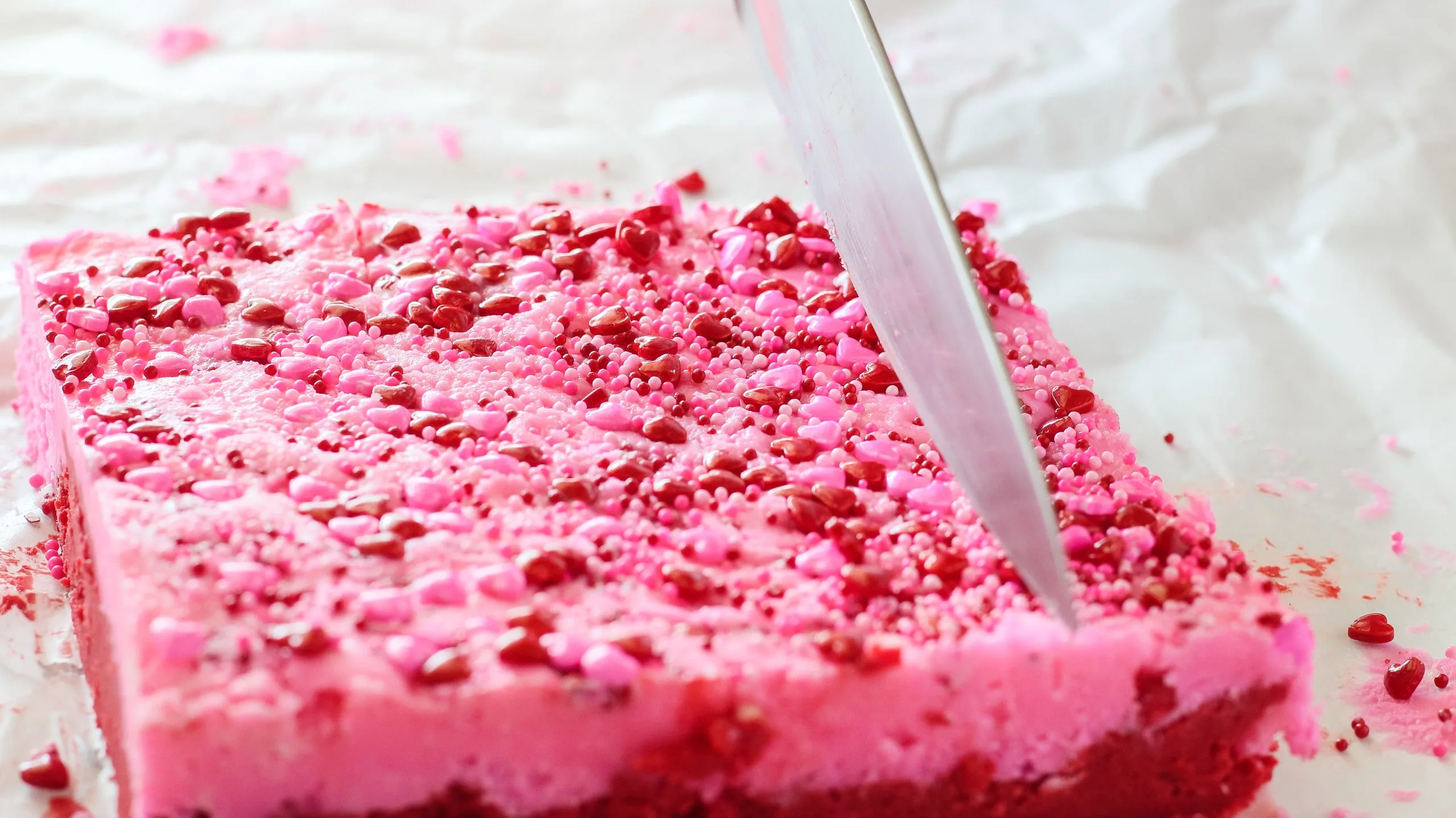 Substitutions and Additions
You can change up this fudge so easily with just one simple change from this list. Instead of sprinkles, use one of our other topping suggestions for instance. It's a completely different fudge!
Change the colors to suit your theme.
Toast some nuts and chop them for a crunchy and tasty topping in place of sprinkles. Pecans, walnuts, almonds, or peanuts will all work. Toast nuts for about ten-fifteen minutes in the oven for improved flavor and texture.
Flaked Coconut.
Cocoa Nibs
Crushed Butterfinger Bars
Crushed Cookies such as Oreos, vanilla wafers, shortbread cookies, or ginger snaps.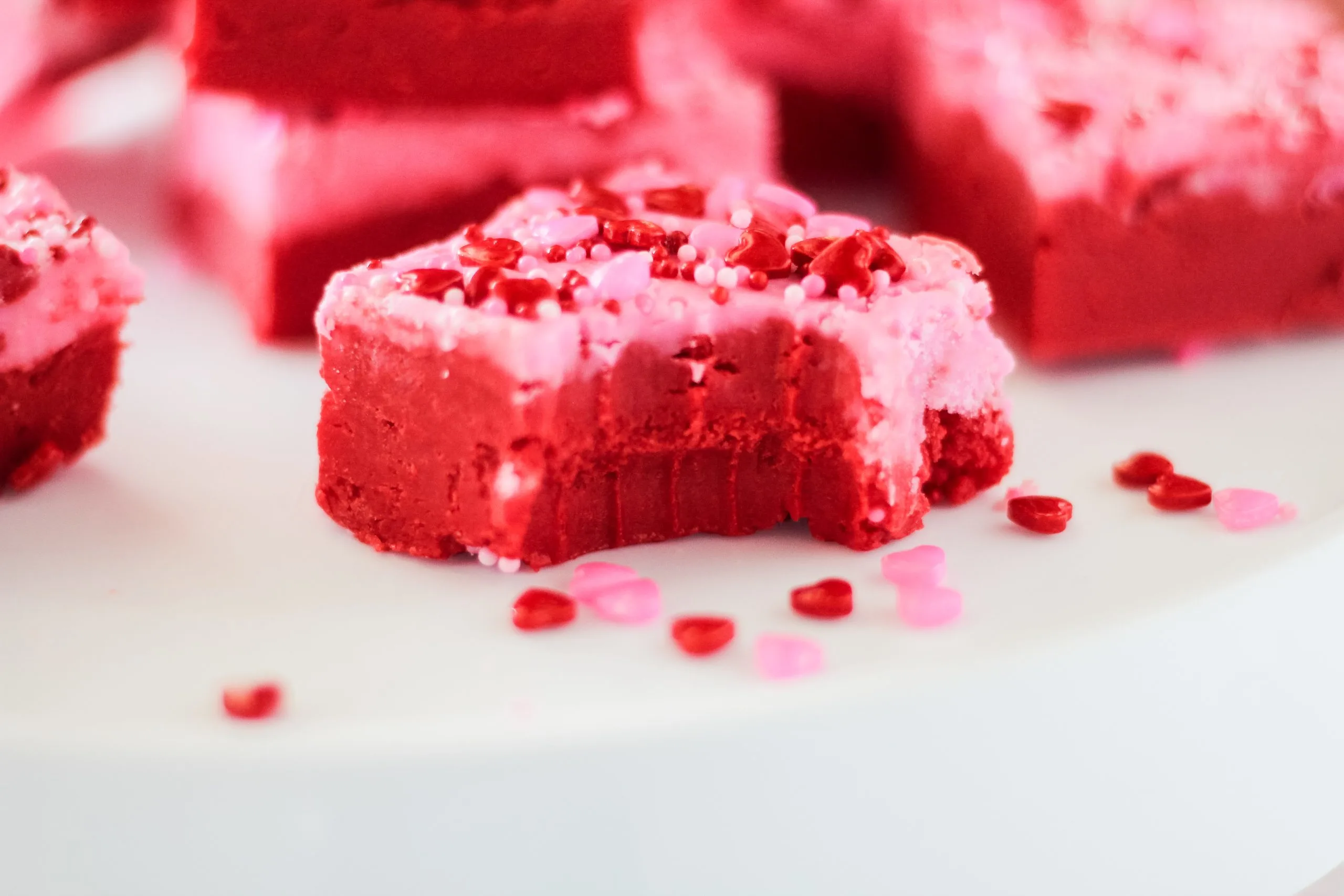 How to Store Leftover Fudge
What is the Best Way To Store the Valentine's Day Fudge Recipe?
Store your leftover fudge in a covered container in the refrigerator. I choose to cut it into bars and then refrigerate it so I can serve it as needed. If you have cold weather during the holidays when your refrigerator is full, you can place a sealed plastic container with fudge out on your back porch!
How Long Will Valentine's Day Fudge Last In the Fridge?
Fudge will keep for two weeks in the refrigerator in a covered container.
Can I Freeze the Easy Valentine's Day Fudge Recipe?
Yes. Fudge can be kept in an airtight container for 2 months in the freezer and thawed as needed. I prefer to freeze the pieces individually spread out on a tray and then place them in a freezer-quality zipper baggy for convenience. Frozen fudge does not have to be fully thawed to be enjoyed!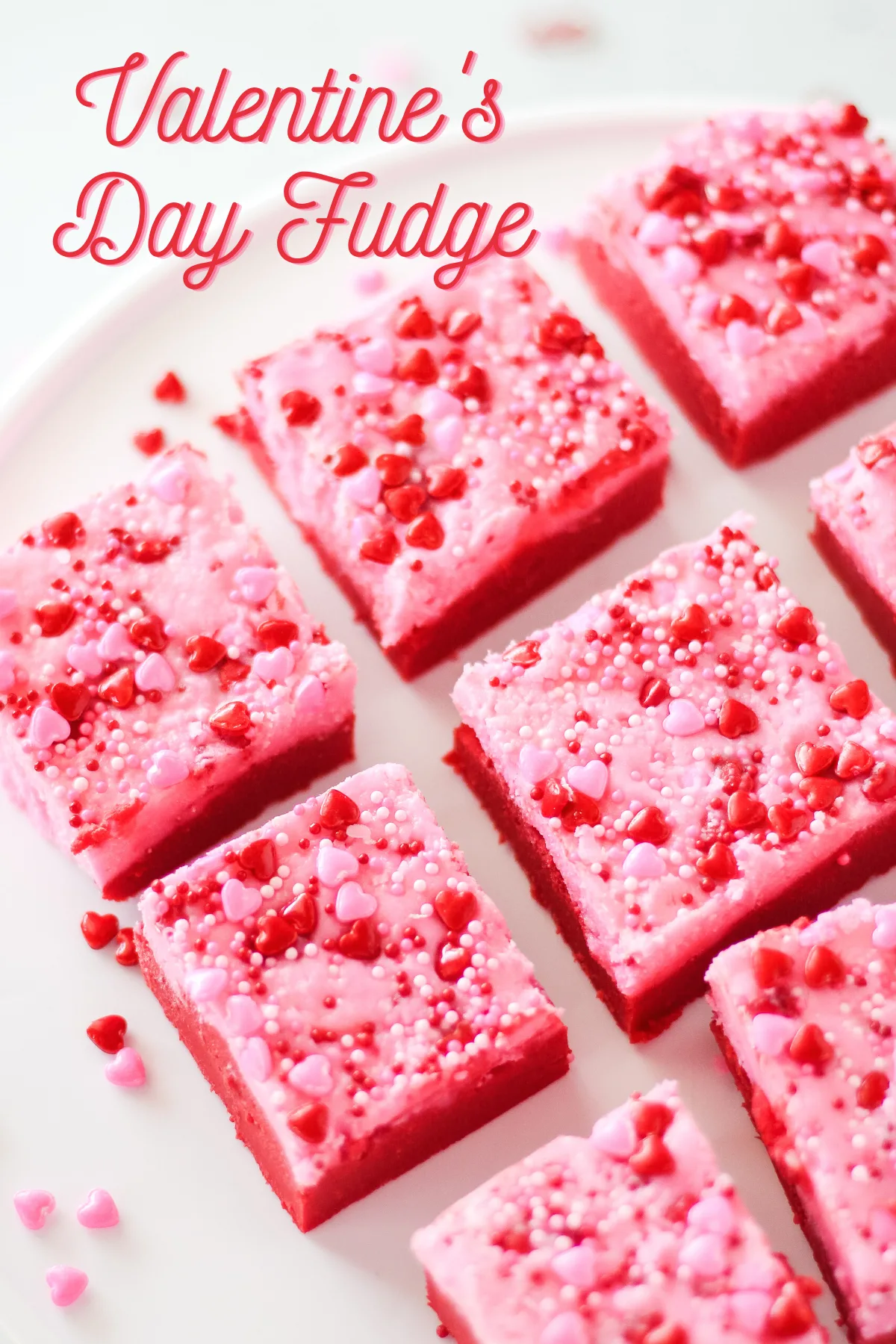 Valentine's Day Fudge Recipe FAQ
What does adding butter to fudge do?
Butter actually plays an important role in any fudge recipe because it helps keep the sugar from crystalizing too much. It also adds richness to the flavor and improves the texture.
Are white chocolate and white chocolate almond bark the same thing?
No, it's not. White Chocolate contains cocoa butter and will not have the same consistency as almond bark.
Other Candy Recipes You'll Love
Chocolate Almond Microwave Fudge
White Chocolate Oreo Truffles – Oreo Snowball Cookies
Sweet Jarcuterie Ideas – Easy Entertaining
Peppermint Holiday Bark from Lisa's Dinnertime Dish.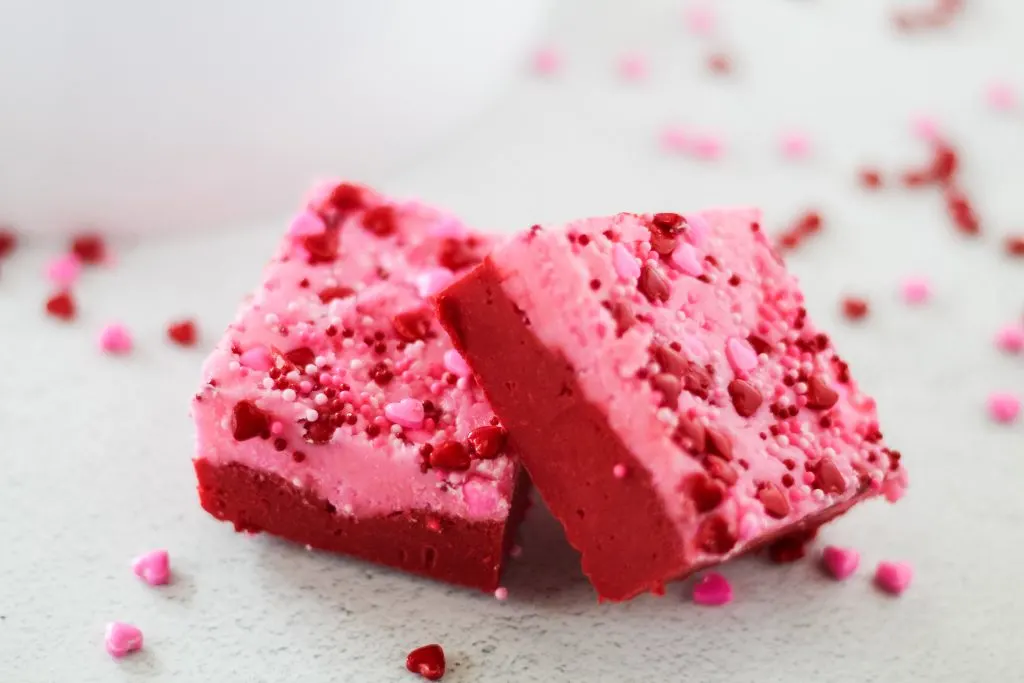 Tips to Make the Perfect Valentine's Day Fudge
Cream cheese should be at room temperature but not warm. You'll want it cool to touch and softened but not melting.
Make sure you use gel or powder food coloring. Liquid food colorings can make the candy melts and the almond bark seize and turn lumpy.
I found using an electric hand mixer worked well with this recipe. It's easy to just rinse off the beaters and to prepare the next layer in a clean mixing bowl since I only have one mixing bowl for my electric stand mixer.
This fudge is very rich so I do recommend cutting small pieces. I generally cut at least sixteen pieces from one pan. Of course, that's up to you. The nutritional information is for 16 pieces.
Don't Forget To Come Back And Let Me Know How Your Valentine's Day Fudge Turned Out!
Related recipes you may enjoy.
It's time to start planning our Valentine and Galentine events, you'll need some lovely recipes to serve! Check out these delightful Valentine Sweets and Cocktails, all part of the #ValentineSweets blogging event hosted by Michaela from An Affair from the Heart: