This Peach Crumble recipe with Oats is a delicious and easy-to-make dessert that is perfect for any occasion. Made with fresh, ripe peaches and a crispy oat crumble topping, this dessert is sure to be a crowd-pleaser. Whether you're serving it at a family gathering or enjoying it as a sweet treat after dinner, this peach crumble is a must-try recipe.
We love fresh peach desserts. This Peach Crumble recipe with oats, our Peach Crisp, and our Peach Cobbler recipes are just a few great ways to use up any extra peaches you have on hand before they go bad. Give them a try today and enjoy the sweet taste of summer in every bite!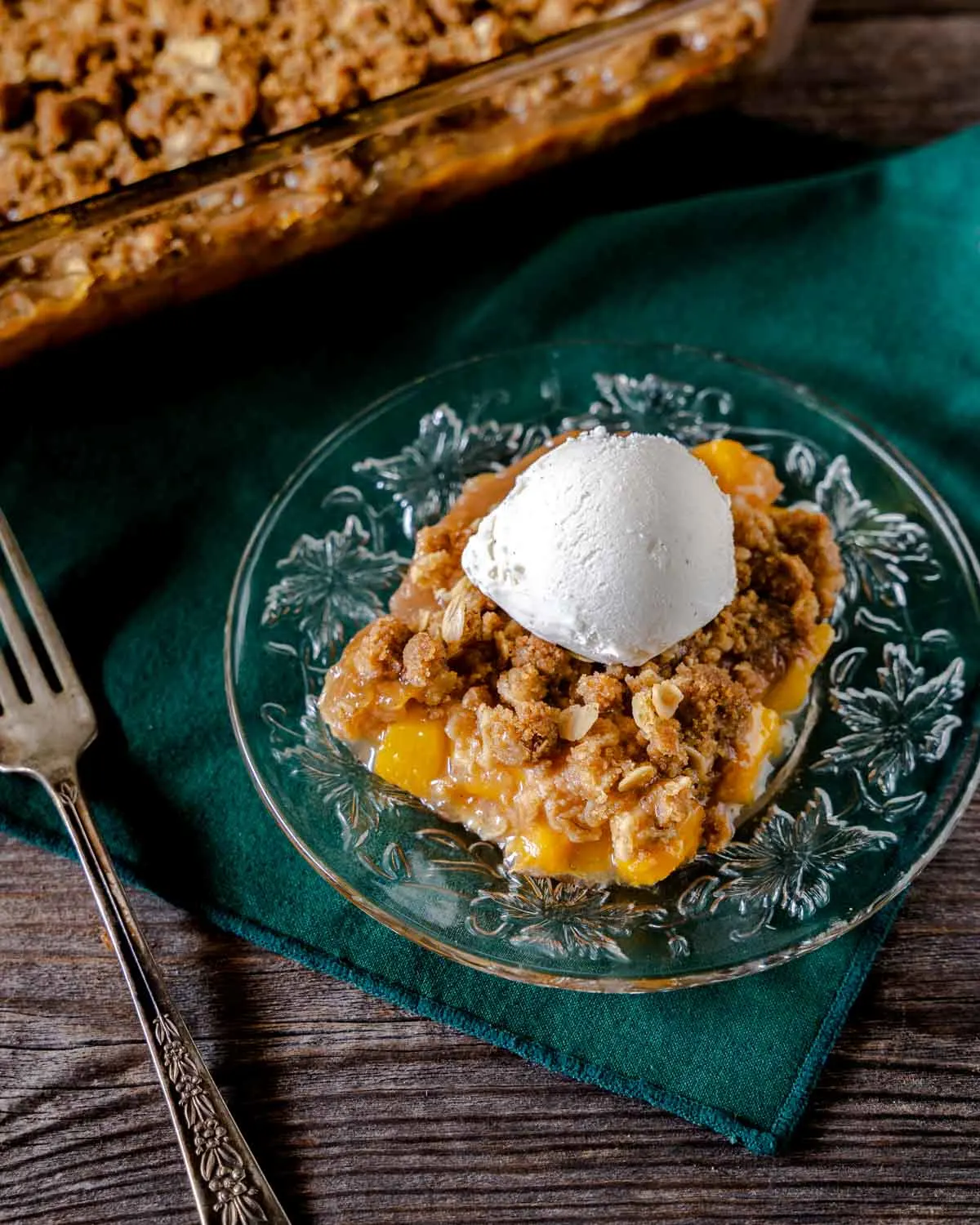 Everyone just loves this delicious and easy peach crumble. Juicy, ripe peaches are coated in a homemade syrup filling and topped with crunchy oats and brown sugar to create the ultimate peach dessert. It's a perfect summer dessert whether served hot with ice cream or cold with whipped cream.
Why You'll Love This Recipe for Peach Crumble with Oats
Flexible. You can make it in any oven-safe dish you own and even make individual servings size dishes if you want.
Gluten-free. It's so easy to make this recipe gluten-free.
Quick and easy to make. You can throw this dish together really fast with minimal mixing. When you need the easy button, this is a perfectly delicious dessert without any complicated effort.
Can be made ahead. Mix up the ingredients and put it in the refrigerator for a day or two to bake when you are ready to eat it. Or alternatively, bake it and then serve it cold within a couple of days or reheat it to serve it hot.
Equipment Needed to Make Easy Peach Crumble
Hostess At Heart participates in affiliate programs. As an Amazon Associate, I earn a commission from qualifying purchases. Please refer to my disclosure page for more information about these affiliate programs.
9 x 13 Pan. I like using this dish because it comes with a lid for easy storage.
Mixing bowls. I use this set of bowls for mixing, serving, storing, and transporting food. The pretty lids guarantee no spilling too!
What is a Peach Crumble?
This is a simple baked peach dessert that has a layer of sweetened velvety peaches topped with a deliciously crunchy oat topping.
Ingredients for Peach Crumble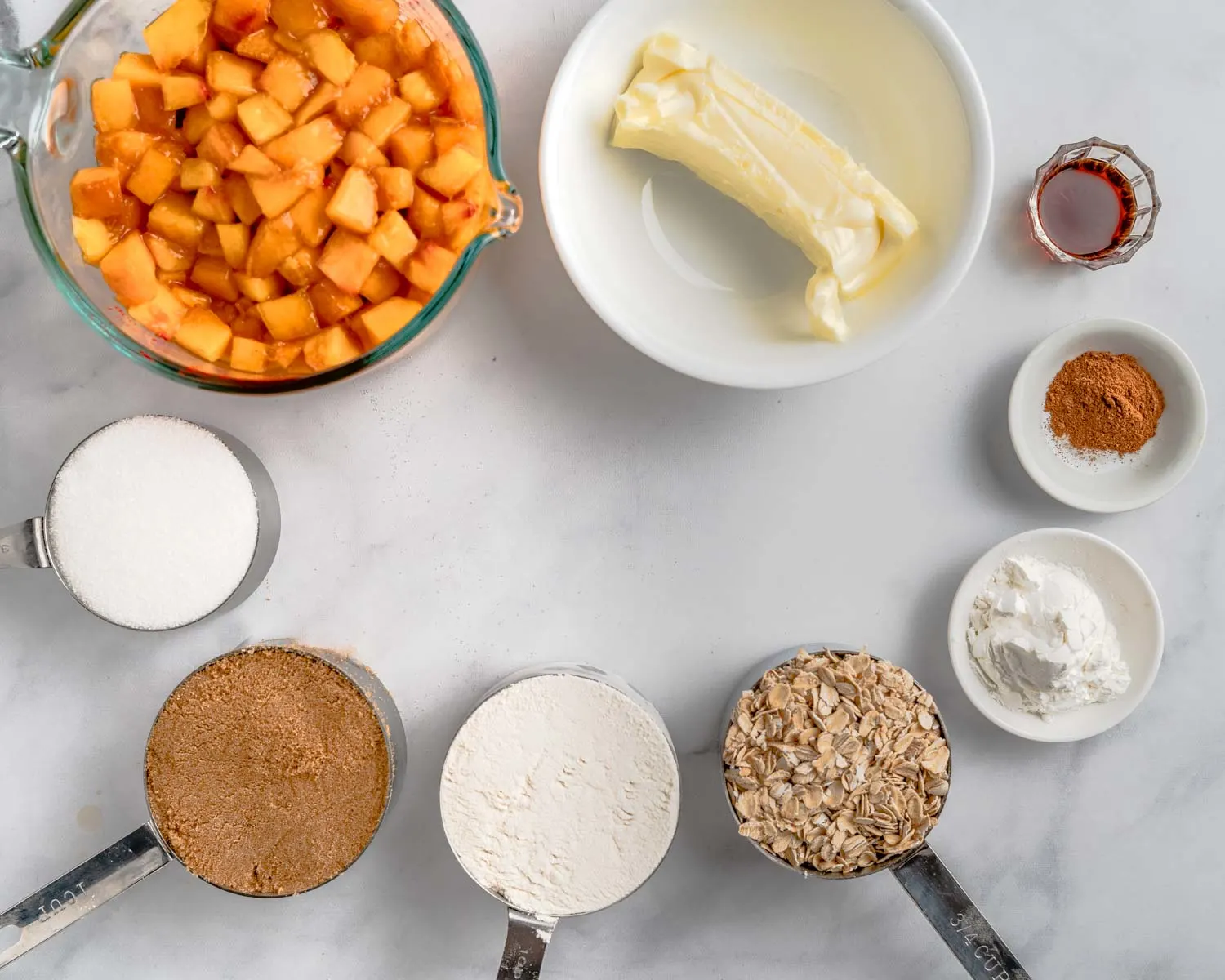 Fresh Peach Filling Ingredients
Peaches.
S

ugar

.
Cornstarch.
Water.
Ingredients for the Peach Crumble Topping Recipe
Flour. All-Purpose flour, bleached, unbleached, or gluten-free.
Oatmeal. Old-fashioned oats, not quick oats.
Brown Sugar. I prefer dark but the light is fine.
Ground Cinnamon.
Butter. Real butter, please!
How to Tell if a Peach is Ripe
A peach is ripe when it has a little bit of "give" when pressed and a sweet, peachy smell. If it is still firm and odorless at the store it will ripen on the counter. Because the color of peaches can vary so much, color is irrelevant when determining ripeness.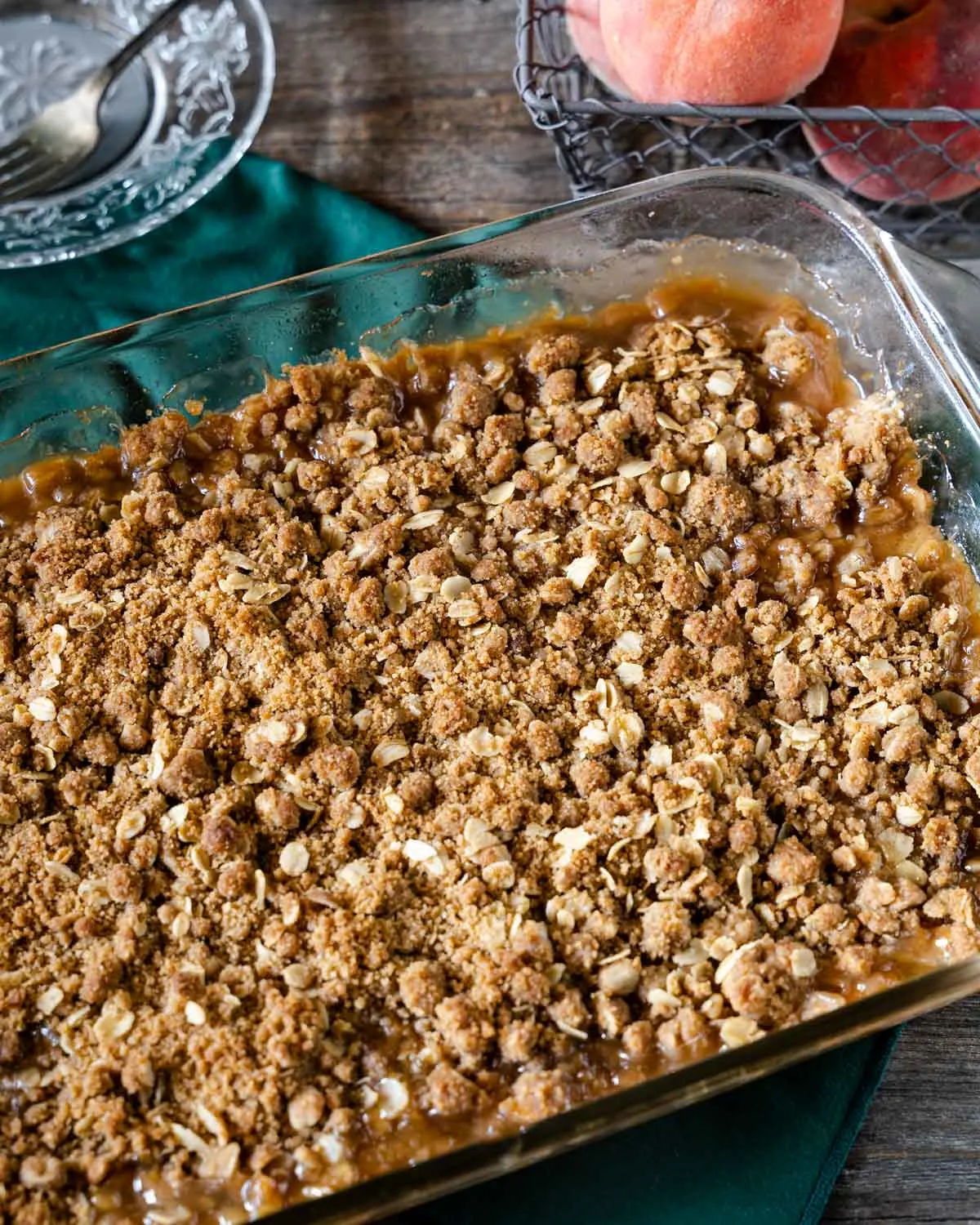 How to Make Peach Crumble
Please note, that the printable recipe card has ingredient quantities, complete instructions, and nutritional information. The following is a quick overview of the recipe.
Get the ingredients for the recipe ready first. You'll need to peel, pit, and dice the peaches. You will also need to melt the butter. I show you now down below.
Spread the peaches out in your pan of choice. Then mix the filling ingredients and cook them for a few minutes. Pour the peach crumble filling over the top of the peaches. Stir together the ingredients for the crumble topping and spread this out over the fruit filling. Bake.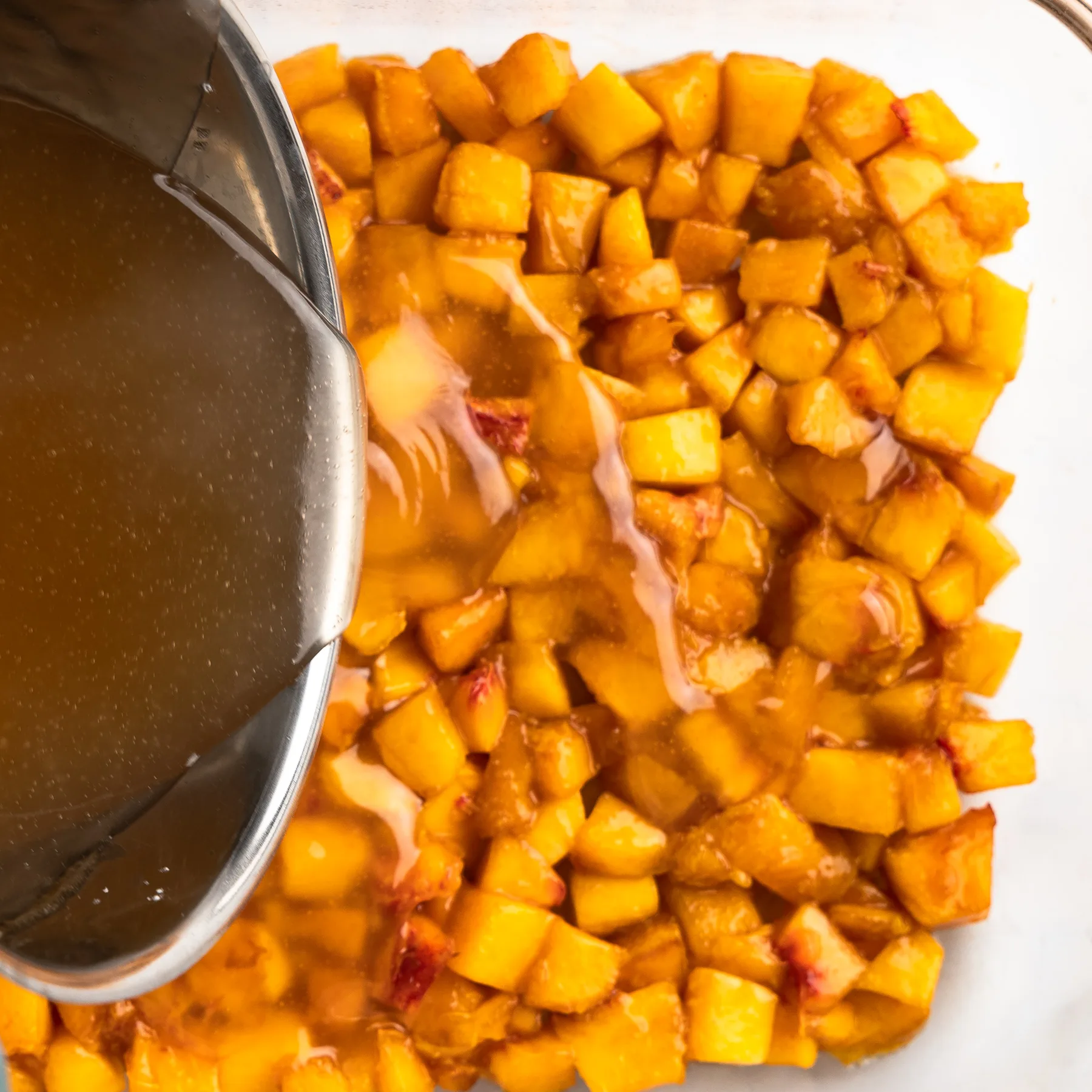 What is the easiest way to skin a peach?
The easiest way to skin a peach.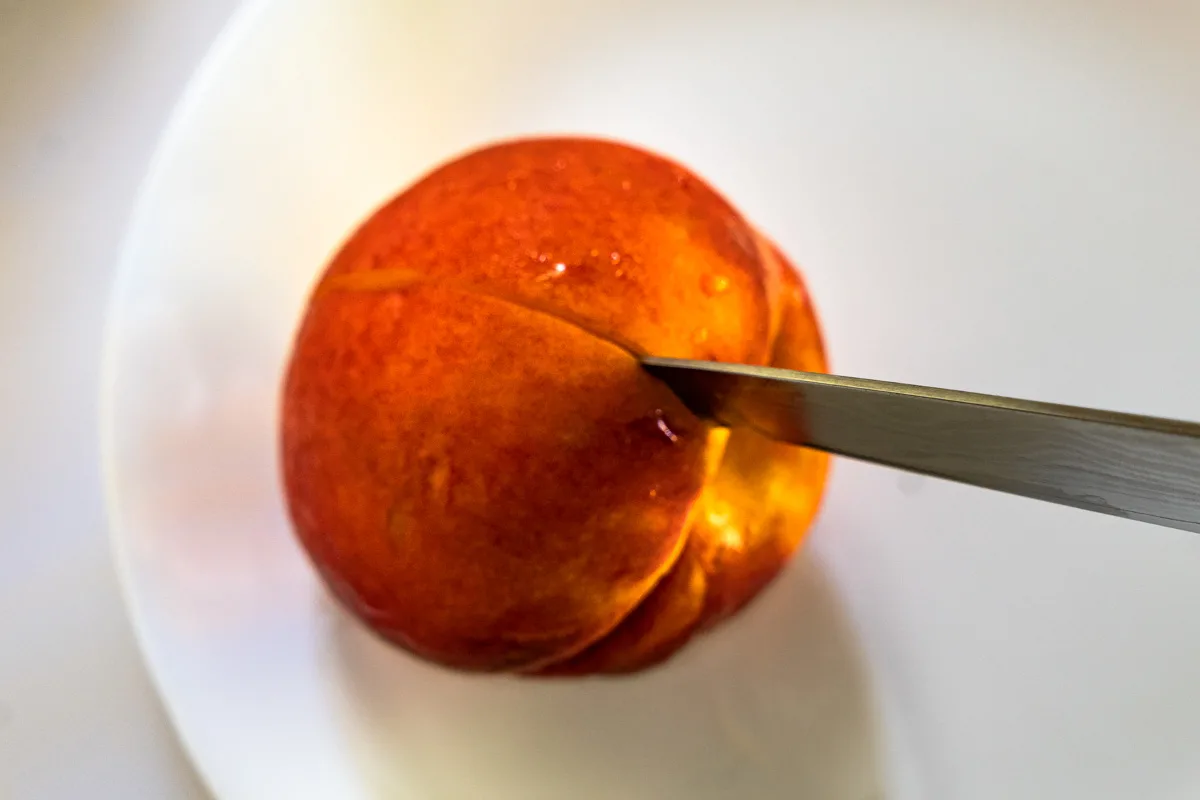 Wash and score the peach skin with the sharp tip of a knife 4 to 6 times down the length of the peach.
Add the peaches to boiling water and keep them submerged or turn them for 30 seconds.

I use a spyder strainer for holding the peaches down, turning them, and removing them from the hot water.

Submerge the peaches in an ice bath for 10 seconds.
Slide the skin from them immediately.
What to Serve With Peach Crumble
A dollop of whipped cream or a scoop of ice cream is the only thing that you'll need to get people anxiously waiting for their piece.
How to Reheat and Store a Peach Crumble
Best Way To Store Peach Crumble with Oats
I would definitely store this dessert in the refrigerator so it doesn't get runny.
How long will this peach dessert last in the fridge?
Leftovers of this dessert will last for several days kept in an airtight container in the refrigerator.
Can I freeze/thaw this recipe?
Yes. Freeze individual servings in an airtight container and thaw in the microwave as needed.
How to reheat this easy crumble recipe
Reheat your crumble in the microwave in thirty-second increments until it reaches your desired temperature. Make sure to check the internal temperature and stir it to avoid pockets of extreme heat.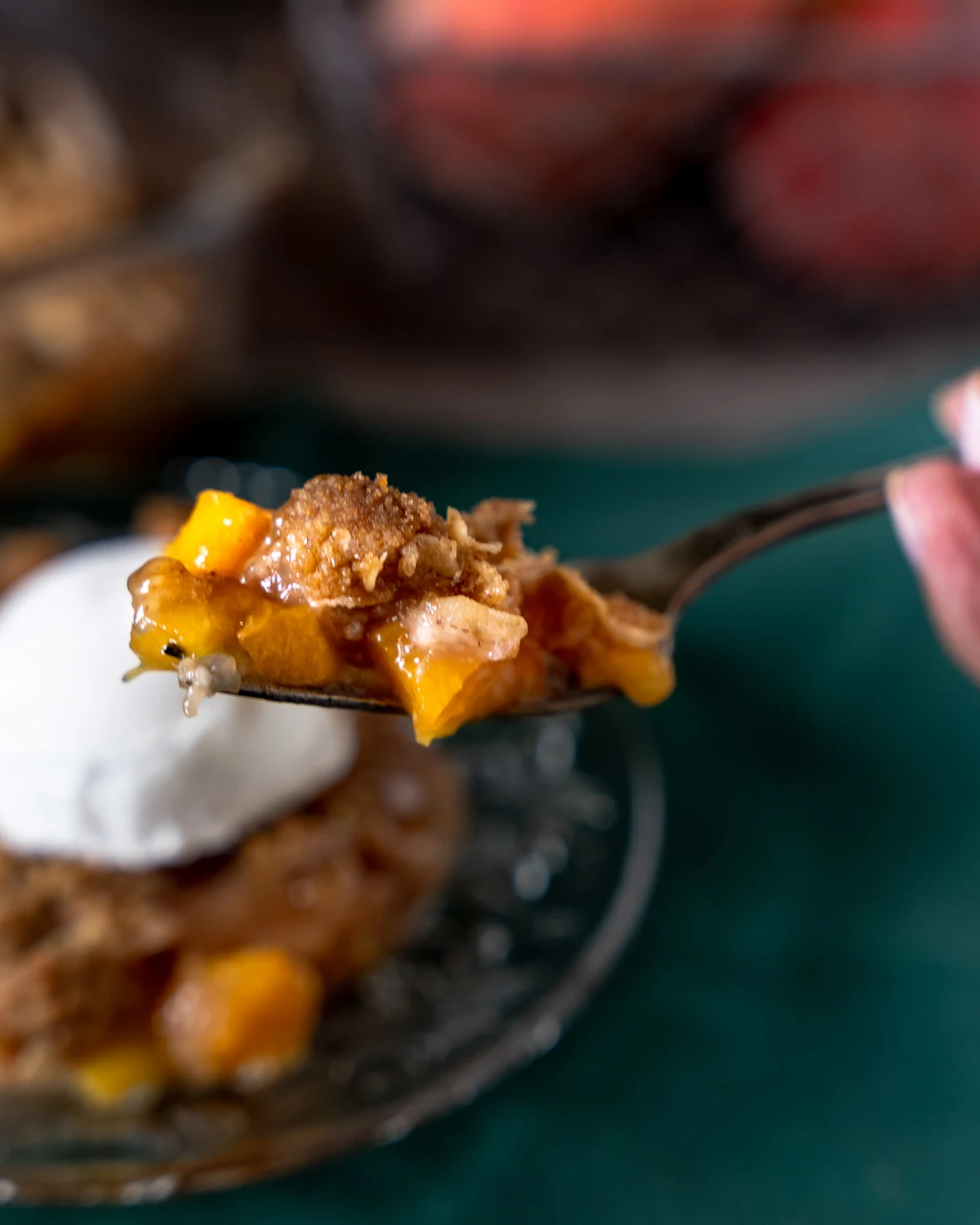 FAQ's
What is the difference between a peach cobbler and a peach crumble?
Our Peach cobbler is made with a biscuit mix that gives it more of a cake consistency. This peach crumble recipe with oats doesn't have a crust.
Is this recipe for peach crumble gluten-free?
Yes, you can easily make this peach crumble gluten-free by using gluten-free all-purpose flour!
Can I leave the peach skins on?
Yes, but I don't recommend it. Once the peaches bake, the skin will slide off the diced peaches which would affect the appearance. I describe how to easily remove the skins here.
Can I make a peach crumble with frozen fruit?
Yes, you can. Let the peaches thaw and pat them dry.
Can you make peach crumble with canned peaches?
Yes, you can but I really don't recommend it. They have a soft texture and hold additional liquid which could result in a soggy mess.
Tips to Make the Perfect Peach Crumble
Peach crumble is easier to cut into servings if it's chilled. However, if it's deliciously warm, I will often just scoop it out of the pan instead of cutting it. I also wouldn't worry about trying to cut it into squares. Scooping it out with a spoon gives a rustic homemade feel that's perfect for casual entertaining.
I used a 9×13 pan. Use two 8×8 pans so you can serve one and freeze one for later.
Substitute with pie plates for a peach crumble pie. Depending on the size of your baking dishes, you may need two. You can always add more peaches and this recipe will still work perfectly.
Use individual peach crumble desserts with single-serving dishes. I love having my own, don't you?
Other Peach Recipes You'll Love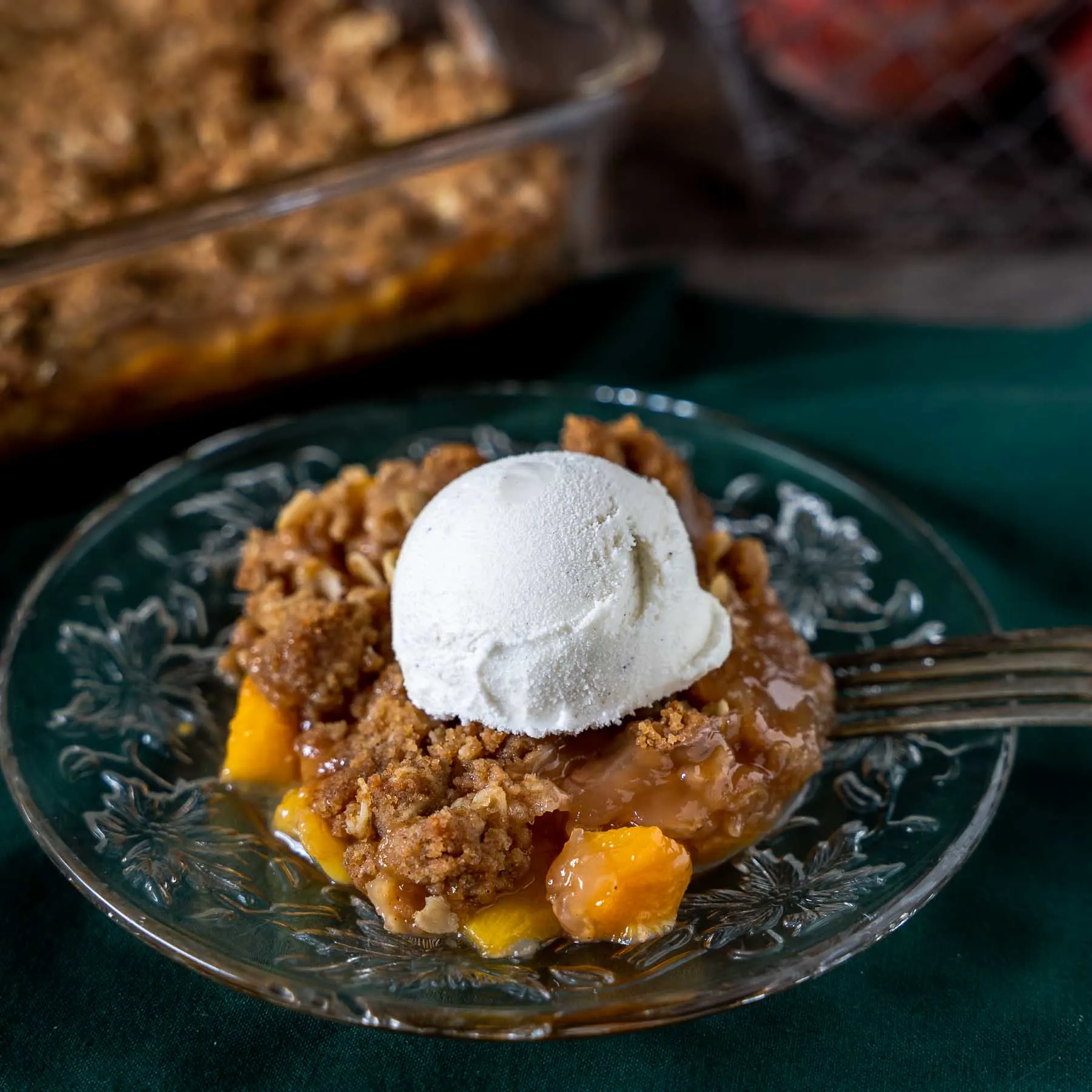 Don't Forget to Come Back and Tell Me How Your Peach Crumble Turned Out!
This peach crumble with oats recipe has been updated to improve readers' experience. No changes were made to the recipe.
Pin this amazing Peach Crumble Recipe!