This tender moist Raspberry Swirl Pound Cake recipe is Infused with a beautiful red raspberry jam sauce and topped with sweet cream cheese frosting. My easy raspberry pound cake is perfect for special events but easy enough for every day.
This recipe was originally published in 2016 so it was time for an update. I've added some instructions and tips that I believe will make it easier to follow. No changes were made to the actual recipe. I hope you will enjoy making it and eating it as much as we do.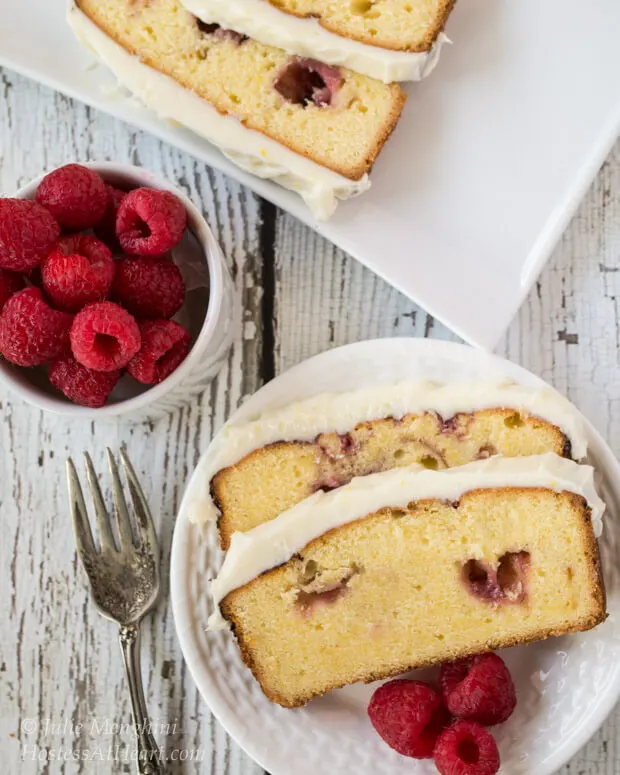 I'm a raspberry lover. Whether it's Swedish pancakes at breakfast or a Linzer Tart after dinner, they're guaranteed to be delicious. So, when a friend of mine was in town, I knew this Raspberry Swirl Pound Cake would be fun to share.
What is a pound cake?
A true pound cake dates back over 300 years ago and got its name because it called for a pound each of butter, flour, sugar, and eggs. Can you imagine the size of that mixing bowl?
Today, we refer to a pound cake as a cake that's generally a denser cake that can be baked in a variety of pans.
It's a rich cake compared to most regular cakes so is often served plain or topped simply with a dusting of powdered sugar, a light glaze, or frosted like I did with our raspberry pound cake.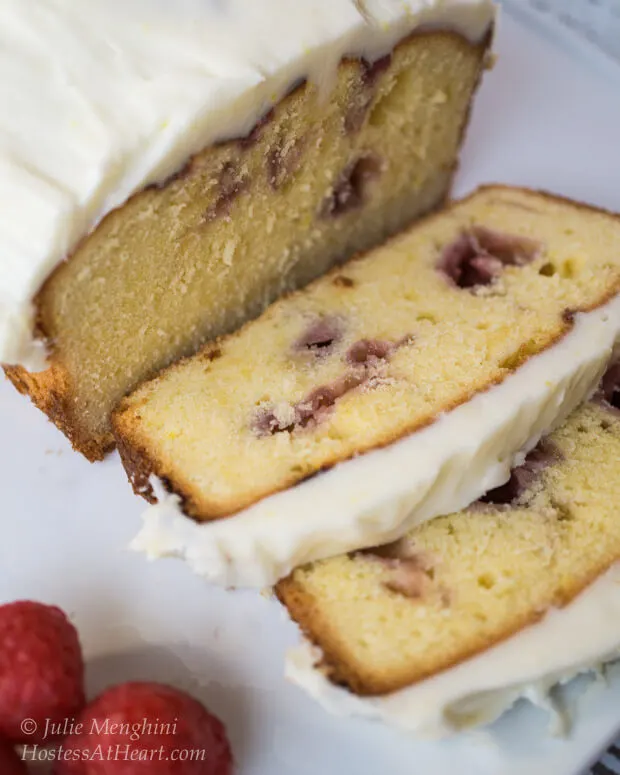 Equipment Needed To Make Raspberry Cake Recipe
Loaf pan – I love these pans. They're perfect for bread, cakes, and even for baking my stuffed squash recipes.
Fine Mesh Strainer – I use strainers for rinsing and straining ingredients. This strainer assures that no seeds are going to make it into our raspberry sauce.
Mixing Bowls – I use this set of bowls for mixing, serving, storing, and transporting food. The pretty lids guarantee no spilling too!
Ingredients For Your Raspberry Swirl Cake
Pound Cake Ingredients
Cake Flour – Cake flour is what I recommend. Cake flour is lighter than all-purpose flour. All-purpose flour would result in a much heavier cake.
Baking powder – This is what makes your cake rise. Replace it every 6 months or test it for potency. I show you how in my Basic Techniques Post.
Butter – Real butter is what I use and go for European when I can. It generally has less water content making the flavor amazing.
Milk – Whole milk gives this cake a creamy interior.
Sugar – White granulated sugar.
Eggs – Grade A large is what I always use for consistent results.
Raspberry Sauce Ingredients
Raspberries don't bake up tremendously in cakes and I didn't want the seeds so making a sauce works great. You could also use only an all-fruit spread for the raspberry swirl.
Fresh raspberries – You could also use frozen raspberries, thawed.
All Fruit Raspberry Spread such as Polaner. You could also use raspberry jam.
Cream Cheese Frosting
Cream Cheese – I used full fat. You could use reduced-fat but I haven't tried the fat-free version.
Powdered Sugar – Also referred to as confectioners sugar.
Butter – Real full-fat butter.
Lemon Extract – I love the combination of lemon and raspberry and a little bit in the frosting and cake batter makes the two go together perfectly.
How To Make A Raspberry Swirl Layer Cake From Scratch
Raspberry Loaf Cake Batter
I always start by preheating my oven and greasing my loaf pan. You want your oven good and hot when you're ready to bake and the pan ready to go in as soon as the batter is mixed.
In a medium-size bowl whisk the eggs, milk, and extract together and set the bowl aside.
In the bowl of an electric stand mixer, combine the flour, sugar, and baking powder. Turn the mixer on low to combine. Add the butter and mix until blended. Slowly stream the egg mixture in with the butter mixture.
Raspberry Sauce
Place the raspberries in a fine-mesh strainer. Using a spatula or a wooden spoon, push and mash the raspberries through the strainer over a bowl. Discard the seeds and pith left in the strainer. Add the raspberry fruit spread to the mashed raspberries.
Raspberry Swirl
Pour the cake batter into the cake pan. Pour the raspberry sauce mixture over the raspberry pound cake batter. Swirl the sauce into the batter by running a butter knife through the batter. Don't overmix or your swirl will disappear. I could have swirled mine a bit more.
Bake and Cool
How do you know when your raspberry pound cake is done? This cake takes at least 45 minutes to bake. It's done when a cake tester or toothpick inserted into the center comes out clean. I start checking it as soon as I can smell it. That gives me a good idea of how much more time it's going to need.
Cream Cheese Frosting
You'll want to frost the cake once it's cooled. You can make up the frosting ahead of time by mixing the butter in the bowl of an electric stand mixer until it's visibly lighter in color and fluffy. Add the cream crease and extract to the butter and mix until smooth. Slowly mix in the powdered sugar and mix until smooth. You can add a little milk, cream, or water if the consistency is too thick to spread.
How to Store Raspberry Swirl Pound Cake
Room Temperature
Pound cake doesn't need to be refrigerated. Store at room temperature for up to 4 days.
Freezing Raspberry Pound Cake
Pound cakes freeze beautifully without losing flavor or texture. Wrap your cake tightly in plastic wrap and freeze for up to 3 months. You can also freeze individual servings so then you can thaw just what you need.
This cake thaws quickly at room temperature. Unwrap the cake from the plastic wrap so that it doesn't create condensation and become mushy. You can also thaw it loosely covered in the refrigerator.
Tips for the perfect Raspberry Swirl Pound Cake
We didn't put whole raspberries in our raspberry swirl cake. Raspberries are very tender and tend to disappear when baked into a cake. They also leave the seeds behind. If you want to serve fresh berries on the plate or add them to the top of the frosted cake you can.
Make sure the cake is completely cooled before frosting it. You can cool it completely in the pan and then remove it for frosting by placing it on a serving plate. If the frosting is too thick, thin it with liquid. If it's too thin, add more powdered sugar.
Looking for more delicious cakes? Follow Hostess At Heart on Pinterest!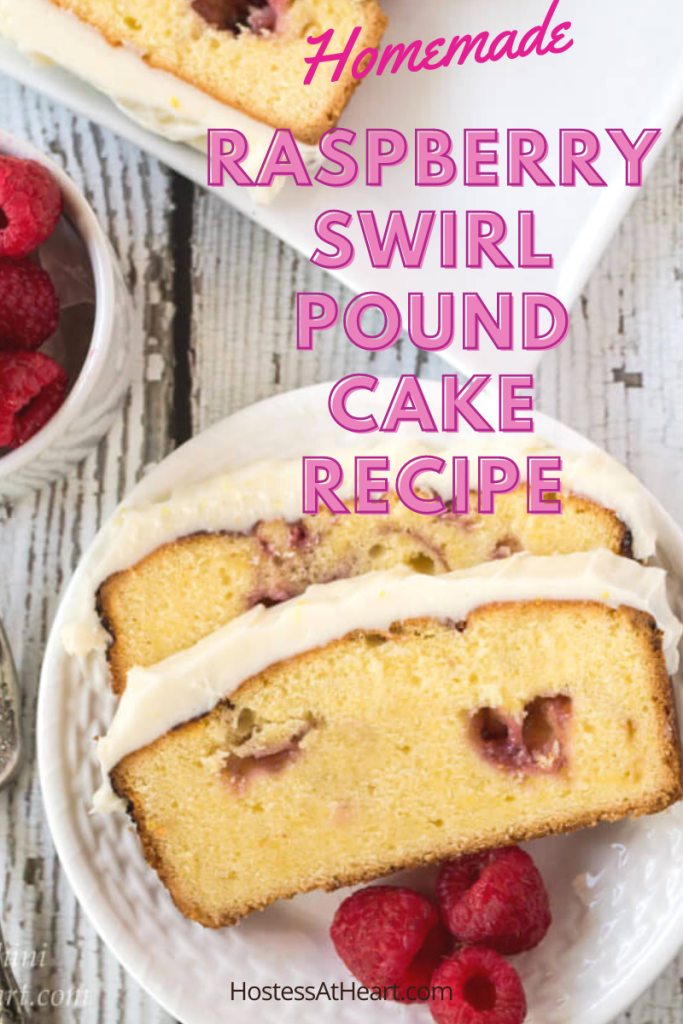 FAQ's
Do you cool pound cake before removing it from the pan?
Yes, it's best to allow the cake to cool in the pan sitting on a cooling rack for 10 to 15 minutes right side up. That will allow the cake to firm up and not break apart.
Do I have to use a loaf pan to bake this cake?
No, you don't. Since this is such a dense batter, pound cakes are often baked in tube pans, bundt pans, or individual decorative dishes. I recommend that you grease and flour the pan that you use so the cake rises correctly. You might find this pan conversion information helpful.
Can I make a raspberry swirl pound cake ahead of time?
Yes! Bake the cake and once it's cool wrap it in plastic wrap. Store it at room temperature for up to 2 days.
Can I make a Raspberry Swirl Cake using a cake mix?
Yes, you can! I recommend using a white or yellow cake mix. You can make the raspberry sauce as I did or use all jam for a semi-homemade raspberry cake.
Variations
Almond Pound Cake – This pound cake would be amazing using almond extract instead of lemon and vanilla extract and sprinkling the top with shaved almonds.
Strawberry Swirl Pound Cake – Exchange the raspberries for strawberries.
Poppyseed Pound Cake – Nix the berries and add 2 tablespoons of poppy seeds.
If you enjoyed this recipe here are a few more you may like
Don't forget to stop back and let me know how your Raspberry Swirl Pound Cake Recipe turned out!
Pound cakes are delicious and they also make great gifts. This one is easy enough to whip up in a jiffy and is perfect for brunch or lunch but don't wait for a celebration.
Pin
I'd like to thank Quinn of Dad's What's 4 Dinner for the inspiration and for sharing his raspberry pound cake recipe.