Indulge in the sweet and citrusy flavors of our easy-to-make Lemon Blueberry Dump Cake. This delicious blueberry dessert is perfect for any occasion and can be ready in no time.
Similar to a cobbler, it can be eaten warm with a scoop of vanilla ice cream and will be the delight of your summer afternoon.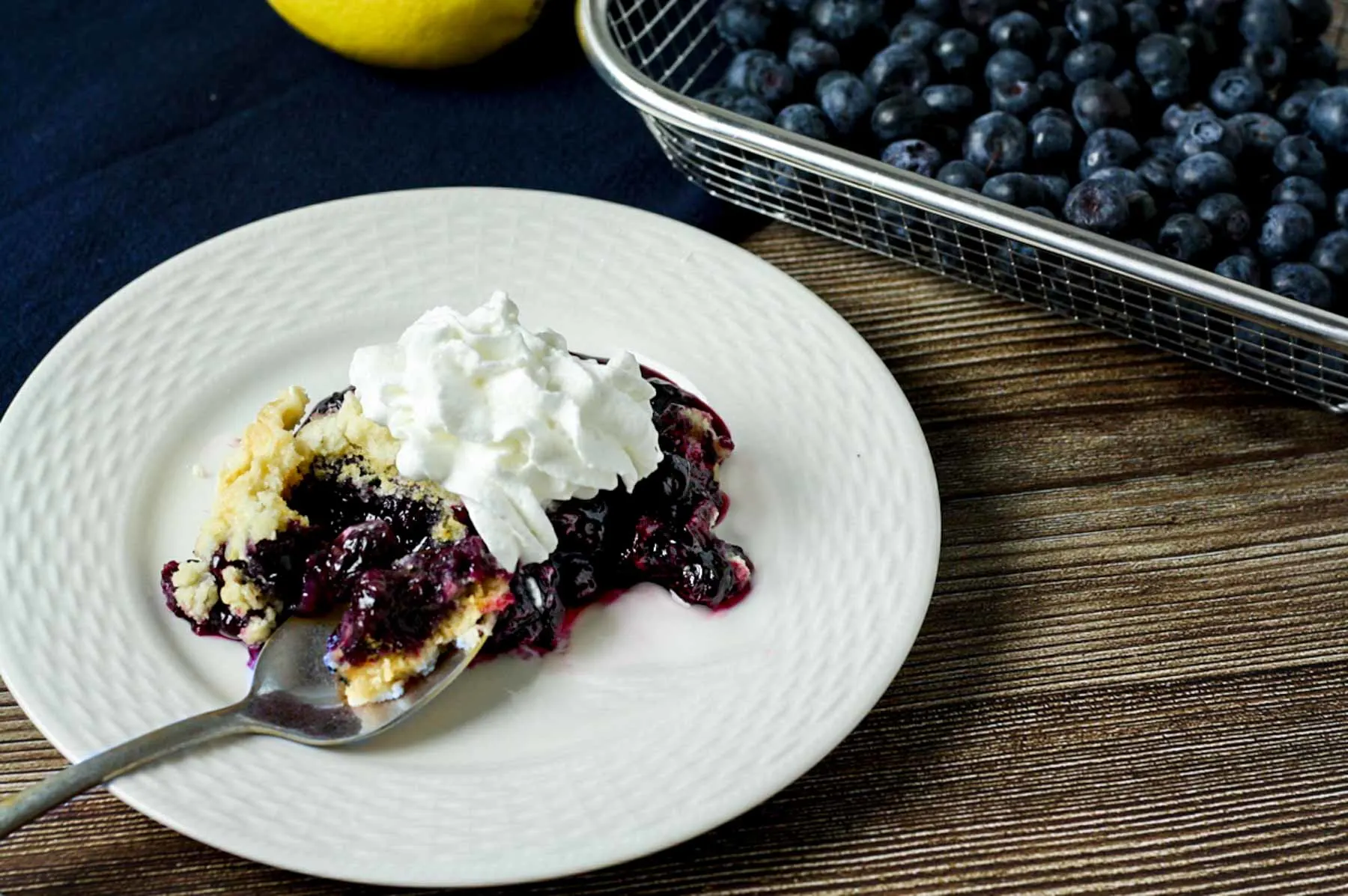 Why You'll Love This Lemon Blueberry Dump Cake
The incredible flavor. If you love blueberries and lemon you will be hard-pressed not to love this dump cake. They complement each other so well, and the flavor combination is a departure from the traditional dump cake recipe.
Quick and easy to make. You won't find an easier cake to make, it's called a dump cake for a reason! With just a few simple steps, you will have the perfect dessert in your oven.
Why do they call it a dump cake?
You will not have to do any mixing at all to make this blueberry dessert cake. It is quite literally made by dumping all of the ingredients into the cake pan before putting it in the oven. This is an American dessert similar to a cobbler but made with cake mix.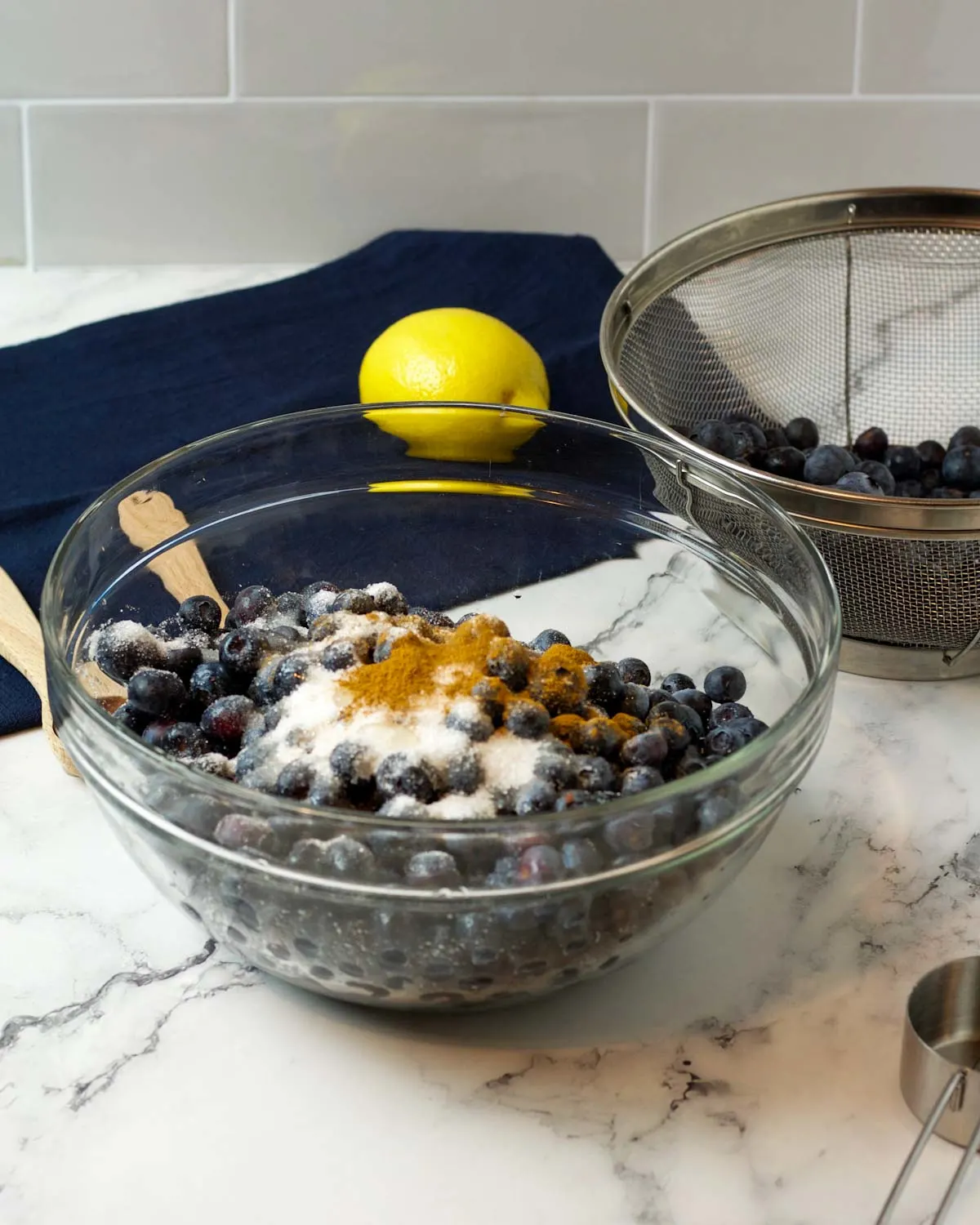 Equipment Needed
Hostess At Heart participates in affiliate programs. As an Amazon Associate, I earn a commission from qualifying purchases. Please refer to my disclosure page for more information about these affiliate programs.
Lemon Blueberry Dump Cake Ingredients
Fresh Blueberries. Any time you can get fresh blueberries is a good time to make this cake! It does not have to be limited to Spring and Summer!
White Granulated Sugar. Regular table sugar is what you are looking for.
Lemon. You will need the juice of one lemon.
Vanilla Extract. The link is to my favorite brand.
French Vanilla Cake Mix. You could use a lemon cake mix or a yellow cake mix and both would work. Please note that you spread the mix over the fresh fruit filling. You don't bake the cake.
Ground Cinnamon. Adds a little flavor twist.
Butter. Used to moisten the top of the dump cake.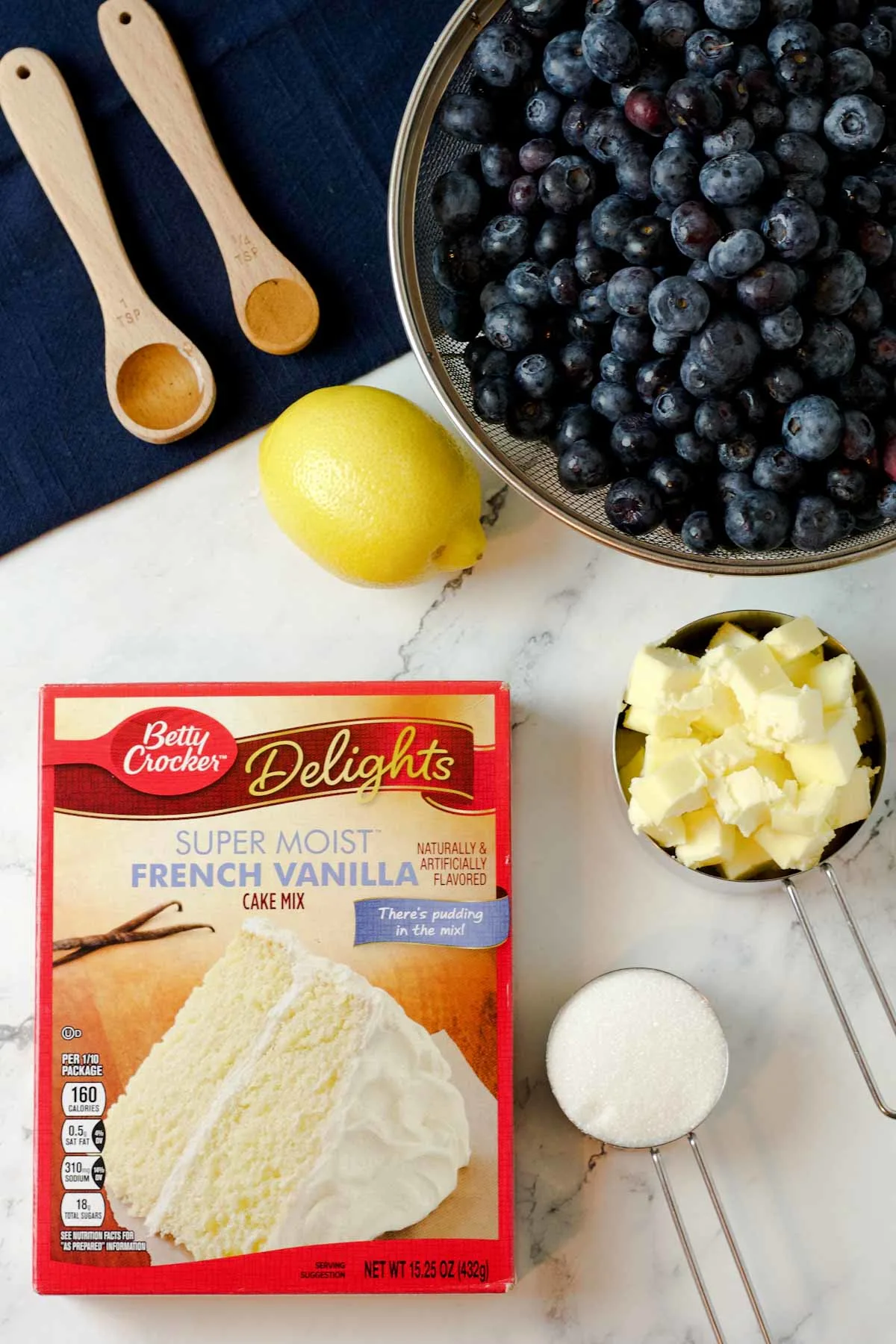 Please note, that the printable recipe card has ingredient quantities, complete instructions, and nutritional information. The following is a quick overview of the recipe.
How To Make My Lemon Blueberry Dump Cake Recipe
Step One: Preheat your oven. Spray your cake pan with non-stick spray.
Step Two: Combine the blueberries, sugar, vanilla, lemon juice, and cinnamon in a mixing bowl and pour that into your cake pan.
Step Three: Sprinkle the unbaked cake mix over the top. Spread it out evenly.
Step Four: Add sliced butter on top and bake it until the top is golden approximately 40 to 45 minutes.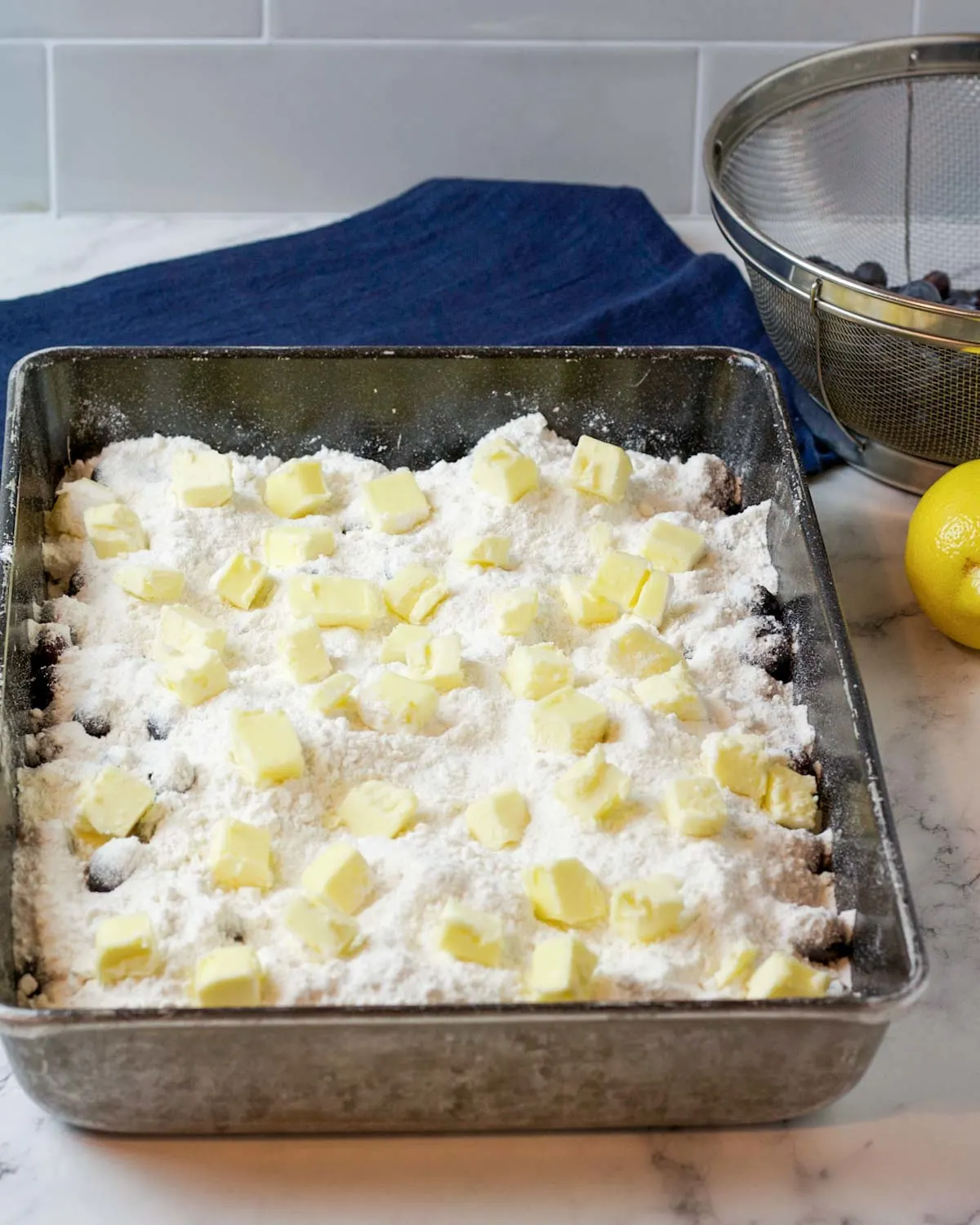 How to Serve
Blueberry Dump Cake made with Fresh Blueberries is perfect with these toppings and drinks.
Freshly made whipped cream.
Serve warm with a scoop of Vanilla ice cream.
Cinnamon-flavored hot tea.
Hot coffee.
Substitutions & Additions
I used a white cake mix but you can use yellow or lemon, which will be amazing.
Use half blueberries and half raspberries, cherries, or strawberries for a Berry Dump Cake.
Add a little crunch to the top with slivered almonds, crushed walnuts, or crushed pecans.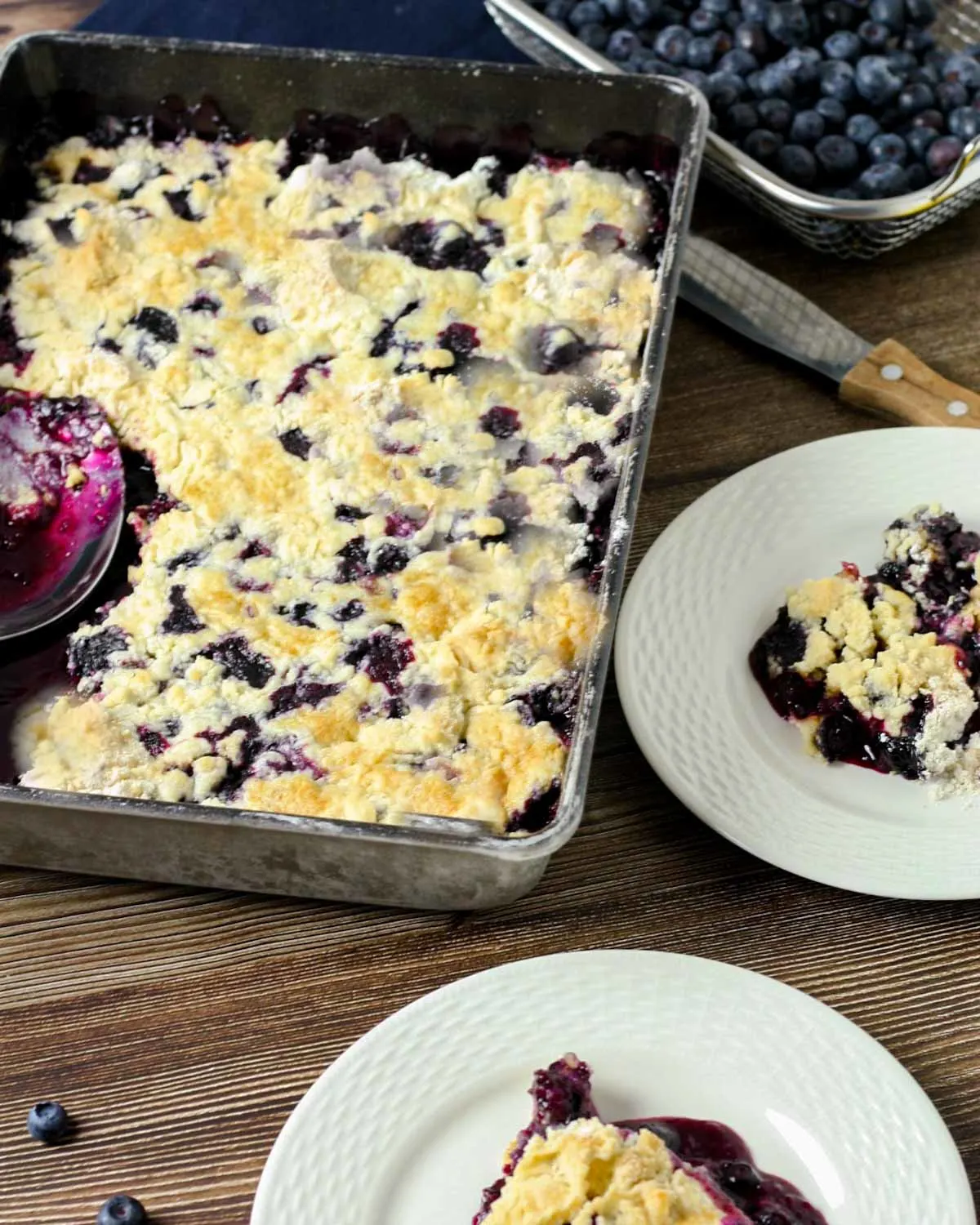 How To Reheat & Store Fresh Blueberry Dump Cake
Best Way To Store
Store your leftover blueberry dump cake in the refrigerator. Left at room temperature, the fruit will spoil quickly. Cool completely before refrigerating to avoid moisture condensation.
How Long Will Lemon Blueberry Dump Cake Last In the Fridge?
Up to 5 days in a covered container.
Can I Freeze/Thaw Blueberry Lemon Dump Cake
Yes, you can freeze whole or individual servings of your leftover Dump Cake for up to three months in an airtight container.
To Reheat this Dump Cake with Blueberries
Thaw in the refrigerator or in the microwave at 50% power in one-minute intervals and heat to the desired temperature. Serve warm with ice cream or at room temperature with whipped cream.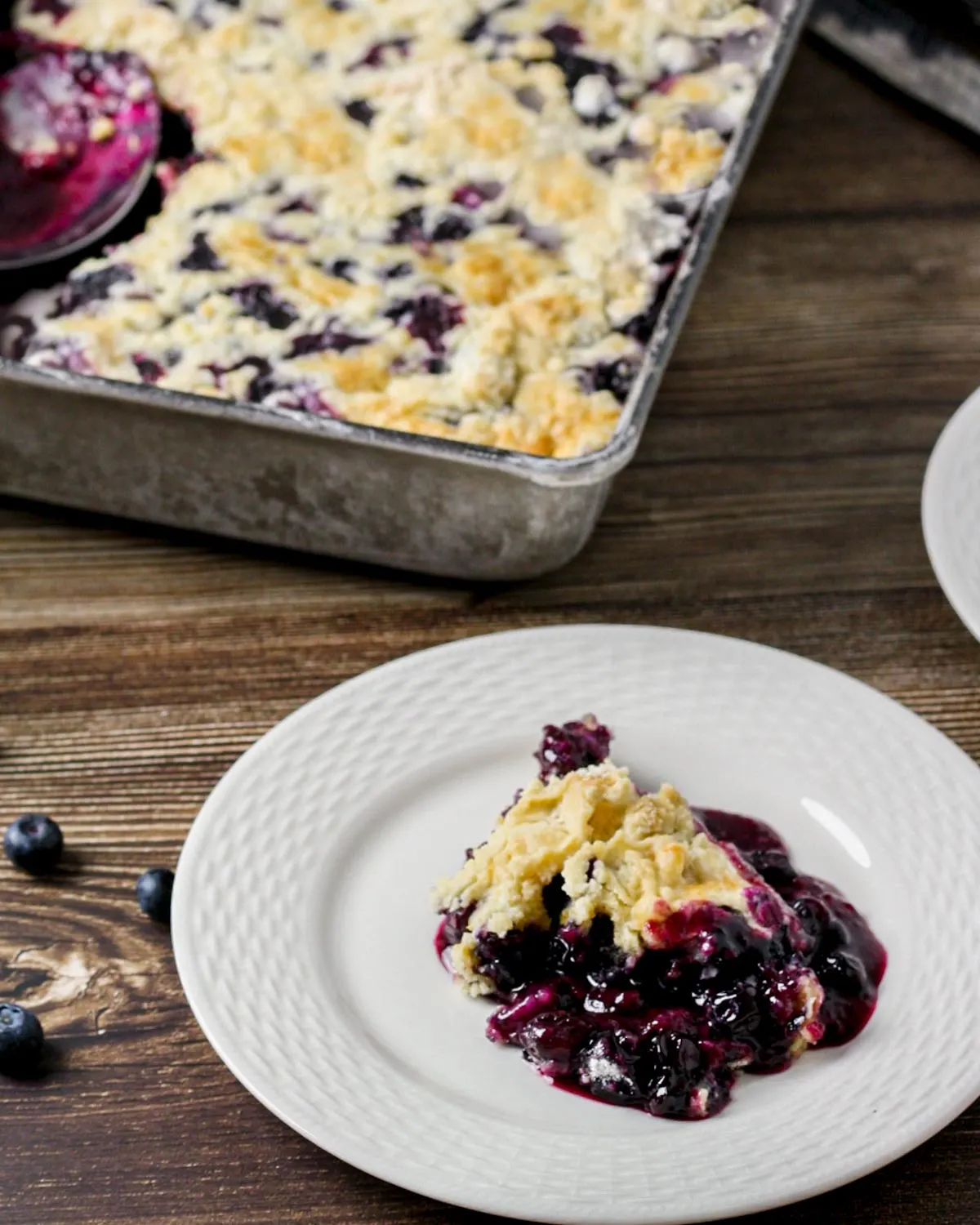 Blueberry Lemon Dump Cake FAQs
Can I use frozen blueberries?
Yes. Make sure they're not packed in juice or other liquids. The extra moisture would make this cake soggy.
Does Blueberry Dump Cake need to be refrigerated?
Yes. Fruit spoils quickly at room temperature so to enjoy this delicious cake for as long as possible you will need to refrigerate the leftovers.

The cake can be served cold, at room temperature, or warm. Reheat it in the microwave for a few seconds at a time to get it to your desired temperature.

If you cannot eat it all within five days, plan to freeze individual portions for later enjoyment.
Is Lemon Blueberry Dump Cake gooey?
Once the cake cools, the lemon blueberry filling will set. However, it will not be runny.
Can I use canned blueberry pie filling?
Yes, you can. If there is excessive liquid you'll want to drain it so your dump cake isn't soggy.
Tips to Make the Perfect Fresh Blueberry Lemon Dump Cake
Evenly spaced butter. Spread the pats of butter out evenly so you don't get dry powdery spots in your cake topping.
Stir your ingredients. So many dump cake recipes call for a literal dump of ingredients with no stirring required. This is not optimal. Mix the dump cake ingredients in a mixing bowl for the best possible results.
Use fresh fruit. Our recipe calls for fresh blueberries, and there is a reason for that. The flavor will be so much better than from frozen versions you can find on the web.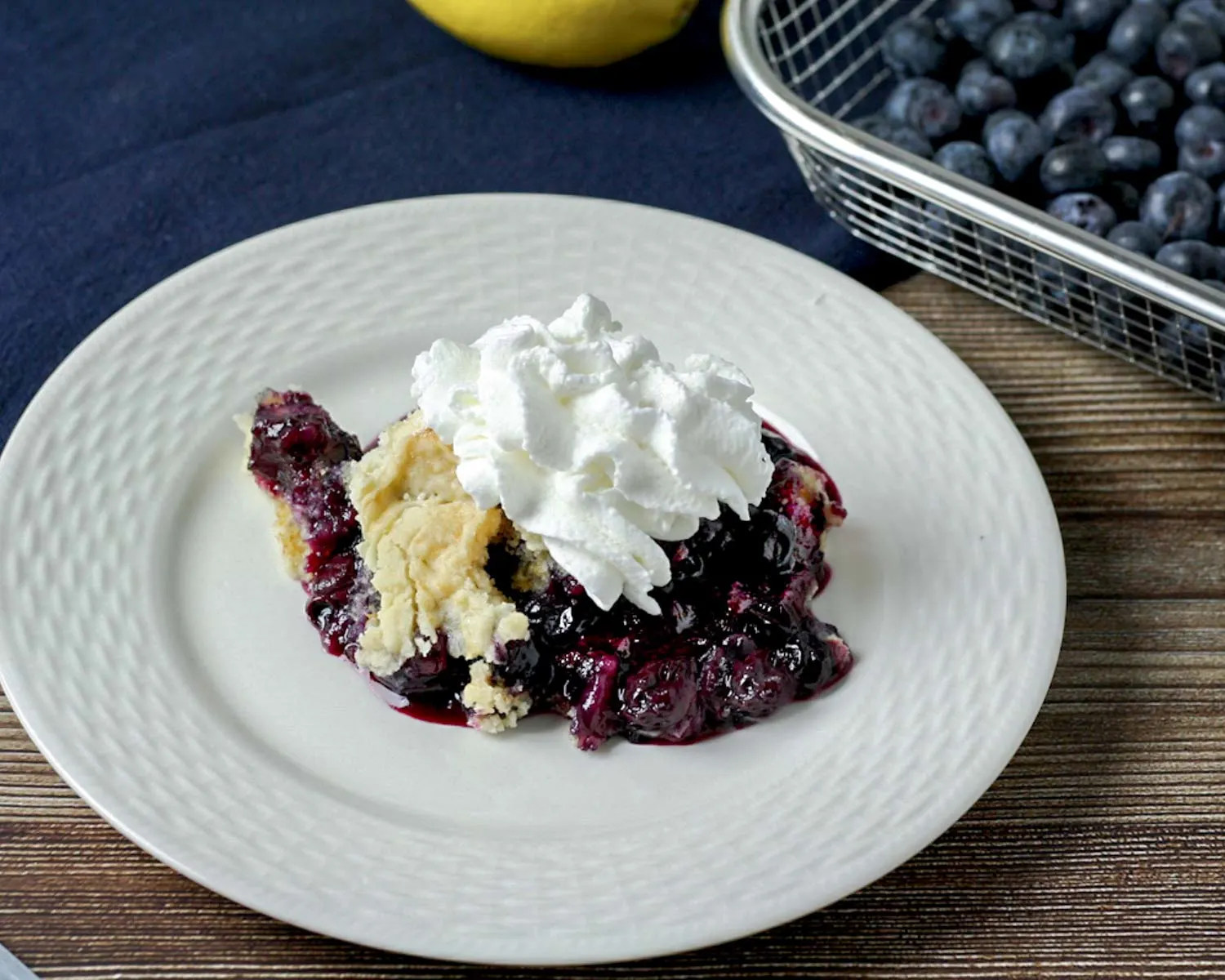 Don't forget to stop back and let me know how your Lemon Blueberry Dump Cake turned out.
If you enjoyed this recipe, here are a few more you may enjoy
Pin this amazing Lemon Blueberry Dump Cake Recipe!