Honey Bun Cake is a simple semi-homemade recipe that starts with a cake mix. This Honeybun cake is moist and tender laced with a ribbon of sweet pecan cinnamon layer running throughout and topped with a sweet icing glaze.
If you remember biting into that tender honey bun and licking the sticky sweet sugar glaze from your fingers, you're going to love this recipe for Honeybun Cake.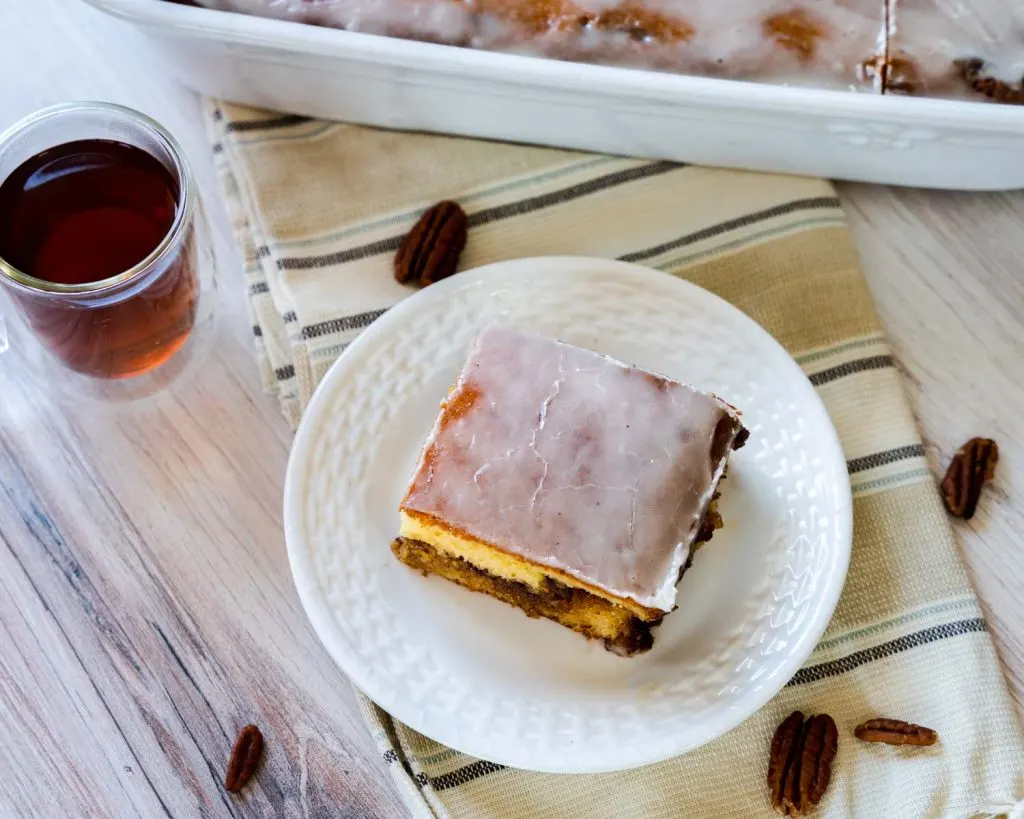 I absolutely love having sweet treats for breakfast like this Honey Bun Cake. Especially when they're filled with a rich brown sugar-cinnamon mixture. If you do too, you've got to check out these homemade Cinnamon Rolls, or how about this Cinnamon Pull-Apart Bread? Apple Star Bread is a show-stopper and perfect for the holidays.
Why You'll love this Easy Honey Bun Cake Recipe
Serve it with a cup of juice, coffee, or a bowl of fresh fruit, and serve it for breakfast. It makes a delicious after-school treat or dessert after dinner. Don't you love a super easy cake that can be eaten any time of day?
Starting with a cake mix keeps the ingredients simple and minimal, this Honey Bun Cake recipe is surprisingly easy to make. You probably already have everything you need for a Honey Bun Cake in your kitchen! In about an hour, you have your own homemade Honey Bun Cake.
Make it ahead of time saving you time to spend with your friends and family instead of in the kitchen.
What is a Honey Bun Cake
A Honey Bun Cake is inspired by honey buns. Honey Buns are a fried yeast pastry with cinnamon in the dough and topped with a sugar glaze. They're more apt to be found individually wrapped in the convenience section of your grocery store than in the bakery.
I grew up eating honey buns which were more like a cinnamon roll. They're not, however. Honeybuns are shaped individually whereas cinnamon rolls are cut from a log-shaped dough. This honeybun recipe is for an entire moist cake and isn't as time-consuming as making individual rolls.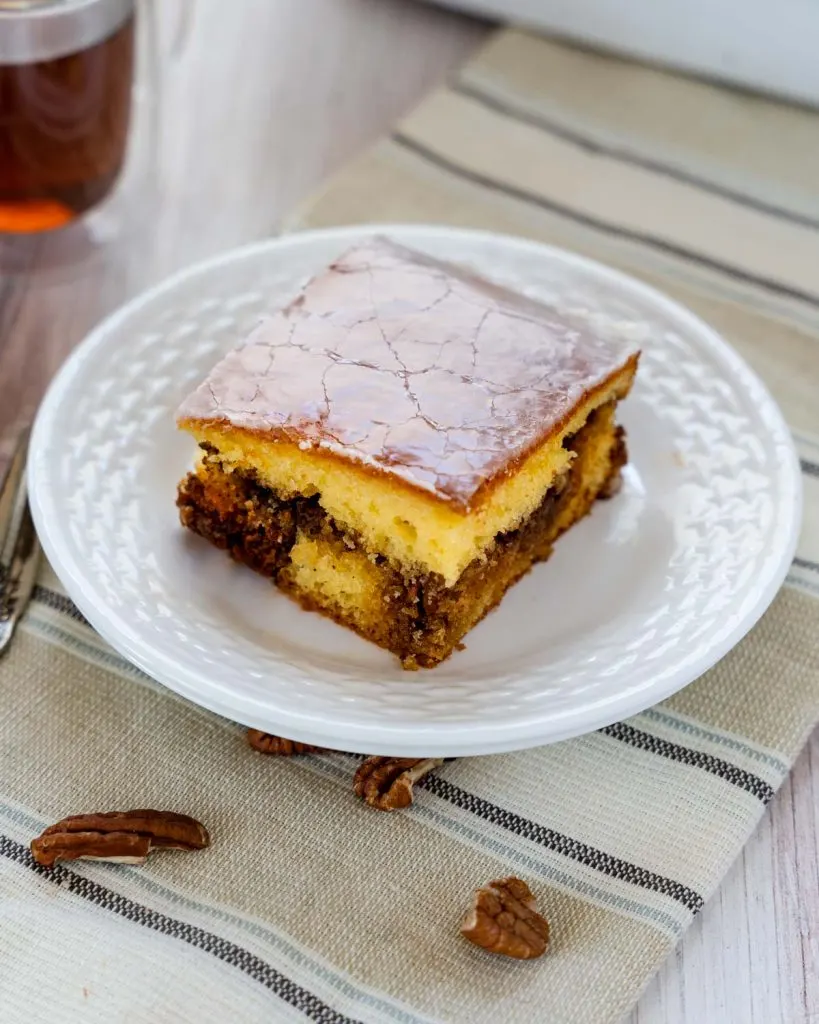 Freaky Friday Spring Edition

What's So Special About This Honey Bun Cake Recipe?
I wish I could take credit for developing this recipe, but I can't. This recipe is actually inspired by the Spring edition of our Freaky Friday Blog Hop.
What is the Freaky Friday Blog Hop? Freaky Friday is a blog hop with some of my favorite food blogger buddies!
We secretly get assigned one another's blogs to make a recipe from, and then we all reveal who we had and what we made on the same Friday, and that is today!
The Freaky Friday blog hop is organized by Michaela who runs An Affair From the Heart.
Family Around The Table
I was so excited to get Ellen's Blog, Family Around the Table for this Spring edition of Freaky Friday. We both get a lot of inspiration from our families and grew up with memories of spending time in the kitchen with our grandmother.
A little bit more about Ellen
Ellen has major chops in writing for a newspaper and reviewing cookbooks. Equally impressive, Ellen's recipes have been published in some very notable cookbooks.
She and her hubby have two boys that enjoy helping her in the kitchen. When not cooking, Ellen loves to preserve her memories through scrapbooking.
As much as I love her Honey Bun Cake, it wasn't easy picking only one recipe, however. Ellen and I share our love of baking and I've just got to make her Coconut Cake and Hershey Bar Pie.
Ultimately, my memories of sinking my teeth into a soft sweet honeybun won, and I definitely don't regret making this amazing cake.
Equipment Needed to Make a Honey Bun Cake
Hostess At Heart participates in affiliate programs. As an Amazon Associate, I earn a commission from qualifying purchases. Please refer to my disclosure page for more information about these affiliate programs.
Baking Dish – I've got this one and love it. It comes with a lid that makes taking and refrigerating my treats a lot easier.
Mixing Bowls – I use this set of bowls for mixing, serving, storing, and transporting food. The pretty lids guarantee no spilling too!
Whisks – I love my whisks and have them in several sizes, shapes, and colors. I have a gadget obsession I guess and love these! They'll never scratch my bakeware and clean up in the dishwasher.
Honey Bun Cake Ingredients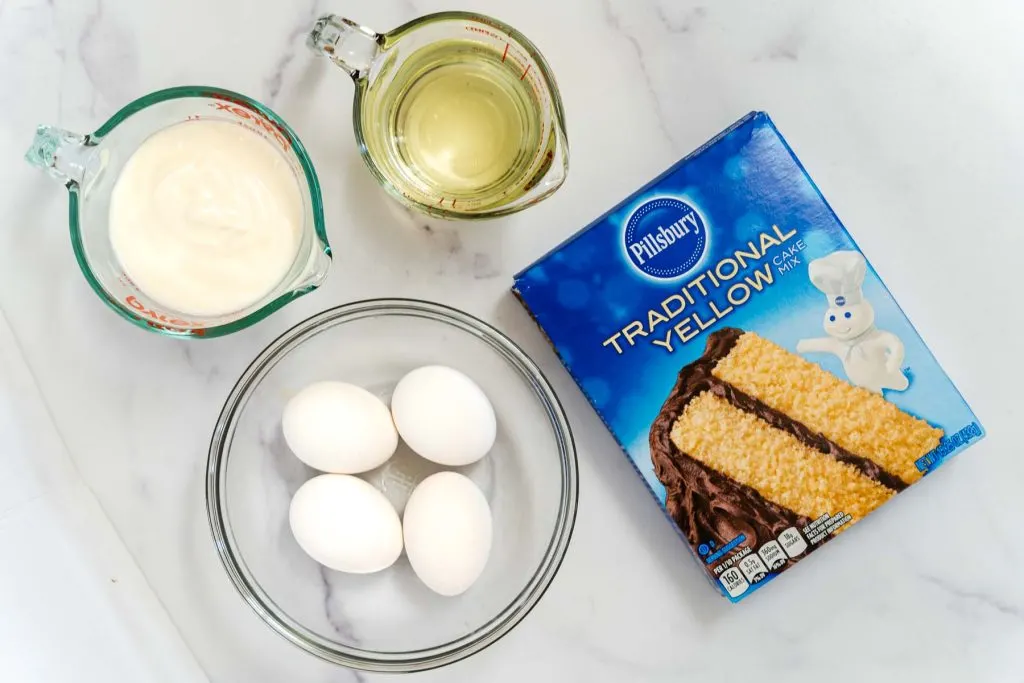 Cake
Yellow cake mix. Any variety will work and it doesn't matter if there's pudding in the mix.
Neutral flavored oil such as vegetable oil or canola.
Eggs. I use Grade A large.
Sour Cream. Whole fat or lite will work. I haven't tried fat-free. You can use yogurt as well.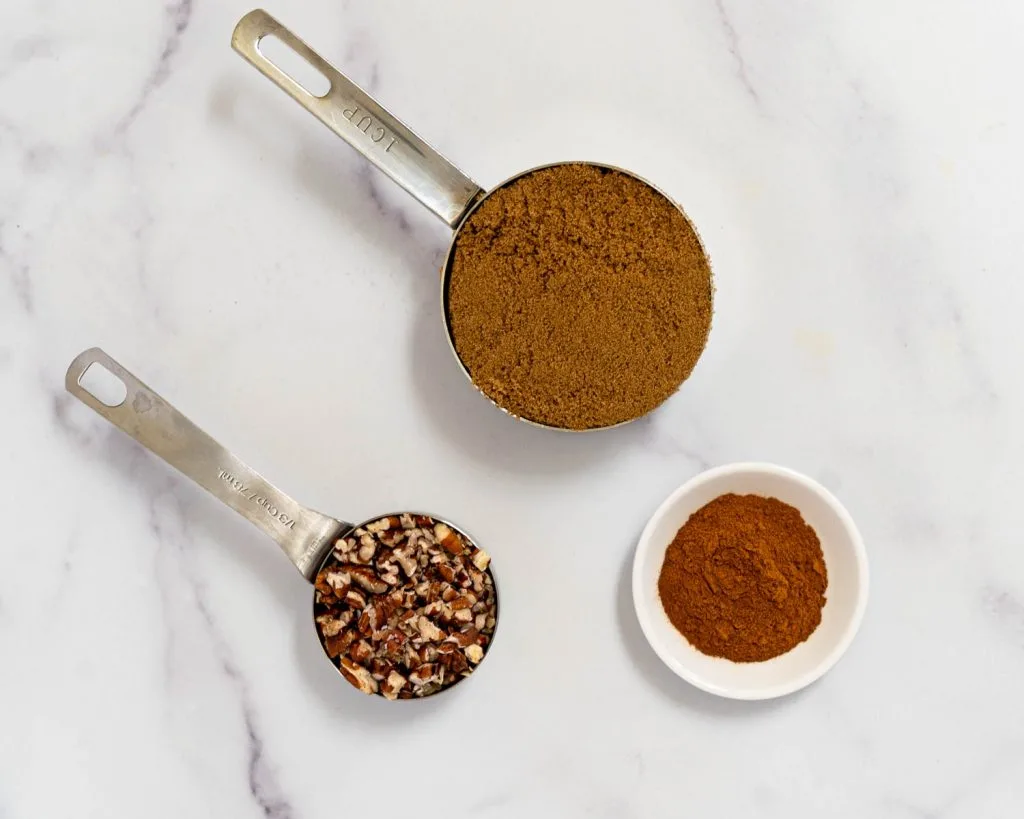 Filling
Brown Sugar. Dark brown is my choice but light will work equally as well.
Pecans
Cinnamon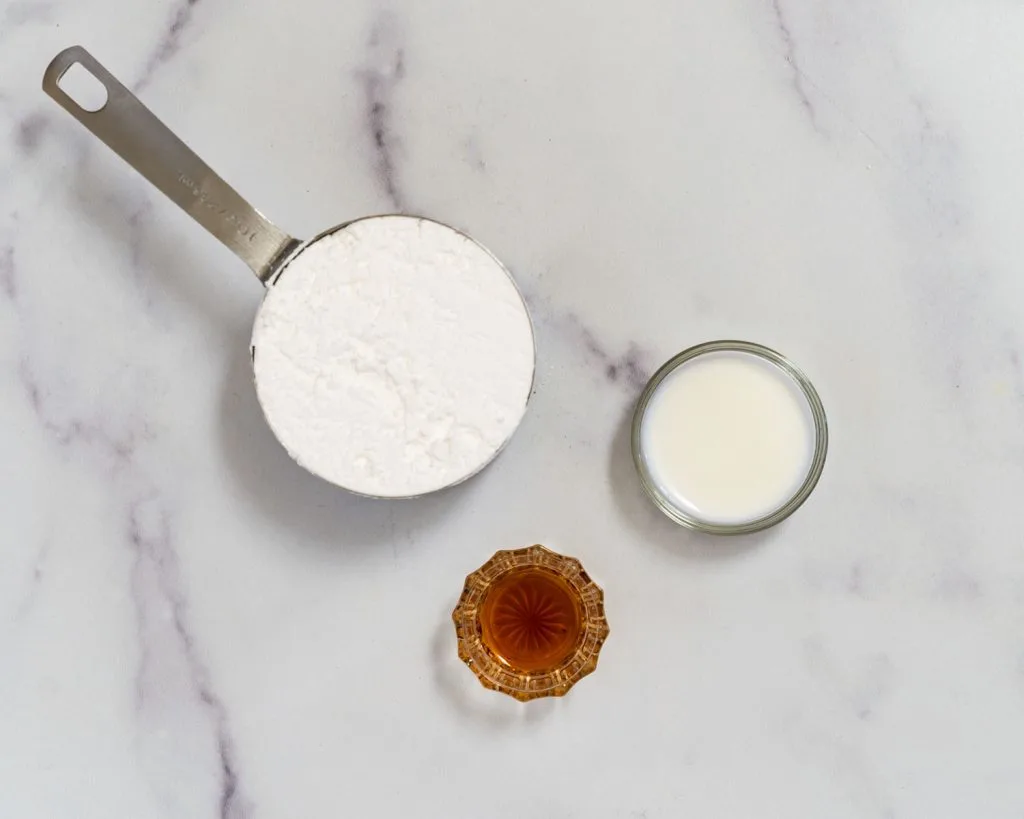 Cake Glaze
How to Make a Honey Bun Cake
Please note, that the printable recipe card has ingredient quantities, complete instructions, and nutritional information. The following is a quick overview of the recipe.
Step 1: Honeybun filling
In a small bowl, stir the brown sugar and cinnamon with the pecans. Set aside.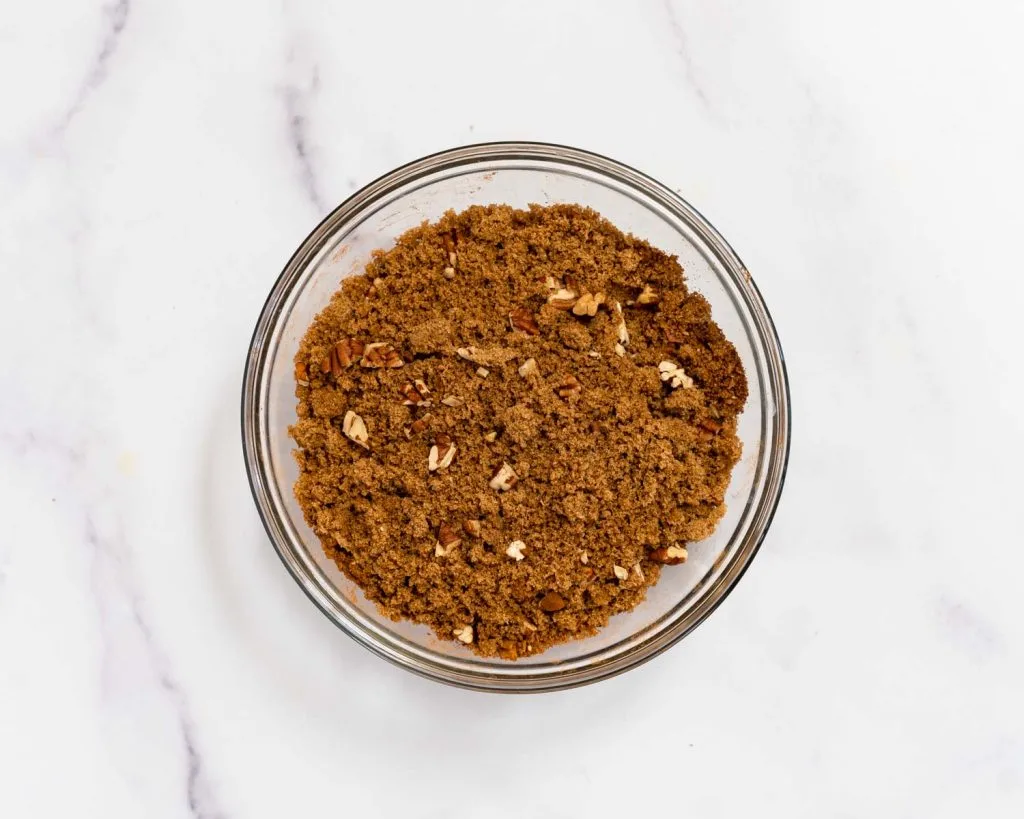 Step 2: Cake
In a large bowl or using the bowl of an electric stand mixer, add the cake mix, oil, eggs, and sour cream. Blend by hand or mix on low.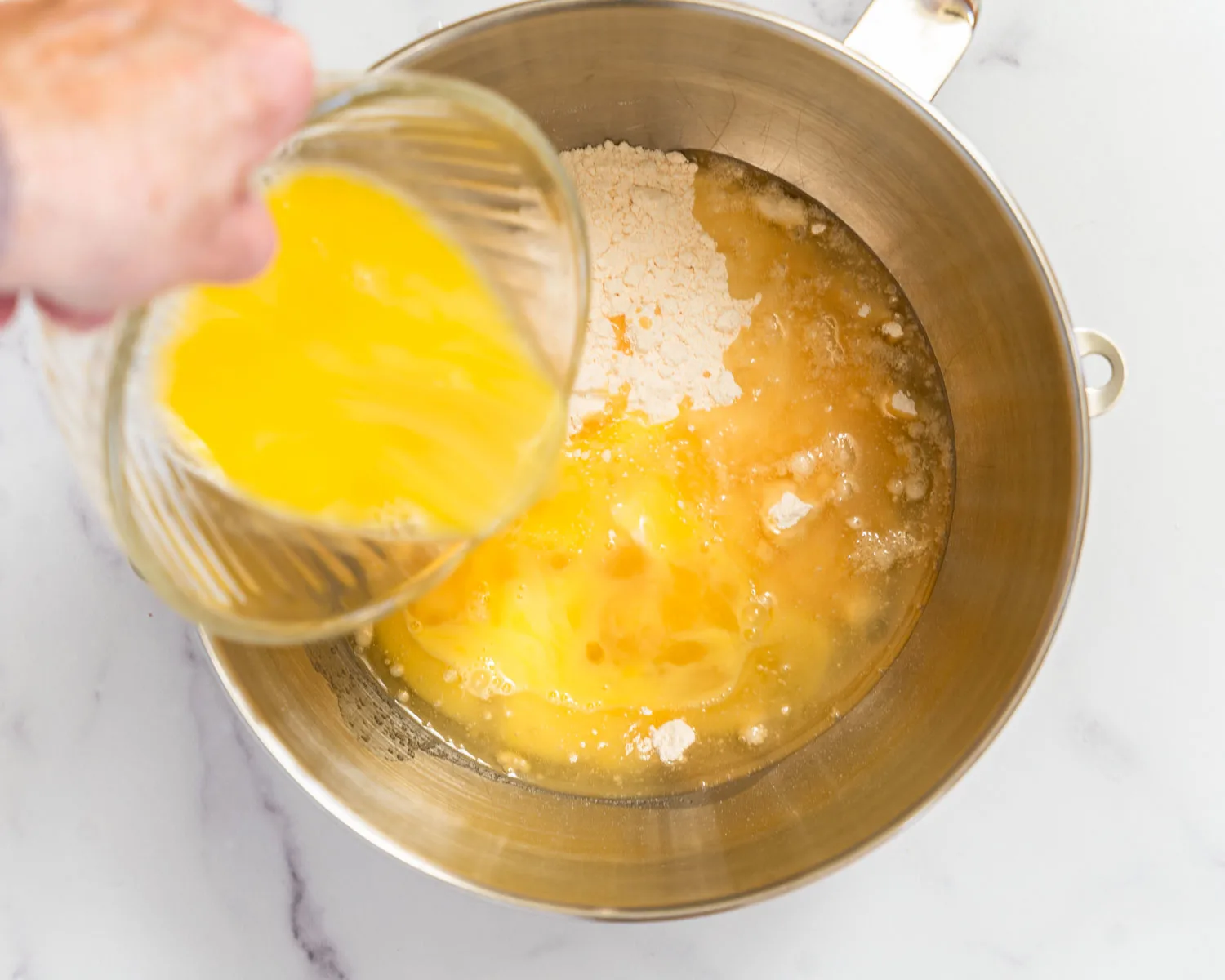 Step 3: Assemble
Pour half of the cake batter into a prepared baking pan. Spoon the honeybun filling over the batter. Carefully spread the rest of the batter over the top of the filling. Bake. Remove the finished cake and let it cool for 5 minutes.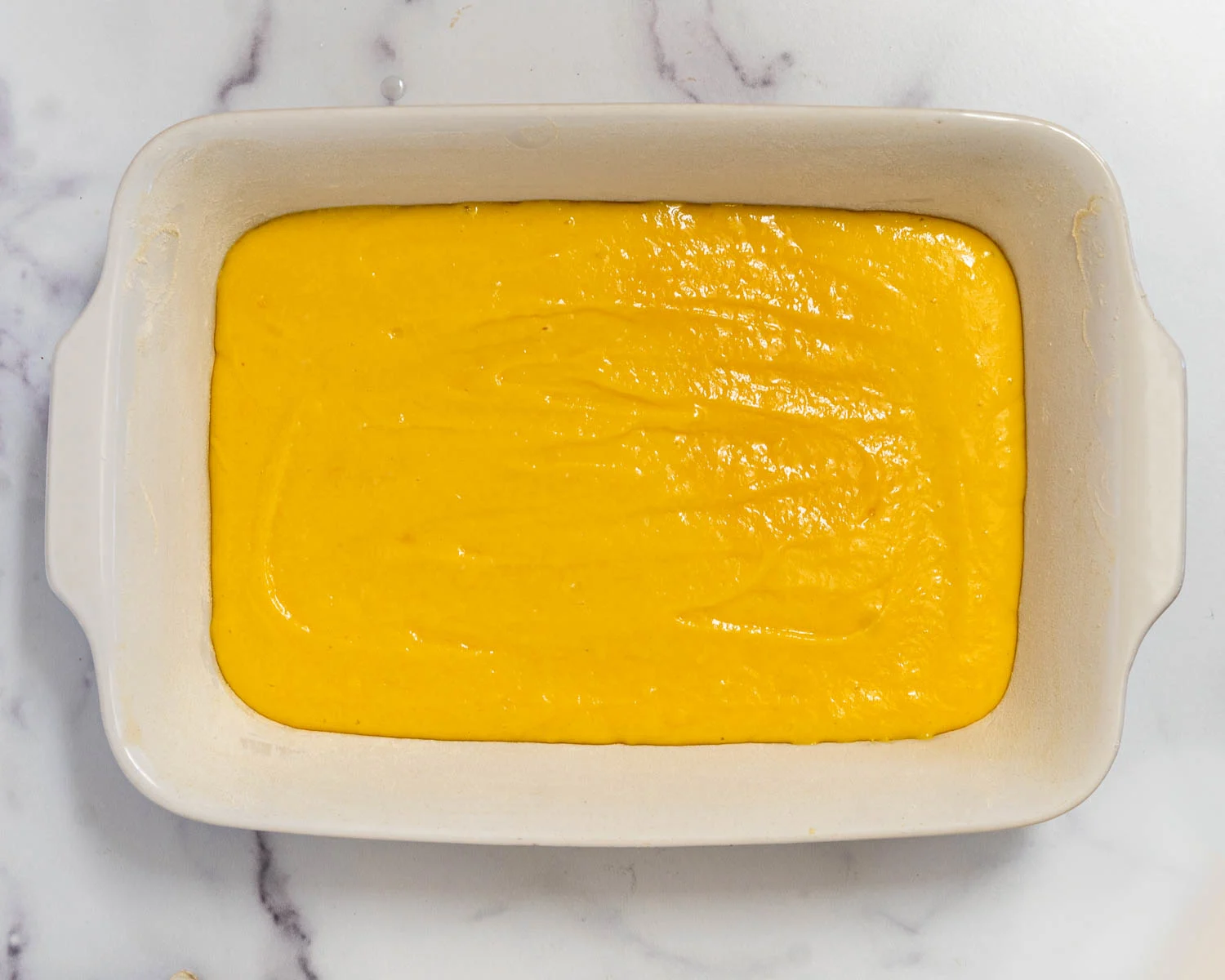 Glaze
Combine the powdered sugar, milk, and vanilla in a small bowl. Whisk together until smooth. Add additional milk if the consistency is too thick. You'll want the consistency of maple syrup. Pour the glaze over the slightly cooled cake.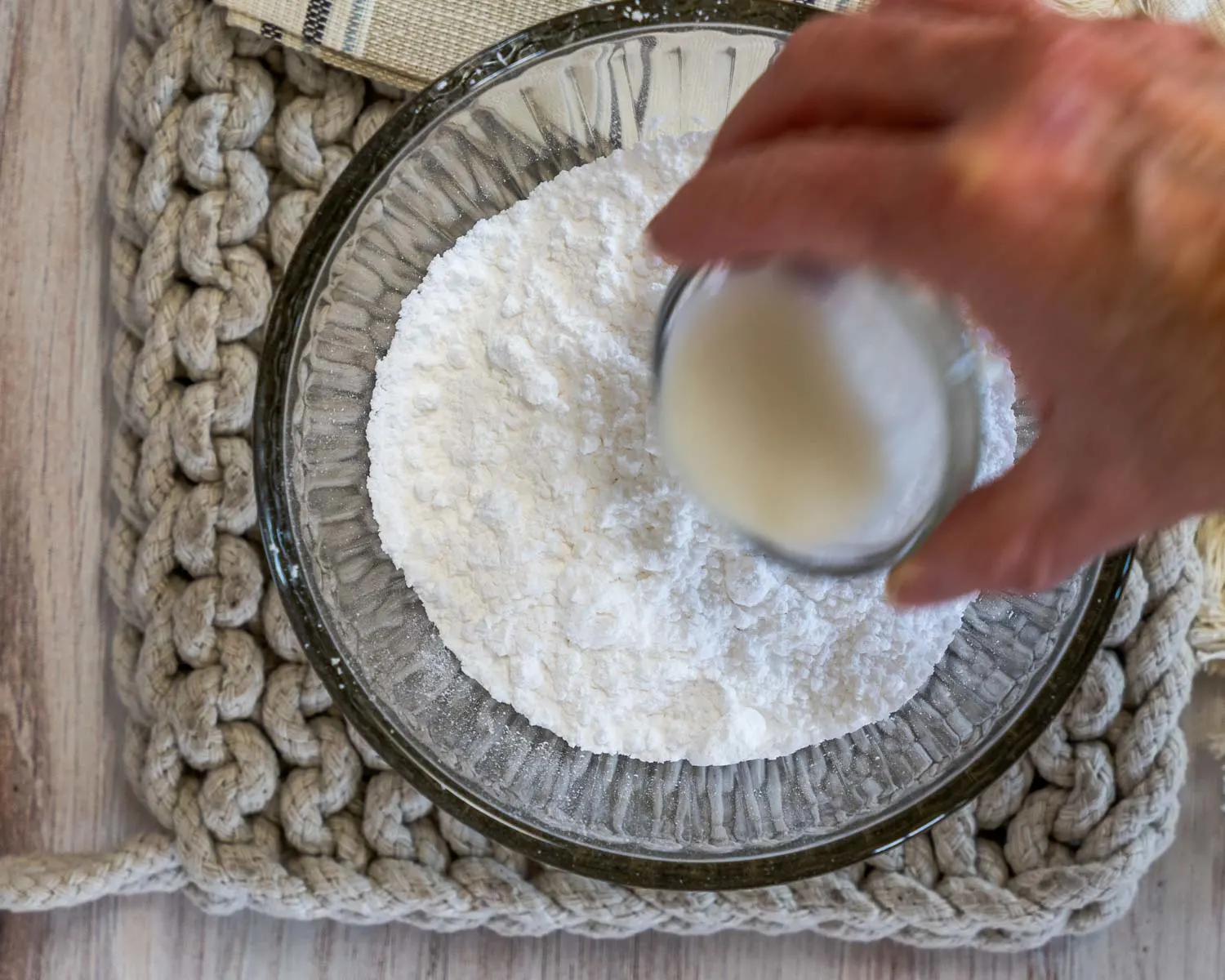 Substitutions and Additions
Replace the pecans with walnuts.
Use another flavor of cake mix such as vanilla. A spice cake mix would be delicious too.
Replace icing with Cream Cheese or Vanilla Frosting.
Add mini chocolate chips to the filling.
How To Reheat & Store Honey Bun Cake
You can serve Honeybun Cake cold or warm. To reheat, microwave it briefly.
Best Way To Store Honeybun Cake
Keep leftover cake covered or in an airtight container at room temperature for 3 days or in the refrigerator for 5 days.
Can I Freeze/Thaw Honey Bun Cake?
Yes, freeze the cake whole or in individual servings for up to 3 months. It's best to thaw in the refrigerator so the icing doesn't become watery.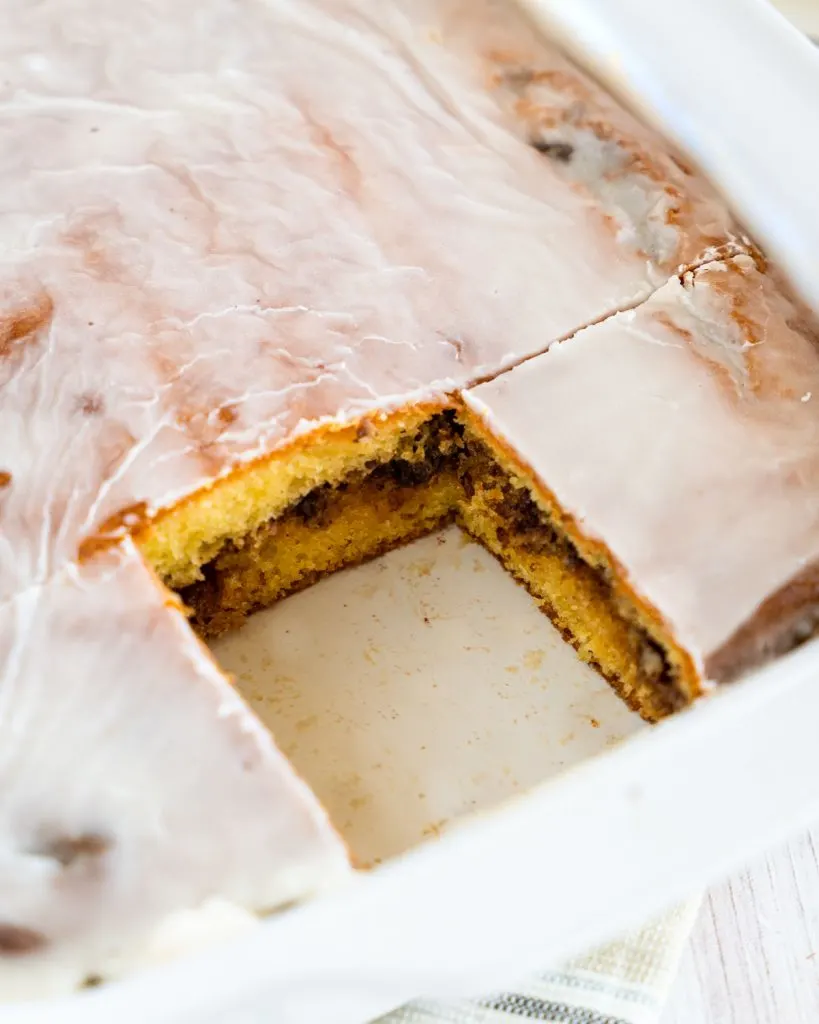 Honey Bun Cake Recipe FAQ
Does this recipe for Honey Bun Cake have to be baked in a 9×13 pan?
No, you could bake this cake in a 10″ bundt cake pan.
Can you make this cake ahead of time?
Yes, you can. This cake can be made earlier in the day or the day before it's needed. You can either apply the glaze as recommended to the warm cake or it can be glazed to a cooled cake before serving.
Tips to make the perfect Recipe for Honey Bun Cake
Remove your eggs and sour cream so they're at room temperature when you use them. They'll blend easier. Don't worry if your butter doesn't totally whip into your liquid ingredients. It will blend when you combine the wet and dry together.
Don't overmix. Mix as indicated in the instructions for a light and fluffy batter.
Prepare the pan. Greased and floured.
Rotate your cake. Turning the cake in the oven halfway through prevents uneven baking.
Don't overbake the cake. Bake until golden brown and when a toothpick, dinner knife, or cake tester comes out with just a few small crumbs your cake is ready to go. Cool the cake thoroughly in the pan.
Chop pecans before measuring.
Glaze poured over a warm cake will become transparent and soak into the cake slightly. If you want a thicker coverage, pour the glaze over the cooled cake.
Let the glaze dry at room temperature before serving so you get that delicious sugar crunch.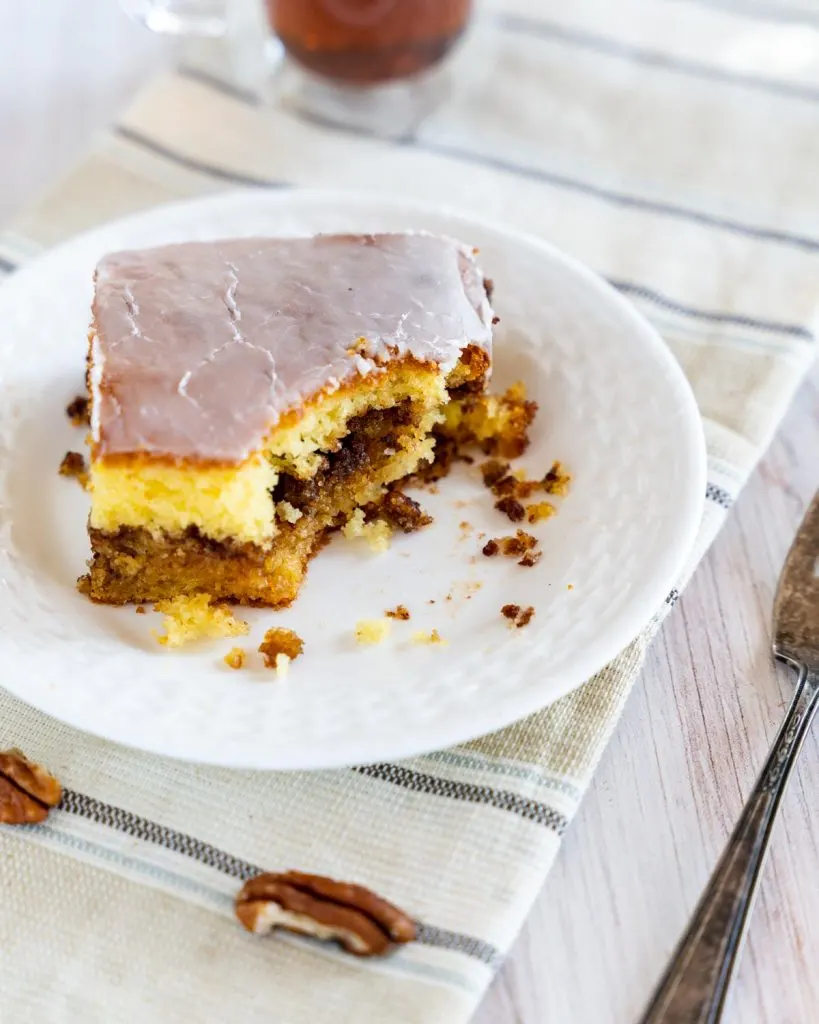 Related Recipes you'll enjoy
Don't forget to come back and let me know how your recipe for honey bun cake turned out.
See all of our 2022 Freaky Friday Spring Edition Recipes
Hosted by –
An Affair from the Heart