No one could make soft and tender cinnamon rolls like grandma and this old-fashioned gooey caramel rolls recipe was her masterpiece!
Nothing says love more clearly than the moment you pull these beautiful Caramel Rolls in all of their gooey butter glory out of the oven and present them to your family. Each sweet, melt-in-your-mouth bite reminds family and friends that you took the time to make them the most decadent, comforting treat possible.
This post was updated from 2015 to improve our readers' experience. No changes were made to the recipe.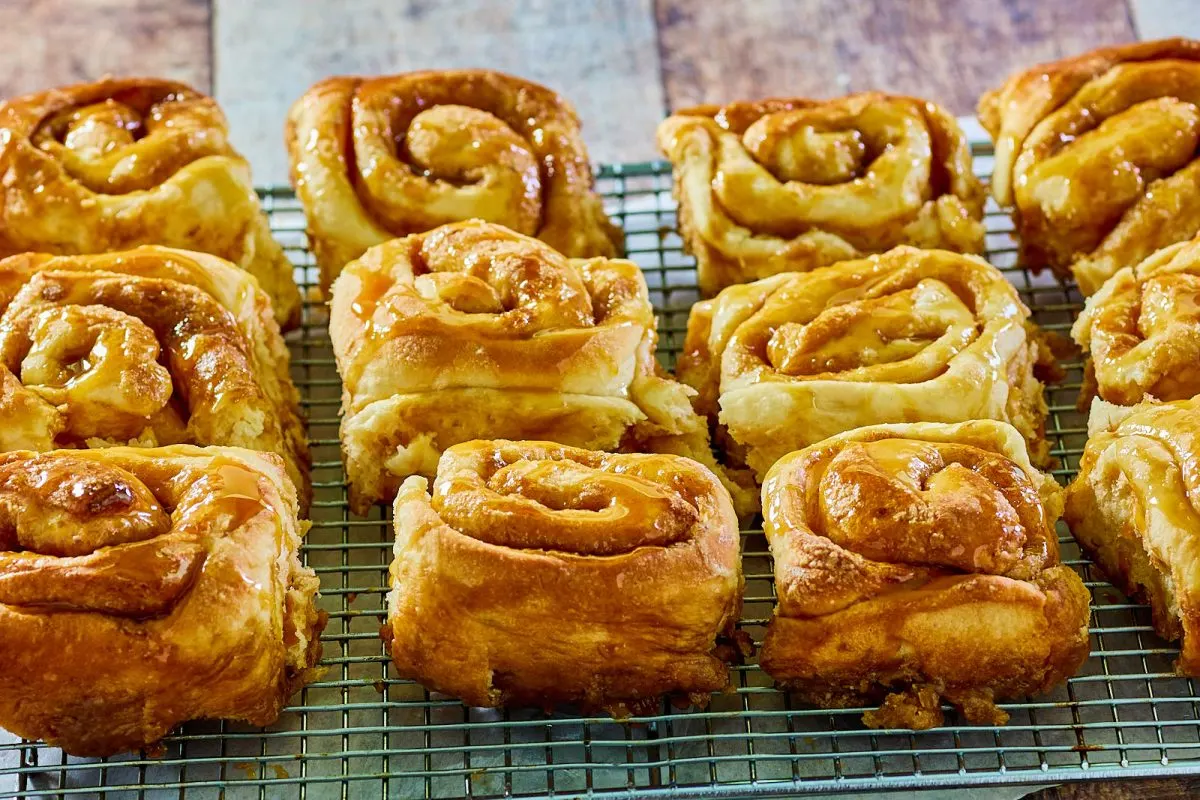 Every bite of these rolls is caramel and sweet dough baked together to perfection. The bottom has that sweet buttery layer of pure caramel, and a cinnamon filling is wrapped into every swirl of the roll.
Why you'll love these Caramel Cinnamon Rolls
Soft and tender dough. These gorgeous carmel rolls are just like Grandma made. The soft and fluffy kind that ooze gooey butter. Nothing hard, tough, or too crusty!
Large Batch. This caramel roll recipe makes three dozen rolls as a minimum and can actually make up to forty large fluffy rolls.
Make it ahead. Not only can you make and refrigerate the rolls without baking them, you can also make and freeze the rolls without baking them. So you will always be prepared to serve your family this treat on busy special occasions.
Give the gift of love in a pan. Homemade caramel rolls can be baked in any baking dish and make a heartfelt gift for friends, neighbors, and family.
Ingredients you'll need for this recipe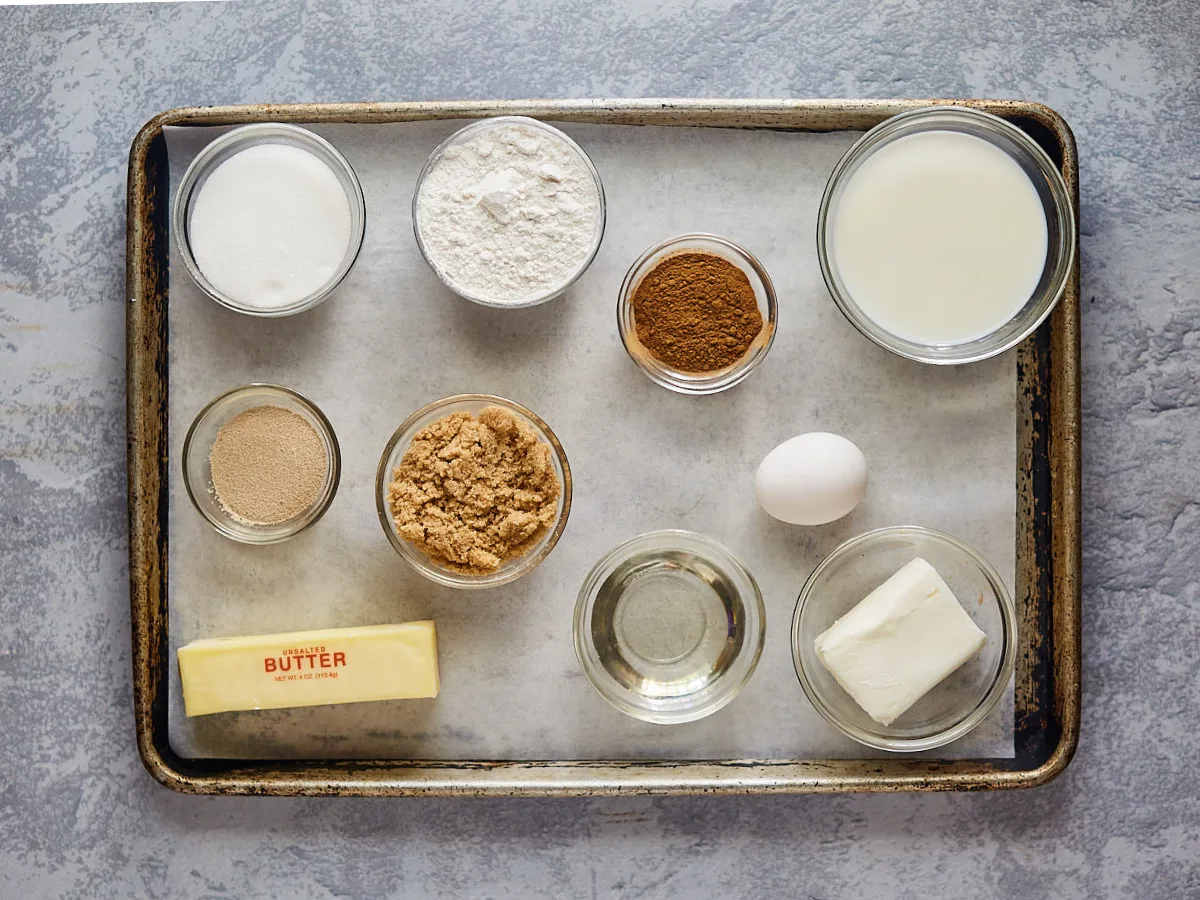 Hostess At Heart participates in affiliate programs. As an Amazon Associate, I earn a commission from qualifying purchases. Please refer to my disclosure page for more information about these affiliate programs.
Ingredients for the Caramel Roll Dough
Whole Milk.
White Granulated Sugar.
Shortening.
Salt.
Eggs.
Cinnamon Filling Ingredients
Unsalted Butter.
Brown Sugar.
Cinnamon.
Ingredients for the Caramel
Unsalted Butter.
Dark Brown Sugar.
Karo Corn Syrup.
How to make Caramel Rolls
Please note, that the printable recipe card has ingredient quantities, complete instructions, and nutritional information. The following is a quick overview of the recipe.
Step One. Heat the milk.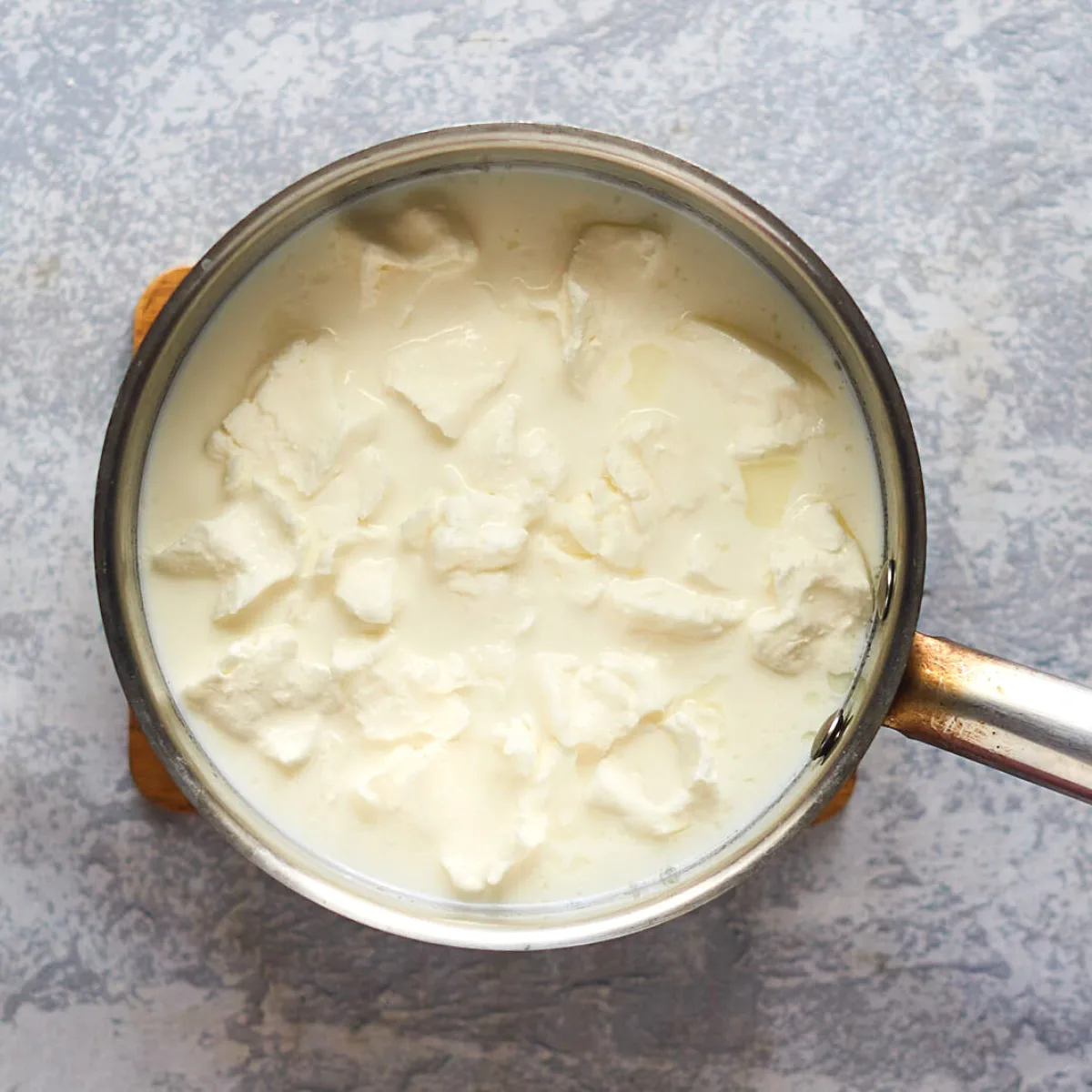 My recipe for caramel rolls is straightforward, and the results are stellar. First, in a saucepan over medium heat, you will heat milk with sugar and shortening to 180ºF. Do not overheat this mixture because it will kill the yeast.
Step Two: Combine the remaining ingredients.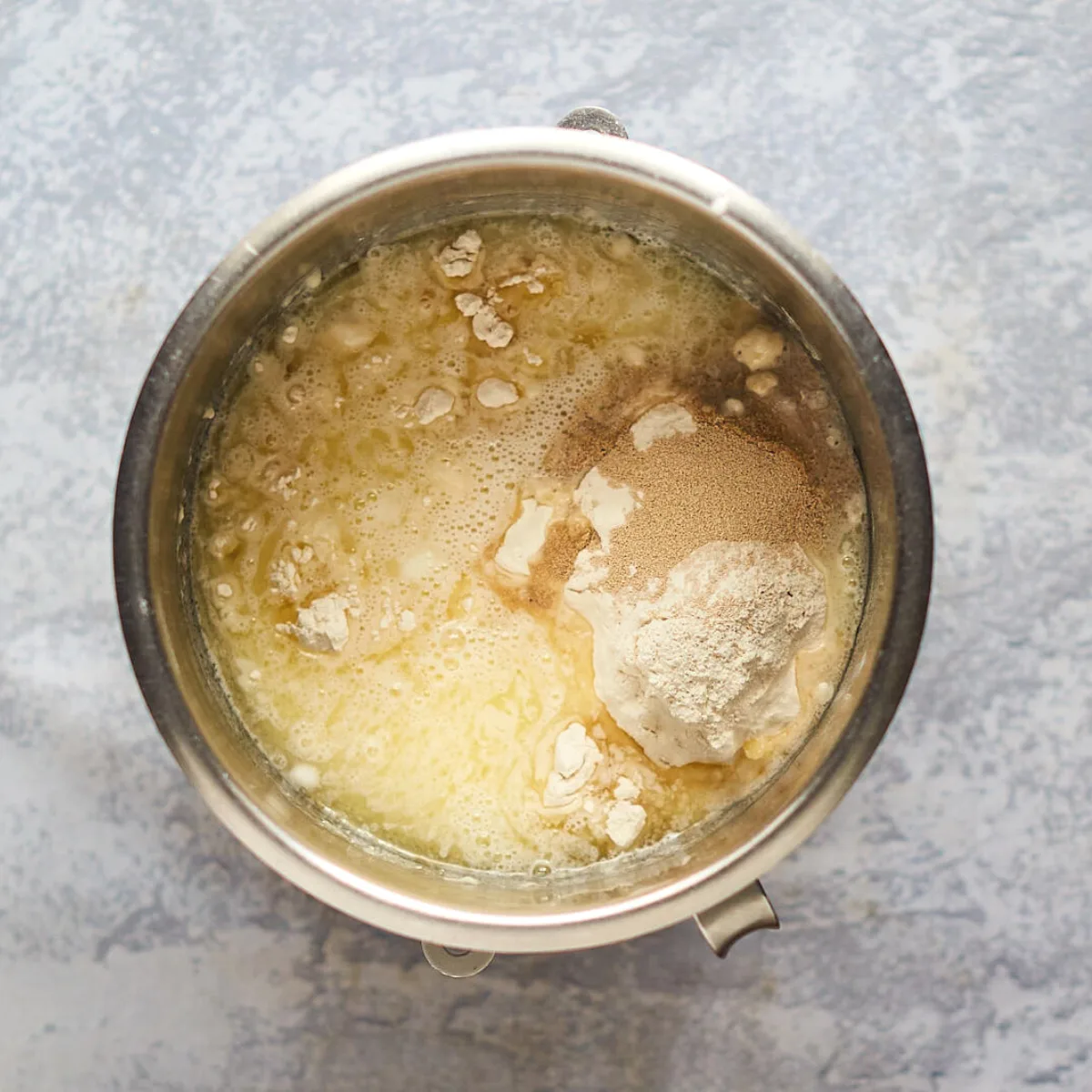 Add the flour to a large mixing bowl of a stand mixer and then combine it with all of the remaining ingredients. Then combine both mixtures together in the large bowl. The dough will be smooth and elastic. Avoid overmixing the dough.
Step Three: Rise in a warm, draft-free area.
This dough has three rising times before baking as follows:
1 to 1 hour 45 minutes or until doubled in size after the initial mixing of dough in a large greased bowl.
The dough is then punched down and quickly reformed into a bowl and allowed to rise again for approximately 45 minutes.
The dough is rolled out, filled, cut out, put into pans, and then allowed to rise for a final 30 minutes before baking.
Step Four: Roll out the dough and make rolls.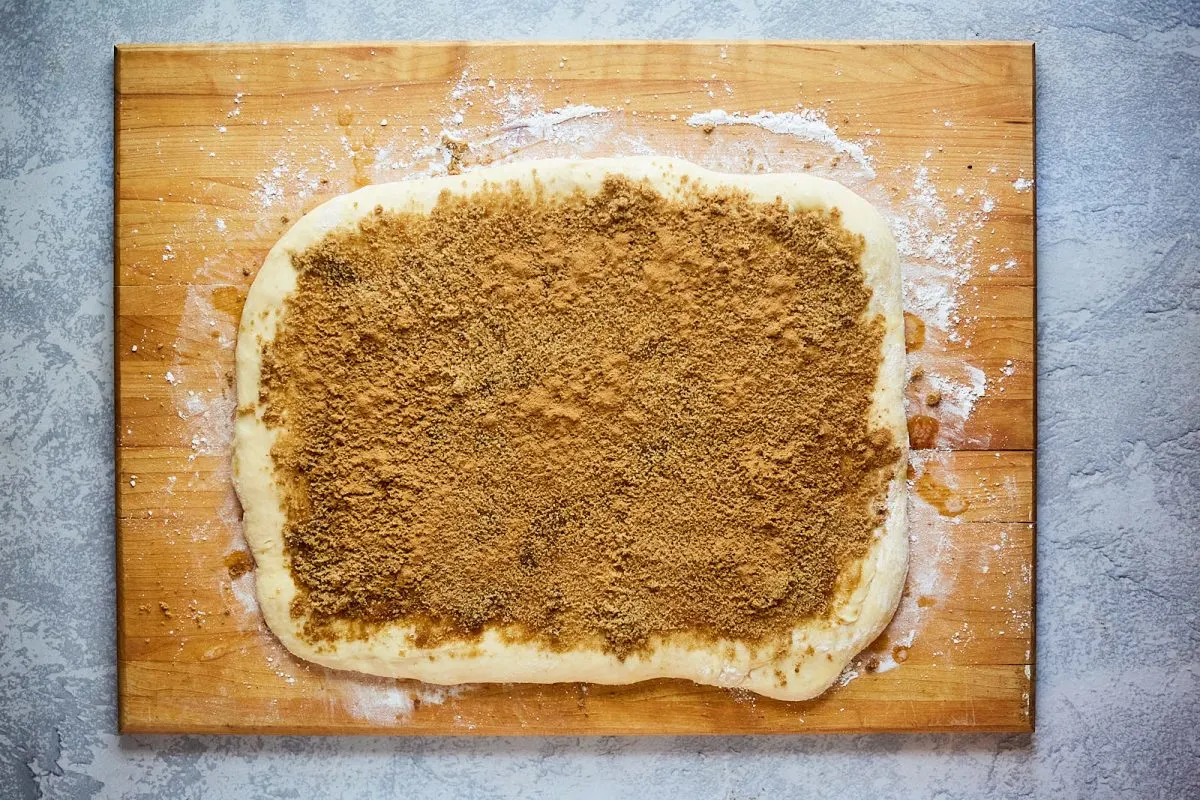 Once the dough is rolled out carefully on a lightly floured surface, you can add the sugar and cinnamon filling, roll it from the long side, and slice it to form the rolls.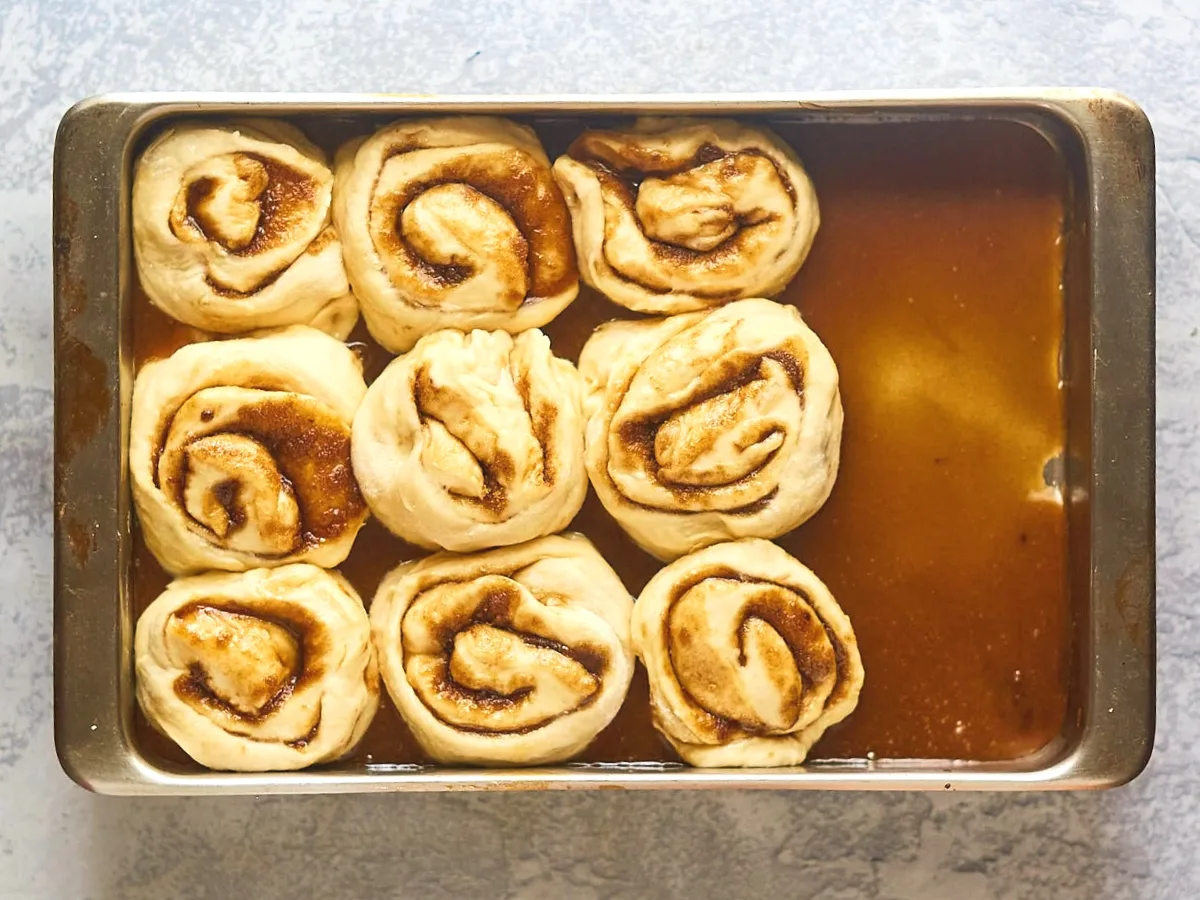 Step Four: Cook the Caramel.
Once the caramel is cooked carefully on the stovetop, it is placed in the baking dish first and then topped with the prepared rolls, cut side down.
Step Five: Bake the Caramel Rolls.
Place the baking pans in a preheated oven and bake until golden brown. It only takes 20 minutes at 350ºF!
Frequently asked questions
What is the best flour to use for caramel rolls?
Bread flour! Bread flour makes these rolls soft and fluffy. You can substitute with all-purpose flour, but I don't recommend it. The density of these rolls will come out heavier.
Why are my caramel rolls not fluffy?
Make sure you allow the dough to rise according to the recipe instructions. If you don't, the rolls will not be fluffy. It's also important that your yeast be fresh.
Do you roll caramel rolls tight or loose?
Roll the dough gently but not loosely, and then pinch the seam to seal closed. You want it tight enough that when you slice the rolls, they don't unroll but loose enough that they have room to rise.
If the rolls are rolled too tight, the centers can pop up and over the roll while baking.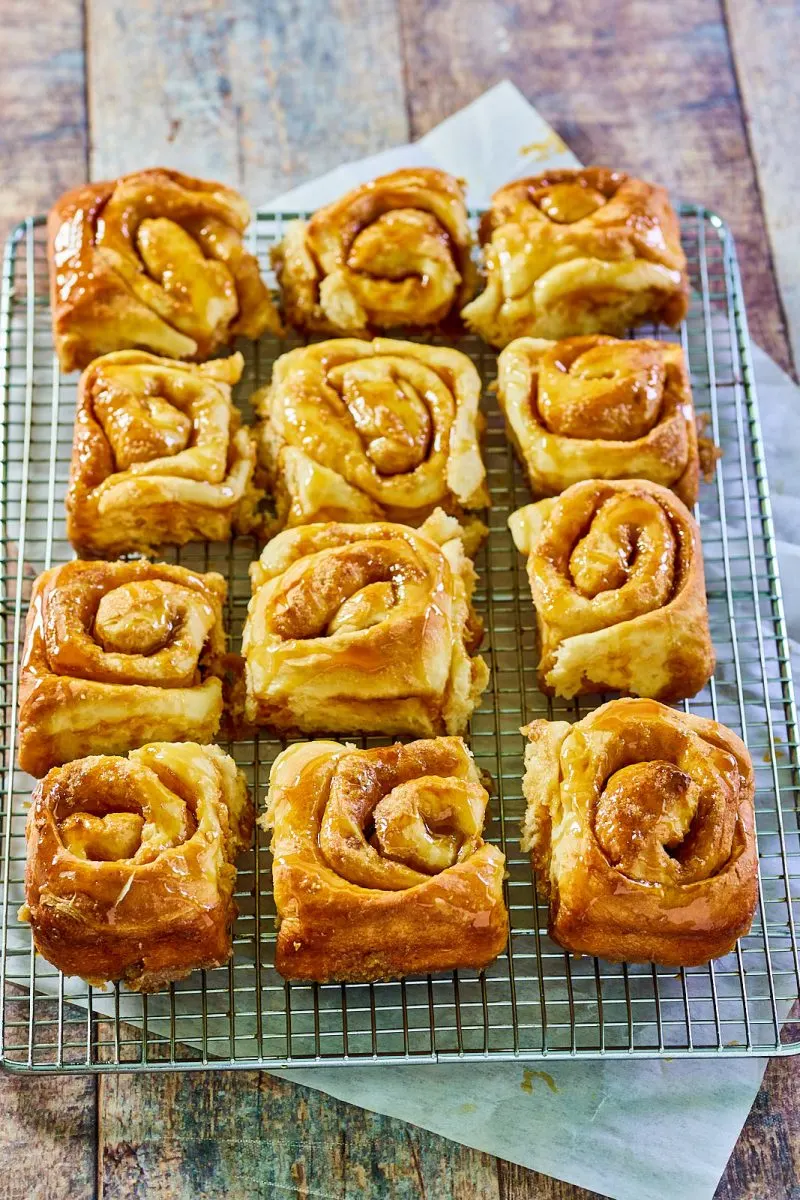 How to reheat and store the Caramel Rolls Recipe
Best way to store Caramel Rolls
Store in an airtight container for up to a week at room temperature for best results.
Can I freeze Caramel Cinnamon Rolls?
Yes. The cooked carmel rolls can be frozen for up to three months in an airtight container and thawed in the microwave or at room temperature to serve.
Unbaked rolls can be frozen after they're sliced and before the final rise. Thaw unbaked rolls in the refrigerator overnight in the pan you choose to bake them in. Remove the rolls from the refrigerator and allow the rolls to rise until light and fluffy. 30 minutes to 1 hour.
How to reheat Carmel Rolls?
Place your room-temperature caramel roll in the microwave for ten to fifteen seconds until it is soft and heated through. Add five-second increments if the first set does not heat it well enough.
If the roll is frozen, it will take a little longer in the microwave but start with thirty seconds because frozen bread doesn't take as long as you might think.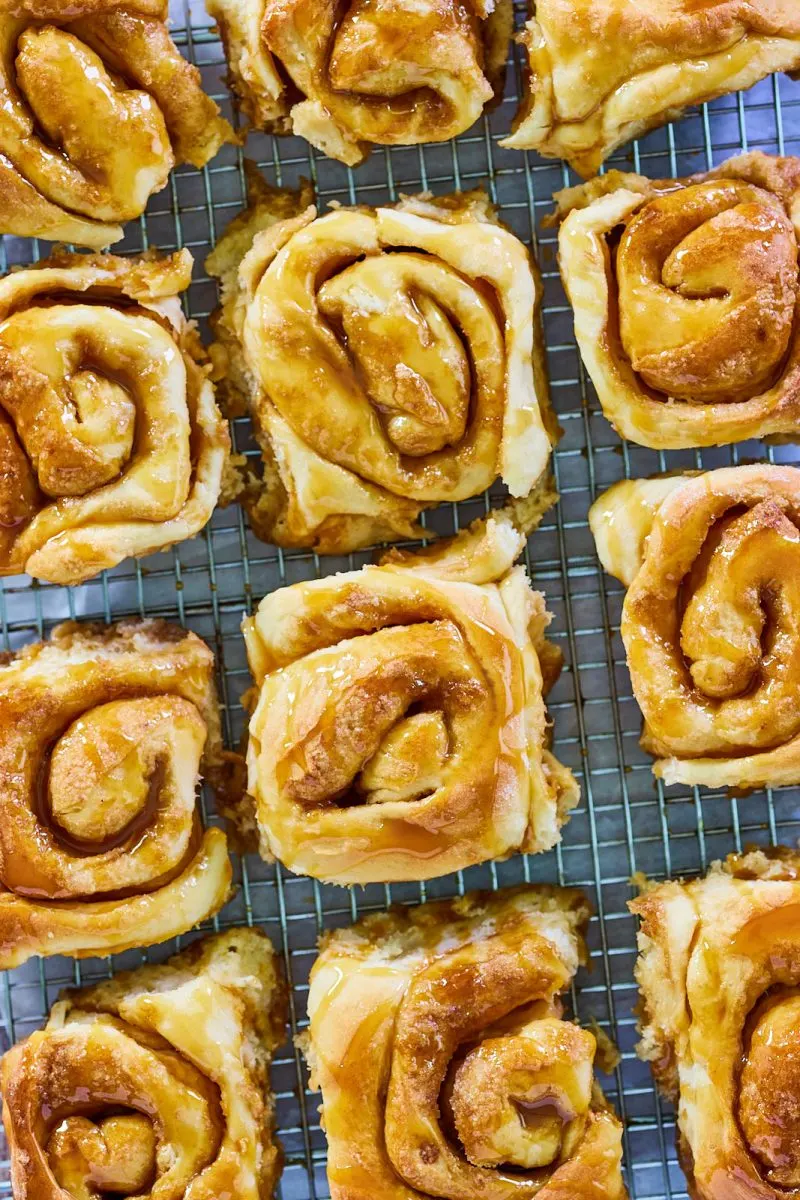 Cinnamon Roll recipe substitutions, additions, and variations
To make caramel pecan rolls, add 1/2 cup of chopped nuts to the filling and add 1 cup of chopped nuts to the caramel before placing the rolls in the pan.
Garnish with additional crushed nuts.
Tips for the perfect Caramel Roll
Use room temperature ingredients. You can bring the egg to room temperature by putting it in a bowl of room-temperature water for 5 minutes. You don't need to leave it out on the work surface.
Make sure that you dust your working surface and rolling pin, so the caramel roll dough doesn't stick.
Don't overheat the milk. Doing so will kill the yeast. I use a candy thermometer.
Don't add more flour than you need. The dough should be slightly sticky. Too much flour can make rolls tough.
Rolls can be baked in any sized container that's oven safe. I've used round cake pans, pie plates, and even a large lasagna pan. Foil pie tins are perfect for freezing or gifting the rolls.
Don't heat the caramel ingredients at too high of a heat. It will harden and be unusable. Melt the ingredients together over medium heat until smooth, stirring with a silicone or wooden spoon.
Remove the rolls from the pan after they've cooled for 5 minutes. They'll be more difficult to remove if the rolls have cooled completely in the pan.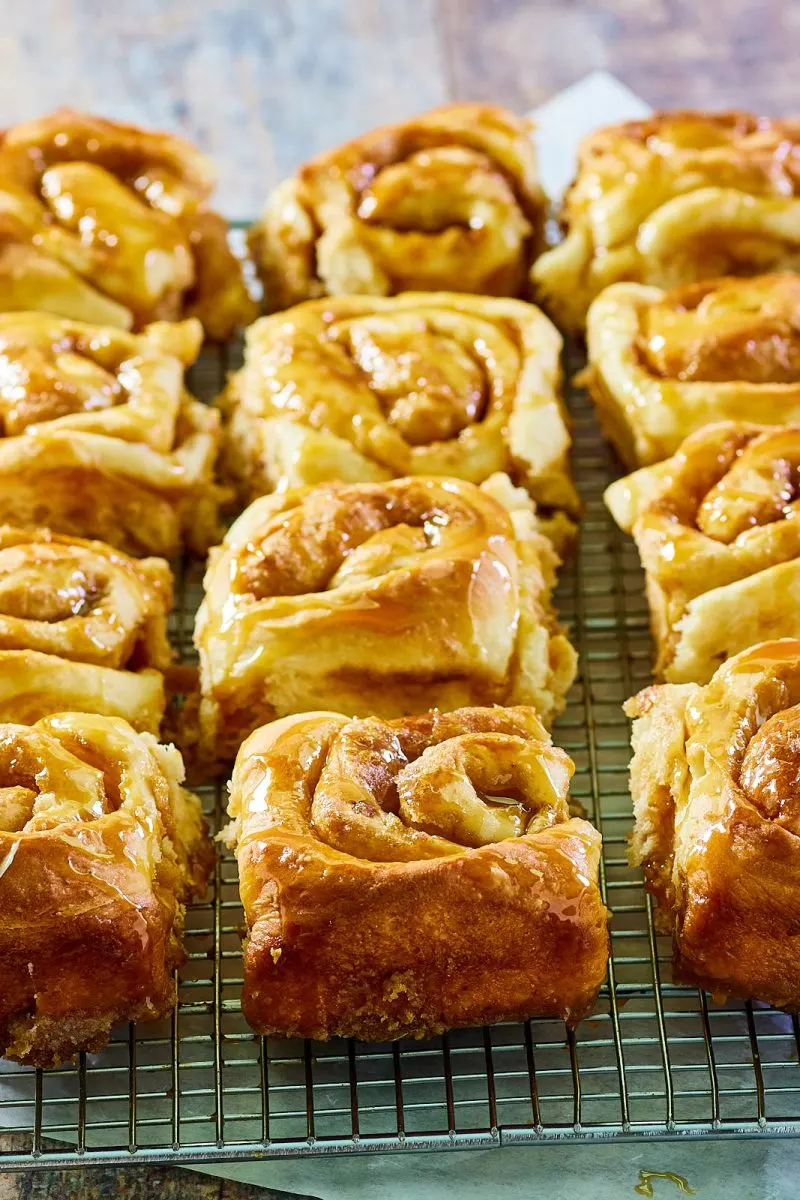 I hope you enjoyed this delicious recipe as much as we do. Drop me a comment below, and don't forget to give it a star rating. ⭐⭐⭐⭐⭐. Your comments and ratings help others decide if this recipe is for them too.
One word of caution about these rolls is that once you share, people aren't shy about putting in their orders for future rolls. This recipe isn't difficult, and it makes up to 40 good sized rolls. Enough to share or put in the freezer for another day.
If you enjoyed this recipe, check these out!
Pin this amazing recipe!