Warm Cinnamon Ginger Mango Muffins Recipe is a tender delicious muffin stuffed with sweet juicy mangos under a creamy vanilla bean glaze. They're perfect for breakfast, with any meal, or just a relaxing afternoon snack.
This post was originally released in 2019 so it was time for an update. Detailed instructions, tips, and FAQs have been added to improve our readers' experience. No changes were made to the recipe.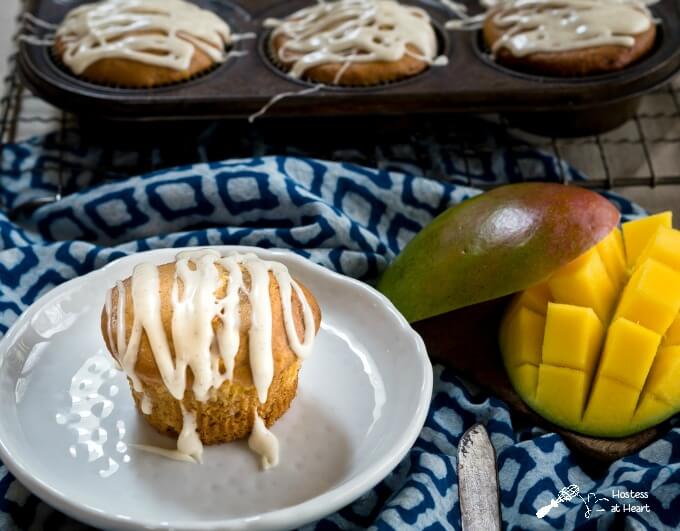 Mango Muffins are a great contrast between the warm cinnamon and ginger spices and cool sweet juicy mangos.
Why I love this recipe
It wasn't long ago that I received a request from one of our readers, Tess. She'd been reading our Homemade Basic Muffin recipe and wondered if it could be used to come up with a mango muffin with cream cheese variety.
That muffin recipe wouldn't have worked with those ingredients so I came up with a new recipe using those ingredients?
I couldn't have been more excited to receive the request for a mango recipe for two reasons:
I love hearing from you and getting so much inspiration from your comments and questions. People often ask where I get my ideas for new recipes. From you and I am so grateful for that.
I love mangos and what a great idea! Just the thought had me drooling!
My son lives in Florida and has a huge Mango tree in his backyard. I was so excited when he moved there and couldn't wait for my mango bounty.
Have you ever seen the movie Caddyshack with Bill Murray who uses extreme measures to rid a golf course of a gopher?
Well, that's Mike with the iguanas and his mango tree. The iguanas take one bite of the fruit and let it fall to the ground and then move on to the next mango.
If I lived there I fear I'd be climbing that tree just waiting for those pesky things to show up.
I wanted to make a homemade muffin that was easy, tender, and delicious. In Nebraska, we get mangos in our grocery store but they can be pretty pricey. So this recipe is for frozen mango muffins.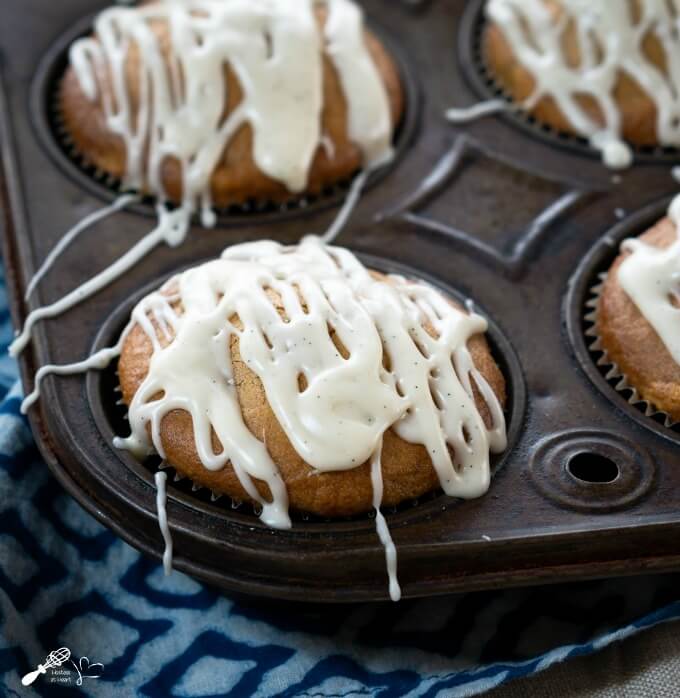 Supplies you may need
12-cup non-stick muffin pan – I love this muffin pan and have three of them so I can get them all filled and baked at once. They're great for egg cups too!
Scoops – Wonder how those cookies are all the same size? Scoops! I use them for my cupcakes too!
Cupcake liners – I use these foil liners. The pretty paper ones aren't that pretty after baking so I use foil liners with non-removable paper. They come in many colors.
Ingredients for Easy Mango Muffins from Scratch
Muffin Batter
Cream cheese – full-fat or reduced-fat but not fat-free. The fat creates a soft tender crumb.
Sugar – white granulated sugar.
Brown sugar – I prefer the dark but the light is fine.
Eggs – Grade A large is what I use for consistency.
All-purpose flour – you can use bleached or unbleached.
Baking powder.
Baking soda.
Ground cinnamon.
Ground ginger.
Salt – I like fine sea salt in baking. It incorporates better.
Milk – Any milk will work.
Mango – Fresh or frozen.
*Canola oil – Optional, see tips. Any neutral-flavored oil will work.
Vanilla Bean Glaze
Vanilla extract – I use pure vanilla extract. You could use imitation if that's what you prefer.
Vanilla paste – The specks of vanilla just makes this recipe for mango muffins special. You could replace it with an equal amount of extract.
Powdered sugar – Also known as confectioners sugar.
Please note, that the recipe card has more complete instructions. This is intended as an overview.
How to make Mango Muffins
Best Ever Mango Muffin Batter
Start by preheating your oven and preparing your muffin pan. This recipe comes together quickly and you want your oven at baking temperature.
Mix the cream cheese with the sugars until light and fluffy. I used an electric stand mixer and mixed it on medium speed for 3 to 5 minutes. Add the eggs, vanilla, oil, and milk. Mix together and set aside.
Add the dry ingredients to a separate bowl and whisk them together. With the mixer on low, spoon the dry ingredients into the wet ingredients.
Gently mix (or fold) the mangos into the muffin batter.
Fill the muffin tin and bake.
Muffin Glaze
Mix the powdered sugar, vanilla bean paste together using an electric mixer. Add the milk one tablespoon at a time until it's at a glazing consistency. Drizzle the glaze on cooled muffins using a whisk or fork.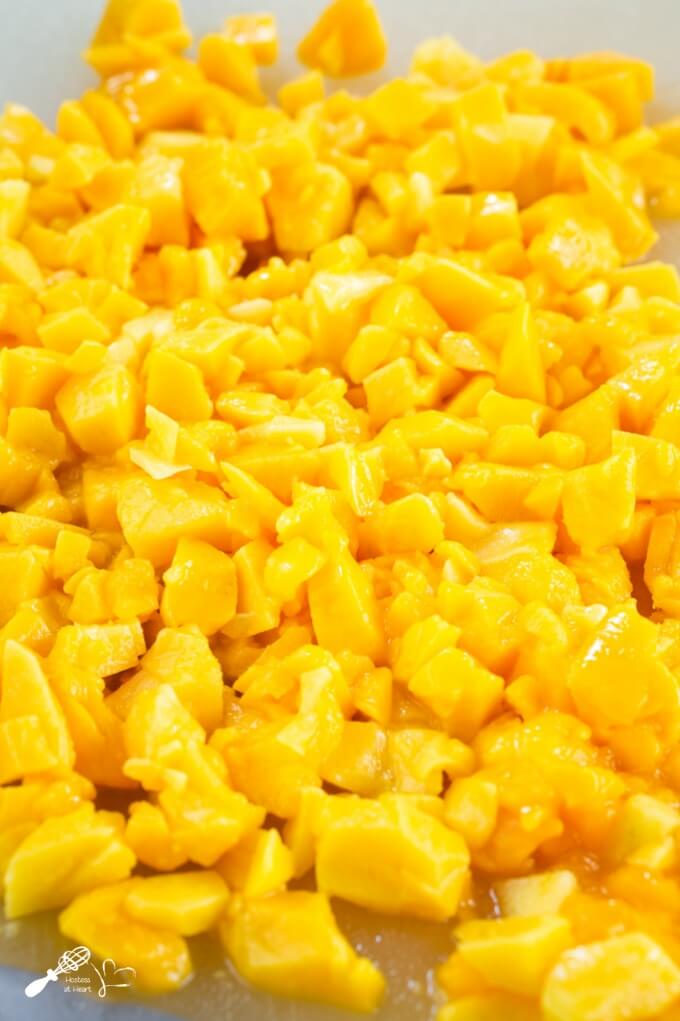 Can I use frozen Mango?
Talk about convenience! It was already cubed and I didn't have to pick the perfectly ripe mango. Frozen mango works very well.
You will want to let them thaw and then sit on a paper towel to remove the excess moisture.
Don't press the juice from them, however. You don't want them to dry out.
I chopped the diced mango up into smaller pieces so they would blend with the batter. When your fruit is too large or heavy it can sink to the bottom of your muffin and will not bake correctly.
Tips
*For a perfectly moist, tender mango muffin, use one egg and one egg yolk instead of two whole eggs, and add one teaspoon of vegetable or canola oil to the batter.
Make sure your baking powder and baking soda are fresh or replaced within the last 6 months. It loses its potency. To tell if yours is still active, I show you how to test it in our Basic Techniques post.
Don't over-mix the muffin batter. Overmixing causes a tough muffin.
Don't overbake the muffin which will dry the muffin out.
Beat the eggs slightly before adding them to the batter. It makes incorporating them much easier and will keep you from overmixing the batter.
Cool the muffins in the pan for 5 minutes and then remove them to a cooling rack to finish cooling.
F.A.Q.s
How long do you bake Cinnamon Mango Muffins?
I baked this Mango muffin recipe for 17 minutes. My oven bakes quickly. You may need up to 5 more minutes. Your muffin is done when you insert a toothpick into the center and it comes away with just a few crumbs.
How do you keep the muffin paper from sticking to the muffin?
Sticking is so frustrating. It has more to do with the cupcake liners than with the muffin recipe. I have good luck with these cupcake liners. However, you can lightly spray paper liners with a non-stick cooking spray or skip the liners altogether and just grease the muffin pan.
Can I use canned mangoes?
Yes, you can but I don't recommend it. There's so much moisture in canned fruit which can make your recipe for mango muffins mushy.
Storing Muffins
I keep muffins stored in a covered container, and if glazed, in the refrigerator for up to two days. If they're not glazed you can store them covered at room temperature.
Homemade Mango Muffins freeze well. It's best if you freeze them before glazing them and then just glaze them before serving. I just take out what I need and thaw them at room temperature.
Easy Mango Muffins can be reheated if you're not glazing them. Use 10-second increments until they're warm.
Mango Muffin Recipe Variations
Make Tropical Mango Muffins by adding sweetened coconut.
Add chopped nuts. Pecans and walnuts are my favorites.
Leave off the glaze altogether for a healthier mango muffin or dust them with powdered sugar. You could also top this Mango Muffin with oats or a streusel or crumble such as I did with our Rhubarb Muffins.
Pin this amazing homemade muffin recipe!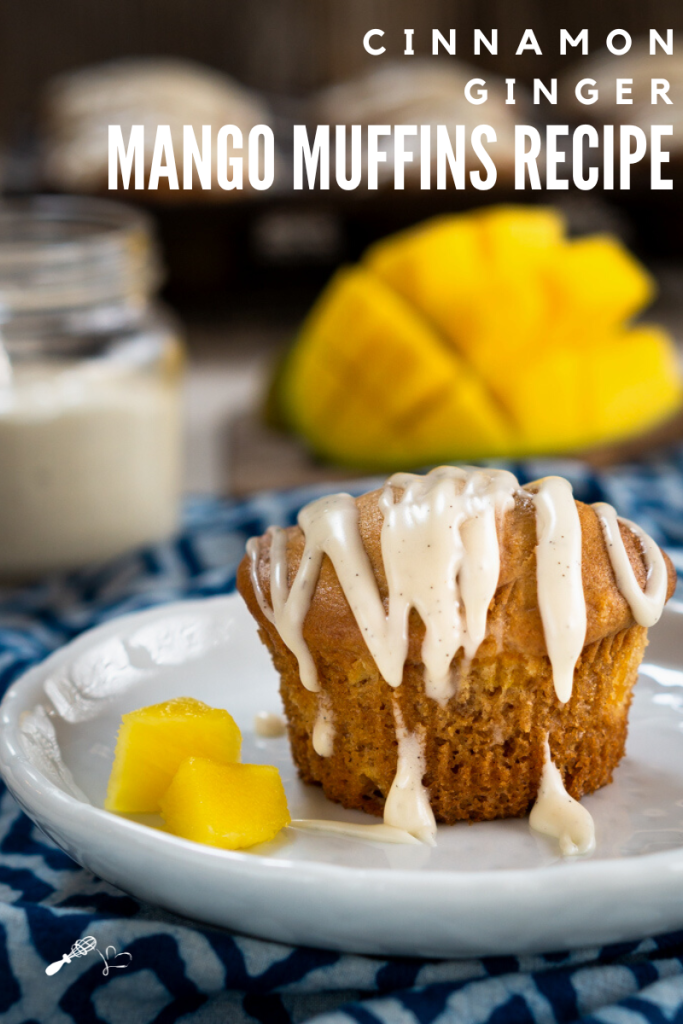 Want more delicious recipes? Follow Hostess At Heart on Pinterest!
If you like Mango Muffin recipes, I think you will love these recipes too
I honestly think that these Cinnamon Mango Muffins with Cream Cheese are one of the BEST muffin recipes that I've put on the blog. If you'd like to see something here leave me a comment or drop me an email. I read and reply to all of my correspondence.
Don't forget to stop back and let me know how your Mango Muffins came out!
Warm Cinnamon Ginger Mango Muffins with Vanilla Bean Glaze
Warm Cinnamon Ginger Mango Muffins with Cream Cheese are soft and tender with an explosion of juicy mango and a vanilla bean drizzle. This over-the-top delicious muffin will be your new favorite.

Ingredients
Muffin Batter
4

oz

cream cheese

softened at room temperature

1/2

cup

sugar

3/4

cup

milk

I used almond milk but any will do

1/2

cup

brown sugar

packed

2

tsp

vanilla

2

eggs

*see notes

1

tsp

canola oil

optional *see notes

2

cups

all-purpose flour

1

tsp

baking powder

1

tsp

baking soda

1/2

tsp

salt

(table or kosher is fine)

8

oz

frozen mango chunks

thawed and drained on a paper towel

1

tsp

ground cinnamon

1/2

tsp

ground ginger
Instructions
Preheat your oven to 350°F and fill 17 to 18 muffin cups with cupcake liners or grease well.

In the bowl of an electric mixer, cream softened cream cheese, sugar, and brown sugar together on medium speed until light and fluffy.

Add the eggs one at a time, beating after each addition and then the vanilla oil, and milk. Mix until blended together.

In a medium-sized bowl combine the flour, baking powder baking soda, cinnamon, ginger, and salt. Whisk to combine.

Add the flour mixture to the liquid mixture alternating after each addition.

Fold the mangos into the batter.

Fill muffin cups 3/4 full. Bake 17 to 18 minutes. Muffins are done when a toothpick comes out clean. Let the muffins cool in the pan for 5 minutes and then turn the muffins out of the pan and onto a cooling rack to cool completely.

Combine the powdered sugar, vanilla bean paste, and milk one tablespoon at a time until the glaze is thin enough to drizzle. Using a fork or a whisk, apply the glaze to completely cool muffins.

Store in an air-tight container.
Notes
I use 1 whole egg and one egg yolk and 1 tsp of canola (or vegetable) oil. It will keep you muffin soft and tender. You can use two whole eggs and omit the oil if desired.
The calories for each muffin are without the drizzle. If you used all of the glaze they would be 171 calories each but in my opinion that would be too much.
Nutrition
Sodium:
168
mg
|
Calcium:
42
mg
|
Vitamin C:
4.6
mg
|
Vitamin A:
265
IU
|
Sugar:
14
g
|
Potassium:
101
mg
|
Cholesterol:
26
mg
|
Calories:
141
kcal
|
Saturated Fat:
1
g
|
Fat:
3
g
|
Protein:
2
g
|
Carbohydrates:
25
g
|
Iron:
0.8
mg
This recipe was calculated using the exact brands and measurements I used to make this recipe. If you are following a strict diet please note changing anything will cause the nutritional info to change. My calculations are intended as a guide only.