6-Ingredient Blueberry Lemonade Cream Pie Recipe comes together in a fast 15 minutes. It is creamy dreamy delicious.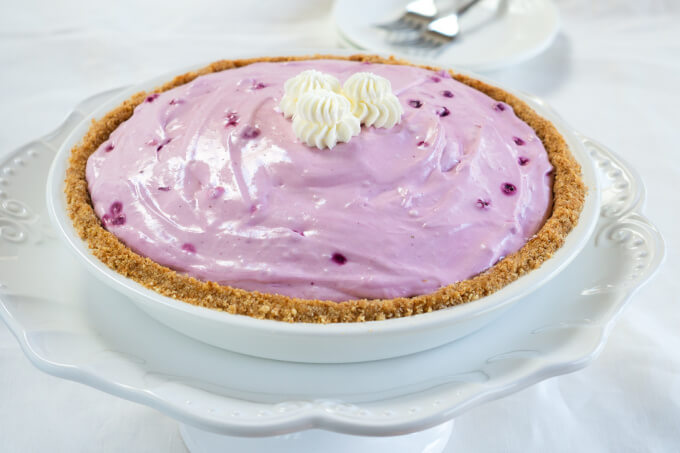 Blueberry Lemonade Cream Pie recipe is just perfect for anyone that knows how to use a spoon. Don't you just love a recipe that comes together in just minutes?
I wanted to add another cream pie recipe in anticipation of coming out of my cave after a long winter's snore-fest.
It will make my 5th creamy pie on the blog and considering I wanted to call this a 5 ingredient Blueberry Lemonade Cream Pie but thought you're going to want a crust, so settled for 6 ingredients.
The color of this pie is quick to get attention. I didn't think it needed a lot of whipped cream topping so just added a small dollop.
I made extra and put it in the fridge. After making this easy pie recipe John offered to get us a couple of slices after dinner.
Evidently, his piece needed a much bigger mountain of whipped cream than mine did. Mr. Sweet Tooth didn't surprise me one bit.
This is such an easy pie recipe to make. I love recipes like this one for holidays because they are so quick to make up and simple to serve.
This is also a refreshing dessert pie recipe to make when the weather starts turning warmer. Hands down Blueberry Lemonade Pie is one of the best pie recipes that I've made and eaten.
Crust Variations
Even though this cream cheese pie comes together in a quick 15 minutes, you can put the filling in any crust you desire.
I made a Nilla Wafer Crust but you can buy a graham cracker or a pastry crust. Since this pie doesn't need to be baked just make sure you put it in a cooled and pre-baked crust if you bake one.
There is a video in the recipe card showing you how to fold the whipped topping into the pie ingredients.
Pro Tips
When adding the whipped cream to your other ingredients don't stir it, fold it in. If you stir it you will break down and deflate the whipped cream.
Use frozen wild berries. They are smaller and more flavorful than what I can get in the Midwest. Their juice gives this pie it's pretty color.
This pie can be made a day in advance. Chill it uncovered in the refrigerator and once cold cover it lightly with plastic wrap.
Make sure that the pie is completely chilled before cutting it.
Don't leave it out. Return any leftovers to the refrigerator immediately. It will not melt but will become soft and lose its shape.
If you like this recipe please leave me a comment below and a 5-✭✭✭✭✭ rating.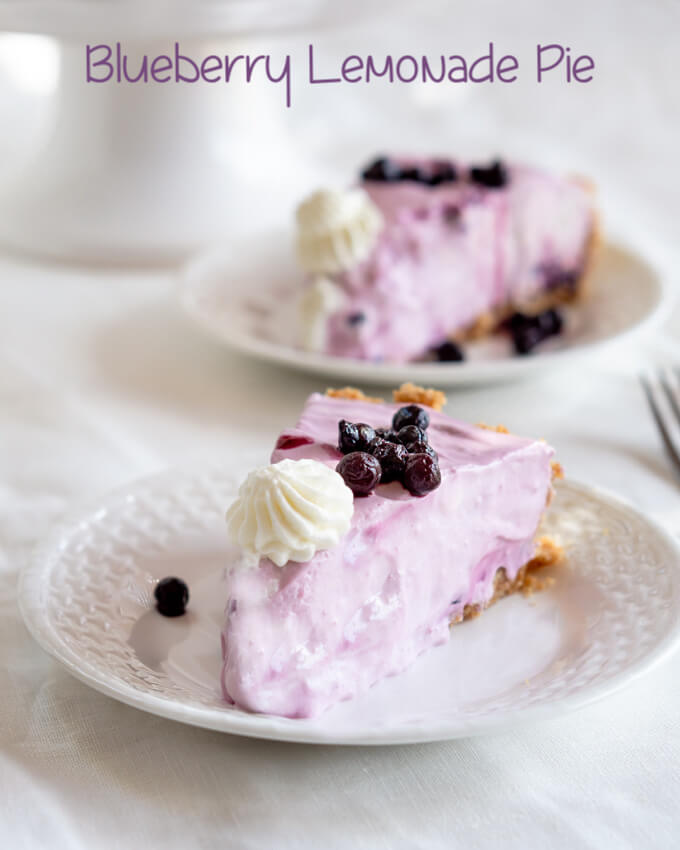 Here are a couple more recipes I think you'll enjoy.
Here are a couple of items that you may need:
This Serrated Knife is a must in any kitchen. It's been the #1 knife for Cooks Illustrated for years. I have knives that cost triple what this one does but I can't live without it.
The Pie Server you want should have a pointed tip and a bend in it to lift the slice of pie.
Pie Plate – I have several pie plates but one thing that I've learned is that food looks great on a white plate. I personally use this pie plate for my colorful pies.
6 Ingredient Blueberry Lemonade Cream Pie Recipe
Creamy Blueberry Lemonade pie is a cold Cream Cheese Pie with wild blueberries and sweet lemonade piled into a Nilla Wafer Crust is a quick, easy and no-bake recipe
Ingredients
8

oz

cream cheese

14

oz

sweetened condensed milk

6

oz

lemonade concentrate

thawed

1/2

cup

blueberries

I used frozen wild blueberries, thawed

8

oz

whipped topping

I use Cool Whip

1

crust

*pre-baked
Instructions
In the bowl of an electric stand mixer, beat cream cheese until light and fluffy. Add sweetened condensed milk and lemonade concentrate. Blend until mixed. Fold in blueberries and then whipped topping.


Pour into the pie crust. Chill for 4 to 6 hours or until firm.

Garnish with additional whipped topping or blueberries if desired.

Store leftovers in the refrigerator covered lightly with plastic wrap.
Notes
I made a vanilla wafer crust but you can make or buy a graham cracker or pastry crust. Pre-bake and cook any crust prior to filling. The nutritional data doesn't include the crust.
Nutrition
Sodium:
176
mg
|
Calcium:
190
mg
|
Vitamin C:
5
mg
|
Vitamin A:
535
IU
|
Sugar:
44
g
|
Potassium:
274
mg
|
Cholesterol:
48
mg
|
Calories:
366
kcal
|
Saturated Fat:
11
g
|
Fat:
17
g
|
Protein:
6
g
|
Carbohydrates:
46
g
|
Iron:
0.3
mg
This recipe was calculated using the exact brands and measurements I used to make this recipe. If you are following a strict diet please note changing anything will cause the nutritional info to change. My calculations are intended as a guide only.
Our most popular recipes
If you make any of the recipes from Hostess At Heart give me a shout out on Instagram with hashtag #hostessatheart or tag me @hostessatheart.