Blueberry Lemonade Pie Recipe is a cool and creamy no-bake pie that comes together in a fast 15 minutes. This make-ahead icebox pie only has 6 ingredients (crust included) and is delicious any time of year.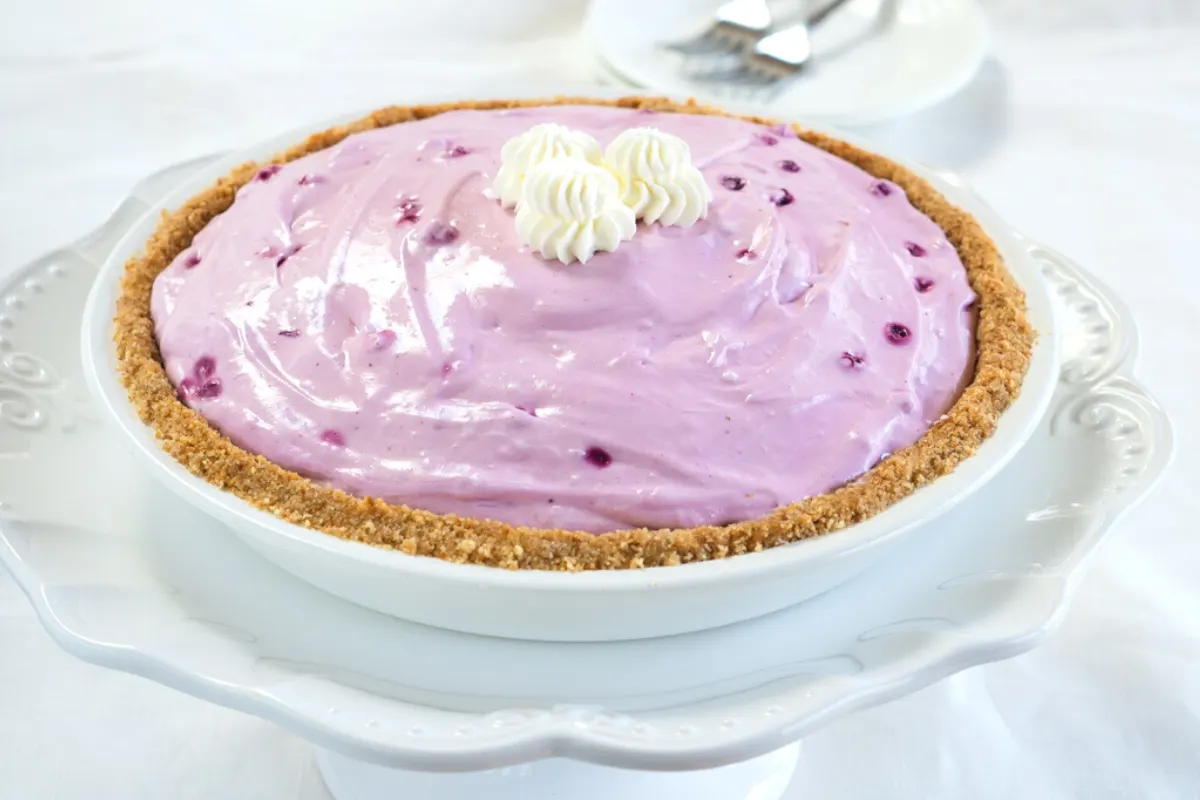 Blueberry Lemonade Pie recipe is just perfect for anyone that knows how to use a spoon. Don't you just love a recipe that comes together in just minutes?
I wanted to add another cream pie recipe in anticipation of coming out of my cave after a long winter's snore-fest.
It will make my 5th creamy pie on the blog and considering I wanted to call this a 5 ingredient Blueberry Lemonade Cream Pie but thought you're going to want a crust, so settled for 6 ingredients.
Why you'll love this Blueberry Icebox Pie
The color of this pie is quick to get attention. It's a beautiful make-and-take lemonade dessert recipe any time of year.
Make this pie ahead of time freeing up your busy schedule. This is such an easy cool pie recipe to make. I love recipes like this one for holidays because they are so quick to make up and simple to serve. This is also a refreshing dessert pie recipe to make when the weather starts turning warmer.
Only 6 ingredients including the crust are simple enough to be found in any grocery store.
Blueberry Cream Cheese Lemonade Pie is a no-bake recipe freeing up oven space.
What is an Icebox Pie?
Before refrigerators, food was kept cold in a box that had a section in the bottom that held a block of ice. Pies that needed to be kept cold were referred to as icebox pies.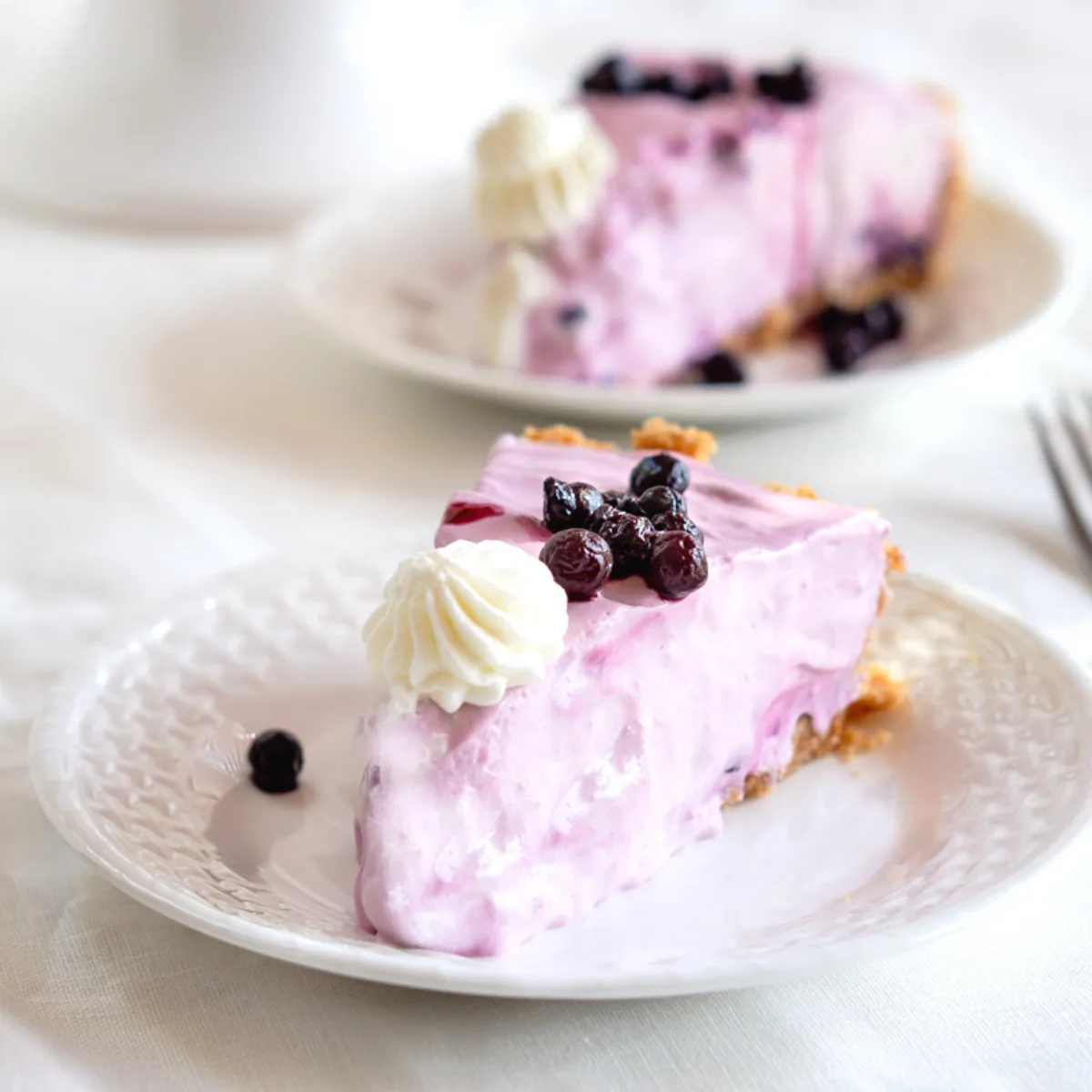 Here are a few items that you may need:
Hostess At Heart participates in affiliate programs. As an Amazon Associate, I earn a commission from qualifying purchases. Please refer to my disclosure page for more information about these affiliate programs.
This Serrated Knife is a must in any kitchen. It's been the #1 knife for Cooks Illustrated for years. I have knives that cost triple what this one does but I can't live without it.
The Pie Server you want should have a pointed tip and a bend in it to lift the slice of pie.
Pie Plate – I have several pie plates but one thing that I've learned is that food looks great on a white plate. I personally use this pie plate for my colorful pies.
Icebox Blueberry Pie Ingredients
Crust. I show you some variations below.
Sweetened Condensed Milk. Makes this lemon blueberry icebox pie sweet and creamy.
Lemonade Concentrate. Found in the frozen section of your grocery store.
Blueberries. I use frozen wild blueberries. They tend to be small berries but have a delicious flavor.
Whipped topping. Cool Whip or another purchased topping.
Cream Cheese. I recommend full-fat for this blueberry icebox pie recipe.
How to make Lemonade Pie with Blueberries
Step 1: Blueberry Lemonade filling
In the bowl of an electric stand mixer, beat cream cheese until light and fluffy. Add sweetened condensed milk and lemonade concentrate. Blend until mixed. Fold in the blueberries and then the whipped topping.
Step 2: Assemble and chill Lemonade Icebox Pie
Pour the filling onto a crust. Chill for 4 to 6 hours or until completely set.
How to store Blueberry Lemonade Pie
Best way to store icebox pie
This no-bake lemonade pie with blueberries is best chilled. Once it's set cover it lightly with plastic wrap.
Can Blueberry Cool Whip Pie be frozen?
Yes! This pie freezes beautifully for up to 3 months. The pie can be served frozen as well or thawed in the refrigerator.
Hands down Blueberry Lemonade Pie is one of the best pie recipes that I've made and eaten.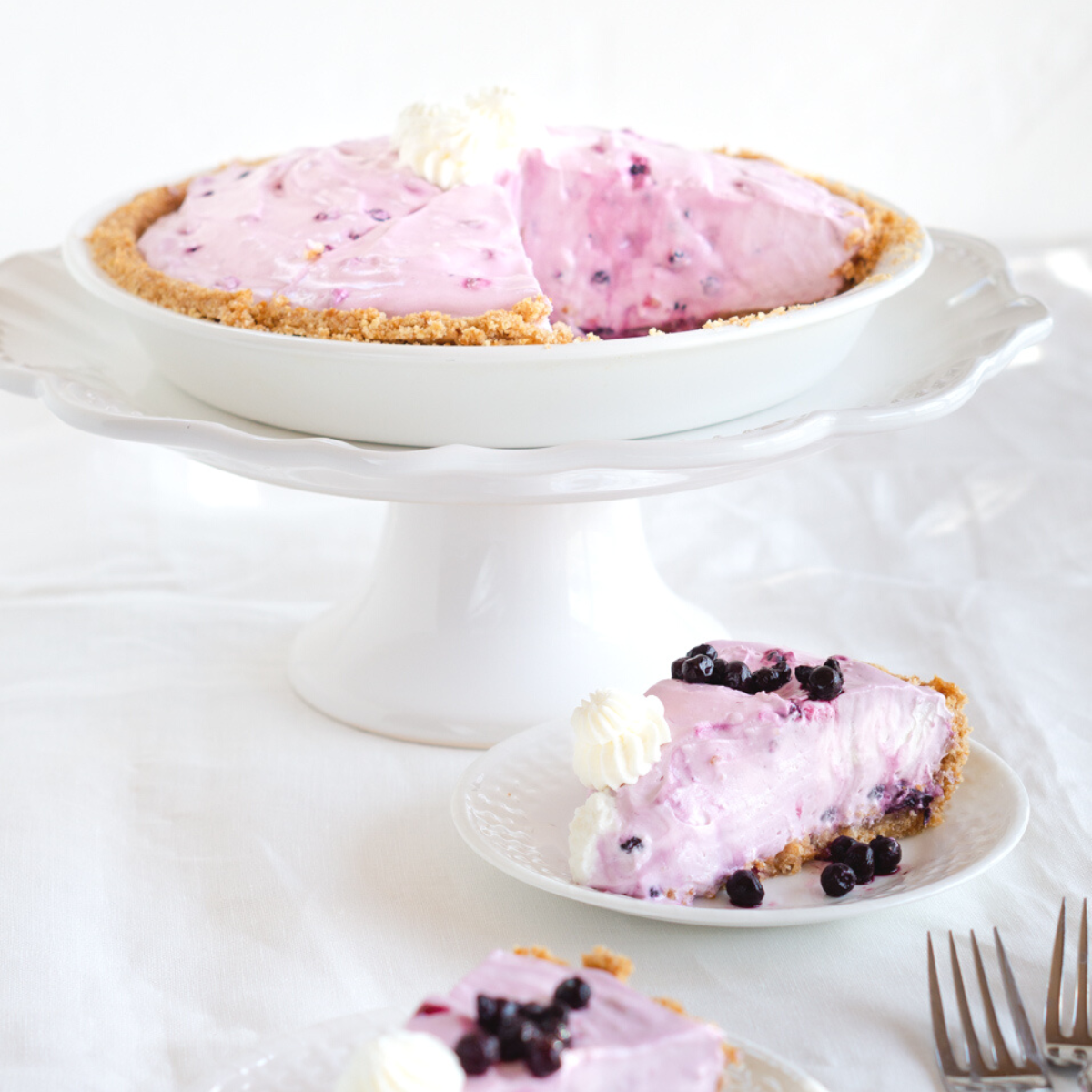 Crust Variations
Even though this cream cheese pie comes together in a quick 15 minutes, you can put the filling in any crust you desire.
I made a Nilla Wafer Crust but you can buy a graham cracker or a pastry crust. Since this pie doesn't need to be baked just make sure you put it in a cooled pre-baked crust if you bake one. My all-butter pie crust is amazing!
Pro Tips
When adding the whipped cream to your other ingredients don't stir, fold it in. If you stir it you will break down and deflate the whipped cream.
Use frozen wild berries. They are smaller and more flavorful than what I can get in the Midwest. Their juice gives this pie its pretty color.
This pie can be made a day in advance. Chill it uncovered in the refrigerator and once cold cover it lightly with plastic wrap.
Make sure that the pie is completely chilled before cutting it. I use a serrated knife but any sharp knife will work. If you warm it under water and then dry it off in between slices it will give you clean perfectly shaped slices.
Don't leave it out. Return any leftovers to the refrigerator immediately. It will not melt but will become soft and lose its shape.
Serve extra whipped topping on the side and allow everyone to add more if they wish.
Here are a couple more recipes I think you'll enjoy.
I hope you enjoyed this delicious recipe as much as we do. Drop me a comment below, and don't forget to give it a star rating. ⭐⭐⭐⭐⭐. Your comments and ratings help others decide if this recipe is for them too.
This post has been updated to improve readers' experience. No changes were made to the recipe.
Our most popular recipes
If you make any of the recipes from Hostess At Heart give me a shout-out on Instagram with hashtag #hostessatheart or tag me @hostessatheart.