This easy Key Lime Pie recipe requires just a few ingredients and minimal effort, making it the perfect dessert for any occasion. With a delicious tangy lime filling and a crunchy graham cracker crust, this dessert is sure to impress your guests.
Just like our Keylime Pound Cake and Key Lime Cheesecake, nothing says summer like a creamy dessert made with Key lime.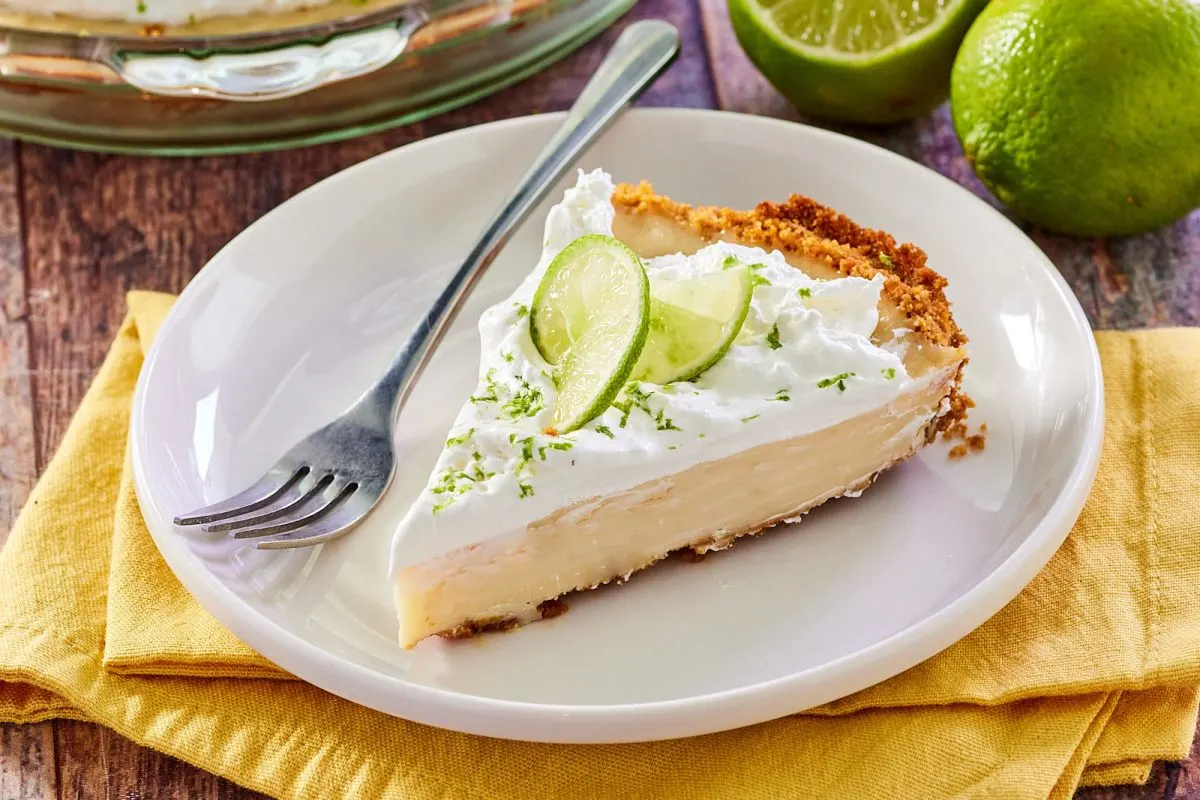 A classic contrast between sweet and sour, creamy and crunchy, fluffy and thick, this key lime pie tastes heavenly and provides the perfect ending to any meal or special occasion. I love how the soft pillowy whipping cream on top plays off of the thick, rich, smooth lime filling.
Why You'll Love This Easy Key Lime Pie Recipe
Deceptively Easy. It tastes amazing, looks amazing, and takes only minutes to prepare. Our easy key lime pie recipe has no complicated steps, just mixing and baking.
An American Classic. The traditional sweet and tart combination of this pie brings back memories, makes smiles, and stirs up conversation.
Bursting with Flavor. Not too sour, not too sweet but plenty intense, the flavor of this pie is going to knock your socks off and bring you back for more. Are leftovers even a thing? Not with this pie.
Equipment Needed
Ingredients You'll Need for This Recipe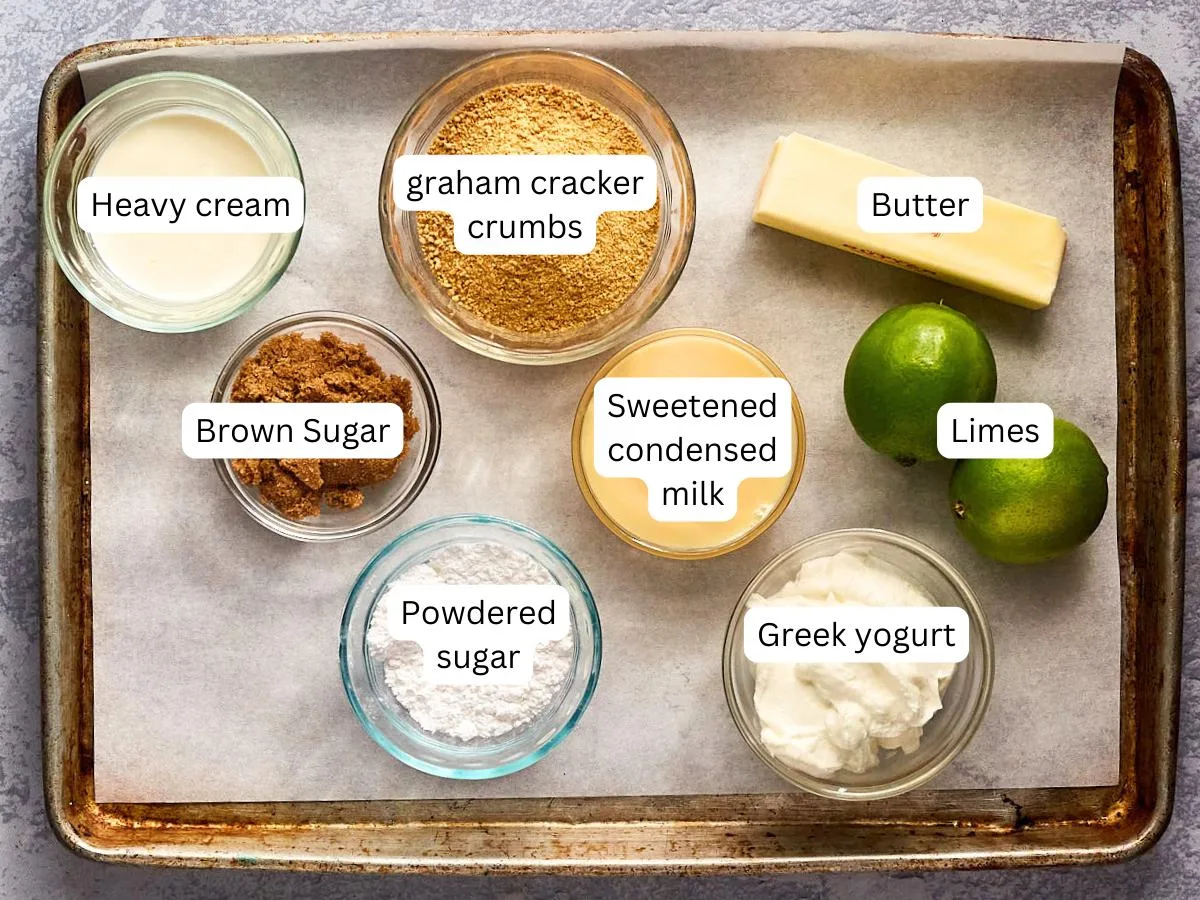 Ingredients for the Graham Cracker Crust
Graham Cracker Crumbs. You can buy graham cracker crumbs, but it's more cost-effective if you purchase regular graham crackers and process them in a food processor or crush them in a sealed plastic baggy using the back of a heavy measuring cup or rolling pin. It's also a fun kitchen chore for kids!
Light Brown Sugar. Dark brown sugar can also be used.
Butter. You can use a butter substitute if you only have margarine on hand.
Key Lime Pie Filling Ingredients
Sweetened Condensed Milk.
Plain Greek Yogurt. Use sour cream if you need a substitute.
Grated Lime Zest. Use your regular cheese grater with the smallest holes, and be very careful you only end up with green flakes of lime skin and not the bitter white part also known as the pith.
Fresh Lime Juice. Freshly squeezed or bottled juice.
Whipped Topping Ingredients
Heavy Cream. If you can find heavy whipping cream, it has even more fat content than heavy cream and can also be used.
Powdered Sugar. This is also called confectioners sugar or icing sugar and can be made from granulated sugar if you have a food processor.
Grated Lime Zest. Do not grate any of the white part or it will make your pie very bitter. You only want the green skin for zest.
Lime Slices. These are optional for garnish.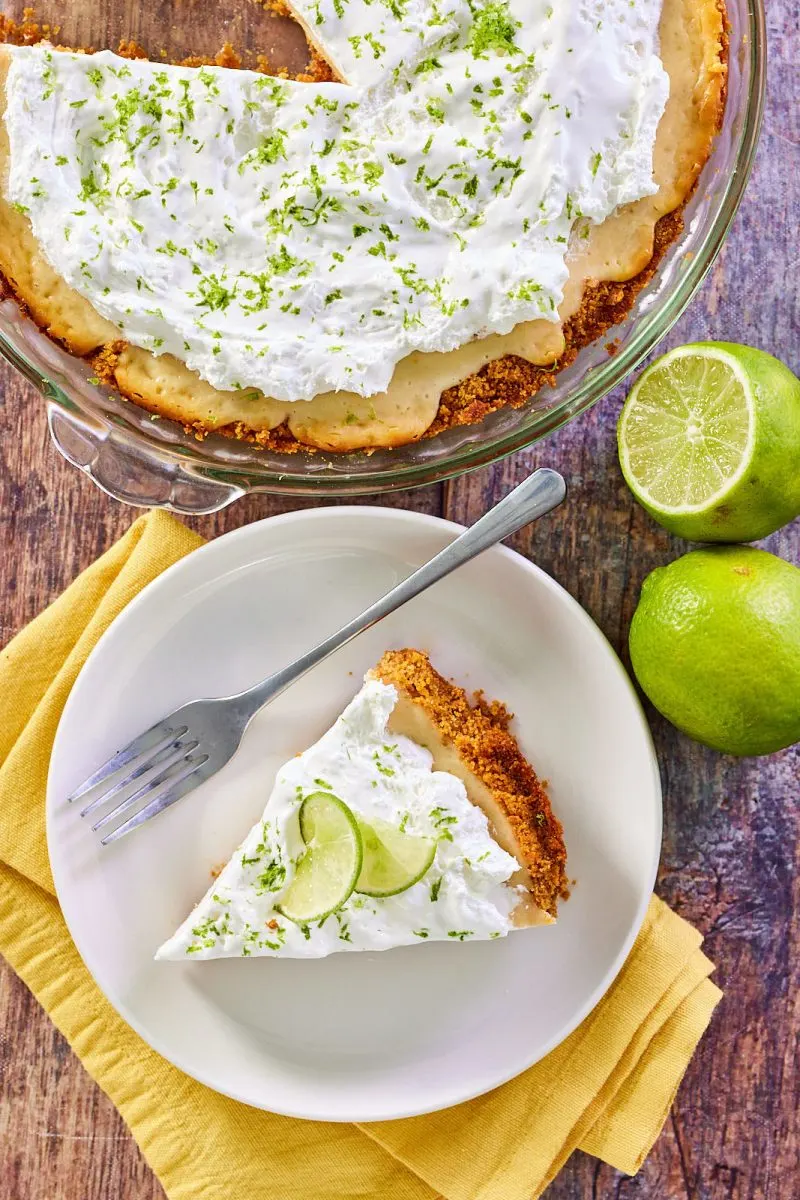 INSTRUCTIONS
How To Make Easy Key Lime Pie Recipe
Please note, that the printable recipe card has ingredient quantities, complete instructions, and nutritional information. The following is a quick overview of the recipe.
Step One: Get ready to make this easy recipe for key lime pie.
Preheat the oven and move your rack to the middle. Crush your graham crackers if needed, and juice and zest your limes.
Step Two: Make the key lime pie crust.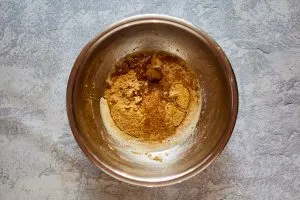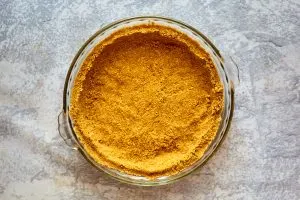 Combine the graham cracker crumbs, brown sugar, and melted butter. Press this into a pie plate. Bake the crust for ten minutes and then cool.
Step Three: Make the key lime pie filling.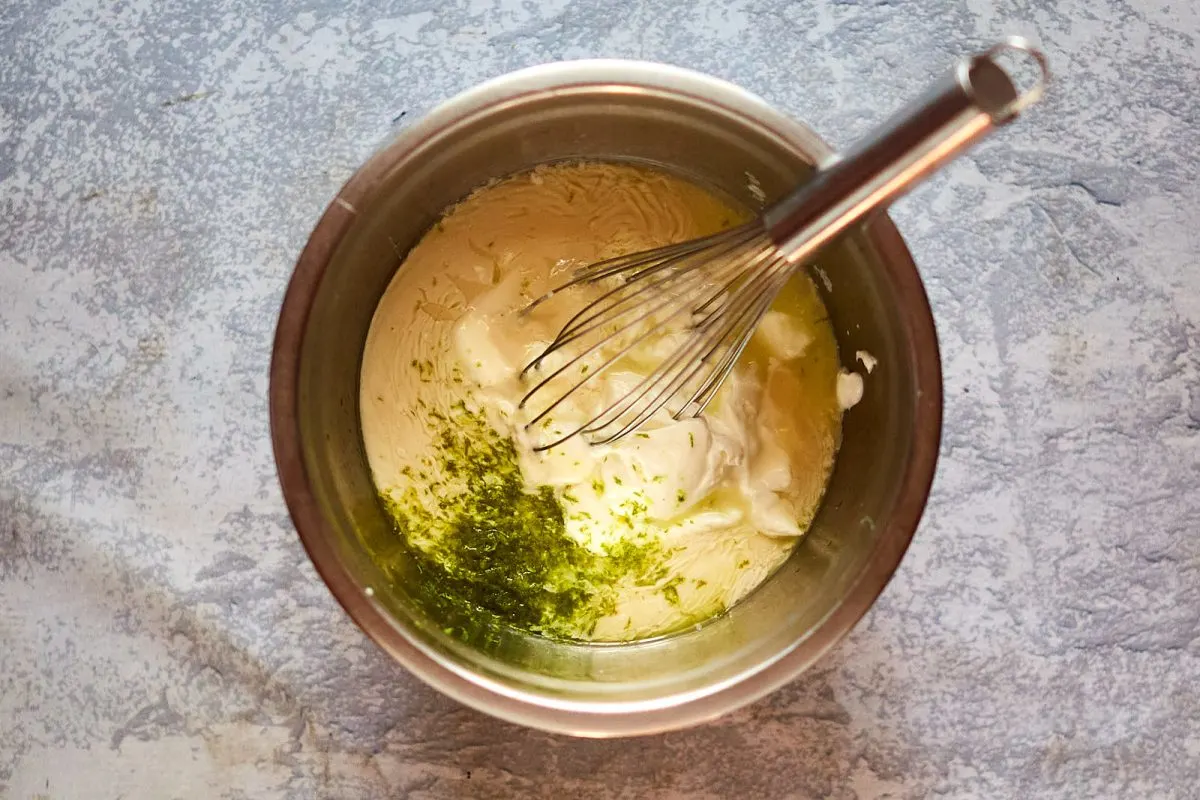 Lower the oven temperature to 350ºF while the crust is cooling and let the oven come down in temperature. Whisk together the sweetened condensed milk, yogurt, lime zest, and lime juice. Pour it into the crust and smooth it out. Bake for fifteen minutes.
Step Four: Make the whipped topping.
While the pie is cooling for thirty minutes at room temperature, you can make the whipped topping. Beat the heavy cream until soft peaks form. Add the powdered sugar and beat until medium peaks form. Top the pie with the whipped cream topping mixture. Place it in the refrigerator for three hours. Add lime zest and lime slices for garnish before serving.
Variations to the Recipe for Key Lime Pie
You can buy a graham cracker crust for convenience.
Make individual tarts. This recipe will make 4 to 6 tarts You can use any size, but these tart pans are the ones I use.
Sour cream or cream cheese can be substituted for yogurt.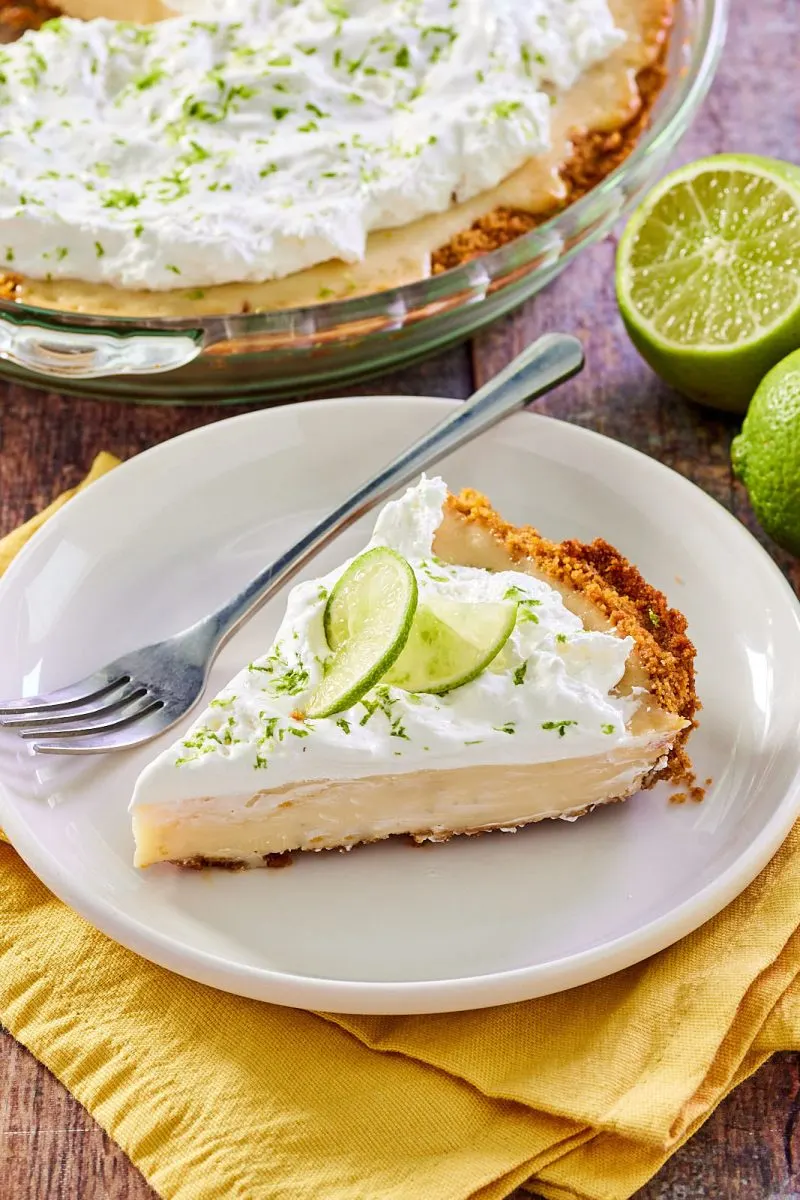 Frequently asked questions.
Are there any significant differences between regular lime juice and key lime juice?
In this recipe, I use Persian limes which are the common limes you find in the grocery store. They're larger than key limes, and with the addition of sugar, they provide a sweet-tart profile. They're also available all year long. Key limes are much smaller and come from the Florida Keys. They're tedious to squeeze and can be expensive. They're seasonal, and not available all year long.
How much lime juice is in one lime?
It really depends on the size of the lime. Choose plump limes that give a little when pressed. I also roll them across a hard surface before I cut them. I buy 10 limes and measure as I go. Each lime will give you approximately two tablespoons.
Buy fresh limes. As they get old, they become hard and less juicy.
Is bottled key lime juice an acceptable substitute for freshly squeezed limes?
Yes, you can. However, for this pie, I recommend squeezing fresh limes. The flavor is so much better.
Is it necessary to let my cooled pie chill overnight before serving it, or is this optional step unnecessary?
The texture and density is improved when you chill this pie. 3 hours is recommended. However, you can make it ahead of time and chill it overnight.
How To Store Key Lime Pie
Best Way to Store this Easy Key Lime Pie Recipe
Your leftover pie, if there is such a thing, should be refrigerated. You can lightly cover it lightly with plastic wrap I wouldn't place it in an airtight container because the condensation can break down the creamy topping.
Can I freeze Key Lime Pie?
Yes. Freeze the whole pie and thaw it later or freeze individual slices in airtight containers to take to work, school, or use whenever you need a little pick me up. Pies can even be eaten partially frozen, which is delicious in the summer!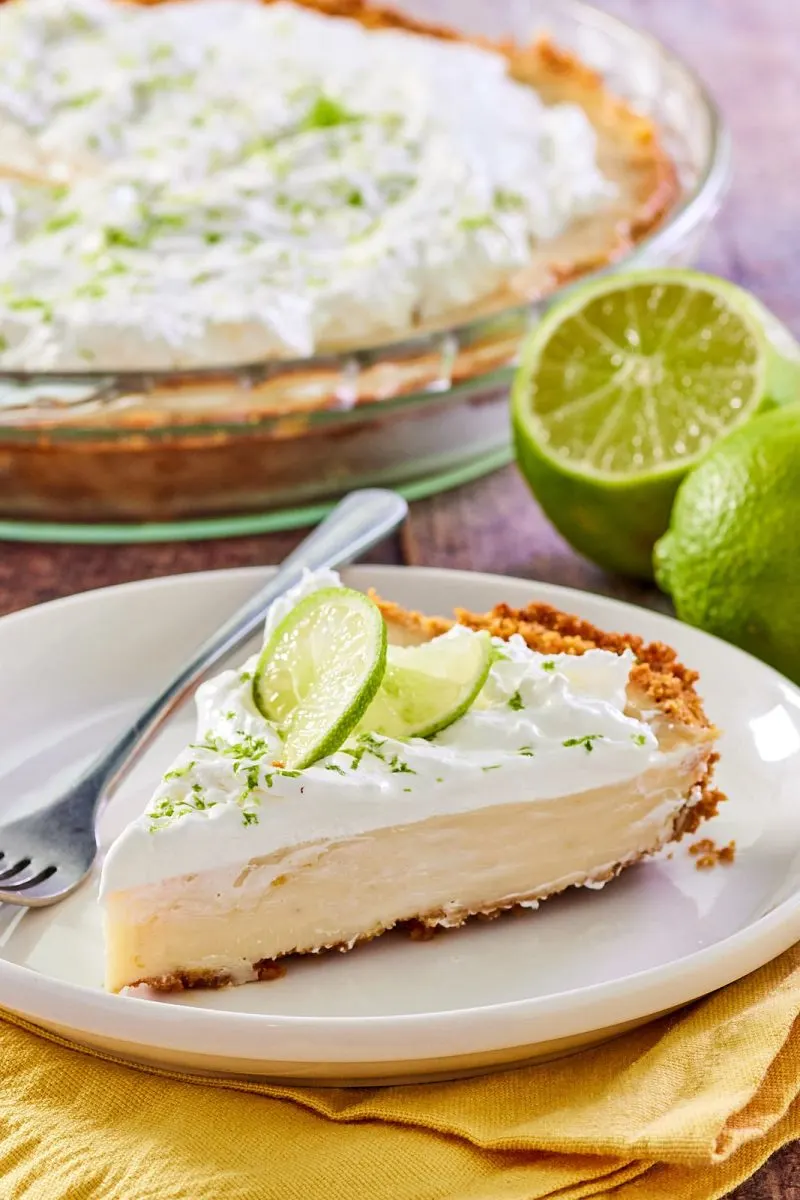 Tips for the Perfect Easy Key Lie Pie Recipe
In order for the graham cracker crust to bake properly, you want all of the crumbs mixed with the butter and sugar. Any dry pockets will cause your crust to crumble.
Use the bottom of a measuring cup to press the graham cracker crumbs into the pie plate. Be mindful not to leave the crumbs thicker in the corners where the sides meet the bottom of the pie plate.
Use good quality butter when making the crust. Good butter enriches the flavor of the crust. Lower quality butter has more water whipped into it and less butter fat.
Allow the ingredients to come to room temperature. However, you don't want them warm otherwise they will not cream together correctly. Our Basic Baking post discusses this.
If you enjoyed this recipe, check out these Summer Dessert recipes!
If you tried this delicious recipe, don't forget to rate it and leave me a comment telling me what you think. I love hearing from you!
Pin this amazing recipe!