Aperol Spritz Cocktail Recipe is the perfect summer drink, and simple enough to make at home. As the temperature rises and the sun shines brighter, nothing beats sipping on a refreshing summer drink. So, get ready to add a pop of orange to your summer and indulge in the sweet, bitter taste of a spritz.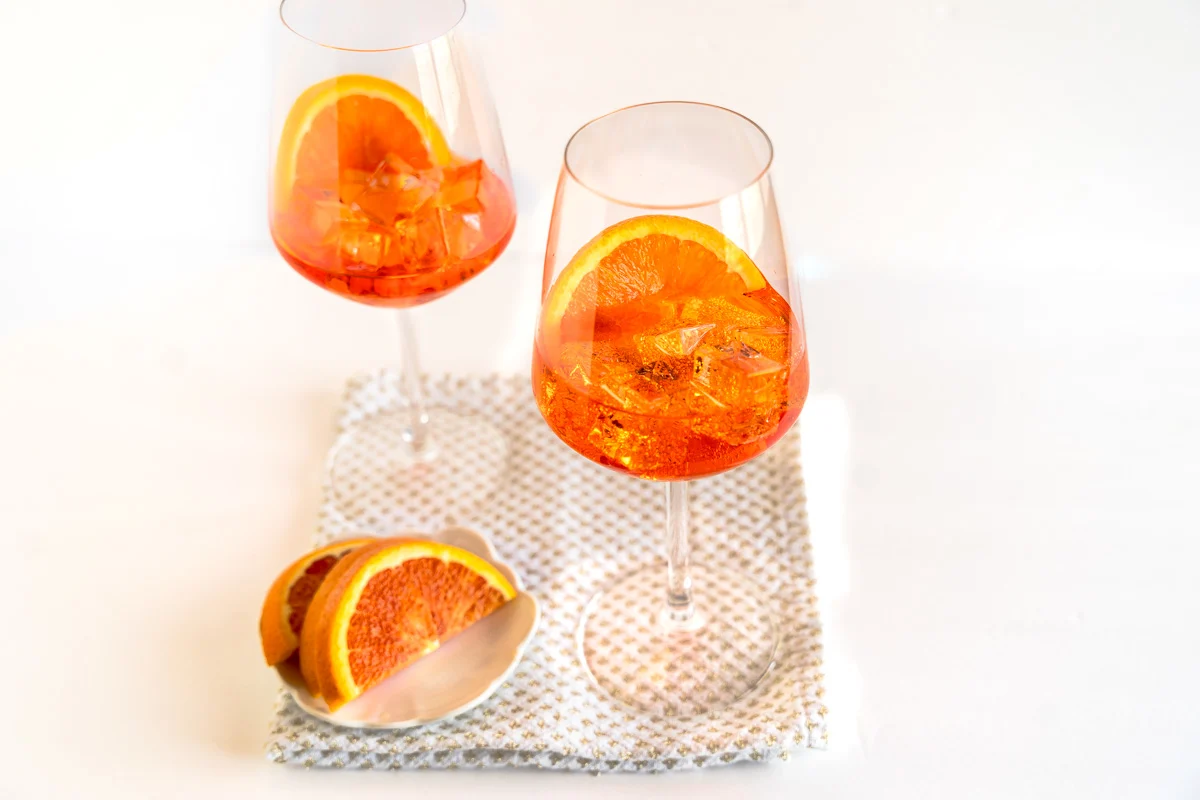 I love a great Pineapple Campari for summer, but when I'm looking for a smoother flavor profile, the Aperol Spritz Cocktail is my choice.
Why the Aperol Spritz is the Perfect Summer Drink
One of the reasons why the Aperol Spritz is the perfect summer drink is its refreshing taste. The combination of Aperol, Prosecco, and soda water creates a light and bubbly texture perfect for hot days. The bitterness of the Aperol is balanced with the sweetness of the Prosecco and the club soda water adds a touch of effervescence, making it a refreshing and thirst-quenching cocktail.
Another reason why the Aperol Spritz is a go-to summer drink is its versatility. This classic cocktail can be served in many different settings, from casual barbecues to elegant soirées. It also pairs well with a variety of summer dishes, from light salads to grilled meats and seafood.
The simplicity of this recipe makes it perfect for entertainment. Aperol is fine stored at room temperature or you can keep the ingredients chilled. Just mix up a drink and pour it over ice cubes as you need it. There's no need to use a cocktail shaker or any fancy equipment.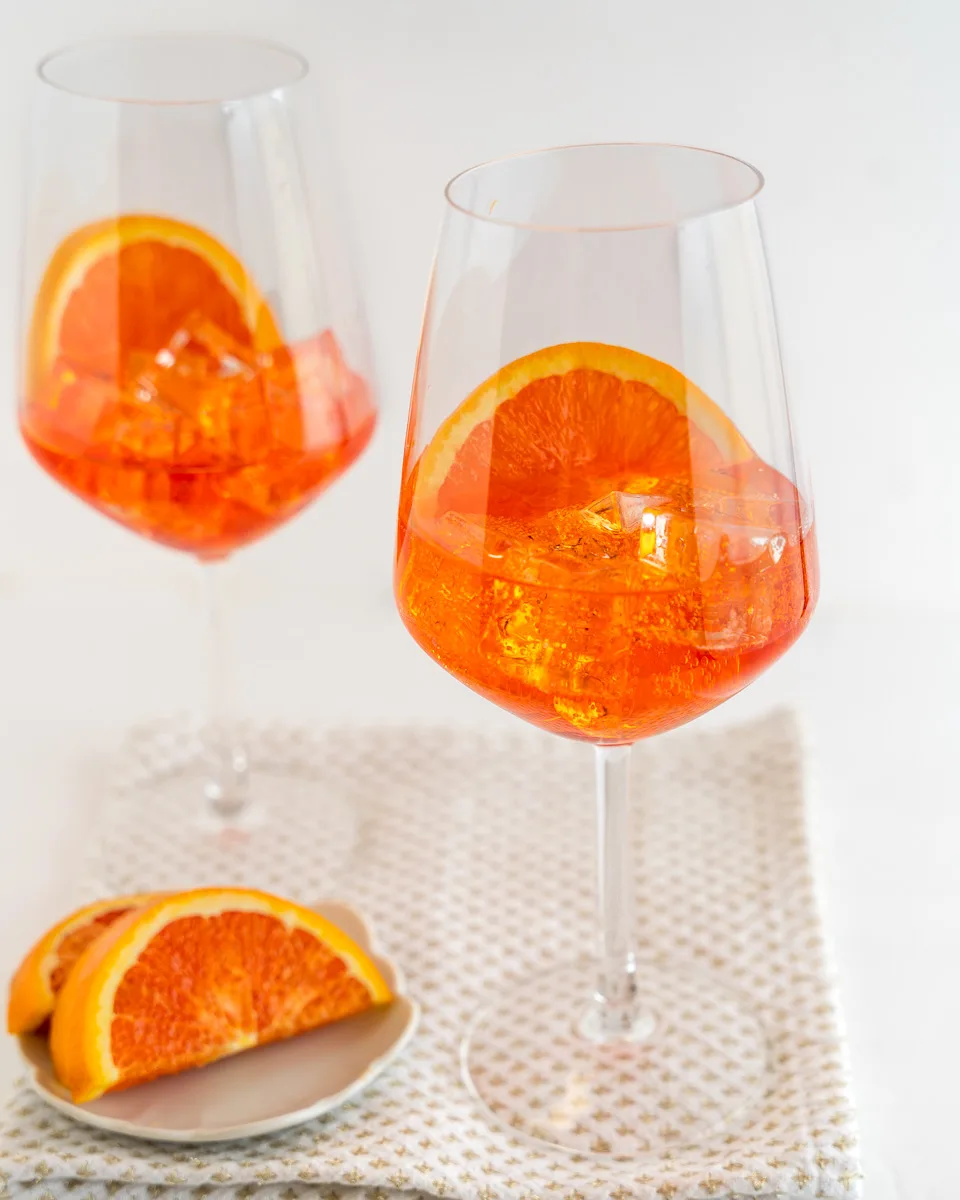 What is Aperol?
Aperol is an alcohol-based Italian liqueur, considered an apéritif obtained from the infusion of gentian, rhubarb, and cinchona bark, among other ingredients. It is bitter with notes of orange zest and a subtle flavor of vanilla. It's is known for its vibrant orange hue.
Aperol has a low alcohol content of 11% ABV (Alcohol by Volume) making it ideal for sipping.
The Italian tradition is to serve an Apéritif as a pre-dinner drink to stimulate one's appetite. For me, an Aperol Spritz is perfect any time of day.
Aperol vs Campari – Are they the same thing?
No. Both are Italian aperitifs. Aperol has a low alcohol content of 11% ABV (Alcohol by Volume) compared to Campari's higher alcohol content of 20.5 to 28.5%. Campari also has more of a bitter edge than Aperol's bittersweet flavor. For more information on the differences, I found this article very interesting.
Simple Recipe for Aperol Spritz
Most often an Aperol Spritz is served in a large wine glass but you can use any glass that you choose.
Combine sparkling wine such as Prosecco or Cava with a bitter liqueur, is known as a spritz.
Here's what you'll need: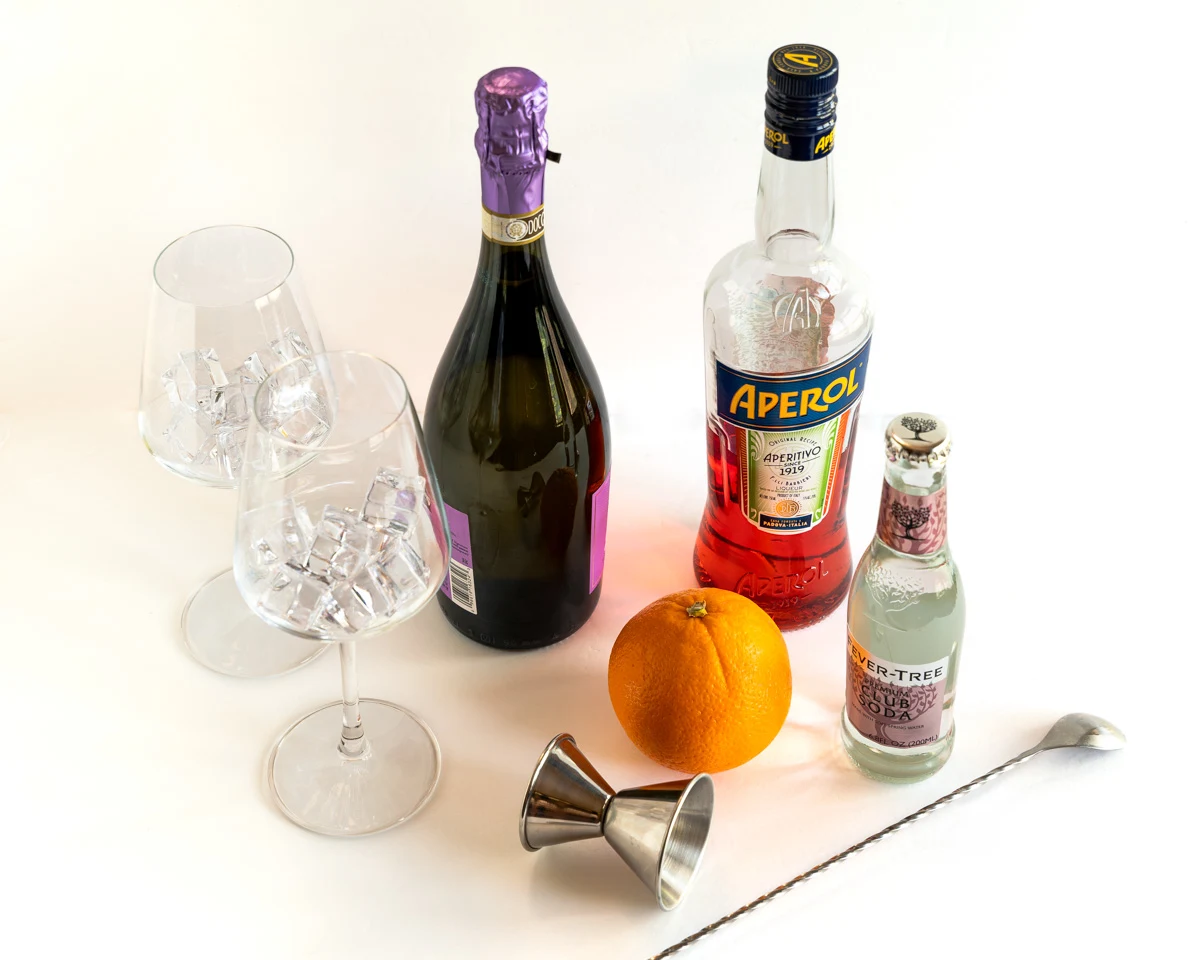 – 3 parts Prosecco – The Italian version of French Champagne.
– 3 parts Aperol
– 1 splash of club soda
– Garnish with an orange slice or an orange wedge
The Classic Aperol Spritz uses a ratio of 3 parts Prosecco to 2 parts Aperol, but I prefer an equal balance of the two, which makes it a little sweeter. I'll give you some other options to make this refreshing aperitif your own.
How to make an Aperol Spritz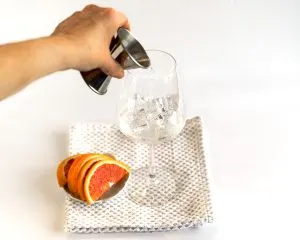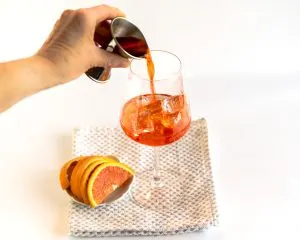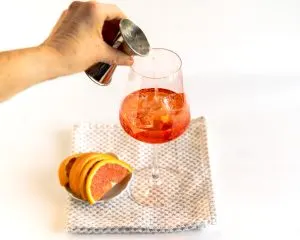 To get started, fill your glass with ice and add the Prosecco and Aperol. Give it a quick stir, and then top it off with a splash of soda water. The traditional garnish is an orange slice.
How to Customize Your Aperol Spritz
The beauty of this recipe is that it's easy to adjust to your personal taste. If you prefer your drinks on the sweeter side, you can add a bit more Aperol. And if you want a lighter, less boozy drink, you can top it off with more soda water or sparkling water. Experiment with different ratios until you find your perfect balance.
To add some extra flair, try adding a splash of grapefruit juice or orange juice for a citrus twist. For more bubbles, swap out the soda water for sparkling wine or tonic water. Make it extra festive by garnishing it with blood orange. Or, for a savory twist, add a sprig of rosemary or thyme with a slice of cucumber.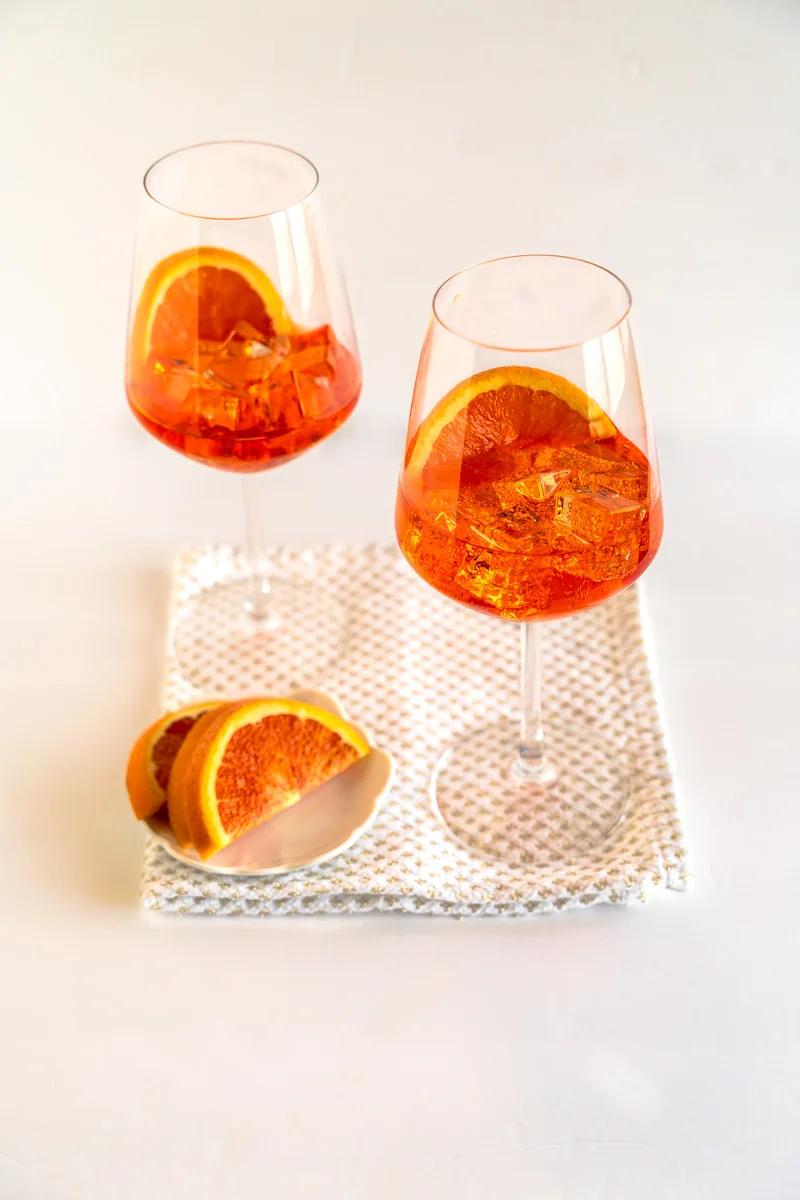 What to serve with your Aperol Spritz
I suggest Italian or Mediterranean-style appetizers such as a Charcuterie board filled with green olives, fresh mozzarella, and crusty bread. Salty snacks such as nuts and pretzels are delicious and easy to serve. Jarcuteries both savory and sweet, are fun and perfect for summer!
What else can I make with Aperol?
Aperol Negroni – Aperol, sweet vermouth, gin.
Paper Plane – Bourbon, Amaro Nonino, Aperol, and lemon juice.
Aperol Cosmopolitan – Aperol, Vodka, lime juice.
The Aperol Spritz truly is the perfect summer drink. Its refreshing and light taste makes it ideal for any occasion. I hope you will give this Aperol Spritz Cocktail recipe a try and stop back to let me know what you think.