Aussie Grilled Lamb Loin Chops is an easy recipe that looks gourmet when topped with our simple cilantro pesto. These lamb chops are tender and have a mild delicious flavor. They're quick to make and will be the star of any meal.
Grilled Lamb Loin Chops is our go-to recipe when we want something just a little more special on our dinner table.
They're quick and easy to make so will not leave you or your guests waiting for a delicious meal.
The easy Cilantro Pesto adds a gourmet touch to the dish. It can be made ahead so it's ready when you are.
This post is sponsored by True Aussie Lamb but the opinions here, and the love I have for their products, are all my own.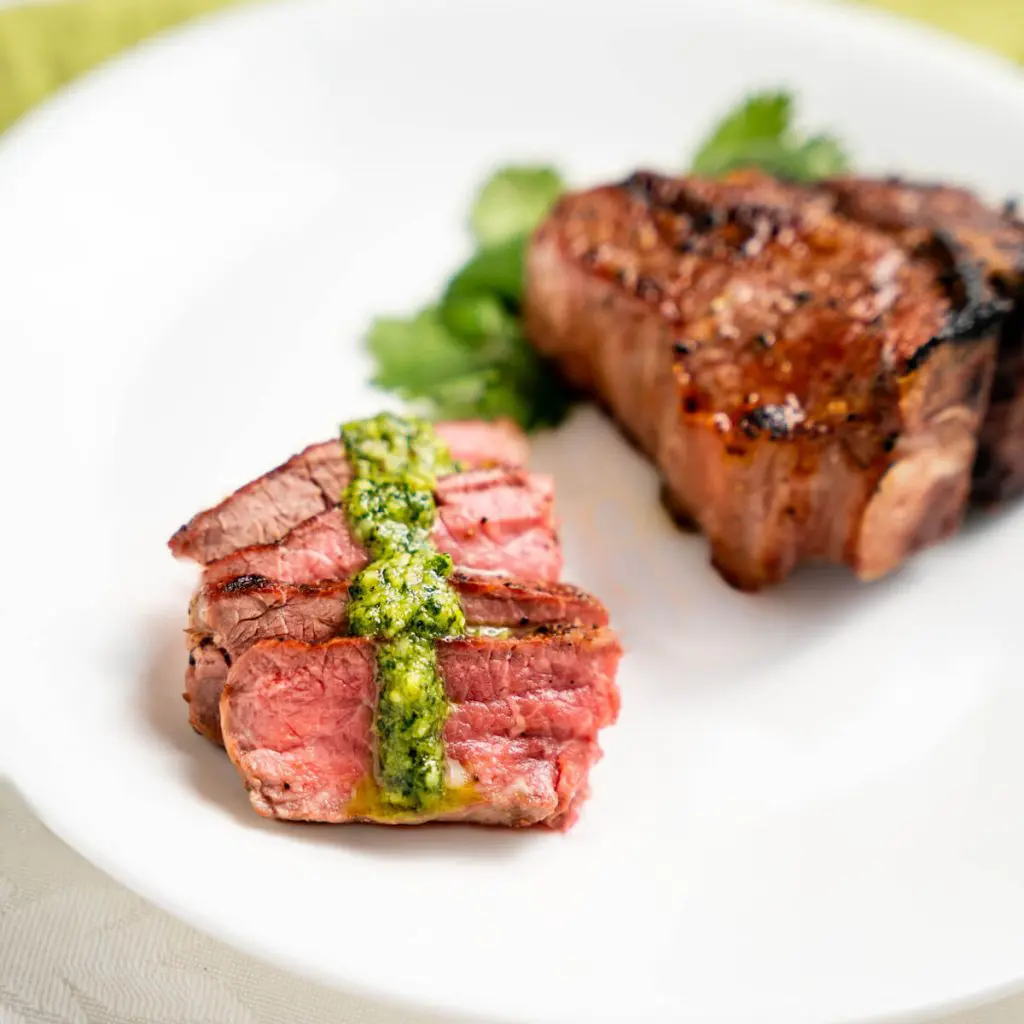 WHAT IS AUSSIE LAMB?
I used to think that True Aussie Lamb was a brand. It's not. They support all of the lamb producers in Australia.
WHY LOOK FOR AUSTRALIAN LAMB?
Australian lamb is raised on natural pastures which produces a mild and flavorful lamb.
Lamb is tender, lean, and healthy!
As you will see in our recipe, it's so easy and versatile to use.
It's readily available in the United States. Australian lamb is actually the #1 source of lamb in the US and you may have already seen it in your local supermarket.

You can go to their website to see who carries it in your area and to learn more about True Aussie Lamb.
Or, just #askforAustralian!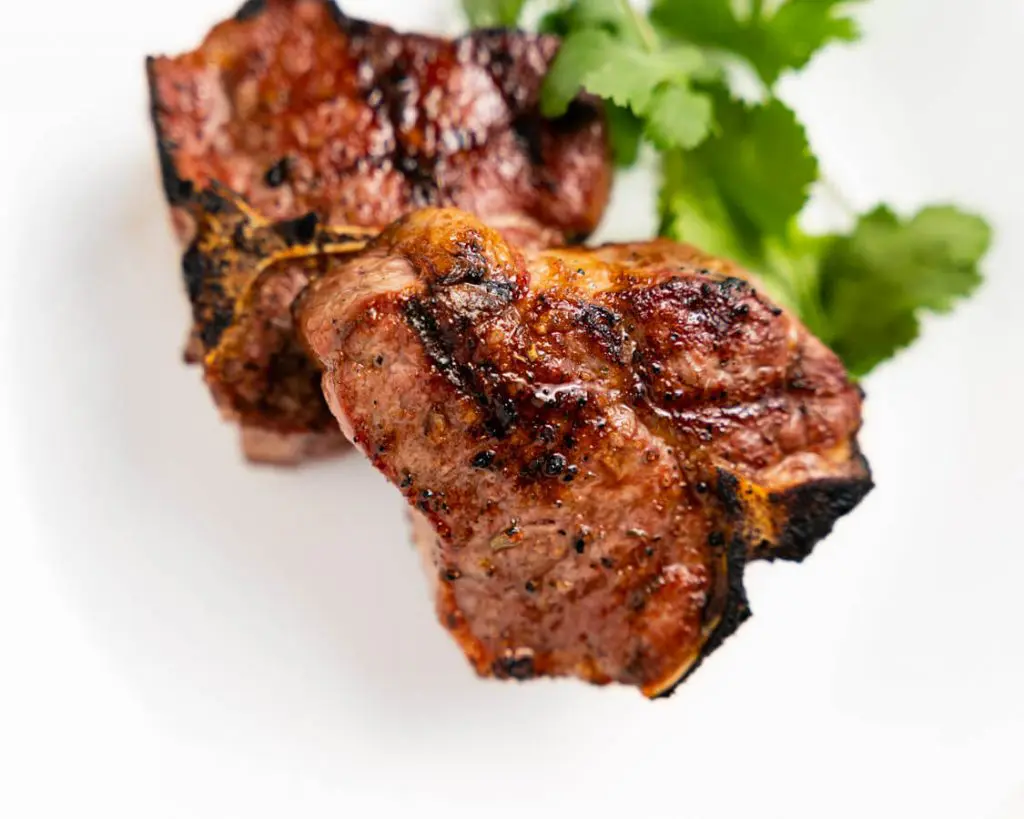 What is the difference between lamb loin chops and lamb chops?
According to True Aussie Lamb, lamb loin chops come from the middle-lower section of the rear quarter while lamb chops come from the front middle section. They can be called a rib chop when the rib bone is still attached. It comes from what's known as a rack of lamb.
We used the rib chops for our Pistachio Crusted Lamb Chop recipe that was just stunningly delicious.
The loin chop is very tender and cooks in a very short time. It's among our favorite lamb cut.
Ingredients you will need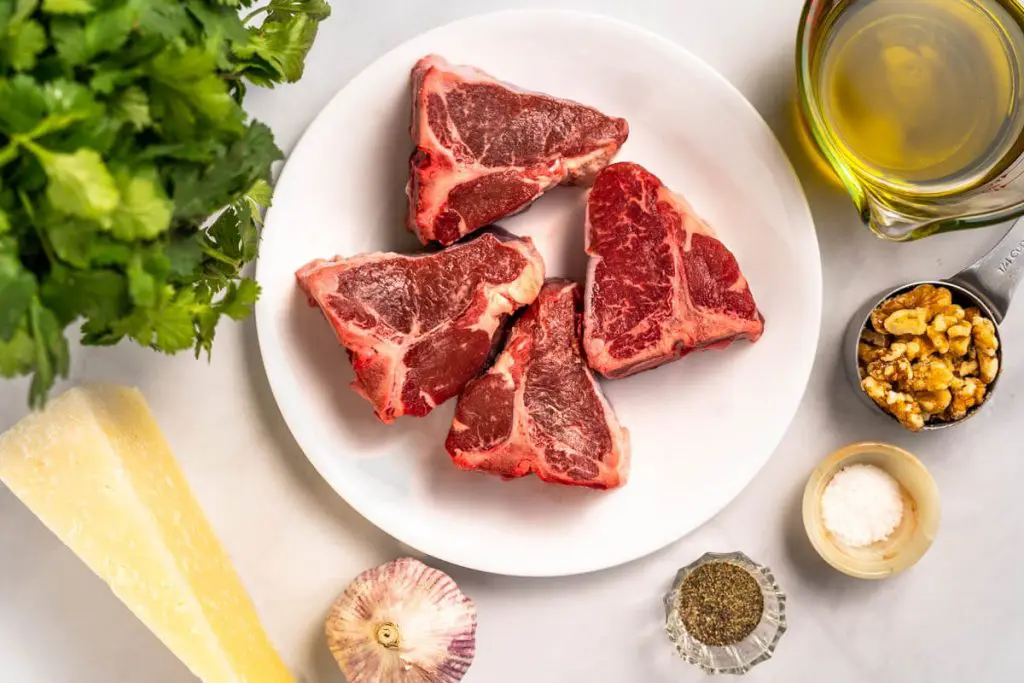 Cilantro Pesto
Walnuts – you can purchase walnut pieces that aren't as expensive as whole walnuts since we just grind them up anyway. You could also use pine nuts.
Garlic cloves – we mince fresh garlic. You could also buy pre-minced for convenience.
Cilantro – you can use the stems and leaves. Be sure to save some nice leaves for garnishing the dish before you serve it.
Olive Oil – we use extra virgin olive oil. You could use any neutral oil but you would be missing out on the flavor that olive oil adds.
Pecorino Romano Cheese – this cheese has a distinct flavor that doesn't get lost in this pesto. You could also use parmesan cheese.
Salt and pepper
Lamb ingredients
Aussie Lamb Loin Chops – we used 4 but you can make as many as you wish. The pesto will serve at least 8 more or less depending on how much you use per serving.
Olive oil – extra virgin
Salt and pepper
How to make grilled Lamb Loin Chops Recipe
Cilantro Pesto

Place the walnuts, Pecorino Romano cheese, and garlic cloves in the bowl of a food processor fitted with a steel blade. Process for 30 seconds.
Add the cilantro leaves, salt, and pepper. With the processor running, slowly pour the olive oil into the bowl through the feed tube and process until the pesto is thoroughly pureed.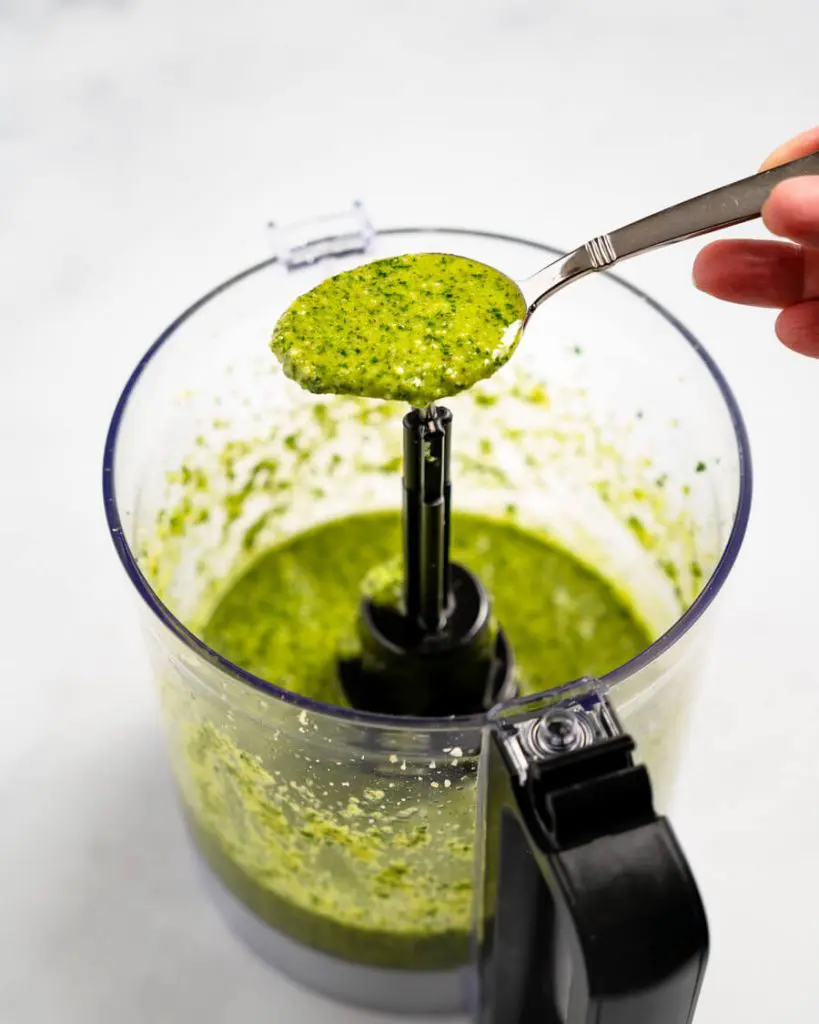 The olive oil keeps the cilantro fresh and bright green. You can leave it out at room temperature while you prepare your loin chops.
Lamb Loin Chops recipe

Preheat a charcoal grill to 400°F.
Brush olive oil on both sides of each loin chop and then sprinkle them with salt and pepper.
Grill for about 3 minutes per side.
Remove from the grill and let rest 10 to 15 minutes.
Tips for the perfect grilled Lamb Loin Chops
Bring the meat to room temperature prior to cooking.
Lamb is cooked until pink or slightly rare but never bloody. Use an instant-read thermometer.

Rare: 115 to 120°F
Medium-rare: 120 to 125°F
Medium: 130 to 135°F
Medium-well: 140 to 145°F
Well-done: 150 to 155°F

Make sure that you coat the chops with oil so the spices hold and that they release from the grate of the grill.

This lamb loin chop cooks very quickly. We only cooked each loin chop for 3 minutes per side.

Remove the lamb loin chops from the grill just before the desired cooking temperature is met. The meat will continue cooking for a short period of time and raise the internal temperature as much as an additional 5 degrees.
Be sure to let the chops rest for 10 to 15 minutes so the juices can be reabsorbed. If they're not allowed to rest, the juices will run out as soon as they're cut. (Very sad face inserted here!)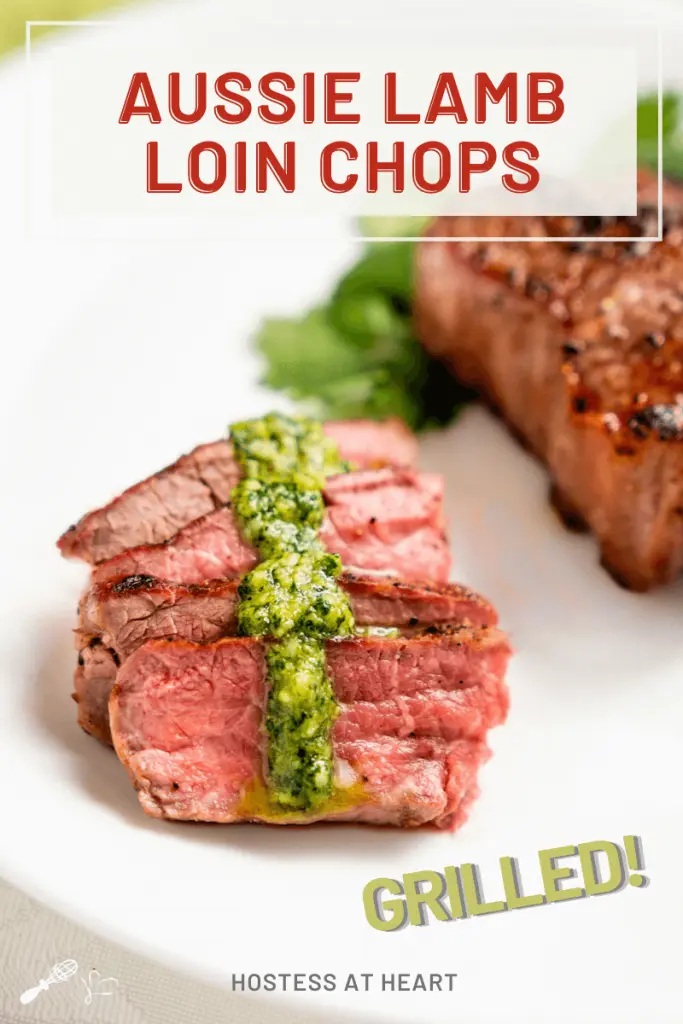 What we used for this Lamb Loin Chop recipes with Cilantro Pesto
Food Processor – I love this easy-to-use model. It's so much lighter than the older versions and it made quick work of our cilantro pesto.
The cilantro pesto recipe serves far more than the 4 chops we grilled. We don't recommend slathering this beautiful lamb loin chop with it. You can serve additional pesto on the side.
This pesto will keep for several days in the refrigerator and can also be frozen. We always make extra and put it in small containers in the freezer for a quick garnish or appetizer.
How about baking up a loaf of our crusty Italian Bread or easy Focaccia Bread? We love slathering pesto with delicious bread and it makes a great addition to a beautiful Charcuterie Tray.
IF YOU ENJOY THIS RECIPE, HERE ARE A FEW MORE I THINK YOU'LL LIKE
We love lamb and you can find all of our lamb recipes here!