No-Bake Chocolate Cheesecake Pie has a smooth and creamy chilled filling inside a crunchy chocolate crust. Once you taste this rich chocolate cheesecake you'll be dreaming of seconds.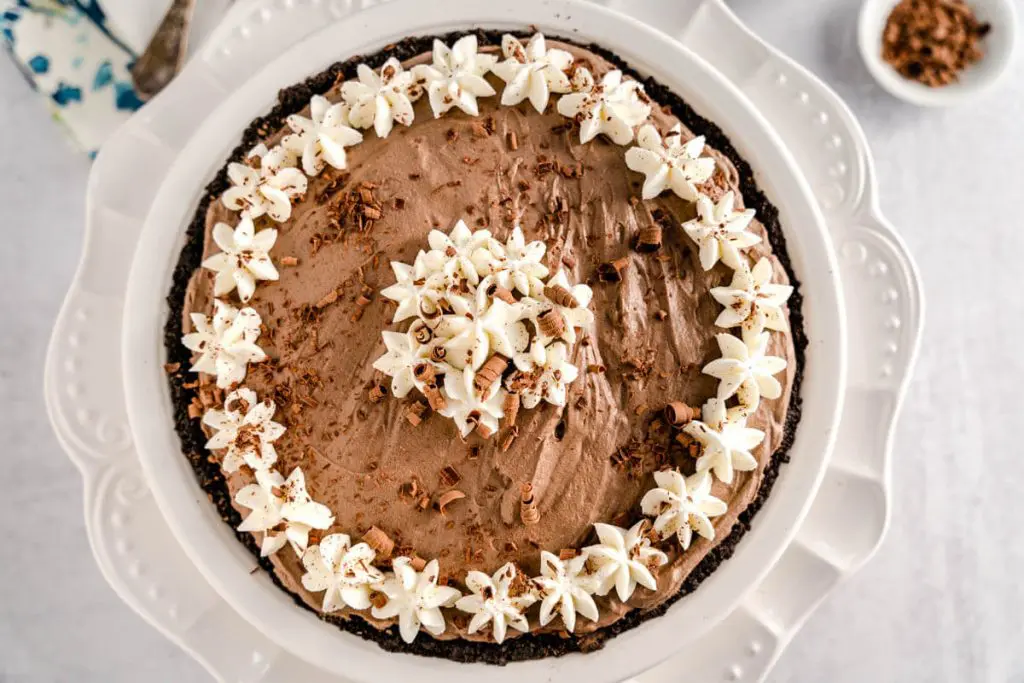 This No-Bake Chocolate Cheesecake Pie is perfect for the chocolate lover and will quench the strongest sweet tooth.
You won't believe how easy this chocolate cheesecake pie is to make. It will soon become one of your most made desserts.
Freaky Friday Spring Edition 2021

WHAT'S SO SPECIAL ABOUT THIS CHOCOLATE CHEESECAKE PIE?
I wish I could take credit for developing this recipe, but I can't. This recipe is actually inspired by the Spring edition of our Freaky Friday Blog Hop.
What is the Freaky Friday Blog Hop? Freaky Friday is a blog hop with some of my favorite food blogger buddies!
We secretly get assigned one another's blogs to make a recipe from, and then we all reveal who we had and what we made on the same Friday, and that is today!
The Freaky Friday blog hop is organized by Michaela who runs An Affair From the Heart.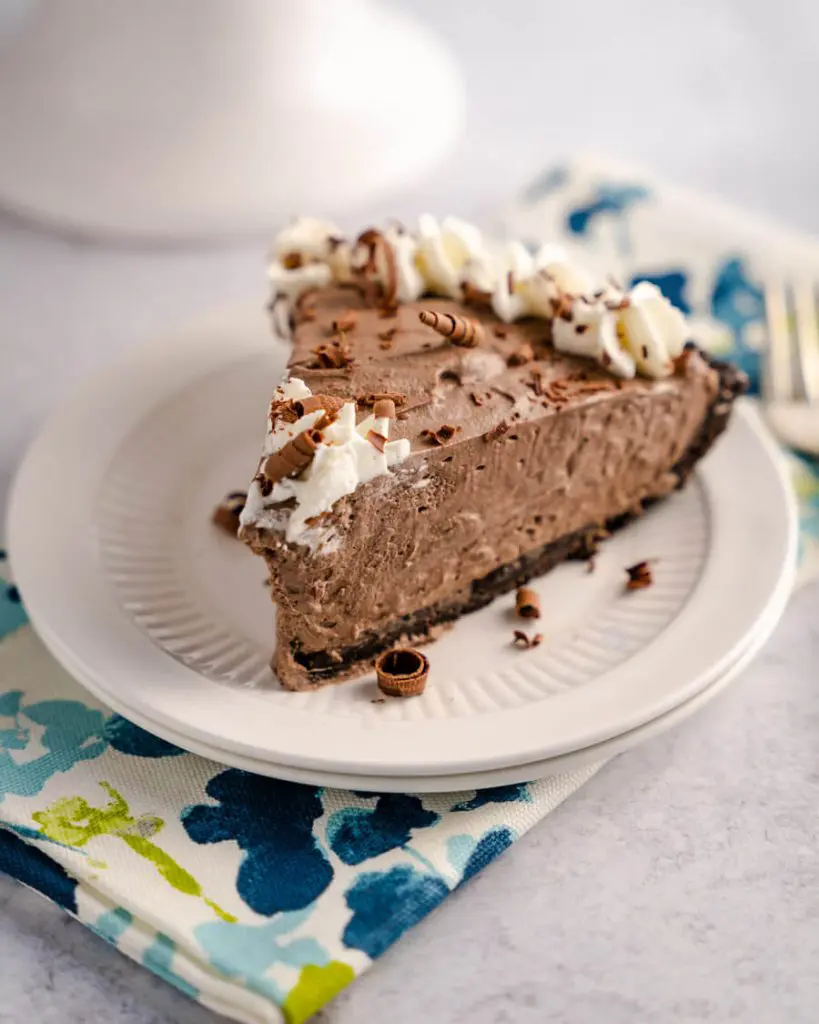 The Carefree Kitchen
I was so excited to get Jill's blog, The Carefree Kitchen for the 2021 Spring edition of Freaky Friday.
Let me tell you a little bit about Jill
Jill and I share our love of chocolate and pretty much all food! We love to share what we know and enjoy cooking for our friends and family.
Family is so important for both of us. Jill is married and has 5 amazing children and her farm background inspires her farm-to-table lifestyle.
I had a heck of a time choosing just one recipe for this blog hop edition. I whittled down to a few contenders including her Slow Cooker Tuscan Chicken which is on my menu this week. Her Caramel Pecan Monkey Bread is going in the oven before my next round of overnight guests arrives. And, her Spanish Rice recipe made a great addition to our Cinco de Mayo dinner!
Ultimately, I had to go with her No Bake Chocolate Cheesecake. It's cool and creamy and even though this is for the Spring edition of our Blog Hop, I've made it 3 times, the first being when the snow was covering the ground.
Equipment I Use
Hostess At Heart participates in affiliate programs. As an Amazon Associate, I earn a commission from qualifying purchases. Please refer to my disclosure page for more information about these affiliate programs.
Pie Plate – The pie plate in the photos is a Corning Ware Cornflower pie plate that my Mother-In-Law gave me. It's vintage (old). Use what you have or in my case what I love.
No-Bake Chocolate Cheesecake Ingredients
Cheesecake Crust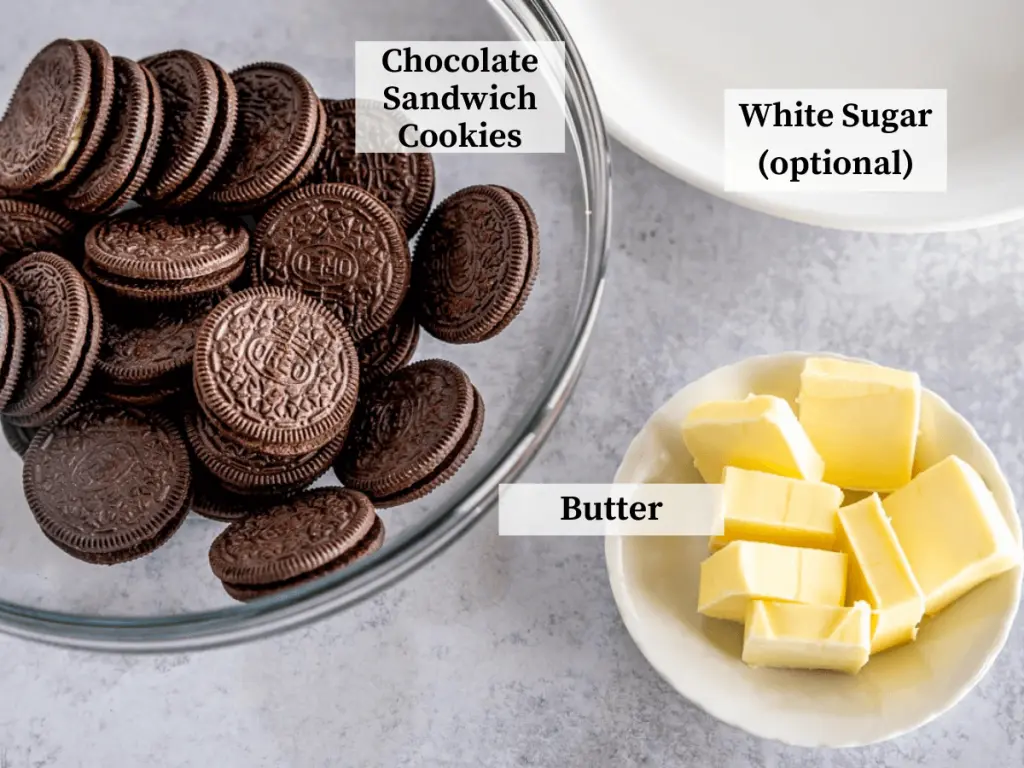 Graham Cracker Crumbs
Sugar
Butter
Cinnamon (optional)
Cheesecake Filling
Cream Cheese – We've used full-fat and 1/3 less fat varieties. We've not tried the no-fat variety in this recipe.
Heavy Whipping Cream
Powdered Sugar – Also known as Confectioner Sugar
Cocoa Powder – I used dark cocoa powder in this recipe.

You can use what you prefer. If you use a lighter cocoa powder, the filling will be lighter in hue but delicious too.
We've also used black cocoa powder. I'm obsessed with this cocoa powder. It makes everything look rich and is delicious without being bitter.
How to make Chocolate Cheesecake Pie
Tip: Start with the crust so that it is ready once your filling is ready.
Cheesecake pie crust

Combine graham cracker crumbs, sugar, and melted butter.
Press the mixture firmly into the bottom of a pie plate.
Bake for 8 to 10 minutes or freeze for one hour. You can make this crust ahead of time and freeze or refrigerate it until needed.
Cheesecake crust tips & variations
Cheesecake with chocolate crust – We replaced the graham cracker crumbs and used chocolate sandwich cookie crumbs. We didn't remove the filling. You could buy chocolate cookie crumbs or chocolate graham crackers and that would work as well.
Pastry crust
Purchased graham cracker crust
Vanilla Wafers, Speculoos or other cookie flavors
*You can eliminate some or all of the sugar if using a cookie with the filling but we didn't.
The crust can be baked or you can freeze it. See the recipe card for times and temps.
Cheesecake pie filling
Tip: While making your crust, put the bowl of your electric stand mixer into the refrigerator to chill before mixing your filling. It's not necessary but thickens the filling firmer and faster.
Add the heavy whipping cream to the bowl of an electric stand mixer fitted with the whisk attachment. Beat until soft peaks form. Remove the whipped cream from the mixing bowl and put it in a separate bowl. Place it in the refrigerator until you're ready to use it.

If you pipe your pie with whipped cream or plan to serve the finished pie with whipped cream, mix it up now and refrigerate it in a separate bowl.

Change the mixer attachment to the paddle and blend the cream cheese until smooth and fluffy.
Turn the mixer to low and spoon in the sifted powder sugar and cocoa mixture and blend until well combined.
Remove the whipped cream from the refrigerator and spoon it into the cream cheese mixture until combined.

Don't overmix you will deflate the whipped cream. Whipped cream can also be folded into the cream cheese mixture by hand.

Spoon the filling into the crust.
Chill for 2 hours.
Cheesecake Filling Tips & Variations
Bring your cream cheese to room temperature before mixing it. It will blend much smoother.
Sift the cocoa and powdered sugar together.

We always sift our cocoa powder. It holds a lot of moisture and tends to clump. Mixing it with the powdered sugar cuts down on the mixing time it takes compared to blending them separately.
The cocoa that you use will make a difference in the hue of the filling. I've used regular dutch-processed cocoa and I've used black cocoa which made a deep dark chocolate filling. They're both delicious.
Cheesecake Cake Garnishes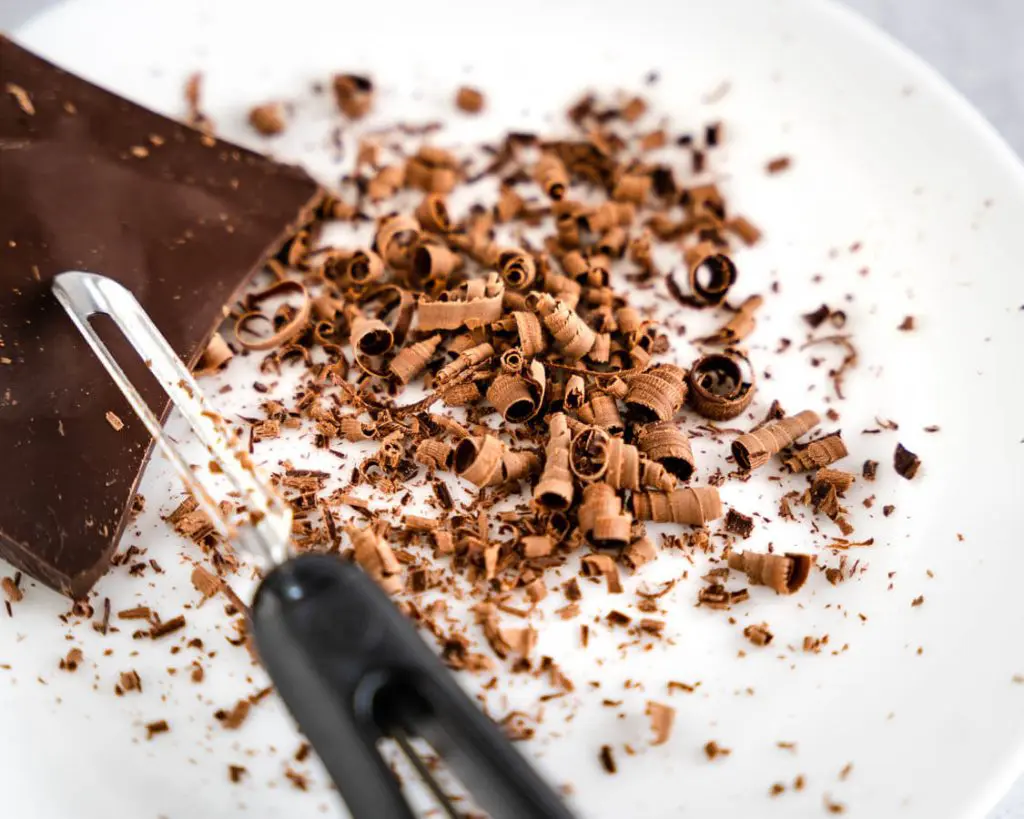 Chocolate curls make the whole thing fancy. Just take a piece of chocolate bar and shave it with a vegetable peeler. We've found that you get longer curls if the bar isn't cold but not too soft either.
We piped whipped cream stars on top of the pie. We've made it a couple of times and the last time sprinkled a few leftover cookie crumbs over the whipped cream stars.
You could skip the whipped cream stars and just sprinkle the top with the cookie crumbs or skip them both for a simple and delicious chocolate cheesecake pie.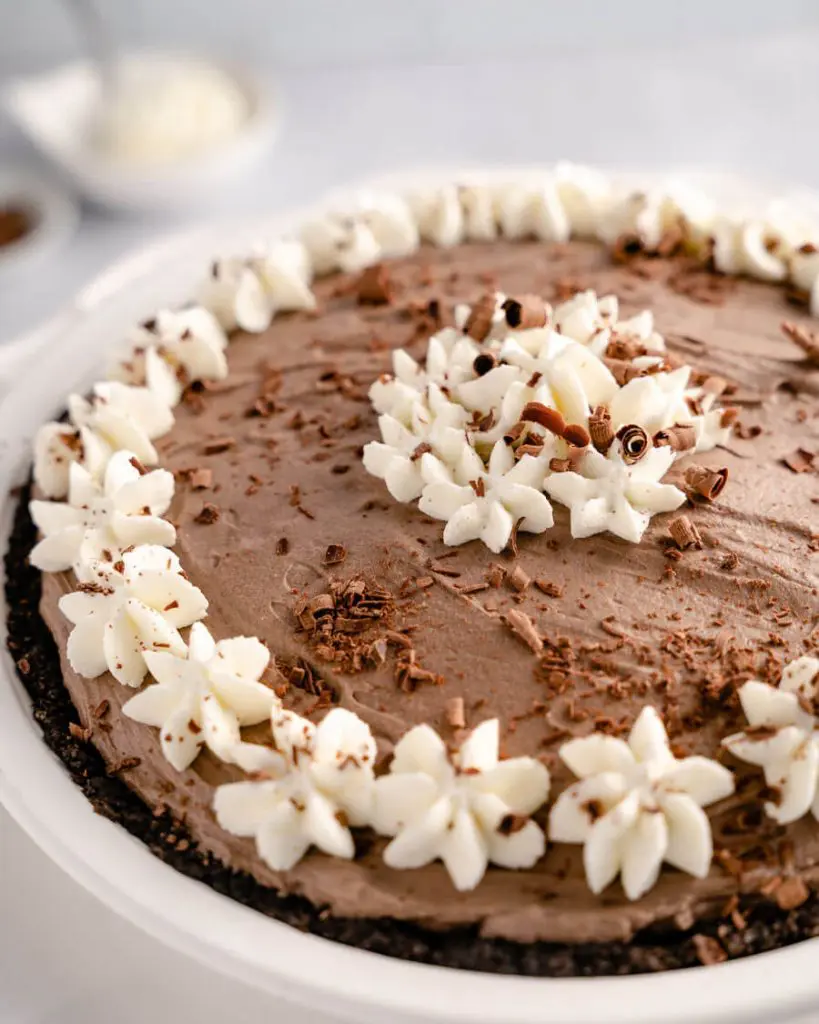 If you like this recipe I think you'll love these!
This Chocolate Cheesecake recipe is perfect for a warm day. However, it's so easy and delicious, we'll make it all year long. We'll guarantee no one will complain when I set a slice of this beauty in front of them.
Note: This pie serves 8 people. However, it's rich and we always slice it into 16 pieces. It's that rich! There are always seconds, right?
If you like this recipe, we would appreciate your comment and a 5-star ⭐️⭐️⭐️⭐️⭐️ review!
We'd like to thank Jill for this yummy cookie recipe, and I hope you'll check out The Carefree Kitchen and take a look at her recipes.
Take a look at all of our 2021 Freaky Friday Spring Edition Recipes:
Pin it!